energia.gr: Iran's President Ahmadinejad Hails New Turkmenistan Gas Link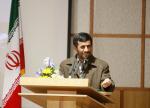 Iranian President Mahmoud Ahmadinejad on Tuesday hailed the launch of a gas pipeline link to Iran from its energy-rich neighbor Turkmenistan, while on a visit to the Central Asian state.

Ahmadinejad and his Turkmen counterpart Gurbanguly Berdymukhamedov are set to inaugurate the new pipeline which will more than double gas trade between their two states in a ceremony Wednesday.

The trip is also the Iranian president's first abroad since a crackdown on opposition supporters in Tehran left at least eight dead.

"The realization of the gas pipeline plays a big role in strengthening the energy security of the countries of the region," Ahmadinejad told reporters after talks with Berdymukhamedov in the capital. "The Turkmenistan-Iran pipeline is not only an economic project but an event uniting our countries with the aim of strengthening our partnership."

The 30.5-kilometer pipeline from Turkmenistan's southwest Dovletabad field will supply Iran's Khangiran gas refinery initially with 6 billion cubic meters of gas a year, according to the Turkmen Energy Ministry.

"The Turkmenistan-Iran gas pipeline that we are opening tomorrow is an important moment for both states' energy partnership as we continue to develop our ties in the gas sphere," Berdymukhamedov in turn told reporters.

The new Dovletabad-Sarakhs-Khangiran gas pipeline will raise Turkmenistan's total yearly gas supplies to Iran to up to 20 bcm, including through an existing pipeline link, the Energy Ministry said. Previously, gas from the Dovletabad field was used exclusively for export to Russia but Turkmenistan hailed the new project as a means of diversifying its exports from its former Soviet overlord.

The new pipeline "is the logical continuation of Turkmenistan's politics of diversification of its gas pipeline network…to expand and add to traditional routes in order to access new, promising markets," the Foreign Ministry said in a statement.

Last month, Turkmenistan unveiled a landmark 7,000-kilometer pipeline to supply Turkmen gas to energy-hungry China. The move came amid an eight-month interruption in gas shipments to Russia that raised questions on Moscow's sway in the energy-rich state, with Turkmenistan seeking closer relations with China and Iran.

The Central Asian state and Russia sealed a new gas accord to resume supplies in December.
energia.gr: Polish Pipeline Operator Signs Deals To Ship Gas To Czech Rep
Polish state-owned gas pipeline operator Gaz-System said Tuesday it signed three agreements for natural gas shipment using a pipeline between Poland and the Czech Republic.

The pipeline with an annual capacity of 500 million cubic meters will open in 2011, Gaz-System said.

The company signed agreements with state-controlled gas firm PGNiG (PGN.WA), and privately held companies Handen and KRI.

Gaz-System also signed a cooperation agreement with RWE Transgas Net sro, the Czech unit of Germany's RWE AG (RWE.XE).

The pipeline to the Czech Republic will be Poland's second that will connect to a gas pipeline system of other European Union countries.

The pipeline will be 30-kilometers long, with 20-kilometers of it located in Poland.
energia.gr: Turkish PM To Visit Russia Next Week For Economic,Energy Talks

Turkish Prime Minister Recep Tayyip Erdogan will fly to Russia next week for talks on boosting economic and energy cooperation, his press office said Tuesday.

The Jan. 12-13 visit "will allow for strengthening multi-dimensional ties between the two states and discussing prospects of further developing co-operation," a statement said.

Mutual economic issues, especially the energy sector, will also be on the agenda.

Russia is one of Turkey's top trading partners and its main gas supplier, accounting for about 60% of the country's gas imports.

On a visit to Ankara in August, Russian Prime Minister Vladimir Putin and Erdogan signed a protocol to start surveying in Turkish waters for the South Stream gas pipeline, which is seen as a rival to the European Union-backed Nabucco pipeline project.

Russia has been promoting South Stream as an alternative route to Europe after a price row with Ukraine last year left millions without heating in winter and sparked accusations Moscow was using gas as a political weapon.