Hotnews: Transgaz: Tariful de transport al gazelor va creste la 1 iulie cu 10%
Tariful de transport al gazelor va creste la 1 iulie cu circa 10%, de la 7,5 lei/MWh la 8,25 lei/MWh, potrivit datelor operatorului sistemului national de transport Transgaz Medias (TGN).
Potrivit Mediafax, majorarea pretului este cauzata de faptul ca Transgaz trebuie sa recupereze, prin tarife, suma de 94,1 milioane lei, care reprezinta diferenta neacordata dintre veniturile reglementate realizate in perioada iulie 2008-iunie 2009 si veniturile aprobate de catre Autoritatea Nationala de Reglementare in domeniul Energiei pentru aceeasi perioada."Astfel, a rezultat o crestere a tarifului de transport incepand cu 1 iulie 2010 cu circa 10%", se arata intr-un referat al Transgaz privind bugetul de venituri si cheltuieli pentru acest an.
De asemenea, pretul mediu de achizitie al gazelor din productia interna este estimat sa ajunga la 49 lei/MWh, mai mare cu 10% comparativ cu ultimul trimestru al anului trecut.
Transgaz estimeaza ca in acest an va transporta 134,4 milioane MWh (circa 12,6 miliarde metri cubi de gaze), cu 4,5% mai mari comparativ cu volumul preliminat pentru anul 2009, de 128,7 milioane MWh (12,1 miliarde metri cubi).
Compania Transgaz este controlata de stat, prin Ministerul Economiei.
Actiunile companiei se tranzactioneaza marti la Bursa de Valori Bucuresti la pretul de 192,5 lei pe unitate, in scadere cu 7,67% fata de referinta. Transgaz are o capitalizare de 2,26 miliarde lei.
money.ro: Băsescu: Prețul gazelor va fi reglementat în perioada crizei, protejăm astfel populația de majorări
Prețul gazelor naturale va continua să fie reglementat cel puțin în perioada crizei economice, pentru a proteja cetățenii români de prețurile ridicate, generate de liberalizarea pieței gazelor, a declarat marți președintele Traian Băsescu.
"Ați sesizat, sunt convins, că România nu și-a respectat programul de liberalizare a prețului la gaze naturale, fie că este vorba despre gazele produse de Petrom, fie de cele puse pe piață de Romgaz. Aici fac o mențiune, pentru că este bine să fim deschiși unii față de ceilalți. Prețul la gaze va continua să fie reglementat, cel puțin pe perioada crizei economice. Deci vom încerca să ne protejăm cetățenii de prețurile ridicate în condiții de liberalizare", le-a spus președintele, marți, oamenilor de afaceri italieni.
Prin liberalizarea pieței gazului, populația are posibilitatea de a opta pentru serviciile unui anumit furnizor. Liberalizarea pieţei gazelor trebuia făcută inițial până la 1 ianuarie 2008, după care România a obţinut de la CE mai multe amânări.
Bursa: Ministerul Economiei va deţine 84,39% din acţiunile Electra şi 63,84% din titlurile Hidroenergetica
Ministerul Economiei va controla 84,39% din capitalul Electra şi 63,84% din acţiunile Hidroenergetica, ceilalţi acţionari fiind Fondul Proprietatea, Termoelectrica şi Societatea pentru Închiderea-Conservarea Minelor. Electra va fi controlată în proporţie de 84,39% de Ministerul Economiei (413,5 milioane acţiuni), în timp ce Fondul Proprietatea va avea o participaţie de 15,09% (73,9 milioane acţiuni), potrivit proiectului de divizare şi de fuziune a Hidroelectrica în perspectiva înfiinţării celor două societăţi energetice naţionale.
Totodată, Termoelectrica va deţine 0,25% din titluri (1,2 milioane acţiuni), Societatea pentru Închiderea-Conservarea Minelor va avea 0,13% (657.388 acţiuni), iar Hidroelectrica va avea 0,11% (568.104 acţiuni).
Cei cinci acţionari vor deţine în coproprietate două acţiuni Electra, întrucât numărul titlurilor nu poate fi împărţit exact. Astfel, Hidroelectrica va deţine 44,5% din cele două titluri, Ministerul Economiei – 15,5%, Fondul Proprietatea – 19,5%, Termoelectrica – 11%, iar Societatea pentru Închiderea-Con-servarea Minelor – 9,5%.
Hidroelectrica va fi divizată, o parte din activele companiei urmând să fie transferate celeilalte societăţi, şi va fuziona prin absorbţie cu alte companii energetice. Astfel, Hidroelectrica va transfera căre Electra active în valoare de 3,1 miliarde lei, care reprezintă 19,15% din activele sale nete. În urma operaţiunii, Hidroelectrica îşi va diminua capitalul social cu valoarea activelor transferate.
Activele nete ale Electra se ridică la 16,4 miliarde lei, din care jumătate, respectiv 8,2 miliarde lei, va fi reprezentat de Nuclearelectrica. Electra va avea un capital social de 4,89 miliarde lei, divizat în 489,9 milioane de acţiuni.
"Dreptul de vot pentru aceste acţiuni va fi exercitat de Ministerul Economiei", se arată în documentul citat de Mediafax.
KPMG a evaluat activele nete ale Hidroelectrica la 16,5 miliarde lei. După transferul unor sucursale către Electra, valoarea activelor nete ale Hidroelectrica va coborî la 13,3 miliarde lei.
De asemenea, Ministerul Economiei va controla 63,84% din capitalul Hidroenergetica (268,9 milioane acţiuni), Fondul Proprietatea va deţine 15,9% (66,9 milioane acţiuni), iar producătorul de energie Termoelectrica va avea o participaţie de 20,2%.
Termoelectrica este deţinută de stat, prin Ministerul Economiei. Prin preluarea de la Termoelectrica a filialelor Electrocentrale Bucureşti şi Electrocentrale Deva, Hidroelectrica va emite către companie 85,2 milioane de acţiuni noi.
După divizarea Hidroelectrica, Ministerul Economiei şi Fondul Proprietatea vor controla în comun o acţiune a companiei. Fondul Proprietatea va avea o cotă de 62% din valoarea şi drepturile ataşate acestei acţiuni şi va avea drept de vot pentru aceasta, iar Ministerul Economiei va avea diferenţa de 38%.
Hidroelectrica va avea un capital de 4,2 miliarde lei, divizat în 421,1 milioane acţiuni.
Electra şi Hidroenergetica urmează să fie înfiinţate până la 1 iulie, prin comasarea mai multor active de producţie a energiei şi cărbunelui.
Electra va fi formată din Nuclearelectrica, Societatea Naţională a Lignitului Oltenia, Complexurile Energetice Turceni, Rovinari şi Craiova, precum şi din sucursalele Hidroelectrica de la Râmnicu Vâlcea, Sibiu, Târgu Jiu şi Hidroserv Râmnicu Vâlcea.
Din Hidroenergetica vor face parte Electrocentrale Deva, Electrocentrale Bucureşti, sucursalele Termoelectrica Paroşeni şi Termoserv Paroşeni, sucursalele Hidroelectrica de la Bistriţa, Buzău, Cluj, Curtea de Argeş, Hateg, Porţile de Fier, Oradea, Sebeş şi Slatina.
De asemenea, în Hidroenergetica vor fi integrate filialele Hidroelectrica Hidroserv Bis-triţa, Hidroserv Slatina, Hidroserv Porţile de Fier, Hidroserv Curtea de Argeş, Hidroserv Sebeş, Hidroserv Haţeg şi Hidroserv Cluj SA, precum şi o parte din Compania Naţională a Huilei, care va fi restructurată.

*  Videanu: Ministerul Economiei va îndeplini obligaţiile faţă FMI, Termoelectrica va intra în lichidare
Ministerul Economiei îşi va îndeplini obligaţiile faţă de FMI, astfel încât entităţile viabile ale Termoelectrica vor fi separate de companie, aceasta urmând să intre în lichidare, a declarat, ieri, ministrul de resort, Adriean Videanu.
"Din punctul de vedere al Ministerului Economiei, eu îmi îndeplinesc toate obligaţiile stabilite în angajamentele cu FMI. Termoelectrica este singurul subiect de discuţie cu FMI. Vom scoate de sub Termoelectrica toate entităţile viabile. Mă refer la Brăila, Borzeşti, Doiceşti, Galaţi şi Termoelectrica va intra în lichidare", a afirmat Videanu, după întâlnirea grupurilor parlamentare ale PDL cu preşedintele Traian Băsescu.
money.ro: Videanu, Ministrul Economiei: Termoelectrica va intra în lichidare
Ministerul Economiei îşi va îndeplini obligaţiile faţă de FMI, astfel încât entităţile viabile ale Termoelectrica vor fi separate de companie, aceasta urmând să intre în lichidare, a declarat, marţi, ministrul de resort, Adriean Videanu.
"Din punctul de vedere al Ministerului Economiei, eu îmi îndeplinesc toate obligaţiile stabilite în angajamentele cu FMI. Termoelectrica este singurul subiect de discuţie cu FMI. Vom scoate de sub Termoelectrica toate entităţile viabile. Mă refer la Brăila, Borzeşti, Doiceşti, Galaţi şi Termoelectrica va intra în lichidare", a afirmat Videanu, după întâlnirea grupurilor parlamentare ale PDL cu preşedintele Traian Băsescu.
Guvernul s-a angajat în faţa FMI şi CE să înceapă procedurile de privatizare sau închidere pentru Termoelectrica şi să vândă pachetul majoritar de acţiuni la CFR Marfă, două companii din cele zece societăţi de stat aflate sub monitorizare.
Adevarul: Planuri noi pentru emisiile poluante
Băncile şi companiile energetice care fac parte din Asociaţia Internaţională a Tranzacţiilor cu Emisii (IETA) propun emiterea unor "obligaţiuni verzi", pentru susţinerea actualului sistem de tranzacţionare a dreptului de emisii poluante, în scopul încurajării investiţiilor în tehnologii curate, scrie "The New York Times".
Mecanismul aplicat în prezent, prin alocarea către companii a unor certificate care le dă dreptul la o anumită cantitate de emisii, nu este performant, pentru că, de regulă, companiile rămân cu surplusuri uriaşe de certificate.
Comisia Europeană a supraestimat cantitatea de emisii pe care o generează companiile, ceea ce s-a tradus într-un surplus de certificate pe piaţă. Fiecare astfel de permis, reprezentând o tonă de emisii, costă în prezent în jur de 15 euro pe bursele europene, însă ar trebui să aibă o valoare de patru ori mai mare pentru a încuraja investiţiile masive necesare pentru energia verde, precum cele în parcuri eoliene pe mare sau panouri solare.
"Emiterea unor obligaţiuni verzi ar avea potenţialul de a ajuta la depăşirea acestui impas şi ar stimula investiţiile în tehnologiile curate", susţine Imtiaz Ahmad, director executiv al băncii Morgan Stanley din Londra.
RIA Novosti
: India, Iran discuss building underwater gas pipeline
India and Iran are discussing building a gas pipeline between the two countries along the bed of the Arabian Sea to bypass Pakistan, a board director of the company developing the project said on Tuesday.
"The carrying capacity of the gas pipeline's first leg will total 31 billion cu m annually, with the cost of construction estimated at $4 billion," T.H.P. Pao, a member of the board of directors and head of the supervisory board of South Asia Gas Enterprise Private Ltd. (SAGE), said.
The statement came ahead of a visit by Turkmen President Gurbanguly Berdymukhamedov to India.
Pao said India and Iran were discussing the delivery of natural gas produced in Turkmenistan with Indian assistance to north Iran while the Islamic Republic will send natural gas from its southern deposits to Indian consumers.
A diplomatic source confirmed to RIA Novosti that Delhi had discussed the project with Teheran and Ashgabat and received their backing.
Under the project being worked on by SAGE, the gas pipeline will be 1,100 km (684 miles) long. The submersible part of the pipeline will start from the Iranian port city of Chabahar and will deliver gas to consumers in the Indian state of Gujarat.
According to SAGE, international investors will also finance the expensive gas pipeline project. In particular, Italian companies have expressed their readiness to join the project.
India, Iran and Pakistan have been discussing the project of building a gas pipeline between the three countries for the past three years. However, the negotiations have dragged on due to the worsening of relations between India and Pakistan.
rt.com: Gazprom Neft posts 1Q 2010 net profit of $727 million
Gazprom's oil producing arm, Gazprom Neft, has posted a 1Q 2010 net profit of $727 million under US GAAP.
The bottom line shot up 117% year-on-year from the $335 million net profit posted for 1Q 2009, with EBITDA rising 65.7% to $1.586 billion, and revenue up 72% to $7.296 billion.
Alexander Dyukov, Gazprom Neft Chief Executive Officer, commented that growth was driven by oil and oil product price rises together with increases in oil production and processing.
'Production growth of 9.4 per cent in the first quarter of 2010 over Q1 2009 is a good outcome. We will continue to focus on cost reductions, which have already started to yield planned results. We expect to build on the positive momentum achieved in the first quarter by maintaining production at existing fields and through the development of new fields. Our plans also include modernization of plants and the completion of the rebranding of our petrol stations network."
today.az: Turkey says Azerbaijan oil deal almost ready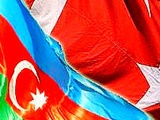 Turkish Energy & Natural Resources Minister Taner Yildiz said on Tuesday that several technical issues remained to be completed in energy agreements which would be signed with Azerbaijan.
Yildiz told reporters that when technical issues were solved, there would be no obstacle to sign Shah Sea 1 and 2 agreements with Azerbaijan. Yildiz said that Azerbaijani President Ilham Aliyev was expected to visit Turkey on June 7, and the agreements could be signed during his visit.
gazeta.kz: History, BP Oil Spill Haunt Caspian Sea
For years, the race to tap into the Caspian Sea's vast oil and gas resources has outweighed any desire to protect its delicate environment.
All five littoral states – Azerbaijan, Iran, Kazakhstan, Russia, and Turkmenistan – have plans to further exploit the sea's estimated 44 billion barrels of oil reserves.
Such projects mean drilling new wells, highlighting risks for an incident that could cause a catastrophic oil spill in the landlocked sea — the largest inland body of water on earth.
Mais Gulaliyev, co-chairman of Azerbaijan's Green Party, tells RFE/RL's Azerbaijani Service he has called for measures to prevent such a threat from becoming reality.
"The accident in the Gulf of Mexico shows us that such a disaster could happen anywhere. The United States, with its super-modern technologies, is barely capable of stopping this disaster," Gulaliyev says. "You can imagine the scale of the damages to the environment from such incidents in countries like Azerbaijan."
At least 5,000 barrels of oil a day have been gushing into the Gulf of Mexico since an April 20 explosion destroyed a drilling rig leased and operated by BP, threatening unique wildlife refuges, beaches, and fishing grounds along the southern U.S. coast.
History Of Environmental Damage
Oil burns in a controlled fire in the Gulf of Mexico off the coast of Louisiana.The dangers of the Caspian Sea's oil fields gained international attention during the last days of the Soviet Union, when a well at Kazakhstan's huge Tengiz oil field blew out in 1985. The well burned for more than a year before it was eventually put out.
Makhamet Khakimov tells RFE/RL's Kazakh Service that little has been done since the incident in which 3 million tons of oil and tens of billions of cubic meters of different kinds of gases were burned, harming the population and wildlife in the Atyrau region.
Dozens of platforms are currently operating across the Caspian Sea, mainly in Kazakhstan and Azerbaijan, which have been the focus of Western investment.
Oil exploration and production work have also developed in the remaining three littoral states. LUKoil last month kicked off commercial oil production in the Russian sector of the sea, launching the Yury Korchagin platform. Iran earlier this year started drilling its first exploratory well in the southern Caspian Sea — the deepest part of the sea — to search for oil. Meanwhile, Turkmenistan is continuing exploration of Caspian shelf deposits along with foreign partners.
Environmentalists say investments in energy projects have often been made to the detriment of local communities.
On May 13, Kazakh Deputy Minister for Environmental Protection Eldana Sadvakasova acknowledged that with the oil price decreasing, oil-extracting companies had "stopped performance of some measures or postponed them for the later periods."
In February, a Kazakh court fined the onshore Karachaganak natural-gas venture, which includes BG, Eni, Chevron, and LUKoil, for environmental violations including excessive waste dumping. The village of Berezovka, which is situated less than 5 kilometers from the field and is exposed to the field's toxic emissions, has been fighting for justice for years.
Environmentalists say energy development is also threatening already endangered species of fish such as the Beluga, Stellate, and Russian sturgeon, the kilka (Caspian sprat), as well as the Caspian seal. In Turkmenistan, energy development is causing particular risk to the Krasovodsk Nature Reserve, home to hundreds of thousands of birds and more than 40 mammal species.
Greater Supervision, Transparency Needed
Energy firms operating in the region, however, argue that they are doing their utmost to ensure the safety of their infrastructure.
"I assure you that we have done and will continue to do everything possible to ensure the full technical security of all our operations in the Caspian," says Tamam Bayatli, public relations manager for BP Azerbaijan, which is involved in a number of exploration and production projects in the country.
"It has been and will remain our No. 1 priority to ensure technical safety and security of the people as well as to protect the environment."
Environmentalists and civil-society activists say the authorities should better supervise the energy companies' work and call for the terms of production-sharing agreements between energy companies and host governments in the Caspian region to be made public.
Kate Watters, executive director of Crude Accountability, a Virginia-based nongovernmental organization that focuses on environmental justice, says the public should be informed about the investments being made and about the environmental and social protection needed to be put in place to safeguard the environment and the health of the local inhabitants.
"The oil companies need to be held to the highest standards, and those standards maybe need to be reexamined," Watters says. "We have a case [in the Gulf of Mexico] where governments are relying on the expertise of private corporations and putting at risk entire populations and ecosystems based on promises that need to be demonstrably fulfilled before a project starts."
Improving Regulation, Or Just Talk?
At a conference in Astrakhan on April 28, Russian Prime Minister Vladimir Putin said all work related to the development of fields in the Russian sector of the Caspian is being conducted "in strict compliance with international environmental standards," applying zero discharge technology. This means that waste resultant of production activities is not discharged into the sea, but is collected before being rendered harmless and reprocessed. Putin also voiced hope that companies from other countries operating in the region will join in this initiative.
On the regional level, the five countries around the Caspian Sea have ratified the Framework Convention for the Protection of the Marine Environment of the Caspian Sea, or Tehran Convention, and thus established a framework to jointly address and solve environmental problems in and around the sea.
But Watters is skeptical, saying the absence of public participation in the convention's preparation resulted in a relatively meaningless document.
As BP and the U.S. authorities battle to contain the spill in the Gulf of Mexico and issues of responsibility are being investigated, the U.S. administration has said it will review environmental procedures for offshore drilling.
And in Russia, the State Duma, or lower house of parliament, is considering the need for drafting a law on "environmental control and protection of seas from oil spills."
The head of the Duma's Committee for Natural Resources, Nature Management, and Environment, Yevgeny Tugolukov, announced the move on May 5 in comments on what conclusions Russia should make in the wake of the environmental disaster in the Gulf of Mexico.
And at a cabinet meeting on May 4, Kazakh Prime Minister Karim Masimov instructed the ministries for oil and gas and for environmental protection to inspect the country's oil-drilling platforms.
But Crude Accountability's Watters doubts the Kazakh measure will be effective. She notes that while BP "has this reputation all over the world for having the best technology, for being green, for being sustainable," the company is responsible for the spill in the Gulf of Mexico "and had absolutely no plan in place if something like this were to happen. So we have no guarantees that any Western company working in the Caspian would act any differently."
So while Watters believes the Kazakh government is acting correctly, "my question would be: 'Do they have the capacity to take care of an accident, should one happen?' And I think the answer is likely 'no.'"
Novinite: Lukoil Says Invested in Bulgaria Refinery USD 1 B
Lukoil, Russia's largest non-state oil producer, announced it has invested USD 1 B into an upgrade in its Bulgarian refinery Lukoil Neftochim Burgas to meet EU requirements.
"The total volume invested is over USD 1 B and half of this sum, about USD 500 M, has been invested in the past two years," Lukoil President Vagit Aleperov said as cited by local media.
According to him a number of production facilities were built and automated management systems were installed. These and other programs increased refining depth to 76.39%. Light product output grew to 67% and losses were trimmed over 75% to 0.9%.
Earlier this year the Bulgarian refinery of the Russian oil company wrapped up planned maintenance after closing the 2,000-barrels-per-day refinery at the Black Sea port of Burgas for a month of repair works.
Lukoil Neftochim Burgas is a major supplier of liquid fuels, petrochemicals and polymers on the Bulgarian market. The refinery is among the leading suppliers of these products not only on the Balkans but also in Europe and the USA.
Lukoil Bulgaria EOOD, in 1999 became part of the big Lukoil family following the privatization of Lukoil Neftochim Burgas, the biggest refinery on the Balkans.
Novinite: Italy's Enel Denies Interest in Bulgaira's Belene Nuclear Plant
Bulgarian Prime Minister Boyko Borisov met with Italy's PM Berlusconi on Friday, announcing that Enel has been invited to consider investing in the Belene NPP. Photo by BGNES
Italy's largest energy utility Enel has denied the announcements that it has shown interest in investing in Bulgaria's second nuclear power plant Belene.
During his visit to Rome on Friday, Bulgarian Prime Minister Boyko Borisov said his government has invited Enel representatives to visit Bulgaria and consider investing in the Belene project, which is temporarily put on hold over the lack of a strategic foreign investor. This was followed by reports that the Italian utility is likely to invest in the second Bulgarian nuclear power plant.
In a media statement Enel confirms information it has previously shown interest in the Belene project but "is no longer interested."
The company points out that it has started a plan to withdraw from Bulgaria by selling its 73% stake in the Enel Maritza East 3 thermal plant, a Bulgarian coal-fired plant with a capacity of 908 megawatts.
Enel says it plans to build four nuclear power stations in Italy together with France's EDF as part of Italy's efforts to revive nuclear energy which was abandoned in 1987 after the Chernobyl disaster in Ukraine.
Bulgarian Prime Minister Boyko Borisov spoke about the possibility of attracting Enel as a strategic foreign investor in Belene after his meeting with his Italian counterpart Silvio Berlusconi on Friday.
In his words, energy experts from Enel, a partly government Italian company, were invited to visit Bulgaria in order to get acquainted with the condition of the Belene project on the ground and only then Enel would decide if it would like to invest in the future plant.
The construction of the second Bulgarian nuclear plant at Belene has stalled after the previously selected strategic investor, Germany's RWE, which was supposed to provide EUR 2 B for the project, gave it up in the fall of 2009.
The Bulgarian government of PM Borisov has not accepted a Russian offer for a state loan of EUR 2 B in order to keep the construction running until a new strategic private investor has been found.
Borisov has made it clear that his team will seek a new foreign investor from among the large European energy companies.
energia.gr: India Offers To Invest In Gas Fields In Turkmenistan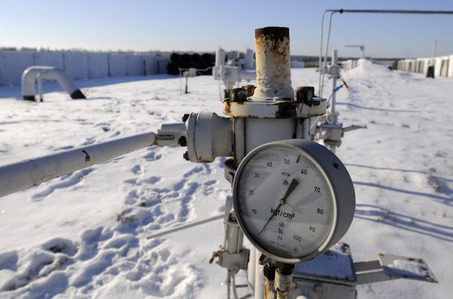 India Tuesday offered to invest inTurkmenistan 's natural gas producing fields and set up a petrochemical plant in the Central Asian country as it seeks to secure its own energy supplies.
"We have offered to invest in (Turkmenistan 's) natural gas producing fields," Oil Secretary S. Sundareshan told reporters after meetingTurkmenistan President Gurbanguly Berdimuhamedov, who is on a three-day visit to the South Asian nation.
Sundareshan was part of an Indian delegation that was led by India Oil Minister Murli Deora and included executives of state-run oil and gas companies.
India wants to acquire oil and gas assets overseas to meet its own growing energy demands. In March, the world's second-fastest growing major economy agreed to source 4 million tons additional gas from Qatar .
At the meeting with Turkmenistan officials, Deora said he had offered to set up a petrochemical plant in Turkmenistan if India was guaranteed gas supplies for the project.
Deora said also that he had discussed the proposed Turkmenistan-Afghanistan-Pakistan-India, or TAPI, pipeline with the dignitaries from Turkmenistan , but he didn't elaborate on the outcome of the discussions.
India has been planning to import natural gas from Turkmenistan through the TAPI pipeline, which aims to link the two nations through Afghanistan andPakistan .
In March, Deora had told lawmakers in the upper house of Parliament that various important issues concerning the pipeline were being discussed by the participating countries.
energia.gr: EU Wants Unified System For Recharging Electric Cars In 2011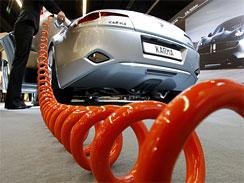 EU nations agreed Tuesday on the need to develop a standardized system for recharging electric cars throughoutEurope by next year as part of efforts to convince sceptical consumers.
The union's 27 industry ministers, meeting in Brussels , said it was a priority to develop "a harmonized solution for the interoperability between electric vehicles and the charging infrastructure."
It was also important to address safety risks and electromagnetic compatibility, they said.
Harmonization across Europe is of "key importance in order to ensure that electric vehicles can be recharged, domestically or at public station points without difficulty within the territory of the EU and with the use of any electric vehicle charger" by mid-2011, a joint agreement stressed.
Such a standardized and easy-to-use system "is a prerequisite for consumer acceptance and, subsequently, the mass market uptake of electric vehicles," the statement said.
Spanish Industry Minister Miguel Sebastian, whose country holds the EU's rotating presidency, said he was "very satisfied" with the adopted strategy, and in particular the timeframe, as a way of ending "the big differences on the future of the electric car" in the EU.
However, for the technology to be widely accepted, the cars themselves will have to come with a reasonable price tag, enough battery power to make them feasible and an easy method of recharging, he said.
The ministers agreed that while regular petrol and diesel engines "will remain dominant in the short and medium-term perspective", electric and future hydrogen vehicles were a "highly promising ultra-low-carbon" technology.
Their wide introduction could cut greenhouse gas emissions and reduce Europe's dependency on fossil fuels.
Another benefit was reduced noise on the streets, although this could present the danger of pedestrians or other drivers being less aware of an approaching vehicle, they said.
Sebastian said the European ministers agreed there would have to be suggestions on how to deal with this.
France 's Industry Minister Christian Estrosi said the broad lines of pan-European norms for electric cars should be in place before the end of the year.
On pricing, the EU Commission was to propose financial incentives for buying greener vehicles.