RIA Novosti: Russia's Putin reiterates call for end to oil dependence
Despite the high prices for oil and other primary commodities, Russia should work to overcome its dependence on oil revenues, Prime Minister Vladimir Putin said on Friday.
"Whatever the situation on global markets, it is obvious that Russia should move away from its dependence on raw materials," he told a regional conference of the ruling United Russia party that he heads.
"The favorable market situation for our raw materials, hydrocarbons, metals, and chemical products must not serve as cause for complacency or an excuse for not taking any action on pressing problems."
The prime minister urged his party members to search for new growth points, incentives for industrial development, and ways of enhancing "national competitiveness."
He praised United Russia's role in recent history as a key to political and economic stability but said that was no longer enough.
"It is duty bound to find and propose to society optimal solutions to the current problems in the foreseeable future as well as in the long term," he said.
tr.com: Yamal and Total's deal with Novatek
With French energy major, Total, buying into Novatek and the Yamal project, Business RT spoke with senior oil and gas analyst at IFC Metropol, Aleksandr Nazarov, about the implications of the news.
RT:So, what will the two companies gain from this strategic alliance?
AN:"Well I would say the main beneficiary of that of course is Novatek.  Novatek now has a stake in its equity of an international oil and gas major.  Moreover Total is one of the leaders, one of the corporate leaders, in LNG globally.  So basically Total has enough financial and technological resources to implement, to get this project really.  Total now gets the step in one of the two current LNG projects, largest LNG projects in Russia.  And, you know, while being a leader in LNG globally, Total historically didn't have anything in Russia yet.  Although the company wanted the stake in Novatek since 2006 even, it was pre IPO of Novatek.  But Total's dreams come true only nowadays."
RT:Can you tell us a bit more about the specifics of the Yamal project? How important is it?
AN: "Well I wouldn't say huge. A few fields, a few gas fields in Russia, owned by Gazprom has larger resources of course.  But the point there is not the resources themselves.  The point is that Russia currently has only one LNG plant – at Sakhalin – and, actually this is supposed to be the second one, the largest one.  It is planned to be 50% more than the current Sakhalin LNG plant there.  So basically it will be the largest Russian LNG plant.  Moreover it will be unique in terms of geography.  It will be the most Northern LNG plant in the world.  And I think that the transportation logistics of LNG would be one of the greatest challenges for the companies."
Novinite: Overgas to Persist in Expanding Bulgaria's Gas Network
The Overgas company has announced plans to continue in 2011 its investment in Bulgaria's infrastructure for delivery of natural gas to homes.
For the year Overgas plans to construct 75 km of new gas pipes, almost half of them in capital Sofia (36 km).
New gas pipes leading to homes are also projected for Stara Zagora, Veliko Tarnovo, Kyustendil, Ruse and elsewhere.
In 2010 Overgas has constructed 50 km of pipes, 19 of which in Sofia, followed by Kyustendil with 7 km.
Overgas is the major supplier of natural gas to Bulgarian homes, covering close to 100% of the market. It also sells some gas to industrial consumers. Overgas is owned by Russian gas giant Gazprom.
centralasianewswire.com: Turkmenistan refuses onshore energy production sharing agreements
Turkmenistan's giant onshore gas fields will not be on offer to international energy investors , the Turkmen minister of energy told a road show in Singapore Friday.
Bairamgeldy Nedirov, Minister of Oil & Gas Industry and Mineral Resources, was responding to a question posed by a journalist at the 2011 Turkmenistan Oil & Gas Road Show conference.
When asked if China, which is looking to boost Turkmen imports by as much as 60 billion cubic meters (bcm) per year, would be given exploration or development rights to the lucrative onshore gas reserves, Nedirov said: "No, there is no possibility. Onshore, we do not do any production sharing agreements," the Reuters news agency reported.
While foreign energy firms are offered service contracts to work onshore gas fields, several energy majors are active under production sharing agreements (PSAs) at Turkmenistan's sector of the Caspian Sea.
"Starting from 2005, there has been gradual growth of investment based on PSAs and the majority of the investment has been made in the Turkmenistan's sector of the Caspian Sea," the news agency quoted Ashirguly Begliyev, deputy director for the state agency for hydrocarbon resources, as saying at the two-day event.
Malaysian state-run Petronas, London-listed Dragon Oil and others spent some $3 billion last year to develop offshore reserves.
The Caspian Sea oil and gas explorers plan to boost crude output 48 percent to 29.2 million barrels per day (bpd) compared with 19.75 million (bpd) in 2010, Begliyev said.
The energy-rich republic, which sits atop the world's fourth largest reserves of natural gas, aims to triple gas production to 230 bcm, while increasing oil output 600 percent to 529 million bpd by 2030. Turkmenistan plans to export 80 percent of production.
energia.gr: Offshore Only in Turkmenistan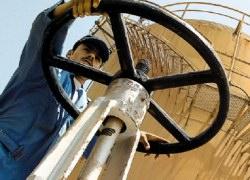 Turkmenistan will not invite foreign oil companies to invest in the exploration or production of its prized onshore gas fields, Energy Minister Bairamgeldy Nedirov has told potential investors.

Instead, international energy companies will be restricted to offshore blocks in Turkmenistan's sector of the Caspian Sea and service contracts at onshore gas fields, Reuters reports.

"No, there is no possibility. Onshore, we do not do any production sharing agreements," Nedirov told reporters when asked if China's CNPC and other firms would be invited to develop the country's onshore gas fields.

Restricted to offshore oil fields, Dubai-based Dragon Oil , Malaysian state oil major Petronas and other foreign oil firms invested around $3 billion under offshore production sharing agreements (PSAs) in 2010, and that total was expected to increase this year.

Deputy director for the Turkmenistan state agency for hydrocarbon resources Ashirguly Begliyev told investors at a two-day road show in Singapore that investment based on PSAs had grown gradually since 2005.

"The majority of the investment has been made in the Turkmenistan's sector of the Caspian Sea," Begliyev said.

Oil production under PSAs was expected to rise by 25% to 42 million barrels in 2011 from 33 million barrels last year, he said.

Of that total, 29.2 million barrels will be from the Caspian Sea compared to 19.75 million barrels in 2010.

Turkmenistan plans to triple gas production to 230 billion cubic metres over the next two decades and forecasts a more than six-fold increase in oil output to 529 million barrels per year. With a population of only 5 million, it will export nearly 80%.

The nation has been looking to diversify energy sales from its traditional market, Russia, and is courting investors from the West, China and other Asian countries keen to exploit oil fields and the world's fourth-largest natural gas reserves.
centralasianewswire.com: TAPI pipeline to be online by 2017, predicts ADB
The ambitious Turkmenistan-Afghanistan-Pakistan-India (TAPI) gas pipeline may be finished and operational by 2016-17, an official from the Asian Development Bank (ADB) said on Friday.
The ADB representative made the comments at Turkmenistan's Oil and Gas Road Show in Singapore, now in its second and final day.
"The timing is very right," the Platts news agency reported the ADB's director of energy for Central and West Asia Pil-Bae Song as saying on Friday.
In order to be online and operational by 2016-17, agreements must be in place by 2013, Song said, adding that construction of the pipeline is anticipated to take three years.
The pipeline, which analysts believe will cost $7.6 billion to construct, is expected to bring 38 million cubic meters of gas annually each to India and Pakistan. Afghanistan will receive up to 14 million cubic meters per year.
Turkmenistan's South Yolotan field will provide the gas for the pipeline, despite earlier indications that the fuel would come from the country's Dauletabad field, Platts reported.
"We have looked at the reserves of the field and are reasonably confident that the field can provide this much volume for at least 30 years," Platts quoted the general manager for business development at India's state-owned gas utility GAIL as saying.
The ADB official said the bank is interested in providing funding to support the project, but it is unknown whether that would be in the form of loan or an investment. The pipeline partners have not yet found an international energy company to establish a consortium and serve as project leader.
energia.gr: Nord Stream Secures EUR2.5B Financing For 2nd Pipeline Stage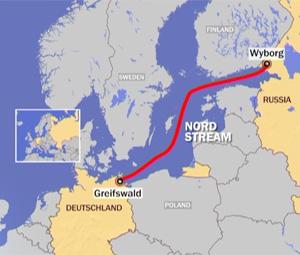 Nord Stream AG, the Gazprom (GAZP.RS)-led joint venture building an underwater pipeline from Russia to Germany through the Baltic Sea , said Friday it has secured EUR2.5 billion financing for the second stage of the project.
At a press conference in Berlin , Chief Financial Officer Paul Corcoran said financing for the second stage was below that for the first, as Nord Stream benefited from favorable market conditions.
The company said 24 financial institutions are lending money for the construction of the second stage, and the financing was 60% oversubscribed.
Corcoran also said total construction costs of the Nord Stream pipeline are still expected to total around EUR7.4 billion. Including cost of financing total costs for Nord Steam will be around EUR8.8 billion, Corcoran said previously.
The first pipeline is due to start transporting gas in October, and the second line is expected to be operational in November 2012, Nord Stream said.
The pipeline, with a planned capacity of around 55 billion cubic meters of gas a year, is financed with 70% external funding and 30% equity capital.
In 2010, Nord Stream raised EUR3.9 billion from 26 financial institutions and international banks for the first stage of the pipeline.
Apart from Gazprom , Germany 's Wintershall AG–a unit of BASF AG (BAS.XE)–and E.ON AG (EOAN.XE) as well as Gasunie of the Netherlands and France 's GDF Suez SA (GSZ.FR) own shares in Nord Stream.
Gazprom Chief Executive Andrei Kruglov said Friday that Russian gas supplies are adequate to fill Nord Stream, despite the delayed start-up of Russia 's Shtokman gas field.
"At present we already have enough gas production capacity at existing gas fields to fill the entire Nord Stream pipeline," Kruglov said.
He added that Gazprom considers all of its gas fields as a potential source for Nord Stream. Shtokman is one such fields, although the start of production will take another couple of years.
The Shtokman offshore field–a joint project controlled by Russian state gas giant OAO Gazprom (GAZP.RS) with France's Total SA (TOT) and Norway's Statoil ASA (STO) as minority shareholders–is a technically challenging project located in icy waters in the Barents Sea around 500 kilometers north of Murmansk. With reserves of 3.9 trillion cubic meters around 53 million tons of gas condensate, Shtokman has enough gas to meet worldwide demand for a year.
An original plan envisioned deliveries of pipeline gas from Shtokman in 2013 and liquefied natural gas by 2014. But a year ago, the project was delayed by three years due to "changes in the market situation and particularly in the LNG market," the three shareholders said at the time.
Kazakhstan state-run energy company KazMunaiGas Exploration Production posted a 12 percent rise in net profit in 2010 on the back of higher crude prices and a production increase, the company announced on Thursday.
After-tax profit earnings grew by $1.59 billion last year, the London-listed oil and gas producer said in a statement.
The average price of benchmark Brent crude gained 28 percent in 2010 to $79.20 a barrel, the company noted.
The oil major boosted oil output 16 percent last year to 270,000 barrels per day.
Production was primarily spurred by its purchase in December 2009 of a 33 percent stake in foreign energy firm PetroKazakhstan Inc. The integrated oil and gas company is majority owned by China's largest energy firm China National Petroleum Corporation (CNPC).
KazMunaiGas said it will raise consolidated crude output in 2011 by 2 percent over the next year.
"We remain confident that the business will successfully continue to grow and strengthen in 2011 as planned," KazMunaiGas chief executive Kenzhebek Ibrashev said in the press release.
"Strong financial results are the evidence of our ability to benefit from the favorable oil price environment and today's announcement further endorses the success of the Company's acquisition strategy."
Ibrashev said the company aims to make those gains through further exploration projects, cost reductions and more effective operations.
Astana-headquartered KazMunaiGas is the Central Asian republic's second-largest producer.