EVZ: Băsescu: "Rompetrol va fi executat"
Dacă acţionarul majoritar al Rompetrol, grupul energetic KazMunaiGaz, nu va plăti datoriile restante către stat, compania va fi executată silit, a declarat preşedintele Traian Băsescu.
Întrebat ce se va întâmpla dacă acţionarul majoritar nu îşi va achita datoriile către stat, Traian Băsescu a declarat că Rompetrol va fi executată silit.
În luna martie a acestui an, şeful statului a întreprins o vizită în Kazahstan, unde a purtat discuţii cu oficialii KazMunaiGaz. Într-un comunicat remis de administraţia prezidenţială la acea vreme seprecizează că "preşedintele a reafirmat necesitatea respectării angajamentelor şi obligaţiilor asumate de către companiile care activează în România".
Pe 30 septembrie 2003, Guvernul condus de Adrian Năstase a convertit datoriile acumulate de de fosta Petromidia, care se ridicau la 2,1 miliarde lei (571 milioane euro), în obligaţiuni cu o scadenţă de şapte ani. Astfel, datoriile ajung la scadenţă în toamna acestui an. mai mult
ziare.com: Guvernul vinde actiuni de la Petrom, Transgaz, Transelectrica si Romgaz
Guvernul a decis miercuri vanzarea unor pachete de actiuni detinute de statul roman la companiile Petrom, Transgaz, Transelectrica si Romgaz.

Ministrul Economiei, Adriean Videanu, a anuntat la finalul sedintei de Guvern ca vor fi vandute 9,84% din pachetul de 20,64% de actiuni pe care statul le detine la OMV Petrom, se arata intr-un comunicat remis Ziare.com.
De asemenea, vor fi vandute pachete de cate 15% din actiunile detinute de stat la Transgaz, Romgaz si Transelectrica. Statul isi va mentine statutul de actionar majoritar in cazul Transgaz si Transelectrica si de actionar semnificativ in cazul OMV Petrom.
Ministrul Economiei a declarat ca listarea pe piata de capital a acestor companii "va dinamiza piata de capital, dar cel mai important – va stimula fluxurile straine de capital catre Romania. Acest proces de vanzare, de listare a companiilor nationale, este un proces care se va derula atat in 2011, cat si in 2012". mai mult
Mediafax: Videanu: Termoelectrica va intra în faliment până în martie 2011
Termoelectrica va intra în faliment până în martie 2011, după ce activele viabile, precum Electrocentrale Paroşeni, vor fi scoase din companie, ca persoane juridice, a declarat, miercuri, ministrul Economiei, Adriean Videanu.

Printre alte active viabile ale Termoelectrica se numără centralele Galaţi, Brăila, Borzesti şi ELCEN Bucureşti.
Videanu a mai arătat că există semnale că Electrocentrale Bucureşti va trece pe profit până la finalul anului, iar în cazul Companiei Naţionale a Huilei va fi derulat un proces de rentabilizare după adoptarea, la nivelul Comisiei Europene, a noului regulament legat de subvenţia pentru huilă.
Guvernul s-a angajat în faţa FMI şi CE să înceapă procedurile de privatizare sau închidere pentru Termoelectrica.
money.ro: Mariana Gheorghe, Petrom: Nu vrem să mai vindem gaze ieftine
Şeful Petrom vrea să-şi vândă toate gazele pe piaţa liberă, adică mult mai scump decât în prezent şi lasă la latitudinea Guvernului alegerea acelor măsuri care să asigure protecţia socială.
Preţul gazelor produse intern trebuie să ajungă, treptat, la nivelul celor importate ceea ce ar presupune o dublare a sa, spune directorul Petrom , Mariana Gheorghe. Potrivit acesteia compania pe care o conduce a făcut mai multe solicitări în acest sens fără ca dialogul cu autorităţile să fi dus la vreun rezultat. "Am trimis mai multe scrisori oficiale către Guvern prin care solicitam convergenţa preţului gazelor din intern cu al celor importate. Nu este normal ca noi să fim obligaţi să vindem cu 150 de dolari mia de metri cubi de gaze în timp ce importul este pe undeva la 350 de dolari. Dacă noi am vinde mai scump gazul atunci şi statul ar avea mai mult de câştigat din TVA, redevenţesau impozit pe profit", declară Gheorghe.
Şeful Petrom admite că o ajustare masivă a tarifelor la gaze ar avea un impact imediat asupra consumatorilor casnici, însă precizează că e treaba statului să găsească soluţii pentru populaţie, cum ar fi acordarea de subvenţii directe pentru cele mai sărace familii. mai mult
Gandul: Profitul Petrom a crescut de cinci ori, chiar dacă producţia a scăzut
Cea mai mare companie din România, OMV Petrom, a avut în primele şase luni un profit de 4,6 ori mai mare decât în aceeaşi perioadă a lui 2009

Grupul petrolier OMV Petrom a avut în primele şase luni ale anului în curs un profit de 1,526 miliarde de lei (368,3 milioane de euro), de 4,6 ori mai mare decât cel înregistrat în perioada similară a lui 2009.
În perioada aprilie – iunie 2010, grupul a înregistrat un profit net de 719 milioane de lei, cu mult peste câştigul din intervalul similar al anului trecut, de numai 6 milioane. Profitul din al doilea trimestru este cu 11% mai redus faţă de câştigul din primele trei luni, de 807 milioane de lei. Totuşi, vânzările din al doilea trimestru, de 4,409 miliarde de lei, s-au situat cu 12% peste valoarea din perioada ianuarie-martie, de 3,934 miliarde de lei.
"Pe parcursul trimestrului al doilea din 2010 am continuat să obţinem rezultate foarte bune, în pofida deteriorării cererii pe piaţă, datorită disciplinei financiare, managementului strict al costurilor şi optimizării ope-raţionale. Producţia s-a situat sub nivelul înregistrat în trimestrul II al anului trecut, deoarece declinul natural al producţiei de ţiţei şi gaze din România nu a fost compensat integral de producţia noilor sonde forate şi cea adiţională obţinută prin programul de reparaţii capitale la sonde", a declarat în raportul financiar semestrial directorul general al Petrom, Mariana Gheorghe.
Pe partea de Rafinare şi Marketing (R&M), vânzările grupului s-au ridicat la 6,6 miliarde de lei, cu 15% peste valoarea din aceeaşi perioadă a anului trecut. Aceasta cu toate că activitatea de rafinare a fost mai redusă. "În primele şase luni ale anului 2010 utilizarea rafinăriilor a fost menţinută la un nivel scăzut, de 51%, în principal ca efect al opririi din motive economice a rafinariei Arpechim, de la mijlocul lunii ianuarie până la sfârşitul lunii februarie şi pe parcursul lunii iunie, ca urmare a condiţiilor de piaţă nefavorabile. mai mult
Bursa: "Petrom" ţine banii OMV de rezervă
De peste un an şi jumătate, compania Petrom nu trage nici un euro din cele 500 de milioane de euro puse la dispoziţie de OMV, acţionarul majoritar
* Între timp, Petrom a luat bani cu împrumut şi de la celălalt acţionar- BERD, şi se pregăteşte de o majorare de capital record
* În aceste condiţii, statul român şi Fondul Proprietatea riscă să-şi reducă forţa în companie, dacă nu vor avea banii pentru majorare
Statul nu scapă de sarcina să vină cu bani la capitalizarea Petrom, deşi cea mai mare companie de la noi stă de un an şi jumătate pe o linie de finanţare de 500 de milioane de euro, pusă la dispoziţie chiar de către acţionarul ei majoritar – grupul austriac OMV. Între timp, Petrom a mai luat un credit de 300 de milioane de euro de la BERD, un alt acţionar al său, şi plănuieşte o majoarare de capital de până la 600 de milioane de euro. Banii OMV ţinuţi deoparte de către Petrom au amplificat în ultima perioadă rumorile că, de fapt, ei vor fi folosiţi la viitoarea majorare de capital, printr-o conversie în acţiuni a împrumutului, dacă el va fi tras până la data respectivă.
Mariana Gheorghe, directorul general al companiei OMV-Petrom, a declarat, ieri, că este posibil ca "Petrom" să deruleze mai multe operaţiuni de majorare a capitalului social până la o sumă de 600 de milioane de euro.
Mariana Gheorghe a evitat, cu diplomaţie, să precizeze dacă "Petrom" va accesa totuşi linia de credit pusă la dispoziţie de acţionarul majoritar înainte să deruleze majorarea capitalului social, dar a precizat că la acţionari se recurge doar "în ultimă instanţă". mai mult
Ion Plesca blog: Rusia nu ne-a permis şi nu ne va permite să importăm direct gaze din Asia Centrală
Mare tam-tam iarăși în jurul prețului gazelor și mai ales a posibilității importului de gaze direct din Kazahstan.
Cică din cauza lui expreşedintelui Vladimir Voronin, Moldova a ratat șansa de importa gaze naturale ieftine din Kazahstan la prețul de 76 USD mia de metri cubi.
Ascom a vrut să ia locul Gazprom – ului?!
Potrivit unui comunicat de presă al Ascom Grup, la 15 martie 2006, a fost semnat un protocol de intenții între guvernul Republicii Moldova și compania respectivă. Protocolul prevedea livrarea a 2,5-3,0 mlrd. metri cubi de gaze naturale anual, până în 2016-2018, pentru satisfacerea necesităţilor energetice ale RM, la un preţ de 50 USD pentru 1000 metri cubi la ieşirea din Kazahstan (sau 76 USD dacă ţinem cont de costurile de transport şi tranzit din Kazahstan până în RM). Volumele de gaze stipulate în Protocol urmau să fie folosite nu doar pentru asigurarea propriu-zisă a consumatorilor din Moldova, dar şi pentru producerea energiei electrice la o centrală care urma să fie construită de Ascom lângă Bălţi, cu o capacitate de 450 MW, pentru modernizarea CET-1 şi CET-2 din Chişinău şi mărirea capacităţilor acestora cu 200 MW şi, respectiv, 450 MW.
În plus, în Protocol se preconiza ca în scopul minimizării şi excluderii totale a riscurilor politice şi economice pentru securitatea energetică a Republicii Moldova părţile vor înfiinţa o altă societate comercială mixtă care va avea ca obiective de bază; construirea conductelor magistrale Drochia-Bălţi-Ungheni-Iaşi şi Tocuz-Căinari-Mereni, identificarea posibilităţii înmagazinării unui volum de gaze ce depăşeşte consumul intern al Moldovei, într-un depozit subteran în Moldova şi/sau România; construirea împreună cu Romgaz a unui depozit subteran de gaze la Mărgineni, lângă Piatra-Neamţ, cu o capacitate de înmagazinare la prima etapă de 4 mlrd metri cubi, unde să fie înmagazinate şi gazele necesare Republicii Moldova.
Totodată părţile urmau să acţioneze şi în direcţia transmiterii către grupul Ascom a dreptului de a efectua o cercetare geologică a teritoriului Republicii Moldova pentru găsirea rezervelor de hidrocarburi, dar şi obţinerii (cu sprijinul conducerii Republicii Moldova a unui zăcământ de gaze în Marea Caspică.
Documentul, dacă se realiza întocmai ar fi semnificat eliminarea monopolului Gazprom la livrările de gaze în Republica Moldova şi practic independenţa energetică a ţării, faţă de Rusia. Partea proastă este că Moldova ar fi căzut astfel într-o dependenţă energetică faţă de grupul Ascom. Adică, un monopol era înlocuit cu altul.
Proiecte utopice
Intenţiile declarate ale părţilor par a fi mai mult decât utopice, în condiţiile în care era clar că Gazprom şi respectiv Kremlinul nu vor accepta emanciparea energetică a unei foste colonii. Pe de altă parte, realizarea acestui proiect presupunea costuri enorme. Calcule elementare arată că la nivelul anului 2006 erau nevoie de investiţii de minimum 2-2,5 mlrd. USD, pentru realizarea acestor obiective. Cine urma să-şi asume asemenea angajamente investiţionale nu este clar.
Eşecul acestor bune intenţii este pus de Ascom Grup doar pe seama conducerii de atunci a Republicii Moldova, care ar fi zădărnicit realizarea obiectivelor din Protocolul de intenţii. Mai mult!
Purtătorul de cuvânt al grupului Ascom, Vitalie Diaconu a susţinut în cadrul unei conferinţe de presă că nu a fost executat şi Memorandumul de înţelegeri şi obligaţiuni mutul din 7 mai 2007, textul căruia aşa-şi nu a fost publicat.
Procuratura şi calcularea prejudiciilor
Din textele distribuite presei reiese că Procuratura Generală a constatat că "prin zădărnicirea intenţiilor comune ale Ascom Group SA şi Guvernului RM de aprovizionare a ţării cu gaze naturale din surse alternative (Kazahstan) a fost subminată securitatea naţională în domeniul economic şi energetic, urmare a cărui fapt RM e obligată să contracteze furnizarea de gaze naturale de la Concernul rus "Gazprom" la preţuri exagerate. Prin urmare, intereselor economice ale statului RM şi cetăţenilor ei le-au fost cauzate daune considerabile şi prejudiciu material în proporţii deosebit de mari, estimat la 1,657 mlrd. USD". Din acest motiv Procuratura a dispus "începerea urmăririi penale pe faptul depăşirii atribuţiilor de serviciu a foştilor factori de decizie şi de conducere ai RM".
Nu sunt clare nici cum au fost efectuate calculele de către Procuratură, dar cifrele par mai mult decât exagerate. Or, potrivit datelor Agenţiei Naţionale pentru Reglementare în Energetică (http://anre.md/press/index.php?vers=1) în perioada 2006-2009, Republica Moldova a importat din Rusia, gaze naturale în valoare de 997 mil. USD. Dacă ţinem cont şi de faptul că şi pentru gazele care ar fi urmat a fi livrate de Ascom, urma să plătim un preţ evaluat doar pentru 2006 la 76 USD şi care ar fi urmat a fi actualizat în fiecare an, putem bănui că cifrele sunt supraevaluate de cel puţin trei ori. Totodată, conform protocolului de intenţii începutul livrărilor era preconizat abia pentru a doua jumătate a anului 2006.
Volumele şi valoarea gazelor importate de RM în anii 2005-2009
Indicii Unitatea de măsură 2005 2006 2007 2008 2009
Volumul de gaze naturale procurate – total mil. m3 1418,6 1418,2 1305,4 1226,9 1126,3
Preţul mediu de procurare a gazelor naturale $/1000 m3 76,1 133,4 172,9 232,3 263,9
Valoarea gazelor importate mil. USD 108,0 189,19 225,7 285,0 297,23
http://anre.md/press/index.php?vers=1
De ce Gazprom nu ne-ar fi permis să importăm direct gaze din Kazahstan
Dincolo de toate acestea era clar că pentru a putea importa gaze naturale direct din Kazahstan era nevoie nu doar de dorinţa Moldova şi a companiei Ascom, dar şi de acordul Kazahstanului şi a Federaţiei Ruse. Ţinând cont de faptul că din 2005, Gazprom a purces la majorarea preţurilor la gaze în spaţiul CSI şi la concentrarea în mâinile sale a tuturor căilor de import direct a gazelor din Asia Centrală, obţinerea de către Moldova a unui astfel de drept era de domeniul fantasticului. Una din jertfele a acţiunilor întreprinse de Gazprom a fost Ucraina (la care fac trimitere reprezentanţii Ascom), care până în 2005 importa circa 40 mlrd metri cubi de gaze direct din Turkmenistan, la un preţ de circa 50 USD mia de metri cubi, după care a fost nevoită să accepte condiţiile impuse de Gazprom.
Totodată, în anii 2007-2008, şi autorităţile din Kazahstan au impus producătorii locali de gaze să vândă cea mai mare parte a gazelor extrase la preţuri interne de 30-40 USD/1000 metri cubi, companiei de stat de transport şi distribuţie a gazelor Kaztransgaz. Ultima ulterior o mare parte din acest gaz îl revinde Gazprom-ului la un preţ de 4-5 ori mai mare. De exemplu în prima jumătate a anului 2008 preţul la hotarul kazaho-rus era de 160 USD pentru o mie de metri cub. Dacă am fi acceptat să plătim la acel moment un asemenea preţ al gazelor la hotarul kazaho-rus, apoi preţul acestora la intrarea în Moldova, ţinând cont de costurile de tranzit şi transport pe teritoriul Rusiei şi Ucrainei ajungea la 200-210 USD pentru o mie de metri cub, preţ ce ar fi practic egal cu cel pe care-l plăteam Gazprom-ului.
Greceanâi a dat dovadă de "constructivism şi a acceptat ca furnizările de gaze să se facă exclusiv prin intermediul Gazprom"
De notat că la începutul lunii iunie 2008, exprim-vicepremierul, ministrul Economiei şi Comerţului Igor Dodon anunţa în Parlament că Moldova are oferte de procurare a gazelor naturale din Kazahstan la preţuri mai joase, însă în prezent nu există posibilitatea tranzitării acestuia pe teritoriile Rusiei şi Ucrainei.
În acelaşi timp în cadrul vizitei din 19-20 iunie 2008 la Moscova a premierului de atunci Zinaida Greceanâi, s-a discutat şi acest subiect, iar Moscova nu a respins deschis propunerile Moldovei de a obţine posibilitatea de a importa gaze direct din Kazahstan, tranzitând Rusia şi Ucraina şi evitând astfel intermedierea Gazpromului.
În acelaşi timp în cadrul unei întrevederi cu Alexei Miller, preşedintele Gazprom, prim-ministrul Zinaida Greceanîi a dat dovadă de "constructivism şi a acceptat ca furnizările de gaze să se facă exclusiv prin intermediul Gazprom, fără vre-un alt intermediar", anunţa presa din Moscova. Ca răsplată pentru acest "spirit de înţelegere", Moscova va permite Moldovei să majoreze exporturile de vin pe piaţa rusă.
Igor Dodon în prezent deputat PCRM susţine că argumentul principal invocat atunci de Gazprom a fost faptul că reţeaua de transport a gazelor era la acel moment "suprasolicitată" şi nu există "loc şi pentru gazul ce ar fi urmat să-l importe Moldova din Kazahstan".
Opinia noastră este că era puţin însă probabil ca Gazprom să fi permis Moldovei importul de gaze direct din Kazahstan, iar guvernul moldovean ar fi putut să obţină acest drept, doar cu preţul unor cedări de proporţii din partea Moldovei.
Vocea Rusiei: Gaze pentru Europa: "alergare" fără finiş
Realizarea proiectului conductei Nabucco, prin care gazul va fi transportat din regiunea Mării Caspice şi Orientul Mijlociu ocolind Rusia, practic, va începe în acest an.
Primul pas în această privinţă este construirea reţelei de conducte între Bulgaria şi Turcia, a declarat agenţia "Sofia News Agency" cu referire la declaraţia ministrului economiei al Bulgariei, Trajtscho Trajkov. Agenţia a precizat că finanţarea lucrărilor, în valoare de 200 milioane de euro, va fi efectuată de UE. Participanţii la proiectul Nabucco sunt OMV (Austria), MOL (Ungaria), Bulgargaz (Bulgaria), Transgaz (România), Botas (Turcia) şi RWE (Germania).
Declaraţia ministrului bulgar al economiei privind începerea realizării proiectului Nabucco stârneşte nedumerire. Deocamdată, după cum se ştie, viitorul gazoduct nu este asigurat nici pe jumătate cu gaze. În acelaşi timp, convenirea asupra problemelor referitoare la principalul concurent al Nabucco, proiectul South Stream, înaintează cu succes. Din această cauză, participanţii reali şi potenţiali ai Nabucco nu manifestă deocamdată vreun interes sporit.
Este greu de spus, cât de fondate sunt declaraţiile lui Trajtscho Trajkov. Gazprom nu intenţionează să devină un spectator pasiv în disputele privind gazele pentru Europa. Observatorii consideră că zilele acestea el "l-a devansat" pe concurentul principal, obţinând permisiunea Bulgariei de a semna planul de acţiuni comune privind construcţia South Stream. De asemenea, Gazprom a propus concernului german RWE să participe la South Stream. În general, cum a remarcat una din publicaţii, Rusia şi Europa se întrec în "sporturile de gaze". De aceeaşi părere este şi Valeri Nesterov, analist în domeniul petrolului şi gazului al companiei de investiţii Troika-dialog:
"Între cele două proiecte concurenţa a crescut la maximum. Bulgaria sprijină paralel şi Nabucco şi South Stream. Partenerul Gazprom, ENI, de asemenea, duce o politică dublă. Potenţial, un număr destul de mare de ţări sunt interesate de livrările de gaze direct în Europa, ocolind Rusia".
Unii consideră că această concurenţă în domeniul gazelor nu are nici un rost.  Conform prognozelor, peste 20 de ani dependenţa UE faţă de importul de gaze va atinge 70%. Aşa că, spun unii experţi, va fi necesară construirea a încă 2-3 conducte de gaze, având aceeaşi putere ca a celor de-a lungul cărora concurenţii efectuează în prezent "alergarea în proba de gaz".
inforusia.ro: "Gazprom Nefti" a achizitionat reteaua statiilor de benzina din Kazahstan
Compania rusa a incheiat o intelegere cu ARNA Petroleum din Kazahstan pentru achizitionarea unei retele de 20 statii de benzina, precum si a noua loturi de pamant  din aceasta tara, titreaza Vesti.ru.
Reteaua statiilor de benzina se va afla sub conducerea "Gazprom Nefti – Kazahstan".
Pana la sfarsitul anului 2010 toate statiile de benzina ale companiei din Kazahstan vor fi transferate sub egida unica a "Gazprom Nefti".
In anul 2011 se preconizeaza darea in exploatare a inca 20 de statii de benzina in orasele Alma-Ata si Astana.
rt.com: Lithuania pushes on gas pipeline
Lithuania is pushing ahead on its plans for an 'Amber Stream pipeline, after Gapzrom had earlier rejected the idea, looking to use Qatari LNG accessed through a Polish terminal.
The operators of gas transmission systems in Poland and Lithuania signed a memorandum on construction of the Amber Pipeline on August 2. The memorandum, which will be submitted to the European Commission in the first quarter of 2011, provides feasibility analysis on its construction.
Polish Prime Minister, Donald Tusk, says that there are still issues to be addressed over a long term gas supply agreement with Russia.
"We will try to optimize the solution to make the Russian gas more affordable and keep the flexibility of our contract relations."
Troika Dialog analyst, Valery Nesterov, believes that the economic viability of any proposal to bypass Russian gas has s till to be proven.
"It has been noticed that during this time EU countries are progressively working under the construction of supplementary terminals uniting the gas transition system of the EU. This concerns the improvement of Energy security. Finland also doesn't want to be 100% dependent on Gazprom gas. Poland has already announced it will access gas from Denmark and Norway. But these projects are yet unrealized because of the high cost of the gas from Denmark and Norway. Moreover, it is not yet understood weather the Qatar gas will cost less than supplies from Gazprom. Probably, gas from Qatar will be purchased not on the spot market but under long term contracts, which definitely makes this gas more expensive. Another issue is that construction of the LNG terminals and pipe branches for liquefied gas is expensive and the Baltic channels are already overloaded. The sea is quite shallow for large capacity methane carriers. That means that Baltic countries want to just secure gas supplies by having different options and suppliers."
Nesterov adds that Gazprom's ability to offer more attractive options shouldn't be underestimated.
"Gazprom had supplied over 4.7 billion cubic meters of gas to Lithuania, Latvia and Estonia in 2009. Assuming the possibility of these countries purchasing 1/3 of Gazprom volume gas aside through, for example, the LNG terminal, Gazprom will take action to reduce prices or offer other attractive conditions."
ITAR TASS: Naftogaz Ukrainy owes Gazprom $780 mln for July gas supply
The Naftogaz Ukrainy (Oil and Gas of Ukraine) company in August should pay to Russia's natural gas monopoly Gazprom 780 million US dollars for gas received in July, Naftogaz CEO Yevgeny Bakulin told journalists on Wednesday.
Under the contract of January 19, 2009, Naftogaz Ukrainy is to monthly transmit to Gazprom payments for gas supply no later than the seventh day of the month following the gas supplies, Prime-Tass reports. In the event of the first single non-payment the contract between the companies envisages the transition to an advance payment system.
Naftogaz Ukrainy is the state company of Ukraine concerned with extraction, transportation, and refinement of natural gas and crude oil. The company is also active in Egypt and in the United Arab Emirates. Ukraine's system of trunk natural gas pipelines and underground natural gas depots is operated by Ukrtransgaz, a subsidiary of Naftogaz Ukrainy. Another subsidiary of Naftogaz Ukrainy, Gaz Ukrainy, is responsible for domestic gas distribution to local Ukrainian heat supply companies. In September 2009 the Fitch Ratings of the company dropped from 'CC' to 'C'. Late 2009 the company restructured of its foreign debt via the exchange of eurobonds and obligations on bilateral loans for single investment instruments.
OAO Gazprom (Open Joint Stock Company Gazprom) is the largest extractor of natural gas in the world and the largest Russian company. Gazprom was created in 1989 when the Ministry of Gas Industry of the Soviet Union transformed itself into a corporation, keeping all its assets intact. The company was later privatised in part, but currently the Russian government holds a controlling stake.
Novinite: Bulgarian Govt Grants Melrose 10 Year Gas Concession
Bulgaria's Cabinet has granted a ten-year concession for the extraction of natural gas to the UK company Melrose Resources.
The concession refers to the Kavarna deposit. Last week the government and Melrose announced the discovery of new natural gas deposits in the Black Sea off the northern Bulgarian coast, whose extraction is expected to bring down the natural gas prices in the country.
Bulgaria's Economy Minister Traicho Traikov stated Wednesday that the concessioncontract with Melrose protected the interest of the state as if it provided for sanctions for the UK company if the latter failed to meet its concession obligations. He contrasted the new deal with Melrose to its previous concession contract in Bulgaria for the Galatadeposit where no sanctions had been envisaged.
The Kavarna deposit is located in the Black Sea shelf near the town of Kavarna, and has an area of 4.36 square km. It is estimated to have about 773 million cubic meters of gas, and its extraction can start in 3-4 months.
According to Traikov, about 250-300 million cubic meters of natural gas will be extracted from the Kavarna deposit annually, which is about 10% of Bulgaria's total consumption.
The new deposit is located close to the Galata platform and the adjacent gas processing facilities in the region of Varna built by Melrose Resources. The Kavarna deposit itself is not big but together with two other deposits nearby – Kaliakra and Kavarna East – it has a total of 3 billion cubic meters of natural gas.
Bulgaria's Economy Ministry expects that, once the three deposits are linked to the respective infrastructure, they can provide about 20% of Bulgaria's annual gas consumption over the next 6 years.
"Since the price of this natural gas will be much cheaper than that of the imported Russian gas, we expect a decline of natural gas prices in the country as a whole," Traikov stated.
During its Wednesday sitting, the Borisov Cabinet granted an oil and gas exploration permit to "Oil and Gas Exploration and Production Plc.", a company owned by the Bulgarian holding Chimimport. The permit pertains to an area of 260 square km located between Pleven and Veliko Tarnovo in Central Northern Bulgaria.
energia.gr: Nabucco Pipeline Decision Could Be Postponed To Next Year -OMV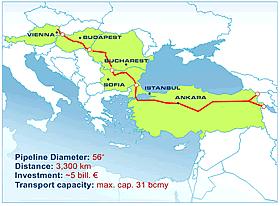 OMV AG (OMV.VI) Wednesday said a final decision on whether to build the 3,000 kilometer long, European Union-backed Nabucco gas pipeline from the project's partners could be postponed to the beginning of 2011.
"We still plan to make the investment decision by the end of this year, but for reasons out of our hands it could also happen in the first quarter of 2011," OMV Chief Executive Wolfgang Ruttenstorfer told journalists on a conference call.
"We are dependent on both supply countries and customers," Ruttenstorfer said.
If green-lighted, the estimated EUR7.9 billion pipeline will source up to 31 billion cubic meters of natural gas a year from the Caspian region to Western Europe, thereby reducing Europe's dependency on Russian gas. OMV is one of six companies involved in the project, including Hungarian firm MOL Nyrt. (MOL.BU) and Germany's RWE AG (RWE.XE).
An "open season," whereby shippers can flag up interests in buying transport capacity, will later this year determine whether customer interest is sufficient.
The Nabucco partners are working intensively on securing supply, most importantly from Azerbaijan and Iraq. Negotiations for gas contracts from the Shah Deniz II gas field are due to start shortly, a member of the consortium behind Shah Deniz has said.
apa.az: Nabucco supports agreement to be signed in Ankara
An agreement on support to Nabucco gas pipeline project is expected to be signed in Ankara in August by the ministers of the participant countries – Turkey, Austria, Hungary, Romania and Bulgaria, APA-ECONOMICSreports quoting the Turkish newspapers.
The signing ceremony was scheduled for July 30, but then the date was changed due to working schedules of the ministers. The Turkish newspapers said supply problems were expected to be resolved this year and financial issues – in first months of 2011.

Nabucco shareholders are negotiating the gas supply issues with Azerbaijan, Iraq, Turkmenistan and Kazakhstan. If the negotiations succeed, the pipeline extension will be enlarged from 3 300 km to 4 000 km, which will cause 10% boost in pipeline costs.
Nabucco Gas Pipeline International GmbH was founded for the construction of Nabucco pipeline, which will carry the Caspian gas to the Central Europe via Turkey and Balkans. The shareholders of the company are OMV (Austria), MOL (Hungary), Transgaz (Romania), Bulgargaz (Bulgaria), BOTAŞ (Turkey), RWE (Germany). Each of the shareholders holds 16.67% of the shares. The shareholders will meet 1/3 of the project expenses and other part will be funded by the financial-credit organizations. Total investment cost of the project was increased from €4.6 billion to €7.9 billion ($12.3 billion). The pipeline is expected to be operational by 2013 and it will carry 31 billion cubic meters of natural gas per year.
eurasianet.org: Kyrgyz Energy Transparency Initiative Promises to Reform Troubled Sector
Kyrgyzstan's interim government is addressing some of the root economic causes of the political instability in the Central Asian nation this year, in particular energy-sector woes. But as officials take steps to reform the ailing sector, some civil society activists are worrying about the government's commitment to genuine change.
Mismanagement of the energy sector played a key role in the downfall of President Kurmanbek Bakiyev's administration in April. The opaque sector is notorious for corruption, and Kyrgyz citizens greeted tariff increases last winter with anger when it appeared the president's friends and family members might be in position to profit from the increases. Moreover, some villages faced blackouts up to 16 hours per day. [For background see EurasiaNet's archive].
On July 20, provisional President Roza Otunbayeva signed a decree that is designed to "introduce transparency and public consultation into the management and regulation of the Fuel and Energy Sector." On paper, at least, the decree forces government agencies and private companies working in Kyrgyzstan's energy sector to adhere to a set of criteria known as the Fuel and Energy Sector Transparency Initiative (FESTI).
FESTI promises to publicly report the finances of energy interests and introduce "transparent procedures for defining tariff methodologies and setting tariffs," as well as use "open and competitive tenders" for fuel export and import. The also decree establishes a monitoring body including "representatives from state agencies, non-governmental organizations and the companies of the Fuel and Energy Sector of the Kyrgyz Republic."
Kyrgyzstan makes most of its energy via hydroelectric power plants. Due to limited reservoir capacity, it cannot store the water to create power during the winter months.
Nikolai Kravtsov, an energy expert and director of Yustin, a consumer rights advocacy group, called the decree "very timely," but cautioned that implementation will be far more difficult than simply signing a document. "The main thing now is that officials in the ministries understand the document correctly. If we let [ministry officials] implement this document, that will be the end of it," Kravtsov said.
FESTI is "the right measure now" for tackling widespread corruption, said Asiya Sasykbaeva, director of Interbilim, an umbrella group that monitors the work of non-governmental organizations (NGOs) in Kyrgyzstan. "The level of corruption is very high in the sector because every head of every office, when appointed, thinks [the resources] are his personal property," Sasykbaeva said. But, she fears, the Energy Ministry may already be flaunting the new regulations.
While expressing his support for the initiative, Energy Minister Osmonbek Artykbaev revealed on July 21 that Bishkek was negotiating with Beijing about exporting power to China, the AKIpress news agency reported. A week before, the ministry announced a $57-million deal to sell power to five Kazakh companies this year, potentially exporting more than 1.8 billion kilowatt hours.
Bishkek published the names of the companies and the amounts of the tenders, but announced the sale only after the contracts had been concluded. Moreover, at the end of June the ministry stopped reporting information on the amount of water in the Toktogul Reservoir, Kyrgyzstan's largest, for four days. Officials told EurasiaNet.org that the information was held as a commercial secret during negotiations with Kazakhstan. Anti-corruption activists question why they were not involved in the process.
"Civil society actors were invited to the consultations regarding selling the energy, but when it came to the price discussion, civil society actors and the press were asked to leave. Of course, this is not good," said Sasykbaeva, the Interbilim director, going on to suggest that officials are trying to cover up energy losses rather than reveal shortcomings in their management. "If state officials are not professional, people shouldn't pay for it."
Little has been reported on the negotiations with Beijing since Otunbayeva signed the FESTI pact.
Another sticky issue will be the raising of tariffs. A price hike is needed to keep the sector solvent, ministry officials have indicated. At the same time, energy tariffs are a politically explosive issue in Kyrgyzstan. In one of its first decrees following the April uprising that forced Bakiyev from power, the provisional government reversed the energy tariff hikes that had been the source of widespread protest. But the system is not sustainable at the lower rates, many experts believe. [For background see EurasiaNet's archive].
While expressing her support for FESTI and noting potential fiscal benefits from selling energy to Kazakhstan, Aziza Abdurasulova, a well-known anti-corruption crusader, says that, to improve transparency, only experts independent of the Energy Ministry should determine the rates of energy tariff increases.
Kravtsov, the consumer advocate, is also skeptical about how the provisional government is approaching tariff price increases. The day after Otunbayeva signed the FESTI declaration, the energy minister began pushing for tariff increases without consulting outside experts. "He is basically sabotaging the decree of the president," Kravtsov said.
A gas glut is heralding the dawn of a new era. This new era is marked by technological progress, greater convergence between global gas markets and the declining relevance of established pricing patterns in the continental European pipeline business. The areas concerned are the typical large-scale projects, the international supply relationships and the downstream trading and usage levels.
The free-market price of gas will become the new benchmark and will be the guide for the price of pipeline gas. We expect a pronounced buyers' market to develop in the European gas sector by 2013, with North America dictating the price trend. Following the end of the low-price phase from around 2014 onwards, we do not expect to see a renaissance of the longstanding link with the oil price.
The gas glut is bringing opportunities for domestic customers to benefit from pricing changes and providing greater flexibility for industrial users. Traditional municipal utilities and regional energy suppliers are coming under pressure. By contrast, major opportunities are opening up for independent distributors, independent traders and newcomers. Power plant operators should review their procurement strategies. New challenges face gas producers and importers; they will not be in the same boat for much longer, as they will be competing against one another for tighter margins in future.
The security of supply in Europe is improving. The battle for unconventional gas deposits is in full swing. New pipelines and gas storage facilities currently appear to be less urgent. Nevertheless, there is a need to press ahead with the projects in the longer-term interest. Gas market liberalisation, the basis for the new competitive situation, must not under any circumstances be allowed to stagnate. The "Gas OPEC" is currently toothless, but its time will come. Europe should, therefore, invest in more open structures, globally diversified sources and new technologies – and also trust in the creative vigour of market participants.
Beginning of stage four of the European gas market
There are strong indications at present that, half a century on from Groningen, the fourth stage is just getting underway, bringing with it many changes and challenges for all market players. At least three observations argue in favour of this theory, pointing on balance to the dawn of a new era.
First, towards the end of the third phase, gas prices for private households, small businesses and industry surged massively up to mid-2008 in the wake of exploding oil prices. A major driver of this trend was that gas prices in important Western European buyer countries such as Germany are indexed to oil prices. This contractual arrangement, which has hitherto been regarded as sacrosanct across broad sections of the gas industry and was undeniably useful to both sides while the market in gas was starting up, has come to be regarded in recent weeks as at least partially and temporarily dispensable – even in Russia, the dominant source of supply.
Second, there are strong signs that North American and European gas markets in particular, and also some Asian gas markets, after having previously existed separately are now growing closer together. Price trends in recent months are the most powerful indicators of this. The relevance of liquefied natural gas (LNG) in this context will be discussed later.
Third, technological advances play a key part; indeed, they are probably the major driving force behind the two trends previously mentioned. New gas extraction technologies are suddenly turning gas deposits not deemed commercially viable until now (unconventional natural gas) into economically interesting options, paving the way for expansion in gas supplies on a scale not previously anticipated, chiefly in the US. What is more, instead of coming from the established gas producing regions the new volumes are widely distributed around the world.
On balance the new fourth phase on the gas market is hallmarked by technological progress, greater convergence between global gas markets and the declining relevance of established pricing patterns in continental European pipeline business (oil price formation). All this is radiating onto the big-ticket investment typical of the industry, onto international supply relationships and onto the downstream trading and consumption stages. The fourth stage just unfolding on the European gas market holds out many opportunities for market participants, but it also entails risks. Since these are closely related to current and probable medium-term price developments, it seems appropriate briefly to outline these and their causes.
From market balance to global gas glut
Price trends over the past 10 years have played out against a background of gradual transition from a world gas market broadly in equilibrium in terms of volume to a global gas glut.
In the early years of the previous decade, the virtually balanced market situation steered market participants' expectations in approximately the same direction. Up to the middle of 2008 it was thought that global growth in demand for energy necessitated a marked step-up in the supply of gas. Steep increases in the prices of fossil energies since the beginning of the decade made building up and expanding the necessary gas infrastructure profitable. Consequently, financing for these capital-intensive projects was not usually a problem. Moreover, at least up to the middle of the decade many market observers expected that the launch of trading in emission certificates in Europe would make natural gas significantly more competitive vis-à-vis fossil alternatives, it being widely accepted that the combustion of natural gas emits less CO2 than hard coal and lignite.
Going forward, this effect was expected to become more pronounced as heightened climate change hazards seemed inevitably to signal rising prices for tradeable pollution rights. All in all, this triggered a burst of gas-related investment, ranging from the development of new deposits through the construction of additional pipelines to additional LNG infrastructures. This investment boom – with the long time-lags typical of gas projects – is currently having the effect of pushing up the volumes of pipeline gas and LNG available around the globe. The situation is now being heightened by the development of unconventional gas, holding out the prospect of substantial additional quantities. The gas glut we are seeing at the moment looks set to persist for some time to come, with severe repercussions on pricing.
LNG spurring international gas price convergence
Since its early days, gas trading in Europe has essentially been based on physical deliveries through pipelines. The increased emergence of LNG has added another means of transmission. In terms of quantity, however, pipeline gas continues to dominate trade, above all in mainland Europe. In 2009, LNG accounted for 10% of gas supplies in the EU.
The uptrend in prices for practically all fossil energy alternatives has enhanced the competitiveness of LNG and made infrastructural investment in the value chain (such as modern vessels to carry LNG and off-loading and regasification terminals) worthwhile around the globe. LNG has injected new flexibility and fresh impetus into the international gas trade. The new transmission vehicle has provided the world regions of particular relevance to the gas trade, ie. the countries forming the triad, Europe, North America and Asia, which were previously practically unconnected on the gas market, with additional gas trading potential.
Research does indeed show that LNG has paved the way for intercontinental arbitrage, elevating gas trading to a new level at which natural gas prices are becoming more closely linked even between continents. Particularly in the Atlantic area, LNG transmissions have tended to nudge price movements in the same direction on what were previously highly segmented markets for natural gas. Up to the end of the latest energy price boom, the causal relationship was by no means unidirectional, with for example one region – North America, say – setting a price trend which another continent – in our case Europe – followed. In actual fact the impetus was more or less evenly spread.
Also important to an understanding of trading activities is that neither the US nor the European side possess the liquefaction and loading infrastructure necessary for exporting LNG. This technical shortcoming is preventing loading at low-price locations and off-loading at high-price locations that would enable brisk physical trade in gas across the Atlantic. Moreover, liquefaction is too expensive for arbitrage trading. That is why liquefaction plants are not built for arbitraging purposes. The only suitable cargoes for deliveries triggered by arbitrage are therefore those already being shipped by LNG tankers from other production areas (eg. Africa, Qatar). If the price difference offers a great enough inducement, LNG shipments floating in the Atlantic can simply be redirected and regasified at the high-price location. Arbitrage is thus ultimately limited to cargo management (as with many other durable and non-durable consumer goods). Comparatively "small volumes" therefore balance out the regional markets all round the world.
Free US prices put pressure on pipeline gas prices in Europe
In the past few months, some completely novel developments have occurred in the global gas trade. Key to this were technological breakthroughs with huge economic implications. Two particular features are apparent. First, in the present market situation many determinants are working in the same direction. Second, the convergence of gas prices is following a new pattern. It seems as if recently parameters from the US are setting the trend and European prices adjusting within a relatively narrow impact channel.
What does this process look like in detail? The real cause of the gas glut we are currently seeing is the rise in gas prices since the beginning of the last decade. This has suddenly turned the recovery of natural gas from many unconventional sources previously deemed unprofitable into an economically viable option. While it was known that the US and many other countries possessed more or less large unconventional deposits of gas in impermeable shale and coal seams (also called tight gas), the technologies required to extract this only became profitable as gas prices climbed. Essentially these enhanced gas recovery methods revolve around horizontal drilling and a hydraulic fracturing process called fracking or hydrofracking.
The innovative high-tech combination of horizontal drilling and multi-stage fracturing systems is the actual technical reason behind the creeping revolution currently taking place on the gas market. The US Department of Energy estimates that the US alone possesses sufficient recoverable unconventional gas deposits to supply the entire country for the next 90 to 120 years. Conversely, of course, this means that the US will become less dependent on imported gas than previously assumed. The large shale gas finds in North America mean that the role played by the US on the global LNG market will have to be redefined.
Genesis of a new LNG world
Until now, practically all medium- and long-range LNG scenarios have been based on the assumption that going forward the US would have to import ever larger amounts of energy as its domestic fossil energy resources were depleted. Most importantly, it was believed the US would absorb much of the additional new supply of LNG set to flood the world market over time. The US' appetite for energy thus held out the promise of keeping the global LNG market in equilibrium for the foreseeable future and ensuring that surpluses did not arise.
In reality, matters have turned out differently. Already, the rise in the production of unconventional gas is shaping pricing in the US. Whereas in 2000 just 30% of US gas production came from unconventional sources, the expansion in the volume of shale gas has since pushed this figure above the 50% mark. The new amounts enabled the spot price at the Henry Hub pipeline, which is the pricing point for the US, to disconnect early on from the other international regional markets.
The consequence of this development is that LNG volumes originally scheduled for the US are no longer required there. Redirection of these volumes and their sale on the spot markets in Europe and Asia has caused gas prices to collapse there, too, as in the US before them. In 2009, this trend was shored up by two factors that pushed prices in the same direction. First, the global economic recession subdued energy consumption, with the result that global demand for gas was lower than expected. Second, more and more LNG projects launched when prices were riding high (as already discussed) are recently becoming relevant to market activity. Both these drivers are of course ramping up the pressure on prices from the supply-side.
That this price trend has crossed the Atlantic to Europe is due chiefly to the free gas market in the UK, which is acting as something of a "release valve" for oversupply. Oversupply of LNG is ousting Norwegian gas in the UK and this is moving on to Germany instead. In north-western Europe, gas from Norway is therefore increasingly coming up against gas supplies from Russia, and the prices of both are competing with production from domestic sources. The gas glut drove down spot prices at the end of 2009 to around 1 ct/kWh (ie. below long-term averages), while the prices at German border crossings calculated by the Federal Office of Economics and Export Control (BAFA) were roughly twice as high. To put it another way, the Henry Hub spot price points the way for the spot price at the UK National Balancing Point, to which in turn the Title Transfer Facility futures market is aligned. And this price for free quantities then radiates onto all gas prices on the Continent. This also applies to prices for pipeline gas, because following liberalisation of the European natural gas market gas consumers are at liberty to choose the suppliers from whom they purchase their gas. Corporate clients and regional distributors have recently been making increasing use of this option, with the result that even long-term contracts for district gas with "take-or-pay clauses" have been affected. Ultimately, price pressures are obliging suppliers to be rather more open-minded on long-term contracts whose prices are indexed to that of oil. On balance the newfound flexibility on the part of even the major Russian gas producer signals a sea change in the gas industry.
The new international gas cosmos is thus characterised by a situation in which, unlike the previous decade, there is a unidirectional price correlation between North America and Europe (and also Asia, with certain reservations). The direction is flagged up by the Henry Hub spot price, which gas prices in Continental Europe then follow via the NBP. Whilst the price for pipeline gas previously determined events in Europe, the free gas price is now the new benchmark.