news.az: Azerbaijan exports over 103,000 tons of liquefied gas
In January-August 2010 Azerbaijan exported 103,800 tons of liquefied gas in the amount of $10,064,000.
According to sources in the State Statistical Committee, export of production has increased by 56.5% over the same period of the last year. The assets received from the sale of liquefied gas have increased by 173.4% over January-August 2009. In January-August of this year Azerbaijan produced 137,230 tons of liquefied gas which is an increase by 35,700 tons over January-August 2009.
Production made up 17,690 tons in January, 16,850 tons in February, 18,720 tons in March, 17,060 tons in April 18,580 tons in May, 15,920 tons in June, 15,290 tons in July, 17,120 tons in August. Liquefied gas extraction made up 101,530 tons in eight months of the last year.
In 2009 Azerbaijan produced 173,300 tons of liquefied gas. Compared to 2008, production has decreased by 7,830 tons. By results of 2008 Azerbaijan produced 181,130 tons of liquefied gas. Automobile transport made up 80% of liquefied gas consumption on the internal market and population made up 15%. Liquefied gas is produced at the Azerbaijani gas processing plant, the oil refinery named after Heydar Aliyev and one of Azerkimya enterprises.
today.az: Azerbaijani company participates in oil and gas exhibition-conference in Kazakhstan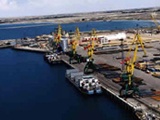 Azerbaijan's "Technip Maritime Overseas Ltd" participates in "Mangystau Oil, Gas & İnfrastructure 2010" exhibition and "OilTech Mangystau 2010" conference in Kazakh city Aktau.
The event brought together over 60 companies from Russia, Italy, Luxemburg, Netherlands, Russia, Romania and France.
The participants will discuss the problems of development of the offshore oil and gas fields in the Caspian Sea, oil and gas transportation, and new technologies for offshore oil field development.
centralasianewswire.com: KazMunaiGas has no plans for an IPO anytime soon
The Kazakh government will not be selling stakes of national energy giant KazMunaiGas through an initial public offering (IPO) anytime soon, a top Kazakh official said in an apparent reversal of a previous announcement.
"Samruk Kazyna (the republic's Sovereign Wealth Fund) would like to make clear that, without prejudice to future decisions that may be taken by its board and management team, it has no plans to IPO … KazMunaiGas in the near future," the Reuters news agency on Tuesday cited the Chief of the national holding company Kairat Kelimbetov as saying.
Kelimbetov had told the media last month Samruk-Kazyna may sell up to 20 percent of the national oil and gas firm next year to raise "billions" of dollars, the Bloomberg news agency reported on October 20.
Kelimbetov also said last month said the Astana government is seeking foreign investors to develop the republic's oil, gas and rare metals industries.
KazMunaiGas said in April it needs to raise some $1.5-2.0 billion a year to develop the massive Northern Caspian offshore Kashagan oilfield that was discovered in 2000.
Kashagan is the biggest oilfield outside the Middle East and the biggest to be discovered in the last three decades.
Last month Kelimbetov also said Samruk-Kazyna may sell stakes in other firms it owns.
Its extensive list of holdings includes uranium mining giant KazAtomProm, power utilities and a string of leading banks.
Russian companies may take part in the privatisation of state-run Polish oil assets, Russia's largest crude producer, Rosneft, quoted its chairman, Deputy Prime Minister Igor Sechin as saying today.
"Authorities in Poland plan to privatise some oil assets in the Republic of Poland," Reters quoted Sechin as assaying.
"If the plans are implemented, Russian companies are quite able openly to take part in realisation of these plans and show their effectiveness."
He led a Russian delegation to Poland today where Moscow and Warsaw signed an agreement on increasing Russian gas supplies.
Gazprom International has made its first commercial gas discovery on the African continent in Algeria, its head Boris Ivanov said today.
Ivanov, head of the international arm of Russian gas export monopoly Gazprom, said the discovery was Gazprom's first commercial gas find outside the former Russian territory.
"We have an excellent well, we tested it on 30 October," Reuters quoted him as telling reporters on the sidelines of an African oil conference.
"It was 75,000 cubic meters of gas per day and 420 barrels per day of associated liquids," he said.