Flux.md: Ostaticii Gazprom
În sfârşit, un membru al Guvernului verde ca spanacul a emis o idee valabilă şi de luat în seamă. Numărul 2 în Cabinetul de miniştri, Valeriu Lazăr, care deţine şi portofoliul Economiei, s-a dat cu părerea despre noile scumpiri la gazele naturale vândute în Republica Moldova de gigantul monopolist rus Gazprom. Cuvântul demnitate a răsunat în context. Lazăr a ţinut să arate: "Sau mergem, în continuare, pe strategia prin care Republica Moldova, cu demnitate, va ajunge la media europeană, ceea ce ne dă dreptul să negociem tariful de tranzit, sau facem ca ucrainenii. Asta vrem noi? Am impresia că odată ce am ajuns aici şi greul a trecut, noi nu trebuie să facem compromisuri politice exagerate.
Urmează să ajungem la achitarea sută la sută a datoriilor curente şi să ne comportăm cu demnitate". Comentând declaraţia ambasadorului rus la Chişinău că "Moscova aşteaptă propuneri din partea Chişinăului privind negocierea preţului" la gazele naturale importante, Lazăr a mai menţionat că poate doar intui ce ar putea oferi ţara noastră Rusiei, în schimbul unei reduceri de preţ. Ciudat şi neaşteptat, nu-i aşa? Ministrul a rostit chiar de două ori cuvântul "demnitate" şi a făcut o aluzie cât se poate de transparentă la utilizarea şantajului economic de către Moscova pentru atingerea unor scopuri politice. Trebuie să recunoaştem că rar ne este dat să auzim aşa ceva din gura vreunui oficial de la Chişinău când e vorba despre raporturile noastre cu marii factori de putere politică şi economică de pe continent şi din lume.
Că Valeriu Lazăr, care a fost ani la rând responsabil de chestiunile economice în cadrul Serviciului de Informaţii şi Securitate (SIS) al Republicii Moldova, este edificat şi bine informat asupra chestiunilor economice, este de admis. Că el şi echipa din care face parte are relaţii speciale în cercurile puterii de la Moscova este, de asemenea, de admis. Deci, oficialul vorbeşte în cunoştinţă de cauză. Chiar dacă nu spune totul expres şi până la capăt.
Să dezghiocăm puţin subiectul importului de gaze naturale din Federaţia Rusă. Nu ne interesează aici aspectele tehnice, cifrele privind volumul importurilor şi procentul de creştere a preţului pentru 1000 de metri cubi în raport cu perioada anterioară. Aceste aspecte au făcut deja obiectul comentariilor şi analizelor mai multor economişti şi ziarişti. Ceea ce ne preocupă pe noi sunt aspectele politice ale cazului şi posibilul lor impact asupra destinelor Republicii Moldova.
La o scurtă privire vom observa, principial, următoarele: 1. Republica Moldova achiziţionează gazele naturale din Rusia la un preţ dintre cele mai mari în tot spaţiul ex-sovietic. Preţul de achiziţie este mai mare decât cel practicat de Federaţia Rusă, bunăoară, în cazul Georgiei, cu care a avut un scurt, dar sângeros, război în 2009 şi cu care nu întreţine relaţii la capacitate normală, sau în cazul Estoniei, în care există o minoritate etnică rusă de circa 40% şi ai cărei membri au doar statutul oficial de "necetăţeni". 2. Menţinerea de către ruşi a preţului ridicat la gazele naturale vândute în Republica Moldova are menirea de a compensa menţinerea la cote ridicol de mici a preţului la gazele livrate consumatorilor din partea de răsărit a ţării noastre (Transnistria) controlată efectiv de către Moscova (chiar dacă regimul de la Tiraspol nu achită nici aceste preţuri modeste, acumulând, în contul Republicii Moldova, datorii imense de-a lungul ultimilor ani). 3. Prin politica sa de preţuri, gigantul rus Gazprom (a se citi Guvernul Rusiei) a reuşit performanţa unică ca un regim-marionetă instalat în alt stat să fie finanţat cu mijloacele statului în care Moscova a instalat şi menţine acel regim-marionetă. 4. După precedentul ucrainean, de extindere a influenţei Moscovei asupra Kievului şi de legalizare a prezenţei militare ruse în Crimeea până în 2042 şi de livrarea la preţ politic diminuat (cu 30%) a gazelor naturale în Ucraina, Kremlinul, lăsat în voie de partenerii săi "energetici" francezi, germani şi italieni (trei state constituind demografic 1/2, iar economic 2/3 din UE), aşteaptă "propuneri din partea Chişinăului privind negocierea preţului" la gazele ruseşti vândute în Republica Moldova. Dovadă sunt declaraţiile ambasadorului Kuzmin, care nu aruncă niciodată vorbe în vânt, ci transmite către Chişinău semnalele politice ale Moscovei. 5. Nu este pentru nimeni un secret că propunerile aşteptate de Kremlin vizează trei aspecte: a) legalizarea prezenţei militare ruse în ţara noastră; b) determinarea Chişinăului să accepte un termen de minimum 30 de ani pentru această prezenţă militară, cu posibilitatea prelungirii respectivului termen şi c) federalizarea (a se citi transnistrizarea) Republicii Moldova ca o garanţie a transformării ei într-un satelit sigur şi de durată al Federaţiei Ruse.
Faptul că acum jurnaliştii, analiştii politici şi economici şi oamenii politici de la Chişinău, din tabăra puterii sau din cea a opoziţiei, dezbat subiectul în contradictoriu, încercând să atragă nu doar atenţia, ci şi spiritul de compasiune şi solidaritate umană al Moscovei, este de explicat. Am văzut o situaţie asemănătoare acum un an şi la Kiev. Acolo, Moscova a ascultat, a luat act de tot şi de toate şi, imperturbabilă, a făcut ceea ce trebuia să facă pentru satisfacerea interesului său politic: mai întâi bazele militare şi abia apoi reducerea cu 30% a preţului pentru gaze.
Numai că Moscova, după cum bine se ştie, nu crede în lacrimi. Ea se conduce, cu spirit rece şi neclintit, doar de propriile ei interese geopolitice. Pentru acest motiv ea nu ezită să se servească de pârghiile economice care îi stau la dispoziţie, folosind arma energetică pentru a-i transforma pe foştii săi rivali occidentali în prieteni şi parteneri, iar pe noile state apărute pe ruinele URSS în sateliţi de durată şi executori fără crâcneală a voinţei acesteia.
Cunoscând aceste adevăruri simple, elementare şi greu de răsturnat, trebuie să recunoaştem că vocea singulară a ministrului Lazăr, predicând despre "demnitate" şi, implicit, "interes naţional", nu trebuie să rămână o voce în pustiu.
ITAR TASS: Average price of Urals oil in 2010 goes up by 28 % – MED
The average price of Urals oil in 2010 amounted to 78.2 dollars per barrel, or 28.1 higher than in 2009. In December 2010, the price was equal to 89.5 dollars per barrel, or 6.1 percent higher than in November 2010 and 21.5 higher than in December 2009. This is said in the monitoring of the Russian Ministry of Economic Development (MED) on the results of the socio-economic development of the Russian Federation in 2010.
Average contractual prices of Russian natural gas on the German border in 2010, according to data of the International Monetary Fund, were 7.1 percent lower than in 2009. In December, the price of natural gas amounted to 314.3 dollars per 1,000 cubic metres, or 0.2 percent higher than in November 2010 and 35.4 percent higher than in December 2009.
During 2010, a growth of world prices of non-ferrous metals was recorded under the influence of the growing investment and industrial demand, especially on the part of China, the business news agency PRIME-TASS reports.
RIA Novosti: Putin, Chavez discuss energy, military cooperation
Russian Prime Minister Vladimir Putin and Venezuelan President Hugo Chavez on Thursday discussed joint finance, energy and military projects, Putin's spokesman said.
They had an extensive telephone conversation in the course of Putin's working visit to the city of Kirov in northeastern European Russia, Dmitry Peskov said.
"They discussed in detail the current status of trade and economic cooperation, including the implementation of specific financial, energy and military projects," he said.
Novinite: Greece: Bulgaria's Balking at Oil Pipeline Is 'Madness'
Bulgaria's evolution towards a negative position with respect to the construction of the Burgas-Alexandroupolis oil pipeline in unjust and unjustified, according to a Greek Deputy Minister.
In an interview for Interfax Monday, Yannis Maniatis Deputy Minister of Environment, Energy and Climate Change of Greece, has described as "madness" Bulgaria's position against the construction of the troubled project for transport of oil from the Black Sea to the Mediterranean.
"If someone's position on the project has changed, this is not Greece's position. What changed is the position of our Bulgarian partners. From the very start of the discussions to this day all governments of Greece have supported the idea for the construction of this oil pipeline firmly and decisively," Maniatis said.
While he points out he hopes that Bulgaria will eventually come to its senses, and will realize the importance of the Burgas-Alexandroupolis project.
"Indeed, if the Greek side and the Greek structure, based on European norms and laws, have confirmed that the project does not pose a threat to the environment, how can the corresponding structure of another EU member state to adopt some kind of the opposite decision? This is, in truth, some kind of madness. We have stated this openly and very much hope that our neighbors and friends in Bulgaria, too, will come to the same opinion," the Greek Deputy Minister says when asked ifGreece cannot get the EU institutions to prod Bulgaria for the realization of the project.
Maniatis says Greece expects that in February or March Bulgaria will come to the conclusion that Burgas-Alexandroupolis is environmentally safe; he emphasizes that many European energy companies and banks have indicated they wanted to invest in the oil pipeline.
In 2010, the Burgas-Alexandroupolis oil pipeline – one of the three major Bulgarian-Russian energy projects – ran into much disrepute with the Bulgarian government of PM Borisov.
In December, news emerged that Bulgaria failed to pay the EUR 6 M that it owes as its contribution to the joint project company with Greece and Russia, which is supposed to construct the Burgas-Alexandroupolis oil pipeline.
Ever since the center-right government of Bulgarian Prime Minister Boyko Borisov took office in the summer of 2009, it has been balking at the construction of theBurgas-Alexandroupolis oil pipeline, which had been promoted vigorously by the formed Socialist-led Stanishev Cabinet and the Socialist President of Bulgaria, Georgi Parvanov. It has also been met with staunch resistance along Bulgaria's southern Black Sea coast over environmental concerns.
In the summer of 2010, Borisov said that Sofia has no money to participate in the construction of the pipeline. Later Sofia has agreed to pay EUR 4.88 M as a contribution to the project company, Trans-Balkan Pipeline. The Bulgarian authorities, however, have made the construction of the pipeline conditional on complex environmental assessment procedures.
In November 2010, the Bulgarian Environment Ministry said the environmental impact assessment of the Burgas-Alexandroupolis oil pipeline is inadequate and needs to be reworked; the ultimate decision about whether Bulgarian will take part in the project has been put off for 2011. Bulgarian Prime Minister Borisov, however, has written off the project on a number of occasions, declaring that there is no way the ultimate environmental assessment would be positive.
In December, Greece's Deputy Prime Minister Theodoros Pangalos was especially critical of Bulgaria as regards the issue of the construction of the Burgas-Alexandroupolis pipeline claiming that the rightist governments in Bulgaria in the past 15 years – including the current Borisov government – have served American interests by blocking the progress of the oil pipeline. Greece has been a strong proponent of the pipe.
Russian Prime Minister Putin and Energy Minister Shmatko have generally expressed "understanding" for the "environmental concerns" of the Bulgarian state but have also insisted on the realization of the project.
Bulgaria, Greece and Russia agreed to build the pipeline between Burgas and Alexandroupolis, taking Caspian oil to the Mediterranean skirting the congested Bosphorus, in 2007 after more than a decade of intermittent talks.
The agreement for the company which will construct the Burgas-Alexandroupolisoil transit pipeline was signed by Bulgaria during Russian President Putin's visit to Bulgaria in 2008.
The 280-km pipeline, with 166 km passing through Bulgaria, would have an initial annual capacity of 35 million tons of crude oil, which could be later expanded to 50 million tons. Its costs are estimated at up to USD 1.5 B, up from initial estimates at USD 900 M.
The Trans-Balkan Pipeline company, which is in charge of the construction and subsequent operation of the future pipeline, and is headquartered in the Netherlands, was set up in 2008.
The Russian participant in the project, Pipeline Consortium Burgas-AlexandroupolisLtd, has a share of 51%. It was founded jointly by three companies: AK Transneft (33.34%), NK Rosneft (33.33%), and Gazrpom Neft (33.33%).
The Bulgarian Joint stock company "Project Company Oil Pipeline Burgas-Alexandroupolis – BG" AD has a share of 24.5%. It was initially founded as jointly by two state companies, Bulgargaz (50%) and Technoexportstroy (50%) but was transferred in full to the Finance Ministry in February 2010.
The Greek participants are Helpe Thraki AE with 23.5% and the Greek government with 1%. The Helpe-Thraki AE was founded jointly by "Hellenic Petroleum" (25%) and "Thraki" (75%).
Three Bulgarian Black Sea municipalities – Burgas, Pomorie, and Sozopol – have voted against the pipe in local referendums over environmental concerns.
Municipalities neighboring Pomorie and nearby Burgas are also harboring fears that the pipeline could damage their lucrative tourism business, while environmental NGOs have branded the existing plans to build an oil terminal out at sea a disaster waiting to happen.
energia.gr: Azerbaijan to Sell Gas Direct to Greece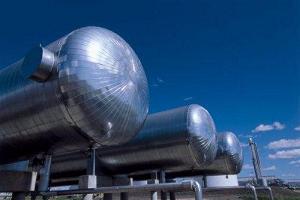 Azerbaijan plans to sell 700 mln cubic metres (bcm) of gas per year directly to Greece, bypassing Turkish intermediaries, the Azeri energy minister said on Wednesday.
Greece has been buying 0.7 bcm of Azeri gas per year from Turkey since the end of 2008 as a part of re-export scheme.
"We agreed with Turkey and Greece that gas from Azerbaijan will be sold to Greece without Turkey's participation," Industry and Energy Minister Natik Aliyev told reporters after talks.
"Legal issues are under discussion right now. Volumes will be the same, 700 mln cubic metres, but may rise in the future."
He did not specify when Azerbaijan could start direct supplies.
Agreement between the sides was reached on February 1 in the Azeri capital Baku, Harry Sachinis, the Chairman & CEO of the Greek company DEPA, told reporters.
"This is just the beginning of the process and if we get a proof that direct purchases are justified from a commercial point of view, we'll sign a contract," Sachinis said.
"We would like to do it quickly. SOCAR (Azeri state energy company) and Botas (Turkish company) want the same."
Azerbaijan's gas output rose by 11.2% in 2010 year-on-year to 26.2 bcm from 23.6 bcm in 2009.
The oil-rich country plans to produce 28.0 bcm of gas this year, including 9.1 bcm produced at its major Shah Deniz field.
Shah Deniz, co-led by BP and Statoil, is estimated to contain 1.2 trln cubic metres of gas.
Production at the deposit began in 2006, while second phase production is expected to begin by late 2016 or early 2017.
Sachinis said Greece was discussing with Azerbaijan the possibility of buying gas from Shah Deniz's second phase.
"DEPA is discussing with SOCAR and its Shah Deniz partners the possibility of gas purchases from the Shah Deniz second phase, but I can't tell you volumes and prices so far," he said.
Azerbaijan's total gas reserves are estimated at 3-5 trln cubic metres.
It sells gas to the domestic market, neighbouring Georgia and Turkey via the Baku-Tbilisi-Erzurum pipeline, as well as Russia.