money.ro: Senatorii au înfiinţat o comisie de anchetă privind preţul gazelor
Senatorii au înfiinţat o comisie de anchetă privind preţul gazelor. Decizia a fost luată astăzi de Biroul Permanent al Senatului.
Parlamentarii vor să afle modul în care se stabileşte preţul gazelor şi dacă distribuitorii au respectat clauzele din contractele de privatizare. Componenţa comisiei va fi fi stabilită în următoarea şedinţă a Senatului. Decizia vine în contextul în care, în aceste zile, se pune din nou problema majorării preţului gazelor.
Preşedintele Autorităţii Naţionale de Reglementare în domeniul Energiei, Petru Lificiu a declarat că o decizie în acest sens va fi luată zilele următoare. Furnizorii de gaze naturale au cerut, încă de acum câteva luni, scumpirea gazelor cu până la 30%, dar ANRE nu este convinsă de justificările primite.
Bursa: Vom recupera numai 100 de milioane de dolari din datoria "Rompetrol"
KazMunaiGaz intenţionează să achite 100 de milioane de dolari din datoria de 2,4 miliarde de lei (circa 600 de milioane de dolari) a companiei "Rompetrol" căre statul român, a declarat, ieri, într-o conferinţă de presă ministrul finanţelor, Sebastian Vlădescu.
Datoria ajunge la scadenţă în luna septembrie, suma neachitată până la 2,4 miliarde lei urmând să se transforme în acţiuni pentru statul român, potrivit legii, a precizat oficialul de la finanţe.
Grupul Rompetrol, deţinut de KazMunaiGaz din Kazahstan, are obligaţia să achite cele 2,4 miliarde lei în contul datoriilor istorice ale rafinăriei Petromidia, acoperite printr-o emisiune de obligaţiuni de stat emise în 2003.
Guvernul de atunci a decis,din 2003, printr-o Ordonanţă de Urgenţă, convertirea în obligaţiuni a datoriilor Petromidia. Acţionarul majoritar al Rompetrol era, în acel moment, Dinu Patriciu, care şi-a vândut, în 2007, pachetul majoritar către grupul Kazah.
Consiliul de Administraţie al "Rompetrol Rafinare" a propus acţionarilor majorarea capitalului social cu până la 450 de milioane de lei, bani destinaţi răscumpărării parţiale a obligaţiunilor emise de societate în 2003 în contul datoriilor istorice ale societăţii.
Conducerea "Rompetrol Rafinare" a dat mai multe semnale anul acesta că nu ar avea bani suficienţi pentru răscumpărarea integrală a obligaţiunilor la scandenţă şi că ar dori eşalonarea lor pe mai mulţi ani.
money.ro: Kazahii vor să plătească doar 100 mil. USD din datoria Petromidia. Statul se alege cu 40% din rafinărie
Ultima propunere făcută autorităţilor române de către firma KazMunaiGaz este plata a doar 100 de milioane de dolari din datoria istorică de peste 600 de milioane pe care Petromidia o are către statul român, potrivit declaraţiilor ministrului Finanţelor, Sebastian Vlădescu.
Ministrul Finanţelor a spus că, în aceste condiţii, statul va redeveni acţionar la rafinăriei. "Potrivit legii, ce nu se plăteşte se converteşte în acţiuni. Nu sunt de acord, dar asta spune legea. Nu am făcut eu legea", a afirmatSebastian Vlădescu. El a estimat şi procentul cu care statul va reintra în acţionariatul Petromidia: 40%.
Acum şapte ani, Guvernul, condus la acea vreme de Adrian Năstase, a emis o ordonanţă privind transformarea în obligaţiuni în favoarea statului a restanţelor bugetare ale rafinăriei , în valoare de 603 milioane de dolari, inclusiv dobânzi şi penalităţi. Obligaţiunile trebuie răscumpărate în luna septembrie a acesti an, în caz contrar urmând a fi convertite în acţiuni.
Recent, oficialii KazMunaiGaz au declarat că datoria nu va putea fi plătită integral într-o singură tranşă, una dintre soluţii fiind restructurarea acesteia pe următorii trei-patru ani. Până în toamnă, compania ar urma să agreeze cu statul român un grafic de eşalonare.
Mâine (30 iunie) ar urma să aibă loc Adunarea Generală a Acţionarilor Petromidia (Rompetrol Rafinare Constanţa-RRC), în care ar urma să se discute majorarea de capital de până la 450 milioane lei, "aport în numerar special destinat efectuării de către societate a unei plăţi parţiale şi răscumpărării unei părţi corespunzătoare din obligaţiunile emise de societate".
Operaţiunea va fi efectuată prin emisiunea a maximum 4,5 miliarde acţiuni ordinare noi, la valoare nominală de 0,1 lei pe unitate. The Rompetrol Group (TRG) deţine 98,61% din capitalul Rompetrol Rafinare.
Gandul: Tampiza, Lukoil: Românul mai bine nu mănâncă decât să nu meargă cu maşina
"Consumul de carburanţi este azi în România de 290 de litri pe an pe cap de locuitor, pe când în Europa Centrală este de 550 de litri. Deci există potenţial de creştere destul de mare", spune preşedintele Lukoil România, Constantin Tampiza.
Vânzările Lukoil au scăzut în primele şase luni cu 5-6%, iar marja la vânzări a scăzut la 30-40%, mai ales în ultimele luni. Pentru restul anului, Constantin Tampiza este destul de pesimist şi crede că vânzările vor rămâne în continuare pe un trend negativ: "Despre evoluţia dolarului şi a barilului de petrol nu mai poate face nimeni nicio estimare cu care să se apropie de realitate, dar noi avem un singur noroc: că românul mai bine nu mănâncă decât să nu meargă cu maşina".
Tampiza îşi întăreşte teoria explicând că scăderea vânzărilor din acest an s-a produs în special pe fondul reducerii activităţii din şantierele industriale şi a industriei transporturilor, pe când consumul casnic de carburanţi s-a menţinut cam în aceiaşi parametri.
Bursa: Bruxelles-ul ne atenţionează să aplicăm normele privind piaţa unică a energiei
Comisia Europeană (CE) a trans-mis către 20 de state membre, inclusiv ţării noastre, un aviz motivat referitor la transpunerea şi aplicarea normelor privind piaţa unică în domeniul gazelor şi energiei electrice, informează Mediafax.
Într-un comunicat oficial al CE se arată: "CE a hotărât să trimită 35 de cereri separate unui număr de 20 de state membre, prin care le solicită transpunerea şi aplicarea integrală a diverselor aspecte ale legislaţiei UE, în vederea creării pieţei unice de gaz şi energie electrică. Aceste norme vizează consolidarea capacităţii şi a transparenţei pieţelor de gaz şi de energie electrică. Pentru a asigura concurenţa şi securitatea aprovizionării, este esenţial ca piaţa să func-ţioneze în mod corespunzător, să fie bine reglementată, transparentă şi interconectată".
În cazul în care răspunsurile oferite de statele membre vizate nu sunt satisfăcătoare, Comisia poate prezenta aceste cazuri în faţa Curţii de Justiţie a Uniunii Europene.
inforusia.ro: Finlanda a inceput lucrarile gazoductului Nord Stream
In vestul Golfului Finic a inceput constructia gazoductului Nord Stream. Lungimea primului tronson care va trece sub apa va fi de 330 km. Cea mai mare parte a gazoductului ce traverseaza platoul Marii Baltice in zona economica a Finlandei va fi construita toamna si iarna. In zona economica a Suediei deja s-au construit 175 km din conducta. Nord Stream este o noua ruta a gazului rusesc exportat in Europa care va trece sub Marea Baltica, ocolind tarile de tranzit.
Nord Stream este un proiect energetic rusesc care prevede construirea unei conducte de gaze naturale din Rusia catre Germania. Nord Stream va lega portul rusesc Vyborg de portul german Greifswald, pe o distanta de 1.200 de kilometri, pe sub Marea Baltica. Gazoductul, format din doua conducte, va transporta 55 de miliarde de metri cubi de gaze pe an catre statele din vestul Europei, ocolind tari de tranzit traditionale precum Ucraina si Belarus.
Proiectul este gestionat de societatea Nord Stream inregistrata in Elvetia si detinuta in proportie de 51% de Gazprom,   companiile germane Wintershall Holdings si E.ON Ruhrgas (cate 20%) si societatea olandeza Gasunie (9%). Nord Stream AG a modificat ruta initiala a conductelor din cauza ingrijorarilor statelor baltice legate de impactul proiectului asupra mediului inconjurator. Ruta finala trece prin apele teritoariale si zonele economice exclusive ale Finlandei, Suediei, Danemarcei si Germaniei, evitand Polonia, Estonia, Lituania si Letonia.
inforusia.ro: Turkmenistan va mari livrarile de gaze in China
Turkmenistan intentioneaza sa mareasca volumul anual al gazului natural livrat Chinei, a declarat un reprezentant al diplomatiei turkmene, citat de Interfax.
"Examinam posibilitatea cresterii livrarilor de gaze pentru China, astfel incat volumul anual sa depaseasca 40 miliarde metri cubi", a declarat diplomatul turkmen pentru presa chineza.
Reprezentantul turkem nu a specificat cu cat se va mari volumul gazului, subliniind ca aceste livrari vor putea fi facute printr-un nou gazoduct, care a inceput sa fie construit din 2009.
RIA Novosti: Gazprom Neft to join Africa production projects soon – CEO
Gazprom Neft, the oil arm of Russian gas export monopoly Gazprom, plans to join large foreign production projects in the nearest future, Chief Executive Officer Alexander Dyukov said on Tuesday.
"We are expanding our production business abroad and planning to join several large foreign projects," he said.
The company's development strategy says that it plans to produce 100 million metric tons of oil equivalent by 2020, whith about 10 million metric tons to be produced abroad, Dyukov said.
Gazprom Neft plans to join Libya's Elephant project soon, the company's Deputy CEO Boris Zilbermints said.
"We are planning to join the Elephant in late summer but we don't plan to invest much, except the exntrance fee because the project has already been launched. We are currently negotiating with several other asset owners in Libya," Zilbermints said.
Gazprom Neft sees West Africa as a very interesting region due to its exclusive tax regime which all other states have cancelled, Dyukov said.
ITAR TASS: Loss of Belarus to inflict irreparable damage on Russia – Lukashenko
The loss of Belarus will inflict irreparable damage on Russia, Belarusian President Alexander Lukashenko told CNN.
The Russian conduct in the recent gas conflict with Belarus "will have very bad consequences for Russia," he said.
"I do not think this is an official policy of Russia that may continue. If that happens, Russia will lose Belarus and that damage will be irreparable," he said.
APA.AZ: Azerbaijani President receives Vice-Chairman and President of GDF SUEZ, President of Eurogas
Azerbaijani President Ilham Aliyev received the delegation headed by Jean-François Cirelli, Vice-Chairman and President of GDF SUEZ, President of Eurogas
on June 29. APA reports that the guest spoke about the company's activity in Europe and added that he was interested in further expansion of cooperation with Azerbaijan in gas sphere.
The head of state highly appreciated the successful cooperation between GDF SUEZ and State Oil Company of Azerbaijan Republic.
trend.az: Gaz de France Suez intends to buy gas in Azerbaijan
Gaz de France Suez is looking to buy Azerbaijani gas, and is particularly interested in the second stage of development of the offshore Shah Deniz Field, Deputy CEO and General Director Jean Francois Cirelli said at a meeting with Deputy Industry and Energy Minister Natig Abbasov.
Cirelli is also the president of the EU Natural Gas Industry (Eurogas), which includes roughly 50 main gas industry facilities and energy associations.
He added that Gaz de France Suez provides the European market with 30 percent of its gas – or roughly 100 billion cubic meters. The company receives about 20 percent of its gas from Russia, 40 percent from Norway, and the remaining 40 percent from the Netherlands, Egypt and Algeria.
The company also participates in explorations on the Absheron structure. Exploratory wells valued at $200 million will soon be drilled.
Absheron participants include SOCAR (40 percent), Total (40 percent and Gaz De France Suez (20 percent).
According to the forecasts, about 5,000 meters will be drilled by late 2010. The reservoir will be reached by January-February. Drilling will be conducted at depths of 470-480 meters. The well depth will reach 7,100-7,200 meters. Absheron is characterized by its high pressure.
The Absheron Bloc is located 100 kilometers outside Baku at a depth of 500 meters.
Novinite: Russia Prods Bulgaria over South Stream, Belene Projects
Russia's Ambassador to the European Union Vladimir Chizhov has reiterated calls onBulgaria to hurry up with committing itself to the South Stream gas pipeline projectand Belene nuclear power plant.
"Bulgaria should quickly decide how it will proceed with Belene nuclear power plant and whether it will participate in the South Stream project," Chizhov advised on Tuesday on the sidelines of a conference on the combat with terror and drugs trafficking, organized by the Bulgarian Socialist members of the European Parliament.
He stressed that the South Stream project includes other countries and private companies.
"This is not just an intergovernmental project, it involves the private business as well, that's why the sooner everyone knows what they should do, the better," the ambassador said.
Chizhov did not confirm reports that Russia plans to change the course of the South Stream gas pipeline project to exclude Bulgaria.
The statement comes a week after the president of gas monopoly Gazprom Alexei Miller indicated that South Stream might change course to exclude Bulgaria, which, according to him, has disappointed Russia by dragging its feet on other energy projects, such as the construction of an oil pipeline and a nuclear power reactor.
The current plan is to lay the pipeline to Serbia — and on to other southern European customers — through Bulgaria. Gazprom and partners will complete the feasibility study in three months at most, Miller said, adding that Romania was also offering broader cooperation in the energy field.
Gazprom estimates South Stream will cost at least billion to build and come on line in December 2015.
Recent statements by Bulgarian PM Boyko Borisov that his country would be pulling out from two other high-profile energy projects, involving Russia – the Belene NPP and theBurgas-Alexandrupolis oil pipeline – have caused confusion and dismay in Russia.
Reports have suggested that Gazprom is already technically prepared to drop Bulgaria and to pick Romania for its South Stream gas transit pipeline project.
Macedonia is also set to become part of European energy corridors and in particular join the projected South Stream pipeline that will transfer gas from Russia to Southern and Central Europe.
energia.gr: E.ON May Swap Gazprom Stake For Upstream Assets – Source
German energy group E.ON AG (EOAN.XE) is considering swapping its 3.5% stake in Russian gas giant OAO Gazprom (GAZP.RS) for upstream assets in Russia, a person familiar with the matter said Tuesday.
"E.ON is considering a number of options, including swapping the stake for assets inRussia ," the person said. The German company has yet to make a final decision on what to do with its stake in Gazprom, he added.
E.ON had amassed a 6.5% stake in Gazprom, but last year it exchanged a 3% share for 25% of the Yuzhno-Russkoye gas field in Siberia , leaving E.ON with a 3.5% Gazprom stake.
Since last year, the company has said its remaining Gazprom stake is a financial, not a strategic investment.
E.ON declined to comment on the Gazprom stake.
energia.gr: Romania To Get Over 40% In Rompetrol If Debt Not Paid-Minister
Romania will gain a 40% stake in oil refinery Rompetrol Rafinare (RRC.RO) ifKazakhstan 's KazMunaiGas chooses to repay only $100 million of a $684 million outstanding debt to the state, news agency Mediafax cites Finance Minister Sebastian Vladescu as saying Tuesday.
"If KazMunaiGas pays only $100 million, the state will own over 40% of Rompetrol's shares and the Kazakhs will remain majority stockholders," Vladescu said.
Earlier today, Vladescu told a news conference KazMunayGas recently offered to repay $100 million to Romania as part of a plan to write off its debt to the state.
"Under the law, the remaining amount will be converted into shares. I don't like it, but that's the law," Vladescu said.
In July last year, KazMunaiGas said it had started negotiations with several international lenders to ensure financing for its debt to Romania , which was converted into seven-year bonds in 2003.
Dimitri Grigoriev, chief financial officer of Rompetrol, recently said the company won't be able to repay its debt by the September deadline and a rescheduling may be required.
According to Vladescu, negotiations on a new payment schedule will likely be finalized by fall.
energia.gr: Russia Calls On Bulgaria To Decide On South Stream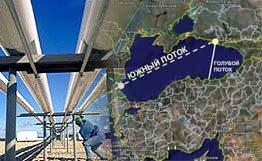 Russia has urged Bulgaria to decide whether to commit itself to the South Stream gas pipeline project and Belene nuclear power plant, Bulgaria 's Novonite news agency reports Tuesday.
The South Stream project "is not just an intergovernmental project, it involves the private business as well, that's why the sooner everyone knows what they should do, the better," Novonite quoted Russia 's Ambassador to the European Union Vladimir Chizhov as saying.
The statement is further indication that Russia is losing patience with Bulgaria's foot-dragging, after OAO Gazprom (GAZP.RS) president Alexei Miller indicated last week that South Stream might change course to exclude Bulgaria.
Recent statements by Bulgarian Prime Minister Boyko Borisov that his country would be pulling out of two other high-profile energy projects, involving Russia–the Belene nuclear plant and the Burgas-Alexandrupolis oil pipeline–have caused confusion and dismay in Russia , the report said.