Gandul: Kazahii rămân majoritari la Rompetrol. Statul, cu o gaură de 500 mil. $ în venituri
Statul nu va încasa mai mult de 100 milioane de dolari anul acesta de la Rompetrol în contul datoriei istorice de peste 600 milioane de dolari. Suma este de peste trei ori mai mică decât cea bugetată prin rectificarea făcută recent de Guvern
Relaţia dintre Ministerul de Finanţe şi Grupul Rompetrol, deţinut de compania KazMunaiGaz din Kazahstan, care datorează statului român circa 600 milioane de dolari (aproximativ 2,4 miliarde de lei) în contul datoriilor istorice ale rafinăriei Petromidia, a ajuns într-un impas care s-a mutat la tribunal. Statul a pierdut deja primul proces împotriva Rompetrol, care este reprezentat în instanţă de patru dintre cele mai mari case de avocatură din România.
Datoria este scadentă la 30 septembrie, însă kazahii spun că nu vor plăti mai mult de 100 milioane de dolari anul acesta, dintre care 71 milioane de dolari achitaţi deja la începutul acestei luni, la care se mai adaugă dobânzi în valoare de 25 milioane de dolari, aferente anului 2010. mai mult
Bursa: Rompetrol" vrea statul partener în "Petromidia"
Compania susţine că poate apela şi la conversia în acţiuni pentru plata datoriei
Kazahii de la "KazMunaiGaz" (KMG) încă nu au finalizat negocierile cu Ministerul Finanţelor privind răscumpărarea obligaţiunilor, dar vor face acest lucru până la finele lunii septembrie. Ei vor să aibă statul român ca partener în rafinărie, a declarat, ieri, directorul financiar al grupului "Rompetrol", Dmitry Grigoryev, într-o conferinţă. "Noi vrem să respectăm toate condiţiile din contractul privind datoriile Rompetrol Rafinare transformate în obligaţiuni şi decizia va fi luată la finele lunii septembrie", a mai spus domnia sa, într-o conferinţă.
Potrivit oficialului "Rompetrol", dar şi avocaţilor grupului, compania poate achita aceste datorii până la termenul scadent de 30 septembrie 2010, prin răscumpărare parţială sau totală sau prin conversie în acţiuni parţială sau totală. Dmitry Grigo ryea admis că discuţiile cu Ministerul de Finanţe se axează pe acest punct din contract, lăsând să se înţeleagă că statul se aşteaptă la o plată cash în timp ce "Rompetrol" doreşte să aplice soluţia răscumpărării combinate cu conversia în acţiuni. Avocaţii "Rompetrol" susţin că grupul controlat de KMG este perfect îndreptăţit să apeleze la această metodă de achitare a datoriei, respectând termenii contractului încheiat cu statul.
La începutul lunii august, "Rompetrol" a plătit statului circa 71 milioane dolari în contul datoriei. Presupunând că "Rompetrol" nu va mai face plăţi până la data scadenţei obligaţiunilor, restul datoriei se va transforma în acţiuni, statul devenind acţionar minoritar important în Rompetrol Rafinare, cu un procent de peste 40%, au spus avocaţii grupului. mai mult
ziare.com: Rompetrol promite ca va plati datoria catre stat, dar nu acum
Grupul Rompetrol sustine ca va respecta conditiile stabilite cu statul roman in privinta platii datoriei de 570 milioane euro, insa momentan nu dispune de numerar in excedent, rezultatele financiare ale companiei fiind negative, a declarat, miercuri, reprezentantul Rompetrol, Dimitry Grigoryev.

"Suntem inca pe pierdere, iar fluxul de numerar nu este inca poztiv. In 2007, am investit 1,7 miliarde dolari in grup pentru a dezvolta infrastructura si relatiile comerciale. Vrem sa modernizam Rafinaria Petromidia, iar investitia se ridica la 400 milioane dolari. Vrem sa mentinem mana de lucru. Rompetrol avea 3.000 de angajati, acum sunt 10.000, la nivel de grup. In pofida rezultatelor financiare, suntem la fel de angajati sa dezvoltam infrastructura si sa pastram oamenii", a afirmat Grigoryev.
De asemenea, acesta a precizat ca taxele anuale platite catre stat de Rompetrol se ridica la 1,5 miliarde dolari. mai mult
ziare.com: Rompetrol: Romania a informat KazMunaiGaz ca nu doreste sa fie actionar la RRC
Directorul financiar al Grupului Rompetrol, Dmitry Grigoryev, a spus, miercuri, ca Guvernul roman a informat KazMunaiGaz ca nu doreste sa fie actionar la Rompetrol Rafinare (RRC), iar compania kazaha de stat se gandeste ce posibilitati are sa conduca Rafinaria Petromidia impreuna cu statul roman.

"Pe 9 august am platit statului roman 71 milioane dolari (54 milioane euro). Aceasta plata ne permite sa detinem capitalul majoritar. Vrem sa gasim o solutie care sa fie multumitoare si din punctul de vedere al Guvernului. Daca rafinaria nu va avea cash flow, vom avea optiunea sa o inchidem", a declarat Dmitry Grigoryev, in cadrul unei conferinte de presa.
Totodata, Grupul Rompetrol vrea sa plateasca pana la 100 milioane dolari in acest an (in afara de plata celor 71 milioane dolari se adauga si dobanda de 24 milioane dolari aferenta lui 2010).
"Negocierile sunt in desfasurare. Dar vrem sa vedem si ce fonduri avem disponibile, precum si opinia companiei mame (KazMunaiGaz, actionarul majoritar al Grupului Rompetrol, n.r.)", a precizat directorul financiar al Grupului Rompetrol. mai mult
money.ro: Kazahii n-au plătit nici 10% din datoria către statul român
Rompetrol a plătit în prima decadă a lunii august 71 milioane de dolari (54 mil. euro) din datoria istoricade 570 milioane de euro pe care o are către statul roman şi care ajunge la scadenţă la 30 septembrie 2010.
KazMunaiGaz va decide în septembrie cum va plăti datoria către statul român.
Oficialii Rompetrol spun că, potrivit legii din 2003 prin care datoria a fost convertită în obligaţiuni scadente în acest an, au două opţiuni de stingere a obligaţiilor catre statul român: răscumpararea totală sau parţială aobligaţiunilor. În cazul răscumpărării parţiale, o parte din  obligaţiuni vor fi convertite în acţiuni ale statului la rafinaria Petromidia.
În litigiile pe care le are cu statul român şi pe care cei de la Rompetrol spun că nu şi le doresc, grupul a angajat trei dintre cele mai importante grupuri de avocatură din România: Ţucă Zbârcea & Asociaţii, NNDKP şi Muşat şi Asociaţii. mai mult
money.ro: Statul va fi acţionar minoritar la Petromidia, puţine şanse să mai primească ceva de la kazahi
După ce au plătit doar 10% din datorie, statul va fi, fie că vrea, fie că nu vrea, acţionar minoritar laPetromidia.
KazMunaiGaz a plătit doar 54 de milioane de euro în contul datoriei scadente la 30 septembrie, dar suma este suficientă pentru a păstra controlul rafinăriei. Dacă patronii Rompetrol nu vor mai răscumpăra nimic din obligaţiuni, statul va deveni acţionar minoritar al societăţii. Avocaţii care consiliază Rompetrol au spus că statul va deveni acţionar "fie că vrea fie că nu vrea". În caz contrar, statul român riscă procese, atât în ţară cât şi la Curtea de Arbitraj Internaţional de la Washington.
În aceste condiţii, este posibil ca firma kazahă să nu mai plătească mare lucru, cel puţin până la data scandentă: 30 septembrie 2010. Amintim că, potrivit anunţurilor mai vechi ale kazahilor, au fost puse de-o parte 100 de milioane de dolari, iar suma este aproape epuizată: 71 de milioane plăţi în contul obligaţiunilor şi 25 de milioane dobânzi aferente acestui an. În plus, directorul financiar al grupului, Dmitri Gregoriev a fost foarte clar: avem pierderi, avem cash flow negativ şi avem datorii de 700 de milioane de dolari către compania mamă. mai mult
Adevarul: Rompetrol plăteşte 71 de milioane de dolari din datorie şi păstrează pachetul majoritar
Grupul Rompetrol va plăti, în acest an, cel puţin 100 de milioane de dolari – din care 71 de milioane de dolari în contul datoriei – iar 25 de milioane de dolari dobândă către statul român, a declarat directorul financiar al Grupului, Dmitri Grigoriev, în cadrul unei conferinţe de presă. Suma îi permite păstrarea pachetului majoritar.
Acesta a arătat că Rompetrol a plătit, deja, 71 de milioane de dolari la 9 august. La această sumă se adaugă dobânzi de aproximativ 25 de milioane de dolari, bani care vor proveni din majorarea de capital. "Am anunţat statul încă din februarie că nu avem bani să plătim tot. Avem pierderi, şi fluxul de numerar e negativ", a spus oficialul Rompetrol.
evz.ro: Rompetrol dă acţiuni în loc de bani
Kazahii vor să achite cash doar o treime din bani, restul urmând să se transforme în participaţii ale statului.
Guvernul ar fi transmis însă KazMunaiGaz că nu doreşte să fie acţionar la Rompetrol Rafinare, iar compania kazahă se gândeşte ce posibilităţi are să conducă rafinaria Petromidia împreună cu statul, a declarat directorul financiar al grupului Rompetrol, Dmitri Grigoriev.
"Am achiziţionat scump un «pom» foarte frumos, dar care are încă nevoie de investiţii pentru a produce «mere»", a afirmat Grigoriev. Conversia în acţiuni a întregii datorii, fără plata parţială a unor sume, ar fi făcut ca statul să preia pachetul majoritar de acţiuni. 
Statul, prim eşec la tribunal
Deocamdată statul este pregătit să conteste în instanţă posibilitatea utilizării ambelor variante – deşi a acceptat deja o plată parţială. La finalul lunii iunie, acţionarii Rompetrol Rafinare au aprobat o majorare de capital de 450 milioane lei, iar cu fondurile obţinute urma să fie plătită o parte din datoria pe care compania o are către stat.
Ministerul Finanţelor Publice a contestat în instanţă deciziile acţionarilor privind suplimentarea capitalului. Tribunalul a respins acţiunea autorităţilor, iar capitalul va fi majorat cu circa 330 milioane lei.  mai mult
Adevarul: Primele gaze străine care nu sunt ruseşti: Petrom a început importurile din vestul Europei prin conducta Szeged-Arad
Petrom a început în această lună să importe gaze naturale prin noua conductă Szeged-Arad, fiind prima companie care aduce pe piaţa românească gaze din vestul Europei. Până acum, singura sursă de aprovizionare externă era Rusia.
"OMV Petrom importă 10 milioane de metri cubi de gaze lunar", au confirmat oficialii companiei petroliere, citaţi de Mediafax.
Această cantitate este egală cu aproximativ 20% din consumul naţional al României într-o lună de iarnă.
Anul trecut, România a importat două miliarde de metri cubi de gaze din Rusia, reprezentând 15% din consumul intern.
Conducta Arad-Szeged nu a fost încă inaugurată oficial. mai mult
evz.ro: Nu mai luăm gaze de la ruşi, ci de la unguri
De la începutul acestei luni, în țară au început să sosească primele volume de gaze transportate pe conducta Arad-Szeged (Ungaria), prima interconexiune între sistemul românesc de gaze cu cel din vestul Europei, până în prezent singura sursă de aprovizionare fiind Rusia.
Conform planurilor de anul trecut, conducta Arad-Szeged trebuia pusă în funcțiune de la 1 ianuarie 2010. Ea a fost finalizată la mijlocul acestui an, după mai bine de zece ani de discuții pe marginea ei, iar inaugurarea oficială trebuia să aibă loc pe 29 iulie, dar momentul a fost amânat pentru luna septembrie, astfel încât la ceremonie să asiste și comisarul european pentru energie, Günther Oettinger.
Ministrul economiei, Adriean Videanu, declarase că prin această conductă pot fi importate gaze la un preț similar cu cel al gazelor naturale din producția internă. De altfel, jucători din piața de profil ne-au declarat că Petrom ar trebui să importe acum gaze mai ieftine decât cele rusești, date fiind stocurile mari de gaze acumulate în Europa în ultimii doi ani, din cauza reducerii consumului.
Circulaţie pe un singur sens

România a importat gaze, până în prezent, doar din Federaţia Rusă, prin intermediarii WIEE şi Imex Oil. mai mult
RIA Novosti: Ukrainian PM hopes to review gas contract with Russia
The Ukrainian government plans to suggest a review of the Russian-Ukrainian gas contract, which provides for a quarterly change in Ukraine's gas price, Ukrainian Prime Minister Mykola Azarov said on Wednesday.
On January 19, 2009, Ukraine's Naftogaz and Russia's Gazprom signed a deal to end the New Year gas dispute, which caused a temporary lull in energy supplies to Europe amid freezing temperatures. Under the deal, Ukraine received a 20%-discount on the European gas price.
The pact also stipulated that Ukraine start paying European-level prices for Russian gas in 2010. Under the deal, the gas price directly correlates with the oil price.
"We set a goal to review an extremely disadvantageous gas contract for Ukraine and to persuade our Russian partners of the necessity of reviewing it," Azarov said.
The Ukrainian premier said the current contract was "enslaving" Ukraine.
In April Russian President Dmitry Medvedev and his Ukrainian counterpart Viktor Yanukovych agreed during their meeting in Kharkov in east Ukraine that Russia would grant Ukraine a 30% discount on the gas price of $330 per 1,000 cu m over the next ten years.
If the Kharkov agreement had not been signed, Ukraine would be on the brink of economic collapse, Azarov said.
Novinite: Sofia Unaware of Moscow Planned Meeting over Oil Pipeline
Bulgaria's finance ministry has denied Russia media reports that Bulgarian officials are expected in Moscow in September for talks on the construction of the Burgas-Alexandroupolis oil pipeline.
"Simeon Djankov, the deputy prime minister of Bulgaria, will lead a delegation to Moscow in September to discuss the major pipeline," Russia's state-run news service RIA Novosti reported on Wednesday, citing Igor Dyomin, a representative from Russian oil pipeline monopoly Transneft.
According to the report Sofia representatives would "see a presentation" on the pipeline at talks scheduled in Moscow for September 8-9.
Construction of the line has been on ice even after Bulgaria's government balked at the potential environmental damage that the pipeline could inflict on its resort-dotted coastline. The cabinet has stated that its final decision on the country's participation in the project will depend on its upcoming international environmental assessment.
Two months ago Bulgaria's Prime Minister Boyko Borisov unexpectedly said that his country was "giving up" on Burgas-Alexandroupolis oil pipeline project.
In a dramatic twist that left all of Europe confused, Borisov retracted his statements shortly afterwards, saying that the Bulgarian government hasn't made a final decision regarding the construction of the pipeline.
After it took office in July 2009, Bulgaria's new center-right government of the GERB party made it clear it was going to reconsider the country's participation in the three large-scale energy projects – South Stream gas pipeline, Burgas-Alexandroupolis oil pipeline, and Belene Nuclear Power Plant.
Three Bulgarian Black Sea municipalities – Burgas, Pomorie, and Sozopol – have voted against the pipe in local referendums over environmental concerns.
Municipalities neighboring Pomorie and nearby Burgas are also harboring fears that the pipeline could damage their lucrative tourism business, while environmental NGOs have branded the existing plans to build an oil terminal out at sea a disaster waiting to happen.
Bulgaria, Greece and Russia agreed to build the pipeline between Burgas and Alexandroupolis, taking Caspian oil to the Mediterranean skirting the congested Bosphorus, in 2007 after more than a decade of intermittent talks.
The agreement for the company which will construct the Burgas-Alexandroupolis oil transit pipeline was signed by Bulgaria during Russian President Putin's visit to Bulgaria in 2008.
The 280-kilometer pipeline, with 166 kilometers passing through Bulgaria, would have an initial annual capacity of 35 million tonnes, which could be later expanded to 50 million tonnes. Its costs are estimated at up to USD 900 M.
energia.gr: Kuwait, Iraq Agree On Oil Output From Border Fields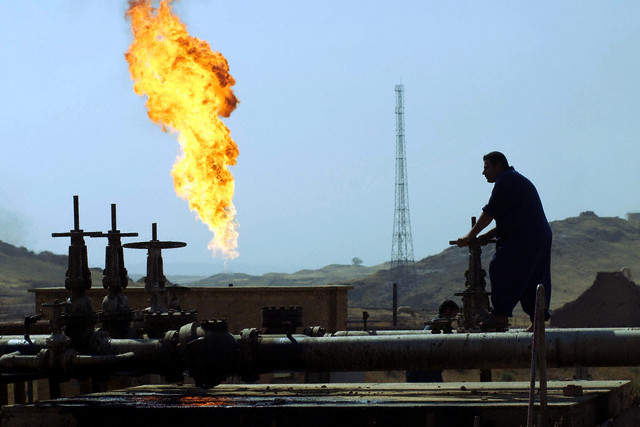 Kuwait and Iraq have agreed "in principle" on a deal to regulate production from the border oil fields that once caused conflict between the two Arab states, the Kuwaiti oil minister said Wednesday.
The deal follows technical negotiations between the two nations and "we have agreed in principle. Kuwait signed the deal and they [the Iraqis] will be signing it this or next week," Sheikh Ahmad Abdullah al-Sabah told reporters.
The deal calls for "a unified international company to drill for oil," on the joint border fields, the minister said.
It also allows international oil companies "to come and agree with both countries to drill at the same time for the same field," he said.
"It's to avoid future claims that one of these countries is overutilizing this kind of joint fields," said Sheikh Ahmad.
A number of oil fields lie on the border between the two Arab countries, including Iraq 's giant Rumaila, which extends into Kuwait , where it is known as Ritqa. There are other such fields in Zubair and Safwan.
Most of Iraq 's current production of 2.5 million barrels a day comes from Rumaila, which has a daily production of around 1.5 million bpd, while Kuwait 's production from Ritqa is just under 50,000 bpd.
The two sides have in the past traded accusations of oil theft, although Kuwaiti officials have repeatedly denied Iraqi charges that the emirate has been producing illegally from border fields.
centralasianewswire.com: TAPI pipeline to be discussed during New York UN meeting
Turkmenistan and Afghanistan will continue their talks on the proposed Turkmenistan-Afghanistan-Pakistan-India gas pipeline in tandem with the opening of the UN General Assembly's 65th meeting next month in New York, the Trend news agency reported on Tuesday.
"The two sides agreed to meet next month in New York … and discuss in detail the issues of implementation, construction of the transnational gas pipeline Turkmenistan-Afghanistan-Pakistan-India, designed to serve as the economic prosperity of the member countries of this large-scale project and the whole region," Trend quoted the Turkmen government as saying.
The countries "reaffirmed the mutual willingness for further intensification of multi-aspect cooperation, actively developing in the last few years on a bilateral and multilateral basis."
The UN meeting kicks off on September 14, while debate in the UN chamber will take place September 23-25 and September 27-30. The TAPI discussion will be outside scheduled UN debate.
Turkmenistan and Afghanistan will also hold a bilateral meeting to discuss the pipeline on Sunday in Kabul.
Analysts are hoping that the construction of a pipeline through Afghanistan will stabilize the security situation by providing jobs and stimulating the economy. The proposed pipeline will transport gas from Turkmenistan's Dauletabad field to Pakistan and India via Afghanistan.
trend.az: UN recognizes "urgency" of Turkmenistan's initiative to ensure global energy security
UN recognizes the "relevance" of the Turkmen leaderships' international initiatives, including those related to global energy security, disarmament, peaceful settlement of the situation in Afghanistan and etc.
This was stated during the meeting of President Gurbangulu Berdimuhammedov with UN Secretariat Economic and Social Affairs Department Advisor Alexei Tikhomirov, the Turkmen governmental press service reported.
All of these initiatives "have received widespread support and recognition of the community of nations."
Turkmenistan's positions, which will be announced at the upcoming 65th session of UN General Assembly, " already causes great interest in the international arena as they deal with topics such as the consolidation of peace, security and sustainable development in the world, and the best solutions to important issues of our time", Tikhomirov said.
"Turkmenistan, being permanently committed to its peace-loving and constructive foreign policy, intends to continue to pay particular attention to cooperation with UN established on a long-term basis," Berdimuhammedov said.
newbusinesseurope.eu: How much of the Russian economy is in ashes?
The record-breaking heat wave that afflicted Russia this summer has hurt the economy and the effects have already spilled over to the rest of the world by sending food prices soaring.
Russia was on course to become one of the world's biggest exporters of grain, already claiming third place in 2009. But with more than half the farmland in the country damaged by wildfires in the first half of August, according to some estimates, expectations for this year's crop has plummeted to about 60m tonnes from the 97m tonnes harvested in 2009.
International grain prices have already more than doubled after Prime Minister Vladimir Putin announced a ban on exports in mid-August, which sent global wheat markets spiralling. Russia may even be forced to import grain this year, and that would only send international food prices yet higher, although officials from the Agricultural Ministry deny the possibility.
Moreover, as the fires have delayed the planting of Russia's winter crop – which produces one and half times more than the summer crop – production is expected to fall further, raising the possibility of a repeat of the food price shock that hurt economies around the world in the summer of 2008. However, the jury is still out on what the full effect of the drought will be on the country's economy; that will only become apparent as we head towards the end of the year.
Rebuilding
In the short term, the Russian state faces a big bill to repair the damage. The government has promised to rebuild, at public expense, the houses and associated infrastructure that burnt down (causing a few unscrupulous people to torch their homes). The total repair and compensation bill is an estimated RUB12bn ($400m), Emergencies Minister Sergei Shoigu announced on August 19.
Such costs are dwarfed, however, by analyst estimates that the heatwave could shave up to 1% off GDP this year – a loss of $15bn for the economy – as companies cut work hours and freeze investment plans. And farmers, already reeling from a collapse in demand caused by the economic crisis, now find themselves deeper in debt due to the catastrophe. Analysts estimate that as much as RUB127bn (€3.25bn) of agricultural credits – 15% of total banking sector credits – will need to be restructured, with state-owned Sberbank and agricultural specialist Rosselkhosbank bearing the brunt. The state has already said it plans to offer a RUB10.5bn to subsidize interest rates to farmers in 2010-11. Russia's nascent livestock farming segment will be another victim as the cost of feedstock soars. Russia has only recently become self-sufficient in chicken meat, but pork and beef farming is still being developed. The price of meat, eggs and milk are all likely to rise significantly in the wake of the catastrophe.
Food producers and retailers look set to find themselves stuck between the devil and the deep-blue sea then, as they attempt to balance higher prices from suppliers with a government desperately trying to keep a lid on inflation. Several flour mills and bakeries are already being prosecuted for price gouging, whilst supermarket chain Seventh Continent and dairy producer Wimm-Bill-Dann are in a spat over prices.
Russian shipping and transport companies will also feel the summer's heat if grain exports cease. With exports apparently finished for the year, the total volume shipped (mostly to the Middle East) is unlikely to top 4.5m tonnes in 2010 compared with 21.5m tonnes last year.
Overall, the heatwave has jarred a fragile economic recovery that was just getting underway. In July, industrial production was up 5.9% year on year, with fixed investment also in positive territory at 0.8%, but both indicators fell 10% compared with June. Olga Sterina at Russian investment bank Uralsib worries that, "investments fell more than anticipated [and] the August data may also be weaker."
While analysts hope the economic shock will be temporary, the fear is that soaring food prices will fuel inflation and wreck Russia's chances of accelerated growth. The silver lining to the global economic crisis for Russia was to bring the state's two-decade-long battle against inflation to an end after rates fell to nearly zero by August on the back of the economic slowdown. However, rapidly rising food prices have caused most analysts to increase their inflation forecasts, some by as much as 3% over and above the government's official prediction for 2010 of a maximum of 7% – which was the lowest for years.
The return of inflation will come as a big blow after June saw interest rates finally turn real – ie. higher than inflation – making the economy "normal" for the first time since the fall of the Soviet Union. If rates stay real, the Central Bank of Russia gains sorely-missed efficient levers to control the economy; however, the prize was gone as quickly as it appeared, with negative rates back already in July. The worry is that as the full effects of the heatwave unfold in the autumn, the return of real interest rates may look increasingly distant.