apa.az: IEA: World gas reserves are enough for 250 years
As technology has developed for extracting "unconventional gas" from the ground new estimates have been made about the how many years of gas usage remains at present usage levels. It is estimated at 250 years but may be revised upwards, supercom portal reported.
This is according to the International Energy Agency (IEA), an energy "think tank" of some of the worlds richer nations which and acts as an energy advisor to its member states.
Following the recent successful production of unconventional gas in the US many other nations around the world are examining and evaluating whether they can benefit from their own resources. Australia, China, India and Indonesia are leading the way. There is also interest in the UK, Europe, South Africa and Argentina.
The new extraction technique relies on fracturing the shale rock with a series of tiny explosions to allow it to flow to the bore hole. Combined with improved techniques for gathering geological data and the soaring price of conventional natural gas has spurred on the gas production.
But shale is not the only "unconventional gas", coal bed methane and tight gas, trapped in impermeable rock formations also have large reserves and can benefit from the new technique.
After introducing the new gas production technology the US has gone from being a potential gas importer to being the world's biggest gas producer in just a few years.
Anne-Sophie Corbeau, a Senior Gas Analyst at the IEA said: "Production of 'unconventional' gas in the US has rocketed in the past few years, going beyond even the most optimistic forecasts. It is no wonder that its success has sparked such international interest."
There are critics of the new gas extraction methods, mostly from environmentalists who claim that the gas can pollute the ground water as vast amounts of water are pumped into wells to extract the gas after it is released. The US Environmental Protection Agency (EPA) is currently conducting an investigation, which will enable a much more accurate assessment of environmental issues to be made. People in the US have reported inflammable gas coming out of faucets instead of water.
At present the world cannot rely on renewable energy for all its energy needs and there will continue to be a big demand for carbon based energy. With gas having only half the carbon emissions of coal, and now news that their is up to 250 years worth of gas resources in the ground, gas will be a main resource for years to come.
apa.az: Azerbaijan increases gas export to Russia
Azerbaijan intends to double gas export to Russia, in 2011. Azerbaijan plans to export 1.5 bcm of gas to the north, this year, said Khoshbakht Yusifzade SOCAR Vice President for Geology and Geophysics.
According to him, Siyazan Compressor Station was reconstructed.
Remind that, Azerbaijan has exported 799.8 mcm of gas in 2010.
trend.az: Azerbaijan and Turkey will cooperate in the exploration of mineral resources – energy minister
Following the meeting of Azerbaijani-Turkish intergovernmental commission on trade and economic cooperation a protocol on cooperation in exploration and research of mineral resources is expected to be signed between countries, the Turkish Minister of Energy and Natural Resources Taner Yildiz. told reporters on his arrival in Baku on the night from Friday to Saturday.
According to him, during the committee meeting, due to be held on Saturday, bilateral relations in energy, industry and commerce will be discussed.
During the visit, Yildiz is expected to meet with Azerbaijani President Ilham Aliyev and Deputy Prime Minister Abid Sharifov. Taner Yildiz and Abid Sharifov are co-chairmen of the intergovernmental commission.
Yildiz will leave on Saturday evening.
According to the statistics of the Turkish Treasury, by October 1 turkish investments in Azerbaijan had exceeded $3.825 billion. Roughly $3.573 billion were invested in the energy sector.
today.az: Turkish Energy Minister: Both oil and gas sources are increasing in Azerbaijan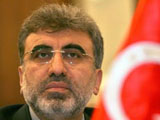 The main aim of the Azerbaijan-Turkey intergovernmental commission is to develop cooperation in not only the energy sector but also transport, tourism, education, health fields, Turkish Minister of Energy and Natural Resources Taner Yildiz said at the commission`s fourth meeting held here.
Yildiz pointed out discussions mainly revolved around energy cooperation, Shahdeniz-2 project.
"Both oil and gas sources are increasing in Azerbaijan," said the Minister.
According to him, more sources allow to develop the country more rapidly and improve the people`s well-being.
apa.az: First meeting of Azerbaijani-Ukraine working group on energy projects to be held in Baku
Delegation of Ukrainian Ministry of Fuel and Energy will visit Baku in the near future, said Ukraine's charge d'affaires in Azerbaijan Miroslav Blashuk, APA reports.
"First meeting of working group on energy projects created under the decision of Ukrainian and Azerbaijani President's Council will be held in Baku", said the diplomat. He added that the working group would prepare plan on cooperation in the near term.
Blashuk also noted that 1 mln 400 000 tons of oil was refined at Ukraine's Kremenchug Oil Processing Plant in 2010. Calling it a big number, the diplomat said that in current year, Ukraine was intending to double the importing oil.
To question on commodity turnover between our countries, charge d'affaires said that according to 11 months of the last year, this number was $1 bln 430 mln. Noting that commodity turnover has increased %530 from Azerbaijani side. He also added that increase of commodity exported from Ukraine to Azerbaijan is 10%.
today.az: First meeting of Azerbaijan-Ukraine working group on energy projects to be held in Baku
Delegation of Ukrainian Ministry of Fuel and Energy will visit Baku in the near future, said Ukraine's charge d'affaires in Azerbaijan Miroslav Blashuk.
"First meeting of working group on energy projects created under the decision of Ukrainian and Azerbaijani President's Council will be held in Baku", said the diplomat. He added that the working group would prepare plan on cooperation in the near term.
Blashuk also noted that 1 mln 400 000 tons of oil was refined at Ukraine's Kremenchug Oil Processing Plant in 2010. Calling it a big number, the diplomat said that in current year, Ukraine was intending to double the importing oil.
To question on commodity turnover between our countries, charge d'affaires said that according to 11 months of the last year, this number was $1 bln 430 mln. Noting that commodity turnover has increased from Azerbaijani side. He also added that increase of commodity exported from Ukraine to Azerbaijan is 10%.
gazeta.kz: A reliable and secure supplier to world markets
At the fifth KazEnergy Eurasian Energy Forum in October, Prime Minister Karim Massimov delivered a broad and energetic speech on Kazakhstan's indispensable role in ensuring global energy security, preventing conflict and promoting ecological best practices in hydrocarbon production.
The prime minister informed the audience that the forum was convening as the Organization of the Petroleum Exporting Countries celebrated its 50th anniversary, adding that as an oil exporter, Kazakhstan recognizes OPEC's significant role in supporting the stability of world oil markets. He also stressed the importance of cooperation between producing and consuming nations, as well as between OPEC and non-OPEC producers.
Massimov added that the forum was also taking place in a period of great uncertainty for the energy sector, as the global financial and economic crisis has forced many players to ''reassess their strategy in light of shifting demand patterns, extreme price volatility and restricted access to capital.'' Anxiety remains about where energy supplies would come from in the future, he added, as well as the about ''direction of the evolution of the traditional oil and gas supply chains.''
He reminded those present that the Deepwater Horizon incident in the Gulf of Mexico is ''redefining public perception of the oil and gas industry as well as governments' attempts to regulate it.'' He explained that these changes have ''opened up a gap between risk and opportunity in the energy sector, which has had a corrosive effect on investment in the short run. As a result, the industry's capability of meeting expected long-run demand growth has been brought into question. The energy industry is facing a set of challenges that no one company or government can address alone.''
Touching on another big theme for this year's event, the prime minister noted that as OSCE chairman, his country is placing a great deal of importance on maintaining regional security to prevent energy disruptions due to conflict or other calamities.
''Kazakhstan recognizes the common interest of energy suppliers, consumers and transporters in promoting global energy security,'' he said. ''Echoing the St. Petersburg Principles on Global Energy Security, Kazakhstan will vigorously defend its role as a reliable and secure supplier of energy to world markets.''
The prime minister took up another recurring theme as well: diversity of supply and multivector export routes. He noted that the final section of the Kazakhstan-China pipeline had been put into operation in October, and that this section connects oil fields in western Kazakhstan and the Caspian with the rest of the pipeline and thus to China.
''We are also making progress with the Trans-Caspian Oil Transport System, which will deliver oil to the Baku-Tbilisi-Ceyhan pipeline. In addition, we continue to support the planned expansion of the CPC oil pipeline,'' he said, referring to the Caspian Pipeline Consortium. He asserted that the country remains firmly committed to its strategy of export-route diversification.
In the future, he said, Kazakhstan will surely represent a significant source of non-OPEC oil supply, but he also pointed out that if Kazakhstan is to reach its full potential, it must continue to attract new investment, especially foreign. He gave assurance that the government was working hard to continually enhance Kazakhstan's investment climate and ''cultivate win-win partnerships with the private sector.''
Moving on to the environment, he noted: ''The Deepwater Horizon oil spill in the Gulf of Mexico has created an environmental tragedy with far-reaching economic and social consequences. The implications of this incident have reverberated loudly here in Kazakhstan, as we develop substantial offshore oil-production capacity. When it comes to environmental safety, Kazakhstan will uphold the highest standards. The only practice welcome in Kazakhstan is international best practice.''
The oil and gas, and environmental-protection ministries have put together a working group to address safety concerns related to production in offshore and coastal areas, he announced, adding that the country planned to sign an intergovernmental protocol with Caspian-littoral states to protect the shores of the Caspian Sea during production.
He cautioned, however, that the country will not engage in ''actions without purpose,'' explaining that it would work closely with industry to make certain that the highest production standards were employed and ''an appropriate balance between preservation and exploitation is achieved.''
The prime minister concluded by saying that Kazakhstan would develop and consume energy resources in a responsible and sustainable manner, stressing that the nation's long-term prosperity depended on it. Kazakhstan is well aware of the opportunities presented by renewable energy, he said, adding that the government is supporting ''several large, progressive projects'' in this area as well.
''Kazakhstan is committed to meeting its commitments under the Kyoto Protocol,'' he added. ''We echo the G8's call to foster lowcarbon, climate-resilient economies, and we look forward to participating in the United Nations Climate Change Conference in Cancun later this year. ''Kazakhstan will continue to work closely with the energy industry to address our common long-term challenge of meeting future energy demand. To this end, we are committed to reducing short-term uncertainty and thus support the industry as it invests for the future.''
gazeta.kz: KMG set to play an even bigger global role in energy
A KazEnergy panel on ensuring energy security agreed that sufficient reserves plus location are major factors for supplying energy to meet global demand. Because Kazakhstan has huge reserves and a critical Eurasian location, it is indispensable for meeting world demand, and things are looking good for its state oil and gas concern, KazMunaiGas.
Kairgeldy Kabyldin, chairman of KazMunaiGas, said that KMG's prospects for the next 20 years are promising indeed.
Kazakhstan is in the top 10 for world hydrocarbon reserves (5.3 billion tons of oil and 3.3 trillion cubic meters of gas) and plans by 2020 to become atop 10 production country, with forecast output of 140 million tons. This places KMG in a strong position to help ensure energy security for large parts of the planet.
Kazakhstan will invest $35 billion in its oil and gas sector in 2010-14, and KMG will naturally play a big role in all projects. Kabyldin outlined future priorities in its development plan, which first stresses production, then oil transportation, gas transport, high-valued-added products and, finally, oil and gas services.
Kazakhstan and Azerbaijan extract the most oil in the Caspian region, at over 56 million and 37 million tons, respectively. Kabyldin reviewed transport routes for Kazakh crude, which now include the Caspian pipeline, the Atyrau-Samara pipeline and the Kazakhstan-China pipeline (Atasu-Alashankou) as well as the Aktau seaport. Combined capacity is over 60 million tons per year, with up to 80 percent of Kazakhstan's oil sent to Europe.
KMG's current projects include the Caspian Pipeline Consortium's expansion project, the creation of the Kazakhstan Caspian Transportation System(capacity of which is expected to reach 67 million tons per year by 2015) and the Kazakhstan-China pipeline. Kabyldin stressed the need for second-phase production at the Kashagan oil field for the viability of the KCTS, which is intended to send rising levels of Kazakh oil from Kashagan and the Tengiz field via the Caspian to the world. He noted that KMG is continuously improving safety and modernizing its transport systems.
With the country focusing on eastward projects, KMG is working with the China National Offshore Oil Corporation on the Kazakhstan-China pipeline to join Kazakhstan's two stand-alone pipeline systems and allow more crude to be sent to China. The KMG chairman concluded by saying Kazakhstan's export policy should be flexible and efficient, and that the diversity of routes exemplified this. He said that Kazakhstan wants equitable partnerships with neighbors and international firms, with terms supporting the country's interests and security.
Angus Miller, Caspian-energy adviser in Britain's Foreign and Commonwealth Office, said that Britain prioritizes energy security for itself and the European Union and thus attaches great importance to Kazakhstan because of its ''enormous'' resources. The self-described ''old hand'' at Kazakhstan is part of a wider advisory group to the British government. The group's aim, he said, is to ''reduce damaging volatility in the international energy markets and maximize benefits that flow from the development of the region's natural resources, for the U.K., the E.U. and Kazakhstan.''
Miller acknowledged the move to use less carbon-based fuel but said there are signs that global demand will rise for decades, especially from emerging nations. He noted the ''twin needs of energy demand and energy security are upper-most in the minds of energy ministers. That is why transparency of action and intent is so important.''
He praised Kazakhstan for committing to stability and the rule of law in its support for the Extractive Industries Transparency Initiative.
Miller concluded by saying, ''Kazakhstan has long been an attractive place in which to invest,'' and he reminded attendees that Shell and the BG Group were among the first foreign majors in the country.
Rovnag Abdullayev, president of the State Oil Company of the Azerbaijan Republic, outlined Socar's investments and role in energy security. He pointed out that the country now has 31 production-sharing agreements; it has invested more than $37 billion into the industry since 1994; and 34 companies from 15 nations work there. Azerbaijan is a major transport hub, and Socar ships hydrocarbons to most regional energy centers. He also took special note of planned enhanced cooperation with KMG in oil shipments.
At the press conference following the panel, Abdullayev also stressed that the two nations recently met to discuss another vital security issue: coordinated responses to oil spills and other crises. Sun Bo, vice president of PetroChina, talked about the changing dynamics of the natural-gas market, with consumption moving from member countries of the Organization for Economic Cooperation and Develop ment to non-OECD countries. He noted that
China is the largest natural-gas market in the world, providing an ideal customer for the center of natural-gas production —Eurasia. He urged close cooperation and understanding to achieve a win-win situation in terms of energy supply and to promote overall development in Eurasia.
inform.kz: Kazakhstan exceeds plan on output of oil and gas condensate by 
4

% in 

2

0

1

0

According to data, the consolidated volume of output of oil and gas condensate made up 22 mln tons in 2010. It increased by 17 percent against 2009 and exceeds plan by 4 percent; the press service of KazMunayGas National Company JSC informs.

Volume of oil transportation through pipelines made 65.8 mln tons, which is higher than the plan by 4 percent and rose by 3 percent against 2009.

Last year 14.8 mln tons were processed and it exceeds plan by 2 percent.

On December 11, Ashgabat hosted a summit of the heads of countries participating in a new ambitious energy project – Turkmenistan – Afghanistan – Pakistan – India (TAPI) gas pipeline, through which Turkmen natural gas should flow to the markets of South Asia starting from 2015. Presidents Gurbanguly Berdimuhamedov of Turkmenistan, Hamid Karzai of Afghanistan, Asif Ali Zardari of Pakistan, and Indian Minister of Petroleum and Natural Gas Murli Deora as well as President of the Asian Development Bank (ADB) Haruhiko Kuroda attended the summit. The meeting resulted in the signing of two important intergovernmental agreements that pave the way for practical implementation of the TAPI project.

The Presidents of Turkmenistan, Afghanistan, Pakistan and the Indian Minister signed an intergovernmental agreement on implementation of the TAPI gas pipeline project. The line ministers of four countries signed a framework agreement on gas pipeline for the governments of Turkmenistan, Afghanistan, Pakistan and India.

Painstaking work of experts and specialists of participating countries and ADB carried out within the framework of meetings of the TAPI Technical Working Group and Steering Committee preceded this important event. These meetings were especially intensive in the period from August to early December 2010. The final documents were prepared in the framework of the project's 12th Steering Committee meeting on December 10, attended by the heads of line ministries and representatives of all participating countries, as well as representatives of the ADB.

Giving credit for the political importance of the energy project, however, it is worth noting that the economy dictates policies. It is the current economic component of the TAPI project that makes us reasonably believe that this quite ambitious plan would be realized.

TAPI's throughput capacity, which will run along the territories of Afghanistan and Pakistan till Fazilka settlement on the border with India, will be 33 billion cubic meters of gas per year. Of these, Pakistan and India will purchase 14 billion cubic meters (bcm), 5 bcm will be used for the needs of Afghanistan. As anticipated, the pipeline construction will start in 2012 and finish by the end of 2014. Investments in the construction of 1,735 km long gas pipeline are estimated at US$ 7.6 billion.

The idea to lay the pipe that would provide Turkmen gas with an access to markets in South Asia emerged in the mid 1990s. However, the civil war in Afghanistan remained the main obstacle to the project. In the next few years, the sharp deterioration of the situation in Afghanistan impeded TAPI's realization.

Gurbanguly Berdimuhamedov was able to breathe new life into the Trans-Afghan project. During 2008-2009, the Turkmen leader held intensive consultations on the implementation of TAPI with the leaders of Afghanistan, India and Pakistan. As a result, in April 2008, India, the energy market of which notably improved TAPI's economic prospects, joined the project.

In May 2008, Ashgabat hosted the first meeting of the technical working group of TAPI, at which the experts confirmed the full economic capacity of Turkmenistan as a supplier country and agreed to formulate gas prices in accordance with the situation in the world market. At the same time, the sides began to draft intergovernmental agreements that must define the rights and obligations of each TAPI participant.

However, TAPI received the most powerful impetus for accelerated development in 2010. In May, during the Turkmen President's state visit to India, the host party expressed high interest in Turkmen gas supplies. This is easily explained, given that India's current energy demand is growing annually by 10 percent.

It should be noted that India's and Pakistan's energy needs are increasing every year. For example, in 2008, India consumed about 43 bcm of gas, nearly 12 bcm of which was imported.

Murli Deora reaffirmed India's increasing demand for Turkmen gas at the summit in Ashgabat. The Indian minister said that "although TAPI envisages the daily delivery of 38 million cubic meters of gas to India, we hope we can get more from Turkmenistan to meet the energy needs of our growing economy." Therefore, India is interested in the TAPI gas pipeline and long-term supplies of Turkmen gas, the Minister said.

Pakistan also has good reason to support TAPI. The country needs to avert an energy crisis. In 2008-2009, Pakistan's needs in gas began to outpace the extraction by 5.7 million cubic meters a day. In his speech at the summit, Pakistan's President Asif Ali Zardari confirmed Pakistan's interest in imports of Turkmen gas, noting that gas is an important commodity that gives a strong impetus to economic development. In turn, Afghan President Hamid Karzai said at the summit that Afghanistan would meet its obligations under the project in terms of both security and construction.

ADB President Haruhiko Kuroda stressed that the implementation of a project of this level requires fair investment, financial distribution, effective security mechanisms, as well as high quality of construction and operation of the pipeline. He called on all parties to implement all necessary work so that natural gas from the South Yoloten- Osman deposit could be timely delivered to the TAPI participating countries. The ADB official also emphasized the ADB's readiness to continue to assist in the project implementation.

After the signing of agreements at the Ashgabat summit, Minister for Mines and Mining of Afghanistan Vahidula Shahrani said to the Afghan media that Afghanistan would be capable of ensuring TAPI safety. Seven thousand troops of Afghan security forces will protect the pipeline. In addition, all regional administrations will be paid for the protection of the pipeline. Stressing the importance of this project for Afghanistan, Shahrani said that his country would receive hundreds of millions of dollars annually for the transit of gas. According to the minister, Afghans living in settlements that the pipeline will run through will be fully provided with gas supply. A month earlier, the Pakistani side made its presentation on the safety of pipelines in Pakistan.

Thus, contrary to pessimistic estimates of some foreign observers, who did not believe in TAPI, this transnational project gets specific confirmations of the relevance and viability. The participants' strong belief in Turkmenistan's ability to ensure long-term gas supplies along this route underscores the TAPI project's economic feasibility. Previously, the large Dovletabad field was considered the resource base for the pipeline. However, given that Dovletabat gas is currently supplied to Russia and also provides for growing exports to Iran, this year the giant Southern Yoloten-Osman field has been determined as a resource base for TAPI.

According to the latest revised estimates, the resources of the deposit already account for 22 trillion cubic meters of gas, much higher than the 2008 audit data provided by the British Gaffney, Cline & Associates that estimated it at 14 trillion cubic meters.

Along with the ongoing exploration at the deposit, projects totaling nearly US$ 10 billion are already being implemented to accelerate the commissioning of the South Yoloten. State-owned Turkmengaz Corporation together with the invited service companies from China, Korea and the UAE carries out comprehensive development of the deposit, which will result in production of 30 billion cubic meters of gas already in 2012. The implementation of subsequent phases will provide an opportunity to boost production up to 40-70 bcm a year.

The intention of other countries, including Russia, to participate in implementation of TAPI proves the economic attractiveness of the project. In particular, the Kremlin has already announced that Gazprom is ready for any cooperation, such as assistance in preparing the project, to become a contractor or become a full member of the consortium.

Probably, the full composition of the consortium for the construction of TAPI will be formed in 2011. Meanwhile, it is known that it will include gas companies of the participating countries. They will jointly decide which foreign companies and on what terms will be invited as partners. Also during 2011, the TAPI participating countries intend to agree on other yet unsolved issues. In particular, the project participants should agree on the gas price, measures to ensure safety of gas pipeline, transit fee and creation of a consortium.

Ashgabat considers TAPI one of the most important elements of its energy strategy on diversification of energy exports to world markets. Implementing this strategy phase by phase, Turkmenistan started gas exports to China in December 2009 along the trans-Asian pipeline with the throughput of 40 bcm per year. In January 2010, the second pipeline to Iran – Dovletabad-Sarahs-Hangeran – was commissioned, allowing Turkmenistan to increase gas exports to the neighboring country up to 20 bcm and more.

TAPI's implementation will significantly strengthen the position of Turkmenistan in the Asian region's promising and fast-growing gas market. Given the existing gas pipelines to China and Iran, delivery of Turkmen gas by TAPI will bring supplies to the countries of the Asian region as a whole to a total of over 90 billion cubic meters of gas per year.