Gandul: Statul vrea toată datoria de la Rompetrol
Statul vrea să recupereze integral datoria de 570 milioane euro pe care Rompetrol Rafinare o are la Ministerul Finanţelor şi este pregătit să meargă în instanţă. Statul va invoca faptul că stingerea datoriei de la Rompetrol se poate realiza fie prin achitarea integrală a sumei, fie prin conversie de acţiuni, dar nu prin ambele va riante, potrivit unor surse guver na men tale, citate de Mediafax. Kazahii susţin că au şi opţiunea de a realiza o răscum pă rare par ţială a obligaţiunilor.
Hotnews: Rompetrol va clarifica maine intentiileprivind obligaţiunile scadente la 30 septembrie 2010. Va primi Statul banii datorati? Vezi istoricul celei mai controversate privatizari romanesti
Istoricul Rompetrol
1974: Se infiinteaza Rompetrol
1993: Rompetrol se privatizeaza prin metoda MEBO.
1998: Dinu Patriciu preia pachetul majoritar de actiuni
1999-2001: Rompetrol preia rafinaria Vega Ploiesti, Petros si Petromidia
2004: Rompetrol Rafinare este listata la BVB
2005,2006: Rompetrol achizitioneaza reteaua de benzinarii Dyneff din Franta. Grupul isi incepe activitatea in Albania, Ucraina, Georgia si Moscova.
2007: KazMunaiGaz preia 75% din actiunile Rompetrol Group
2009:KMG achizitioneaza si restul de 25% din actiuni
Povestea e lunga, dar poate fi simplificata. Cand a semnat contractul cu FPS pentru preluarea Petromidiei, Rompetrol s-a angajat sa achite pe langa pretul "contabil" si datoriile istorice la bugetul de stat ale proaspetei achizitii. De acolo a inceput totul. In 2000 acele datorii erau de peste 600 milioane de dolari (2/3 din suma- datorie la buget si o treime la Bancorex, care era tot de stat). Potrivit contractului cu FPS, Patriciu se angaja sa plateasca cash 53 milioane de dolari plus toate datoriile. Daca datoriile nu se plateau, Statul redevenea  proprietar al actiunilor. Patriciu a platit pretul actiunilor, nu insa si datoriile. In 2003, Statul a acceptat amanarea pe 7 ani a platii datoriilor, prin transformarea lor in obligatiuni. Acum a venit scadenta. Statul vrea bani, Rompetrol a fost transferata kazahilor care spun ca nu au de unde plati, iar Dinu Patriciu spune ca nu mai e problema lui. Miercuri, Rompetrol organizeaza o conferinta de presa in care isi va clarifica intentiile privind plata banilor.
In decembrie 2000 vine la putere guvernul Nastase, care accepta ca Rompetrol sa plateasca datoriile abia in 2010. Banii oricum nu existau fizic, asa ca  prin OUG 118/2003 se decidea transformarea in obligatiuni in favoarea statului a "creantelor bugetare reprezentand taxa pe valoarea adaugata, accize, contributia la Fondul Special al drumurilor, precum si majorarile de intarziere, dobanzile, penalitatile si penalitatile de intarziere, datorate si neachitate de Societatea Comerciala Rompetrol Rafinare SA Constanta la data de 30 septembrie 2003". Obligatiunile au ca scadenta de rascumparare anul 2010 si sunt purtatoare de dobanda. Actul emis si semnat de Adrian Nastase, Mihai Tanasescu si Dan Ioan Popescu, lasa la latitudinea companiei private dreptul de a alege daca plateste datoria sau o converteste in actiuni. Nici ordonanta si nici legea prin care a fost adoptata nu specifica in mod clar daca emitentul poate realiza o rascumparare partiala sau este obligat sa opteze intre a rascumpara toate obligatiunile sau a le transforma pe toate in actiuni. E o lege care poate fi interpretata, iar marile case de avocatura isi freaca mainile fericite.
ziare.com: Gazoductul Nabucco se va alimenta din Azerbaijan, Turkmenistan si Irak
Gazoductul Nabucco va fi alimentat cu gaze din Azerbaijan, Turkmenistan si Irak, prin doua conducte catre granita turco – georgiana si catre cea turco – irakiana.

Decizia constructiei celor doua conducte a fost decisa in cadrul ultimei intalniri a Comitetului Director, desfasurata la Ankara, lucrarile fiind deja comisionate, potrivit unui comunicat remis Ziare.com.
In schimb, din cauza contextului politic, Nabucco Gas Pipeline International nu are in vedere o a treia linie de alimentare catre granita turco – iraniana.
Investitia in dezvoltarea gazoductului se va ridica la 7,9 miliarde de euro, fiind un proiect din surse multiple, fara se a se baza pe un singur furnizor.
Gazoductul va conecta regiunile bogate in gaze naturale a Marii Caspice si Orientului Mijlociu de pietele de consum din Europa. Astfel, va face legatura intre granita estica a Turciei si Baumgarten, in Austria, unul din cele mai importante terminale din Europa Centrala, trecand prin Bulgaria, Romania si Ungaria. mai mult
Mediafax: Nabucco va fi alimentat cu gaze din Azerbaijan, Turkmenistan şi Irak
Gazoductul Nabucco va fi alimentat cu gaze naturale din Azerbaijan, Turkmenistan şi Irak, prin două conducte la graniţa Turciei cu Georgia şi Irak, a anunţat, luni, consorţiul care derulează proiectul.
"Vor exista conducte de alimentare către graniţa turco-georgiană şi către cea turco-irakiană. Ruta planificată oferă o gamă largă de surse de aprovizionare pentru Nabucco, care va primi gaz din Azerbaijan, Turkmenistan şi Irak. (…) Din cauza contextului politic, Nabucco Gas Pipeline International nu are în vedere o a treia linie de alimentare către graniţa turco-iraniană", se arată într-un comunicat al consorţiului care derulează investiţia.
Gazoductul Nabucco, investiţie evaluată la 7,9 miliarde euro, va alimentacu gaze din regiunea Caspică şi Orientul Mijlociu pieţele din Europa.
Proiectul este derulat de un cosorţiu format din compoaniile Botas (Turcia), Bulgarian Energy Holding (Bulgaria), MOL (Ungaria), OMV (Austria), RWE (Germania),Transgaz (România). Fiecare companie are o participaţie de 16,67%.
RIA Novosti: Nabucco gas pipe consortium delays plans to include Iran in project
A consortium of companies building the Nabucco gas pipeline designed to pump natural gas from the Caspian region to Europe bypassing Russia has delayed its plans to include Iran in the project, the consortium said on Monday.
The consortium decided to continue the construction of two pipeline sections from Georgia and Iraq to Turkey and concurrently suspended a plan to build a pipe section from Iran, the consortium said in a statement.
Christian Dolezal, a spokesman for the consortium, said Nabucco no longer planned to construct a pipeline section from Iran as the consortium was acting in accordance with international laws and rules, adding that the consortium could not comment on its further possible actions.
According to the Dow Jones agency, the consortium's decision may be connected with UN sanctions imposed on Iran, which western nations suspect of developing nuclear weapons. Iran insists its nuclear program is intended for peaceful purposes only.
The Nabucco project, which is designed to pump gas from the Caspian region to European countries via Azerbaijan, Georgia, Turkey, Bulgaria, Hungary, Romania and Austria is a key element of western strategy to cut Europe's dependence on Russia's energy supplies.
The 7.9 billion euro pipeline is expected to have an annual capacity of 31 billion cubic meters of gas, which will not exceed five percent of Europe's gas consumption in 2020.
Novinite: Nabucco to Get Gas through Georgia, Iraq
The Nabucco pipeline project has modified its gas supply concept to include two feederpipelines leading to Turkey – one from Georgia and one from Iraq.
This is seen as following Nabucco's commitment to a "multi-source approach" to guarantee stable and adequate deliveries of gas to Europe.
The decision for introducing two feeder lines was taken at the last meeting of Nabucco's Steering Committee in Ankara and reported Monday.
"The planned route offers a wide range of supply sources for the Nabucco gas pipeline, which will receive gas from Azerbaijan, Turkmenistan and Iraq," says the announcement.
The Nabucco Consortium announced it has already ordered the engineering works for the two lines.
A third line from Iran to Turkey is not planned due to the "political situation."
The shareholders in Nabucco are Botas (Turkey), Bulgarian Energy Holding (Bulgaria), MOL
(Hungary), OMV (Austria), RWE (Germany), Transgaz (Romania), each holding an equal
share of 16.67%.
The European Union puts high hopes in Nabucco for effecting the much-vaunted European South Energy Corridor in a bid to ensure the security of gas deliveries to Europe and decrease dependence on Russia.
It is seen as a rival to the South Stream gas pipeline project sponsored by Russia, to which Bulgaria is a also a party.
energia.gr: Nabucco Pipeline Confirms Feeder Lines to Iraq, Georgia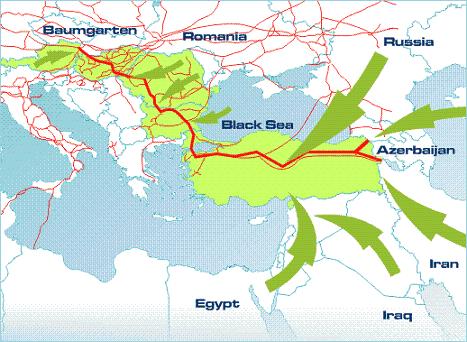 At a recent Steering Committee meeting in Ankara, Nabucco shareholders agreed to modify the feeder line concept, a press release says. Due to the current political situation, they decided to put on hold the third feeder line to the Turkish-Iran border.
There will be feeder lines to the Turkish-Georgian and Turkish-Iraqi borders. The planned route offers a wide range of supply sources for the Nabucco gas pipeline, which will receive gas from Azerbaijan, Turkmenistan and Iraq, the Nabucco consortium announced.
Indeed, recently Azerbaijan and Turkey signed a deal to ship 11 billion cubic metres of Azeri gas per year to Turkey. Shipments will start in 2017 and some of the gas may be pumped into Nabucco. Meanwhile, northern Iraq declared in Turkey that it stands ready to provide gas supplies "to make Nabucco work".
The consortium also announced that it would raise its capacity step-by-step, from 8-10bcm/y and reaching maximum capacity by 2018 after the construction of additional compressor stations (see 'Background').
In the meantime, public hearings have been taking place in Turkey within communities, followed by question-and-answer sessions regarding the local impact of the project. According to the consortium, such meetings have already taken place in the cities of Ankara, Eskişehir, Bursa, Balikesir, Tekirdağ and Kırklareli.
It was recently announced that Nabucco's main competitor, Gazprom-favoured South Stream, had tried to unsettle its rival by enlisting German utility RWE, which is already a Nabucco partner, as one of its members. Later, Gazprom denied having made such an invitation.
trend.az: Trend commentator: Iran's problems increase Turkmenistan's energy potential
Trend Persian Desk Head Dalga Khatinoglu
The intensive involvement of foreign companies in energy projects of Turkmenistan, the UN Security Council's sanctions against Tehran's nuclear program and as a consequence, the refusal of Europe and the United States from participation in energy projects of Iran, can leave Turkmenistan without a competitor in the field of energy security and transit.
More active talks around the Turkmenistan-Afghanistan-Pakistan-India gas pipeline (TAPI), which completely left the prospect of the Iranian gas pipeline Peace in the shadow, is evidence to it.
Development of Turkmenistan's energy projects with the participation of dozens of foreign companies brings this country to far ahead not only in natural gas exports, but also in the production of liquefied gas, in comparison to Iran.
In early August, the Turkmen government newspaper Neutral Turkmenistan reported on the achievement of record in the production of liquefied gas – 75,000 tons per day- at the Naip refinery. Moreover, after Shell and Repsol have refused to cooperate with Iran, this country has officially refused the project LNG (liquefied natural for the production of gas).
Today, Iran ranks second in the world after Russia on stocks of "blue fuel" with almost 30 trillion cubic meters of gas. Turkmenistan is in third place with reserves of more than 8 trillion cubic meters. Iran produces 110 billion cubic meters of gas a year, and Turkmenistan – 75 billion.
Despite this, domestic demand and production of gas is balanced in Iran (consumption is nearly equal to production), and it is necessary to develop major gas projects such as South Pars for gas export.
However, due to lack of investment and financing opportunities, only 10 phases of 24 project phases in the development of this field is completed through internal resources. The development of the remaining phases have not yet started or developed for a maximum of 50 percent.
After a delay of several years, the Hatam Ul-Anbiya structure belonging to the Islamic Revolutionary Guard Corps (IRGC) suspended the development of 15th and 16th phases of the South Pars project in July, 2010.
However, unlike Iran, detailed negotiations in the energy sector are underway in Turkmenistan.
While Iran gives promises to develop prospects of energy projects under contracts worth billions of dollars and increase the production of hydrocarbons, its northern neighbor has reached concrete results in the energy sector thanks to its pragmatism.
Earlier, a large delegation headed by U.S. Energy Department Regional Director Riaz Awan paid a visit to Turkmenistan. There he held discussions on energy cooperation. They discussed issues such as geological exploration, hydrocarbon processing, oil and gas deposits in the Turkmen sector of the Caspian Sea, as well as the implementation of projects on development of transport infrastructure for export of Turkmen energy resources to the world markets.
Turkmen President Gurbangulu Berdimuhammedov named the proposals by three U.S. oil companies and one oil company from the United Arab Emirates to develop oil fields in the Caspian Sea as "very successful and fruitful." The President instructed the relevant authorities to investigate these suggestions and begin to implement them. These companies have proposed drilling operations in 9 and 20 blocks in the Turkmen sector of the Caspian Sea.
While global oil and gas giants refuse to participate in Iran's energy projects one after another, Turkmenistan's national gas company Turkmengaz signed a contract to develop the country's largest field Yolotan, whose minimum reserves are estimated at 4 trillion cubic meters. The contracts were signed with China National Petroleum Company (CNPC) at $3.1 billion, the UAE international oil company "Petrofac" at $3.9 billion, Kuwaiti oil and gas company "Gulf" at $1.2 billion and the Korean company LG and Hyundai at $1.5 billion.
The list of companies that have invested in Turkmenistan is not limited to these companies. Malaysian Petronas, Dragon Oil owned by Britain and the United Arab Emirates, the Danish Maersk Oil, India's ONGC, Italy's ENI, and Germanic Wintershal and RWE Dea AG signed contracts with Turkmenistan as a result of the state support provided by the Turkmen government to foreign investment into the country. Based on the signed contracts, they are engaged in exploration and production of hydrocarbons at onshore and offshore fields.
In addition, Turkmenistan turned to China to allocate $4.1 billion as investments to develop the largest gas field Yolotan.
Turkmenistan's gas production doubled reaching 75 billion cubic meters a year in the past two years. This figure is expected to be tripled in the next 20 years. Based on BP's estimates, Turkmenistan's total gas reserves reach 8.1 trillion cubic meters, of which nearly half falls on the Yolotan field.
Turkmenistan's efforts aimed to diversify the gas transit routes are also a kind of warning to Iran. The country opened the Turkmenistan-Uzbekistan-Kazakhstan-China gas pipeline length 7.000 km in 2009. The pipeline delivers the Turkmen gas through Uzbekistan and Kazakhstan to China.
In addition, the negotiations on the TAPI gas pipeline have been intensified. During the past month, officials from four states have held several meetings to discuss the project.
TAPI project is an alternative to the Peace project, which involves supply of the Iranian gas from the South Pars field to Pakistan and India. India's refusal to participate in the Peace project cast doubt on its implementation.
According to the Turkmen State Agency, the country will make every effort to sign an agreement to sell natural gas through the TAPI gas pipeline project this year. The Turkmen gas is also expected to be delivered through the Nabucco gas pipeline from the Caspian region to Europe, thereby reducing its dependence on Russian gas and increase energy security in EU countries.
today.az: Nabucco Consortium defines priority gas supply sources
At the latest Steering Committee meeting in Ankara, the Nabucco shareholders agreed on a modification of the feeder line concept, the Nabucco Consortium said.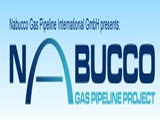 Two feeder lines were confirmed and the respective engineering works were ordered.
There will be a feeder line to the Turkish-Georgian and to the Turkish-Iraqi border. The planned route offers a wide range of supply sources for the Nabucco gas pipeline, which will receive gas from Azerbaijan, Turkmenistan and Iraq.
According to the Consortium, due to the current political situation, Nabucco Gas Pipeline International is not planning a third one to the Turkish-Iranian border so far.
"Nabucco is a multi-sourcing project and will as such not rely on a single source or supplier for the operation of the pipeline. The Caspian region and the Middle East are among the world's richest gas regions and have large potential for gas export to Europe. These regions will therefore play a crucial role both in diversification and security of supply," the Consortium's report says.
The Nabucco gas pipeline project is worth 7.9 billion euro. Participants are the Austrian OMV, Hungarian MOL, Bulgarian Bulgargaz, Romanian Transgaz, Turkish Botas and German RWE. Each participant has an equal 16.67-percent share. Construction is planned to launch in 2011, with first supplies commencing in 2014. Its maximum capacity will hit 31 billion cubic meters per year. The Nabucco Gas Pipeline International will invest 30 percent of the project's total cost. The remaining 70 percent will be paid by loans.
The Nabucco shareholders are: Bulgarian Energy Holding (Bulgaria), Botas (Turkey), MOL (Hungary), OMV (Austria), RWE (Germany) and Transgaz (Romania), Each shareholder holds an equal share of 16.67% of Nabucco Gas Pipeline International GmbH. It is the shareholders who are responsible for the negotiation of gas contracts.
news.az: Azerbaijan increases LNG exports
Azerbaijan increased exports of liquefied natural gas (LNG) by 77.9% in the first six months of 2010, compared to the equivalent period last year.
In January-June, Azerbaijan exported 84,513 tonnes of LNG gas for $8.129m, according to figures from the State Statistical Committee.
Income from the sale of LNG grew by 208.8% compared to January-June 2009.
Azerbaijan produced 104,820 tonnes of LNG in the first half year, 36,160 tonnes more than last year.
Production was 17,690 t in January, 16,850 t in February, 18,720 t in March, 17,060 t in April, 18,580 t in May and 15,920 t in June.
In the first six months of 2009, 68,660 t of LNG were produced, and in the year as a whole 173,300 t.
On the internal market, some 80% of LNG went on vehicle transport and 15% on domestic consumers in the first half year.
Azerbaijan produces LNG at the gas processing plant, the Heydar Aliyev Oil Refinery and one of Azerkimya's enterprises.
gazeta.kz: Is Now the Time for the Energy Conglomerates?
Of the many global integrated firms, the six largest are often referred to as the super majors. Though they are well-known names and commonly held in many portfolios, at certain times their valuations can become attractive enough to add to current holdings or initiate new positions. We believe this is currently the case with Exxon Mobil (XOM), which trades well below our fair value estimate. We also view Chevron (CVX) favorably. While not currently as undervalued as ExxonMobil, Chevron offers the highest exposure to oil production of any super major. A rise in oil prices could provide significant upside to our fair value estimate for Chevron.
Likewise, both Royal Dutch Shell (RDS.A) and Total (TOT) are trading close to our fair value estimate. However, the European firms offer significantly higher dividend yields than their American counterparts and may be appealing holdings in the current low-yield environment.
Exxon Mobil
Exxon Mobil (XOM) remains our top pick in the super major integrated universe. While its shares have underperformed over the past year, we believe at its current level Exxon Mobil should offer attractive returns with minimal risk. Exxon Mobil currently trades at a discount to our estimated fair value and at a lower multiple than its historical average. Given its history of delivering superior returns, the company typically commands a premium EV/EBITDA multiple of around 6x. Concerns over the company's recent acquisition of XTO Energy and the possibility of lower returns have likely negatively impacted the stock.
However, we believe that Exxon Mobil should be able to leverage its financial strength and global footprint with XTO's unconventional resource expertise to deliver production growth at an attractive rate of return. In addition to its global LNG portfolio, the XTO acquisition marks a large bet on natural gas at a time when many E&Ps are trying to increase their exposure to oil.
However, Exxon Mobil is planning for the long term. The company believes demand will grow substantially over the next few decades as natural gas becomes a preferred fuel given its abundance and low carbon emissions. Exxon Mobil is often used as a proxy for those looking to gain exposure to oil prices. However, as the world's largest refiner and one of the largest chemical companies, Exxon Mobil is much more than an oil and gas producer. While these two segments have suffered in the global recession of the past year, we believe that with high-quality assets, superior execution, and integration of the upstream and downstream operation, Exxon Mobil can deliver industry-leading returns.
Chevron
Though closer to our fair value estimate, we view Chevron (CVX) as another attractive option among the super majors. In addition to sporting an attractive valuation based on a relatively low EV/EBITDA multiple of our 2011 EBITDA forecast, Chevron also has the most exposure to oil (67% of total production) of any super major. In today's commodity price environment, oil production generally offers higher returns than natural gas production. Also, after delivering industry-leading production growth of 7% last year, Chevron is on track for another strong year with 3% growth.
Over the long term Chevron should be able to continue to grow production given its queue of projects and recent exploration success in deepwater locations around the world. Key projects include Chevron's two LNG projects, Gorgon and Wheatstone, in Australia. While these two projects will shift Chevron's production profile more toward natural gas over the next decade, LNG projects generally offer attractive returns given contracts indexed to oil prices and decades-long plateau production levels. Like ExxonMobil, Chevron also has downstream assets. However, Chevron has the smallest percentage of total assets dedicated to refining of any super major. Also, its facilities are highly complex and located in strong markets.
ConocoPhillips
ConocoPhillips (COP) is in the midst of executing a strategic plan to improve its returns and close the valuation gap with peers Exxon Mobil and Chevron. In addition to its leverage to natural gas and refining, ConocoPhillips made some ill-timed acquisitions in recent years saddling the company with a large debt load. As a result, ConocoPhillips typically trades at a lower multiple than its larger peers.
With its strategic plan, the company hopes to address these problems. Over the next two years, ConocoPhillips plans to divest $10 billion worth of assets, with proceeds going toward debt reduction. Also, the company plans to sell its 20% stake in Lukoil during the same period, which could amount to approximately $8 billion and will likely go toward share repurchases. ConocoPhillips also has plans to reduce capital spending and focus on higher-returning exploration and production projects.
While we view the company's plans positively, we believe much of the benefit is already reflected in the stock price. Additional asset sales above the initial $10 billion, which could go toward additional share repurchases, could offer additional upside to our fair value estimate.
BP
BP's (BP) new CEO Bob Dudley will need to work quickly to set a new course for the firm to restore its reputation in the aftermath of the Macondo oil spill in the Gulf of Mexico. BP now faces major post-spill challenges, including the funding of oil clean up costs and a $20 billion (or more) claims fund and responding to post-spill investigations and government-assigned responsibilities.
While shares may appear cheap, uncertainties remain as potential legal penalties and regulatory fines may take years to resolve and are likely to add up to billions of dollars. Despite this, we think BP has the cash resources and funding options to cover the oil spill costs and future claims funding. The firm is about a third of the way to targeted asset sales of up to $30 billion, with agreements for about $10 billion of non-core assets. The firm suspended its 2010 dividend to free up about $10 billion in cash, and scaled back capital spending plans. As spill costs diminish, BP may consider restarting dividend payments.
However, we believe BP's most important step will be to apply lessons learned and upgrade safety practices in order to gain approval to operate offshore. New ventures with partners in Egypt and China are early indicators that BP retains the ability to secure new long-term projects, but we'll need to see a steady stream of new deals from BP to support future upstream production growth potential.
Royal Dutch Shell
Royal Dutch Shell (RDS.A) is making good progress on its 2010 goals of boosting production with new projects while cutting costs by simplifying its business structure. While we're encouraged by year-over-year quarterly production gains achieved thus far, and by cost-cutting efforts, we believe Shell is currently fairly valued.
The firm achieved more than $3.5 billion of annualized cost savings, which is six months ahead of schedule, but our primary focus is on whether recent purchases of U.S. tight gas and Australian gas interests will contribute toward production growth. Shell's cash generation continues to support its dividend, which the firm is holding steady as it keeps capital spending at current levels. We'll monitor the firm's progress over the next two quarters to determine whether project-driven production growth and downstream cost savings are likely to continue into 2011 and beyond.
Shell's efforts to expand production at Iraq's Majnoon field, its share of Gorgon LNG in Australia, the BC-10 offshore project in Brazil, and the Kashagan field in Kazakhstan will add to its longer-term production growth potential. Shell plans to commit $3 billion of capital spending each year on exploration, including targets onshore in the U.S. and Canada as well as offshore prospects in the U.S., Australia, and Brazil to extend production growth prospects well into the end of this decade.
Total
Total (TOT) kept its sights on longer-term upstream projects even when oil and gas prices tumbled last year, and is now set for 2% annual production growth over the next five years. Production gains of 6% during the first half of 2010 suggest that Total may exceed the 2% targeted growth this year. We expect that production growth targets will get a big assist from ventures in Russia, Algeria, and in the U.S., where Total has entered into joint ventures to develop onshore shale gas prospects. Also, the acquisition of UTS Energy and its 20% stake in the Fort Hills project increases Total's exposure to Canadian oil sands.
We're glad to see the firm move forward with the second phase of Surmont oil sands project in Alberta and offshore projects in the North Sea and Angola. Discoveries in Angola and Nigeria and plans to partner with PetroChina (PTR) and Petronas to expand production of Iraq's Halfaya field may also support longer-term production growth.
Despite these attractive long-term projects, we believe Total's current share price for the most part reflects their potential. Downstream operations remain challenged amid a weak global economy and European financial concerns.