Bursa: Gazele se scumpesc cu 5%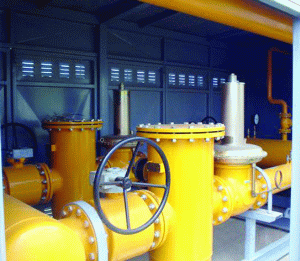 Populaţia şi micii agenţi economici vor plăti, de la 1 iulie, gaze mai scumpe cu aproximativ 5%, arată o notă internă a ANRE (reglementatorul pieţei), în posesia căreia a intrat ziarul BURSA. Oficialii ANRE sus-ţin, în nota respectivă, că la baza acestei scumpiri a gazelor este majorarea la circa 30% a cotei gazelor importate din Federaţia Rusă, creşterea cu 24%, la 380 dolari/1.000 mc, a preţului gazelor importate, dar şi deprecierea cu 15% a leului faţă de dolar.
Potrivit sursei citate, importurile de gaze au "sărit" la peste 30% în acest an din cauza faptului că marii consumatori de gaze, în special combinatele chimice au primit o derogare, până în octombrie 2010, de a consuma numai gaze ieftine din producţia internă, la un preţ de aproximativ 160 de dolari/1.000 mc. ANRE a menţinut constant preţul gazelor de la 1 iulie 2009 la 1 iulie 2010. Dar, mai arată nota internă a reglementatorului, derogarea pentru marii consumatori a făcut să crească ponderea importurilor pentru piaţa regl-ementată (populaţia şi micii consumatori economici) la aproximativ 30%.
Astfel, vom plăti cu toţii "generozitatea" cu care guvernanţii au permis combinatelor să producă îngrăşăminte cu gaz ieftin şi, mai ales, să exporte aproape 70% din producţie pentru că fermierii noştri nu au avut bani pentru fertilizarea terenurilor agricole. Mai mult decât atât, din nota internă a ANRE reiese clar că, în octombrie 2009, înainte de a aproba derogarea pentru marii consumatori, executivul a fost informat de ANRE de consecinţele acestei legi asupra preţului reglementat al gazelor.
Mediafax: Gazprom a redus ţinta de export pentru acest an cu 10%, la 145 miliarde de metri cubi
Gazprom, cel mai mare producător de gaze naturale din lume, a redus ţinta de export pentru acest an cu 10%, la 145 de miliarde de metri cubi, după ce criza datoriilor în statele din sudul Europei a cauzat declinul cererii.
În ianuarie, grupul rus a anunţat că intenţionează să vândă 160,8 miliarde de metri cubi de gaze naturale clienţilor europeni din afara spaţiului ex-sovietic. Anul trecut producătorul rus a exportat 140,6 miliarde de metri cubi de gaze naturale.
"Ne-am bazat estimările iniţiale pe trendurile pozitive pe care am început să le înregistrăm la sfârşitul anului trecut şi ne aşteptam la o recuperare a cererii", a spus directorul general al grupului, Alexander Medvedev.
Gazprom, care acoperă aproximativ un sfert din consumul total al Europei ar putea rata ţinta stabilită pentru acest an după ce consumul în statele din sudul Europei a scăzut semnificativ, încetinind recuperarea cererii. ÎnEuropa de Nord, cererea a continuat să crească, a adăugat el.
Producţia este planificată să crească la 519,3 miliarde de metri cubi de gaze naturale în acest an, după ce a coborât la 462 miliarde de metri cubi în 2009.
Exporturile de gaze naturale ar putea depăşi 45 de miliarde de dolari în 2010, faţă de 42,5 miliarde de dolari în anul anterior. Gazprom se aşteaptă la un preţ mediu de 308 dolari pentru 1.000 de metri cubi în 2010, a spus Medvedev.
money.ro: Gazprom a redus cu 40% livrările de gaz către Belarus
Gazprom continuă miercuri reducerea livrărilor de gaz către Belarus, acestea fiind reduse cu 40%, a anunţat directorul Aleksei Miller, relatează RIA Novosti.
Marţi, Gazprom a livrat doar 70% din gazul destinat Belarusului.
La 21 iunie, Gazpromul a început o reducere a livrărilor de gaz către Belarus, din cauza datoriei Minskului de 200 milioane de dolari. Limitată iniţial la 15% din livrările zilnice, reducerea a ajuns la 30% marţi dimineaţă şi va atinge 85%, dacă Belarusul nu-şi va plăti datoria.
Ucraina a spus luni că este dispusă să-şi pună la dispoziţie conductele, pentru transportarea de volume suplimentare de gaz spre Europa.
Mediafax: Preşedintele bielorus acuză Gazprom că a dezlănţuit un "război al gazelor"
Preşedintele bielorus, Alexander Lukaşenko, a declarat, marţi, că disputele privind datoriile la plata gazelor naturale dintre Gazprom şi Belarus s-au transformat într-un "război al gazelor", potrivit RIA Novosti.
Preşedintele bielorus acuză Gazprom că a dezlănţuit un "război al gazelor" (Imagine: Mediafax Foto/AFP)
"Din nefericire, acest conflict s-a transformat într-un război al gazelor între Gazprom şi Belarus", a spus Lukaşenko în timpul unei întrevederi cu ministrul rus de Externe, Sergei Lavrov.
Belarusul refuză să plătească preţul cerut de Rusia, de 169 de dolari pentru 1.000 de metri cubi în primul trimestru şi de 185 de dolari pentru trimestrul al doilea, şi a achitat doar 150 de dolari pentru 1.000 de metri cubi de la începutul anului.
Gazpromul a redus, luni, livrările de gaze naturale către Belarus cu 15% din cauza unei datorii de 200 de milioane de dolari acumulate de guvernul de la Minsk în 2010. Livrările au fost diminuate cu încă 30% marţi.
Mediafax: Rusia va suplimenta livrările de gaze pentru UE prin Ucraina dacă Belarusul împiedică transportul
Rusia va devia transportul de gaze naturale către Uniunea Europeană (UE) prin infrastructura din Ucraina, în cazul în care Belarusul va limita livrările de combustibil pe teritoriul său, a declarat Marlene Holzner, un purtător de cuvânt al Comisiei Europene, citat de agenţia Ria Novosti.
Vocea Rusiei: Gazprom studiază căile alternative de livrare a gazului
Compania rusă Gazprom studiază căile alternative de livrare a gazului în Europa, a declarat purtătorul de cuvânt al companiei Serghei Prihodiko în legătură cu decizia Belarus de a înceta tranzitul gazului rusesc în Europa. El a subliniat că beneficiarii europeni ai Gazprom vor primi combustibil în volum total. Kuprianov a informat că livrările de gaz în Europa pot fi efectuate via Ucraina, care a confirmat deja disponibilitatea de a asigura transportarea unor volume suplimentare. În afară de asta, poate fi folosit gazul din depozitele subterane din Europa.
Vocea Rusiei: Rusia are un partener de nădejde
Porţiunea de tranzit a gazoductului South Stream poate trece prin teritoriul României, a declarat jurnaliştilor conducătorul Gazprom Alexei Miller. Potrivit lui, în timpul tratativelor cu partea română a fost deschisă posibilitatea pentru  participarea activă a României la proiectul South Stream, în contextul posibilităţii construirii gazoductului magistral de tranzit.
Trebuie spus că amplasarea gazoductului via România şi Slovenia în Italia, este chiar mai avantajoasă decât prin teritoriul Bulgariei, deoarece el poate fi amplasat în acelaşi coridor cu conducta de gaz  Constanţa-Trieste în curs de proiectare.  Acest lucru va reduce cheltuielile pentru lucrările de prospectare şi obţinere a permisiunilor de la toate instanţele.  Conform argumentării tehnico-economice conducta din România va fi mai  lungă doar cu 20-30 km  decât cea din Bulgaria.
Colaborarea ruso-română în domeniul petrolului şi gazelor are tradiţii vechi. Între altele, în România acţionează compania Lukoil. Se ştie că în Rusia se bucură de cerere instalaţiile petrochimice româneşti. Trebuie relevat faptul că la ora actuală România este unul din principalii furnizori de instalaţii petrochimice pentru ţările din Europa de Est, spune  Aurel Vasile care participă la expoziţia "Neftegaz-2010″ de la Moscova.
RIA Novosti: Russia's Gazprom cuts gas deliveries to Belarus by 40% – TV
Russia's state-run gas monopoly Gazprom continued cutting gas supplies to Belarus on Wednesday, reducing deliveries by 40%, Chief Executive Alexei Miller said.
"From 10:00 [Moscow time] a delivery cut to 60% is introduced," he told a commission called together to discuss the Russia-Belarus dispute.
On Tuesday, Gazprom only delivered 70% of its contracted gas supply to Belarus.
tr.com: Gas transit stopped as debt imbroglio spreads
Belarusian President Aleksandr Lukashenko has ordered a halt to the transit of Russian gas through his country until Gazprom pays of its transit debt.
"I have ordered the government to suspend the traffic of Russian gas through Belarus until Gazprom pays the debt for the transit," said Lukashenko in a meeting with Russian Foreign Minister Sergey Lavrov.
On Monday Russia began cutting gas supplies to Belarus due to an outstanding $200 million debt for gas.
Lukashenko also proposed conducting a mutual settlement of the Belarusian debt and Gazprom's transit debt.
"We will give you $192 million and you will give us $260 million, make a mutual settlement and pay us the difference. And we will close this issue."
Rusenergo analyst and partner, Mikhail Krutikhin told RT Business that the summer season means that European consumers will not be too affected by the halt in transit.
"Ukraine has enough reserves in the underground storage facilities. I don't think this is very dangerous for European consumers."
However, he added that the problem could be around for a while as it has gone from business to politics.
"Each of the sides admitted that the debt exists, but now it has become political. I think it was possible for a debt swat, but maybe Gazprom is trying to show that Belarus is not a reliable transit territory."
He added, "It will take some political will from the heads of state to solve this issue."
ITAR TASS: Gazprom cuts by 60% gas supplies to Belarus
Gazprom has cut supplies of gas to Belarus by 60 percent, but gas transit through Belarus to Europe is effected in full, Gazprom CEO Alexei Miller said.
"We have two pieces of news. One is good, the other is bad. The transit of Russian gas through the territory of Belarus is effected in full, and the consumers of Russian gas have no problems with supplies," Miller said.
"The bad news is that Belarus is making no attempts to pay the debt for supplied gas. On June 23, at 10:00, Moscow time, Russia restricted the supplies of gas to Belarus by 60 percent. The restriction of supplies will continue in proportion to the outstanding liability," he added.
ITAR TASS: Belarus suggests Gazprom its own version of paying gas debt
Belarus suggests Gazprom to pay its debt for gas transit and expressed readiness to pay for received gas by July 5, but warns that further cuts in Russian gas supplies may result in technical decrease in gas transit to Europe.
The Belarussian government spelled out its version of settling the gas problem in a letter, sent to the Russian side on Monday in late afternoon.
Gazprom is suggested to pay the debt for gas transit to Beltransgaz, totalling 217 million US dollars. In turn, Beltransgaz will fully pay for gas, supplied to Belarus in May, before June 23. Besides, it will fully pay the debt of 187 million dollars by July 5, that accrued between January and April 2010.
At the same time, the Belarussian government requested the Russian side "to refrain from further cuts of gas supplies to Belarus till meeting fully mutual obligations".
Otherwise the Belarussian side "will be forced to syphon off gas from the transit gas transportation system to meet fully the needs of the Belarussian national economy and population", the government letter notes.
Belarussian vice-premier Vladimir Semashko told reporters several hours earlier about this possible version of pulling out of "the gas crisis".
"We don't conceal that we experience difficulties with hard currency. It will be necessary for Belarus to borrow funds to make regular payments in time. We hope, may be not today, I believe to find a chance within two weeks a possibility to borrow and to make settlements," the vice-premier said.
He assured that Belarus intends to continue the dialogue with Russia on the problem of payments for gas supplies. "We shall not withdraw from the negotiating process on gas deliveries and will persuade our colleagues to look for a compromise," Semashko said. According to the vice-premier, the negotiating process with the Russian side is now going "in the right direction".
Semashko noted that intense talks were conducted in St. Petersburg on Saturday where the Belarussian side was represented by Energy Minister Alexander Ozerets, while on Monday morning, they were continued in Moscow. He noted that Belarus could ride out 15-percent gas supply cuts and think how to compensate.
Semashko added that Belarus would continue insisting on a regime of mutually advantageous gas prices. In the vice-premier's words, it is improbable to reach an equally advantageous price with Russia by 2011; it is likely to take place by 2015.
Semashko stated that if a gas price is raised, Belarussian economic entities will find themselves in a disadvantageous position as compared to Russian ones, which is at variance with earlier signed agreements.
At the same time, Belarus warned Europe of possible negative aftermaths of Russian gas cuts. A letter, sent by the Belarussian Energy Ministry on Monday to director for general affairs in the European Commission Directorate-General for Energy and Transport Anne Houtman, stresses that further cuts of gas by the Russian side "may result in technical reduction of gas transit to Europe".
The Energy Ministry noted that Belarus "takes all measures to prevent a decrease in transit gas supplies to Europe".
The Energy Ministry informed at the same time that on June 21, the Russian side unilaterally cut gas supplies by 15 percent for Belarussian domestic needs. In this connection, the republic "imposes cuts on gas consumption for several industrial enterprises". Under these circumstances, the ministry explains, "technological emergency situations are possible. Further cuts in gas supplies to Belarus by more than 15 percent may cause technical cuts of transit".
The Belarussian side claimed that Gazprom's position is not constructive. The ministry notes "Gazprom's demands on paying debts are not substantiated enough from the viewpoint of the operating contract".
ITAR TASS: Gazprom questions EU's stake on renewable energy
Russia's gas giant Gazprom regards as uneconomical and environmentally inefficient the EU leadership's stake on subsidized costly sources of renewable energy. A statement to that was voiced by Gazprom's deputy CEO, general director of Gazprom Export, Alexander Medvedev, at a news conference on Tuesday.
In formulating its export policies Gazprom has to take into account the EU's emphasis on subsidized expensive renewable energy sources, which are being promoted regardless of the economic factors, effectiveness, or sound alternatives, he said. "The purpose of this course is a noble one – a reduction of the negative anthropogenic influences on climate and environment."
"We do share the wish to have a clean environment, but we believe that natural gas is the cleanest fossil fuel and that it can make a significant contribution to its achievement," said Medvedev. "Increasing the share of natural gas in the EU's energy mix by a tiny 1 percent would reduce the percentage of carbon dioxide emissions by three percent. Replacing every second coal-fuelled power plant with a modern combined-cycle plant will largely resolve the task of cutting carbon dioxide emissions in the EU by 2020. This way will be far less costly than that of renewable sources," he stressed.
Medvedev also urged the media "to imagine how painful for the current budgets of the European countries the introduction of subsidized renewable energy sources might prove."
"We are not against renewable sources, we are for fair competition in which economic feasibility and environmental effectiveness will determine the development of generation, and not planning by decree in line with the worst traditions of the controlled planned economy," said Alexander Medvedev.