energia.gr: International Lenders Set To Sign Nabucco Agreement – Sources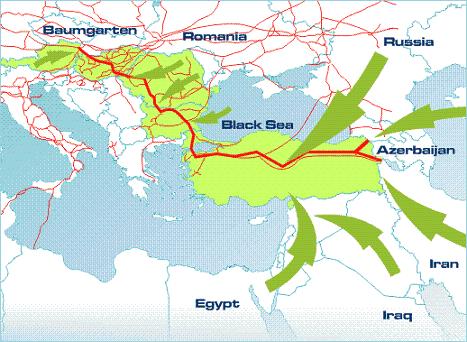 The Nabucco consortium is set to announce Monday that top international lenders will sign an agreement to take a senior financing role for its planned EUR7.9 billion natural gas pipeline, several people familiar with the matter said Thursday.
At a ceremony and press conference scheduled to take place Monday morning in Brussels, the Nabucco consortium will say the lenders will sign a mandate agreement that will kick off a due diligence process, expected to culminate in "significant" financing for the project at the end of 2011, the people told Dow Jones Newswires.
The lenders include the European Bank for Reconstruction and Development, the European Investment Bank and possibly the World Bank's International Finance Corporation, they said.
A spokesman for the Nabucco consortium, whose pipeline is slated to transport gas from the Caspian and Middle Eastern regions to central Europe throughTurkey , declined to comment on the information but confirmed financing issues will be addressed at the press conference in Brussels Monday.
The consortium has wrestled for years with the problem of how to find reliable gas supplies for the project to ensure the project's long-term commercial viability.
The consortium consists of Austria 's OMV AG (OMV.VI), Germany 's RWE AG (RWE.XE), Turkey 's Botas , Bulgaria 's Bulgarian Energy Holding, Romania 's Transgaz and Hungary 's MOL Nyrt. (MOL.BU).
The most likely first gas supplier for Nabucco would be an off-shore Azerbaijani field in the Caspian basin, but competition for that gas is high and it would offer less than 10 billion cubic meters a year. Another potential gas source isIraq , but procedural, political and technical hurdles suggest that gas will also not be available quickly.
The exact amount of financing the lenders will contribute remains unclear, but a person familiar with the matter said they would provide a "large part" of the required capital, while another said the lenders would take a "senior financing role."
The Nabucco consortium has said it intends to build the 3,300-kilometer pipeline with around 30% of equity capital and 70% debt.
The EBRD had indicated in June 2009 that it could lead a group of lenders to finance the project in the amount of EUR1 billion, but major development banks have subsequently been silent on potential financing contributions.
In October 2009, Nabucco said it had started discussion with EBRD and EIB over financing of the project and soon afterwards also launched negotiations with IFC. A month later, Transgaz officials said that EBRD and EIB could lend up to EUR1.5 billion of an overall debt capital requirement of EUR5.6 billion.
The Nabucco pipeline is expected to deliver around 31 billion cubic meters of gas annually from the Caspian region and Iraq to central Europe through Turkey, Bulgaria , Romania and Hungary , bypassing Russia .
The Nabucco pipeline has been backed by the European Union as it is considered crucial to diversify the block's heavy dependence on Russian gas.Russia accounts for around 25% of the EU's annual gas supplies.
Russia , the world's biggest energy supplier, wants to build its own routes to bypass ex-Soviet transit country Ukraine after rows in recent years over prices. Its South Stream project is scheduled to start by the end of 2015.
RIA Novosti: Gazprom counts on Ukraine to stick to existing gas agreements
Russia's gas giant Gazprom hopes that Ukraine will continue meeting its obligations under existing gas agreements with Russia, Gazprom Deputy Chairman Andrei Kruglov said on Thursday.
"We expect Ukraine to meet its obligations steadily," Kruglov said in a conference call.
Ukraine's Prime Minister Mykola Azarov said earlier this week it was necessary to revise the gas agreement with Russia, and he hoped the parties would find a compromise.
centralasianewswire.com: KazMunaiGas joins BG Group in search for North Sea gas
Kazakh state-owned KazMunaiGas Exploration Production (KMG EP) has acquired a 35 percent share in the BG Group-operated "White Bear" gas prospect in the UK's central North Sea, Dow Jones reported on Tuesday.
KMG EP Chief Executive Kenzhebek Ibrashev and BG Group Senior Vice President Central Asia and President BG Kazakhstan Mark Rollins signed the agreement on Tuesday in Astana.
"BG will retain the remaining interests and will continue to operate the license on behalf of the partners," Dow Jones quoted a joint statement released by KMG EP and BG. "The license carries an outstanding commitment to drill one further exploration well and the partners plan to drill this well in 2011.
"KMG EP farm-in financial risks include drilling costs and other project liabilities at the HC pre-discovery stage are estimated at $25 million-$30 million."
The partners also plan to drill a second well in the prospect in the latter half of 2011.
The agreement marks KMG EP's first international venture to develop a field outside Kazakhstan.
The project "provides us with access to BG Group's offshore skills, techniques and experience which is important to our mid- and longer-term development and to our future expansion of exploration and production activity in the offshore Caspian Sea," Dow Jones reported KMG EP Chief Executive Kenzhebek Ibrashev as saying on Tuesday.
centralasianewswire.com: Uranium One approves Russian takeover in exchange for Kazakh mine interests
Shareholders of Canada's Uranium One have agreed to give Russia's state-owned nuclear company a controlling interest in exchange for Kazakh mining assets that will turn Uranium One into one of the world's top five uranium producers.
Ninety-five percent of shareholders at a meeting in Vancouver, Canada approved Atomredmetzoloto, or ARMZ, obtaining a 51 percent stake in Uranium One.
The deal gives Uranium One stakes in two additional Kazakhstan mines, bringing its total to six. The company also got $610 million in cash.
The mine acquisitions will allow the company to increase its production by up to 60 percent to 8,000 tons a year.
From an operational perspective, the deal will change the uranium-mining landscape in Kazakhstan. Russians will now join Canadians at the joint-venture mines where Uranium One works with its Kazakh partners.
Kazakh officials appear to be satisfied with the deal. They have voiced no objections to it publicly, and the government officially signed off on it a few days before Uranium One shareholders gave their approval.
Kazakhstan became the largest uranium-producing country in the world in 2009, mining 14,000 tons to pass longtime leader Canada. This year Kazakhstan is expected to widen its gap, producing 17,000 to 18,000 tons, or a third of the world's 50,000 tons of production.
Several international companies are involved in the record-breaking production in Kazakhstan, with the leaders being Canada's Cameco, Kazakhstan's state-owned nuclear-energy company KazAtomProm, ARMZ and Uranium One.
One of the beauties of focusing on Kazakhstan for production, international companies will tell you, is that its mines are some of the lowest-cost operations in the world.
Deal gives ARMZ valuable stakes in Kazakh mines
The ARMZ takeover gives Uranium One, the world's seventh-largest uranium producer in 2009, stakes in Kazakhstan's South Inkai, Karatau, Akdala, Kharasan, Akbastau and Zarechnoye mines.
Uranium One acquired stakes in three mines before the Russians came along. It owned 70 percent of South Inkai and Akdala and 30 percent of Kharasan.
The company obtained 50 percent of Karatau in a deal with ARMZ in 2009. The Russians gave Uranium One the stake in exchange for 17 percent of Uranium One stock. ARMZ would then increase its holdings through stock purchases and derivatives to 23 percent.
Uranium One obtained ARMZ's 50 percent stake in Akbastau and 49.7 percent stake in Zarechnoye by virtue of the Russian company's just-completed 51 percent takeover.
ARMZ is ecstatic about the Uranium One deal because it will allow the vertically integrated company to address its major shortcoming – lack of raw uranium production.
The company accounted for only 7 percent of global production before it took over Uranium One.
It hopes the acquisition, in addition to its mining ventures in Africa, will allow it produce between 25 and 30 percent of the world's supply by 2030.
ARMZ ready to become major player in uranium market
ARMZ is already in the process of becoming a powerhouse, accounting for 40 percent of the world's enriched uranium.
On the finished-product side, it controls 17 percent of the market for the fuel rods and assemblies that power reactors. And it builds 20 percent of those very reactors worldwide.
Chief Executive Sergei Kiriyenko has made no secret of ARMZ's desire to become one of the driving forces on the international uranium market. The acquisition of Uranium One will help it move closer to that goal, he has said.
Kiriyenko probably felt relief as well as joy that Uranium One shareholders approved the Russian takeover.
That's because it gives ARMZ a much larger share of world reserves at a time when the price of uranium is expected to soar due to the increasing demand for reactors. "We're looking at a shortage-driven market, with an inflexible supply," Kiriyenko said.
ARMZ Director General Vadim Zhivov said in June that the company's joint ventures with KazAtomProm in the Akbastau and Zarechnoye mines accounted for a quarter of ARMZ's uranium production.
The Russian company's controlling stake in Uranium One will make the ARMZ-KazAtomProm alliance "even closer," he said. The reason is that ARMZ staff will now be working with KazAtomProm not only at the Akbastau and Zarechnoye mines, but also at Uranium One's Kazakhstan properties.
St. Petersburg, Russia-based analyst Alexandr Ignatyuk said the deal will mean "no core changes in the balance of power in the uranium market."
Ignatyuk, who follows mining and metals for EnergoCapital, said Uranium One's Kazakh partners may find it trickier to obtain investments from the reconstituted Uranium One, however.
Many observers believe a Western-controlled company – such as Uranium One before the ARMZ takeover – is a more reliable investment partner than a Russian-controlled company, Ignatyuk said.
Financing coming from a Russian company can be "more of a political issue than an economic one," he said.
Kazakhstan wants its uranium industry to contribute even more to its gross domestic product in coming years.
At the current price of $46 a pound, the country would generate $1.66 billion in revenue from uranium sales this year if it produced 18,000 tons.
It certainly has the reserves to increase uranium's share of the bottom line. Its deposits are the second-largest in the world — 2.1 million tons or 16 percent of the total.
Only Australia's reserves are larger – 3.15 million tons or 24 percent.
ITAR TASS: Russia's inflation rate continues growing – statistics
Russia's inflation has reached 5.4 percent by August 30 since the beginning of the year, the Prime Tass economic news agency said on Wednesday, quoting an official report of the Federal State Statistics Service.
The Statistics Service reported 0.1-percent inflation rate in the week from August 24 to August 30, Prime Tass said, adding that the country's retail prices have grown by 0.6 percent since the beginning of the month (from August 1 to 30).
Proceeding from the report, Russia's daily inflation has made up 0.020 percent in the reporting period of August, the economic news agency said.
In the week from August 24 to August 30, it was reported the biggest growth of average retail prices for eggs and buckwheat and reached 8.3 percent and 5.1 percent respectively, Prime Tass said.
In the period under review, prices of wheat flour, millet, and granulated sugar went up by 1.6-2.5 percent on average across the country, the economic news agency said, adding that prices of sunflower oil increased by 0.9 percent.
Touching upon dairy products, the Statistics Service reported 0.8-1.2-percent growth of prices for sour cream, milk, cottage cheese and butter, Prime Tass said.
In the reporting period, average prices of fruit and vegetable decreased by 0.3 percent across the country, the economic news agency said, adding that prices of onions dropped by 3.2 percent, prices of carrots went down by 1.2 percent, and prices of cabbages decreased by 0.5 percent.
At the same time, prices of potato increased by 0.4 percent and prices of apples went up by 0.3 percent and in the week under review, Prime Tass said.
In the period from August 24 to August 30, prices of gasoline increased by 0.1 percent, while prices of diesel fuel remained unchanged as against the previous week, Prime Tass quoted the statistics.
The report was drafted on the basis of weekly monitoring of retail prices for 61 socially important goods and services, which the Federal State Statistics Service carries out in 266 Russian cities and towns.
According to the Federal Statistics Service, Russia's inflation rate increased by 8.8 percent in 2009, Prime Tass reaffirmed, adding that the government's official forecasts, the country's inflation is expected to amount to 6.5-7.5 percent in 2010.