Hotnews: Romgaz: In 2011 vom cumpara, in premiera, gaze mai ieftine din import prin negociere la Bursa de gaze de la Viena
Romgaz va cumpara, pentru prima oara, incepand din iunie 2011, gaze din import, prin negociere, de la Bursa de gaze de la Viena, ceea ce va insemna gaze la un pret mai mic fata de cele importate prin contractele actuale, mai ales cel cu Gazprom, care expira in 2012, a anuntat sambata, directorul general adjunct al Romgaz, Francisc Toth, citat de Agerpres. El a mai anuntat si ca pretul la gaze ar putea ramane acelasi pana la anul, Romgaz neintentionand sa ceara ANRE, pana in 2011, o majorare a tarifelor.
"Am facut diligentele necesare ca, de la anul, sa fim activi pe Bursa de gaze ori de la Viena ori din zona germana. Suntem in discutii destul de avansate. Este o optiune de furnizori. Va fi vorba de un pionierat sa cumparam gaze la bursa. Noi nu vom vinde. Din iunie – iulie 2011 o sa fim activi pe Bursa de la Viena", a afirmat Francisc Toth.
El a adaugat ca tot din 2011 vor incepe noi discutii cu Gazprom, pentru un nou contract, intrucat contractul semnat deja expira in 2012. Colaborarea cu Gazprom vizeaza nu doar import de gaze, ci si noua depozite de gaze facuta in colaborare, majoritatea in zona Moldovei, pentru ca Romgaz si-a propus sa aiba depozite cat mai aproape de consumatori. Deocamdata, Romgaz a propus Gazprom, unde sa fie amplasate cele noua depozite, insa negocierile sunt in derulare. In toamna acestui an, cei de la Gazprom sunt asteptati in Romania, pentru o noua runda de discutii cu cei de la Romgaz.
Conducerea Romgaz nu a precizat ce capacitate de inmagazinare vor avea cele noua depozite, insa spune ca dimensiunea lor poate fi ajustata in functie de cererea de pe piata. Deocamdata, Romgaz si-a propus cresterea capacitatii de inmagazinare in cele opt depozite.
Romgaz: Gazele nu se scumpesc pana la anul
Francisc Toth a mai anuntat ca este posibil ca pretul gazelor sa nu creasca pana anul viitor, iar daca va exista o scumpire, aceasta va fi foarte mica: "Nu intentionam anul acesta sa solicitam la ANRE o crestere a tarifului. Am solicitat o cresterea a tarifului de inmagazinare cu doi la suta din primavara lui 2011".
"Dupa informatiile pe care le avem, pretul gazului nu va creste in semestrul IV, asa cum s-a preconizat. Nu va fi o crestere majora. Se discuta ca vom ajunge la 406 dolari pe mia de metri cubi de gaze. Acum pretul este de 384 dolari pe mia de metri cubi", a explicat Toth.
In prezent, din productia interna a Romgaz plus cantitatile de gaze importate si inmagazinate se asigura anual peste 40 la suta din consumul estimat in tara. Anual, in Romania se consuma aproximativ 14 miliarde de metri cubi de gaze. Conducerea Romgaz a dat asigurari sambata, in cadrul unei conferinte de presa, ca productia pe acest an, pana la 15 septembrie, este mai mare cu 35 de milioane de metri cubi fata de cea de anul trecut. Pentru acest an, Romgaz estimeaza o productie totala de 5,8 miliarde de metri cubi, cifra pe care spera sa o atinga si in 2011. In 2009, in timpul crizei gazului, Romgaz a asigurat 75% din necesarul de gaze din Romania.
ziare.com: Romgaz vrea sa cumpere gaze prin Bursa din Austria sau Germania
Producatorul de gaze detinut de statul roman, compania Romgaz, poarta discutii pentru a cumpara gaze naturale prin Bursa din Austria sau Germania, estimand ca in iunie-iulie anul viitor compania ar putea fi deja activa pe aceaste burse, a declarat sambata directorul general adjunct Francisc Toth.

"Exista discutii la Bursa din Viena si Germania pentru a cumpara gaze. Ne-am intalnit cu ei, am avut o discutie informala pentru a deveni activi pe aceste burse. Dar nu este usor, constatam ca exista foarte multe bariere tehnice si financiare, pe care trebuie sa le depasim. Vrem ca in iunie-iulie 2011 sa devenim activi pe aceste burse", a declarat sambata directorul general adjunct al Romgaz, Francisc Toth, intr-o conferinta de presa la Medias.
Productia din 2009 a Romgaz s-a ridicat la 5,76 miliarde metri cubi gaze.
Romgaz are ca principal obiect de activitate extractia si inmagazinarea gazelor naturale. Compania are peste 3.000 sonde de productie si aproape 6.000 de angajati.
Romgaz asigura, alaturi de OMVPetrom, aproximativ doua treimi din productia anuala de gaze naturale a Romaniei. Actionarul majoritar al companiei este Ministerul Economiei, Comertului si Mediului de Afaceri, care detine 85,01% din actiuni, iar restul de 14,99% din actiuni apartine Fondului Proprietatea.
Novinite: Bulgaria Shuts Unit 6 of Kozloduy NPP for Repairs
One of the two functioning reactors of Bulgaria's Kozloduy nuclear plant, Unit 6, has been turned off for its scheduled annual repairs and refueling.
The routine procedure is under the requirements of the Bulgarian Nuclear Regulation Agency, says a statement of the Kozloduy NPP.
As part of the procedure, the 1000 MW Unit 5 will be refilled with fresh nuclear fuel for its next round of operations, and all of its systems will be inspected.
The repairs will continued till the end of October. The only other functioning reactor of the Kozloduy NPP, Unit 5, is operating at 100% of its capacity.
energia.gr: China To Get 17Bln Cubic Meters Gas Via Central Asia Pipeline In 2011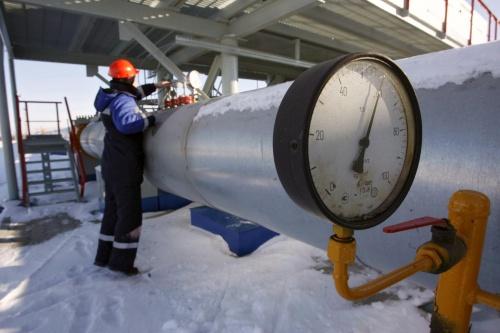 China National Petroleum Corp. plans to get 17 billion cubic metres of natural gas transmitted to China through the Central Asia gas pipeline next year, CNPC said in its in-house newsletter Friday.
Officials from Turkmenistan , Uzbekistan, Kazakhstan , and China met this week and prepared a monthly gas supply plan and maintenance schedule for this winter and the whole of 2011.
The company has raised the pipeline's annual transmission capacity to 9 billion cubic meters and plans to expand it to 15 billion cubic meters by the end of 2010 and double it to 30 billion cubic meters by the end of 2011.
By July, China had received about 2 billion cubic meters of natural gas from central Asia through the pipeline.
apa.az: Serbia wants to begin constructing South Stream onshore section by 2013
Serbia is planning to beсome the first European country to begin constructing an onshore section of the South Stream gas pipeline, designed to transport Russian gas to western Europe, by the end of 2012, the head of the country's state-run Srbijagas company said on Saturday, APA reports quoting RIA Novosti.
The South Stream project, in which Russia, Bulgaria and Greece are partners, stipulates the construction of a 300-kilometer pipeline from Burgas on the Bulgarian Black Sea coast to Alexandroupolis on the Greek Aegean Sea coast. The pipeline, which is considered a rival to the EU-backed Nabucco, is scheduled to be launched in December 2015.
Intergovernmental agreements have been signed between Bulgaria, Serbia, Greece, Hungary, Slovenia, Croatia and Austria for the implementation of the section of the pipeline that will run over land.
Dusan Bajatovic said "the plan will be implemented if preparatory work continues at its current pace."
The construction of the Serbian 450-kilometer section of the pipeline is estimated to cost at least 700 million euros ($913 million).
Milorad Dodik, prime minister of Bosnia's Serb Republic, said on Thursday that the republic was planning to join the South Stream project, which and consume about one billion cubic meters of gas annually.
The Serb Republic wants to build a 480-kilometer pipeline in northern Bosnia with capacity of up to 1.5 billion cubic meters and link it to the South Stream pipeline, he said.
trend.az: Turkmen president: Nabucco, East-West pipelines closely related
The East-West natural gas pipeline project in Turkmenistan is closely related to the Nabucco gas pipeline project, which aims to diversify European gas supply sources and routes, Turkmen President Gurbangulu Berdimuhammedov said at a news conference during the tenth summit of Turkic-speaking countries in Istanbultoday.
"We are currently constructing the East-West pipeline," he said. "The pipeline will be laid along the coast of the Caspian Sea. There is also Nabucco, which is associated with the project."
Reportedly, the Turkmengaz state concern launched the project to build the 1,000-kilometer East-West pipeline in the country. The pipeline's is estimated at 30 billion cubic meters of per year with an estimated cost of $2 billion.
The project aims to create a unified gas supply system in Turkmenistan and to diversify Turkmen natural gas supplies to international markets.
The Nabucco project is worth 7.9 billion euro. Construction is planned to start in 2011, with the first supplies beginning in 2015. Its maximum capacity will hit 31 billion cubic meters per year.
Construction will be implemented in two main phases. The first phase (2011) includes laying a new pipeline with a length of 2,000 kilometers, starting at the Turkish border and ending in Austria's Baumgarten. The second phase (2014-2015) includes building the remainder of the pipeline on the borders between Turkey and Georgia, and Turkey and Iraq.
Construction of the first section with a length of 2,730 kilometers will begin in the southern part of Ankara (Turkey) and continue westwards toward the Bulgarian border through Central Anatolia and the Marmara Sea. Seventy-five percent of the route will pass via existing pipelines.
Nabucco participants are the Austrian OMV, Hungarian MOL, Bulgarian Bulgargaz, Romanian Transgaz, Turkish Botas and German RWE. Each has an equal 16.67-percent share.
news.az: Azerbaijan's oil exports top $11bn in first half-year
Azerbaijan exported oil for $11.3bn in the first six months of the year, according to the balance of payments drawn up by the Central Bank.
Oil produced by the Azerbaijan International Operating Company from the Azeri-Chirag-Guneshli offshore field accounted for the vast majority of the exports, $10.7bn, in January to June.
Exports by the state oil company, SOCAR, and other companies working on Azerbaijan's onshore fields were worth $544.4m. Condensate from the Shah Deniz field was worth $63.1m.
In 2009, Azerbaijan's oil exports were worth $17.9bn, of which $16.8bn came from the AIOC.