Hotnews: Costurile achizitiei de combustibili pentru iarna se ridica la 4,25 miliarde de lei
Costurile de achizitie a combustibililor pentru iarna 2010-2011, destinate asigurarii alimentarii cu energie electrica si termica, se ridica la 4,25 miliarde de lei, se arata intr-un proiect de Hotarare de Guvern privind aprobarea Programului de iarna in domeniul energetic, elaborat de Ministerul Economiei, Comertului si Mediului de Afaceri (MECMA). Cea mai mare parte a acestei sume, de 3,23 miliarde de lei, va proveni de la producatorii de energie electrica si termica din subordinea Ministerului Economiei, iar restul de la producatorii de energie electrica si termica din subordinea Consiliilor Judetene si Locale.
Fondurile necesare aprovizionarii cu combustibili pentru iarna vor fi acoperite din sursele proprii ale producatorilor de energie electrica si termica si credite interne, fara a se preciza insa valoarea creditelor.
Proiectul de Hotarare de Guvern arata ca la energia electrica, pentru perioada octombrie 2010 – martie 2011, luandu-se in considerare prognoza evolutiei economiei romanesti, precum si rezultatele inregistrate in intervalul corespunzator iernii 2009 – 2010, considerata a fi fost o iarna dificila, s-a prevazut o crestere a consumului cu o medie de circa 1% comparativ cu anului trecut.
"In cazul energiei termice, estimarile primite din partea centralelor care furnizeaza agent termic populatiei acopera o crestere a consumului mediu de energie termica, in perioada octombrie 2010 – martie 2011, cu circa 1% mai mare fata de realizarile perioadei similare a iernii 2009 – 2010", se arata in document. mai mult
Bursa: Energie din vânt – o nouă companie naţională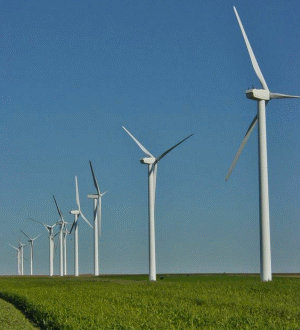 În timp ce proiectele de înfiinţare a celor doi campioni energetici – Electra şi Hidroenergetica – sunt blocate, Guvernul analizează posibilitatea să-l înfiinţeze pe cel de-al treilea în domeniul energiei regenerabile: Compania Naţională a Resurselor Regenerabile.
"Pentru asigurarea de resurse regenerabile care să permită atingerea obiectivelor de producţie şi după 2010, guvernul român poate crea o companie naţională a resurselor regenerabile", se arată în proiectul strategiei "Reindustrializarea României", document aflat, momentan, în dezbatere publică.
Înfiinţarea unei companii de stat în domeniul energiei regenerabile este una dintre soluţiile recomandate Executivului de către economişti, pentru dezvoltarea durabilă a sectorului energetic, în conformitate cu exigenţele Uniunii Europene.
Celelalte două soluţii propuse Guvernului în proiectul de reindustrializare a ţării sunt sprijinirea companiilor private în achiziţia de licenţe de explorare şi exploatare a resurselor regenerabile în alte ţări, sau achiziţia de companii străine care explorează sau utilizează energiile regenerabile – hidroenergie, energie geotermală, eoliană, solară, biomasă etc.
Uniunea Europeană solicită ţării noastre ca, până în 2020, 38% din energia electrică produsă să fie din surse regenerabile, iar posibilitatea înfiinţării unei societăţi de stat pentru îndeplinirea acestui obiectiv stârneşte, deja, o serie de controverse printre specialişti. mai mult
inforusia.ro: Profitul net al marilor companii petroliere rusesti a scazut, in prima jumatate de an
Raportul financiar al marilor companii petroliere rusesti, pentru prima jumatate de an, arata o crestere semnificativa a veniturilor si o scadere a profitului net, scrie Vremea Novostei.
Veniturile Rosneft au crescut cu 12,8%, pana la 492,57 miliarde de ruble (aproximativ 12,58 miliarde de euro), ale companiei siberiene Surgutneftegaz – cu 18,6%, pana la 276,28 miliarde de ruble (aproximativ 7 miliarde de euro) si ale Gazprom Neft – cu 25 %, pana la 280,54 miliarde de ruble ( aproximativ 7,1 miliarde de euro). Compania Bashneft a reusit sa-si creasca veniturile de cinci ori, pana la 161,30 miliarde de ruble ( aproximativ 4,1 miliarde de euro). Companiile considera ca acest succes se datoreaza conditiilor favorabile ale pietei. Cu toate acestea, companiile petroliere, cu exceptia Bashneft si Lukoil, au raportat o scadere a profitului net. Expertii considera ca aceasta scadere se explica prin perceperea taxelor pentru exportul de petrol.
Profitul net al Rosneft, pentru prima jumatate a anului 2010, comparativ cu aceeasi perioada a anului trecut, a scazut cu 14%, pana la 69,72 miliarde de ruble (circa 1,7 miliarde de euro), al Surgutneft cu 27%, pana la 56,05 miliarde de ruble ( circa 1,4 miliarde de euro), iar al Gazprom Neft cu 23,5%, pana la 20,15 miliarde de ruble (circa 511 milioane de euro).
Novinite: Melrose Upbeat on Bulgarian Gas Fields Production
British oil and gas explorer Melrose Resources reported a 30% rise in half yearly pre-tax profit, helped by higher oil prices, and said it expects to reveal increased production from its Bulgarian gas fields.
For the six months ended 30 June pre-tax profit rose to USD 26.2 M compared to USD 19.8 M the same time a year before. Revenue increased 13% to USD 110 M while working interest production climbed 13% to 40.1 mboepd.
"The first half of 2010 proved to be an extremely positive period of development and I believe the outlook is equally strong," chairman Robert Adair commented.
The group, which has operations in Turkey, Romania and Egypt, said it is continuing the development of the recent Kavarna and Kaliakra discoveries in the Bulgarian waters of the western Black Sea and expects production to follow in October.
Bulgaria's government granted two weeks ago a ten-year concession for the extraction of natural gas to the UK company Melrose Resources.
The concession refers to the Kavarna deposit.
The news about the concession came a week after the government and Melrose announced the discovery of new natural gas deposits in the Black Sea off the northern Bulgarian coast, whose extraction is expected to bring down the natural gas prices in the country.
The Kavarna deposit is located in the Black Sea shelf near the town of Kavarna, and has an area of 4.36 square km. It is estimated to have about 773 million cubic meters of gas, and its extraction can start in 3-4 months.
The new deposit is located close to the Galata platform and the adjacent gas processing facilities in the region of Varna built by Melrose Resources.
The Kavarna deposit itself is not big but together with two other deposits nearby –Kaliakra and Kavarna East – it has a total of 3 billion cubic meters of natural gas.
businessneweurope.eu: Kazakhstan reasserts control over big energy projects
Hard on the heels of news that state-owned KazMunaiGas has signed off on the deal to increase its stake in the giant Kashagan oil project, comes reports the Kazakh government is close to striking a deal over the Karachaganak gas project, under which the international consortium developing it would avoid export duties in return for handing over a stake.
On August 12, KazMunaiGas' chairman, Kairgeldy Kabyldin, announced the company had finally signed a deal to increase its stake in the operating company for the offshore Kashagan oilfield. Kabyldin also said that KazMunaiGas would invest $8bn in Kashagan by 2014, but there would be further delays to the second phase of the project, which is now due to start in 2018 or 2019.
A few days later, unconfirmed newswire reports were saying the international oil companies developing the Karachaganak gas condensate field in northwestern Kazakhstan are willing to hand over a 10% stake in the Karachaganak Petroleum Operating (KPO) consortium to the Kazakh government. The four KPO members – Eni, BG Group, Chevron and Lukoil – will transfer a 5% stake in the consortium to the Kazakh government provided it either gives up plans to levy export duties from Karachaganak or drops a $1bn lawsuit against the consortium, Reutersquoted a source close to the negotiations as saying. The Kazakh government plans to pay cash for an additional 5% stake in Karachaganak, which currently is the only mega field being developed without KazMunaiGas' participation.
After a hiatus during the crisis, when oil prices fell below $40 in 2009, the Kazakh government formally re-introduced export duties on August 16. The Kazakh government has set the duty at $20 per tonne of crude oil, also announcing that the Tengizchevroil and KPO consortia would no longer be exempt.
Negotiations between the Kazakh government and KPO, which believes it should not be subject to the duty, took place in mid-July, but no final agreement was reached, and further discussions are due to take place in the autumn. KPO members have declined to comment on the negotiations.
If a deal is reached, it could spell the end of an ongoing dispute between the consortium and the government over the country's second-largest energy project. At present, KPO faces a series of claims from the Kazakh government worth around $2.5bn. In addition to the $1bn lawsuit, which concerns an alleged overstating of costs, they also include tax claims, environmental claims, and claims relating to alleged violations of environmental regulations. From its side, KPO has an outstanding case against Kazakh government to recover over $1bn in export duties.
KPO members say they should not have to pay export duties. On an investor call on July 28, Ashley Almanza, CFO of BG Group, which holds a 32.5% stake in KPO, said the consortium and government were meeting regularly and that discussions were "constructive". "All parties, all the partners and the Republic continue to look for and prefer an amicable negotiated resolution of our disputes outside of the arbitration process," he told investors.
Strained relations
The re-introduction of oil export duties is one of a series of events recently that have impacted on oil and gas companies operating in Kazakhstan, and strained their relations with the government.
There are also problems at Tengizchevroil. Kazakhstan's financial police said on July 17 – four days after the government's announcement on export duties – that it had launched criminal proceedings against the consortium. The financial police claims that Tengizchevroil over-produced oil at the field, resulting in illegal earnings of $1.4bn. "There have been a number of changes recently," says Dominic Lewenz, director of oil and gas research at Visor Capital. "The main elements include a new tax code that was introduced at the start of 2009, affecting all companies except Tengizchevroil and those operating under PSAs [production sharing agreements]. More recently, we saw the reintroduction of Customs Export Duty, whilst also broadening the taxpayer bade. At the same time, the government is questioning the status of PSAs, albeit insisting that any changes will be made through negotiations."
Lewenz says that despite the recent changes, Kazakhstan remains a good place for oil companies to do business given the scale of its reserves. However, he stresses that the ability of the government to commit to rules and stick to its word is especially important for oil and gas companies, given the long time horizons and huge investments typical of the industry. "The government spent many years building up its international reputation. Kazakhstan's desire to increase its share of profits from the industry need to be offset against this risk to its reputation."
For the oil and gas industry, uncertainty over taxes makes economic planning and investment much more difficult, Lewenz says. A similar situation is arising in the mining sector, where the government has indicated it is likely to introduce an export duty in 2011, but without saying where the burden will fall.
Historically, the Kazakh government has encouraged international oil companies to operate in the country, which has allowed the exploitation of technically difficult fields such as Tengiz. Kazakhstan is acknowledged by international companies to be a much investor-friendlier place than, for example, Russia.
Although KazMunaiGas has increased its stake in Kashagan, the other five participants in the North Caspian Operating Company (NCOC) are all international oil majors. KazMunaiGas will operate on equal terms with Royal Dutch Shell during the second phase of the project, gradually taking on a greater share of responsibility for the operations.
When the Kashagan field was discovered in 2000, it was the largest discovery for some 30 years. Kashagan is estimated to contain between 9bn and 14bn barrels of oil. The tough operating environment has meant that getting to a stage where production can begin has been no easy task. Kashagan is located offshore in the north Caspian Sea where temperatures range from 40°C in summer to -35°C in winter, and rigs are at risk from ice floes and sudden storms. The field is high pressure and contains high levels of toxic hydrogen sulphide.
According to Kabyldin, KazMunaiGas plans to invest $8bn in Kashagan by 2014. Visor Capital estimates that the entire consortium – which also comprises Shell, Eni, Total, ExxonMobil, ConocoPhillips and Inpex – will invest a total of $47.5bn.
Production is due to start in 2012 or 2013, with an initial 300,000 barrels per day (b/d) being extracted. This is set to rise to around 1m b/d in the second phase, which has now been delayed until 2018 or 2019. Within around a decade, Kazakhstan's oil production is due to approximately double, when the third phase of production of 1.5m b/d begins.
This is expected to herald the start of a "Golden Age" for Kazakhstan's oil and gas industry, when Kashagan output is at its peak alongside continued production from the other mega fields of Tengiz and Karachaganak.
RWE expects to seal a deal with Turkmenistan on gas supplies for the EU-backed Nabucco pipeline project in coming months, and a deal with Azerbaijan is seen following, an executive with the German energy outfit said.
Head of Business Development in RWE Supply and Trading Jeremy Ellis said 10 billion cubic metres of gas from Turkmenistan is available for the pipeline, which aims to cut Europe's dependence on Russian gas. The 31 billion cubic metre capacity Nabucco pipeline aims to bring Caspian and Iraqi gas to European markets, but faces competition from Russia's planned South Stream pipeline, which unlike Nabucco already has secure gas supplies.
"RWE is looking to secure supply. We are very hopeful to finalize gas supply terms with Turkmenistan in the coming couple of months," Ellis said.
"We are now expecting that Azerbaijan will have the confidence to move at a pace to secure supplies to transit through Nabucco … But I suspect it is going to be Turkmenistan then Azerbaijan," he said.
The Nabucco consortium is trying to secure as much gas as possible from Azerbijan's Shakh-Deniz II project, which should be producing an annual 13 to 16 bcm from 2016, he said.
Turkey was the final country to ratify the Nabucco transit agreement late on Thursday, which should ease Nabucco's efforts to secure funding and supplies for the project.
The Nabucco consortium is made up of Austria's OMV, Hungarian MOL , Turkey's Botas, Germany's RWE , Bulgaria's Bulgargaz and Romania's Transgaz .
The Russian South Stream Pipeline, in addition to having secure gas supplies, is supported by several potential transit countries.
Ellis said he was not concerned by the rival pipeline.
"First, the timetable to bring that project to the market – it is years behind us. The second point is a significant amount of investment capital, €25 billion ($34 billion), is required to construct, in a very technically challenging environment in the Black Sea," he said.
A substantial portion of South Stream, which aims to bypass Ukraine, will be built under the Black Sea, boosting costs for backers.
Ellis said that between 70% to 80% of the Nabucco pipeline's €7.9 billion cost would be met through financing.
upstramonline.com: Russia steps up efforts to undermine Nabucco
Russia's Gazprom has discussed its South Stream pipeline project with German utility RWE, sources said as Russia stepped up efforts to undermine the rival Nabucco project.
RWE is one of the key participants of the EU-backed Nabucco, which is meant to help Europe cut reliance on Russian gas.
Reuters reported sources at both Gazprom and RWE said South Stream, a pipeline that would deliver over a tenth of Europe's gas needs under the Black Sea to southern Europe, had been discussed by the two companies.
"It was just a preliminary discussion, nothing concrete. They are interested in entering the project," a Gazprom source said. An RWE source said the project had been discussed but declined further comment.
RWE refused to comment on the matter, saying it remained committed to Nabucco as "the best project for RWE at the moment".
German paper Handelsblatt reported, citing several unidentified people familiar with the talks, that Gazprom had approached RWE in order to win the company as a partner to the South Stream project.
RWE was still considering the offer, the paper said.
Russia has repeatedly attacked Nabucco — which wants to deliver gas from Azerbaijan, central Asia and Iraq to southern Europe — as a politically-motivated and not economically viable project saying it lacked firm gas contracts.
Moscow has also won a gas imports deal with Azerbaijan and signed another key Nabucco member, Austria's OMV , for South Stream although repeatedly denying South Stream was a rival to Nabucco amid growing European gas demand.
Apart from OMV and RWE, the Nabucco consortium also includes Hungary's MOL , Turkish Botas, Bulgaria's Bulgargaz and Romania's Transgaz.
South Stream also involves Italy's Eni and France's EDF .
RWE would not be the first Nabucco shareholder to have a hand in both projects. Austrian energy group OMV, which has close business ties with Gazprom, signed up to build part of South Stream in May but maintains that Nabucco is its priority.
If RWE were to do the same it could be a setback from Nabucco which analysts say needs to build momentum this year by signing supply agreements and coming to a final investment decision if it is to be realised.
upstreamonline.com: Bulgaria closes in on Azeri gas deal
Bulgaria and Azerbaijan are inching closer to a deal that would allow Azeri gas deliveries of about 2 billion cubic metres to the Balkan country at the end of 2013, state gas company Bulgartransgaz said today.
Bulgaria has stepped up efforts to reduce its almost complete dependence on Russian gas by diversifying routes and supplies after a dispute between Russia and Ukraine left it without gas for weeks in early 2009.
Under the project, Azeri gas would be transported via a pipeline to Georgia to be compressed and shipped by tankers to Bulgaria's Black Sea port of Varna, said Ivan Drenovichki, executive director of Bulgartansgaz.
Azeri state oil company Socar, Bulgartransgaz and Georgian Oil and Gas Company are set to launch a feasibility study for the project at a meeting planned for 23 September to 24 September, he said to Reuters.
"We have an initial agreement to launch a feasibility study. In September we are to take this decision," Drenovichki said.
"If all goes well and the project proves expedient, first deliveries can start at the end of 2013," he said.
Bulgaria's gas consumption averages about four Bcm a year, he said.
The study will define the value of the project, which Drenovichki said could cost hundreds of millions of dollars, with over 85% of the funds needed for tankers.
Sofia signed a memorandum of understanding for gas deliveries with Baku last November, saying some deliveries could be transported by the EU-backed Nabucco pipeline, aimed to carry natural gas from the Caspian region to Europe.
The Nabucco project faces rivalry from the Russia-led South Stream gas pipeline project, which aims to cement Moscow's position as key gas supplier to Europe.
The two projects are planned to pass through Bulgarian territory and the country says it supports both of them.
Centre for Eastren Studies: Kazakhstan again toughens its policy towards investors in the oil and gas sector
The government of Kazakhstan's most recent decisions (including cancelling the licences of several energy companies) show that, after a period of milder policy towards investors during the global economic crisis, Kazakhstan is returning to a policy aimed at increasing the state's control over the energy sector and maximising the profits from it. The government in Astana is also trending towards increasing the participation of the state company KazMunaiGaz in the extraction of raw materials. It must be expected that together with the improvement in the economic situation, Kazakhstan's government will intensify its policy of state protectionism towards the energy sector. Despite this, Kazakhstan is not threatened by any outflow of large foreign investments, because of the relatively profitable investment climate and the great potential for the extraction of oil and gas to rise.


The screw is tightened again
The policy of tightening the screw on foreign investors was initiated at the start of this decade, but was slowed down by the global economic crisis; it was resumed at the beginning of this year, when Astana declared that it would monitor all currently valid contracts for exploration and extraction (around 170 in number). As a result, on 22 July several licences were cancelled (including that for Max Petroleum), and around 100 warnings were issued to oil companies operating in Kazakhstan. This is a departure from Astana's previous milder policy of renegotiating the conditions of contracts with those companies which had had problems complying with regulations.
Apart from this, on 14 July the government raised the customs duty on the export of oil from zero (which it had been since January 2009) to US$19 per ton, and applied it to all producers (previously, only around half of exported oil was subject to any customs duty). This decision provoked resistance from the biggest oil producers, the Tengizchevroil consortium and Karachaganak Petroleum Operating (KPO); their contracts (of the Production Sharing Agreement type), which had been agreed in the 1990s, had guaranteed their exemption from the obligation to pay the customs duty.
In addition, Astana began criminal proceedings against the biggest extraction consortia, KPO and Tengizchevroil. In July, the latter was accused of exceeding its limits for extracting oil by US$1.4bn. In the case of KPO, the government's aim is to force the consortium to sell the state company KazMunaiGaz some of its shares (on the order of 10 to 30 per cent) in Karachaganak, one of the three biggest deposits in Kazakhstan. As for Tengizchevroil, Astana wants to break down the consortium's resistance to paying the customs duty, and also probably to convince it to follow the options for exporting oil which Kazakhstan's government supports (for example, transporting oil via the terminal at Batumi, Georgia, which KazMunaiGaz controls).
The actions of the government have until now mainly threatened the Western oil companies which first invested in Kazakhstan (in the 1990s, when the government was weak and urgently needed investments), and which until now have enjoyed especially beneficial terms of investment.
Moreover, the results of the new policy will relatively hit the small extraction companies most strongly; during the global economic crisis, they wrestled with their lack of funding, which meant they could not meet their commitments in time.




Return to the old strategy
Astana's current policy towards foreign investors is a return to, and development of, the strategy employed since the beginning of this decade of increasing its supervision of the energy sector and maximising profits. Amendments to the law made between 2005 and 2007 served this aim. During the global economic crisis, however, Kazakhstan eased its strict policy towards this sector (including by reducing the duty on the export of oil to zero), in order to help investors endure the dramatic fall in price of oil. Currently Astana is returning to its former strategy, and is focusing above all on maximising its profits from the energy sector. This aim is to be achieved by raising the duties on exporting the raw materials, and also increasing KazMunaiGaz's share in oil extraction within the country, by having it join the largest extraction companies. Astana is probably modelling its policy on the actions of the Russian government, although it is copying that strategy in a milder form. It is important to note that the appearance of alternative sources of investment in the extraction sector has been conducive to this harsher approach towards Western investors. – Above all, this concerns Chinese companies, which consent to the range of demands which Astana makes. The development of cooperation with China has been aided by the economic crisis, during which the Middle Kingdom has grown to be Kazakhstan's biggest economic partner.


Consequences
The actions Astana has been taking are worsening the investment climate in the country (the violation of the contracts from the 1990s has called into question whether Kazakhstan does indeed respect the contracts it agrees to). Despite this, Kazakhstan is not threatened by any outflow of large foreign investments, because against the background of neighbouring Russia, the investment climate is still relatively profitable. Investors are also encouraged by the very good outlook for growth in raw material extraction (from the current figure of around 80m tonnes of oil to 180m tonnes annually over the next decade), and also by the fairly flexible policy towards the sector (the best proof of this is that the reaction to the fall in the price of oil in September 2008 was much quicker than in Russia, and also that the customs duty was reduced). An effect of this policy, on the other hand, may be a fall in interest in investing in Kazakhstan among small companies with less capital, which do not have direct contact with the government in Astana. In the future, Astana must be expected to continue and sharpen its policy of state protectionism towards the energy sector.