Vocea Rusiei: Knock-out pentru Nabucco?
Proiectul Nabucco, menit să diminueze dependenţa Europei de combustibilul rusesc şi protejat intens de Uniunea Europeană, se pare că a fost făcut knock-out, dacă e să ne exprimăm în limbaj sportiv. Potrivit mass-media, consorţiul internaţional, care se ocupă de construirea acestui gazoduct, a decis să amâne începerea amplasării conductei din 2012 în 2013, iar darea în exploatare – din 2015 în 2017.
Cauza este lipsa unor acorduri concrete privind livrările de gaze.
Elaborarea acestui proiect a început în 2002. Iniţial a fost vorba despre achiziţionarea de gaz din Iran. Însă din cauza conflictului internaţional din jurul programului nuclear iranian această variantă a picat. În calitate de posibili furnizori de gaze au fost luaţi în considerare Azerbaidjanul şi Turkmenistanul. La începutul acestui an, şeful Comisiei Europene, Jose Manuel Barrosso, a efectuat o vizită la Baku şi Aşhabad. Însă, potrivit experţilor, nu s-a înregistrat un progres evident în soluţionarea problemei referitoare la livrările de gaze. Nu au fost semnate acorduri concrete.
La decizia consorţiului proiectului Nabucco, începerea construirii conductei a fost amânată cu un an, la fel şi darea în exploatare. Cauza este evidentă: lipsa gazului. Însă experţii consideră că adevăratul knock-out pentru proiect este posibila creştere de două ori a costului său: de la 7,9 miliarde de euro la 15. Despre acest lucru a vorbit, între altele, Agenţia Reuters. În acest sens vă prezentăm opinia lui Valeri Nesterov, analist în sfera petrolului şi gazului din cadrul companiei de investiţii "Troika-Dialog".
"Poate că exagerez, însă se creează impresia că este vorba despre agonia proiectului Nabucco. Proiectul continuă să se confrunte cu aceleaşi probleme. Este vorba, în primul rând, de lipsa resurselor necesare. Proiectul îşi pierde poziţia de concurent al South Stream, care aparţine concernului Gazprom. Participanţii la consorţiu încearcă să se folosească de ultimul lucru pe care îl mai au – factorul politic, adică de aşa-zisul pericol al dependenţei mari de gazul rusesc".
Oricum s-ar prezenta lucrurile, proiectul Nabucco va rămâne, după părerea experţilor, important în politica energetică a Uniunii Europene. Însă cancelarul german, Angela Merkel, a declarat zilele acestea, luând cuvântul în faţa ziariştilor, că Germania va primi combustibil prin conducta Nord Stream. "În decurs de mulţi ani am avut relaţii comerciale sigure cu Rusia. De aceea nu avem niciun fel de temeri în această privinţă", a declarat Angela Merkel.
inforusia.ro: Nabucco: Constructia gazoductului se amana pana in 2013
Nabucco Gas Pipeline International considera ca lucrarile la gazoduct vor demara in 2013, cu un an mai tarziu decat a estimat pana acum. Modificarea termenului este un rezultat direct al schimbarilor legate de calendarul aprovizionarilor cu gaze naturale din regiunea Caspica si Orientul Mijlociu, in conformitate cu anunturile facute de potentialii furnizori, se arata intr-un comunicat al Nabucco. Astfel, constructia va demara in 2013, in vederea alinierii calendarului Nabucco cu furnizorii de gaze naturale. De asemenea, primele livrari de gaze prin intermediul conductei vor fi facute in 2017. Actionarii Nabucco considera ca, in acest moment, negocierile cu furnizorii de gaze naturale sunt incurajatoare.
"Progresul proiectului Nabucco este pozitiv pana acum. Am avansat cu evaluarea impactului social si asupra mediului si am facut pasi concreti in ceea ce priveste achizitiile si alte activitati importante. Procesul de Open Season va demara imediat ce vor exista indicii ferme ca angajamentele de aprovizionare cu gaze naturale sunt gata. Decizia finala de investire va fi luata in concordanta cu aceste aspecte. In momentul de fata ne asteptam ca primele livrari de gaze prin intermediul conductei sa fie facute in 2017. Proiectul Nabucco continua sa fie determinat de nevoile clientilor sai", a declarat Reinhard Mitschek, Managing Director, Nabucco Gas Pipeline International GmbH.
inforusia.ro: Oleoductul Burgas Alexandroupolis mai are bani doar pentru o luna
Proiectul oleoductului Burgas Alexandroupolis are probleme financiare grele cauzate de Bulgaria, a dezvaluit ieri ministrul rus al energiei, Serghei Smatko. Comisia interstatala a dus consultari fara nici un rezultat, a precizat oficialul rus.
Acordul interguvernamental pentru construirea oleoductului de 300 kilometri lungime a fost semnat de Moscova, Sofia si Atena in 2007, iar in 2008 a luat fiinta consortiul Trans Balkan Pipeline, cu participare majoritar rusa (51 la suta, detinute de companiile Transneft, Rosneft si Gazprom Neft) si restul actiunilor detinute in parti egale de Grecia si Bulgaria.
Lucrarile pentru realizarea proiectului s-au lovit de dificultati cronice, Transneft reclamand in mai multe randuri lipsa de finantare din partea bulgara, care a acumulat restante de 7,3 milioane euro. In februarie 2011 s-a incheiat o intelegere, prin care partea bulgara trebuia sa isi plateasca restantele pana la 20 martie, dar banii nu au fost virati nici pana astazi, conditii in care Transneft anunta ca actuala finantare va ajunge pentru acoperirea lucrarilor doar pana in iunie.
Ieri, ministrul rus al energiei a recunoscut ca, din cauza problemelor financiare, costurile de constructie a oleoductului vor trebui reduse la minimum. In acest timp, in mass media apar tot mai des informatii despre suspendarea proiectului balcanic.
Oleoductul Burgas-Alexandroupolis, cu o capacitate de 35 milioane tone de titei pe an, este gandit sa realizeze transportul petrolului cu ocolirea stramtorilor Bosfor si Dardanele, dar acest proiect are deja un concurent, oleoductul Samsun Ceyhan, aminteste RIA Novosti.
RIA Novosti: Gazprom eyes gas deposits in Pakistan
Russia's energy giant Gazprom is interested in developing gas deposits in Pakistan, Russian President Dmitry Medvedev and his Pakistani counterpart Asif Ali Zardari  said on Thursday after talks on bilateral business cooperation.
"The sides supported the interest of Russian business circles in implementing economic, infrastructural and banking projects jointly with the Pakistani government and businesses," the two leaders said in a statement.
In particular, Russian state-owned mining and metallurgical facility construction company Tyazhpromexport is prepared to modernize a metals plant in Karachi, Pakistan's largest city while Russia's largest power trader Inter RAO UES is ready to build power plants in Pakistan, the statement said.
Russia may also join the CASA-1000 project, which will deliver electricity from Tajikistan to Afghanistan and Pakistan and the Turkmenistan-Afghanistan-Pakistan-India gas pipeline project to transport natural gas from Central Asian states to India, the statement said.
In October 2010, Russian Deputy Prime Minister Igor Sechin said that Gazprom might participate in a consortium to build the pipeline. India suggested Gazprom join the project as one of gas suppliers along with Azerbaijan, Kazakhstan and Uzbekistan.
The 1,700 kilometer pipeline with a capacity of 30 billion cubic meters per year and a rough cost of $4 billion, stalled by the war in Afghanistan, is supported by the Asian Bank for Development.
RT.com: Europe's debt woes roll on as Russia players look on
With Europe mulling over whether to revise their Greek bailout package, or come up with a new one, just days after they approved on for Portugal, more commentators are wondering what the ultimate game plan is.
The overt problem children of the Eurozone are Greece, Ireland and now Portugal.  The response every time has been a bailout – 110 billion euro for Greece in May 2010, 85 billion euro for Ireland in November 201, and now a further 78 billion euro for Portugal.  Every time the bailout has been deemed a better alternative than restructuring.  They may have averted restructuring but they have done little to generate any likelihood of growth in those nations, or attendant capacity to repay the loans involved in bailing them out, and have come at considerable social cost.
But the problem with them is that they may not actually bring the nations receiving them into a position where they could manage their debts, according to BCS analyst, Valery Dmitriev.
"Ireland could probably square away its debt burden troubles. But that is not the case with Greece assuming that further agreed financial injection will lead to record high debt to GDP levels. Athens could not be compared to Washington DC in this case, where social sector remains secured in terms of robust government regulations. We have already seen emerge of unrest and numerous local strikes opposing government regulations in Euro zone."
InvestCafe analyst Anna Bodrova says the Greek bailout is likely to see further funding needed, warning of the remaining potential for contagion, with Spain, despite having made further progress in reducing its government debt, and being a much larger economy than Portugal, not  out of danger with its very depressed housing market meaning that many of its financial institutions could still pose a significant national risk.
"Portugal will hardly be the last country for Europe to save – at the present moment Spain also experiences difficulties and one cannot exclude that Greece will need extra money. Currently it is doubtful that Greece will be able to service its debt – so there is high possibility that it will need a bit more than 110 billion Euro. Greek debt problems are a heavy load to bear for the European economy and in case of the most pessimistic scenario – a potential default – European banks will meet losses for more than 35 billion euro. Current situation in Europe is still neutral for Russia in spite of the solid share of Euro currency in international reserves."
Dmitriev agrees that the issue of debt isn't laid to be with the bailouts already provided, with more Euro zone members possibly at risk.
"I would not expect this to be the last. Ireland and Greece are not even the last countries in the long European debtors queue. The France and Spain economies are not bulletproof, with the strongest economic performance coming from Germany with its robust industry output and exports.  The process of bailout and economic recovery is a long term issue involving a lot of players and measures, which trigger significant economic restructuring, across the Euro zone, with the Union's fiscal support just part of mechanism established to overcome debt crises and attendant economic malaise."
The reason for the desperation to head off a default is that this could have enormous consequences for the Euro zone financial system according to Dmitriev
"The collapse could lead to tragic consequences for all European banks and financial institutions.  It will affect all enterprises in collaboration with Greek industries and businesses. However, the EC representatives insist on restructuring of the country's economy rather than continued financing of the exacerbating debt."
Otkritie Deputy Head of Fixed income Research Evgeniy Vorobiev says any prospect of default would have a major impact.
"If Greek government defaults, reaction will be dramatic in all markets. What is more probable is that the Greek government might start negotiation with creditors about some sort of payment deferral. "
Dmitriev adds that there is potential for the volatility in the euro, which stems from the debt concerns, to affect Russia.
"The European debt issues and regulatory measures could provoke another wave of downturn in Russia. Increased volatility and market turbulence will bring tough times for investors activity and even withdrawal from European investments, notably euro currency. Russian economy on one hand is secured with the commodities markets and dollar which is nonetheless unstable. Euro currency is a mirror for investor's activity though."
Otkritie Deputy Head of Fixed income Research Evgeniy Vorobiev, says that any restructuring of Greek debt will be negative but moderate for markets, with further debt bailouts already, to some extent, priced in.
"We believe that situation with debt burden of Euro zone countries, especially of regions with weak budgets is the one of the most important and vital drivers for all markets around the globe, including Russian trade grounds. If the restructuring of the Greek debt take place, markets will react moderately negative. The extension of Greek sovereign debt is already priced in quotes. Main question is in that form actually debt will be restructured."
Novinite: Nabucco Pipeline Delayed for 2 Years over Natural Gas Supplies
The much-anticipated EU-sponsored Nabucco gas transit pipeline will be delayed by two years, the Nabucco consortium has announced raised doubts of increasing uncertainty about the project.
Nabucco Gas Pipeline International GmbH has pushed back the start of construction of its EUR 7.9 B pipeline to carry Caspian natural gas to Europe to 2013; thus, Nabucco is now expected to start operations in 2017 instead of 2015, as previously expected, the company said in a statement.
"The timeline has changed as a direct result of the changes in the timing for gas supplies in the Caspian and Middle East regions, as announced by potential suppliers. Construction is envisaged to commence in 2013 to align the Nabucco timeline with gas suppliers," the consortium explained on its website.
"Nabucco's progress has been positive so far, with the progress of the Environmental & Social Impact Assessment and concrete steps for procurement and other important work-streams. The Open Season process will start as soon as there are firm indications that gas supply commitments are in place. The Final Investment Decision will be taken consequently. We now expect first gas to flow through thepipeline in 2017. The Nabucco project continues to be driven by the needs of its customers," Reinhard Mitschek, Managing Director, Nabucco Gas PipelineInternational GmbH, commented.
The Nabucco shareholders are said to have confirmed that "the negotiations with the gas suppliers are encouraging." All gas supply negotiations are being led by the shareholders and by third party gas buyers from Turkey and from Europe and are undertaken completely separate from Nabucco Gas Pipeline International GmbH, which acts as the infrastructure company, Friday's statement notes.
"From today's point of view I don't see further delays. It remains to be seen" when the final investment decision, which was scheduled for this year, would be made,"Nabucco Managing Director Reinhard Mitschek told journalists today on a conference call from Vienna as cited by Bloomberg.
Mitschek said Nabucco is open to new partners if there is "added value" and any negotiations would be between the existing partners and a potential new one, which is probably the first time the consortium leadership admitted it was ready to consider linking with other rival projects.
"If that can deliver added value, then we'll take all shippers on board. We seeNabucco as a backbone and frontrunner. We are open to links to branch lines," Mitschek stated.
Mitschek further refuted once again Thursday's reports that the estimated cost of the pipeline had risen from EUR 7.9 B to EUR 15 B.
He did say the pipeline would be 20% – or 550 km – longer than first planned. The 550 km extension results from changing from an Iran feeder line to an Iraq feeder line.
"That does not automatically mean that investment figures need to be increased in the same range. To give any prices now would be premature," a Nabuccospokesman said.
The Nabucco gas pipeline is supposed to reduce EU's energy dependence on Russia by bringing in natural gas from the Caspian region, Central Asia, and the Middle East.
The direct investments in the Bulgarian economy from the construction of Nabuccowill be about EUR 400 M and a few hundred jobs. Another about 1000 jobs will be created indirectly by the project.
The Nabucco shareholders are: Bulgarian Energy Holding (Bulgaria), Botas (Turkey), MOL (Hungary), OMV (Austria), RWE (Germany) and Transgaz (Romania), Each shareholder holds an equal share of 16.67% of Nabucco Gas PipelineInternational GmbH. Nabucco is estimated to cost EUR 8 B, and Bulgaria, as a partner with 1/6 of the shares, will be expected to provide 1/6 of the total sum, or about EUR 1.3 B, rather than finance just the section on its territory. Bulgaria plans to finance its share in Nabucco with a EUR 1.2 B loan from the European Investment Bank.
Nabucco Gas Pipeline International GmbH, the Vienna-based project company, has been involved in talks with the European Bank for Reconstruction and Development, the European Investment Bank, and the International Finance Corporation, a member of the World Bank Group, asking for an EUR 4 B loan. These negotiations are expected to be completed in 2011.
energia.gr: TAP Pipeline Impact Assessment Begins in Italy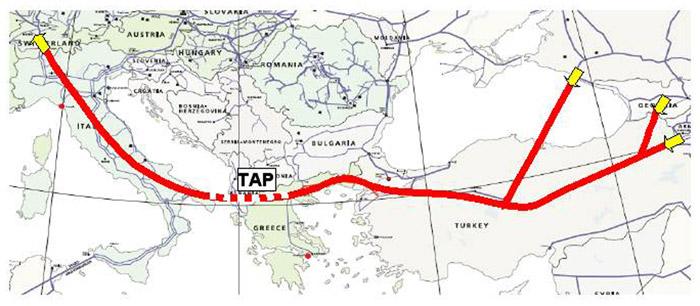 The Trans Adriatic Pipeline (TAP) announced today that it has commenced the project's formal Environmental and Social Impact Assessment (ESIA) process in Italy. The submission of its Scoping Report to the Italian authorities follows a similar move in Albania last month.
The Scoping Report document was presented to national, regional, provincial and municipal authorities in Italy and is also accessible to other stakeholders and the general public through the TAP website. The ESIA process will be conducted in accordance with Italian legislation and will follow the best practice guidelines laid down by the European Bank for Reconstruction and Development (EBRD).
Following extensive route refinement studies undertaken between 2009 and 2011, the document includes a detailed description of TAP's preferred route. Having entered the country at the northern end of San Foca on the Adriatic coast, it will extend 21 kilometres to the Municipality of S. Donato di Lecce to the tie-in point with Snam Rete Gas, the Italian natural gas system operator. The route will cross the municipalities of Melendugno, Vernole, Castri di Lecce, Lizzanello, Cavallino and S. Donato di Lecce.
The pipeline's length offshore will be approximately 45 kilometres within Italian waters from the Italian coast to the middle of the Straight of Otranto in the Adriatic Sea, and its diameter will be 42 inches onshore and offshore.
The Scoping Report also contains a comprehensive explanation of the possible environmental and social impacts of the chosen route and suitable mitigation measures. In particular, special consideration has been given to the avoidance of sensitive natural habitats. As a direct result, TAP will avoid crossing environmentally sensitive areas such as the sea grass meadows Posidonia oceanica.
During the pre-scoping phase, TAP has consulted with a wide variety of stakeholders including national, regional, provincial and local government authorities, local communities, NGOs and others, to discuss the project and collect feedback on the routing options at an early stage. Scoping Report disclosure meetings with the same stakeholders will be organised during the next few weeks and stakeholder consultation will be an ongoing activity throughout the duration of the project.
Submission of the Italian Scoping Report represents the first step of the ESIA process in Italy, which in conjunction with the Single Authorisation process, will give TAP all the necessary construction and operating permits.
Paolo Pasteris, TAP's Country Manager Italy, commented: "The scoping documentation that we have submitted reflects the preliminary engineering work and stakeholder consultation activities undertaken in Puglia over the last two years. This is an important step for TAP in Italy and we thank all stakeholders for their valuable contribution. Our project is on schedule to obtain all the necessary authorisations and be operational in time for first gas from the Shah Deniz II development in 2017."
Martin Ferguson, Health, Safety and Environment Director at TAP, added: "By actively involving government and local communities in the route selection process from the beginning of the project, the Trans Adriatic Pipeline has been able to gain a lot of support and trust in Italy. From the earliest stages, authorities and interested parties have been able to discuss their concerns with us, and to provide input into our chosen route as well as mitigation and restoration of affected areas."
Once feedback on the Scoping Report has been received, TAP will submit the full ESIA report to the Italian authorities in the fourth quarter of 2011. The project anticipates receiving official approval towards the fourth quarter of 2012.
energia.gr: RWE To Get 20% Stake In New Dutch Nuclear Power Plant
German utility RWE AG (RWE.XE) could get a 20% stake in a planned Dutch nuclear power plant, Dutch public utility Delta said in a statement Tuesday.
The stake for the Essen-based utility is part of a settlement between Delta and RWE over the ownership in the existing Dutch nuclear power plant Borssele.
Both RWE and Delta confirmed Tuesday that they have signed a letter of intent on a out-of-court settlement over RWE's contested co-ownership of the Netherland's only nuclear power plant. Under the deal, which needs final approval, RWE would take a 30% stake in the power plant instead of the initially planned 50%, while Delta would own 70%.
The legal dispute is related to RWE's takeover of Dutch energy provider Essent in late 2009.
A second nuclear power plant in the Netherlands is currently being developed by Delta, a publicly owned Dutch utility, along with Electricite de France S.A.