RIA Novosti: Gazprom cuts 2010 gas output forecast 1 pct
Russian gas giant Gazprom has again shaved its 2010 gas output forecast by one percent to 515 billion cubic meters from 520 bcm, it said on Monday.
"Gazprom plans to produce about 515 bcm of gas in 2010 because of falling demand for gas on domestic and foreign markets caused by lower industry production rates due to the global financial crisis," the gas giant said in a statement.
Last year Gazprom produced 461.5 bcm of gas.
Gazprom's initial 2010 production plan amounted to 529 bcm. It was later cut to 519.3 bcm.
The company's production volumes will be maintained by operating mines and the launch of new areas of existing deposits in the short-term period.
In 2012, Gazprom plans to launch the Bovanenkovskoye field on the Yamal Peninsula in Russia's far north.
RIA Novosti: Gazprom agrees to sell some gas to GDF Suez at spot prices
Russia's gas giant Gazprom has conceded to demands from France's energy group GDF Suez to buy some gas at spot market prices in exchange for an obligation to buy all the gas its contracts to buy for a year, Gazprom said on Monday.
Gazprom's European consumers have for years been clamoring for cheaper spot market contracts with Gazprom instead of Gazprom's preferred long-term deals. However, they have only recently managed to alter their deals with Gazprom after the international financial crisis had slashed demand.
Gazprom said in a report that under a revised deal struck with GDF Suez in August, the companies signed a spot agreement on some previously contracted volumes and an obligation by GDF Suez to buy a 100 percent of gas contracted for a year. The talks were initiated in 2009 by GDF Suez.
Also in 2009, E.On Ruhrgas demanded Gazprom cut its prices or change contract terms. Gazprom had to concede and agreed to sell some of the gas at spot market prices on condition that if E.On Ruhrgas failed to buy minimal amounts of gas, deliveries at spot market prices would also be cut.
Similar agreements were reached with German-Russian gas traders WIEH and Wingas.
Alexander Medvedev, head of Gazprom Export, which meets a quarter of Europe's gas needs, has said European consumers would fail to buy about five billion cubic meters of gas ordered under long-term contracts in 2010.
RIA Novosti: EU demands changes to Bulgarian South Stream deal to give other states access
A Russian-Bulgarian agreement on the South Stream gas pipeline project should be changed so that other European Union countries have access to the pipeline, European Commission representative Marlene Holzner said on Monday.
The 2008 agreement must comply with EU legislation which includes a requirement for providing access to gas transportation facilities to third parties and splitting sales and transportation businesses, she said. The legislation comes in force next March but includes a two-year adaptation period.
On Saturday, Russia's gas giant Gazprom and Bulgarian Energy Holding signed a deal to set up a joint venture to oversee construction of the Bulgarian section of the South Stream pipeline.
Gazprom said that the pipeline, designed to deliver up to 63 billion cubic meters of Central Asian and Russian gas via the Black Sea to southern Europe, may be put into operation by August 2015, four months earlier than previously planned.
Holzner said Bulgaria, which received full and unrestricted right to transit Russian natural gas through its territory, had assured the European Commission that the necessary changes would be made.
Holzner added that the South Stream gas pipeline project was very important, but did not provide diversification of gas resources, compared to the proposed rival Nabucco pipeline project which would pump gas from the Caspian Sea region to Europe, bypassing Russia.
rt.com: South stream and freedom from transit woes
With Russian Prime Minister Vladimir Putin holding talks with his Bulgarian counterpart, Boiko Borisov in Sofia about South Stream, Business RT spoke with Alexander Nazarov, Chief gas analyst at Metropol.
RT:The talks are expected to be the last step towards the start of construction – how important is the visit to the South Stream project?
AN:"It is important but I wouldn't say it is crucial, and for sure it is not a final visit there.The feasibility study of the project is not done yet, and I think the main purpose of the visit of the Russian delegation to Bulgaria is actually to form the legal entity in order to perform this feasibility study for the project.Also some other deals are expected and probably, although South Stream is a title project, probably it would not be the most important."
RT: So we have seen other high level meetings on South Stream, that other countries on the sidelines had other meetings, other deals, being made. Now this is the case then in Bulgaria, do you think?
AN:"Yes absolutely, I think so.And although our Prime Minister, Vladimir Putin, is probably the most important person to visit Bulgaria to discuss South Stream, I think that some further meetings between Gazprom and the Bulgarian side."
RT: In the past there's been periods of non-cooperation between Bulgaria and Russia – do you think after today's visit it'll be full steam ahead in terms of South Stream construction?
AN:"Probably not.The point is that there is a competition project there, Nabucco project and gas pipeline.Bulgaria is a crucial country for both of these projects.So probably Bulgaria will keep up waiting to make a final decision.To make, to enhance Bulgaria, actually, to make this decision, to preference South Stream project Gazprom export is likely to give a discount to Bulgaria, to discount the price of gas for Bulgaria by 5-7%."
RT:If South Stream does go ahead – this will mean the transit of gas through Ukraine will fall by, perhaps, 50 percent, what will be the consequences?
AN: "Well everybody understands that if South Stream will be built, no modernization of Ukrainian gas system will follow that.So I think it is the crucial question actually, for Ukraine, but its non participating in the negotiations.And I think there are two scenarios.South Stream will be built, and no modernization of Ukrainian gas pipeline system will be there.Or opposite, Nabucco will be built, or none of these new gas pipelines will be built, in this case modernization of Ukrainian gas system becomes crucial."
RT:And what is your opinion of the South Stream gas pipeline project, is it a crucial one that needs to happen?
AN:"Well the first point is I don't think it is economically efficient, so I don't think in terms of economy we need this pipeline, although it's infrastructure project, it will help economy, not only of Russia but other countries. I think that the most easy way is to modernize Ukrainian gas pipeline system.So, in terms of political points there, I think building South Stream is to become absolutely independent for Russia from transit countries and it is probably the aim, the goal of current leaders of our country."
trend.az: SOCAR head: Gas contracts on Shah Deniz 2 to be signed in 2011
Partners in developing Azerbaijan's major gas condensate field Shah Deniz will sign contracts for gas sale from the second phase of the project development in mid-2011, Rovnag Abdullayev, head of the State Oil Company of Azerbaijan (SOCAR) said.
Aas part of the second stage of the field's development, contracts are being prepared with the Turkish side on gas transit and on sale of 6 billion cubic meters of fuel a year, Abdullayev said.
"Furthermore, discussions are underway with European buyers to sell 10 billion cubic meters of gas a year," Abdullayev said.
The contract to develop Shah Deniz was signed in June 1996. Participants are: BP (operator) with a stake of 25.5 percent; Statoil with 25.5 percent; NICO with 10 percent; Total with 10 percent; LukAgip with 10 percent; TPAO with 9 percent; and, SOCAR with 10 percent.
The consortium developing the Shah Deniz gas condensate field in the Azerbaijani section of the Caspian Sea will announce the final gas buyers within the second stage of the field's development in the first quarter of next year. The buyers will be selected based on a short list of candidates. Participants of the Nabucco gas pipeline project, which also includes RWE, hope to receive significant amounts of gas from Azerbaijan to fill the pipeline.
According to forecasts, gas production may reach 25 billion cubic meters per year under the second phase of development. First gas will be received in late 2016-early 2017.
trend.az: Turkey, Turkmenistan seek alternative gas supplies
The Turkmen President Gurbanguly Berdimuhammadov and the Turkish President Abdullah Gul, who met the day before in the Caspian city of Turkmenbashi, expressed their intention "to develop cooperation in the sphere of supplies of Turkmen natural gas to world markets through alternative routes, the final joint communiqué, issued by the local media on Saturday, says.
"Turkmen state is the world's natural gas power, with enormous reserves of natural fuel, which will serve many generations of the Turkmen," President Gul said, supporting "intensification of collaboration in this direction."
President Berdimuhammadov stressed the "huge opportunities for transportation of the Turkmen natural gas to Turkey and the need for specific collaboration in this sphere."
On the eve of the talks, an independent expert, who wished to remain anonymous told Trend that "hoping to gain access to Turkmen gas, Ankara is ready for any variant, whether it's Nabucco, or gas compression for its transportation by tanker across the Caspian Sea or through Iran." In his opinion Turkey has long been ready to try on the role of a key manager of Caspian energy resources in the solvent markets in Europe.
Turkmenistan is a key supplier of natural gas in the Caspian region and the way to Turkey is needed, including for opening the road to Europe. In a recent statement the Foreign Ministry of the county said that the Turkmen side has concluded several agreements with major European companies, who show themselves as reliable, fair and predictable partners, including in the energy sphere. "
At the same time, European Union energy commissioner Guenther Oettinger, who participated in Ashgabat on the Gas Congress in April 2010, said that documents are being prepared with Turkmenistan on the Nabucco project. According to him, the sides agreed to create working groups.
Nabucco gas pipeline project is worth €7.9 billion. Construction of gas pipeline is planned to be launched in 2012, the first supplies – in 2015. Maximal capacity of the pipeline will hit 31 billion cubic meters per year.Nabucco participants are the Austrian OMV, Hungarian MOL, Bulgarian Bulgargaz, Romanian Transgaz, Turkish Botas and German RWE. Each has an equal 16.67-percent share.
trend.az: Over 860,000 tons of Turkmen oil transported via BTC so far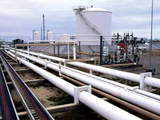 The Baku-Tbilisi-Ceyhan main export pipeline has transported 860,400 tons of Turkmen oil since July, Azerbaijan's State Statistical Committee said. According to the official figures, some 76.8% or 32 million tons of the total volume of oil Azerbaijan exported in the ten months of 2010 was transported via the BTC.
apa.az: SOCAR intends to participate in management of Russia-Armenia gas pipeline
State Oil Company intends to take the control of Russia-Armenia gas pipeline supplying Armenia wit gas, SOCAR President Rovnag Abdullayev told APA.
According to him, SOCAR has already applied to owner of pipeline Georgian Oil and Gas Corporation and noted that it interested in attendance the privatizing and being managed of this project.
He also noted that, SOCAR provides 70-75% of Georgian gas storage.
apa.az: Azerbaijan to increase gas export to Iran
Azerbaijan will increase gas export to Iran, at the end of this year, SOCAR president Rovnag Abdullayev told APA.
According to him, SOCAR constructs new gas compressor station in Astara and 6 new compressors are being constructed here: "Works are being conducted i accordance to graphic and as the result of this station we'll increase gas export to Iran, at the end of this year."
Note that, Azerbaijan is planned to export 0.5 bcm gas to Iran, during this year.