Mediafax: România ocupă locul al şaselea în UE după ponderea energiei din resurse regenerabile în consum
România ocupă locul al şaselea între statele membre UE după ponderea energiei obţinută din resurse regenerabile în consumul final brut în 2008, înregistrând totodată cea de-a treia cea mai puternică creştere a acestui procentaj în perioada 2006-2008, potrivit datelor prezentate marţi de Eurostat.
Energia regenerabilă a asigurat 20,4% din consumul naţional al României în 2008, procent de două ori mai ridicat faţă de cel de 10,3% calculat la nivelul UE.
În 2006, ponderea energiei regenerabile în consum era de 17,5% în România, respectiv de 8,8% în UE.
Surse regenerabile de energie sunt considerate, potrivit comunicatului Eurostat, cele solare termale şi fotovoltaice, hidro, eoliene, geotermale şi biomasa.
Strategia UE privind energia regenerabilă prevede o ţintă de 24% din consumul intern pentru România până în anul 2020, care ar contribui astfel la atingerea obiectivului de 20% asumat de Uniune în aceeaşi perioadă.
Statele membre cu cea mai mare pondere a energiei din resurse regenerabile în consumul final sunt Suedia(44,4%), Finlanda (30,5%), Letonia (29,9%), Austria (28,5%) şi Portugalia (23,2%), la polul opus situându-se Malta (0,2%), Luxemburg (2,1%), Marea Britanie (2,2%), Olanda (3,2%) şi Belgia (3,3%). mai mult
Adevarul: Rompetrol Gas, investiție de 11 milioane de dolari la Bacău
Rompetrol Gas, divizia de comerț cu gaz petrolier lichifiat (GPL), al Grupului Rompetrol, a deschis în comuna Itești (Bacău), al treilea terminal de îmbuteliere GPL din România, valoarea investiției ridicându-se la 11 milioane de dolari.
"Prin finalizarea acestei investiții, Rompetrol Gas își continuă planurile de consolidare și dezvoltare a rețelei de îmbuteliere și distribuție GPL și în zona de Nord Est a țării", a declarat Veron Toma, directorul general al Rompetrol Gas.
Terminalul de la Itesti, localitate aflată la 18 kilometri de Bacău, a fost deschis după ce, în 2008, compania a inaugurat o stație similară la Arad pentru zona de Vest a României. La aceasta se adaugă și terminalul de la Constanța pentru zona de Sud Est, situat în vecinatatea rafinăriei Petromidia. mai mult
money.ro: KazMunaiGaz ar putea răscumpăra acţiunile pe care statul este posibil să le preia la Rompetrol
KazMunaiGaz, care deţine grupul Rompetrol, ar putea răscumpăra acţiunile pe care Guvernul este posibil să le preia la Rompetrol Rafinare, dacă compania kazahă nu va plăti integral datoria către statul român, a declarat marţi preşedintele Rompetrol, Saduokhas Meraliyev
"Nu am semnat încă niciun document final în privinţa datoriei cu Ministerul Finanţelor. Dacă statul va prelua acţiuni la Rompetrol Rafinare, noi le putem răscumpăra, pentru că avem drept de preempţiune", a afirmat Meraliyev, marţi, într-o conferinţă de presă.
Compania Rompetrol Rafinare, parte a grupului Rompetrol, şi-a majorat capitalul social cu circa 100 milioane dolari, în contul datoriei către bugetul de stat.
Grupul Rompetrol trebuie să ramburseze 2,4 miliarde de lei în contul datoriilor istorice ale rafinăriei Petromidia, angajate printr-o emisiune de obligaţiuni de stat din anul 2003. În octombrie 2003, Guvernul a emis o ordonanţă privind transformarea în obligaţiuni cu o maturitate de şapte ani a restanţelor bugetare ale Rompetrol existente la data de 30 septembrie 2003, în valoare de 603 milioane de dolari, inclusiv dobânzi şi penalităţi. mai mult
Adevarul: Statul român, tot mai aproape de a deveni acţionar la Rompetrol
Ultima ofertă a Kazmunai Gaz, în cadrul discuţiilor cu Ministerul de Finanţe privind plata datoriilor istorice a Rompetrol Rafinare, este achitatea, în acest an, a sumei de 100 de milioane de dolari.
Preşedintele executiv al Rompetrol Grup, Saduokhas Meraliyev crede că există două posibilităţi: plata integrală a datoriei sau conversia restului datoriei  – după plata celor 100 de milioane de dolari – în acţiuni, astfel încât statul să devină acţionar la Rompetrol. Cea din urmă variată este şi cea agreată, în acest stadiu al discuţiilor, de reprezentanţii companiei. "Vom avea negocieri cu Guvernul pentru răscumpărarea acţiunilor", a spus Meraliyev.
Astfel, Rompetrol intenţionează să răscumpere acţiunile în situaţia în care statul va dori să le vândă, bazându-se pe dreptul de preemţiune deja existent în contract. "Aş fi fericit să am Guvernul român ca partner de afaceri", a adăugat preşedintele executiv al Rompetrol. mai mult
Gandul: Kazahii şi-ar putea răscumpăra acţiunile de la stat
KazMunaiGaz, care deţine grupul Rompetrol, ar putea răscumpăra acţiunile pe care Guvernul este posibil să le preia la Rompetrol Rafinare , în cazul în care compania kazahă nu va plăti integral datoria către statul român. "Nu am semnat încă niciun document final în privinţa datoriei cu Ministerul Finanţelor. Dacă statul va prelua acţiuni la Rompetrol Rafinare, noi le putem răscumpăra, pentru că avem drept de preempţiune", a declarat ieri preşedintele Rompetrol, Saduokhas Meraliev. Grupul Rompetrol trebuie să ramburseze 2,4 miliarde de leiîn contul datoriilor istorice ale rafinăriei Petromidia, angajate printr-o emisiune de obligaţiuni de stat din anul 2003.
Bursa: CEO Rompetrol: Aş fi bucuros ca statul român să ne fie partener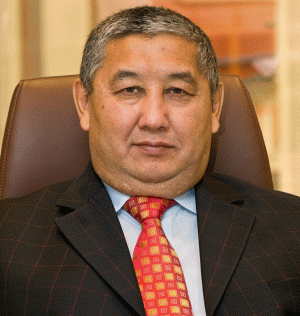 "Aş fi bucuros dacă statul român ar deveni partenerul nostru la Rompetrol", a spus, ieri, mai în glumă, mai în serios, Saduokhas Meraliyev, CEO-ul "Grupului Rompetrol", dând de înţeles că soluţia răscumpărării parţiale a obligaţiunilor de 570 de milioane de euro ale companiei a fost agreată de statul român, în stadiul actual al negocierilor. Scandenţa obligaţiunilor este în septembrie anul acesta, statul riscând să reintre acţionar la "Rompetrol Rafinare" dacă societatea nu îşi răscumpără în totalitate obligaţiunile.
"Încă nu am semnat niciun acord final cu Ministerul de Finanţe, deşi am negociat intens în ultimele săptămâni pentru plata unei prime tranşe de circa 118 milioane de dolari. Rompetrol are posibilitatea să răscumpere obligaţiunile în totalitate sau doar parţial. De altfel, noi am plătit în ultimii ani aproape 270 de milioane de dolari dobândă pentru aceste obligaţiuni. Este un împrumut cu o dobândă destul de mare", a declarat Meraliyev.
Deşi se pare că nu îşi vor achita întreaga datorie către statul român anul acesta, kazahii sunt aparent asiguraţi că nu se vor trezi cu un acţionar supriză, dacă statul român va decide să îşi vândă pachetul la "Rompetrol Rafinare".
"Este foarte posibil ca statul, dacă reintră acţionar, să vrea să îşi vândă participaţia redobândită. În acest caz, noi avem drept de preempţiune, adică avem posibilitatea să cumpărăm noi primii pachetul statului înaintea altor investitori", a subliniat CEO-ul "Rompetrol". mai mult
money.ro: Gazprom curtează compania germană RWE, acţionar Nabucco, pentru a participa la South Stream
Gazprom a oferit companiei germane RWE posibilitatea de a participa la proiectul South Stream, scrie cotidianul Handelsblatt , potrivit Sofia News Agency, dar firma germană spune într-un comunicat că refuză să comenteze "speculaţii şi zvonuri de piaţă".
Potrivit ziarului, vicepreşedintele Gazprom, Aleksandr Medvedev, l-a contactat pe Leonhard Birnbaum, responsabil penmtru strategie şi achiziţii din partea REW, iar compania germană a promis să ia în considerare oferta, scrie Handelsblatt.
Ziarul comentează că, dacă RWE ar decide să renunţe la Nabucco şi să se alăture South Stream, acesta ar putea însemna sfârşitul Nabucco.
RWE a reacţionat într-un comunicat la articolul publicat de Handelsblatt şi spune că "nu comentează specualţii şi zvonuri de piaţă", însă "proiectul Nabucco este cel care în prezent întruneşte cel mai bine criteriile de investiţii ale RWE, iar proiectul este cea mai bună cale prin care grupul se poate alătura proiectelor deja în derulare în regiunea caspică şi Europa.
La South Stream participă Gazprom şi grupul italian Eni. Proiectul ar trebui finalizat până în 2015. Din proiect fac parte companii din Serbia, Ungaria, Slovenia, Bulgaria, Grecia, Italia şi Croaţia. mai mult
Bursa: Primul participant înregistrat pe Platforma de Tranzacţionare a Certificatelor de Emisii de gaze cu efect de seră
Primul participant înscris pe Platforma de Tranzacţionare a Certificatelor de Emisie de gaze cu efect de seră este compania "Consus" România, potrivit unui comunicat al "Opcom" SA. Aceas ta este membră a grupului de companii "Consus", lider în domeniul serviciilor de tranzacţionare a certificatelor de gaze cu efect de seră şi membru al Asociaţiei de Gestionare a Riscului Meteorologic WRMA.
În intenţia de a oferi operatorilor aflaţi în deficit faţă de obligaţiile de raportare posibilitatea de a-şi îndeplini obligaţiile privind deţinerea de certificate în funcţie de nivelul emisiilor prin cumpărarea de certificate, iar operatorilor aflaţi în exces faţă de obligaţiile de raportare, valorificarea certificatelor deţinute în surplus, "Opcom" SA a lansat la 1 iunie 2010 Platforma de Tranzacţionare a Certificatelor de Emisii de gaze cu efect de seră.
Grupul "Consus" oferă servicii de consultanţă şi tranzacţionare în cadrul Schemei EU-ETS şi al mecanismelor create de Protocolul de la Kyoto, membrii grupului fiind activi în Franţa, Polonia şi România. mai mult
RIA Novosti: Iranian oil minister in Moscow for energy talks
Iranian Petroleum Minister Masud Mirkazemi will meet with Russian Energy Minister Sergei Shmatko during a one day visit to Moscow on Wednesday, the Russian energy ministry said.
Iranian media sources earlier reported that an agreement on the preparation of a road map for cooperation between Iran and Russia in the energy sector is expected to be signed during the visit.
Iranian SHANA news agency on Monday cited Iranian Oil Ministry Official Hussein Ismaili as saying that the road map would lay out a cooperation program between the two countries for the next 30 years. The official also suggested that investors from Iran may be able to invest in the Russian oil and gas industry.
He said the road map would ensure collaboration between Russia and Iran in developing oil fields in both countries, as well as oil and gas fields in third countries.
The road map may also cover issues like oil trade between the two countries, the creation of joint ventures and the establishment of a joint energy bank, the official said.
The UN Security Council approved in June a new package of economic sanctions on Iran over its controversial nuclear program.
Last month Russian senior lawmaker Konstantin Kosachev said new sanctions on Iran would not affect Russia's energy or military cooperation with the Islamic Republic.
Novinite: German Papers: Gazprom Wants to Knock Nabucco Out
German papers Handelsblatt and Die Welt write Tuesday that Russian energy giant is taking concrete steps to hinder the completion of EU gas pipeline Nabucco.
The two papers come out with materials commenting the recent move on the part ofGazprom to invite German energy giant RWE to join rival project South Stream. Up to this point, RWE is serously committed to Nabucco and a switch to South Stream is seen as posing great danger for the completion of EU project.
Handelsblatt has called Gazprom's move "Putin's immoral offer", writing that "Behind the friendly offer are lying unfriendly calculations. Gazprom wants to eliminate a competitor in the bitter fight for future market shares in the European market of gas."
Die Welt, on its part, comes with headlines saying that Gazprom is "driving a wedge" and "causing trouble" for Nabucco. The materials comment that the Russian company is taking advantage of lack of clarity and palpable developments on the European project.
Handelsblatt puts the events in the context of Gazprom growing "nervous" because of developments in the gas markets in the last two years involving frozen prices of gas and better opportunities for diversified deliveries to Europe, including possibilities such as liquefied natural gas and shale gas.
Those conditions endanger a "monopoly" position of Gazprom on European gas deliveries, which would be further complicated by the potential completion of Nabucco.
Handelsblatt quotes an "influential energy-manager" at RWE saying that Gazprom is trying to "blow up" the Nabucco-consortium.
The German paper further draws attention to the opportunities given by shale gas, the extraction of which has been pioneered mainly in the US. It quotes estimates of the US Department of Energy to the effect that the USA have non-conventional gas deposits to satisfy internal demand for the next 90-120 years.
Tuesday the American ambassador in Bulgaria James Warlick presented in Sofia the offer of US company Chevron to drill for shale gas in Bulgaria.
Handelsblatt recalls earlier Gazprom advances to Austrian OMV, which previously supported only Nabucco, and now is involved in both projects, saying Gazprom now wants to achieve a better result with RWE by inducing it to switch sides.
The paper adds to that context the "close friendship" between RWE CEO Jürgen Großmann and Gazprom official (and former German federal chancellor) Gerhard Schröder.
apa.az: Gazprom, RWE in talks over South Stream
Russia's Gazprom has discussed its South Stream pipeline project with German utility RWE sources said on Monday as Russia is stepping up efforts to undermine the rival Nabucco project, Reuters Africa reported.
RWE is one of the key participants of the EU-backed Nabucco, which is meant to help Europe cut reliance on Russian gas.
Sources at both Gazprom and RWE said South Stream, a pipeline that would deliver over a tenth of Europe's gas needs under the Black Sea to southern Europe, had been discussed by the two companies.
"It was just a preliminary discussion, nothing concrete. They are interested in entering the project," a Gazprom source said. An RWE source said the project had been discussed but declined further comment.
RWE refused to comment on the matter, saying it remained committed to Nabucco as "the best project for RWE at the moment".
German paper Handelsblatt reported, citing several unidentified people familiar with the talks, that Gazprom had approached RWE in order to win the company as a partner to the South Stream project.
RWE was still considering the offer, the paper said.
Russia has repeatedly attacked Nabucco — which wants to deliver gas from Azerbaijan, central Asia and Iraq to southern Europe — as a politically-motivated and not economically viable project saying it lacked firm gas contracts.
Moscow has also won a gas imports deal with Azerbaijan and signed another key Nabucco member, Austria's OMV for South Stream although repeatedly denying South Stream was a rival to Nabucco amid growing European gas demand
trend.az: RWE: Nabucco is priority
The German energy concern RWE remains committed to the Nabucco pipeline project despite its intention to review Gazprom's proposal to participate in the Russian South Stream project.
RWE stressed that participation in Nabucco is the priority, as the project meets RWE investment criteria and fits in well with the group's portfolio in Europe, the Caspian region and Turkey.
A source in Gazprom told Reuters that the company's Deputy Chairman Alexander Medvedev discussed South Stream with RWE top management during a telephone conversation last week. The source said the RWE has shown an interest in joining the Russian project.
RWE has been asked by Gazprom to consider joining the consortium to build South Stream.
RWE is one of six shareholders in Nabucco, which is designed to transport gas from the Caspian region and the Middle East to EU countries. The company has a 16.67-percent share. Construction worth 7.9 billion euro is scheduled to launch in 2011. First deliveries are expected to be made in 2014.
Earlier CEO RWE Supply and Trading Stefan Judisch said that in the company's opinion, Nabucco is the only cost-effective initiative for diversifying energy sources in Europe.
RWE is currently conducting intensive and constructive talks with Azerbaijan, northern Iraq and Turkmenistan on gas deliveries to be conducted through the pipeline. RWE also expects to receive an invitation from Azerbaijan to enter concrete negotiations.
RWE previously signed an agreement with Turkmenistan to develop Block 23 in the Turkmen sector of the Caspian Sea. In April, the company announced that it will spend $60-80 million over the next four years to develop the offshore gas block.
South Stream envisages gas supplies from Russia via the Black Sea to southern and Central Europe. The pipeline will be commissioned in 2015. Its maximum planned capacity is 63 billion cubic meters a year.
today.az: Serbia interested in Azerbaijani gas
Serbian petrochemical company located in Pancevo (Serbia) is interested in buying gas from Azerbaijan, Deputy Prime Minister and Minister of Economy and Regional Development of Serbia Mladjan Dinkic said after talks with Azerbaijan's Minister of Economic Development Shahin Mustafayev.
Dinkic also noted that Azerbaijan is interested in buying wagons and carriages.
According to the Azerbaijani State Statistics Committee, the trade turnover between Azerbaijan and Serbia amounted to $260,500 in the first four months of this year.
gazeta.kz: Gas pipeline likely to be built in N Kazakhstan
Kazakh Premier Karim Massimov urged Minister of Oil and Gas Sauat Mynbayev to consider the issue regarding the building of a gas pipeline in North Kazakhstan region.
The Prime Minister within the framework of his working trip to the region met with agricultural producers and discussed the issues regarding development of the sector in the region.
The farmers requested the Premier to build a gas pipeline in the region.
'I will commission the Minister of Oil and Gas to work on this issue', K. Massimov said.
In turn the farmers expressed their gratitude to the Government for the support especially in sowing and harvesting period.
gazeta.kz: KazMunaiGas EP spends $
2

.

2

5

bln on stakes, bonds

KazMunaiGas Exploration Production, the London-traded arm of Kazakhstan's state oil producer, plans to spend $2.25 billion buying stakes in three oil production units as well as bonds from its parent company; Kazinform refers to Bloomberg.

KazMunaiGas EP will pay $750 million for stakes in three oil production units, the Astana-based company said in a statement today. It also "intends to purchase" 220 billion tenge ($1.5 billion) of three-year bonds that will be issued by KazMunaiGaz National Co.

The purchase of the stakes will boost KazMunaiGas's oil production by almost a third, and result in an increase in proven and probable reserves of 406 million barrels. The parent company aims to become one of the world's 30 biggest oil producers by 2015.

KazMunaiGas EP will be able to use the bonds to pay for future acquisitions of the parent's assets, Alexander Gladyshev, head of investor relations, said by telephone from the Astana. The parent company will offset future dividends from the unit against outstanding bonds.

KazMunaiGaz National confirmed that it is considering the transfer of a number of new exploration blocks to KazMunaiGas EP later this year; Kazinform cites Bloomberg Business Week.
georgiandaily.com: Is Gazprom Waiting to Pounce on a Piece of a Georgian Pipeline?
An effort to remove Georgia's North-South gas pipeline from a list of strategic state-owned properties is stirring controversy. Officials in Tbilisi maintain that full privatization of the pipeline is not an option, but some economic analysts contend that even the projected sale of a minority stake in the route could threaten Georgia's energy security.
During a second reading on July 13, the Georgian parliament approved amendments to privatization legislation that would strip the pipeline of its protected category as a "strategic object." The amendments must go through a third reading before receiving final parliamentary approval.
MP Lasha Tordia, one of the proposal's sponsors and a member of the governing United National Movement, has argued that designating the trunk pipeline as a "strategic" asset is an outdated concept. The time has come for a "conceptual change" in how such assets are viewed, he declared at a July 12 round-table on the proposal, sponsored by the Open Society Georgia Foundation in Tbilisi.
"[W]e had no electricity and gas when the gas and electricity distributions were under state ownership, but this issue is solved now when they are in private ownership," Tordia said. "Thus, this object [the pipeline] can also be in private ownership." He rejected an assertion that the idea to sell off a stake in the pipeline was connected to a government budget deficit.
Prime Minister Nika Gilauri, a former energy minister, is on record as being a steadfast opponent of giving private owners a majority stake in the pipeline. But he conceded that 10-15 percent of the pipeline could be offered via the London Stock Exchange in the next few years.
Most Georgian critics of the amendments have focused on the possibility of the Russian state-controlled behemoth Gazprom gaining a stake in the pipeline, which carries Russian gas to Armenia. The energy giant had expressed interest in such a deal back in 2005, reportedly offering as much as $250 million for the pipeline. A $49.5-million energy infrastructure rehabilitation project from the US-run Millennium Challenge Corporation helped derail those Gazprom negotiations.
In Armenia, which depends on the pipeline for its gas supplies from Russia, many are worried about the possibility that an Azerbaijani buyer could come forward. Armenia and Azerbaijan have tangled for more than 20 years over the Nagorno-Karabakh territory, and an Azerbaijani stake in the pipeline would be viewed in Yerevan as a possible instrument of coercion in the peace process. [For background see EurasiaNet's archive].
Aside from its cooperation with Tbilisi on the Baku-Ceyhan-Tbilisi and Baku-Erzurum pipelines, the State Oil Company of the Azerbaijani Republic (SOCAR) has a sizeable presence in Georgia's retail gasoline market, and it is working to ship natural gas to the Black Sea port of Poti.
In Baku, SOCAR's interest in the Georgian pipeline is widely viewed as tepid at best. Azerbaijani media outlets reported in early July that KazMunaiGas, a state-run Kazakhstani company, had opened negotiations about acquiring a stake in the Georgian pipeline. KazMunaiGas already runs Tbilisi's gas distribution network and also owns an oil terminal in Batumi. Georgian Energy Minister Aleksandre Khetaguri denied the reports.
"No privatization of the main gas pipeline is being discussed at the moment, neither with the Kazakhs nor with anybody else," Khetaguri told EurasiaNet.org. "Removal of the gas pipeline from the list of strategic objects never meant that it would be privatized. Only 10-15 percent of it can be divested via the LSE as the prime minister stated, and only in about two to three years."
KazMunaiGas representatives were unavailable for comment. But many Georgian economic and energy analysts consider selling stakes in the pipeline a non-starter.
"The Georgian trunk pipeline is a political rather than an economic asset and it behooves the government not to divest it," asserted economic analyst Shota Murghulia. "The entire world, including America, recognizes objects of strategic importance and I cannot understand why we play down this issue. This pipeline is a tool for bargaining with Russia that it is vitally interested to use to supply Armenia, its political ally."
At the Open Society Georgia Foundation round-table, opposition MPs called for the insertion of language into the amendment that would explicitly prohibit private investors from acquiring controlling stakes in state property assets. Minister Khetaguri told EurasiaNet.org that there was no need for such measures since divesture of more than 75 percent of the pipeline is banned under the law. That provision, however, has done little to reassure the opposition. [Editor's Note: The Open Society Georgia Foundation is part of the Soros Foundations network. EurasiaNet.org operates under the auspices of the Open Society Institute, a separate part of the network].
The Millennium Challenge program to upgrade the pipeline "prohibits its divesture until the compact is finished [in April 2011]," said Vato Lezhava, an adviser to the prime minister. A US Agency for International Development project to enhance gas supplies to Poti "also prohibits divesture of the North-South pipeline for several years," he said.
In response to critics, MP Todia asserted that "[e]ven if Russia owns it, I see no danger as you do." Russian, Kazakhstani and Czech companies' ownership of various parts of Georgia's energy network means that no single company can gain a strategic hold on the sector, he claimed.
Georgia's talk of a limited sell-off could be a trial balloon designed to gauge international interest, suggested energy analyst Liana Jervalidze. As other players enter the South Caucasus energy market, that interest is likely to extend beyond Russia. "I do not exclude that Armenia, Kazakhstan, even Iran or some other investor would bid for these assets," Jervalidze noted.
www.jamestown.org: Gazprom Counters Nabucco's Advancement by Lobbying for South Stream
Russia's Gazprom has proposed to the German RWE company to join Gazprom's South Stream pipeline project. According to German business press reports, Gazprom Vice-President, Aleksandr Medvedev, has approached senior RWE management with this proposal. RWE, however, is a stakeholder in the EU-backed Nabucco project. Gazprom's move is seen as "intensifying Russia's fight against Nabucco." RWE has withheld all but a tersely skeptical comment (Handelsblatt, July 11).
It might equally be described as a desperate move to stop Nabucco's material progress by countering with a virtual project. With no identified gas volumes in Russia or elsewhere to supply its declared annual capacity of 63 billion cubic meters (bcm), and no financing anywhere for its declared cost of $25 billion to $30 billion, South Stream cannot be taken seriously as a gas supply and transportation project, nor as a bankable project. Its initial planning assumption (2006-2007) had been the Russian monopsony on Turkmen gas, but Russia has clearly lost that advantage.
Russia currently promotes South Stream in Europe as a political and lobbying project: First, to discourage private-sector investment in Nabucco (or achieve a comparable result by making South Stream eligible for EU funding). Second, to threaten Ukraine with shifting Russian gas transit from Ukrainian pipelines into South Stream, unless Kyiv agrees to share control of its transit system with Gazprom. Third, by blocking Nabucco, to preclude Azerbaijan's free access to European gas markets, compelling it to export its gas through Russia-approved pipelines. And fourth, to cut off Turkmenistan from accessing Nabucco and other planned pipelines in the EU's Southern Corridor, thus regaining control over a portion of Turkmen gas production.
To create an appearance of forward movement, Moscow has multiplied invitations into the South Stream project, with corresponding gas supply offers, to countries and companies in recent weeks. In the process it constantly reconfigures the project's geography –thus further sapping its credibility– while playing off the transit countries against each other. The Russian government and Gazprom are currently in talks with almost a dozen would-be partners in South Stream, without identifying any source of gas for the project (EDM, June 14, 18, 22, 23).
Gazprom's approach to RWE, however, is qualitatively different. There, Moscow is targeting a supply source for the Nabucco and future Southern Corridor projects. RWE is the first major European company with a production-sharing agreement to develop offshore gas in Turkmenistan. The same company plays a lead role in devising a trans-Caspian transportation link from Turkmenistan to Azerbaijan, for feeding into the Nabucco pipeline. Turkmenistan last year committed 10 bcm annually to Nabucco from existing production, pending a transportation solution.
Azerbaijan has a comparable gas volume available for Nabucco's first stage. The agreements on gas supplies and transportation, signed by Azerbaijan and Turkey in April and June, have finally opened the way for gas transit through the Nabucco pipeline to Europe. Thus, gas inputs into Nabucco's first stage are assured, assuming construction starts in 2011 for completing the pipeline's first stage by 2015. Nabucco's second stage counts on Azerbaijani gas supplies from the Shah Deniz field's second phase of development, as well as Turkmen gas from that country's growing production.
In a potential breakthrough for the EU-planned Southern Corridor, Turkmenistan has just commissioned the East-West pipeline on its own territory, from gas fields in the country's east to the Caspian coast. Financed by Turkmenistan from its own resources, the line should bring 30 bcm of gas annually to the coast, all available for transportation westward, subject to a European transportation solution by 2015 (EDM, June 2).
Kurdish authorities in northern Iraq are also interested in supplying the Nabucco pipeline. The regional administration's head, Barham Ahmed Saleh, and other officials are cited as offering as much as 14 to 15 bcm annually from the Kurdish region's future gas production to supply the Nabucco pipeline. However, Regional Kurdish authorities and the central government in Baghdad have yet to resolve their differences over gas exports from northern Iraq (Frankfurter Allgemeine Zeitung, July 12).
Inputs of that magnitude from northern Iraq, combined with Azeri and Turkmen inputs, could ensure the operation of several pipelines in the Southern Corridor to Europe. On the other hand, field development in the gas producing countries must be stimulated through European commercial offers and transportation solutions.
Gazprom is attempting to block those offers and solutions by attempting to disrupt the Nabucco consortium. The proposal for RWE to join South Stream is the latest move in this regard. The Nabucco consortium is headed for the investment decision, to be announced before the end of the current year. As that date draws nearer, Moscow can be expected to obstruct it by lobbying for South Stream in Europe.
www.upstreamonline.com: Ex-Naftohaz official held in criminal probe
A former top official of Ukraine's state energy holding Naftohaz and ally of former Prime Minister Yulia Tymoshenko has been detained in a criminal probe, the SBU state security service said today.
Ihor Dydenko, former first deputy head of Naftohaz, was being investigated for embezzlement and abuse of office, a SBU spokesman told Reuters.
In January 2009, Dydenko signed on behalf of Naftohaz a key agreement with Russian gas giant Gazprom ending a three-week conflict over prices and conditions which affected Russian gas supplies to households in Western Europe.
The deal was denounced by allies of then opposition leader Viktor Yanukovich who said it allowed too high a price for Russian gas and Dydenko lost his job soon after Yanukovich came to power in February, beating Tymoshenko.
Tymoshenko, who says she has since become the victim of "political repression" by her rival, last month said another ally, former customs service chief Anatoly Makarenko, had been detained in a probe into a gas trading scheme.
Tymoshenko said Makarenko was detained as part of an investigation into dealings between her government and RosUkrEnergo, a Swiss-based company which had acted as an intermediary in gas deals between Gazprom and Naftohaz.
A Swedish arbitration court ruled in June that Naftohaz owes RosUkrEnergo 11 billion cubic metres of gas that was taken from it last year.
Tymoshenko is herself the target of a 2004 bribery criminal case re-opened in May by the prosecutor's office.