energia.gr: Gazprom Sees 2011 Europe Exports 151.5 BCM -Analyst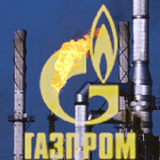 Russia 's OAO Gazprom (GAZP.RS), the world's biggest producer of natural gas, said Friday it plans to export 151.5 billion cubic meters of gas to Europe in 2011, an analyst attending the company's investor day meeting told Dow Jones Newswires.
The company also said it saw 2011 capital expenditure at $24 billion, the analyst said.
Gazprom's dividend payout ratio will remain between 17.5% and 35%, the company told investors.
Gazprom said it expects to sign a gas contract with China by mid-2011, and that its Altai pipeline would begin deliveries to China by the end of 2015, while its east corridor pipeline would start deliveries to China after 2017, the analyst said.
Gazprom wasn't immediately available for comment
RIA Novosti: Gazprom, EU may reach agreement before energy laws come in force
Russia's gas giant Gazprom and the European Union may find a common language before EU's legislation regulating relations in the energy sector come in force in March, Sergei Komlev, head of the contract structuring and pricing department of Gazprom Export, said on Friday.
"Although I do not think that our interests and those of Eurogas fully coincide, there are issues where we can join forces to adjust some provisions of the third energy package to minimize negative consequences for the Russian Federation and Gazprom," Komlev told a meeting of Russian Gas Society non-commercial partnership.
The European Union's third energy package orders the separation of gas sales and transportation businesses and requires provision of access for third parties to gas transportation facilities.
Gazprom, which supplies Europe with a quarter of gas it consumes and also extracts and pumps gas, strongly opposes the measure, saying it will deprive the gas transportation system of investment.
The third energy package will come in force in EU states on March 3.
Komlev said the enforcement of the legislation would mean revision of long-term contracts and endanger Gazprom's property rights for its transportation system in Europe.
RIA Novosti: Russia's Gazprom says to double European storage capacities by '15
Russia's state-controlled gas export monopoly Gazprom plans to nearly double its European underground gas storage facilities by 2015 to 4.9 billion cubic meters, Gazprom said on Thursday.
"Successful implementation of the … projects will help Gazprom significantly boost its European underground gas storage facilities and raise their capacity to 4.9 billion cubic meters of active gas and 65.7 million cubic meters of daily output by 2015," the gas giant said in a statement.
In 2006-2010, the capacities expanded to 2.5 bcm from 1.4 bcm, while daily output rose to 30 million cubic meters from 18.2 million cubic meters.
Gazprom operates gas storage facilities in Austria, and leases facilities in Britain, Germany and France.
"Gazprom's board has decided it is reasonable to increase capacities of underground gas storage facilities abroad to no less than 5% of annual exports before 2030 with the creation of own capacities as a priority," Gazprom said.
Gazprom is working on launching the second stage of the Haidach storage facilities in Austria to increase its capacities to 2.8 bcm from 1.3 bcm. Haidach supports Russian gas supplies to the Baumgarten gas hub, and for consumers in Slovenia, Croatia, Hungary, Austria, Germany, Slovakia and Italy.
In Germany, Gazprom, jointly with VNG, is building Katarina storage with an installed capacity of 629 million cubic meters. Katarina will support gas exports to Western European hubs of Mallnow, Waidhaus, Gaspool, NCG and via the Nord Stream pipeline.
Gazprom and Serbijagaz have jointly built Banatsky Dvor storage facility, which will support Russian gas exports to Hungary, Serbia, Bosnia and Herzegovina.
In the Netherlands, Gazprom plans to get 1.9 bcm storage volume in Bergermeer Gas Storage. Bergermeer is expected to maintain work of the Nord Stream pipeline.
Gazprom is also carrying out feasibility studies on joint storage projects in the Czech Republic, France, Romania, Belgium, Britain, Slovakia, Turkey, Greece and other countries.
RIA Novosti: Gazprom Neft 2010 net profit up 8% to $3.2 bln
Gazprom Neft, the oil arm of Russia's energy giant Gazprom, boosted net profits 8% to $3.2 billion in 2010 to US GAAP, the firm said on Friday.
Gazprom Neft, Russia's fifth largest oil company saw 2010 revenues rise 36% to $32.772 billion year-on-year, the company said in a statement.
EBITDA grew 21% year on year to $7.226 billion.
Gazprom Neft's cash flow from operations jumped 55% to $5.392 billion.
The company's fourth quarter net profit increased by 1% on the third quarter to $873 million, while revenues in October-December grew 8% on the previous quarter to $9.063 billion. EBITDA rose 3% on the previous quarter to $2.079 billion, while operating cash flow jumped 45% on the previous quarter to $1.073 billion.
Gazprom Neft attributed the higher quarterly and annual EBITDA figures to higher refinement volumes, higher prices for oil products, and larger sales volumes in the premium distribution channels.
Revenue growth was due to higher output and refinement of hydrocarbons, and to higher oil prices, the company said.
"In 2011, management will concentrate on maintaining production at current fields, developing major upstream projects in Russia and abroad, integrating new acquisitions into Gazprom Neft's structure, modernizing refining assets and extending the ácompany's retail network," President Alexander Dyukov said.
RIA Novosti: Inter RAO to open representative office in UAE
Russian state-controlled power trader Inter RAO UES will open its representative office in Abu Dhabi, the United Arab Emirates, on Sunday.
The company is boosting its presence on foreign markets — in the Middle East and Latin America.
Inter RAO UES controls a number of generating and distributing energy assets in Russia and abroad. The gross installed capacity of the company's power plants totals 18 GW.
RIA Novosti: Russia's Inter RAO eyes electricity JV with Syria
Russian state-controlled power trader Inter RAO UES is planning a joint venture with Syria in power supplies, head of the company Boris Kovalchuk said on Sunday.
"We have a project on building a joint venture in power supplies both with Syrian and Turkish partners," Kovalchuk said at the opening of a representative office in Abu Dhabi, the United Arab Emirates.
Inter RAO UES has also plans to modernize the Al Hiswa Power Station in Yemen by increasing its capacity from 50 MW to 125 MW, Kovalchuk said. The project is evaluated at around $100 million.
Other plans include the construction of a power generation and oil shale complex as well as the Al-Kamshah wind farm in Jordan and restoring a hydroelectric power plant with the capacity of 670 MW in Iraq, he said.
The company is boosting its presence on foreign markets – in the Middle East and Latin America.
Inter RAO UES controls a number of generating and distributing energy assets in Russia and abroad. The gross installed capacity of the company's power plants totals 18 GW.
RIA Novosti: TNK-BP, Gazprom Neft buy operator of Yamal oil and gas deposits
Russian-British joint venture TNK-BP and Gazprom Neft, the oil arm of the country's energy giant Gazprom, have bought equal stakes in Messoyakhaneftegaz, operator of the Messoyakh oil and gas deposits, from their subsidiary Slavneft, Slavneft said on Friday.
Gazprom Neft and TNK-BP said in January that their investment in the development of the deposits might amount to $15-18 billion.
Reserves of the Messoyakh deposits, located in the oil and gas rich Yamal peninsula in Russia's north, are estimated at 560 million tons of oil and 230 billion cubic meters of gas under C1+C2 category.
Novinite: Burgas-Alexandroupolis Pipeline Project Might Be Terminated-Report
The project for the construction of the Burgas-Alexandroupolis oil pipeline is expected to be terminated because Bulgarian shareholders have not performed their financial obligations.
The statement was made Wednesday by Plamen Rusev, ex-director of Bulgarian branch of the project company, Trans-Balkan Pipeline, the joint Bulgarian-Greek-Russian venture that should construct and manage the pipe, the Bulgarian National Radio reported.
"I can confirm that the project is going to an end and this is a good outcome at present because Bulgaria's failure to pay its obligations has created tension between shareholders, As a result, Greece stopped paying its obligations too. You cannot have only one side paying. There has to be a balance," Rusev said.
He added that the final decision on the future of Burgas-Alexandroupolis will be made at a meeting of all shareholders in Rome on February 17.
According to Rusev, the direct damages for Bulgaria at this moment are about BGN 15-20 M, as the obligations of the Bulgarian shareholders are. The money would have to be paid by the Bulgarian Finance Ministry, since it has taken the responsibility for the project.
The indirect damages cannot be calculated, according to the ex-director of Trans-Balkan Pipeline. He said that the other countries might demand compensations over Bulgaria's violation of the international agreement, which could reach up to BGN 200-300 M.
"The most unpleasant thing is that Bulgaria has already lost about EUR 800 M," Rusev said.
Bulgaria's Economy Minister Traicho Traikov has stated he did not know anything about Russia writing off the project. He said, however, that in his opinion Russia is trying to pressure Bulgaria with regards to the Belene nuclear power plant project.
In December 2010, Mikhail Barkov, Vice President of the Russian oil companyTransneft, said that Bulgaria has failed to pay the EUR 6 M that it owes as its contribution to the joint project company with Greece and Russia, but it has pledged to pay its dues by December 15, 2010.
Experts have stated that Bulgaria might escape paying compensations if it withdraws the project on the basis of a negative environmental assessment.
In November 2010, the Bulgarian Environment Ministry said the environmental impact assessment of the Burgas-Alexandroupolis oil pipeline is inadequate and needs to be reworked; the ultimate decision about whether Bulgarian will take part in the project is expected after the results of the environmental assessment, which is to be revealed in February 2011.
Bulgarian Prime Minister Boyko Borisov, however, has written off the project on a number of occasions, declaring that there is no way the ultimate environmental assessment would be positive.
The 280-km pipeline, with 166 km passing through Bulgaria, would have an initial annual capacity of 35 million tons of crude oil, which could be later expanded to 50 million tons. Its costs are estimated at up to USD 1.5 B, up from initial estimates at USD 900 M.
The Trans-Balkan Pipeline company, which is in charge of the construction and subsequent operation of the future pipeline, and is headquartered in the Netherlands, was set up in 2008.
The Russian participant in the project, Pipeline Consortium Burgas-AlexandroupolisLtd, has a share of 51%. It was founded jointly by three companies: AK Transneft(33.34%), NK Rosneft (33.33%), and Gazrpom Neft (33.33%).
The Bulgarian Joint stock company "Project Company Oil Pipeline Burgas-Alexandroupolis – BG" AD has a share of 24.5%. It was initially founded as jointly by two state companies, Bulgargaz (50%) and Technoexportstroy (50%) but was transferred in full to the Finance Ministry in February 2010.
The Greek participants are Helpe Thraki AE with 23.5% and the Greek government with 1%. The Helpe-Thraki AE was founded jointly by "Hellenic Petroleum" (25%) and "Thraki" (75%).
Three Bulgarian Black Sea municipalities – Burgas, Pomorie, and Sozopol – have voted against the pipe in local referendums over environmental concerns.
Municipalities neighboring Pomorie and nearby Burgas are also harboring fears that the pipeline could damage their lucrative tourism business, while environmental NGOs have branded the existing plans to build an oil terminal out at sea a disaster waiting to happen.