apa.az: New contract about transport of compressed gas via Azerbaijan-Georgia-Romania route signed – 

UPDATED
Tbilisi. Nizami Mammadzadeh – APA. The officials of Azerbaijan, Georgia and Romania met in Tbilisi, today.
According to APA's Georgia bureau, the sides signed protocol about the transport of Azerbaijani compressed gas European Countries through Georgia and Romania. Then, the ministers discussed the construction of terminals for assembling of gas.
According to Georgian Energy Minister Alexander Khetaguri, the ministers discuss the possibilities of transport of Azerbaijani gas to European countries through Georgia and Romania.
The Minister for Industry and Energy of Azerbaijan Natig Aliyev says that, Azerbaijan Georgia and Romania will establish new company with the initiative of Romanian president. Azerbaijani president Ilham Aliyev supported this project.
Azerbaijani, Georgian and Romanian Companies will establish joint company in Bucharest, Romania, he added.
Georgian Energy Minister Alexander Khetaguri says that, the terminal for compressing of Azerbaijani gas expected to be constructed in Kulevi terminal. The worth of project is € 4-6 bln. The second terminal will be built in Romania.
trend.az: Azerbaijan, Georgia, Romania sign agreement to establish JV
Georgia, Azerbaijan and Romania have signed an agreement on the establishment of a joint venture (JV) on the project of a new way of transporting Azerbaijani gas to Europe today.
Tbilisi hosted a ministerial on the implementation of the Georgian-Azerbaijani-Romanian project on the transportation of Azerbaijani liquefied natural gas to Europe May 12. The ministerial will be attended by Azerbaijani energy minister Natig Aliyev, his Georgian counterpart Alexander Khetaguri and Romanian Minister of Economy, Trade and Business Adrean Vidianu.
The parties agreed that the new JV deal will specific questions on the project.
"This facility will deal with involving funding for the project and the creation of feasibility studies," Khetaguri said. The new JV will be established within 30 days.
The project involves the delivery of natural gas from Azerbaijan to Georgia to the Black Sea coast, where will build a factory for processing natural gas into liquefied natural gas. Then it will be delivered to via the tankers Romania, where also will be built re-gasification plant.
"This is a very important project and it will further diversify the Azerbaijani gas to Europe. We believe the diversification of the oil and gas supply routes to Europe is one of the most urgent problems" Aliyev said.
Khetaguri said all the transit routes that pass through its territory are important for Georgia "These are the economic benefits and increase of our energy security," he said.
Vidianu said the Azerbaijani gas will ensure the Europe with energy in certain measures.
"Romania intends to play an active role in this process and this project is part of this policy," he added.
Romania, Azerbaijan and Georgia signed a memorandum on cooperation in the field of transportation of liquefied gas in Bucharest April 13.
money.ro: Videanu vrea să listeze Romgaz la Bursă în 9 luni, cu 10-15% din acţiuni
Ministrul Economiei
Adriean Videanu
, a declarat că în perioada următoare se va demara procedura de evaluare şi documentaţia necesară pentru ca în nouă luni să listeze la Bursa de Valori Bucureşti (
BVB
) un pachet de 10-15% din acţiunile
Romgaz
.
"Listarea Romgaz va resuscita totodată şi Bursa de Valori Bucureşti. Totodată, după înfiinţarea celor două mari companii din sectorul energetic, când vom avea un istoric de şase luni al acestor companii, dorim să listăm şi aceste două companii pe Bursa de Valori Bucureşti", a spusAdriean Videanu, în cadrul unei conferinţe de presă susţinută în această dimineaţă.
Adrian Videanu a declarat că listarea Romgaz la bursă este un proiect vechi de câţiva ani, ce face parte din Strategia energetică a României. Ministrul Economiei estimează că listarea Romgaz va resuscita Bursa de Valori. Videanu a anunţat că, alături de compania de gaze, vrea să aducă pe bursă şi cele două mari companii din sectorul energetic.
Romgaz asigură, alături de OMV Petrom, aproximativ două treimi din producţia naţională de gaze. Ministerul Economiei este principalul acţionar, cu 85 la sută din titluri, iar Fondul Proprietarea deţine restul de aproape 15 la sută.
money.ro: Gazprom a informat Romgaz că ruşii încă analizează informaţiile furnizate despre depozitele de gaze
Gigantul rusesc Gazprom, cel mai mare producător de gaze naturale din lume, a informat producătorul de gaze din România, Romgaz, printr-o scrisoare în 6 mai, că grupul de specialişti ruşi încă mai analizează informaţiile tehnice furnizate de Romgaz în martie legate de depozitele de gaze naturale.
De asemenea, în ceea ce priveşte data următoarei întâlniri dintre cele două părţi, precum şi locul de desfăşurare, acestea "vor putea fi stabilite doar după ce Gazprom finalizează procesul de analiză", potrivit datelor transmise de Ministerul român al Economiei, Comerţului şi Mediului de Afaceri (MECMA), la solicitarea NewsIn.
Referitor la colaborarea dintre Gazprom şi Romgaz, ministrul Adriean Videanu spunea la 19 februarie că aceasta vizează alte zece depozite de înmagazinare a gazelor naturale, în afară de proiectul celui de la Roman-Mărgineni. Potrivit lui Videanu, aceste depozite ar avea o capacitate cumulată între 2-6 miliarde metri cubi gaze. Totodată, nu fac obiectul colaborării cu ruşii acele depozite care deja se află în exploatare.
Ministrul a mai spus atunci că Gazprom este interesată să colaboreze cu Romgaz în privinţa exploatării unor zăcăminte de gaze în afara României, în ţări precum Rusia, Turkmeninstan, Azerbaidjan sau Irak. Totodată, Adriean Videanu a mai spus că Gazprom a răspuns pozitiv la invitaţia de a realiza proiecte de producţie de energie electrică pe bază de gaze.
Principalele teme ce sunt dezbătute de partea rusă şi cea română în ultimul an vizează trei teme majore, şi anume posibilitatea importului direct de gaze din Rusia, dezvoltarea capacităţilor de înmagazinare pe teritoriul României, precum şi condiţiile pentru dezvoltarea reţelei de tranzit.
EVZ: Rusia tânjeşte după sectorul energetic românesc
Noua doctrină de politică externă pe care Moscova o va promova cu scopul de a moderniza statul şi consolida relaţiile economice cu Occidentul cuprinde şi un paragraf dedicat României, potrivit textului publicat pe site-ul ediţiei ruse a revistei "Newsweek".
Experţii Ministerului de Externe recomandă implicarea tot mai puternică a firmelor ruseşti în domenii strategice ale economiei româneşti, precum cel energetic, în sectoarele metalurgiei feroase şi neferoase, chiar şi prin participarea la procesul de privatizare a întreprinderilor rămase încă în administrarea statului. 
Proiecte de interes
Rusia ar trebui, în egală măsură, să îşi consolideze cooperarea cu România în sectorul gazelor, aici fiind incluse şi gazele ruseşti care tranzitează teritoriul ţării noastre, prin construirea şi utilizarea în comun a unor depozite subterane pe teritoriul românesc.
De asemenea, Moscova mai doreşte să participe la implementarea unor proiecte energetice din ţara noastră: reconstrucţia şi modernizarea centrelor generatoare de electricitate dotate cu echipament sovietic, construcţia de centrale termoelectrice moderne, dar care să fie ulterior exploatate în comun, construcţia unei a doua centrale nucleare şi, în final, asigurarea unui sistem de tranzit a energiei electrice către terţe state.
Ultima recomandare care vizează România este cea privind încheierea unui acord asupra proprietăţii intelectuale, care ar trebui să fie suplinit de eforturi comune de soluţionare a problemei legate de producţia în fabricile româneşti a armamentului sub licenţă sovietică. În ceea ce priveşte Bulgaria, documentul recomandă o cooperare mai strânsă în sectorul nuclear.
Vocea Rusiei: În Europa creşte interesul pentru gazele ruseşti
Foto: RIA Novosti
Gazprom îşi măreşte extragerea de gaze pe fundalul refacerii cererii de gaz în Rusia şi Europa. Exportul de gaze a crescut de peste două ori. De la începutul anului, unul din cei mai activi cumpărători ai combustibilului a fost Marea Britanie.
Şeful companiei Gazprom, Aleksei Miller, a declarat că în primele 4 luni ale anului în curs piaţa rusească internă demonstrează o creştere stabilă. Livrările de gaze au atins cota de 103% faţă dinainte de criză 2008. Aleksei Miller a subliniat că în unele ţări creşterea livrărilor de gaze a depăşit 40%. Cea mai bună dinamică a exportului se înregistrează în Marea Britanie, unde livrările de gaze au crescut cu practic 50%. Aceasta este o confirmare serioasă a planurilor concernului Gazprom ca până în anul 2013 să depăşească volumul de până la criză al extragerii de gaze.Dmitri Aleksandrov, şeful Secţiei de cercetări al Companiei "Univer", una dintre cele mai mari companii de investiţii din Moscova, consideră că refacerea economiei după criză este tot mai evidentă.
"Într-o serie de sfere noi ne-am apropiat de nivelul de până la criză. Observăm o creştere puternică a cantităţilor de gaze extrase. Şi toate acestea ne dau temeiul să afirmăm că, în ansamblu, sectorul real al economiei se reface destul de intens. Chiar dacă în echivalentul bănesc lucrurile nu stau întotdeauna aşa, în natură se observă o creştere evidentă. Principala cauză a creşterii constă în faptul că el se calculează de la nivelurile foarte scăzute de anul trecut. A doua cauză are legătură cu sectorul real, chiar şi în sectorul privat are loc o creştere a cererii…"
În lume se simte refacerea vieţii financiaro-economice, de aici şi creşterea cererii de combustibil. Iar Gazprom dă de înţeles că, respectând obligaţiile contractuale, este gata să deschidă noi trasee de livrare. Creşterea economică generală influenţează pozitiv nu doar livrările de gaze. De exemplu, de la începutul anului extragerea de gaze de către grupul de companii "Gazprom Nefti" a crescut cu aproape 10%.
RIA Novosti
: Turkey expects Russia to cover 70% of Turkey's oil and gas needs
Turkey expects Russia to cover 70% of Turkey's requirements for oil and gas, Turkish Prime Minister Recep Erdogan said on Wednesday.
"As for the export of gas and oil to Turkey, Russia will cover 70% of Turkey's needs for these energy sources and now we are taking efforts to implement these undertakings," Erdogan said at a joint press conference with his Russian counterpart Dmitry Medvedev.
RIA Novosti
: Joint Russian-Turkish NPP construction deal to be sent to parliament in days – Turkish minister
The agreement on cooperation with Russia in the construction of Turkey's first nuclear power plant will be sent for ratification to the Turkish parliament within the next 7-10 days, Turkish Energy Minister Taner Yildiz said on Wednesday.
Russian President Dmitry Medvedev paid an official visit to Ankara on Wednesday to sign deals including on the construction of a nuclear power plant and the Samsun-Ceyhan oil pipeline.
Russian Deputy Prime Minister Igor Sechin told journalists in Ankara that over $20 billion will be invested in the construction of Turkey's first nuclear power plant.
An international consortium consisting of Russia's nuclear power equipment and service export monopoly Atomstroyexport, electricity export company Inter RAO UES and Turkish Park Teknik won a tender for the construction of Turkey's first nuclear power plant in June 2009.
The consortium proposed building four nuclear power units with a capacity of 1.2 GW each under a Russian project. The nuclear power plant was expected to be built near the Mediterranean port of Mersin in the Akkuyu area and put into operation in 2016-2019.
"The nuclear energy deal opens a new page in cooperation between our states," Medvedev said.
trend.az: EGL Management Board member: TAP to be best project for Azerbaijani gas supply to Europe
Trans Adriatic Pipeline (TAP) from an economic point of view is the best project for the supply of Azerbaijani gas to the European markets, member of the Management Board at the Swiss EGLMarkus Brokhof believes. Azerbaijan wants to sell its gas on more economically profitable conditions, and in this case, the TAP project is the best one" Brokhof said at the meeting in the Ministry of Industry and Energy in Baku.
According to members of the Swiss delegation, the final results of an agreement between Azerbaijan and Turkey on the gas issue will contribute in the next few months to clarify the situation with the transport of Azerbaijani gas to the European markets, in particular within the TAP project.
TAP, which is part of the Southern Corridor project, is designed to transport gas from the Caspian region and the Middle East to Europe. The pipeline will begin in Greece and pass through Albania and the Adriatic Sea to Italy. The length of the pipeline is 520 kilometres. The initial capacity of the pipeline is 10 billion cubic meters, maximum – 20 billion cubic meters a year. Norwegian Statoil and Swiss EGL are shareholders of the project.
According to Brokhof, by end of May the EGL Company plans to open representation in Baku and at present registration works are underway.
energia.gr: Russia Ready To Discuss Merging Rival Oil Pipelines – Report

Russia plans to propose merging the Kremlin-backed Burgas-Alexandroupolis oil pipeline and the Turkish Samsun-Ceyhan pipeline once Bulgaria clarifies its stance on the first project, Russian news agency RIA Novosti reports on its website Wednesday, citing Russia 's energy minister.
"As soon as the Bulgarian government demonstrates its readiness to implement the project and take practical steps, we, on our part, will propose discussing the merger of these two projects," Sergei Shmatko is quoted as saying.
Shmatko is part of a Russian delegation currently in Turkey discussing joint energy projects.
The implementation of the Burgas-Alexandroupolis project–to pump Russian and Caspian oil to the Greek Aegean port of Alexandroupolis via the Bulgarian Black Sea port of Burgas under an agreement between Russia , Greece andBulgaria –has been practically stopped over the stance assumed by Bulgariaseeking improved economic and environmental terms, Shmatko said.
energia.gr: South Stream not Depend from Gazprom-Naftogaz Possible Merger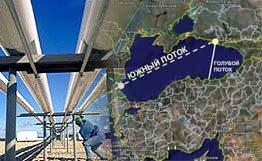 The parameters of the South Stream gas project do not depend from a possible merger of Gazprom and Naftogaz Ukrainy, this issue will depend from the results of a feasibility study, Energy Minister Sergei Shmatko, who is accompanying Russian President Dmitry Medvedev in his ongoing visit in Syria, told reporters on Tuesday.
He noted that the South Stream project and a possible merger of Gazprom and Naftogaz are not connected with each other. "South Stream is absolutely a matter of principle for us, the strategic transition to direct supplies for European consumers," the minister said. According to him, the South Stream parameters were discussed with the countries involved in the major gas project.
Shmatko noted that a feasibility study should show how flexible "will be the link between the cost of the gas pipeline and the gas volumes."
In reply to a question whether the South Stream project may be suspended Shmatko gave the negative answer. "What for?" he exclaimed.
"If we can make massive gas supplies to Europe at acceptable prices we will be competitive. As far as I am concerned Europe needs additional 100-120 billion cubic meters of Russian gas," the minister pointed out.
The South Stream gas pipeline, which should loosen the dependence of suppliers and consumers from the transit countries, particularly from Ukraine and Turkey, will be laid along the Black Sea bottom from Novorossiisk to the Bulgarian port of Varna. In the future its two spur lines will run across the Balkan Peninsula to Italy and Austria.
The investments in the project are estimated at 25 billion euros. The gas pipeline is scheduled to be commissioned by 2015. The gas pipeline with the annual throughput capacity of 63 billion cubic meters is planned to export about 35% of Russian gas to Europe.