standard.ro: Contract de 269 mil. dolari semnat între Gazprom şi Grup Servicii Petroliere
Grup Servicii Petroliere, companie controlată de omul de afaceri Gabriel Comănescu, va construi pentru gigantul rus Gazprom o conductă de gaze pe sub Marea Neagră, ce va deservi şi oraşul Soci, gazda Jocurilor Olimpice de Iarnă din 2014, contract a cărui valoare este de 269 milioane de dolari.
"Este singurul contract pe care Grup Servicii Petroliere l-a semnat până acum cu o companie petrolieră rusă. Nu este însă primul pe care Upetrom, grup din care face parte şi GSP, îl perfectează cu o companie din piaţa rusă. Am participat la o licitaţie internaţională, împreună cu jucători mari din Italia şi din Emiratele Arabe Unite, pe care am câştigat-o, contractul fiind semnat pe 19 noiembrie", a declarat ieri pentru Business Standard Radu Petrescu, directorul de comunicare al grupului. Potrivit acestuia, piaţa rusă este al treilea partener principal pentru Upetrom 1 Mai Ploieşti, producător de instalaţii de foraj pe uscat, membru al grupului Upetrom.
Radu Petrescu spune că Upetrom 1 Mai Ploieşti exportă aproximativ 80% din producţie, iar companiile ruseşti se află printre primele trei destinaţii de export, dar Gazprom nu s-a numărat până acum printre clienţi.
Contractul de 269 milioane de dolari prevede construcţia unei conducte cu o lungime de 150 km, pe sub Marea Neagră, în cadrul proiectului Olympia, care include conectarea conductei Dzhubga-Lazarevskoe-Soci la conducta de gaz activă intercontinentală Rusia-Turcia, în oraşul Gorski, din regiunea Tuapse.
"Contractul a fost încheiat între GSP şi Stroygazmontazh, contractor general al proiectului Olympia, al cărui beneficiar este Gazprom. GSP va construi conducta de gaze, cu o lungime de 150 km, din Dzhubga (Rusia) către Soci, care are ieşire la Marea Neagră. Obiectivul este asigurarea cu gaze naturale pentru teritoriul Krasnodar şi pentru zona de coastă a Mării Negre, adică Soci şi Tuapse", se arată în comunicatul dat publicităţii de compania românească. "Dzhubga-Lazrevskoe-Soci va fi construită în două părţi, o secţiune pe mare şi alta pe uscat. Pe coasta dintre Dzhubga şi Lermontovo, secţiunea de uscat va coborî în Marea Neagră, unde lucrările de asamblare vor lega secţiunea de mare până la staţiile de distribuţie a gazelor, care se construiesc simultan în Dzhubga, Novomikhailovka, Tuapse şi Kudepsta.
Conducta va reveni pe uscat în Soci, în zona satului Veseloe", a a mai explicat Radu Petrescu. Anunţul privind contractul câştigat de firma omului de afaceri Gabriel Comănescu a fost făcut în timpul confruntării electorale dintre candidaţii la funcţia de preşedinte al României, Traian Băsescu şi Mircea Geoană. Actualul şef al statului, Traian Băsescu, l-a întrebat pe Mircea Geoană dacă ştie care este cel mai important contract semnat în ultimele 30 de zile între România şi Rusia. Băsescu l-a lămurit ulterior pe contracandidatul său că este vorba despre un contract de 250 milioane de dolari, semnat de "trustul de construcţii petroliere Constanţa cu Gazprom".
"Convenţia părţilor nu ne-a permis să facem public rezultatul licitaţiei. De aceea, nu am putut da niciun fel de informaţii despre acest contract, chiar dacă el a fost semnat cu câteva săptămâni în urmă", a explicat purtătorul de cuvânt al GSP. Radu Petrescu a adăugat că nu poate oferi niciun fel de alte informaţii legate de momentul în care va începe derularea contractului sau de termenele de finalizare.
La sfârşitul săptămânii trecute, oficialii EximBank au confirmat că banca a aprobat o garanţie de 70 milioane de dolari, la solicitarea GSP, pentru acest contract. "EximBank anunţă că ieri (joi – n.red.) a aprobat, în cadrul Comitetului Interministerial de Finanţări, Garanţii şi Asigurări (CIFGA), o garanţie în valoare totală de aproximativ 70 milioane de dolari, la solicitarea Grup Servicii Petroliere. Emiterea garanţiei de către EximBank permite şi asigură intrarea în vigoare a contractului, în valoare totală de 269 milioane de dolari, pe care Grup Servicii Petroliere l-a semnat în data de 19 noiembrie cu firma Stroygazmontazh", au declarat reprezentanţi ai băncii, citaţi de NewsIn.
"Anul trecut, Grup Servicii Petroliere a intrat pe partea de construcţii off-shore: montarea de conducte submarine şi construcţia de paltforme fixe în mare. Contractul cu Gazprom este al treilea câştigat de la lansarea acestei divizii. Mai avem un contract de 100 milioane de dolari, semnat cu compania naţională a Turciei – TPAO, pentru construcţia unei platforme fixe în Marea Neagră. Al doilea contract câştigat, în valoare de 50 milioane de dolari, a fost câştigat în Bulgaria şi vizează construcţia unei conducte submarine", a adăugat Radu Petrescu.
Grup Servicii Petroliere SA (GSP) face parte din Upetrom Group (controlat de omul de afaceri Gabriel Comănescu) şi are activităţi în domeniul forajului marin şi terestru, al producţiei de echipament petrolier şi în turism.
Hotnews: Bulgaria continua sa-si afiseze opozitia fata de South Stream
Pe fondul succeselor evidente inregistrate in realizarea proiectului Nord Stream, Rusia nu poate spune acelasi lucru despre South Stream. In timp ce presedintele Greciei, Carolos Papulias, isi exprima speranta ca South Stream si oleoductul Burgas-Alexandropolis vor fi construite in scurt timp, Bulgaria continua sa-si afizeze opozitia fata de gazoductul rusesc. Existenta unor probleme reale a fost confirmata de seful Ministerului rus al energiei.
Expertii cred ca Rusia va trebui sa accepte serioase compromisuri in tentativa de a-i determina pe bulgari chiar si la un minim de colaborare in domeniul gazelor naturale, scrie Nezavisimaia gazeta. "Nu prea cred in declaratiile optimiste ale responsabililor rusi in privinta South Stream, pentru ca problemele nu au fost inca rezolvate", spune, in acest sens, Mihail Krutihin, partenerul firmei de consultanta RusEnergy.
Moratoriul impus de guvernul bulgar asupra negocierilor cu Rusia pe proiecte energetice nu a fost anulat, iar Turcia si-a dat acceptul numai in privinta lucrarilor de prospectare geologica a apelor sale teritoriale din Marea Neagra, dar nu si pentru amplasarea South Stream", a subliniat expertul.
Pe de alta parte, adauga analistul, bulgarii nu vor sa abordeze cele doua proiecte South Stream si Burgas-Alexandropolis separat, ca doua programe de sine statatoare. Ca atare, estimeaza Krutihin, este de asteptat ca partea rusa sa inceapa sa-i curteze in fel si chip pe bulgari, venind cu numeroase propuneri ademenitoare pentru a porni South Stream.
"Poate vom renunta la unele pretentii, precum revendicarea pachetului de control pentru Gazprom la viitorul gazoduct pe teritoriul bulgar, etc. Dar nu m-as incumeta sa dau un pronostic privind rezultatul tratativelor", a precizat el.

Vedomosti noteaza, la randul sau, ca vizita presedintelui Dmitri Medvedev la Roma nu a reusit, in pofida numeroaselor rezultate pozitive, sa rezolve principalul scop al deplasarii: compania ENI nu a fost de acord sa cedeze o parte a participatiei sale la South Stream in favoarea grupului francez Electricite de France. In schimb, premierul Silvio Berlusconi a promis ca intreaga Europa va continua sa cumpere gaze din Siberia. La finalul convorbirilor de la Roma, presedintele Gazprom, Aleksei Miller, a declarat ca EdF ar putea obtine o cota de peste 10% din proiect. Oricum, s-a grabit el sa adauge, negocierile continua.
RIA Novosti: Russia's Medvedev to discuss energy issues with Indian PM
Russian President Dmitry Medvedev is meeting with Indian Prime Minister Manmohan Singh on Sunday to discuss cooperation in the energy, pharmaceuticals and diamonds spheres and diversification of bilateral relations.
Singh is staying in Moscow on an official visit at the invitation of the Russian president. Both sides will hold informal talks on Sunday and will discuss topical issues on Monday.
Singh said on the eve of his visit to Russia that India was interested in diversifying bilateral relations and was looking for new areas of cooperation, such as pharmaceuticals, diamonds, bio, nano and information technologies.
"We need to expand our trade basket and encourage mutual investment. Pharmaceuticals, information technologies and the diamonds sector could be the spheres of further growth," Singh said in an interview with the Russian media.
The Indian premier said that the energy sector possessed considerable potential for growth and was of particular interest for India.
"We are especially interested in further developing interaction in the hydrocarbon sector," he said.
India's state-owned Oil and Natural Gas Corporation (ONGC) is currently taking part in Sakhalin-I, an oil and gas project off the coast of Russia's Pacific island of the same name. It is also the owner, via subsidiary ONGC Videsh Ltd. (OVL), of British oil company Imperial Energy, with production licenses for fields in west Siberia's Tomsk Region.
Atomstroyexport, Russia's nuclear power equipment and service export monopoly, has been building two reactors for the Kudankulam nuclear power plant in India's southern province of Tamil Nadu since 2002 in line with a 1988 deal between India and the Soviet Union and an addendum signed 10 years later.
Electricity production is scheduled to start in the first half of 2010.
RIA Novosti: Azerbaijan's oil exports via Russian pipeline up 110% in Nov.
BAKU, December 5 (RIA Novosti) – Azerbaijan's state-owned oil company GNKAR said on Saturday its crude exports via the Baku-Novorossiisk pipeline were up 110% in November, year-on-year.
The company pumped 2.341 million metric tons through the pipeline, which links the Azerbaijani capital with the Russian Black Sea port of Novorossiisk, in November, the company said in a statement.
Azerbaijan holds vast oil and gas reserves in the Caspian Sea, which it exports to neighboring Georgia, Turkey, and Europe through three pipelines – the Baku-Tbilisi-Ceyhan via Georgia to Turkey, Baku-Novorossiisk and the Baku-Supsa to Georgia.
The volume of crude transit via the Baku-Novorosiisk pipeline, which is estimated at 5 million metric tons per year, was reduced in 2007 after the opening of the Baku-Tbilisi-Ceyhan pipeline.
Novinite: EC Approves Financial Aid for Nabucco, Bulgaria Gas Pipe Links
The planned Nabucco natural gas pipeline. File Photo
The European Commission has approved the requested financial aid for construction gas pipeline connections from Bulgaria to Greece and Romania.
This has been announced Friday night by the Bulgarian Ministry of Economy, Energy, and Transport.
Thus, the Commission has approved the granting of EUR 45 M for the construction of a connection between the natural gas systems of Bulgaria and Greece. Another EUR 9 M will be allocated to the construction of a similar gas pipeline.
In addition, the EC has also proved in favor of a setting aside EUR 200 M to back the Nabucco gas transit pipeline.
The EC decision will be considered on December 7, 2009, the Council of Energy Ministers is supposed to approve the sums.
The initiative to connect Bulgaria's natural gas transport network to its neighbors received a boost as a result of the January 2009 Russia-Ukraine gas crisis when the cutoff of Russian gas supplies exposed the fact that Bulgaria had gas pipe connections only to Russia (and Turkey, which, however, is not a supplier but a receiver of Russian gas through Bulgarian territory) and there was no way its neighbors could aid it in the respective situation.
The EU has promised funding for construction gas pipeline links between Bulgaria and Greece and Bulgaria and Romania as a measure designed to increase EU energy security.
The Bulgarian government has recently announce plans to establish a similar connection to Serbia.
Novinite: Moscow Mulls Concessions in Pipeline Talks with Wayward Sofia
Bulgaria, Greece and Russia agreed to build the pipeline between Burgas and Alexandroupolis, taking Caspian oil to the Mediterranean skirting the congested Bosphorus, in 2007 after more than a decade of intermittent talks. Photo by BGNES
Russia may be forced to step back from its demands as it struggles to push Bulgaria into cooperation in the implementation of Burgas-Alexandroupolis oil pipeline, according to reports.
"Greece supports the pipeline, but Bulgaria is clearly opposed against it," an article in Nezavisimaya Gazeta newspaper points out.
The article cites Russian Energy Minister, Sergei Shmatko, who said the Bulgarian government is likely to create obstacles in the the implementation of Burgas-Alexandroupolis oil pipeline.
After it took office in July 2009, Bulgaria's new government of the GERB party made it clear it was going to reconsider the country's participation in the three large-scale energy projects – South Stream gas pipeline, Burgas-Alexandroupolis oil pipeline, and Belene Nuclear Power Plant.
Three Bulgarian Black Sea municipalities – Burgas, Pomorie, and Sozopol – have voted against the pipe in local referendums over environmental concerns.
Municipalities neighbouring Pomorie and nearby Burgas are also harbouring fears that the pipeline could damage their lucrative tourism business, while environmental NGOs have branded the existing plans to build an oil terminal out at sea a disaster waiting to happen.
Bulgaria, Greece and Russia agreed to build the pipeline between Burgas and Alexandroupolis, taking Caspian oil to the Mediterranean skirting the congested Bosphorus, in 2007 after more than a decade of intermittent talks.
The agreement for the company which will construct the Burgas-Alexandroupolis oil transit pipeline was signed by Bulgaria during Russian President Putin's visit to Bulgaria in 2008.
The 280-kilometre pipeline, with 166 kilometres passing through Bulgaria, would have an initial annual capacity of 35 million tonnes, which could be later expanded to 50 million tonnes. Its costs are estimated at up to USD 900 M.
It is expected to be completed by the end of 2011 or beginning of 2012.
Novinite: Ukraine Pays Russia November Gas Supplies
A view of the gas measuring station Sudzha, just 200 metres from the Ukrainian border, Kursk region, Russian Federation, 13 January 2009. Photo by EPA/BGNES
Ukraine's state gas company announced it has paid Russia's Gazprom in full and on time for gas imported in November this year.
"The company received the necessary confirmations from the banks," the press service said, declining to specify the amount of the payment.
Acting Finance Minister Ihor Umansky said this week that Ukraine's Naftogaz would pay around USD 770 M for Russian gas supplied in November.
In order to pay for gas supplied in October, the Ukrainian government converted around USD 480 M worth of Special Drawing Rights (SDRs) allocated by the International Monetary Fund (IMF), sold the currency to the National Bank of Ukraine (NBU), and then, using the funds raised, bought some of the Naftogaz sovereign bonds that were added to the company's statutory capital early in August this year.
At the end of November Russia agreed to ease the terms under which it supplies gas to Ukraine, in a deal which Moscow says should prevent disruption in coming months.
The deal was announced after talks between Russian Prime Minister Vladimir Putin and Ukraine's Yulia Tymoshenko.
It means Ukraine will not be fined if, for using less gas than in its current contract because of the downturn.
Putin said Gazprom and Naftogaz, the two countries' energy firms, would agree on new volumes.
Tymoshenko played down the prospect of further disruptions to Europe's gas supply, pledging that Ukraine would meet its obligations to Russia.
"Ukraine has been paying and will continue to pay on time," she said.
In January, many countries in Europe were left short of gas due to a payment dispute between Moscow and Kiev.
Bulgaria was the hardest hit by the gas supply row as it receives all of its gas from Russia via Ukraine and has no access to any alternative gas routes or suppliers.
Russia provides about a quarter of the gas consumed in the EU and 80% of that is piped through Ukraine.
energia.gr: Edison Exec: ITGI Best Way For Azeri Gas To Europe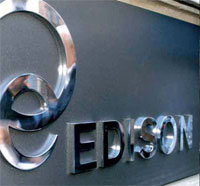 The planned natural gas pipeline linking the Caspian area with Italy through Turkey and Greece is the quickest and most feasible project to reduce European dependency on Russia and bring Azeri gas, said an executive of the company spearheading the project Friday.

"ITGI offers Europe, especially the southeastern part, a way to diversify from Russian gas and is the quickest and most viable route for Azeri gas into Europe," Elio Ruggeri of Edison SpA (EDN.MI) told Dow Jones Newswires.

Ruggeri was referring to the Italy, Turkey, Greece Interconnector, or ITGI, which will have an annual capacity of 10 billion cubic meters, which could rise to 12 bcm.

ITGI will mainly use existing pipelines in Turkey and Greece, and needs to build an underwater link from the Greek coast to Italy.

ITGI is slated to start in 2015 if it manages to secure supplies from Azerbaijan's Shah Deniz II field, said Ruggeri. Current talks between Turkey and Azerbaijan over gas volumes "should be coming to an end," he said.

Unless ITGI secures gas from Shah Deniz II it won't be able to start in 2015 for lack of alternatives in the Caspian area, the Edison executive said.