money.ro: Petrom va intra în 2011 pe piaţa de energii regenerabile
Producătorul de ţiţei şi gaze naturale OMV Petrom, deţinut de Grupul OMV din Austria, va intra pe piaţa de energii regenerabile în 2011, când va deveni totodată producător de electricitate, iar în prezent analizează mai multe proiecte privind energia regenerabilă.
"Acum ne uităm după proiecte şi vom decide în funcţie de ce ne oferă piaţa. Oricum, în 2011, cu siguranţă vom fi producători de energie electrică, prin centrala de la Brazi", au declarat reprezentanţiiPetrom.
Potrivit site-ului companiei, între obiectivele 
OMV Petrom
pentru 2010, este şi "pregătirea intrării pe piaţa energiei în 2011, prin construcţia centralei electrice de la Brazi şi proiectele din domeniul energiilor din surse regenerabile".
OMV Petrom a început în iunie 2009 construcţia efectivă a centralei electrice pe gaze de la Brazi, ce va avea o putere instalată de 860 MW, pentru care vor fi investite circa 500 milioane euro. Petrom va începe furnizarea în sistemul energetic naţional în a doua parte a anului 2011.
Un consorţiu format din General Electric (USA) şi Metka (Grecia) va construi şi livra la cheie centrala electrică, termenul de livrare fiind septembrie 2011. Acesta este cel mai mare proiect privat de generare de electricitate din România, iar lucrările pregătitoare au fost demarate încă din 2008.
Petrom este cea mai mare companie românească de petrol şi gaze, cu activităţi în sectoarele de explorare şi producţie, rafinare şi marketing, gaze naturale şi energie. Petrom exploatează rezerve dovedite de petrol şi gaze estimate la 0,9 miliarde barili echivalent petrol, are o capacitate maximă anuală de rafinare de 8 milioane tone şi circa 550 de staţii de distribuţie carburanţi în România. Compania deţine, de asemenea, o reţea internaţională de 269 benzinării, localizate în Republica Moldova, Bulgaria şi Serbia.
OMV deţine 51,01% din acţiunile Petrom. Grupul OMV activează în 13 ţări din Europa Centrală în domeniile de Rafinare şi Marketing şi în 17 ţări în şase regiuni de bază în domeniul de explorare şi producţie. Ministerul Economiei, Comerţului şi Mediului de Afaceri deţine 20,64% din acţiunile Petrom, Fondul Proprietatea deţine 20,11%, Banca Europeană pentru Reconstrucţie şi Dezvoltare a
ziare.com: Siemens va instala turbine eoliene in Marea Neagra
Centralele eoliene romanesti din largul Marii Neagre sunt cu un pas mai aproape de a deveni realitate, anunta Petru Ruset, directorul Diviziei Energy Products Solutions&Services a Siemens Romania.

"Sunten implicati in mai multe proiecte din sectorul energiei eoliene de tarm si de larg din Romania, ce au sanse mari de succes", spune Ruset, citat de The Diplomat.
Pentru ca pe tarmul romanesc al Marii Negre, in Dobrogea, terenurile corespunzatoare au vor fi ocupate de mari parcuri eoliene in doar cativa ani, Ruset sustine ca dezvoltarea centralelor de larg are tot mai mute sanse de reusita.
Sudul tarii va deveni in scurt timp un mare parc eolian
Construirea unei astfel de centrale eoliene de larg dureaza intre 3 si 5 ani, iar capacitatea standard a turbinelor instalate este de 3,6 megawati, fata de doar 2,3 megawati, in cazul centralelor de tarm.
Turbinele sunt instalate la o adancime medie cuprinsa intre 100 si 200 de metri.
Investitorii s-au ferit pana acum sa investeasca in centrale eoliene de larg, in Romania, din cauza costurilor ridicate, dar si a faptului ca platforma continentala a Marii Negre este ingusta.
Romania va avea o capacitate de energie eoliana de 545 MW
Legislatia din Romania nu prevede o distanta minima fata de tarm la care pot fi instalate turbinele eoliene, iar Guvenrul va trebui sa adopte in acest sens un regulament special pentru sursele alternative de energie, in aceasta vara.
Siemens, lider pe piata turbinelor eoliene de larg, va lansa la sfarsitul acestui an prima turbina eoliana plutitoare de scara mare din lume, ce s-ar preta foarte bine si la piata din Romania.
money.ro: O companie din Turcia vrea să livreze o treime din conductele necesare pentru construcţia Nabucco
Compania turcă Borusan Mannesmann Boru Sanayi & Ticaret intenţionează să livreze o treime din cele 1,3 milioane de tone de conducte din oţel necesare construirii gazoductului Nabucco, a declarat preşedintele Borusan, Bulent Demircioglu, citat de Bloomberg.
Oficialul a anunţat că Borusan va investi 90 de milioane de dolari pentru dublarea capacităţii de producţie de conducte din oţel la 450.000 de tone, astfel încât să poată licita pentru construcţia de gazoducte în Turcia şi în străinătate.
"Vrem să ne implicăm semnificativ în proiectele mari din domeniul gazelor şi petrolului cum este Nabucco, gazoduct care va avea nevoie de 1,3 milioane de tone de conducte. Vrem să livrăm până la 500.000 de tone sau cel puţin o treime", a dăugat el.
Compania, specializată în producţia de conducte din oţel şi plastic, a asigurat o treime din livrările necesare construcţiei segmentului din Turcia al oleoductului Baku-Tbilisi- Ceyhan, care leagă Marea Caspică de coasta Mării Mediterane.
Borusan vizează majorarea producţiei de conducte din oţel cu 15% în acest an, la 750.000 de tone, urmând să ajungă la 1,05 milioane de tone în 2015.
Proiectul Nabucco, evaluat la 7,9 miliarde de euro, prevede construirea unui gazoduct, cu o capacitate anuală de 31 de miliarde de metri cubi, care să faciliteze importul direct de gaze naturale din regiunea Caspică şi Asia Centrală, pe ruta Turcia – Bulgaria – România – Ungaria – Austria. România participă la proiect prin intermediul Transgaz, alături de grupul austriac OMV, acţionarul majoritar al Petrom, dar şi de MOL Ungaria, Bulgargaz Bulgaria, BOTAS Turcia şi RWE Germania.
Adevarul: Nabucco invită South Stream pe traseul său
Conducta Nabucco va fi operaţională începând cu anul 2015, potrivit Transgaz
Consorţiul care dezvoltă conducta europeană ar fi de acord cu o fuziune cu South Stream, cu condiţia ca gazoductul rusesc să fie construit pe ruta Nabucco. Acest lucru ar creşte considerabil şansele de realizare a ambelor proiecte şi ar atrage conducta rusească pe teritoriul României.
Propunerea şefului Eni (compania italiană care deţine 50% din South Stream), Paolo Scaroni, ca proiectele Nabucco şi South Stream să fuzioneze pentru o parte a traseului pentru diminuarea costurilor, care a surprins pe toată lumea în urmă cu câteva săptămâni, se conturează însă ca fiind o opţiune demnă de luat în calcul pentru companiile implicate.
Aceasta în condiţiile în care South Stream are serioase probleme legate de asigurarea finanţării, iar banii care ar putea veni din partea Uniunii Europene ar fi un catalizator pentru concretizarea proiectului. De cealaltă parte, Nabucco încă se confruntă cu lipsa unor contracte cu furnizorii de gaze, iar resursele ruseşti ar rezolva această problemă. "Ne concentrăm pe realizarea proiectului în conformitate cu studiul de fezabilitate şi nu există niciun motiv pentru care să schimbăm conceptul.
Orice modificare a actualului concept va trebui evaluată şi decisă de către acţionari", a declarat, pentru "Adevărul", Christian Dolezal, purtătorul de cuvânt al consorţiului Nabucco, din care face parte şi Transgaz, alături de companiile de profil din Turcia, Bulgaria, Ungaria şi Austria.
"Noi nu am exclus niciodată vreo sursă de gaze sau vreo conexiune (o altă conductă care să se conecteze la Nabucco – n.r.). Cu cât volumul de gaze transportat prin sistemul de conducte este mai mare, cu atât mai mult creşte competitivitatea. Acest lucru va reduce costurile de transport via Nabucco", a punctat reprezentantul consorţiului.
Compromisuri de ambele părţi
Ruşii au spus deja, prin vocea lui Serghei Şmatko, ministrul Energiei, că nu iau în calcul o eventuală fuziune cu Nabucco, însă există şanse mari să se răzgândească din cauza problemelor financiare. Aceasta deoarece South Stream, care va costa peste 20 de miliarde de euro, a fost catalogat ca fiind cel mai scump gazoduct din istorie, sursele de finanţare sunt incerte, iar Gazprom trece printr-o perioadă destul de austeră.
"Ambele proiecte stau prost cu finanţarea, iar această fuziune creşte considerabil şansele ca amândouă să fie realizate. Se vor face compromisuri de ambele părţi, mai ales că jumătate din proiectul South Stream este în mâinile italienilor de la Eni", ne-a declarat analistul financiar Aurelian Dochia. Pentru România, acest lucru ar însemna automat atragerea pe teritoriul său a conductei ruseşti, întrucât 457 de kilometri din Nabucco vor traversa România.
Potrivit unui document al Transgaz, România va putea prelua prin Nabucco între 3,5 şi 6 miliarde de metri cubi de gaze, valoarea maximă însemnând 40% din consumul anual mediu al ţării.
Rezervarea capacităţii Nabucco începe în această vară
Procesul de "open season", prin care companiile din domeniu îşi rezervă capacităţi de transport al gazelor pe conducta Nabucco, va începe în lunile august-septembrie şi va dura între trei şi şase luni, a anunţat Christian Dolezal. În prima fază, acţionarii Nabucco îşi vor împărţi, în mod egal, jumătate din capacitatea finală, adică 16 miliarde de metri cubi, urmând ca restul să fie pusă la dispoziţia traderilor de gaze.
De succesul rezervării de capacitate va depinde asigurarea finanţării necesare, estimată la un total de opt miliarde de euro.
Nabucco face angajări
Consorţiul Nabucco Gas Pipeline International, cu sediul la Viena, intenţionează să-şi tripleze numărul de angajaţi până la finele acestui an, de la 30 în prezent, la circa 70-90. Cele mai multe posturi oferite sunt cele de inginer energetic.
ziare.com: Zacamant imens de gaz descoperit in Polonia, suprematia Rusiei – amenintata
Polonia ar putea deveni un important furnizor de gaz pentru Europa, acoperindu-si in acelasi timp intreaga cerere de gaz pe plan intern, aici fiind descoperit un zacamant de gaz de sist comparabil ca marime cu cel din regiunea rusa Iujno-Tombeisk.

Exploatarea zacamantului recent descoperit va incepe deja in luna mai, prin implicarea companiei americane ConocoPhillips.
Daca imensa capacitate a acestui zacamant va fi confirmata, rezervele totale ale gazului din UE vor creste cu 47 la suta.
Expertii considera ca proiectele europene privind extractiile gazului de sist ar putea deveni in urmatorii zece ani o mare amenintare pentru Gazprom, noteaza cotidianul rus Kommersant.
Adevarul: Ruşii au început construcţia gazoductului Nord Stream
Nord Stream va duce gaze ruseşti în Germania
Gigantul Gazprom a început construcţia gazoductului Nord Stream ce urmează să lege Rusia de Uniunea Europeană trecând prin Marea Baltică, a anunţat agenţia RIA Novosti citând oficiali ai companiei de stat.
La ceremonia de inaugurare, care va avea loc joi, va participa şi preşedintele rus Dmitri Medvedev.
Proiectul vizează construcţia a două conducte de 27,5 miliarde de metri cubi pe an fiecare, ce vor aduce gaze ruseşti în Germania, pe sub Marea Baltică.
Gazoductul cu o lungime de 1.220 kilometri va lega oraşul rus Vâborg de oraşul german Greifswald traversând apele teritoriale ale Rusie, Finlandei, Suediei, Danemarcei şi Germaniei. Costul final al proiectului, la care participă alături de Gazprom germanii de la E.On Ruhrgas şi BASF-Wintershall, se va ridica la 7,4 miliarde de euro.
Premierul Vladimir Putina declarat anterior că livrările de gaze ruseşti în Europa prin conducta Nord Stream vor începe în toamna anului viitor.
"În mai 2011, construcţia va fi finalizată pe segmentul maritim şi pe cel terestru din Germania şi Rusia. Gazele vor începe să curgă în septembrie", a spus Putin la o întâlnire cu Marcel Kramer, CEO al companiei olandeze Dutch Gasunie, care deţine 9% din proiect.
Un sfert din gazul consumat în Uniunea Europeană vine din Rusia, aminteşte AFP.
RIA Novosti
: Medvedev in Slovakia for talks on military, energy issues
Russian President Dmitry Medvedev will meet on Wednesday with his Slovak counterpart, Ivan Gasparovic, to discuss bilateral cooperation in the military-technical, energy, transport and trade spheres.
The Russian president arrived in Slovakia on Tuesday evening for an official visit to commemorate the 65th anniversary of the liberation of Bratislava from the Nazis by the Soviet army.
Presidential aide Sergei Prikhodko said military-technical cooperation would be a key topic at Medvedev's talks with Gasparovic.
Prikhodko said Moscow and Bratislava have been in talks on possible modernization of Slovakian helicopters. Russia was recently involved in modernizing 12 Slovakian MiG-29 fighter jets along with the United States and Britain.
"Taking into consideration this positive experience, we are holding talks on similar participation in repairing and modernizing Slovakia's Mi-17 and Mi-35 helicopters," he said.
Energy cooperation is also on the agenda.
"Slovakia plays an important transit role in Russian [gas] supplies to Europe," Prikhodko said. He said some 50 billion cubic meters of gas a year are transported via Slovakia to European countries. Slovakia consumes some 6 billion tons of Russian oil and more than 6 million cubic meters of gas a year, he said.
Cooperation in the transport sphere includes the construction of a rail line linking Bratislava with the Austrian capital, Vienna. An agreement on the joint project, which also involves Austria and Ukraine, was signed in May 2009 in the Russian Black Sea resort of Sochi. The railway would facilitate the transportation of cargos from the Asia-Pacific region to Europe.
A range of bilateral agreements are expected to be signed during Medvedev's stay in Bratislava, including a framework deal on nuclear fuel supplies from Russia to Slovakia.
The two presidents will also discuss improving bilateral trade and economic ties, which have been hampered by the global recession. Trade turnover between the two countries, which hit a record of $9.6 billion in 2008, was cut by more than 50% in 2009.
Prikhodko said the emphasis would be on developing joint investment projects and cooperation in the high-tech sphere.
This includes the creation of the International Laser Center and the Cyclotron Center of the Slovak Republic in Bratislava, and a proton therapy complex in Ruzomberok. The cyclotron and proton therapy projects are already in the final stages of development.
Medvedev and Gasparovic will also discuss European security issues and Russia's relations with the EU and NATO during their meeting.
After his visit to Slovakia, Medvedev will travel to Prague to sign the historic Russia-U.S. nuclear arms reduction treaty. The pact will replace the 1991 Strategic Arms Reduction Treaty (START), the cornerstone of post-Cold War arms control, which expired on December 5, 2009.
today.az: Fourth International Caspian Oil and Gas Trading and Transport Conference to be held in Aktau
IV International Caspian Oil and Gas Trading and Transport Conference organized with the support of the Kazakh Ministry of Transport and Communications, Akimat of Mangistau region, the Trade-Industrial Chamber of Mangistau region will be held in Aktau on April 26 – 27.
Representatives of the Turkmen Ministry of Petroleum and Mineral Resources express the interest in participation in the conference.
Addressing the organizers of the event, the administration of the ministry stressed that the "conference is a very important and interesting event for the formation of mutually beneficial cooperation with foreign countries and strengthening of business contacts."
Conference will focus on the development of transport infrastructure, relationship of the Caspian Sea and the partner countries, the energy resources trade, logistics problems and their solutions, the analysis of ongoing and future oil and gas projects.
Selection of the venue is not accidental. The only international sea port of the Republic functions in Aktau. As a result of investment projects, which aim to improve transport infrastructure, Aktau will be a crucial link between Europe and Asia.
Representatives of such companies as Chevron, Shell, Litasco, Vitol, Petrom, Tethys Petroleum, Petromobil, OMV and other companies confirm their participation in the conference.
The website of the conference is www.caspianoiltrading.com
today.az: EU Commissioner for Energy to visit Azerbaijan
EU Commissioner for Energy Günther Oettinger will arrive in Azerbaijan next week, said the head of EU Delegation to Azerbaijan Roland Kobia.
Ambassador said that the visit showed the significance of Azerbaijan for EU as an energy supplier.
Oettinger will leave for Baku from Ashgabat on April 14. He will meet with Azerbaijani President Ilham Aliyev, Foreign Minister, Minister of Industry and Energy and SOCAR president.
South Corridor and Nabucco projects will be discussed at the meetings. The visit will end on April 16.
Before Oettinger – EU Commissioner for Enlargement and European neighborhood Policy Stefan Fule will visit Azerbaijan on April 7.
He will visit Foreign Ministry, Ministry of Economic Development and meet with representatives of political parties and civil society. Kobia said that Fule would visit IDPs homes too. To him, it is a humanistic message on EU's care and support for IDPs.
inform.kz: Slovak President suggests Kazakhstan taking part in Odessa-Brody pipeline project
ASTANA. March 30. KAZINFORM. /Damir Baimanov/ President of Slovakia Ivan Gasparovic suggests Kazakhstan taking part in the project of Odessa-Brody oil pipeline. He announced it at the Kazakh-Slovak business forum in Astana on Tuesday.
"The European Commission is considering the project of Odessa-Brody pipeline. In case Kazakhstan becomes the project's oil supplier, Slovakia will be able to diversify oil supplies and use its pipelines to transit your oil and gas to the third countries", I. Gasparovic said.
trend.az: EU ambassador: European commissioner's visit to Azerbaijan in beginning of his mandate is important signal
European

Commissioner Štefan Füle's

visit to

Azerbaijan

in the beginning of his mandate is an important political signal, indicating the degree of Azerbaijan's importance as a partner for the European Union, said

EU Ambassador Roland Kobia

.

"Azerbaijan is one of the first countries where Commissioner Füle visits," Kobia said to a press conference on April 6.

European Commissioner for Enlargement and European Neighbourhood Policy Štefan Füle will arrive in Azerbaijan in the morning of April 9 within the South Caucasus tour. This will be his first visit to the country as a European commissioner for enlargement.

The South Caucasus countries assume an interest for the EU as a region, and each of them separately," said Kobia. EU aims to strengthen relations with each country separately.
According to the ambassador, Füle is supposed to meet with Azerbaijani President, foreign minister, minister of economic development, representatives of the oil and gas sector, civil society, representatives of political parties.
As an important point of the visit, the ambassador called Füle's plans to meet with internally displaced persons living in Binagadi district of Baku.
"This is an important political message, as well as an important humanitarian message showing the concern of the European Union over the status of refugees, the existing territorial conflicts, as well as saying that the EU is always ready to help," said Kobia.
According to him, within the visit will also be discussed the prospects of Eastern Partnership which includes political and economic rapprochement of six post-Soviet countries – Azerbaijan, Armenia, Georgia, Moldova, Ukraine and Belarus with the EU.
"Eastern Partnership is a new era in relations between the EU and Azerbaijan. The two main goals that we set for ourselves are to strengthen political dialogue and economic integration," he said.
According to Kobia, as part of the Eastern Partnership, there are plans to sign an association agreement between the EU and all countries of the program.
"This agreement will much more brought closer the EU and Azerbaijan than the previous partnership and cooperation agreement [on the basis of which the current relations between the EU and Azerbaijan develop]," he said.
As part of the project, EU obliged to provide 600 million euros to these countries by 2013, which is intended to strengthen state institutions, control of borders and help small businesses.
Novinite: Bulgaria, Turkey Mull Joint Liquefied Natural Gas Terminal
Mexican President Felipe Calderon (R) greets Spanish Energy Secretary Pedro Marín (L) during the opening of the International Energy Forum, Cancun, Mexico, 30 March 2010. Photo by EPA/BGNES
Bulgaria's Economy Miniser, Traicho Traikov, has used his participation at the biennial International Energy Forum in Cancun, Mexico to hold talks with representatives of Turkey, Oman, and Qatar.
Traikov has met with Turkey's Minister of Energy and Natural Resources Taner Yildiz in order to discuss the construction of a joint liquefied natural gas terminal on Turkish territory.
The two countries are planning a facility with a total capacity of 6 billion cubic meters per year, Bulgaria's Ministry of Economy, Energy, and Tourism has announced without providing further details.
During the first day of the forum in Cancun, Bulgaria's Minister Traikov also met with Mohammed bin Hamad Al-Rumhy, Minister of Oil and Gas of Oman.
The topics of their conversation included the projects for linking Bulgaria's gas transit system with the networks of neighboring countries, the construction of the Belene Nuclear Power Plant, and the potential participation of Oman investors in the Super Borovets mountain resort project.
Traikov has invited representatives of Oman's government to visit Sofia, whereas Minister Al-Rumhy has prompted Bulgarian firms to participate in the extraction of oil and natural gas in the Persian Gulf country.
The Bulgarian Minister has also suggested that Bulgaria could aid Oman in the training of nuclear energy specialists.
Traikov is also set to meet with the Minister of Energy and Industry of Qatar Abdullah al-Attiya.
The world energy forum in Cancun was opened on Tuesday by the Mexican President Felipe Calderon. Germany and Kuwait are co-organizers. Representatives of 70 nations as well as of energy companies from the around world participate in the summit.
Novinite: Russians Blame Delay of Oil Pipeline on Bulgarian Debt
A Transneft official has blamed the delay of the Burgas-Alexandroupolis pipeline on Bulgaria. Map by BBC
Bulgaria has failed to pay its share for the Burgas-Alexandroupolis oil pipeline, which has affected the project, according to a senior Transneft official.
According to Mikhail Barkov, Vice President of Transneft, one of the Russian companies taking part in the Burgas-Alexandroupolis project, Bulgaria is about a year late with paying its dues to its joint project with Russia and Greece.
"We are disappointed by the fact that the Bulgarian shareholders have been abstaining for more than a year from paying their share for the funding of the joint company which is practically blocking the making of the necessary corporate decisions," Barkov is quoted as saying by Russian oil portal oilru.com.
The Bulgarian state and Greece each have a stake of 24,5% in the Trans-Balkan Pipeline company which is to build the pipe, whereas Russia has a stake of 51%. The Bulgarian government, which has made the realization of the oil pipeline project conditional on an upcoming environmental assessment of its impact on the Gulf of Burgas, has recently placed its share under the direct responsibility of Finance Minister Simeon Djankov.
The Russian oil news website points out that Bulgaria has taken a long time to determine an institution to coordinate and manage the project on its own part.
"It has been announced recently that the Finance Ministry was placed in charged but we have not received any formal notification as is required," Transneft VP Barkov said while expressing his hopes that the Bulgarian side is soon going to become more constructive and put its weight behind the project.
The Bulgarian stake of the Burgas-Alexandroupolis pipeline was initially divided between the state-owned companies Bulgargaz and Technoexportstroy, and was later transferred in full to Technoexportstroy.
Bulgaria owes EUR 4,69 M for 2009 to the joint venture, Trans-Balkan Pipeline, and EUR 1,225 M more for the first quarter of 2010. In addition, it will have to pay interest on the delayed installments to the company's budget.
In February 2010, Finance Minister Djankov declared that Bulgaria will pay its dues whenever the state budget could afford that. However, this has allowed the Russian stakeholders to blame the delay of much of the business activities on the project on Bulgaria.
In mid March 2010, the Russian paper Vedomosti leaked a letter of the Transneft President Nikolai Tokarev from the fall of 2009 which makes it clear that there is not enough oil to fill the pipe in Bulgaria and Greece.
Rosneft, Transneft and Gazpromneft are the three Russian companies forming the consortium holding 51% of the Burgas-Alexandroupolis pipeline, which is supposed to provide the oil for the project.
The Burgas-Alexandroupolis oil pipeline is planned to have an initial capacity of at least 35 million tons of per year.
energia.gr: Oettinger Tells Sofia to be Wiser with Energy Projects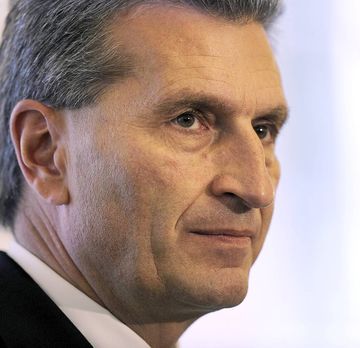 EU Energy Commissioner Günther Oettinger paid his first visit to Bulgariaon 3 March, the country's national day. Although the visit received limited coverage, it gave the commissioner an opportunity to criticise Sofia 's sometimes questionable energy choices, according to Panayot Angarev of Dnevnik, EurActiv's partner publication in Bulgaria .
In Sofia , Oettinger made clear thatBrussels is not happy with Bulgaria 's energy policy.
"Each project in the energy sector should be agreed with the European Commission," he said, stressing that "we are very sensitive about the Belene nuclear power plant project".
Such messages are seen by many as long overdue. For the past 20 years, governments in Bulgaria have thrown their weight behind two energy projects of questionable economic and financial sustainability: the planned Belene nuclear power plant and the 'Tsankov Kamak' hydroelectric plant, which is almost complete.
Both have disappointed in various ways, and it was recently disclosed that billions of euros had been poured into what now appear to be corruption schemes.
It was not until after the January 2009gas crisis between Russia and Ukrainethat Sofia decided to redirect its efforts to more practical projects to help diversify its gas supply.
However, as things stand the scale of investment in Belene and Tsankov Kamakis likely to remain unmatched in Bulgaria for at least the next few years.
Belene
Speaking in Sofia , the EU's energy commissioner expressed his concern over plans to construct a nuclear power plant in Belene. "We are following very carefully and we are quite sensitive on this project," said Oettinger.
The reason for this seems clear: Belene is set to become the first nuclear plant in the EU that is fully reliant on Russian technology.
Following the withdrawal of Germany 's RWE as a strategic partner for the project, Russia offered Bulgaria a €2 billion loan to finance the construction of the plant. The Bulgarian government initially accepted the offer, but after interference from Brussels it became clear that the project would only go ahead with a European investor ( EurActiv 03/03/10 ).
It was originally envisaged that the plant would be completed by 2014, but this deadline is unlikely to be met due to financing problems. According to initial calculations, its construction was estimated to cost around €4 billion, but the actual amount could in fact range between €8 and €10 billion.
So far, more than €1 billion has been invested in the plant. Bulgarian Prime Minister Boyko Borissov has already said that the Belene plant is "an example of how a project should not be made," but he still has to decide whether construction should stop due to lack of funding or whether the government should continue the project.
Tsankov Kamak
The Tsankov Kamak hydropower plantis Bulgaria 's second most controversial project in the energy sector.
According to recent revelations, the plant might become the most expensive hydropower project in the world. Costs were originally estimated to be €220 million but have since doubled, mainly as a result of the construction of a 22-kilometre road between the towns of Devin and Mihalkovo, which is said to have cost 222 million Bulgarian levs (€114.5 million).
Prime Minister Borissov said there would be an investigation into what has been dubbed Bulgaria 's "most expensive road," the construction of which he said had shown clear signs of corruption.
Similarly, construction of a cascade on the Vucha river was set to begin this year but persistent doubts over the potential misuse of funds means this deadline will probably be postponed.
Gas pipeline inter-connectors
Less controversial are a series of gas pipeline inter-connector projects. On 5 March, Bulgaria and Serbia signed a protocol in Brussels for the construction of a gas pipeline connection between the two countries, running from the Bulgarian city of Dupnitsa to the Serbian cities of Dimitrovgrad and Nis . The pipe should be completed by 2013, with €60 million coming from the European Regional Development Fund.
A memorandum to construct a gas pipeline between the Bulgarian city of Stara Zagora and the Greek city of Komotini was signed on 14 July 2009 between BEH (Bulgarian Energy Holding) and IGI Poseidon (50% owned by Depa and 50% by Edison). The project is due to benefit from EU funding under the €2.3 billioneconomic stimulus package aimed at helping finance 43 pipeline and electricity projects across the EU . It should be completed by 2013 and its cost is estimated at €120 million. The capacity of the pipeline would be between three and five billion cubic metres.
A projected gas pipeline connection between the Bulgarian city of Rousse , on the Danube , and its Romanian counterpart Giurgiu was drawn up by Bulgartransgas and Romanian company SNTGN Transgaz. This pipe is also included in the list of projects sponsored under the EU economic stimulus plan. Last September, Tractebel Engineering was appointed as a consultant and asked to prepare a feasibility study. Worth €27.6 million, the pipeline should also be completed by 2013. Once built, it should have a capacity of 1.5 billion cubic metres.
Nabucco and South Stream
Last but not least, Bulgaria is a key transit country for both the Nabucco and South Stream pipeline projects, which are seen by many as rivals.
Nabucco was given top priority by the EU as it is designed to brings gas from countries other than Russia . The pipeline would cost between €8 and €9 billion and should be completed by 2013. Its planned capacity is of 31 billion cubic metres. Preparations are well advanced and the project is set to benefit from a €200 million grant from the European Commission under the EU stimulus plan.
The South Stream gas pipeline is a project sponsored by Russian gas giant Gazprom. It is designed to bypass Ukraine , running under the Black Sea toBulgaria , with one branch going to Greece and Italy , and another one toRomania , Serbia , Hungary , Slovenia and Austria .
Two working groups are currently preparing a shareholders' agreement and a technical feasibility study, which will be used to estimate the cost of the project and define the exact route of the pipeline through Bulgaria . The project should be completed by 2015. Its value is estimated at €8-10 billion and the pipeline would have a capacity of 64 billion cubic metres.