Ati auzit probabil destul de des in ultimul an facandu-se referire la consumul de energie la nivel national, acesta fiind unul dintre indicatorii care reflecta in mod fidel evolutia economiei.
Astfel, consumul scade atunci cand economia gafaie si companiile isi utilizeaza in proportie limitata capacitatile de productie, iar consumul creste in situatia in care economia se afla pe un trend pozitiv.
Ce s-a intamplat cu consumul de energie in ultimul an in comparatie cu evolutia din 2008 se poate observa in graficul de mai jos, click pentru marire.
Valorile sunt cele aferente fiecarei zi de luni a fiecarei saptamani din 2009 (datele complete aici), iar daca trecem peste evolutia aparent haotica din unele zile, trendul arata clar ca in acest sfarsit de an, ne apropiem de consumul inregistrat la sfarsitul anului trecut.
Saptamana viitoare, INS va face publice datele pe octombrie in ceea ce priveste evolutia indicelui productiei industriale si este posibil ca pentru prima data in acest an, sa avem o evolutie pozitiva fata de octombrie 2008.
Semnele pozitive din economie se inmultesc, insa repet, mai este mult pana departe.
Standard.ro: Transelectrica: În 2010, scăderea consumului de energie va fi de 6-7% faţă de 2008
Consumul naţional de energie electrică va scădea până la finele anului cu până la 9-9,2% faţă de nivelul din 2008, pe fondul revigorării cererii de electricitate din partea industriei, începând cu sfârşitul lunii septembrie, a declarat pentru Business Standard directorul general al Transelectrica, Adrian Băicuşi.
"Scăderea consumului de electricitate a fost de numai 6,7% în octombrie şi de 3,8% în noiembrie, după ce în septembrie reducerea fusese de 11,6%", a explicat oficialul companiei de stat de transport energie.
"Luna decembrie se arată, cel puţin până acum, dar şi potrivit prognozelor noastre, la fel de bună ca noiembrie", a mai spus Adrian Băicuşi. Potrivit specialiştilor, consumul de electricitate este, alături de cel de gaze naturale, un barometru al unei economii şi arată ce se întâmplă de fapt dincolo de statistici. Consumul de energie scade, de regulă, atunci când economia coboară şi creşte atunci când o economie "se află pe val".
Compania de stat de transport electricitate anticipează că anul viitor va fi unul mai bun din punctul de vederea al consumului faţă de 2009.
"Estimarea noastră este că scăderea din 2010 faţă de anul de referinţă 2008 va fi mai mică şi că 2010 se va încheia cu un minus 7 faţă de 2008", a punctat directorul general al Transelectrica. El a adăugat că, într-un scenariu mai optimist, recuperarea va fi de până la minus 6%. "Ne bazăm, când facem aceste estimări, pe revenirea producţiei industriale, în condiţiile în care economiile statelor occidentale au o tendinţă de revigorare", a adăugat Băicuşi. Directorul general al Transelectrica a mai spus că tot în 2010 ar putea fi relocate în România mai multe capacităţi de producţie.
Planul oficialilor Transelectrica este de a avea şi în 2010 investiţii cel puţin similare cu cele din 2009. "Preconizez că vom avea o uşoară creştere a investiţiilor în 2010", a subliniat Adrian Băicuşi. Compania de stat şi-a bugetat la începutul acestui an cheltuieli pentru investiţii de peste 460 mil. lei (peste 100 mil. euro). În ceea ce priveşte investiţiile pe care compania de stat de transport electricitate ar urma să le facă pentru întărirea reţelei, astfel încât să poată absorbi noile capacităţi de producţie din eolian, reprezentanţii Transelectrica au nişte discuţii foarte interesante cu reglementatorul – ANRE. "Discutăm cu ANRE posibilitatea de a impune o taxă pe putere, ca firmele să-şi rezerve astfel capacitatea pe reţeaua de transport dacă fac investiţii în eolian. Este un sistem care există şi în Occident şi ar duce la o prioritizare pentru investitorii într-adevăr serioşi", a explicat directorul general al Transelectrica. El nu a dat detalii suplimentare pe acest subiect, spunând că, deocamdată, este la faza discuţiilor. "Transelectrica ar urma să încaseze această taxă şi din banii primiţi să dezvolte şi să întărească reţeaua", a punctat Adrian Băicuşi.
Compania de stat de transport electricitate Transelectrica a înregistrat în primele nouă luni ale anului un profit net de 11,458 mil. lei (2,71 mil. euro), de 11,6 ori mai mic decât cel înregistrat în perioada similară a anului trecut. Totodată, cifra de afaceri a fost de 1,792 mld. lei (423,9 mil. euro), cu 10,8% mai redusă decât cea afişată după primele nouă luni din 2008, de 2,01 mld. lei (552,47 mil. euro). La jumătatea lunii noiembrie, compania de stat anunţa că va contracta de la ING o linie de credit de 35 mil. lei (8,3 mil. euro), cu valabilitate de un an. Banii vor fi folosiţi pentru finanţarea activităţilor curente. În această lună, compania ar urma să lanseze o nouă licitaţie pentru atragerea unui nou credit pe termen mediu tot de circa 40 mil. lei.
standard.ro: RAFO, gata să ia creditul garantat de stat
Administratorul judiciar al RAFO Oneşti convoacă pentru 6 ianuarie 2010 AGA Extraordinară, pe ordinea de zi figurând şi aprobarea constituirii de garanţii reale asupra bunurilor mobile şi imobile din patrimoniul companiei.
Scopul este contractarea de către Petrochemical Invest a unui împrumut în valoare de 330 mil. euro de la bănci comerciale cu garanţia statului, în vederea modernizării şi reconstruirii RAFO într-un complex petrochimic.
RIA Novosti: Gazprom, Eni sign deal to include EDF in South Stream project
Russian gas monopoly Gazprom and Italy's energy giant Eni signed on Thursday a memo of understanding to include France's EDF into the South Stream gas pipeline project.
The two companies' CEOs signed the paper in the presence of Russian President Dmitry Medvedev and Italian Prime Minister Silvio Berlusconi following Russian-Italian talks in Rome on Thursday.
"Gazprom and Eni support the French company's joining the project, and we have agreed to finalize the deal as soon as possible," Gazprom spokesman Sergei Kupriyanov said, adding that a trilateral deal would be signed within the next three months.
Gazprom and Eni currently hold equal stakes in South Stream AG, the operator of the gas pipeline, scheduled to be completed by 2015. The project is part of Russia's efforts to cut dependence on transit nations. It is a rival project to the EU-backed Nabucco, which would bypass Russia.
The South Stream project will provide Russian gas to South and Central Europe and will have a maximum capacity of 63 billion cubic meters of gas per year.
Gazprom and EDF signed a memorandum of understanding on November 27. Gazprom CEO Alexei Miller said that EDF would receive 10% of shares in the marine segment of the South Stream and final accords on the issue would be reached jointly with Eni in 2010.
Russia and its European partners have excellent chances of implementing the South Stream project, Medvedev said after the Russian-Italian talks.
"If we implement it, I'm sure everyone will benefit from this and we have excellent chances to carry this through," Medvedev said.
In turn, Berlusconi praised energy cooperation between Russia and Italy and confirmed Rome's intention to further cooperate in this sphere.
EDF is one of Europe's leaders in the production, transportation, distribution and deliveries of electricity and natural gas. EdF runs 19 nuclear power plants with 58 operating reactors, as well as thermal, wind and hydro power plants and transmission and distribution lines.
Novinite: Russia President: South Stream Has 'Glamorous Chance' for Success
Russian President Dmitry Medvedev (L) and Italian Prime Minister Silvio Berlusconi (R) hold their press conference in Rome, Italy 03 December 2009. Photo by EPA/BGNES
Russian President Dmitry Medvedev stated Thursday that the project for the construction of the South Stream gas transit pipeline had "glamorous chances" for successful completion.
Medvedev gave a press conference in Rome together with the Italian Prime Minister Silvio Berlusconi after the two energy companies Gazprom and ENI signed an agreement allowing the French company EDF to join the South Stream project.
Medvedev said the most important thing about South Stream now was working according to the schedule and meeting the set deadlines.
"The South Stream and North Stream projects are designed for providing a contemporary system of energy security in Europe. If we realize them, I am sure that everybody will be happy," Russia's stated.
Italian Prime Minister Berlusconi has made clear his country's intention for further cooperation with the Russians, and for the completion of the South Stream pipeline.
Both state leaders explained South Stream was not competing with any other similar projects including Nabucco.
South Stream is expected to be launched at the end of 2015; it will have a capacity of up to 63 billion cubic meters, with the investment totaling some EUR 19-25 B.
The French company EDF is supposed to get 10% of the shares for the sea part of the pipeline. The final contract between the three companies, Gazprom, EDF, and ENI, is expected to be signed within three months.
The South Stream pipe will go through the Black Sea from Russia's Novorossiysk to Bulgaria's Varna. From the Balkans, the pipe will split in two parts – to Italy and to Austria.
energia.gr: Eni, Gazprom OK EDF's Entry Into South Stream Project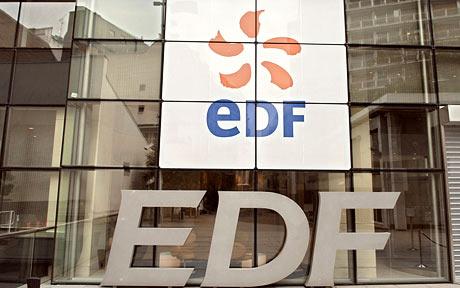 Italy's Eni SpA (E) said Thursday it agreed with Russia's OAO Gazprom (GAZP.RS) to allow Electricite de France SA (EDF.FR) to join the South Stream natural gas project, which aims to link Russia to the European Union and boost the bloc's energy security.

"The agreement, in principle, welcomes EDF to participate in the South Stream project under conditions to be defined in the next months," Eni said in a statement.

The agreement was signed by Gazprom's Chief Executive Alexei Miller and Eni's Chief Executive Paolo Scaroni in the presence of Russian President Dmitry Medvedev and Italian Prime Minister Silvio Berlusconi.

"We welcome EDF's entry," Scaroni told reporters in the sidelines of the event. He said the sides will negotiate issues such as how the Russian gas will be split and what value to give to the stake they are selling.

Eni and Gazprom are discussing whether to give EDF an equal share in the minority stake of the South Stream project, Gazprom's Miller said.

These are part of the negotiations," Miller told Dow Jones Newswires on the sidelines of the Medvedev and Berlusconi. When asked if Eni and Gazprom would give EDF an equal share, he added: "It isn't necessarily so."

The South Stream project, a joint venture between Eni, Italy's biggest energy company by market value, and Gazprom, the world's biggest producer of natural gas, aims to transport gas from the Caspian area and from Russia under the Black Sea to Bulgaria, bypassing Ukraine.

Scaroni said he will further discuss the issue with Miller at a meeting scheduled for Dec. 11 in Venice. He added that he will meet EDF's new Chief Executive Henri Proglio this year and negotiating teams will start shortly after, indicating a deal is expected not long after that.
energia.gr: EU Ends Antitrust Case Against GDF Suez; No Fine

The European Commission Thursday settled its antitrust investigation into GDF Suez's (GSZ.FR) alleged abuse of its dominant position in the French gas market, accepting the company's promise to dramatically reduce its presence in the country's gas import infrastructure.

To settle the case, and escape an antitrust fine, GDF Suez proposed "a major structural reduction of its long-term reservations on French gas import infrastructure capacity," the commission said.

The company has promised to decrease its share of natural gas entry capacity to less than 50% in 2014, from the current two thirds. It has also promised to give other energy companies better access to liquefied natural gas terminals.

"GDF Suez is proud of the fruitful cooperation" with the European Competition authorities, GDF Suez said in a statement. The company also stated that the measures would benefit the French consumers "notably".

The commission has gone after European electricity and gas companies with a heavy hand following a sector inquiry in 2005 which revealed a serious lack of cross border competition, mainly due to the large energy companies' strong hold on distribution infrastructure.

Initially the commission envisaged a political solution, which would have forced European utilities to split ownership of distribution from production. But negotiations failed due to strong pressure from France and Germany to protect their national champions.

Following the failure of the political proposal the commission has taken a different route, using its wide reaching antitrust powers to correct the market failure.

The commission's antitrust investigation against GDF Suez was initially spurred by concern the company's long-term grip on France's import capacity was limiting potential competitors' access to the country's market, resulting in higher prices for consumers.

New companies wanting to enter gas markets need access to gas import infrastructure, such as pipelines and liquefied natural gas terminals, in order to compete for customers, the commission said.

"The remedies offered by GDF Suez provide a real opportunity for competitors to enter the French gas market and so offer energy consumers greater choice of gas supplier and more competitive prices," Competition Commissioner Neelie Kroes said.

The reduction in GDF's presence will also contribute to an integrated and more competitive European energy market, Kroes added.

The settlement does not conclude whether GDF Suez broke the antitrust laws, but it legally binds the company to the commitments it has offered.

If GDF Suez were to go back on its promise, the commission could fine it up to 10% of its total annual turnover without having to prove any violation of the competition rules.

The commission still has antitrust cases in the energy sector open against French electricity company Electricite De France (EDF.FR), Italian gas company ENI (ENI.MI), Swedish electricity transmission operator Svenska Kraftnaet, and Ruhrgas, a subsidiary of energy giant E.ON AG (EOAN.XE), to name a few.

In many of the cases Brussels based antitrust lawyers are expecting the companies to settle with the commission.

Earlier this year, E.ON and GDF Suez were each fined EUR553 million by the commission for agreeing not to compete in each other's national gas markets.

RWE AG (RWE.XE) last year pledged to sell its German gas transmission grid to avert an E.U. antitrust fine, and E.ON agreed to sell its German power transmission grid as well as around 5 gigawatts of power generation capacity to avoid an antitrust fine.
Eurasia Daily Monitor: Uzbekistan Damages Regional Electricity Network
Uzbekistan recently officially announced that it will quit the Central Asia power system. Tashkent's decision affects all countries in the region, with Kyrgyzstan and Tajikistan suffering the most. The recent policy shift reflects the predicaments of Soviet period planning of energy supplies in the Central Asian region when –in general terms– upstream and downstream countries were presupposed to trade water for fissile fuel.
Uzbekistan will now use its new Guzar-Surkhan transmission lines that provide electricity from its domestic thermal power plants (TPP) to Surkhandarya oblast (www.stoletie.ru, December 2). While every Central Asian country wishes to separate from the Soviet-inherited regional electricity transmission network, the costs remain too high. Tashkent's decision was mostly political and Uzbek TPP's will experience severe problems in the delivery of the necessary amount of electricity during peak and non-peak hours. Unlike TPPs, hydropower plants in Tajikistan and Kyrgyzstan are better able to regulate electricity supplies during daily fluctuations in the electricity demand.
During the Soviet period Tashkent was in charge of controlling the Central Asian electricity network. After the collapse of the Soviet Union, Central Asian countries were exposed to market economic conditions and each state had to survive on its own to secure sufficient energy. Upstream Kyrgyzstan and Tajikistan have most of the region's water resources, while downstream Uzbekistan, Turkmenistan and Kazakhstan enjoy natural gas and oil reserves.
Experts from the Soviet era still work in Tashkent and are able to consult the government on how to better separate national energy production from the regional network and thus gain more energy independence. Tajikistan and Kyrgyzstan, however, are more vulnerable and need to put greater effort into managing domestic energy security (www.prime-tass.ru, December 1). Turkmenistan, by contrast, was able to leave the regional energy network in 2003.
Tashkent has been warning its neighbors of its decision to separate from the regional network since it began the construction of several transmission lines several years ago. But real threats to cut the transmission lines were voiced only as late as the end of last summer: Tashkent warned Bishkek that it would also cut transmission lines (EDM, October 15).
Unlike most regional experts' perceptions, Tajikistan will be unable to control water flow to Uzbekistan during the summer period, and is thus deprived of political leverage over Tashkent. Tajikistan's Nurek dam's storage capacity is not enough to keep more than one-third of the water flowing through Vakhsh River while other Amudarya tributary –the Panj River is not regulated at all.
Both Tajikistan and Uzbekistan have been seeking to increase independence from each other for several years. Both countries pursued the construction of high voltage transmission lines and substations. Dushanbe has also shown a clear determination to construct the Rogun dam on the Vakhsh River and, to Tashkent's disadvantage, increase its own ability to generate power and increase control of water flows to Uzbekistan.
Tajikistan produces power in the south and used to transmit electricity to its industrial north through the Uzbek transmission system. Despite Tajikistan completing the South-North line Dushanbe still needs to connect its northern load centers to the new substation in Khodjent using 220 kV transmission lines to secure greater independence from Tashkent. Chinese investors are currently in the process of constructing these lines. Indeed, Tajikistan will experience electricity shortages this winter as earlier contracts on energy supplies with Turkmenistan through the territory of Uzbekistan are now undermined by Tashkent.
Meanwhile, Kyrgyzstan has reached an agreement with Kazakhstan on improving the reliability of its energy supplies (www.akipress.kg, December 2). Astana will supply Kyrgyzstan with humanitarian aid to buy coal from Kazakhstan in return for cheaper electricity and other business benefits. However, this agreement is rather short term. It will allow Kyrgyzstan to obtain sufficient amounts of coal for the Bishkek TPP, but not solve the country's overall energy dependence issues.
As one expert from Tajikistan told Jamestown, "while being unable to regulate supplies of electricity during peak and non-peak hours, Uzbekistan will still manage the imperfect energy system by coercively cutting energy to its population during peak hours. Entire oblasts and cities might suffer from energy shortages" (December 2). Overall, the excess of electricity during non-peak hours and shortages during peak hours will negatively affect the entire electricity system.
However, Tajikistan has been trying to use maximum energy levels in the regional network thus provoking Uzbekistan and Kazakhstan to take swift action, while at the same time building its own lines and substations (www.ca-news.org, November 20). Unlike Tajikistan, Kyrgyzstan has done virtually nothing to provide its own energy independence. Kyrgyzstan was unable to construct the Datka substation in the south, in order to increase independence from the Uzbek network. The delay in construction is caused by corruption and poor management of the energy sector, which usually relies on short term solutions.