Bursa: Transgaz vrea garanţii guvernamentale pentru finanţarea Nabucco
narea Generală a Acţionarilor (AGA) Transgaz a aprobat demararea procedurilor de obţinere a garanţiilor guvernamentale necesare pentru finanţarea proiectului gazoductului Nabucco. Potrivit deciziei AGA, Transgaz va participa la bugetul Nabucco pe 2010 cu valoarea corespunzătoare cotei de 16,67%.
ziare.com: Marile companii ar putea renunta la investitiile in energia eoliana, in Romania
Marile companii energetice din Europa, care au anuntat investitii de miliarde de euro in energia eoliana, ar putea renunta la proiectele anuntate, din cauza limitarii capacitatii sistemului de transport al energiei electrice.

"S-ar putea ca unii dezvoltatori de proiecte energetice din surse regenerabile sa decida se renunte la investitiile din Romania, in conditiile in care capacitatile de transport al electricitatii ar putea sa fie suficiente", a declarat, pentru Ziarul Financiar, Alexandru Valeriu Binig, directorul financiar al diviziei de consultanta in energie si resurse al Deloitte.
Potrivit ultimelor informatii, Transelectrica, societatea nationala de transport al energiei electrice, a primit cereri de racordare la sistemul energetic de aproximativ 14.000 MW, in conditiile in care capacitatea admisa este de circa 3.600 MW.
Binig apreciaza ca regiunea Dobrogei este saturata din punctul de vedere al dezvoltarii de proiecte eoliene, in conditiile in care posibilitatile de export de energie in afara Romaniei sunt extrem de limitate.
money.ro: Energia eoliană a ajuns la saturaţie în lume. Noi abia începem
Investiţiile masive în energie eoliană a adus industria mondială aproape de nivelul maxim, se arată într-un studiu al companiei de consultanţă Roland Berger. Pentru a rezista pe piaţă marii jucători vor trebui să taie din costuri şi să fie mai eficienţi. În România sectorul energiei eoliene este încă foarte puţin reprezentantiv
Criza financiară şi noii jucători de pe piaţă au dus, deja, la crearea de un surplus de capacitate înenergia eoliană, la nivel mondial iar industria se apropie de maturitate, se arată într-un studiu al companiei de consultanţăRoland Berger.
Potrivit studiului capacitatea instalată a crescut cu o treime, anul trecut, în special datorită intrării pe piaţă a multor proiecte derulate de investitori chinezi. "Proiectele devin din ce în ce mai mari iar presiunea de reducere a costurilor şi implicit standardizare se intensifică.
Totodată, noi furnizori intră pe piaţă, ceea ce duce la supracapacitate", potrivit studiului citat. În acest context producătorii de energie eoliană trebuie să se concentreze pe scăderea costurilor şi eficienţă pentru a putea supravieţui. Piaţa va fi influenţată, în viitor, de dorinţa fiecărui mare producător de energie de a avea în portofoliu măcar un grup de centrale eoliene ca să facă faţă provocării impuse de reducerea emisiilor de CO2 şi creşterea preţurilor combustibililor fosili.

Expertii Roland Berger au ajuns la concluzia ca industria eoliană trebuie să se transforme dintr-o industrie "pionieră" într-una convenţională. Aceasta deoarece principalele companii de utilităţi au aceleaşi aşteptări atât de la producătorii de echipament eolian cât şi de la producătorii de energie convenţională iar dezvoltarea produselor in cazul centralelor eoliene se va alinia din ce in ce mai mult practicilor normale din industrie.
Potrivit analiştilor Roland Berger marile grupuri industriale precum Siemens sauGeneral Electric, precum şi companiile locale, cum ar fi jucătorii chinezi, îşi vor mări cotele de piaţă în dauna "pionierilor". "Aşadar, sintagma de ordine va fi: creşti şi industrializează – sau dispari!", spun reprezentanţii companiei de consultanţă.
În timp ce, la nivel mondial, se vorbeşte despre supracapacitate în domeniul energiei eoliene în România lucrurile sunt, încă, la un nivel incipient. În octombrie 2009, capacitatea eoliană instalată atingea doar 13,8 MW faţă de 25.000 MW în Germania. Sunt, însă, aprobate sau în curs de aprobare contracte pentru alţi 3.800 MW. Pe termen mediu şi lung există, aşadar, asteptări în ceea ce priveşte instalarea a aproape 4.000 MW.
Potenţialul total al Romaniei este estimat la aproximativ 14.000 MW.
Roland Berger este una dintre cele mai mari companii de consultanţă din lume şi cea mai mare din Europa. Firma are birouri în 25 de ţări.
Bursa: GE investeşte 340 milioane de euro în sectorul energiei eoliene din Europa
GE a anunţat investiţii de aproximativ 340 milioane de euro în dezvoltarea sau extinderea unităţilor sale de producţie, inginerie şi service pentru turbine eoliene din 4 ţări europene – Marea Britanie, Norvegia, Suedia şi Germania, potrivit unui comunicat remis redacţiei.
"Sectorul eolian offshore va juca un rol vital având în vedere cererea globală în creştere pentru energie regenerabilă şi va avea un viitor strălucit aici, în Europa", a declarat Ferdinando (Nani) Beccalli-Falco, preşedinte şi CEO al GE International. "Aceste investiţii ne vor permite să ajutăm la valorificarea vastelor resurse eoliene offshore intacte ale Europei, creând în acelaşi timp noi locuri de muncă atât pentru GE, cât şi pentru furnizorii noştri."
Bursa: Deloitte: Anul 2010 va fi decisiv pentru investiţiile în energie regenerabilă
Anul 2010 va fi decisiv pentru sectorul energiei regenerabile, companiile aşteptând de la Guvern clarificări legate de aplicarea legii de promovare a investiţiilor în domeniu. Potrivit Mediafax, unii dezvoltatori ar putea decide să renunţe la proiectele din România dacă legea nu va deveni funcţională, a declarat, ieri, Valeriu Binig, director în cadrul Deloitte.
În opinia sa, unii dezvoltatori de proiecte de producţie a energiei din surse regenerabile ar putea decide să renunţe la proiectele din România, în condiţiile în care capacităţile de trans port al electricităţii ar putea să fie insuficiente. Mulţi dezvoltatori de proiecte eoliene încep să ia în calcul investiţii în unităţi de producţie pe gaz, necesare pentru echilibrarea sistemului, în condiţiile în care capacităţile actuale sunt insuficiente.
Legea 220 pentru stabilirea sis­temului de promovare a producerii energiei din surse regenerabile va fi adoptată în acest an, până la vacanţa parlamentară. Deocamdată, această lege este inaplicabilă pentru că nu are încă normele de aplicare.
trend.az: Eurogas: Gas demand in EU countries to decrease more than 6 percent
According to Eurogas – the European Union of the Natural Gas Industry, the demand for gas in the 27 EU countries in 2009 decreased 6.4 percent to 484 billion cubic meters compared to 2008.
The report of Eurogas, posted on its official website, says that by the end of 2009 the total number of gas consumers connected to the gas network of the European Union grew by one percent to 114 million consumers.
The greatest gas demand in 2009 among the EU countries was observed in the UK – 92.7 billion cubic meters, which is 7.8 percent below demand in 2008. The lowest demand in the past year was observed in Estonia and Slovenia – 0.9 billion cubic meters, which is 15.1 percent below the level of demand in 2008. The greatest reduction in gas demand among the European countries in last year was recorded in Bulgaria – 21.8 percent. Growth in gas demand last year was observed in Belgium (1.7 percent), Luxembourg (1.8 percent) and Sweden (32.6 percent). In Turkey, the gas demand in 2009 fell by 10.8 percent to 32.2 billion cubic meters.
Economic recession in the EU countries had a significant impact on the energy sector in 2009, the report says. According to Eurogas, domestic gas production in EU countries last year fell by 10 percent to 182 billion cubic meters.
Nevertheless, the main source of gas supply in the EU is the internal production, of which share in total supplies to the region in 2009 was 36 percent. The main external sources of supply in the EU are Russia (22 percent), Norway (19 percent) and Algeria (10 percent).
As stated in the report of Eurogas, published earlier, by 2030, Europe can increase gas imports to 74 percent. The share of natural gas in the energy structure in Europe is projected by Eurogas to increase 30 percent by the indicated year from 24 percent in 2009.
Comparative table of gas demand in EU countries in 2008 and 2009 (in billion cubic meters):
| | | |
| --- | --- | --- |
| Countries | 2009 | 2008 |
| Austria | 8,4 | 8,6 |
| Belgium | 17,9 | 17,6 |
| Bulgaria | 2,2 | 2,8 |
| Czech Republic | 8 | 8,4 |
| Germany | 80,8 | 84,9 |
| Denmark | 4 | 4,1 |
| Spain | 37,1 | 41,4 |
| Estonia | 0,9 | 1 |
| France | 46,3 | 47,8 |
| Finland | 4,1 | 4,6 |
| Greece | 3,5 | 4,2 |
| Hungary | 10,9 | 12,6 |
| Italy | 76,3 | 82,9 |
| Ireland | 5,1 | 5,3 |
| Luxemburg | 1,4 | 1,3 |
| Lithuania | 2,6 | 3,1 |
| Latvia | 1,5 | 1,6 |
| Netherlands | 41,1 | 41,4 |
| Portugal | 4,7 | 5 |
| Poland | 14,7 | 15,2 |
| Romania | 12,8 | 15 |
| Sweden | 1,3 | 1 |
| Slovenia | 0,9 | 1 |
| Slovakia | 5 | 5,5 |
| UK | 92,7 | 100,6 |
| EU | 484,1 | 517 |
| Switzerland | 3,2 | 3,3 |
| Turkey | 32,2 | 36,1 |
trend.az: Nabucco announces its readiness to start pipeline construction in 2011
Nabucco Managing Director Reinhard Mitschek today again confirmed the current Nabucco Timeline. "We are aiming to start with the construction at the end of 2011 and we'll expect first gas to flow at the end of 2014. The Nabucco Consortium has no indication to shift the current timeline."
Mitschek also stressed, that the Pipeline will be filled step wise. To reach the maximum capacity of 31bcm/y would be expected in the year 2018. "For a large pipeline system like Nabucco it is necessary to raise the capacities stepwise. We'll start with 8 to 10bcm/y and we need the timeframe from 2014 to 2018 for the construction of additional compressor stations witch are the precondition for the plateau level."
The project envisages the gas transportation from the Caspian region and the Middle East to EU. Nabucco gas pipeline project is worth €7.9 billion. Participants of the project are Austrian OMV, Hungarian MOL, Bulgarian Bulgargaz, Romanian Transgaz, Turkish Botas and German RWE companies. Each of participants has equal share to the amount of 16.67 percent.
Nabucco gas pipeline with a length about 3,300 kilometers, will begin from the Georgian-Turkish or the Iranian-Turkish border, then pass throughTurkey, Bulgaria, Romania and Hungary to Baumgarten gas distribution hub in Austria.
today.az: SOCAR President: Russneft has nothing with Global Investment Energy extracting oil in Azerbaijan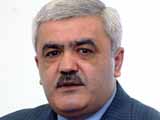 Russian company Russneft has nothing with Global Investment Energy company, taking part in the development of a number of onshore fields in Azerbaijan, SOCAR President Rovnag Abdullayev said today.
Earlier, Russneft participated in the development of several fields in Azerbaijan. Several years ago Global Investment Energy bought out the Russian company's assets in the country.
Global Investment Energy has a share worth 75 percent in the Absheron operating company, which develops a block of fields Govsany-Zykh on the basis of PSA contract, as well as 85 percent in Karasu operating company, developing the block Mishovdag-Kalameddin.
apa.az: Lithuania government to build LNG terminal
Lithuania has decided in principle to build a liquefied natural gas (LNG) terminal, which it thinks could be completed in two to three years, the energy minister said on Monday.

The government said the project was aimed at ensuring security of energy supplies and to have leverage to negotiate better prices from Russia's Gazprom, the sole supplier of natural gas at the moment.
"We have a sole supplier and we are paying one of the highest prices in Europe…therefore the issue of LNG terminal cannot be delayed," Energy Minister Arvydas Sekmokas told reporters.
Sekmokas said the LNG terminal would most likely be built next to state-owned oil terminal Klaipedos Nafta and that the planning should start this year.
The minister also said the government would propose a private partner or partners to take a stake in the terminal.
Fertiliser producer Achema, one of Lithuania's biggest companies, was interested in the project, he added. Natural gas is one of the products used in the manufacture of fertiliser.
The Baltic state has become more dependent on Russia's gas after closing its Soviet-design nuclear power plant at the end of 2009 under the agreement with the European Union. (Reporting by Nerijus Adomaitis
energia.gr: Russia's Gazprom Interested in Gas Projects in Northern Africa

Russia's gas utility Gazprom is interested in gas production, processing, piping and sales projects in Northern Africa, a geographical region located in close proximity to the European market, Prime-Tass said on Monday citing Gazprom's deputy chairman and head of Gazprom Export Alexander Medvedev.
Developing business in North Africa, like in Middle East, is one of Gazprom's top priorities outside Russia, and the company's participation in the Trans-Sahara gas pipeline construction project is in line with this strategy, Medvedev said in an interview with the Gazprom magazine.
According to Medvedev, Gazprom pays major attention to diversification of gas exports and with this in mind, it looks into a possibility of gas supplies to the Israeli market. "I believe this cooperation might be realized if the Israeli side confirms its interest in purchasing Russian gas and when the required economic efficiency parameters are reached," he said.