Romania Libera: Industria carburantilor, afectata de scaderea activitatii transportatorilor
Scaderea activitatii din transporturi cu 40-60% fata de anul precedent, reducerea
emisiilor poluante si criza economica sunt elemente care conduc, pe termen mediu si lung, la scaderea consumului de carburanti.
Cererea de carburanti  pe piata romaneasca va scadea pe termen mediu si lung pe fondul contractiei activitatii din transporturi, estimeaza specialistii.
Prima parte a anului 2010 va fi de asemenea dificila pentru companiile
din domeniu, pentru ca vor fi probleme pe partea de consum individual de carburant, sustin reprezentantii companiei MOL Romania. "In acest an, industria carburantilor a scazut conform cu previziunile, iar transporturile au fost afectate", a  declarat Laszlo Piry, senior vicepresedinte retail in cadrul MOL Romania.
Reprezentantii operatorilor din transport au estimat ca activitatea din domeniu s-a comprimat in 2009 cu circa 40-60% fata de anul precedent, pe fondul crizei economice.
Pe de alta parte, reprezentantul MOL sustine ca provocarea anului viitor pe segmentul vanzarilor de carburanti va fi comportamentul de plata al clientilor, cu repercusiuni asupra vanzarilor. "Provocarea in 2010 va fi balansarea reculului consumului personal cu revigorarea sectorului industrial. Pe tot parcursul anului 2010, aceasta balansare s-ar putea  traduce prin mentinerea volumului
de carburant vandut", a mentionat Laszlo Piry.
"Pentru 2010, MOL are in plan, pentru Romania, mentinerea volumului de carburant vandut. De asemenea, investitiile se vor focusa pe modernizarea retelei existente. Vrem totodata sa punem accent pe vizibilitatea preturilor. si, daca sesizam oportunitati de investitii, le vom urmari si fructifica", a precizat Laszlo Piry.
In schimb, vanzarile  de carburanti ale companiei petroliere Lukoil Romania au scazut cu 10% in primele noua luni, iar in statii au scazut cu 5%,  ajungand la 570.000 tone, a declarat Constantin Tampiza, directorul general al companiei.
"Cea mai proasta perioada la vanzarile de carburant a fost primul trimestru din 2009", a precizat Tampiza. Compania a inregistrat in primele noua luni ale anului 2009 o cifra de afaceri de 923 milioane dolari, in scadere cu aproape jumatate fata de 2008, cand a raportat afaceri de 1,7 miliarde dolari.
"Cererea de combustibil va avea doua tendinte: gradul de penetrare a numarului de vehicule nu este la nivelul
european, iar cererea pentru sectorul transporturilor poate sa creasca, dar consumul se va eficientiza pentru a emite mai putine noxe. Pe termen mediu si lung, vedem o scadere, pentru ca va fi o reconfigurare in transporturi pentru reducerea emisiilor poluante, iar astfel cererea de combustibil va scadea. Plus ca se va reduce
si din cauza crizei economice. De asemenea, marjele in rafinare se reduc pentru ca scad cererea, precum si unele industrii", a explicat Mariana Gheorghe, director general Petrom.  Potrivit acesteia, in contextul in care operatorii din transporturi urmaresc eficientizarea activitatii, pe fondul crizei economice, pe piata romaneasca se inregistreaza o supracapacitate de rafinare.
"In 2008 s-au procesat 13,5 milioane tone de petrol in Romania, iar cererea a fost de 9,3 milioane tone. Deci, este evident ca exista o supracapacitate", a precizat Mariana Gheorghe.
EVZ: OMV capătă drepturi mai mari asupra Petrom
La sfârşitul acestui an expiră termenul unor interdicţii impuse prin contract noului acţionar majoritar al Petrom. Astfel, austriecii ar putea decide chiar vânzarea societăţii.
La cinci ani de la privatizarea celei mai valoroase companii româneşti, Societatea Naţională a Petrolului Petrom, statul român face câţiva paşi înapoi în faţa grupului austriac OMV, căruia i-a predat ştafeta administrării companiei în decembrie 2004.
La finele acestui an, expiră termenul unor interdicţii puse atunci noului acţionar majoritar, printre care obligaţia de a menţine sediului social al Petrom în România sau de a nu înstrăina niciun activ de bază, cum e Rafinăria Petrobrazi. De la 1 ianuarie 2010, OMV va putea face schimbări importante la Petrom, fără acordul statului.
Potrivit contractului de privatizare, grupul OMV avea obligaţia ca, pentru cel puţin cinci ani de la finalizarea tranzacţiei (14 decembrie 2004), să păstreze statutul Petrom de societate integrată în domeniul petrolului şi gazelor naturale şi să nu înstrăineze sau să închidă niciun activ de bază sau orice parte a acestuia.
Active de bază înseamnă un număr suficient de active în explorare şi producţie, astfel încât Petrom să producă minimum 4,2 milioane tone de ţiţei şi 4,5 miliarde metri cubi de gaze anual.
Printre acestea se numără Rafinăria Petrobrazi, active în sectorul de distribuţie necesare pentru a menţine o cotă de piaţă de 30% din piaţa locală de combustibil, respectiv o cotă de 20% în retail, cele două institute de cercetare din Câmpina şi Ploieşti.
De asemenea, trebuia să menţină sediul social al companiei în România, să păstreze denumirea "Petrom S.A." şi emblema acesteia. Totodată, OMV era obligată să nu susţină dizolvarea sau lichidarea voluntară a Petrom, fuziunea sau divizarea acesteia, precum şi să menţină societatea cotată la Bursa de la Bucureşti. Anumite acţiuni care derogau de la aceste obligaţii puteau fi luate de OMV cu acordul statului.
În contract se mai menţionează că, timp de cinci ani de la tranzacţie, OMV nu va vinde nicio acţiune deţinută la Petrom fără acordul scris al statului, sau să pună gaj acţiuni în favoarea vreunui terţ, cu excepţia transferului către un a fili at controlat exclusiv de OMV.

Taxe îngheţate
O serie de clauze din contractul de privatizare sunt în vigoare pentru mulţi ani de acum încolo. Astfel, până pe 31 decembrie 2014, statul este obligat să nu modifice nivelul redevenţelor petroliere şi modul de calculare a acestora, şi nici o serie de prevederi din Codul Fiscal
referitoare la impozitarea explorării şi producţiei petroliere.
O prevedere care ne-ar putea costa foarte mult este cea referitoare la poluarea mediului. Astfel, Legea 555/2004 de privatizare impune ca, timp de 15 ani, statul să despăgubească în totalitate societatea pentru orice pretenţii în legătură cu contaminarea istorică a mediului. Ministerul Finanţelor trebuie să constituie anual un cont de 50 de milioane de euro
, disponibil pentru eventualele solicitări de plată.
De asemenea, timp de 30 de ani, statul trebuie să suporte pretenţiile Petrom în legătură cu costurile de abandonare şi scoatere din funcţiune a unor sonde.
SUPRAVEGHERE

Statul îşi pierde "acţiunea de aur"

Tot începând cu 1 ianuarie 2010, statul îşi va pierde drepturile speciale ("acţiunea de aur") consfinţite prin contractul de privatizare, pentru că ele erau valabile până pe 31 decembrie 2009.
În plus, acestea erau contrare legislaţiei europene, care cere ca acţionarii să nu fie trataţi preferenţial. De altfel, în 2007, Comisia Europeană a iniţiat procedura de infringement împotriva României din cauza "acţiunii de aur".
Astfel, puterea de decizie a statului român, care deţine 20,63% din acţiuni, este mult diminuată. De pildă, până la 31 decembrie 2009, decizia de vânzare a Rafinăriei Petrobrazi sau a oricăror altor active a căror valoare de piaţă depăşeşte 75 de milioane de euro putea fi luată doar cu votul favorabil a 8 din cei 9 membri ai Consiliului de Supraveghere.
Din 2010, va fi necesar doar votul majorităţii membrilor prezenţi la şedinţă. Pe de altă parte, pentru adoptarea unor decizii importante pentru companie în Adunarea Generală Extraordinară a Acţionarilor, cum ar fi divizarea, fuziunea, majorarea capitalului social etc., este necesar votul acţionarilor reprezentând 66% din capitalul social, ca până acum.
ADMINISTRARE

Cum s-a făcut restructurarea companiei

Ţinând cont de explozia preţului petrolului, grupul austriac OMV nu poate fi decât fericit de achiziţia Petrom, care exploatează aproape integral rezervele de petrol ale României (cu o producţie anuală de peste 4,5 milioane de tone de ţiţei) şi jumătate din cele de gaze naturale
(peste 5,5 miliarde de metri cubi de gaze pe an).
La aceasta se adaugă şi producţia din Kazah stan. De la 22 de dolari barilul de pe trol, cât s-a luat în calcul la evaluarea companiei când se pregătea privatizarea, cotaţia a atins 147,5 dolari, în iulie 2008.
În aceste condiţii, şi câştigul companiei a crescut spectaculos, de la pierderi de 974 de milioane de lei în 2004 la profituri cumulate de 6,5 miliarde de lei, în perioada 2005-2008. Din dividende, OMV a câştigat cir ca 413 milioane de euro (1,4 miliarde de lei), adică peste 60% din banii daţi la privatizare (669 de milioane de euro).

Salariaţii, o problemă
În prezent, statul, prin Ministerul Economiei, are 20,63% din acţiuni, după ce a cedat 20,11% din capital Fondului Proprietatea. Însă a rămas nerezolvată problema pachetului de 8% din acţiunile companiei deţinute de statul român ce trebuia dat salariaţilor.
Rezultatele au fost influenţate şi de un amplu proces de restructurare a companiei. Personalul a fost redus de la 50.010 angajaţi în 2004, la 26.397, în 2006, sub nivelul prevăzut în contractul de privatizare. De altfel, una dintre marile probleme ale Petrom ţine de litigiile cu angajaţii, după ce mulţi dintre ei au dat în judecată compania pentru plata unor prime restante.
Totodată, compania a vândut cea mai mare parte a activelor care nu ţineau de activitatea de bază – platformele marine, moteluri, hoteluri, terenuri, baze sportive
, acţiunile la Carpatina, la Butan Gas, pentru care a încasat peste 200 de milioane de euro.
Pe de altă parte, Petrom a investit, din 2005 până în septembrie 2009, circa 4,5 miliarde de euro, cea mai mare parte în explorare şi producţie. Din a ceastă sumă, 831 de milioane de eu ro au fost din majorarea de capital efectuată la privatizare, pentru a ajunge la 51% din acţiuni.
Totodată, numărul de benzinării în România şi în afara ţării a fost extins de la 682, în 2004, la 828, iar vânzările medii anuale pe staţie au crescut de la 1,9 milioane de litri în 2005 la 4,3 milioane de litri în 2008.
PLANURI DE VIITOR

Noul OMV Petrom

Planurile de reorganizare ale OMV pentru Petrom continuă. Potrivit unei decizii luate de acţionarii companiei pe 20 octombrie, compania se va numi, de la 1 ianuarie, OMV Petrom, pentru a marca apartenenţa la grupul austriac. Totodată, obiectul de activitate a fost completat cu exportul de gaze naturale.
De altfel, reprezentanţii companiei vor profita de primul prilej pentru a exporta gaze naturale, lucru imposibil tehnic în prezent. În plus, ei cer majorarea preţului gazelor din producţia internă la nivelul importurilor, de două ori mai scumpe acum.
Ca parte a strategiei de restructurare, OMV Petrom va ieşi, până la finele lui 2010, de pe piaţa produselor chimice. Până atunci, Doljchim va opera în funcţie de necesităţi, iar divizia de petrochimie a Arpechim a fost vândută, pentru 13 milioane de euro, firmei de stat Oltchim, care va prelua şi 560 de salariaţi. Soarta rafinăriei Arpechim va fi reevaluată după 2011, dar se vorbeşte deja de închiderea sa.
Din cauza supracapacităţii de rafinare pe plan local şi european, capacitatea Petrobrazi va fi redusă de la 4,5 la 4,2 milioane de tone pe an, deşi iniţial OMV dorea majorarea acesteia la 6 milioane de tone. Totodată, Petrom va încerca să renunţe cât mai repede şi la ultimele active "balast", precum distribuţia de gaze.
Intrarea pe piaţa energiei

În 2011, OMV Petrom va deveni producător de energie, odată cu începerea producţiei la centrala de 860 MW de la Brazi. Aceasta va asigura aproximativ 8% din necesarul local de electrici tate şi va funcţiona pe gaze naturale. Compania şi-a anunţat totodată intenţia de a investi în energie alternativă, însă nu are încă planuri concrete.
Anul viitor, OMV Petrom îşi va muta birourile într-un nou sediu, Petrom City, la Străuleşti, în care a investit circa 130 de milioane de euro.
După ce s-a împrumutat masiv până acum, Petrom ar putea cere efectuarea unei majorări de capital de un miliard de euro, pentru susţinerea investiţiilor din 2010, potrivit unor surse oficiale. În acest caz, Ministerul Economiei şi Fondul Proprietatea vor trebui să contribuie cu 400 de milioane de euro.
Hotnews: A doua centrala nucleara din Romania va fi gata in 2030 si va avea 1.000 MW
Cea de-a doua centrala nucleara care va fi construita in Romania va fi gata pana in 2030, cu zece ani mai tarziu decat fusese anuntat initial, si va avea o putere instalata de 1.000 MW, desi reprezentantii ministerului spuneau anul trecut ca aceasta va avea 2.400 MW, transmite NewsIn.
"Programul Promovarea domeniului nuclear romanesc la nivel national si international devine tot mai necesar din momentul in care atat institutia guvernamentala, cat si cea prezidentiala din Romania si-au propus sa dezvolte noi capacitati energetice nucleare: inca doua unitati nucleare de minim 700 MWe la Cernavoda, in perioda 2009-2015, si cel putin inca o centrala nucleara de 1000 MWe pana in 2030", se arata in Proiectul Legii bugetului de stat pe anul 2010, publicat de Ministerul Finantelor Publice.
Initial autoritatile romane anuntasera ca cea de-a doua centrala nucleara ar urma sa fie data pana in 2020.
Potrivit secretarului de stat in Ministerul Economiei, Comertului si Mediului de Afaceri, Tudor Serban, amplasamentul noii centrale nucleare nu va fi cunoscut in acest an.
De asemenea, fostul director general al Nuclearelectrica, Teodor Chirica, spunea anul trecut ca noua centrala nucleara care va fi construita va avea o putere instalata de pana la 2.400 MW si ca "fie va avea doua grupuri de cate 1.200 MW fiecare, fie va avea patru grupuri de cate 600 MW fiecare".
Totodata, fostul presedinte al Agentiei Nucleare Valica Gorea a declarat in luna aprilie agentiei NewsIn ca studiul de amplasament pentru a doua centrala nucleara a tarii a fost finalizat, iar cele mai bune patru locatii selectate se afla in judetele Brasov, Sibiu, Arad si Cluj.
In prezent, singura centrala nucleara a tarii se afla la Cernavoda si este compusa din doua reactoare cu o putere instalata de circa 700 MW fiecare. In momentul de fata se are in vedere construirea altor doua noi reactoare nucleare, investitie care s-ar putea ridica la circa patru miliarde de euro, care vor fi puse in functiune dupa 2016.
Energia electrica produsa anual de Unitatile 1 si 2 CNE Cernavoda reprezinta circa 17-18% din productia de electricitate totala a Romaniei.
www.wall-street.ro: O noua criza a gazului ar putea izbucni dupa 11 ianuarie
O noua criza a gazului intre Rusia si Ucraina ar putea izbucni dupa 11 ianuarie, data-limita pe care Gazprom a fixat-o Kievului pentru a-si plati factura restanta pe luna decembrie, in conditiile in care in Ucraina au loc alegeri prezidentiale la 17 ianuarie.
Presedintele monopolului rus Gazprom, Aleksei Miller, a anuntat ca Ucraina si-a redus de la mijlocul lunii decembrie volumele de gaz achizitionate din Rusia, din cauza dificultatilor foarte serioase pe care Kievul le are in a-si plati importurile.
Ucraina are "probleme foarte serioase cu plata livrarilor de gaz pentru decembrie", a afirmat Miller, citat de NewsIn.
Potrivit Gazprom, Ucraina are termen pana la 11 ianuarie pentru a-si plati facturile. Gazprom considera "foarte serioasa situatia cu privire la plata pentru livrarile din decembrie", a subliniat Miller.
Purtatorul de cuvant al Gazprom, Serghei Kuprianov, a declarat ca, in opinia sa, Ucraina, aflata in dificultate financiara, nu a reusit sa-si plateasca factura de gaz pe decembrie pentru ca nu a obtinut de la Fondul Monetar International deblocarea unei noi transe din imprumut. Ucraina ar fi trebuit sa primeasca de la FMI 3,8 miliarde de dolari.
Intrebat ce se va intampla daca Ucraina nu isi achita factura pana la data limită de 11 ianuarie, purtatorul de cuvant a avertizat ca Gazprom va actiona "conform prevederilor contractului", o formula utilizata anterior de companie atunci cand intrerupea livrarile de gaz catre Ucraina.
"La ora actuala, nu sunt motive obiective pentru a izbucni o noua criza", a adaugat totusi Kuprianov.
Premierul rus Vladimir Putin a avertizat in repetate randuri ca Rusia va intrerupe livrarile de gaz catre Ucraina, in cazul neplatii facturilor.
Declaratiile ruso-ucrainene pe tema gazelor sunt urmarite atent de europeni, care, la inceputul anului 2009, au avut de suferit aproape doua saptamani de pe urma intreruperii livrarilor ruse de gaz in plina iarna, din cauza unui diferend legat de plata facturilor si de pretul gazului intervenit intre Kiev si Moscova. UE primeste din Rusia 25% din necesarul de gaz, iar 80% din aceste livrari trec prin Ucraina, care este tara de tranzit.
La 24 noiembrie, compania ucraineană Naftogaz si monopolul rus Gazprom au incheiat un acord prin care Kievului i se permite sa achizitioneze in 2010 mai putin gaz decat era prevazut in contract, ceea ce a indepartat pentru moment spectrul unui nou conflict intre cele doua tari vecine.
Adevarul: Rusia, preferată de investitori
Autorităţile de la Moscova sunt mult mai pesimiste faţă de prognozele extrem de pozitive ale fondurilor de investiţii. Analiştii care n-au prevăzut în 2009 performanţa pieţei moscovite anticipează profituri substanţiale pentru 2010.
Bursa din Moscova este considerată de către managerii fondurilor de investiţii ca având cel mai mare potenţial de creştere dintre marile pieţe emergente, chiar dacă în 2009 a avut cea mai mare creştere, de 129%.
Conform analizei efectuate de Bloomberg, mai mult de 95% dintre ratingurile acordate acţiunilor cotate la Moscova sunt "cumpără", sau "păstrează", cel mai înalt procentaj înregistat din 1997.
Goldman Sachs Group recomandă Rusia ca fiind cea mai atractivă piaţă emergentă, în timp ce cea mai veche bancă rusă de investiţii, Troika Dialog, anticipează o creştere medie a cotaţiilor acţiunilor de 40% pentru 2010.
Profitul din plasamentele bursiere vor fi duble în Rusia, comparativ cu nivelurile estimate pentru China, India şi Brazilia, mai ales datorită scumpirii petrolului şi gazelor naturale.
Profituri de peste 30% în 2010
Analiştii intervievaţi de Bloomberg anticipează o creştere medie a preţului acţiunilor companiilor ruse de 21% pentru următoarele 12 luni. Titlurile cu cele mai bune evoluţii în 2010 vor fi Rosneft, cel mai mare producător de petrol şi compania de telecomunicuţii Mobile TeleSystems, ambele cotate cu creşteri de 30%.
În urmă cu 12 luni, aceleaşi fonduri de investiţii cotau Rusia ca cea mai mai puţin atractivă piaţă pentru plasamente bursiere dintre economiile emergente.
În perioada cuprinsă între august 2008 şi februarie 2009, investitorii au retras peste 290 de miliarde de dolari de pe piaţa rusă, în momentul în care economia se confrunta cu cea mai gravă criză din ultimii 10 ani. Indicele RTS al Bursei din moscova a pierdut 63% din valoare în 2008, cea mai mare scădere dintre cele 30 de mari pieţe de capital din lume.
Inflaţia periclitează redresarea economică
Alexei Kudrin, ministrul rus de Finanţe, consideră că Rusia este "veriga slabă în cadrul pieţei financiare globale" iar economia nu este suficient de puternică pentru a atrage investiţii după ce băncile centrale din SUA şi Europa vor începe să majoreze ratele dobânzilor de referinţă.
Produsul Intern Brut se va contracta cu 8,7% în 2009, iar redresarea ar putea fi compromisă de presiunile inflaţioniste, a atenţionat Kudrin.
RIA Novosti: Ukraine to raise gas transit rate in 2010
The rate charged by Ukraine for transit of Russian gas to Europe will be $2.7 per 1,000 cubic meters per 100 kilometers in 2010, up from $1.7 this year, Russian energy giant Gazprom said on Wednesday.
"The average for the year will be $2.7," Gazprom spokesman Sergei Kupriyanov said.
The new rate is 58.8% higher than this year.
Kupriyanov also confirmed the forecast from Ukraine's Naftogaz that the gas price for Ukraine in the first quarter of 2010 will total $305.2 per 1,000 cu m.
The Ukrainian and Russian prime ministers, Yulia Tymoshenko and Vladimir Putin, agreed on November 19 in Yalta that the transit fee and gas price will be formed on a market basis, with the transit fee rising by around 60%. In 2009 the favorable rate was due to a discount in the gas price Russia gave Ukraine.
The average annual price of gas for Ukraine in 2009 was $228 per 1,000 cu m. Gazprom expects the average annual price for Ukraine for 2010 to be $280.
RIA Novosti: Russia to raise gas price for Belarus by 11% in early 2010
Belarus will pay around $168 per 1,000 cubic meters of Russian natural gas in the first quarter of 2010, 11% more than the average price of $150 for 2009, the Gazprom CEO said on Wednesday.
"Under the contract, the gas price formula for Belarus in the first quarter of 2010 will be around $168 per 1,000 cu m," Alexei Miller said. "This year, gas was supplied to Belarus at an average of around $150, 11% lower."
Miller explained that Belarus is eligible for an exclusive discount due to the lack of a gas export duty, and that the price will help the country's economy adjust to an earlier agreed transition to higher gas prices.
The two ex-Soviet neighbors, which form a "union state," had a bitter dispute in 2006, when energy giant Gazprom threatened to cut supplies to Belarus, which rejected an increase in gas prices. The countries finally agreed to a gradual increase in prices to European market levels by 2011.
Miller met with Belarusian Deputy Prime Minister Vladimir Semashko in Moscow on Wednesday.
RIA Novosti: Russia, Ukraine settle oil transit dispute, agree on tariff hike
Russia and Ukraine have settled their oil transit dispute that threatened supplies to the EU, agreeing to hike tariffs by 30% in 2010, an official for Ukraine's national energy company Naftogaz said on Tuesday.
"An agreement was reached last night, transit tariffs were increased 30%, with transit remaining at [the 2009 level of] 15 million metric tons of oil," Valentyn Zemlyanskiy said.
Russia's Energy Ministry confirmed the signing. "The agreement has been signed," ministry press secretary Irina Yesipova said.
Russia warned the European Union of a possible cutoff of oil supplies to Slovakia, the Czech Republic and Hungary due to transit fee disagreements with Ukraine on Tuesday, echoing the cutoff of Russian gas supplies to Europe in early January amid a price and debt dispute between the two ex-Soviet neighbors.
Ukraine and Russia later in the day moved to calm fears, saying the dispute will not affect supplies to Eastern Europe, and the deal for 2010 will be reached shortly. Moscow said it had warned the EU of a possible disruption in line with its obligations of "early warning" about potential energy risks.
Russian premier Vladimir Putin said in Vladivostok on Tuesday that rows with transit nations have undermined Russia's image as an energy supplier, prompting Moscow to seek alternative pipeline routes. He accused transit nations of blackmailing Russia.
Russia had gas disputes with Ukraine in winter 2006 and 2009 which affected consumers in Europe. Another ex-Soviet transit nation, Belarus, cut Russian oil supplies to the EU in January 2007 also amid a price row.
Ukraine, like Belarus, is a major transit route for oil pumped to Eastern Europe via the Druzhba pipeline. Ukraine transits about 80% of Russian gas shipments to the European Union, and itself relies on Russian supplies.
russiatoday.com: Russia and Ukraine in step together on oil transit
With gas supplies already secured, Russia and Ukraine have also come to agreement on oil shipments to Europe, averting any risk of a cut off over the New Year period.
The deal is done. Naftogaz Ukraine Spokesman, Valentin Zemlyansky eased any fears of a potential oil dispute when announcing that agreement between Ukraine and Russia had been reached.
"We have found a compromise concerning the transit fees and the minimal pumping volumes. The transit price has gone up 25% or a little more depending on exchange rates."
Russia will pay as much as 30% more per ton of oil moved, it also promises to pump the same amount in 2010 as in 2009 – 15 million tonnes. The big compromise on the Ukrainian side appears to be switching the settlement currency from dollars to euros.
The largest pipeline, called Druzhba or "Friendship" in English carries the major chunk of Russia's oil to Europe. But it's been more of a source of friction since the two countries switched to dealing with each other on market based terms.
Dmitry Lutyagin, Analyst at Veles Capital says the transit disputes are probably in neither Russia's or Ukraine's interest.
"Both sides would not gain from the conflict. It carries up to 35 million tons annually of Russia's oil and Ukraine is not in the position for ultimate measures."
Just a hint of another possible disagreement with Ukraine as a transit country for Russian fuel was enough to raise alarm in Europe. And although this round appears to have been settled peaceably, it once again suggested the need for longer term and more stable agreements.
russiatoday.com: Agreement reached on oil shipment through Ukraine
Russia and Ukraine have finally signed an agreement on the transit of oil to Europe through Ukraine.
Under the deal, Russia will pay 30% more per ton of oil moved, according to Valentyn Zemlyanskiy from Ukrainian monopoly, Naftogaz.
"An agreement was reached last night, transit tariffs were increased 30%, with transit remaining at the 2009 level of]15 million metric tons of oil."
Previously Kiev had been concerned that volumes would fall. Settlement is also due to be switched from dollars to euro. The European Commission has welcomed the announcement of the deal.
Novinite: Bulgaria Energy Regulator Increases Gas, Central Heating Prices
A household that heats a house of 70 square meters will have to pay BGN 6-7 more monthly, said the chairman of energy regulator Angel Semerdzhiev. Photo by
Sofia Photo Agency
The Bulgaria State Energy and Water Regulatory Commission has finally decided to increase central heating prices by 5% and natural gas prices by 10% from January 2010.
Both of the price hikes were less than expected, with reports earlier in December suggesting a 10% central heating rise and a 18% rise in the price of gas.
A household that heats a house of 70 square meters will have to pay BGN 6-7 more monthly, said the chairman of energy regulator Angel Semerdzhiev. He added; "This increase will be reflected in a very minimal way accounts of consumers."
Natural gas is rising by 10,4% from January 1 and 1000 cubic meters of blue fuel will cost BGN 413,24 euro excluding VAT. Further gas price rises are expected in 2010.
Novinite: The Bulgaria 2009 Review: Energy
Russian Energy Minister Shmatko (left) and his Bulgarian counterpart Traikov (right) during the bilateral energy talks in Sofia in December. Photo by BGNES
Bulgaria, Russia Start Talks for New Gas Supply Contract
Bulgaria and Russia are starting negotiations for a new long-term gas supplies agreement at the beginning of 2010.
This became clear December 24 during the conversations between the Bulgarian Economy and Energy Minister, Traicho Traikov, and his Russian counterpart Sergei Shmatko, Bulgarian National Radio reported.
Traikov left for Moscow unexpectedly a day earlier on a trip which had not been announced in advance. The specific reason for his rush to Russia was not revealed.
Traikov and Shmatko have also discussed the plans for the construction of the South Stream gas pipeline.
The talks for a new, long-term contract for supplies of Russian natural gas to Bulgaria are going to start in January or February 2010.
Russian Minister Shmatko has pointed out that some of the bilateral contracts in this field expire in 2010, and stressed that Russian energy giant Gazprom was going to make some new good offers to Bulgaria, and that a new agreement would be reached that would make the process of providing gas transparent.
The Bulgarian demand that all intermediaries be removed from the gas supply process will also be discussed during the upcoming negotiations.
The specific talks about the construction – specifically, about the project agreement and preliminary survey – of the South Stream gas pipeline on Bulgarian territory will also start in 2010.
Bulgaria Goes Ahead with Belene Nuclear Project
After nearly six months of hesitating whether to abandon or push ahead with the planned Belene nuclear power plant, the new Bulgarian government announced the tender for a consultant to help it decide how to proceed and attract new investors for the planned Belene nuclear power plant will be invited at the end of January.
Earlier in December Germany's Siemens, whom Bulgaria's previous Socialist-led cabinet contracted to build Belene nuclear power plant, handed its technical-economic offer to its partner Russia's Atomstroyexport.
Bulgaria's new centre-right government, which has put the 2,000 megawatt Belene under review due to rising costs, came up with the idea to hire a new consultant after German utility RWE walked out of the project due to funding problems and Sofia decided to redesign it in the next year to attract new investors.
Russia's state nuclear company Rosatom announced in December that it is ready to finance the multi-billion nuclear project in the Bulgarian Danube town of Belene, which has stalled over lack of funding.
This was Russia's second offer to pour money into Bulgaria's second nuclear plant Belene after Russian Prime Minister, Vladimir Putin, gave the green light to a EUR 3,8 B loan at the end of May.
Bulgaria's new government of the center-right GERB party has said however that it is not willing to provide any state guarantees for loans and is yet to decide whether to scrap or push ahead due to purely economic terms.
RWE's departure from Bulgaria's new Belene nuclear plant put extra pressure on government to find new shareholders while it redefines the scope of investment it needs.
The new governmen plans to cut its shares in the project from 51% to 20-30%, which will still allow the country to keep its blocking quota.
Belene's reactors are to be of the Russian VVER-1000 class, while the Western companies are providing instrumentation and control systems. State power utility NEK has a majority stake in the plant.
Russia Wants to Invest in JV for Bulgaria Nuclear Plant Belene
Russia is ready to invest in the joint-stock company for the creation of Bulgaria's second nuclear power plant at Belene.
This was made clear December 11 at a news conference in Sofia by Russian Energy Minister Sergei Shmatko, who participated in the 13th meeting of the Intergovernmental Bulgarian-Russian Commission for Economic, Scientific and Technical Cooperation.
"The Russian Federation was ready to provide a credit for the execution of the Belene NPP project but this is a hard thing to do now in the state of economic crisis. In the present situation, it seems rather hard to secure state funding. In spite of that, we are interested in the realization of this project, and are having a dialogue in order to find just corporate solution that would guarantee the construction of the nuclear plant, with the Russian Federation considering the opportunities for financial aid for the project," Shmatko declared.
He has confirmed the interest of the Russian side in becoming a part of the joint-venture for constructing the Belene NPP.
Bulgaria's Minister of Economy, Energy, and Tourism, Traicho Traikov, stated that the Bulgarian government want to turn the Belene nuclear plant project into one which "can happen."
"The interest of our nation is to attract additional investors to the project, and the interest of the Russian side is to make the project happen, and therefore the participation in a joint-stock company is an option which is not ruled out," Traikov said.
He explained that through the "appropriate structuring of the Belene deal in one or several phases" it could reach a form in which it corresponded with the vision of the Bulgarian government.
Sarkozy Offers Help for Bulgaria's Nuclear Plant Belene
French President Nicolas Sarkozy vowed on October 12 cooperation for the construction of Bulgaria's planned second nuclear power plant on the Danube, which has hit funding problems.
This was announced by Bulgarian Prime Minister Boyko Borisov after a meeting with the French president as he started a two-day working visit to France on October 12 2009.
"We are looking for European partners to make sure that the money that has been invested so far in the project does not go down the drain," Borisov told journalists after the meeting.
In his words the French President has been impressed with the speed at which Bulgaria's nuclear sector is developing.
Sarkozy has reiterated the commitment of France's Prime Minister Francois Fillon to hold talks with French companies, potential investors in Bulgaria's planned second nuclear power plant in the town of Belene.
"Why do you say you are breaking up with Russia, if everything has been produced there?", Sarkozy asked Borisov, referring to the Russian participation in the project and the two Russian-designed 1000MWe units.
Bulgaria's new center-right government has launched a review of Belene, questioning the need for new power capacity in Bulgaria as well as costs which it said could reach EUR 10 B.
Bulgaria Belene Project Maintenance to Cost EUR 200 M a Year
The nuclear project in the Bulgarian Danube town of Belene, which has stalled over funding problems, will need EUR 200 M to be maintained, according to the head of the holding, which groups the country's top energy assets.
"Now it is not a good time for suspending the project, it should be sustained even though with minimum of funds," Boris Pekov, chairman of the Board of Directors of the Bulgarian Energy Holding and executive director of the state enterprise "Radioactive waste" said on November 5.
According to Pekov freezing the project will also cost money. He assured that Russia's Atomstroyexport, which was contracted to build the two 1 000 megawatt reactors, has not yet claimed damages for the delay in the project.
The expert warned that the criteria for a new strategic investor should be selected very carefully, which clear requirements and realistic expectations.
Nabucco Project Gets to Ratification Stage in Bulgaria
Bulgaria's government decided in December to table the international agreement on the construction of the Nabucco gas transit pipeline to Parliament for ratification.
The international agreement for Nabucco was signed by representatives of Austria, Bulgaria, Hungary, Romania, and Turkey on July 13, 2009, in Ankara.
The Nabucco consortium is comprised of six energy companies with a share of 16,66% each – Bulgargaz (Bulgaria), Botas (Turkey), MOL (Hungary), Transgaz (Romania), OMV (Austria), and RWE (Germany).
Bulgaria, in which the pipeline from Caspian gas fields is to enter the EU, holds a 16.5 % stake in the EUR 8 B project.
The Nabucco pipeline is planned across Azerbaijan, Georgia, Turkey and Bulgaria, its construction executed by a consortium of firms from EU nations – Germany, Austria, Hungary, Romania and Bulgaria – as well as Turkey.
The project is the EU's attempt to diversify sources and reduce dependency on Russia.
Joschka Fischer: Next Year Crucial for Nabucco
European Union's Nabucco gas pipeline project will play an important role for Bulgaria's future and the coming year will be crucial for it, former German foreign minister Joschka Fischer said in Sofia at the beginning of November.
Fischer, now an adviser for partners in the Nabucco consortium, the German and Austrian energy giants RWE and OMV, arrived in Sofia to discuss the project with Bulgarian Prime Minister Boyko Borisov and other officials.
"I am keen on drumming support for Nabucco because Europe will need more and more gas," he said, but downplayed the rivalry between Nabucco and South Stream, neither of which has moved into the construction phase.
Asked about the potential providers of gas, Fischer singled out Northern Iraq, as well as Azerbaijan and Turkmenistan.
"The project should be implemented step by step so that we can be absolutely sure that these countries will agree to provide gas," he added.
Following his meeting with Fischer, Bulgaria's Energy and Economy Minister Traycho Traykov said the country has no plans to pull out of the project.
According to the minister the Bulgarian state has to secure EUR 300 M for the completion of the project.
Bulgaria's officials have made it clear that the government assigns great importance to the European Union's Nabucco gas pipeline project and it will be given a higher priority over Moscow's rival plan.
Russia, Toshiba Said to Eye New Unit at Bulgaria's Kozloduy N-Plant
Japan's Toshiba Corp. has reportedly voiced its interest in the building of a seventh unit at Bulgaria's Kozloduy nuclear power plant, the closure of which was one of the conditions for the country's EU accession.
Representatives of the company are expected to visit Bulgaria this week to launch the negotiations, local Klasa daily reported, citing sources from the government.
Toshiba holds a 67% stake in the American Westinghouse Electric Company, which builds nuclear power generator units. During their visit to Bulgaria the company representatives are expected to propose the building of Westinghouse Electric Company's AP1000, a Generation III+ reactor, on the site of the nuclear power plant.
Bulgaria's new center-right government of GERB party announced at the end of November that it is considering the construction of a new 1 000 MW nuclear unit at Kozloduy Nuclear Power Plant.
Earlier this month Russia officially voiced its interest in the building of a seventh unit at Bulgaria's Kozloduy nuclear power plant after Special Envoy of the United States Secretary of State for Eurasian Energy, Richard Morningstar, made it clear that American companies are likely bidders in nuclear energy projects here.
Experts have commented that the participation of American companies will ease Russia's grip on Bulgaria's energy sector.
Bulgaria's only nuclear plant Kozloduy has two 1,000 MW operating units left since the closure of Soviet-designed reactors 1 to 4 was one of the conditions for its entry in the European bloc.
Hit worst by the current Russia-Ukraine gas dispute at the beginning of the year, Bulgaria was poised to restart one of the nuclear reactors at its Kozloduy nuclear power plant, but abandoned the idea when faced with Brussles' vehement opposition.
Brussels Oks Bulgaria Nuclear Decommissioning Aid
The European Commission proposed on October 27 the allotment of EUR 300 M in additional compensations over four years to Bulgaria for the closure of Soviet-designed reactors 1 to 4 at Bulgaria's Kozloduy nuclear power plant.
"This investment in a safer and more sustainable Bulgarian energy network illustrates our desire to see Bulgaria fully integrated into the common European energy market," European Commission President Jose Manuel Barroso said in a statement.
Over the last ten years Bulgaria has received a total of EUR 550 M in compensation for the closure of four units at Kozloduy that had been deemed unsafe, but the government hopes to receive EUR 300 M more under Europe's recovery plan.
Bulgaria's previous Socialist-led government first called for additional money a year ago and went as far as to ask Brussels to compensate the country for the double blow of the gas crisis and the global economic slowdown by allowing a restart of the units.
The European Commission however has been adamant that a relaunch of the Soviet-era reactors at Bulgaria's sole nuclear power plant is out of the question.
The plant, which has been operating since 1974, has raised safety concerns, and Bulgaria agreed to shut four of its reactors as a condition of joining the EU.
Bulgaria Backs Double Capacity of Russian South Stream Pipeline
Bulgaria supported on December 11 increasing twofold the capacity of the planned Russian-sponsored gas transit pipeline "South Stream".
This was stated at a news conference in Sofia by Bulgaria's Minister of Economy, Energy, and Tourism, Traicho Traikov, who participated in the 13th meeting of the Intergovernmental Bulgarian-Russian Commission for Economic, Scientific and Technical Cooperation together with Russian Energy Minister Sergei Shmatko.
Traikov said Bulgaria has received the detailed explanation it required with respect to the proposal of the Russian side from increasing the capacity of the South Stream gas pipeline from 31 billion cubic meters to 63 billion cubic meters per year.
In his words, in its consultation with other EU countries Bulgaria was going to support the idea for declaring South Stream an object of European-wide significance.
He explained that Bulgaria and Russia were starting negotiations at the corporate level for hammering out all aspects of the bilateral relations with respect to the supplies and transit of natural gas.
Russia's Gazprom Gets 51% of Serbian Section of South Stream
Russia and Serbia signed several cooperation agreements on October 20 including a deal on the South Stream gas transit pipeline.
The documents were signed by the two Presidents, Dmitry Medvedev and Boris Tadic, in Belgrade, ITAR-TASS reported.
Russia's energy giant Gazprom and Srbijagaz signed a protocol on the Serbian section of the South Stream pipeline. According to the protocol, the two sides are expected within 30 days to seal the creation of their joint company South Stream Srbija, which is going to be in charge of the planning, construction, and operation of the South Stream pipeline on Serbian territory.
Under the deal, Gazprom gets a 51% share of the joint company, and Srbijagaz gets 40%.
The two gas companies also signed an contract for the setting up of a joint company for creating a natural gas storage facility, "Banatski Dvor". Here the Russians get a 51% share as well.
In addition to the energy deals, Russia and Serbia also signed agreements on warning against natural disasters, and on cultural, educational, and sports cooperation for 2009-2011.
Russia signed its South Stream deal with Bulgaria in January 2008 during the visit of former President Putin to Sofia. Gazprom has a share of 50% of the Bulgarian section of the South Stream pipeline, and so does the Bulgarian energy company
Bulgaria Eco Assessment Confirmed as Key for Fate of Russia Oil Pipeline
The assessment of the environmental impact of the planned Burgas-Alexandroupolis oil pipeline will be the key factor for deciding whether to go ahead with the project.
This was made clear December 11 by Bulgaria's Minister of Economy, Energy, and Tourism, Traicho Traikov, who gave a special press conference in Sofia together with the Russian Energy Minister, Sergei Shmatko, after the 13th meeting of the Intergovernmental Bulgarian-Russian Commission for Economic, Scientific and Technical Cooperation.
Traikov said the environmental assessment to be prepared by the Bulgarian Environment Ministry must become the framework for the future decision on whether the project would be executed at all.
"There is no way that we can have a negative environmental assessment, and can also realize the respective project," Traikov declared.
Russian Energy Minister Shmatko said in turn that the Russian side had understanding for the need for a sufficiently in-depth environment assessment of the project, including in order to answer the questions and concerns of the citizens of the Bulgaria's Burgas region.
"The project will not be frozen, and we are going to cooperate on it in the future. We have agreed on the execution of a number of corporate procedures including the environmental assessment," Shmatko said.
Bulgaria PM to Make Public Burgas-Alexandroupolis Contract
Bulgaria's prime minister vowed December 6 to publish the contract for Burgas-Alexandroupolis oil pipeline, signed by the previous government, in a bid to prove how unprofitable and damaging it is for the country.
"The contract is not profitable for Bulgaria and does not protect its national interests," Boyko Borisov said in the coastal town of Burgas, adding that its clauses do not allow any of the partners in the project to withdraw.
Asked whether technical corrections can be made in the contract, Borisov said that efforts are being made to this end by a number of officials, including Economy and Energy Minister Traicho Traikov during his visit in Greece.
"We have been holding talks with the other two countries – Greece and Russia, but unfortunately the contract makes it possible only for Bulgaria to breach it," he explained.
In his words Bulgaria is the only country, for which Burgas-Alexandroupolis is nothing more than an infrastructure project, unlike Russia and Greece, which can pile up big profits out of it.
After it took office in July 2009, Bulgaria's new center-right government of the GERB party made it clear it was going to reconsider the country's participation in the three large-scale energy projects – South Stream gas pipeline, Burgas-Alexandroupolis oil pipeline, and Belene Nuclear Power Plant.
Three Bulgarian Black Sea municipalities – Burgas, Pomorie, and Sozopol – have voted against the pipe in local referendums over environmental concerns.
Municipalities neighboring Pomorie and nearby Burgas are also harboring fears that the pipeline could damage their lucrative tourism business, while environmental NGOs have branded the existing plans to build an oil terminal out at sea a disaster waiting to happen.
Bulgaria, Greece and Russia agreed to build the pipeline between Burgas and Alexandroupolis, taking Caspian oil to the Mediterranean skirting the congested Bosphorus, in 2007 after more than a decade of intermittent talks.
The agreement for the company which will construct the Burgas-Alexandroupolis oil transit pipeline was signed by Bulgaria during Russian President Putin's visit to Bulgaria in 2008.
The 280-kilometer pipeline, with 166 kilometers passing through Bulgaria, would have an initial annual capacity of 35 million tonnes, which could be later expanded to 50 million tonnes. Its costs are estimated at up to USD 900 M.
It is expected to be completed by the end of 2011 or beginning of 2012.
Russia Refutes Claims of Striking off Burgas-Alexandroupolis
Russia did not strike off the "Burgas-Alexandroupolis" oil pipe line project, the Russian "Transneft" declared Thursday.
The Deputy President of the company, Mihail Barkov, said in an interview for the Bulgarian National Television (BNT) that the oil line through Bulgaria can exist without interfering with the "Samsun Djeihan" one in Turkey.
"Transneft" declined to comment on the publications in the "Russian daily "Novaya Gazeta" about the annulment of the project, but Barkov confirmed "Burgas-Alexandroupolis" is not going to be halted and is progressing according to schedule. He pointed out the Russian oil will be sufficient to fill both pipes – trough Bulgaria and Turkey.
Germany's PowerWind Commissions Wind Turbine off Bulgaria Coast
German wind turbine manufacturer PowerWind has commissioned at the beginning of December a 900 kW wind turbine five kilometres away of the Black Sea coast, in Hadzhi Dimitar, near the Bulgarian city of Kavarna.
"We wanted a state-of-the-art wind turbine that delivers maximum yield for our Bulgarian sites. The PowerWind 56 turbine was exactly that," Lyubomir Nikolov, Manager of the customer Milenium Group, commented as cited by the Power Engineering Magazine.
In addition to the exacting demands on technology and quality, it was important to Milenium Group to partner with a company committed to high standards of customer proximity:
"We were particularly impressed with the around-the-clock availability and flexibility of PowerWind during the project phase. They assisted us whenever we needed their help."
PowerWind is currently conducting sales talks with other customers from Bulgaria and expects to receive follow-up orders in the coming months.
In preparation for additional orders, PowerWind has already reached a service cooperation agreement with the experienced Bulgarian service provider ABC.
This will guarantee that PowerWind can give the best possible service to all customers in Bulgaria.
EC Approves Financial Aid for Nabucco, Bulgaria Gas Pipe Link
The European Commission approved December 4 the requested financial aid for construction gas pipeline connections from Bulgaria to Greece and Romania.
This has been announced Friday night by the Bulgarian Ministry of Economy, Energy, and Transport.
Thus, the Commission has approved the granting of EUR 45 M for the construction of a connection between the natural gas systems of Bulgaria and Greece. Another EUR 9 M will be allocated to the construction of a similar gas pipeline.
In addition, the EC has also proved in favor of a setting aside EUR 200 M to back the Nabucco gas transit pipeline.
The EC decision will be considered on December 7, 2009, the Council of Energy Ministers is supposed to approve the sums.
The initiative to connect Bulgaria's natural gas transport network to its neighbors received a boost as a result of the January 2009 Russia-Ukraine gas crisis when the cutoff of Russian gas supplies exposed the fact that Bulgaria had gas pipe connections only to Russia (and Turkey, which, however, is not a supplier but a receiver of Russian gas through Bulgarian territory) and there was no way its neighbors could aid it in the respective situation.
The EU has promised funding for construction gas pipeline links between Bulgaria and Greece and Bulgaria and Romania as a measure designed to increase EU energy security.
The Bulgarian government has recently announced plans to establish a similar connection to Serbia.
Bosch Plans Invasion of Bulgarian Renewable Energy Market
Bosch Group, the German global supplier of technology and services, plans to enter the Bulgarian market for renewable energy.
The company will also focus on the distribution of energy-saving solutions for heating and cooling of natural gas, an area where considerable quantities of carbon gases may be saved.
Bulgarian State Lists Power Utility Stake on Stock Exchange
Bulgaria's new center-right government plans to list on the Stock Exchange its stake in the electricity distribution companies CEZ, ЕОN and EVN.
This was announced on December 4 by Energy and Economy Minister Traicho Traikov at a press conference as he rolled out the strategy for the management of the state-owned stake in the three companies.
Following the privatization, the state owns a 33% stake in each of them. The plans are for these stakes to be combined in a separate state-owned company, which will be listed on the Stock Exchange.
The government has been voicing plans to list shares of the energy holding, which groups the country's top energy assets, on the Stock Exchange for a few months already, but the details have remained nebulous.
No agreement has been reached on the goals that turning the holding into a public company will pursue.
Initial plans have been for between 10% and 15% of the capital of companies to be listed on the Stock Exchange.
Bulgaria Energy Holding to Be Listed on Stock Exchange after 2010
Bulgaria's new center-right government announced in November plans to list on the Stock Exchange shares of the Bulgarian Energy Holding, which groups the country's top energy assets, at the end of 2010 at the earliest.
The government has been voicing plans to list shares of the energy holding or its subsidiaries on the Stock Exchange for a few months already, but the details have remained nebulous. No agreement has been reached on the goals that turning the holding into a public company will pursue.
Initial plans have been for between 10% and 15% of the capital of companies to be listed on the Stock Exchange.
The previous Socialist-led government set up the mega-structure last year in a bid to strengthen the country's' position on the European power market and manage major energy projects Bulgaria has committed to, including Belene nuclear power plant, Nabucco and the South Stream gas pipelines.
The holding was created with the merger of five state-owned companies – the National Electric Company NEK, the gas monopoly Bulgargaz, the Maritza Iztok Mines, the Maritza Iztok 2 Thermal Plant, and the Kozloduy Nuclear Power Plant into a EUR 4 B energy giant.
It is a sole owner joint-stock company with a 100% Bulgarian state ownership.
The new center-right government of GERB party, which swept the July general elections, has subjected the Bulgarian Energy Holding to financial checks to find out how the money poured into it for raising its capital has been used.
At the end of August it announced plans to dissolve the mega-structure only to abandon them a few months later.
Bulgaria, Azerbaijan Seal Natural Gas Supplies JV Deal
Bulgaria and Azerbaijan signed on November 13 an agreement for cooperation in the energy field as President Ilham Aliyev paid a working visit to Sofia at the invitation of his Bulgarian counterpart Georgi Parvanov.
Earlier in the week Bulgaria's Minister of Economy, Energy, and Tourism, Traicho Traikov, announced that Bulgaria's state-owned gas operator Bulgartransgaz, a subsidiary of Bulgargaz, and the Azerbaijan state gas company GNKAR are going to set up a joint venture.
The Bulgaria-Azerbaijan joint company is going to explore the possibilities for the delivery of natural gas from Azerbaijan to Bulgaria, including as both finding supplies for the quota of natural gas that Bulgaria will be entitled to receive through the Nabucco gas transit pipeline, and for the transit of compressed natural gas with tankers through the Black Sea.
If the project is realized, Bulgaria will not have to participate in the construction of a liquefied natural gas terminal.
As a result of the January 2009 Russia-Ukraine gas crisis, the Bulgarian authorities considered pushing for the setting up of such a terminal in Greece or Turkey in order to diversify the country's gas supplies.
Gazprom Confirms New Russia-Ukraine Gas Crisis Averted
Russian energy giant Gazprom confirmed November 6 that Ukraine had paid in full for the natural gas it received from Russia in October.
Ukraine's Prime Minister, Yulia Tymoshenko, announced that the country had found the money to pay for the Russian gas supplies.
Her statement came after Russian PM Vladimir Putin warned of a potential termination of the supplies over Ukraine's failure to pay; days later the Ukrainian company Naftogaz admitted it had trouble securing the funds. This has fueled fears in the EU about a repetition of the January 2009 gas crisis, which left many EU countries without Russian gas in the middle of the winter.
The Russian newspaper Komersant reported Monday that Moscow had submitted to the EU a draft of an early-warning energy memorandum, which it hopes will be signed during the EU-Russia meeting in Stockholm on November 18, 2009.
The document envisages a joint action plan in case Russian gas supplies for Europe are compromised by transit countries who divert them – something of which Russia has been accusing Ukraine.
Go-Ahead for Bulgaria Gorna Arda Hydro Project
Bulgaria's new government sealed a letter of approval for the construction of the long-delayed hydropower project at Gorna Arda river, the energy and economy minister announced on September 2.
The move is a requirement for the wrapping up of the sale of a 30.1% stake, owned by Turkey's CCG, part of the Ceylan conglomerate, to an Austrian consortium between energy firm EVN and construction company Alpine Bau.
Ceylan Holding is expected to withdraw its claim for EUR 75 M in damages that it filed with the International Court of Arbitration against the other member in the joint venture – Bulgaria's National Electricity Transmission Company NEK.
The Turkish company was contracted to implement the project under an electricity-for-infrastructure swap deal Bulgaria and Turkey signed in 1998. The launch of the hydropower construction was delayed after the Turkish company ran into financial troubles.
The Gorna Arda hydropower project is expected to cost around EUR 500 M, which should be paid by the consortium.
Spanish Company to Invest Big in Renewable Energy in Bulgaria
Spanish company "Electra Holding" unveiled in December plans for investing about EUR 650 M in renewable energy in Bulgaria by 2012.
The company's plan to enter the Bulgarian market has been presented in Sofia by its CEO Jose Oskar Leiva Mendez.
Electra Holding is going to focus on investments in wind and solar energy, energy production from biomass, and mini hydraulic energy.
So far Electra Holding has purchased three projects in Bulgaria – for the production of biodiesel and energy from biomass in Northern Bulgaria, and for wind power parks with a total capacity of 480 MW in Southern Bulgaria.
The planned investments of EUR 650 M in renewable energy production are going to lead to the creation of 700 jobs in the sector. Part of the funds will be raised through listing the company on the Spanish stock exchange.
Electra Holding already has operations in Spain, Romania, and Mexico, and is considering projects in Greece and Croatia.
Melrose Production to Surge on New Bulgarian Fields
Edinburgh-based oil explorer Melrose Resources is on track to produce 40,000 barrels of oil a day in 2010 as it brings two new Bulgarian gas projects on stream, it announced on December 20.
The FTSE 250 company was Bulgaria's largest producer of domestic gas for several years until 2008, when its Galata field in the Black Sea was exhausted. Most of the country's supplies come from Russian giant Gazprom.
Next year, Melrose plans to spend USD 51 M bringing the Kavarna and Kaliakra fields into production in July and October. This move is expected to restore its Bulgarian production to 2007 levels.
The group said that it was still hopeful of signing off a gas storage agreement with the national government, a potentially lucrative deal that would pump gas into the now disused Galata field during periods of low demand.
energia.gr: Foreign Consortium Wins $10 Bln Turkmen Gas Contracts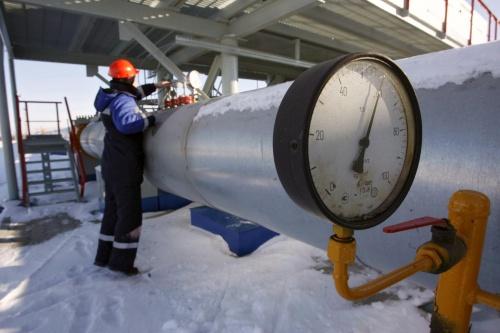 A consortium of U.A.E.-based, Chinese and South Korean companies have won a tender worth a total of $10 billion to develop
Turkmenistan
's
South Yolotan
gas field, the state information agency reported late Tuesday.

"President Gurbanguly Berdymukhamedov signed a decree allowing the state Turkmengaz concern to cinch deals of a total $10 billion with foreign companies to develop the
South Yolotan
field," the agency said.

The U.A.E.-based Gulf Oil & Gaz Fze would map and build underground infrastructure to provide up to 20 billion cubic meters of gas a year, for $1.15 billion, officials said.
China
's CNPC Chuanging Drilling Engineering company would conduct similar works that would provide up to 10 billion cubic meters of gas annually, according to a contract worth over three billion dollars.

A South Korean consortium including LG International Corp. (001120.SE) and Hyundai Engineering Co. would build a refinery to cleanse up to 10 billion cubic meters of gas of sulphur annually, for a total of $1.5 billion.

The U.A.E.'s Petrofac International, a unit of Petrofac Ltd. (PFC.LN) would construct a similar refinery and several factories above ground to secure up to 20 billion cubic meters of gas a year, for a total of nearly $4 billion, the agency said.