Hotnews: Videanu sustine ca Exxon vrea sa exploateze gazele din Marea Neagra, alaturi de OMV si Romgaz
Adriean Videanu, ministrul interimar al economiei, a anuntat ca Exxon ar putea sa se alature companiilor OMV si Romgaz in vederea exploatrii gazelor din Marea Neagra. Declaratia a fost facuta in cadrul audierilor din Comisiile de specialitate de la Parlament. Compania americana Exxon este, la ora actuala, cea mai valoroasa companie din lume, in functie de capitalizarea de piata.
Videanu a mai precizat ca Romgaz a inceput sa desfasoare operatiuni externe, avand discutii in Turkmenistan, Azerbaidjan si Iraq, pentru identificarea de terenuri si pentru exploatarea acestora.
Petrom a incheiat anul trecut un parteneriat cu ExxonMobil Exploration and Production Romania Ltd., o subsidiara a corporatiei ExxonMobil, pentru explorarea platformei continentale romanesti din Marea Neagra. Suprafata este de 9.900 km patrati, cu o adancime intre 50 si 1.700 metri.
ziare.com: Kommersant: Turcia cumpara din Iran gazul pentru Nabucco
Turcia si Iranul au semnat miercuri un memorandum care permite Turciei sa comercializeze anual 17,5 miliarde de metri cubi de gaz iranian, suficient pentru prima etapa de umplere a gazoductului Nabucco.

Teheranul si Ankara intentioneaza sa investeasca in acest proiect circa patru miliarde de dolari, cate un miliard de dolari in fiecare an, scrie publicatia rusa Kommersant.
"Vom demara lucrarile la inceputul lunii noiembrie. Potrivit acordului, Turcia poate comercializa gaz natural. De asemnea, jumatate din cantitatile de resurse vor fi comercializate in Turica sau prin teritoriul ei", a declarat ministrul turc al Energiei, Taner Yildiz.
In acelasi timp, ministrul a subliniat ca "Iranul poate deveni si unul dintre furnizorii de gaz pentru gazoductul Nabucco", scrie publicatia rusa.
Potrivit sefului centrului de relatii internationale si analiza strategica "Turcsam" din Turcia, Sinan Ogana, dupa semnarea acestui acord gazul iranian din zacamantul South Pars se afla pe primul loc pentru umplerea cu gaz a Nabucco, dupa gazul turkmen, irakian si azer.
In cazul in care prevederile din memorandum vor fi realizate, cantitatile de gaz pe care Turcia interntioneaza sa le cumpere din zacamantul South Pars sunt suficiente pentru prima etapa de umplere a conductei.
Gazoductul ce urmareste crearea unui traseu de tranzitare a gazului caspic, ocolind Rusia, ar putea obtine astfel o baza sigura de resurse.
Expertul turc considera ca semnarea acestui document a fost convenita in prealabil cu SUA.
"Nu cred ca Erdogan, face astfel de pasi fara desfasurarea unor discutii in acest sens cu Washingtonul", a declarat Ogana.
Standard.ro: Petrom investeşte 90 milioane de euro la Midia
Cea mai mare companie din România, Petrom, parte a grupului petrolier austriac de petrol şi gaze OMV, a inaugurat o unitate nouă de procesare a gazelor, în cadrul terminalului petrolier de la Midia (jud. Constanţa), în urma unor investiţiii totale de aproximativ 90 milioane de euro, potrivit unui comunicat al societăţii.
Noua unitate are o capacitate zilnică de procesare a gazelor de 3,8 milioane de metri cubi, de peste două ori mai mare decât vechea instalaţie, şi are o eficienţă de 99% în recuperarea compuşilor grei. Unitatea poate prelua întreaga producţie offshore de gaze a Petrom. Reamintim că Petrom acoperă din resursele de petrol şi gaze din Marea Neagră circa 18% din producţia sa totală din România.
"Unitatea de procesare a gazelor, inaugurată astăzi (joi, n.red.), este mult mai eficientă decât cea veche şi îndeplineşte toate normele UE de mediu, în special pe cele referitoare la emisii", a declarat Johann Pleininger, membru al Directoratului Petrom, responsabil pentru Explorare şi Producţie.
De altfel, compania produce gaze asociate şi libere din instalaţiile sale din Marea Neagră, care necesită procesare pentru a fi injectate în sistemul naţional de transport administrat de compania de stat Transgaz.
"Unitatea de procesare a gazelor de la Midia prelucrează volumele de gaze colectate pentru a îndeplini specificaţiile gazelor pentru vânzare, prin înlăturarea compuşilor grei din gaze, precum propan, butan şi pentan", se arată în comunicatul companiei petroliere.
Conform sursei citate, compuşii uşori rămaşi, metan şi etan, sunt apoi transferaţi în reţeaua sistemului naţional de transport, pentru distribuţia ulterioară către clienţi, iar compuşii grei din gaze sunt transportaţi, în formă lichidă, pe calea ferată, către rafinăriile Petrom, unde sunt adăugaţi în procesul de producţie.
Unitatea de la Midia are o rată de recuperare a compuşilor grei de 340 tone de condensat pe zi, în timp ce vechea instalaţie reuşea să recupereze doar 100 de tone/zi. În plus, instalaţia de la Midia dispune de propria centrală de energie electrică în cogenerare, cu o capacitate de 10 MW. Aceasta permite unităţii de la Midia să funcţioneze independent de orice altă sursă externă de alimentare cu energie electrică.
Unitatea de la Midia a fost proiectată şi construită prin intermediul unui contract de achiziţie, proiectare şi construcţie de către grupul german Linde, cu sprijinul unor subcontractori din România, Germania, Ucraina şi Ungaria. Cea mai mare companie din România a obţinut în primele şase luni ale anului un profit net de 923 milioane de lei (219 mil. euro).
EVZ: Videanu vrea să lase liber preţul gazelor
SCUMPIRE. Ministrul economiei, Adriean Videanu, a declarat ieri că este nevoie
de un program
naţional de liberalizare a preţului la gaze
.
El leagă această intenţie de o notificare a Comisiei Europene în acest sens. Ministrul a arătat că în momentul de faţă, Ministerul Economiei discută şi cu Romgaz şi Petrom, principalii producători de gaze din România, pentru stabilirea unui calendar în acest sens.
Întrucât gazele din producţia internă sunt de aproape două ori mai ieftine decât cele importate din Rusia, liberalizarea pieţei ar duce automat la scumpirea celor dintâi. Videanu a mai precizat că nu se va pune problema în perioada
următoare a unui export de gaze.
energia.gr: Gazprom Could Adopt Changes To Long-term Export Contracts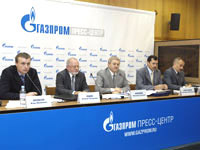 Russian gas giant OAO Gazprom (GAZP.RS) doesn't rule out the possibility of altering its long-term export contracts, but will retain the take-or-pay principle, the company said Wednesday.

"Changes could be made to the long-term contracts," said Sergey Komlev, head of price formation at Gazprom Export. "But all the main principles, including take-or-pay, will remain in place," he added.

Take-or-pay is a contract stipulation whereby the buyer agrees to pay for a minimum amount of product over a specified time, whether or not the seller delivers that amount.

Gas prices under Gazprom's long-term contracts, which are pinned to those of oil with a six to nine month lag, have far exceeded spot market prices this year.

Moreover, the economic slowdown has depressed demand for natural gas in Europe, and Gazprom's European costumers, such as Germany's E.On Ruhrgas AG, France's GDF Suez (GSZ.FR) and Italy's ENI SpA (E) have bought less Russian gas this year than specified in their take-or-pay contracts.

"Long-term contracts have (over time) adopted to the market reality, and there is no reason to think that the new realities that we are facing now will not be incorporated into the structure of the long-term contracts," Komlev said, without elaborating.

Take-or-pay contracts used to be common gas industry practice when liquid spot markets didn't exist and producers needed long-term deals with stable prices to underpin investments in new gas fields.
energia.gr: Russia Antitrust Opens Case Against Gazprom Over Pipe Access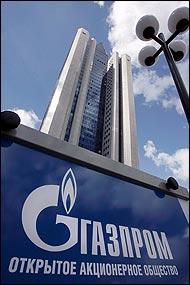 Russia's antimonopoly watchdog has opened a case against gas company OAO Gazprom (GAZP.RS) after a complaint from oil producer OAO Rosneft (ROSN.RS) that it didn't allow access to its gas pipeline system, the agency said Wednesday.

Rosneft claims that between April and August, it was denied full access to Gazprom's pipeline system due to lower demand for gas in Russia, the Federal Antimonopoly Service, or FAS, said.

However, Rosneft says it has contracted all its gas production to domestic costumers.

The FAS Tuesday fined Rosneft 5.28 billion rubles ($182.4 million) for abusing its position on the wholesale fuel market in the first six months of 2009.
energia.gr: Naftogaz To Buy Around $500M Gas From Gazprom For Oct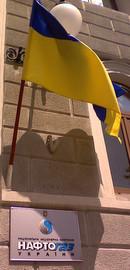 Ukraine's Naftogaz will pay around $500 million for natural gas from Russia's OAO Gazprom (GAZP.RS) for October, the RIA Novosti news agency reports Wednesday, citing Ukraine's acting finance minister.

It is too early to announce the exact amount for October but it could be "approximately $500 million," Ihor Umanskiy is quot
Eurasia Daily Monitor: Moscow Watchful Over Kazakh-Turkish Partnership Agreement
By: Farkhad Sharip
On October 21 Kazakhstan's President Nursultan Nazarbayev met his Turkish counterpart Abdullah Gul in Ankara. During his extended official visit Nazarbayev prioritized cultural and economic links with Turkey and stressed the importance of the unity of Turkic nations. He visited the headquarters of TURKSOY, an organization created to promote Turkic culture, and he held talks with the Turkish Prime Minister Recep Tayyip Erdogan. The most significant outcome of the talks was the signing of an agreement on strategic partnership. The Turkish prime minister assessed the agreement as the most "unique document ever signed between a Turkic-speaking country and a Central Asian state" (Panorama, October 23).
Nazarbayev told the press that economic relations between Turkey and Kazakhstan have always been marked by rapid development. According to the statistical board of Kazakhstan, in 2008 the trade volume between the two countries reached $2.875 billion; representing marked progress compared to $1.9 billion in 2007. Turkey imports Kazakh oil and iron, while exporting textile products and construction materials. More than 1,400 Turkish business enterprises registered in Kazakhstan, mainly active within the construction industry, trade and services, invested $1 billion last year. In a symbolic move, Nazarbayev's trip to Ankara was preceded by the erection of a monument to Mustafa Ataturk, the founder of the Turkish Republic. Underlying the rhetoric of Turkic fraternity and shared values, however, was the overriding issue of energy cooperation. The content of these talks were hidden by the pro-government media in Kazakhstan. Some sources, citing the Turkish Anadolu news agency said that Nazarbayev, speaking at the business conference in Istanbul, promised Ankara that Kazakhstan would participate in the much-debated Nabucco pipeline project (Trend News, October 24).
Such allegations confirm what Russian experts have long conjectured, before these talks began in Ankara. Referring to an unnamed Turkish newspaper, some experts feared that Turkey would dissuade Kazakhstan from selling its gas to Russia and urge Astana to pump it into Nabucco instead. However, more sober estimations indicated that since Kazakhstan lacks adequate infrastructure for the shipment of its gas and oil, the Nabucco project might be fraught with insurmountable material and financial expenses. To deliver its gas to Nabucco, Kazakhstan would have to create a solid logistical network and build a Trans-Caspian gas pipeline which might conflict with the political interests of other littoral states, above all Russia (Respublika, October 23).
It seems that Moscow has effectively forestalled any possible closer cooperation between Ankara and Astana in the energy sector by luring them into the Samsun-Ceyhan oil pipeline project with the participation of the Russian Rosneft and Transneft oil giants, Italian ENI and Turkish Calik companies. Kazakhstan will be the main supplier of oil for the Samsun-Ceyhan pipeline stretching from the Turkish Black Sea town of Samsun to the shores of the Mediterranean.
In Ankara, Nazarbayev was not quite so explicit about the participation of Kazakhstan in this project, but the Russian Prime-Minister Vladimir Putin, during his video-talk with his Turkish counterpart Erdogan, claimed that Kazakhstan had consented to fill the pipeline. Nonetheless, Astana is also considering the development of its own oil shipment routes from the Kashagan and Tengiz fields to Turkey as a part of the strategic partnership agreement signed in Ankara. Nevertheless, Nazarbayev, addressing the Turkish parliament, confirmed that his country will join the Russian-favored Samsun-Ceyhan project (Vestnik Kavkaza, October 26).
Moscow has many reasons to fear an intensification of economic and cultural links between its former Central Asian republics and Turkey. Shortly before his trip to Ankara, Nazarbayev attended together with the leaders of Kyrgyzstan, Azerbaijan and Turkey, the summit of the heads of the Turkic countries in Azerbaijan. Azerbaijan's President Ilham Aliyev signed agreements with Nazarbayev on lifting the visa requirements on nationals from either country, agricultural cooperation and most importantly on the joint use of oil facilities of Azerbaijan's State Oil Company for the development of Kazakh hydrocarbon resources and the creation of a joint logistics company. The Kazakh state-owned KazMunaiGas and the Azeri State Oil Company (SOCAR) signed a memorandum on cooperation in the development of the Baku-Black Sea pipeline project. Both sides also reached an agreement on conducting a technical feasibility study of the Trans-Caspian pipeline project expected to carry 23 million tons of oil annually in its initial phase of operation to increase the volume of annual oil deliveries up to 56 million tons in subsequent years (Liter, October 3).
These developments indicate Moscow's determination to retain its influence on Kazakhstan's energy policy. Repeated attempts by the Turkic nations of Central Asia to work out a common strategy to reduce such pressure from Moscow has so far failed to produce palpable results, due to the ambitions of its leaders and deepening disagreements over water and energy resources. Not surprisingly, Uzbekistan stayed away from the ninth summit of the heads of Turkic-speaking countries in Azerbaijan. Addressing his Turkish counterpart in Ankara, Nazarbayev said that Turkey's balanced policy toward Russia and China increases its influence in Central Asia. But these diplomatic niceties cannot conceal political realities.
Eurasia Daily Monitor: White Stream can De-Monopolize the Turkish Transit of Gas to Europe
By: Vladimir Socor
Political risks to Caspian gas transportation have emerged westward of the Caucasus in Turkey, where such risks were least expected. Azerbaijan has become the first gas-exporting country to experience those risks, stemming from Turkey's position as a transit monopolist. Turkey's AKP government is practically blocking the transit of Azerbaijani gas to Europe and slowing down the Shah Deniz and Nabucco projects' implementation.
Consequently, Baku is now seeking alternative export solutions for its gas. Possible solutions include Russia and Iran overland, as well as the proposed White Stream pipeline across the Black Sea to Europe (EDM, October 21, 22).
White Stream, a private venture, had never deliberately been intended to bypass Turkey. However, it can now be seriously considered for carrying Azerbaijani gas directly to Europe, without recourse to the Turkish route. Activating the White Stream pipeline project at the European Union's level would demonstrate that Turkey cannot and must not behave as a transit monopolist on Caspian gas to Europe. The proposed White Stream is integrated, along with Nabucco, since November 2008 in the E.U.'s strategy for a Southern Corridor for natural gas to Europe.
Addressing the Azerbaijani government's recent special session on gas issues, President Ilham Aliyev mentioned the possible export of Azerbaijani gas across the Black Sea. He referred both to White Stream and to liquefied natural gas (LNG) as possible solutions, currently under consideration (www.day.az, October 17).
White Stream is being promoted by a consortium of several small companies in London, currently including the White Stream Pipeline and the Pipeline Systems Engineering companies. It is the first fully private gas pipeline project in any of the former Soviet-ruled countries. The goal is to export Caspian gas via Georgia, the Black Sea, and Romania to markets in E.U. territory (Reuters, October 19).
The White Stream line is projected to branch off from the international South Caucasus Pipeline (SCP; also known as Baku-Tbilisi-Erzurum, BTE), which presently carries Azerbaijani gas via Georgia to Turkey. The SCP (BTE) pipeline is expected to also carry Central Asian gas, via Azerbaijan and Georgia, into the Nabucco pipeline on Turkish territory. White Stream would, however, branch off in western Georgia with a 100-kilometer pipeline to Supsa on the Black Sea coast. The line would then run on the seabed for some 1,100 kilometers to a landfall point near the Romanian port of Constanta. Using Romania's gas transmission system, White Stream gas can reach E.U. countries farther afield or be marketed through swap operations.
The plan envisages laying four parallel strings on the seabed from Georgia to Romania, each with a throughput capacity of 8 billion cubic meters (bcm) per year, for a total annual capacity of 32 bcm ultimately. Each string would involve a distinct stage in the White Stream project's development, correlated with the availability of growing volumes of Caspian gas for export to Europe via Azerbaijan and Georgia. The steel tubes, at 26-inch diameter each, are to be laid in ultra-deep water, the maximum water depth exceeding 2,000 meters below the surface in the central part of the sea. The development company proposes to use the J-Lay barge method for laying the pipes on the seabed. Some of the company's personnel had previously been involved with Italy's ENI, which designed and laid Gazprom's Blue Stream One pipeline, from Russia to Turkey, on the seabed of the Black Sea.
According to White Stream's general manager Roberto Pirani, the project company hopes to sign a project agreement in 2010, complete the design work by 2011, obtain an investment decision by 2012, start construction work by 2013, and see the first gas flow through the first of four strings by 2016 (Zerkalo [Baku], October 20).
An earlier version of White Stream would have laid the seabed section from Georgia to Ukraine's Crimea, where White Stream was to connect with the Ukrainian transit network. That version was proposed almost simultaneously, though separately, in 2005 by Ukraine's Prime Minister Yulia Tymoshenko and the White Stream company. In that case, the undersea route would have been shorter, the waters shallower, the costs correspondingly lower, and White Stream gas could have been pumped to Europe using the spare capacities available in Ukraine's gas transit pipelines. However, the risks of Russian interference with the project in the Black Sea seemed high; a subsequent transfer of Ukrainian transit pipelines into Gazprom's control could not be discounted; and, following the January 2009 Russian-Ukrainian gas conflict, the idea of increasing the volume of gas transit through Ukraine seemed unappealing. The White Stream company apparently has chosen E.U. member country Romania as the partner in this project.
Azerbaijan, Romania, and Georgia are also considering LNG as a possible solution for the export of Azerbaijani gas via the Black Sea (www.day.az, October 17). This would involve liquefaction in a Georgian port and re-gasification in Romania's Constanta port. The costs of this method as well as those of White Stream have yet to be calculated and compared.