Romania Libera: Ardem pacura din rezerva si importam mai mult gaz rusesc
Guvernul a autorizat producatorii de energie sa scoata carbune si pacura de la rezerva de stat, iar responsabilii din Ministerul Economiei le-au solicitat celor de la Gazprom sa suplimenteze cantitatea de gaze livrate in Romania, pentru a nu se inregistra deficiente in alimentarea populatiei din cauza temperaturilor extrem de scazute din ultima perioada.
Declararea situatiei de urgenta de catre autoritati ca urmare a gerului persistent din ultimele zile a fost necesara pentru a putea livra populatiei, in conditii de siguranta, prioritar, gaze naturale, respectiv caldura si apa calda. In acest sens au fost luate deja o serie de masuri, pe de o parte, oprirea furnizarii gazelor naturale pentru consumatorii intreruptibili (industrie) si, pe de alta parte, trecerea CET-urilor, acolo unde este posibil, pe utilizarea combustibililor alternativi (pacura si carbune). De asemenea, Guvernul a autorizat 21 de companii, printre care Termoelectrica, Electrocentrale Bucuresti, RAAN, complexurile energetice Craiova, Turceni si Rovinari si numeroase CET-uri (centrale electro-termice) sa imprumute din rezerva de stat, pana pe 31 octombrie 2010, 1,9 miliarde tone carbune energetic si 172,9 milioane tone de pacura.
Pentru a putea compensa cresterea brusca a consumului de gaze si scaderea chiar cu pana la 30% a presiunii din reteaua nationala, Romania va majora importurile de gaze naturale din Rusia, marti si miercuri, cu doua milioane de metri cubi pe zi, la 12 milioane metri cubi pe zi, reprezentantii Ministerului Economiei facand deja o solicitare in acest sens catre Gazprom.
Desi trecerea CET-urilor pe combustibili alternativi (pacura si carbuni in loc de gaze naturale) impune cheltuieli suplimentare de operare, secretarul de stat din Ministerul Economiei Tudor serban, ne-a precizat ca populatia nu va plati in plus pentru caldura si gaze.
"Utilizarea pacurii in locul gazului natural creste costurile de operare, insa acest fapt nu trebuie sa ingrijoreze populatia, care nu va avea de suferit, nu va plati costuri suplimentare pentru gazul si caldura livrate in aceasta iarna. Este o problema pe care o vom regla la nivelul ministerului. Alte masuri luate vizeaza cresterea importurilor de gaze din Rusia, atat cat va fi nevoie pentru a preintampina disfunctionalitati in alimentarea cu gaze naturale", ne-a declarat secretarul de stat Tudor Serban.
Asigurari similare a dat si Petru Lificiu, presedintele Autoritatii Nationale de Reglementare in domeniul Energiei (ANRE), care a afirmat ca, pana in aprilie, pretul la gazele naturale livrate populatiei nu va creste.
"Mentinerea pretului la gazele naturale livrate populatiei este obiectivul nostru principal. Din analiza facuta am ajuns la concluzia ca situatia este restabilita, iar populatia nu are de ce sa se ingrijoreze. Dorim sa mentinem pretul gazului pana in martie, inclusiv", a precizat Lificiu.
Vocea Rusiei: Petrolul, mărul discordiei între Rusia şi Belarus
Foto: RIA Novosti
La Moscova s-a desfăşurat cea de-a doua rundă a tratativelor ruso-bieloruse privind livrările şi tranzitul de petrol. Potrivit unor informaţii oficiale, tratativele "evoluează stabil, iar părţile îşi coordonează tot mai mult poziţiile". Însă surse apropiate negocierilor afirmă că dialogul este foarte tensionat.
Ziarul "Vremia Novostei" scrie că membrii delegaţiei bieloruse practic nu manifestă maleabilitate, deoarece menţin poziţiile dictate de conducerea Belarusului.
De menţionat că la uzinele bieloruse de prelucrare a ţiţeiului rezervele de materie primă ajung doar pentru maxim o săptămână. Nu trebuie să se excludă faptul că partea bielorusă va recurge la sustragerea unei părţi a petrolului rusesc care tranzitează ţara, deşi acest fapt va fi unanim considerat drept furt şi va trebui să suporte consecinţele juridice aferente.
Conform unor date, consumatorii occidentali au început deja să-şi facă rezerve de petrol în Rostock (oraş german la Marea Baltică) şi Gdansk (oraş din nordul Poloniei).
Opinia expertului
Expertul centrului de conjunctură politică din Rusia, Dmitri Abzalov, a vorbit la radio "Vocea Rusiei" despre esenţa problemei principale privind negocierile dintre Rusia şi Belarus, ţări-vecine.
"Problema pricipală este, după cum se ştie, exportul de resurse energetice şi nu numai exportul, ci şi abordarea problemei în relaţiile dintre cele două state. Moscova încearcă să le raţionalizeze aducându-le la un nivel comun european. Belarus speră la un regim preferenţial, însă nu face nici un fel de propuneri reciproc avantajoase.
Sincer vorbind, au mai rămas puţine argumente de amble părţi. Dacă se va mări tariful pentru tranzitul petrolului şi el va înceta, aceasta va constitui o lovitură serioasă la adresa poziţiilor Minskului în direcţia europeană.
De asemenea, o asemenea situaţie va stimula Moscova să se ocupe mai intens de crearea unor căi alternative de transport al resurselor energetice şi, în primul rând, de accelerarea realizării noilor proiecte", a menţionat expertul Centrului de conjunctură politică din Rusia, Dmitri Abzalov.
Ria Novosti: Russia discovers massive East Siberian oil field
Russia has discovered a new large oil deposit with estimated reserves of over 150 million metric tons (1.1 billion barrels) in East Siberia, Natural Resources Minister Yuri Trutnev said on Wednesday.
"We have made an important oil discovery. We can report today that we have opened the Sevastyanovo oil field, with reserves of over 150 million metric tons. This a strategic deposit," Trutnev said at a meeting with Russian Prime Minister Vladimir Putin.
The deposit is located in the Irkutsk Region and was discovered by state-run oil major Rosneft. It has category C1+C2 reserves of 160.2 million metric tons (1.17 billion barrels), Trutnev said.
The amount of natural reserves prospected by Russia last year exceeded extraction figures, bucking the trend of recent years.
Russia extracted 490 million metric tons of oil (3.6 billion barrels) in 2009 while oil reserves discovered last year amounted to 620 million metric tons (4.5 billion barrels).
Novinite: Nabucco Pipeline Future Will Depend on Positive Demand
The future of the Nabucco pipeline project will depend entirely on economic factors and the amount of demand, according to Austria's energy company,OMV. Photo by eegas.com
The future of the Nabucco pipeline project is still not assured, an executive of Austrian energy giant OMV has told a conference on Wednesday.
Between July and October 2010, an open season bidding process for capacity will be held. The future of the project will then be assessed against the resulting forecast demands.
"We will start the open season process this year, then we will get enough demand or not," Werner Auli, OMV's head of oil and gas, told a conference, adding that he was optimistic about the level of demand.
However, pointing out that he represented a commercial organization, and not an institution, said the decision would be made on pragmatic business terms.
If the demand turned out not to be sufficient, the project would be terminated, he said. "If not, Nabucco will not be built, this is very simple. We are a commercial company, we are not an institution. If the demand is not there, we will not build the pipeline," he stated.
Besides OMV, Bulgaria's Bulgargaz, Turkey's Botas, Germany's RWE, Hungary's MOL and Romania's Transgaz are all partners in the EU-backed project, which would reduce European reliance on Russian gas supplies.
The pipeline, skirting around Russian soil, would bring gas from the Middle East and the Caspian region to Europe.
Russian gas pipeline export monopoly Gazprom also has a rival project, South Stream, with several international cooperation memoranda having already been signed.
energia.gr: Bulgarian 'green' energy overdrive is raising concerns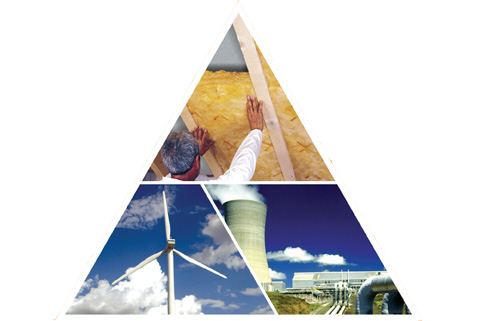 Bulgaria
is undergoing a boom in the renewable energy sector that experts warn could see an influx of dodgy investment and actually end up doing more harm than good for the environment.
And the government – the main driver behind the boom – is taking note.
This month it imposed a half-year moratorium on new "green" energy projects in a bid to sift out those with serious financing and prevent a vital Black Sea bird migration route from being built over with wind farms.
"Too many tickets have been sold for this show," Economy and Energy Minister Traicho Traikov told an investors' forum earlier this month. "We need to get the sector in order," he said.
The number of "green" energy projects in Bulgaria has exploded from almost nil just a few years ago to a proposed 12,000 megawatts from wind farms, solar energy parks and small hydropower stations, a government expert said.
That figure is equal to Bulgaria 's current installed capacity and would be impossible to handle by the grid.
Experts agree that many of the planned projects will never actually come to fruition due to a lack of funding.
The current boom originates in a European Union-wide agreement under which Bulgaria has said 16 percent of electricity consumption will come from renewable energy sources by 2020 compared with under 8 percent now.
The government has ordered the national electricity company and private utilities to connect all green-power capacity to the grid as soon as it is up and running and buy power generated in this way at fixed preferential prices.
With such attractive incentives in place, investors – many still smarting from the burst bubble in Bulgaria 's construction sector – appear to see the renewable energy sector as a sure-fire return on their money. Operators have already connected some 350 MW from wind turbines and solar batteries and signed preliminary contracts to connect a further 1,451 MW.
This will practically fill the whole capacity of the network, said Georgy Mikov, executive director of national electricity company NEK.
Moreover, NEK estimates show that about 2,000 MW of green sources would be sufficient for Bulgaria to meet its 16 percent green-power target by 2020.