Hotnews: Rusia a avertizat UE cu privire la o posibila intrerupere a livrarilor de petrol, din cauza neintelegerilor cu Ucraina
Rusia a avertizat Uniunea Europeana cu privire la o posibila intrerupere a livrarilor de petrol in trei state europene, din cauza unui nou conflict Moscova – Kiev. Anuntul vine de la guvernul slovac, care sustine ca a primit o scrisoare in acest sens de la Comisia Europeana, informeaza AFP.
Potrivit informarii venite de la Moscova, "exista posibilitatea suspendarii livrarilor de petrol (…) in Slovacia, Ungaria si Cehia", a precizat Executivul slovac, intr-un comunicat de presa in care citeaza scrisoare primita de la directia generala a Comisiei responsabila cu energia si transporturile. "Probleme nerezolvate intre Federatia Rusa si Ucraina sunt motivele invocate", precizeaza guvernul. Prim-ministrul slovac Robert Fico a convocat o reuniune de urgenta a Consiliului de Securitate al tarii.
Hotnews: ANRE a decis: Pretul energiei electrice creste cu pana la 4%, iar cel la gaze ramane neschimbat
Pretul energiei electrice va fi majorat cu 3,5-4% de la 1 ianuarie 2010, a declarat pentru HotNews.ro, Petru Lificiu, presedintele Autoritatii Nationale de Reglementare in domeniul Energiei Electrice (ANRE). In schimb, preturile la gaze vor ramane neschimbate. In prima parte a anului, preturile nu vor suferi modificari spectaculoase in ciuda faptului ca EON Romania a cerut ANRE scumpirea gazelor cu 15% si a electricitatii cu 12%, pentru populatie, pe motiv ca trebuie sa recupereze pierderile de anul trecut.
"La sfarsitul fiecarui an, operatorii cer ajustarea preturilor. Din costurile prezentate de EON, intr-adevar, au de recuperat pierderi din anii trecuti. Insa, in prima parte a anului preturile nu vor creste cu mai mult decat a stabilit autoritatea de reglementare",a precizat Lificiu. E.ON Romania detine participatia majoritara la companiile E.ON Gaz Romania, E.ON Moldova Furnizare, E.ON Gaz Distributie si E.ON Moldova Distributie.
Lificiu sustine ca preturile la energia electrica si gaze nu vor fi influentate de majorarea accizelor. "Influenta este nesemnificativa", a afirmat presedintele ANRE. Accizele pentru anul viitor se vor calcula la un curs de 4,2688 lei/euro, cu 14,2% mai mare fata de anul trecut.
In ceea ce priveste gazele naturale, Comisia Europeana a cerut liberalizarea preturilor. Cu toate acestea, tarifele vor fi mentinute la nivelul actual, cel putin in prima parte a anului viitor. Petru Lificiu sustine ca exista un grafic al liberalizarii insa nu a putut preciza perioada de derulare a acestuia.
Ministrul economiei, Adriean Videanu, a afirmat recent ca "avem nevoie de un calendar al liberalizarii pentru ca am primit o notificare de potential infringement".
Secretarul de stat in Ministerul Economiei, Tudor Serban, a declarat, in urma cu doua luni, pentru HotNews.ro, ca Romania este presata de timp sa liberalizeze piata gazelor, fapt care presupune si alinierea preturilor. "Se poate intampla intr-un an sau mai repede", a spus Tudor Serban. Acesta a precizat ca in cazul in care nu este facuta aceasta liberalizare la timp, Romania risca procedura de infringement. In ultimii doi ani, autoritatile au evitat sa furnizeze informatii exacte referitoare la termenul impus de Comisia Europeana. Liberalizarea pietei gazelor trebuia facuta pana la 1 ianuarie 2009, dupa ce Romania a obtinut din partea Comisiei Europeane o amanare de doi ani. Initial, Romania se obligase, prin tratatul de aderare, sa opereze alinierea de pret inca de la 1 ianuarie 2007.
ziare.com: Azerbaidjanul exploateaza petrolul din Marea Caspica
Azerbaidjanul va exploata impreuna cu arabii zacaminte de petrol si gaze naturale din Marea Caspica.

Compania Petroliera de Stat a Republicii Azerbaidjan, GNKAR, a semnat la sfarsitul
lunii trecute un contract tip PSA – acord de partajare a productiei cu compania Bahar Energy Limited, inregistrata in zona de comert liber Jebel Ali din Emiratele Arabe Unite.
Contractul prevede cercetarea, reabilitarea si exploatarea blocului din care fac parte zacamintele "Bahar" si "Gum Deniz", situate in sectorul azer al Marii Caspice. Potrivit contractului, cota de participare in proiect a Bahar Energy limited
este de 80%, iar cota GNKAR de 20%. Acesta este cel de-al 28-lea contract tip PSA semnat de Azerbaidjan.
ziare.com: Azerbaidjanul vrea sa dubleze livrarile de gaze catre Rusia
Azerbaidjanul va dubla livrarile de gaze catre Rusia in 2010, la un miliard de metri cubi, in conditiile in care Moscova vrea sa isi sporeasca aprovizionarile din regiunea Marii Caspice, bogata in hidrocarburi, relateaza AFP.

"In 2010, vom livra Rusiei un miliard de metri cubi de gaz", a declarat presei presedintele companiei nationale de petrol si gaz din Azerbaidjan, Socar, Rovnag Abdulaiev.
Cele doua tari au semnat in octombrie un contract pentru livrarea de gaz catre Rusia pe termen lung. Conform contractului, compania ruseasca Gazprom, care detine monopolul, va trebui sa cumpere cel putin 500 milioane metri cubi gaz.
Acordul risca sa intarzie finalizarea la termen a proiectului european Nabucco, ce trebuie sa transporte din 2013 gazul din Marea Caspica spre Europa, prin Turcia, pentru a reduce dependenta europeana de gazul rusesc. Nabucco este astfel un concurent al proiectului rus, respectiv gazoductul South Stream, si este criticat de Moscova.
Azerbaidjan, fosta republica sovietica bogata in hidrocarburi si situata intre Rusia si Iran, este o zona ale carei avantaje sunt dorite atat de Moscova, cat si de Occident, dupa ce si-a castigat independenta in 1991.
Azerbaidjanul a produs anul trecut 22,8 miliarde de metri cubi de gaz, conform statisticilor guvernamentale si vrea sa isi dubleze productia la 40 miliarde metri cubi pana in 2015-2020.
EVZ: O nouă ceartă între Rusia şi Ucraina
MĂRUL DISCORDIEI. Rusia a anulat toate exporturile de petrol către Ucraina pe luna ianuarie, potrivit Reuters.
Ruşii spun că ţara vecină ar putea avea probleme privind plata gazelor naturale
, semnale care prefigurează o nouă criză a gazului între cele două state.
Gazele
ruseşti asigură 25% din consumul Europei, iar cea mai mare
parte a gazului livrat tranzitează Ucraina. Exporturile au fost întrerupte şi la începutul lui 2009, din cauza disputelor pe tema preţurilor plătite de Ucraina şi datoriilor companiei
de stat Naftogaz către Gazprom.
Ziua: Guvernul naste doi monstruleti energetici
Ministrul Economiei, Adriean Videanu (membru al Partidului Democrat – Liberal), a declarat, la audierile din comisii, ca spera ca in prima sedinta a viitorului Guvern sa fie aprobata Hotararea de infiintare a doua companii energetice. Reamintim, prima varianta de restruc­turare a sistemului ener­getic national a apartinut, inca din 2007, Partidului National Liberal (PNL), care isi propusese "comasarea", practic, a tuturor produca­torilor si distribuitorilor de energie si resurse energe­tice de stat, intr-o singura companie. Comisarul european pentru Energie, Andris Piebalgs, a criticat, la vremea aceea, intentia autoritatilor romane care, in opinia sa, ar putea crea "un monstru energetic". Astfel, prin aparitia a doua companii, s-ar putea crea doi "monstruleti".
"Sper ca in prima sedinta de Guvern (n.r. – care urma sa aiba loc ieri, dupa investire), sa si aprobam Hotararea de Guvern de infiintare a celor doua companii. Am facut demer­surile premergatoare in aduna­rile generale ale actionarilor, s-a aprobat procesul de infiintare a acestora, astfel incat 2010 sa inceapa sub aspectul integrarii celor doua companii. Finalizarea procesului cred ca va fi pana pe 30 iunie 2010", a declarat Videa­nu, la audierile din Parlament. In componenta primei societati, Electra, vor intra Complexurile Energetice din Oltenia (Turceni, Rovinari si Craiova), Nuclearelectrica, Societatea Nationala a Lignitului Oltenia (SNLO) si trei sucursale ale Hidroelectrica (SH Valcea, SH Slatina si SH Sibiu). Aceasta companie ar urma sa fie prima inregistrata la Registrul Comer­tului, probabil pe 20 ianuarie 2010. Cel de-a doilea "monstrulet" va cuprinde Electrocentrale Bu­cu­resti, CTE Deva si CET Paro­seni (apartinand Termoelec­trica), Portile de Fier si restul sucursalelor Hidroelectrica (Sebes, Buzau, Targu Jiu, Caran­sebes, Hateg, Arges, Cluj, Bistrita) si Compania Nationala a Huilei (CNH) Petrosani. Adunarilor Generale ale Actio­narilor (AGA) tuturor acestor societati au aprobat, inca din luna octombrie, fuziunea acestor companii. In plus, Hidroelectrica a aprobat si divizarea companiei in doua.
In privinta Companiei Nationale a Huilei, Videanu a precizat ca singura sansa de a mai investi in aceasta este integrarea ei intr-una dintre cele doua companii energetice ce vor fi infiintate, pentru a creste eficienta exploatarii carbunelui. El a vorbit despre un program de restructurare, discutat cu sindicatele, aratand ca disponibilizarea minerilor aflati in pragul pensiei sau a celor bolnavi, negociata cu sindicatele, ar crea premisele angajarii a 300-400 de persoane tinere. Videanu a mai spus, raspunzand unor intrebari, ca "nu se va inchide nicio mina, ci va fi o evaluare strict economica a fiecarei mine".
Opozantii reorganizarii Reamintim, sindicalistii din Hidroelectrica nu sunt tocmai incantati de divizarea companiei si includerea unor parti ale acesteia in cele doua mari companii. In plus, nici Consiliul Concurentei nu se arata foarte ingaduitor fata de intentia Guvernului de a restructura in acest mod sectorul de productie a energiei electrice. Conform prevederilor legale, operatiunile de concentrare economica sunt supuse controlului si trebuie notificate Consiliului Concurentei pentru analiza compatibilitatii lor cu un mediu concurential normal.
Cotidianul: KazMunaiGaz urmează să plătească 570 de milioane de euro
Kazahii răscumpără în 2010 obligaţiunile-datorii ale lui Patriciu
În septembrie 2010 expiră termenul pentru emisiunea de obligaţiuni em
isă de

Rompetrol

Raf
inare Constanţa. Statul ar trebui să încaseze peste o jumătate de miliard de euro.
Până pe 30 septembrie 2010, compania KazMunai Gaz trebuie să răscumpere de la statul român obligaţiuni în valoare de 570,3 milioane de euro emise de SC Rompetrol Rafinare Constanţa SA acum şapte ani. Legea privind emisiunea de obligaţiuni convertibile a fost legiferată în 2003 şi ulterior aprobată de Parlament şi promulgată de Preşedinţie ca fiind cea mai viabilă metodă de recuperare a datoriilor istorice înregistrate de Rafinăria Petromidia înainte de privatizarea sa către Grupul Rompetrol în 2001. Dacă obligaţiunile nu sunt răscumpărate la scadenţă, ele vor fi convertibile în acţiuni ordinare, la opţiunea emitentului, prin emiterea unui număr de acţiuni rezultat prin împărţirea valorii nominale a obligaţiunilor, exprimată în lei la cursul de schimb valutar comunicat de Banca Naţională a României pentru data scadenţei, la valoarea nominală a acţiunii.
Pe 30 septembrie 2010, cele peste 570 de milioane de euro, dacă luăm în calcul contractele futures euro/leu cu scadenţa septembrie 2010 de la bursa din Sibiu (un euro egal cu 4,42 lei), ar putea reprezenta în jur de 2,52 miliarde de lei, adică peste 25,207 miliarde de acţiuni Rompetrol Rafinare Constanţa (simbol bursier RRC).
Cum numărul acţiunilor RRC este de 21,09 miliarde, rezultă că, dacă nu dă banii pe obligaţiuni statului român, KazMunaiGaz va deveni acţionar minoritar la Petromidia, statul devenind majoritar.
Din punctul de vedere al valorii actuale a acţiunilor Rompetrol Rafinare Constanţa de la Bursa de Valori Bucureşti (o acţiune RRC este cotată la 0,0605 lei, iar valoarea ei nominală este de 0,1 lei), răscumpărarea obligaţiunilor Petromidia de către KazMunaiGaz de la statul român nu este o afacere rentabilă pentru kazahi. Aşa că preferabil pentru KazMunaiGaz ar fi ca statul să-şi transforme obligaţiunile RRC în acţiuni RRC, iar aceştia să le cumpere apoi din piaţă la un preţ mult mai mic (la diferenţa actuală dintre valoarea acţiunilor pe bursă şi cea nominală, kazahii ar reduce suma plătită către statul român cu 40%). Pe de altă parte, dacă statul devine majoritar la Rompetrol Rafinare Constanţa (adică KazMunaiGaz nu răscumpără obligaţiunile RRC), atunci compania kazahă s-ar putea să rămână doar un jucător nesemnificativ la compania română, AVAS putând practic să vândă pachetul majoritar de
acţiuni de la Petromidia oricui doreşte. Singurul care poate spune până acum că a făcut o afacere bună în cazul Petromidia fiind omu
l de

afaceri

Din
u Patriciu, care şi-a vândut acţiunile de la Rompetrol Rafinare Constanţa şi s-a ales cu peste 1,6 miliarde de dolari.
Obligaţiunile emise de SC Rompetrol Rafinare Constanţa SA sunt denominate în euro, au o valoare a obligaţiunii destul de mică, 25 de euro, iar rata dobânzii aferente acestora este Euribor plus 1,5%.
Adevarul: Încep conflictele de iarnă între Rusia şi Ucraina. Prima temă: petrolul
Rusia a avertizat trei state din Uniunea Europeană, respectiv Cehia, Ungaria şi Slovacia, că livrările de ţiţei prin conducta Drujba ar putea fi sistate din cauza unor conflicte cu Ucraina.
"Guvernul slovac a fost informat printr-o scrisoare a Ministerului rus al Energiei, în baza sistemului de avertizare precoce, că ar putea exista sistări ale livrării de petrol către trei ţări membre UE, din cauza diferendelor nerezolvate dintre Rusia şi Ucraina privind tranzitul ţiţeiului", relatează AFP, citând un comunicat al guvernului slovac.
Această situaţie, care probabil că este provocată de un diferend privind tariful de tranzit între Moscova şi Kiev, aminteşte de sistarea livrărilor cu care s-au confruntat Slovacia şi Cehia în vara lui 2008, mai arată agenţia de presă.
Totodată, conflictele dintre cele două state au dus la sistarea alimentării cu gaze pentru consumatorii europeni timp de aproape trei săptămâni în ianuarie 2009. Pe parcursul acestui an, Comisia Europeană a avertizat statele membre să îşi ia măsuri de precauţie în eventualitatea izbucnirii unei noi crize a gazelor în această iarnă, din aceleaşi motive.
Un sfert din gazul consumat de europeni provine din Rusia, iar 80% din aceste volume tranzitează Ucraina.
Relaţiile dintre cele două state vor depinde de rezultatele alegerilor prezidenţiale din Ucraina, care vor avea loc pe 17 ianuarie.
Ţările-membre UE sunt de acord să negocieze cu Rusia în privinţa cooperării în domeniul energeticii nucleare, a declarat eurocomisarul pentru energetică Andris Piebalgs. Acest pas este o parte a iniţiativei pentru asigurarea securităţii privind livrările fără întreruperi a resurselor energetice în ţările UE. În noiembrie a fost semnat un memorandum privind avertizarea timpurie în domeniul energeticii, care prevede măsuri pentru minimalizarea situaţiilor de urgenţă.
RIA Novosti: Gazprom extends gas supply contract with Serbia for 2010 Serbia's state-run gas company Srbijagas and Russian energy giant Gazprom have signed a contract on the supply of up to 2 billion cubic meters of natural gas to Serbia in 2010, Srbijagas said. The documents were signed on Friday by Srbijagas and the Russian-Serbian gas trader Jugorosgas, in which Gazprom holds a 50% stake. The contract extends a previous agreement on gas supplies to Serbia, and guarantees the supply of up to 2 billion cubic meters of gas to the ex-Yugoslav republic in 2010, Srbijagas said. "The contract with Jugorosgas is very advantageous for us as it takes into account seasonal uneven trends in fuel consumption," Srbijagas General Director Dusan Bajatovic said. The contract does not stipulate penalties for failure to consume natural gas below the contracted volume, and the contract's financial guarantees are exceptionally small, at $10-15 million compared with the normal practice of $100-200 million, Bajatovic said. Jugorosgas Executive Director Vladimir Koldin said the contract for 2010 would operate on terms similar to the previous agreement. In 2008, Russia supplied 2.2 billion cubic meters of gas to Serbia.
RIA Novosti: Germany approves Russia's Nord Stream gas pipeline project
Germany issued permission on Monday for the construction of Russia's Nord Stream gas pipeline in its exclusive economic zone.
The permission was issued by Germany's Federal Maritime and Hydrographic Agency in Hamburg. Earlier, Germany permitted the construction of the Nord Stream gas pipeline in its territorial wasters.
Nord Stream AG, the project operator, has already received permits from Denmark, Sweden and Russia through whose waters the pipeline will pass, and also the Finnish exclusive economic zone permit and a permit for the 50-kilometer (31-mile) section of the pipeline in German territorial waters and landfall in Lubmin near Greifswald.
Nord Stream AG only has to obtain the second and final permit from Finland for the project's construction.
"We are firmly on schedule to start construction of the pipeline in spring 2010 and to start transporting gas in 2011", Nord Stream's managing director, Matthias Warnig, said.
Nord Stream will be 1,220 kilometers (758 miles) long and will consist of two parallel lines. The first leg, with a carrying capacity of around 27.5 billion cubic meters a year is due for completion in 2011. The second line is due to be completed in 2012, doubling annual capacity to around 55 billion cubic meters.
The Nord Stream pipeline, which will pump gas from Siberia to Europe under the Baltic Sea, bypassing East European transit countries, is being built jointly by Gazprom, Germany's E.ON Ruhrgas and BASF-Wintershall, and Dutch gas transportation firm Gasunie at an estimated cost of $12 billion.
Gazprom has already signed long-term contracts to supply gas through Nord Stream to customers in several EU countries including Germany, Denmark, the Netherlands, Belgium, France and the United Kingdom, Nord Stream AG said on its website.
RIA Novosti: Russia's Putin to attend Pacific oil pipeline launch
Russian Prime Minister Vladimir Putin will attend the ceremony of launching the East-Siberia – Pacific Ocean oil pipeline during his visit to the region on December 28-29, the government press office said on Sunday.
During his visit to the Primorye Territory in the Russian Far East, Putin will see the launch of the first leg of the project, which is designed to pump up to 1.6 million barrels (220,000 tons) of crude per day from Siberia to Russia's Far East and then on to China and the Asia-Pacific region, the press office said.
"During his stay in Nakhodka, Putin will participate in the ceremony of launching the East Siberia – Pacific Ocean oil pipeline. The chairman of the Russian government will visit the specialized maritime oil-loading port of Kozmino, the final point of the ESPO project, from which the first batch of oil will be shipped," the press office said.
The project's first leg envisages the construction of a 2,757-kilometer (1,713-mile) section with a capacity of 30 million tons (220.5 million barrels) of oil per year. It will link Taishet, in East Siberia's Irkutsk Region, to Skovorodino, in the Amur Region, in Russia's Far East.
The second stretch will run 2,100 kilometers (1,300 miles) from Skovorodino to the Pacific. It will pump 367.5 million barrels of oil annually.
RIA Novosti: Azerbaijan to double gas supplies to Russia in 2010
Azerbaijan will double natural gas supplies to Russia to 1 billion cubic meters per year from 2010, the president of the State Oil and Gas Company said on Saturday.
"We have held negotiations. Azerbaijan has a potential to increase gas supplies, we will supply Russia with 1 billion cu m of gas in 2010," Rovnag Abdullayev said.
The two ex-Soviet states signed a contract on October 14, 2009 under which the Caucasus nation was to supply 500 million cu m of gas to Russia from January 1, 2010 with the possibility of increasing the import levels.
The contract raised concerns in Europe which looks to Azerbaijan as a potential contributor to the Western-backed Nabucco pipeline that circumvents Russia. Nabucco is aimed at reducing Europe's dependence on Russian energy supplies.
RIA Novosti: Gazprom CEO suspects Ukraine of difficulty paying for gas
Ukraine has consumed much less natural gas since mid-December, which may mean Kiev is experiencing difficulty in paying for Russian gas supplies, the CEO of Russian energy giant Gazprom said on Friday.
"We assess the situation with [Ukraine's] payment for Russian gas supplies in December as very alarming," Alexei Miller said.
The deadline for Ukraine's payment for natural gas supplied in December has been moved from January 7 to January 11, 2010, due to the New Year holidays.
Earlier this month, the Ukrainian national energy company Naftogaz gave assurances that no new gas crisis with Russia was looming, as it had been paying for supplies on schedule.
Ukraine, which transits 80% of Russian gas to Europe, will receive a total of 27 bcm in 2009, compared to an average of 55 bcm in the pre-crisis years.
Ukraine has earlier asked Gazprom to cut natural gas supplies to 7 billion cubic meters in the first quarter of 2010, from 8.75 bcm under the existing contract.
Kiev, which has so far paid 20% less than Russian gas consumers in Europe, will start paying the average European price from January 1.
RIA Novosti: Implementation of Arctic gas field project delayed further
The implementation of a project to develop a vast gas field in the Russian sector of the Barents Sea is being delayed further, First Deputy Prime Minister Viktor Zubkov said Friday.
He did not offer a reason for the delay, but stressed that the project would go ahead regardless.
The Shtokman field has estimated reserves of 3.8 trillion cubic meters. Shtokman is to feed Nord Stream, a gas pipeline set to link Russia and the European Union via the Baltic Sea.
Russian energy giant Gazprom has a 51% stake in the Shtokman project, while France's Total and Norway's StatoilHydro have 25% and 24%, respectively.
russiatoday.com: Kozimo oil terminal opens up Asian crude markets
The opening of a new oil terminal at Kozmino, near Nakhodka, pushes Russia closer to the strategic goal of diversifying its energy exports.
The new $2 billion Pacific oil terminal, opened on Monday, provides access to major energy importers, Japan, China and Korea. It is currently expected that the new terminal will see more than 3 million tones exported from it during 1Q 2010, with volumes expected to triple over coming years when the $22 billion Eastern Siberia Pacific Ocean pipeline is complete.
Prime Minister Vladimir Putin, who oversaw the departure of the first oil tanker from the port noted the strategic importance of greater access to Asian markets.
"This is definitely a serious event. It's a strategic project, because it gives us access to completely new markets – the asian and pacific markets, which are growing and have a huge potential. Today Russia is present on these market, but on a very small scale. Today's opening gives us completely new possibilities."
The Russian Prime Minister also took part in the ceremony of laying the semi-submersible drilling rig "Star" in the city of Bolshoy Kamen, in the Primorskoye Region.
Rosneft will spend about $2.5 billion on construction of drilling platforms in Far East of Russia.The head of the company Sergey Bogdanchikov told RT Rosneft it's just the first step in conquering the Asian market.
"The Asian market is very wide and consumption is growing. It's too early to talk about competition, as it's a matter of providing sufficient supplies. Our oil differs from Arabic with lower sulfur content, and many plants are ready to buy our oil. As for the price formula it's in the first stage. When the crude is ready for the market, we'll be able to announce the final price."
Novinite: Bulgaria Wants Direct Contract for Supply of Russian Gas
Bulgaria's Economy and Energy Minister, Traicho Traikov, says t is crucial for Bulgaria to conclude a direct contract for the supply of natural gas from Russia. Photo by BGNES
Bulgaria's Economy and Energy Minister, Traicho Traikov, declared the contract for the supply of Russian gas should not be tied to the "South Stream" project.
Traikov says it is crucial for Bulgaria to conclude a direct contract for the supply of natural gas without any intermediaries and without binding the contract to the negotiations about the "South Stream" gas line.
The Minister pointed out that the13th session of the Bulgarian-Russian bilateral government committee had recommended to "Bulgaragaz" and Gazprom Export" to activate negotiations to prepare a new contract for the supply of natural gas to Bulgaria after 2010.
In addition, Traikov said that renewable energy sources have great public use, but also bear hidden risks, adding it is crucial to establish clear rules and regulations to limit those risks.
The Minister further announced over the Christmas holiday that there is a possibility to create a joint stock company between the State and the company that has consession over the gas deposit at "Galata" for the future establishment of a gas storage there.
Novinite: Ukraine PM: Fears of New Russian Gas Crisis Unfounded
Ukraine PM Tymoshenko has disproved the statements of Gazprom CEO that her country would be unable to pay for Russian gas supplies.
Ukraine's Prime Minister Yulia Tymoshenko has dispelled fears that her country won't be able to pay for December Russian natural gas supplies.
Speaking at a briefing on Saturday, Tymoshenko has stated that the concerns over Ukraine's ability to pay for Russian gas raised Friday by Gazprom CEO Alexei Miller were unfounded.
Tymoshenko has stressed the fact that Russian officials made similar statements before the end of each month when Ukrainian monthly payments for Russian gas supplies were due hinting at possibilities of a repetition of the January 2010 gas crisis, which left much of Europe, including Bulgaria, without gas in the middle of the winter.
Novinite: Gazprom: Ukraine Again Faces Problems Paying for Russian Gas
Gazprom CEO, Alexei Miller, has stated that Ukraine has difficulties finding the cash to pay for Russian natural gas supplies hinting at the possibility of a new Russian gas crisis.
Speaking on the Russian Vesti-24 TV channel, Miller said Ukraine consumed much less Russian gas since mid-December, which he interpreted to mean that the Ukrainians did not have the money to pay for it.
"We assess the situation with the payment for the December supplies of Russia's gas as very alarming," Miller declared.
The deadline for Ukraine's payment for Russian gas has extended from Jan. 7 to Jan. 11, 2010, due to the New Year holidays.
Ukrainian President Viktor Yushchenko, who is running for a second term in the January 2010 elections, has assured that the country would be able to pay for its December consumption of Russian gas, as quoted by Novosti.
In January 2009, delayed Ukrainian payments for Russian gas led to a gas crisis which left much of Europe, including Bulgaria, without supplies in the middle of the winter.
energia.gr: First Section Of Siberian-Pacific Oil Pipeline Opens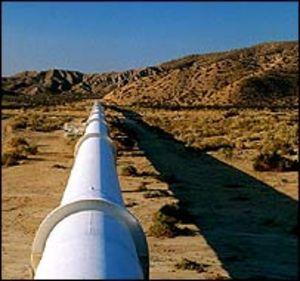 Russia
's Prime Minister Vladimir Putin opened Monday the first section of the Siberian-Pacific oil pipeline network that will ultimately carry crude to
China
, Russian news agencies reported.

"This is a strategic project that will let
Russia
into new Pacific Asia markets, where
Russia
was present insufficiently," Putin was quoted as saying by RIA Novosti news agency as he officially put the pipeline section into service.

He praised oil pipeline group Transneft (TRNFP.RS)for completing the section despite the global economic crisis.

The 2,964-kilometer section links Taichet in eastern
Siberia
with Skovorodino in the Amur region of the Russian far east.

The first section also included construction of an oil port at
Kozmino
Bay
near Nakhodka on
Russia
's Pacific coast.

A second pipeline section will run from Skovorodino to
Kozmino
Bay
.

Transneft and the Chinese oil group CNPC in October 2008 signed an agreement on the construction of a 67 km branch line to China that will initially carry 15 million tons of oil a year it is becomes operational next year.
Eurasia Daily Monitor: Moscow Targeting Adriatic Energy Transportation Lifeline to Central Europe
Russian President Dmitry Medvedev and Prime Minister Vladimir Putin received Croatia's outgoing president, Stjepan Mesic, in Moscow for a valedictory visit on December 13-14 (Interfax, December 14). The discussions focused on energy issues, reflecting Moscow's preparations for a breakthrough into the Croatian oil and gas sector. The Russian leaders treated Mesic's visit as an opportunity to prepare Croatian Prime Minister Jadranka Kosor's Moscow visit, scheduled tentatively for January 2010 and expected to concentrate on energy issues.
Croatia has been largely free of a Russian presence in its energy sector thus far. While Croatia's small energy market can hardly interest Russia's oil and gas giants from a business perspective, Croatia's location on the Adriatic coast is what interests the Kremlin. If Russian state-connected companies acquire stakes in the Croatian energy transportation infrastructure, they could cut off several Central European countries from non-Russian energy supplies delivered to Adriatic ports. In that case, Hungary and some of its neighbors would lose their main chance to diversify their energy import options away from overdependence on Russia. This would then open the way for Russian expansion into those countries' energy systems.
Mesic, who is now completing his final presidential term, briefed Prime Minister Kosor and Croatian media on some details of his discussions in Moscow regarding oil and gas. On December 16 the Russian Ambassador to Croatia, Robert Markarian, visited Mesic in Zagreb to convey the Russian leaders' satisfaction with the talks just held (HINA, Vjesnik, Jutarnji List, Poslovni Dnevnik, December 16, 17; Politika [Belgrade], December 17).
In Croatia's oil sector, the Russian side wants to acquire a stake in the Adriatic Oil Pipeline (JANAF), which runs from the port of Omisalj across Croatia's territory to northern Hungary. The line's traditional function is to carry Middle Eastern oil into central and southeastern Europe. The Russian government has long sought to reverse the pipeline's direction, so as to use it for Russian oil exports from the Adriatic Sea (Moscow succeeded with a similar idea on Ukraine's Odessa-Brody pipeline, which is being reverse-used to carry Russian oil for export through the Black Sea, instead of the original function to carry non-Russian oil into Ukraine and Poland).
Russia's Lukoil and GazpromNeft companies have recently discussed plans with JANAF to enlarge storage capacities for Russian crude oil and derivatives in the Omisalj area and, on that basis, open an international spot market there (Vjesnik, December 7). Additionally, GazpromNeft lays claim –which Putin raised with Mesic– to some 30 filling stations and other property of the Croatian INA company, the main stakeholder in which is Hungarian MOL.
In the gas sector, the Kremlin proposes to build an extension of the South Stream pipeline system through Croatia (still without identifying the supply source). Chiding the previous Croatian government for its skepticism about this project, Putin and Gazprom are now offering a second-"best" solution –namely, a branch-off pipeline that would terminate in Croatia, rather than transiting Croatia along the main route. Russian Energy Minister Sergei Shmatko and Gazprom Vice-President Aleksandr Medvedev are also urging Zagreb to "work fast" and prepare with Russian experts an agreement on South Stream, for signing during Prime Minister Jadranka Kosor's Moscow visit. In that case, Russian President Dmitry Medvedev would visit Croatia shortly afterward (Interfax, December 17).
In its earlier discussions with Zagreb (and other parties), Gazprom had asked to use the existing in-country transmission pipelines in the context of South Stream. Thus, Gazprom had hinted at using Croatian Plinacro's pipeline link under construction toward Hungary –as well as using a Bulgarian transmission pipeline– for South Stream, which could prevent their use for the NETS project or Nabucco, respectively.
Should Gazprom enter Croatia through South Stream, it would likely press for halting the LNG project on Croatia's Krk Island. That project (and Plinacro's pipeline) is intended for liquefied gas of Middle Eastern provenance to be delivered via the Adriatic coast to landlocked Central European countries. Like the Adriatic Oil pipeline, it is a crucial supply diversification project for the region.
Croatia's previous government, headed by Ivo Sanader who resigned in mid-2009, had demonstrated a fairly clear vision of energy security requirements for the country and the region. That government declined to join South Stream, resisted the reversal of the Adriatic Oil pipeline, and realized the importance of the Krk LNG project. Moscow did not hide its displeasure with the Sanader government, and then made a show of warming up to the successor prime minister Kosor. The Kremlin also played up to Mesic's rivalry with Sanader when receiving Mesic on his valedictory visit.
The challenge to Croatia's current government, its president to be elected, and the European Union is to preserve and develop the Adriatic energy transportation lifeline to Central Europe, rather than allowing its derailment by the Kremlin.
Eurasia Daily Monitor: Strategic Implications of the Central Asia-China Gas Pipeline
The breakthrough on the Central Asia-China gas pipeline (EDM, December 15), as part of Turkmenistan's policy of gas export diversification, undermines Russia's position not only in the European gas trade (EDM, December 16), but also on two Asian fronts. These are the negotiations on future Russian imports of Turkmen gas (in scaled-down volumes) and on possible Russian gas exports from eastern Siberia to China.
The Kremlin had offered in 2008 to pay European netback prices for Turkmen and other Central Asian gas, starting in 2009 at more than $300 per one thousand cubic meters. This offer doubled at one stroke the Russian purchase price for Central Asian gas (and quadrupled it from the 2005 level), erasing Gazprom's windfall profits from the re-sale or swapping of Turkmen gas in Europe in previous years. Moscow was also launching an ambitious program to expand the capacity of gas pipelines from Central Asia to Russia, so as to increase Russian imports far beyond the then-prevailing level of 70 billion to 80 billion cubic meters (bcm) annually, which included 45 to 50 bcm from Turkmenistan. Anticipating a gas shortfall soon in Russia itself, Gazprom tried to maximize its intake of Turkmen gas to help meet Russia's supply commitments. Moscow's leverage was already weakening at that juncture thanks to the rapid advance of the Turkmenistan-China pipeline project.
The economic-financial crisis changed Moscow's plans in spring 2009. With demand and prices declining for Russian gas in Europe, Moscow pressed to reduce either the volume of imported Turkmen gas or the purchase price for it. When Ashgabat resisted, Moscow halted the gas flow unilaterally and without the necessary advance notice on April 8-9, resulting in a blast on the over-pressurized Turkmen export pipeline. The line has been repaired since then, but the gas flow to Russia has not resumed until now.
Turkmenistan's revenue losses from Russia cannot immediately or fully be compensated by revenue gained from China after the pipeline's opening. Nevertheless, Turkmenistan's bold diversification of gas exports to China and Iran –as well as possible export westward from Turkmenistan's Caspian offshore– are steadily reducing Moscow's leverage on Ashgabat. Based on its experience, Ashgabat takes the position that Russia does not offer security of demand even in the short term, whereas China's voracious requirements promise fairly reliable, long-term security of demand for Turkmen gas (Xinhua, December 11–15).
Moscow and Ashgabat are currently negotiating arduously over the price, timetable, and other conditions for resuming Turkmen gas deliveries to Russia. The Kremlin and the Russian government are handling these negotiations directly, rather than through Gazprom. Deputy Prime Minister Igor Sechin (responsible for the energy sector) held talks with Turkmen President Gurbanguly Berdimuhamedov in Ashgabat on December 15 –the day after the opening of the Turkmenistan-China pipeline– and Russian President Dmitry Medvedev followed up with Berdimuhamedov by telephone to arrange a year-end visit to Ashgabat. The official communiqués about the presidents' telephone conversation hardly mentioned gas, focusing instead on the reopening of a "Pushkin" school in Ashgabat –a clear indication of persisting differences over the gas trade (Interfax, Turkmen government website, December 15, 16).
Moscow evidently wants to retain access to Turkmen gas, but can hardly predict the timeframe of its post-crisis recovery and corresponding gas demand recovery in Europe. That period may well coincide with the Turkmenistan-China pipeline attaining full capacity and providing Ashgabat with a fully-fledged alternative option. Thanks largely to this factor, Russian
leverage on Turkmenistan should from now on recede with every passing year. Further strengthening Ashgabat's hand, the new export pipeline to Iran is opening during this month, with a capacity of 6 bcm annually in the first stage and another 6 bcm in a follow-up stage. This line is being supplied from Turkmenistan's Dauletabad field, dedicated to Russia until now (Turkmen Television, December 11; Voice of the Islamic Republic of Iran [Mashhad], December 13).
The pipeline to China strengthens not only Ashgabat's, but also Beijing's hand in negotiations with Moscow. The Russian and Chinese governments are negotiating the pricing and transportation terms for possible gas exports from eastern Siberia to China. The Russian side did not have to compete against another supplier until now. From now on, however, Russian gas production from newly commissioned eastern Siberian fields would have to compete with Turkmen gas over the sale price of gas to China. This emergent competition will undoubtedly overshadow the Russo-Chinese negotiations, which are scheduled to resume in 2010, on future terms for sale and purchase of gas.
European and US policies –insofar as they operate– have incurred a temporary setback with Chinese (and even Iranian) breakthroughs in Turkmenistan. This situation curtails the availability of Turkmen gas in the near-to-medium term for the Nabucco project and other components of the Southern Corridor to Europe. Any massive Turkmen deliveries into the planned corridor must await the development of the vast, untapped gas reserves onshore, which Ashgabat will likely apportion to various players.
China seems positioned ahead of all others at the supergiant South Yolotan-Osman fields, thanks to Beijing's credit line for exploration and development there. In Turkmenistan's Caspian offshore and older onshore fields, however, supplies should be unproblematic for Nabucco's second phase, if a pipeline link takes shape organically between the outward tips of the Turkmen and Azerbaijani offshore infrastructure.