Hotnews: Dupa o intrevedere cu Vladimir Putin, premierul finlandez anunta ca tara sa ar putea aproba trecerea Nord Stream prin apele sale teritoriale
Finlanda ar putea sa autorizeze trecerea gazoductului rusesc Nord Stream prin apele sale teritoriale, pana la finele anului. Premierul finlandez Matti Vanhanen a declarat, dupa o intalnire la Sankt Petersburg cu omologul sau rus Vladimir Putin, ca "guvernul va lua o decizie la inceputul lunii noiembrie cu privire la trecerea Nord Stream in zona sa economica", transmite AFP.
"Dupa aceea, departamentele responsabile pentru ecologie vor acorda autorizatia pentru construirea gazoductului. Ne asteptam ca acest lucru sa fie realizat la sfarsitul anului", a precizat Matti Vanhanen.
Tot la Sankt Petersburg, in urma cu trei zile, Vladimir Putin a discutat cu premierul italian Silvio Berlusconi. Negocierile de atunci s-au axat pe un alt proiect: gazoductul South Stream si "dinamica pozitiva" a acestuia.
Nord Stream este un proiect condus de gigantul rus Gazprom si va lega direct Rusia si Germania, pe sub Marea Baltica. Gazoductul va traversa teritoriile maritime ruse, finlandeze, suedeze, daneze si germane. Potrivit calendarului, el ar trebui sa fie gata in 2012.
ziare.com: Constructia South Stream ar putea incepe in 2010
Constructia gazoductului South Stream, destinat trasportului de gaze naturale din Rusia spre Europa, ocolind Ucraina, ar putea incepe in 2010, sustine ministrul rus al Energiei, Sergei Smatko.

Potrivit oficialului rus, Turcia si-a dat deja acordul pentru efectuarea de lucrari de explorare in propria zona economica a Marii Negre pentru South Stream, gazoductul gandit ca o alternativa la proiectul Nabucco, informeaza Mediafax.
"Am aratat la Milano, cu ocazia unei intalniri cu reprezentatii Italiei si Turciei, ca suntem pregatiti sa dezvoltam proiectul cu viteza maxima. Putem incepe cel mai devreme in 2010. Gazoductul nu ofera o alta alternativa in afara aceleia de a fi construit", a precizat oficialul.
Gazoductul rus este proiectat si dezvoltat de Gazprom si urmeaza sa aiba o capacitate initiala de 31 miliarde metri cubi pe an, cu posibilitatea cresterii volumului cu inca 16 miliarde metri cubi.
standard.ro: Guvernul se grăbeşte cu giganţii energetici
Guvernul interimar se grăbeşte să aprobe în şedinţa din această săptămână înfiinţarea giganţilor energetici de stat a căror apariţie are toate şansele să bulverseze întreaga piaţă de energie, dar şi preţurile cu care se vinde electricitatea către clienţii din industrie. "Miercuri este programată aprobarea HG-ului", a declarat ieri pentru Business Standard ministrul interimar al Economiei, Adriean Videanu.
Însă, tot ieri, social-democratul Iulian Iancu a cerut Executivului să întrerupă procesul de fuziune a producătorilor de energie, argumentând că restructurarea nu poate fi iniţiată de un guvern demis şi nici în timpul campaniei electorale. "În prima zi de campanie electorală, Guvernul a iniţiat un proces de restructurare a celui mai important sector din domeniul economic, ce vizează strict domeniul securităţii şi siguranţei naţionale", a declarat, ieri, preşedintele Comisiei de Industrii din Camera Deputaţilor, Iulian Iancu, în cadrul unei conferinţe de presă susţinute la sediul PSD. Iancu a mai spus că reorganizarea nu poate fi iniţiată în pragul iernii şi "pe uşa din spate".
În replică, ministrul interimar al Economiei a afirmat că aprobarea HG-ului programată pentru miercuri rămâne "bătută în cuie" cu toată opoziţia PSD.
Se creează o "portiţă" pentru "băieţii deştepţi", spun specialiştii
Înfiinţarea celor doi giganţi energetici ar putea duce la anularea de facto a ordinului prin care producătorii de stat de energie erau obligaţi să vândă pe Bursă toată electricitatea disponibilă. Mai departe, anularea acestui ordin ar putea fi o portiţă prin care "băieţii deştepţi" din energie şi-ar putea prelungi şi după 2013 contractele de achiziţie energie la preţuri "confidenţiale". Aceasta ar fi în opinia unor specialişti din piaţa de electricitate explicaţia pentru graba actualului Executiv de a aproba un act normativ care reconfigurează în întregime sectorul energetic.
În acest moment, majoritatea companiilor de stat din energie au nevoie acută de fonduri pentru investiţii şi se confruntă cu scăderi ale consumului de electricitate de circa 10%. Potrivit deputatului Iulian Iancu, cel mai mare producător de electricitate din ţară, Hidroelectrica, este obligat să cumpere energie la preţuri de trei ori mai mari (la 240 de lei MWh) din cauza rezervelor reduse de apă, ceea ce a dus la datorii ale companiei de peste 100 milioane de lei, iar Electrocentrale Bucureşti trebuie să primească de la bugetul de stat o restanţă de 150 milioane de lei, aferentă primelor trei trimestre ale anului în curs. De altfel, profitul net al Hidroelectrica a scăzut de aproape trei ori în primele nouă luni ale acestui an, până la 84,1 milioane de lei (19,6 mil. euro), potrivit NewsIn. Scăderea este cauzată de seceta din august şi septembrie, precum şi de închiderea pentru retehnologizare a CHE Lotru-Ciunget. Producţia de electricitate a societăţii a scăzut la aproximativ 12 TWh în primele nouă luni, faţă de producţia de 13,5 TWh din aceeaşi perioadă a anului trecut.
Ministrul interimar Adriean Videanu a mai explicat ieri că, după aprobarea hotărârii de guvern privind reorganizarea, cele mai importante probleme care vor rămâne de rezolvat sunt divizările şi fuziunile dintre companii.
Deja, CNH Petroşani, Hidroelectrica, Electrocentrale Bucureşti, CTE Deva şi CET Paroşeni au aprobat, în cadrul mai multor adunări generale ale acţionarilor (AGA), fuziunile. În plus, Hidroelectrica a aprobat şi divizarea companiei în două.
Potrivit lui Videanu, numele Hidroelectrica nu va mai exista după această reorganizare.
"Fiecare societate în parte a primit mandat de la ministrul Adriean Videanu să aprobe fuziunea societăţilor, în vederea înfiinţării Electra şi Energetica (cele două mari companii energetice, n.red.)", a declarat, tot ieri, directorul general al CNH (cel mai mare datornic la bugetul de stat), Constantin Jujan, citat de NewsIn.
Ministrul interimar al Economiei a mai spus că, în principiu, băncile care finanţează companiile de stat din energie nu au manifestat opoziţie faţă de acest plan de reorganizare.
Ion Pisc, preşedintele Federaţiei Energetica, sindicat ce reprezintă interesele a circa 20.000 de angajaţi din sectorul energetic, a explicat ieri pentru Business Standard că apreciază "curajul lui Videanu de a face aceste restructurări", dar nu crede că reorganizarea va putea fi şi realizată.
"Această reorganizare trebuia făcută înainte de intrarea în UE, acum e prea târziu. Toate companiile care vor veni au datorii, au probleme, nu este niciuna curată. Dacă această reorganizare nu a putut fi făcută prin ordonanţă de urgenţă, nu văd cum ar putea fi făcută prin hotărâre de guvern, într-un timp atât de scurt. Nu am mai auzit nimic despre ideea iniţială a lui Videanu, cum că toate datoriile societăţilor vor fi şterse odată cu această reoganizare", a declarat Ion Pisc.
"Cele mai mari probleme le are Hidroelectrica. Are mulţi bani de dat şi puţini de încasat, toată lumea ştie de ce. Grupurile de companii nu sunt tocmai în regulă, Termoelectrica ar fi trebuit inclusă şi ea. Altfel, va rămâne fără finanţare pentru proiectele de modernizare, tocmai acum, când acestea sunt aproape de finalizare", a adăugat liderul de sindicat.
Şi producătorul de lignit SNLO a aprobat vineri, în AGA, fuziunea cu cei mai mari producători de electricitate din ţară, Hidroelectrica, Nuclearelectrica şi complexurile energetice din Oltenia (Turceni, Rovinari şi Craiova), în vederea formării gigantului Electra.
Problemele se ţin lanţ
Majoritatea socităţilor de stat intră în acest joc al reorganizării în speranţa că aceste fuziuni le vor aduce fondurile necesare modernizării şi eficientizării, fără de care vor da faliment sau vor fi închise de UE pentru nerespectarea normelor de mediu.
Potrivit unor surse guvernamentale, România se pregăteşte să trimită Comisiei Europene solicitări de amânare pentru aplicarea normelor UE de protecţie a mediului pentru majoritatea termocentralelor.
De altfel, oficialii celei mai mari termocentrale din ţară, Complexul Energetic (CE) Turceni, care acoperă circa 12,5% din consumul naţional de energie, au anunţat că nu pot asigura, din surse proprii, decât 30% din totalul necesar investiţiilor, în perioada 2009-2013.
"Pe fondul actual al cererii diminuate de energie pe piaţă, vânzările Complexului Energetic Turceni nu vor putea genera veniturile necesare pentru finanţarea tuturor lucrărilor de investiţii impuse prin Tratatul de Aderare şi, mai ales, în perioadele de conformare impuse", potrivit unui comunicat postat pe site-ul companiei.
Nou credit pentru Turceni
Soluţia considerată salvatoare de către reprezentanţii CE Turceni este includerea companiei într-unul din cei doi mari giganţi energetici.
"Noua structură a sistemului energetic va putea susţine financiar implementarea noilor tehnologii curate, prin echipamente energetice eficiente, şi, deci, va putea asigura, în continuare, locurile de muncă adecvate sectorului minier şi unităţilor termo pe cărbune", se arată în comunicatul companiei.
În plus, Turceni va demara, până la sfârşitul acestui an, negocieri cu BERD pentru un împrumut de 150 milioane de euro pe 15 ani, în vederea reabilitării grupului 3, potrivit directorului general Marian Motocu, citat de NewsIn.
Acordul ar fi al doilea din acest an, după cel din luna iulie, privind un împrumut sindicalizat de 170 milioane de euro pe zece ani, cu trei ani perioadă de graţie, finanţare destinată reabilitării şi modernizării grupului 6 al companiei energetice.
Vocea Rusiei: "Nord Stream" va fi construit la timp, consideră Vladimir Putin
Gazoductul "Nord Stream" va fi construit la timp, a declarat premierul Vladimir Putin la sfârşitul tratativelor cu prim-ministrul Finlandei Matti Vanhanen. Permisiunea de a construi gazoductul în zona economică finlandeză va fi obţinută până la sfârşitul anului curent.
Gazul rusesc va fi exportat în Europa prin conducta "Nord Stream". Putin speră în realizarea cât mai curând posibil a proiectului "South Stream", care va lega portul rusesc Novorossiisk de portul bulgar Varna de la Marea Neagră.
RIA Novosti: Ukraine warns Gazprom of potential gas payment problems
KIEV, October 26 (RIA Novosti) – Ukraine's national energy company Naftogaz has warned Gazprom of possible difficulties with payment for October natural gas deliveries, a source in the Ukrainian company said on Monday.
Naftogaz CEO Oleh Dubyna said at a meeting with Gazprom head Alexei Miller on Thursday that it was increasingly difficult for the Ukrainian energy company to make gas payments and it could be problematic for it to pay for natural gas supplied in October, the source said.
Naftogaz paid for Russian natural gas deliveries in September on time and in full, largely using borrowed funds.
According to the source, the Russian side insists that Naftogaz comply with contractual obligations in terms of natural gas purchase volumes and prices.
Ukraine is currently negotiating with Gazprom on a reduction in supplies to 33 billion cubic meters a year.
Miller has said that under the contract, Ukraine must buy at least 52 billion cubic meters of gas per year, but Ukrainian Prime Minister Yulia Tymoshenko said that "Ukraine has the right to order the volume that it needs."
She said the contract provides for 20% fluctuations in the level of consumption, and that "aggressive statements" on mandatory purchase levels should be ignored.
Russia, which supplies around one fifth of Europe's gas, briefly shut down supplies via Ukraine's pipeline system at the start of the year during a dispute with Kiev over unpaid debt.
The conflict was resolved in January, when Russian Prime Minister Vladimir Putin and his Ukrainian counterpart, Tymoshenko, agreed deals on deliveries to and gas transit through Ukraine for 2009.
Novinite: Russia Ready to Launch South Stream Gas Line Project
Russian Energy Minister, Sergey Shmatko, says the "South Stream" gas line has no other alternative than being built. Photo by BGNES
If the study works turn out successful, the construction of the "South Stream" gas line can begin as early as next year.
The information was stated for reporters in the Moldovan capilat Chisinau by the Russian Emery Minister, Sergey Shmatko, who took part in a meeting of the Electric Energy Council of the Comonwealth of Independent States (CIS) – the regional organization of several former Soviet Republics.
Shmatko, cited by the Russian information agency ITAR-TASS, has reminded the media that he held talks two days ago in Moscow with his Bulgarian counterpart, Traicho Traikov, adding Turkey already granted permission for tests and probes of the underwater part of the line.
"We pointed out during a meeting with representatives of Italy and Turkey in Milan that we are prepared to realize the project with maximum speed. We can start as early as 2010. "South Stream" does not have an alternative other than being built,' Shmatko is quoted as saying.
When asked about arguments and rivalry regarding "South Stream" and "Nabucco" the Russian Minister said: "Europe has interest in having a maximum number of transit routes in order to guarantee its markets' security."
On his part, Traikov concluded Friday that the faster the South Stream project starts the better, adding that both Nabucco and the South Stream pipelines will pass through Bulgaria and that both were discussed with Shmatko.
energia.gr: Turkmenistan Completes China Pipeline Work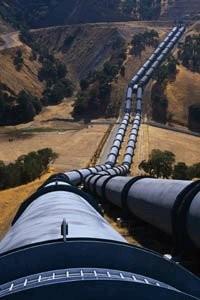 Turkmenistan has completed construction on its part of a 7,000-kilometer (4,350-mile) natural gas pipeline from Turkmenistan to China, state media said Friday.

"Work on the Turkmen section of the Turkmenistan-Uzbekistan-Kazakhstan-China gas pipeline… is complete," state newspaper Neutral Turkmenistan reported.

The pipeline, which will transport Turkmen natural gas from the Caspian Sea across Central Asia to energy-hungry China, is due to begin operations in December, state media has reported.

Turkmenistan, an energy-rich but isolated ex-Soviet nation, is believed to have some of the biggest gas reserves in the world, nearly all of which is currently exported to Russia via a network of ageing Soviet-era pipelines.

A pipeline explosion earlier this year sparked a row with Russian energy giant OAO Gazprom (GAZP.RS) that saw exports of Turkmen natural gas almost completely cut off, prompting Ashgabat to accelerate efforts to secure alternative routes.

China National Petroleum Corp. has signed a 30-year accord to import up to 30 billion cubic meters of gas a year through the new pipeline.

China has signed several major deals to get new energy imports from Central Asia.
On October 19, Turkey, Italy and Russia signed a memorandum of understanding on the Samsun-Ceyhan oil pipeline (SCP). Turkish Energy Minister Taner Yildiz, the Italian Economic Development Minister Claudio Scajola and the Russian Deputy Prime Minister Igor Sechin, inked the agreement that regulates the commitments of the three partners to the SCP. Despite the several signing ceremonies organized in the past for the SCP, the construction work did not commence. Staging yet another signing ceremony marks Russia joining the project, which is expected to enable the construction work for the SCP to finally begin (ANKA, October 19).
The SCP was developed by Turkey as a bypass route for the transportation of Russian and Kazakh crude to ease pressure on the heavy tanker traffic in the Turkish Straits, which has emerged as one of the world's major bottlenecks. When completed, the project is estimated to reduce the tanker traffic through the Straits by up to fifty percent. The project is also crucial for Turkey's plans to turn Ceyhan, which is also the terminus of the Baku-Tbilisi-Ceyhan pipeline, into a worldwide energy terminal.
Russia exports around a quarter of its crude through the Straits, and has had incentives to find alternative routes for the secure and uninterrupted flow of its oil. Nonetheless, despite Turkey's promotion of the SCP project and its awarding of the license for the construction in 2006, the lack of commitment by producers has hindered the realization of the SCP. Russia viewed such alternatives outside its control as a threat to its dominant position, and pushed for alternative bypass options that would avoid Turkey altogether, such as the Burgas-Alexandroupolis route.
Russia's position on the SCP changed after the two countries gradually decided to develop a multi-dimensional energy partnership in oil, natural gas and nuclear power. Both countries gave up their previous positions of viewing each other's flagship projects in competitive terms, and redefined their relations on the basis of mutual interests. The new win-win philosophy underpinning the relationship paved the way for their cooperation in numerous areas (Vatan, August 4; EDM, February 17). As part of the grand energy bargain between Turkey and Russia in the aftermath of Russian Prime Minister Putin's August 6 visit to Turkey, Moscow decided to join the SCP. In return, Ankara agreed to support Gazprom's ambitious South Stream project that will pass underneath the Black Sea to compete with the E.U.-backed Nabucco project (EDM, August 7).
The 550-kilometer-long SCP will connect the oil terminal in Samsun on Turkey's Black Sea coast with the terminal in Ceyhan on its Mediterranean coast, and is estimated to cost approximately $2.5 billion. Initially, it will carry around 1 million barrels per day (bpd), and later its capacity will be increased to 1.5 million bpd. In addition to the pipeline, the project also involves the construction of a docking terminal in Samsun and storage facilities in Ceyhan (ANKA, October 19).
The project will be carried out by the Trans-Anatolian Pipeline Company (TAPCO), a joint enterprise of the Turkish company Calik Energy and the Italian energy company ENI, each controlling a 50 percent stake. The Russian Transneft and Rusneft will provide the crude for the pipeline. Sechin added that the two companies might also assume a role in the construction of the pipeline in the future or join the pipeline as partners. It was also suggested in the Turkish press that the Russian oil company Lukoil, which has also started its operations in Turkey, has expressed its willingness to use the pipeline. ENI's CEO Paolo Scaroni emphasized that they were considering carrying Kazakh crude through the SCP (Cihan, October 19).
In a related development complementing the Turkish-Russian-Italian partnership, Ankara gave the go-ahead for geological exploration in its Black Sea economic zone as part of the South Stream project, a joint venture between Gazprom and ENI. According to a statement issued by the Kremlin, President Abdullah Gul telephoned his Russian counterpart Dmitry Medvedev and said that the Turkish government had made the necessary legal preparations to grant permission (Anadolu Ajansi, August 20).
The Turkish government has prided itself in the conclusion of such spectacular projects, which in its view will elevate Turkey to the status of a major regional and global energy hub. However, the questions as to who benefits from these ventures and the conditions under which such business deals are conducted have become growing domestic issues. Critics of the government have accused it of awarding these contracts to its "cronies" in a non-transparent manner. The ties between government figures and the Turkish partner of the SCP, Calik group, have proven to be the major source of criticism. Calik group, whose CEO Berat Albayrak is Prime Minister Recep Tayyip Erdogan's son-in-law, was awarded the construction of the SCP through a cabinet decision without a public tender in 2006. The critics also add that the government granted the Calik group permission to build the storage facilitates in Ceyhan through controversial transactions (Birgun, September 9, 2008).
The main opposition Republican People's Party even raised the issue in parliament, requesting a parliamentary inquiry into the government's dealings with the Calik group in the SCP, as well as on recent international energy deals. CHP representatives claim that in order to promote the interests of the pro-government business community, the government has deepened the country's dependence on imported fossil fuels, and postponed the development of domestic renewable energy resources (Taraf, August 18).
The Calik group has defended itself by arguing that their project was financed fully by the private sector and it required only the awarding of a license rather than a public tender. Calik group also maintains that other pipelines were built according to the same practices (Hurriyet, May 15, 2006). Nonetheless, critics still insist that the prime minister has been lobbying on Calik's behalf to solicit Russian participation in the SCP. Moreover, they claim that the economic stimulus package that the government launched this summer, which would provide financial incentives for infrastructure investments by the private sector, contained clauses favoring the interests of the Calik group (www.sol.org.tr, October 20).
Eurasia Daily Monitor: Samsun-Ceyhan Pipeline Project Designed to Divert Kazakhstani Oil
Russia and Turkey, with Italy in tow, have seemingly struck a grand oil and gas bargain in the Black Sea. On October 19 in Milan, government ministers and corporate officials from the three countries signed agreements to move ahead with the Russian South Stream gas pipeline on the seabed and, concurrently, a Novorossiysk-Samsun-Ceyhan oil transport system centered on a pipeline across Anatolia.
Italy's state-controlled energy conglomerate ENI is involved in both projects, thanks to its close relations and those of Prime Minister Silvio Berlusconi with Moscow. The agreements just signed, however, amount to a bilateral quid-pro-quo between Russia and Turkey (Interfax, Anatolia News Agency, October 19, 20).
The Turkish government authorized Russia's Gazprom to conduct exploration work on the seabed in Turkey's Black Sea exclusive economic zone, in preparation (or so it seems) for laying the South Stream pipeline's seabed section. In return, Russia agreed to supply oil into the Samsun-Ceyhan pipeline, to run through Turkish territory from the Black Sea to the Mediterranean. This line, with a proposed capacity of the same magnitude as the Baku (Azerbaijan)-Ceyhan pipeline, would mainly carry Kazakhstani oil, to be delivered by Russia through the port of Novorossyisk into the Black Sea.
This quid-pro-quo was first outlined publicly during Russian Prime Minister Vladimir Putin's August 6 visit in Ankara (EDM, August 7, 8, 9). It does not entail any promise of South Stream gas supplies to Turkey. This would be unnecessary, since Russia already covers three quarters of Turkey's gas consumption, in a saturated market. Turkey's reward is the Samsun-Ceyhan oil transport project in return for cooperating with South Stream.
Russia's gain is two-fold. In a virtual sense it maintains an appearance of movement on the South Stream project, despite the lack of gas supplies and financing for that project even at the declarative level. Russia is trying to generate an artificial bandwagon effect with South Stream in order to cast doubt on the viability of the European Union-backed Nabucco project.
In a material sense, however, Russia stands to gain major advantages in the contest for the transportation of Caspian oil, if the Samsun-Ceyhan pipeline is built and operates as intended. This line would enable Russia to consolidate its control over the transportation of Kazakhstani oil to international markets via Russian territory, adding to Moscow's already strong leverage on Kazakhstan and on Western oil companies operating there.
Nearly 80 percent of oil exports from Kazakhstan flow through Russian pipelines and ports at present (a share basically unchanged for the last decade). Western companies extract most of that oil and have also built the largest export pipeline: the Caspian Pipeline Consortium (CPC) line from Tengiz via Russia to Novorossiysk. Oil production in Kazakhstan is set to increase dramatically in the decade ahead, as currently operating fields approach the peak phase and the world-class Kashagan offshore field comes on stream. That production requires outlets and Moscow insists that these are, again, Russian outlets, primarily Novorossiysk on the Black Sea.
To that end, Moscow is pressuring Western oil companies in Kazakhstan to finance an expansion of the CPC pipeline's capacity, more than doubling it to 65 million tons per year. This could absorb the lion's share of the new production of Kazakhstani oil during the next decade, including Kashagan production. As a net result, Moscow would maintain (in relative terms) and massively increase (in absolute terms) Russian intake of Kazakhstani oil. By the same token, Russia would have minimized the share of Kazakhstani oil exports westward across the Caspian Sea and the South Caucasus, which can flow through Georgian Black Sea ports to Europe or through Turkey to the Mediterranean.
Moscow's strategy presupposes opening a new outlet from the Black Sea to take Kazakhstani oil (and some volumes of Russian oil) to the Mediterranean, bypassing the overcrowded Bosporus Strait. A Samsun-Ceyhan pipeline, to run through central Anatolia from the Black Sea to the Mediterranean, is the solution that Russia needs to maintain control over Kazakhstani oil exports and leverage over Western oil companies in that country.
Turkey's AKP government is keen to cooperate with Moscow's strategy, to the detriment of Ankara's Turkic and Western partners. Samsun-Ceyhan is a project that gratifies the government's ambition to turn Turkey into an "energy hub country."
The line would run approximately 550 kilometers across Anatolia from coast to coast. Its proposed capacity is 50 million tons annually, potentially to be increased to 75 million tons in a follow-up stage. Investment costs are officially estimated at $ 1.5 billion, which is almost certainly an underestimate, given the route's length and highly challenging terrain in central Anatolia. The stakeholders in the Trans-Anatolian Pipeline Company (TAPCO) are ENI and the Turkish conglomerate Ahmed Calik's subsidiary, Calik Energy, with stakes of 50 percent each (Interfax, Anatolia News Agency, October 19, 20).
In an accompanying memorandum of understanding, Russian state-owned companies Transneft and Rosneft hold out the promise of supplying crude oil for transportation through the Samsun-Ceyhan pipeline. The Russian maritime shipping company Sovkomflot, also state-owned, would transport oil by tankers from Novorossiysk and other Black Sea ports to Samsun (RIA Novosti, October 19).
With this project, Russia is starting the contest over the determination of export routes for Kazakhstani oil. Moscow is moving ahead thanks to its ENI and Turkish allies. Ankara's goal to turn the country into an "energy hub" largely depends on cooperation with Russia at this stage. This has become one of motivating factors behind the AKP's strategic partnership with Russia.