standard.ro: Petrom, prima din sud-estul Europei
Petrom este cea mai mare companie din sud-estul Europei, în funcţie de veniturile pe 2008, potrivit Top 100 companii din sud-estul Europei, realizat de portalul de ştiri SEE News şi de firma de consultanţă Roland Berger, dat publicităţii ieri.
Compania petrolieră românească, membră a grupului OMV, a avut anul trecut venituri totale de 4,85 mld. euro, faţă de cele 3,65 mld. euro raportate de ocupanta locului al doilea, firma petrolieră croată Industrija Nafte (INA). Pe locul al treilea s-a situat cea mai mare rafinărie din sud-estul Europei – Lukoil Neftochim, din Bulgaria, cu venituri de 3,646 mld. euro.
Cea mai mare creştere a veniturilor a avut-o, anul trecut, traderul de produse petroliere Salbatring, din Slovenia, care a raportat un plus de 937%, până la 610 milioane de euro. La capitolul profit net, cel mai mare salt l-a avut compania românească Electrica, aceasta înregistrând un salt de la 271.000 de euro, în 2007, la 306 mil. euro, în principal datorită vânzării sucursalei Electrica Muntenia Sud.
Separat, a fost alcătuit un top al celor mai mari 50 de bănci din sud-estul Europei, în funcţie de valoarea activelor. Nova Ljubljanska Banka (NLB), din Slovenia, s-a situat pe primul loc, cu active de 18,9 mld. euro, iar Banca Comercială Română (BCR) a ocupat locul al doilea, cu active de 17,3 mld. euro. BCR a fost instituţia bancară cu cel mai mare profit net în 2008, 510,8 mil. euro. Banca Română pentru Dezvoltare (BRD) a completat podiumul la capitolul active, cu 12,8 mld. euro, şi a ocupat poziţia a doua la capitolul profit net, cu 393,4 mil. euro.
ZIUA: Forum despre energie la Madrid
Grupul de presa MediaUno organizeaza, la Madrid, in perioada 23-27 septembrie, cea ­de-a 25-a editie a evenimentelor SuccessRomania.
Forumul economic cu tema "Implicatii ale politicilor nationale in domeniul energetic asupra sigurantei energetice internationale" aduce la masa discutiilor cele mai importante companii energetice din Romania si Spania, in incercarea de a oferi celor prezenti posibilitatea unui dialog direct asupra unor probleme cheie din industria energetica. Discutiile se vor centra pe asigurarea securitatii energetice atat pentru furnizori, cat si pentru consumatori, asigurarea necesarului energetic la nivel european, surse de energii alternative in cadrul Uniunii Europene, cresterea competitivitatii in sectorul energetic, dar si reglementari reciproc avantajoase privind colabo­rarile romano-spaniole pentru energiile alter­na­tive. In programul ma­nifestarilor este prevazuta, de ase­menea, o vizita de lucru la sediul companiei RED Electrica de Espana (n.r. – Transelectrica spaniola).
Adevarul: Companiile ruseşti se extind în Marea Caspică
Rusia va investi în următorii şase-şapte ani în producţia de hidrocarburi din Marea Caspică aproximativ 12 miliarde de dolari, a declarat directorul executiv al companiei petroliere ruse Lukoil, Vaghit Alekperov.
"Proiectele din Marea Caspică vor avea nevoie de 12 miliarde de dolari în următorii şase ani şi jumătate", a afirmat Alekperov la o întâlnire cu premierul Rusiei, Vladimir Putin. Regiunea Mării Caspice reprezintă principala sursă de aprovizionare cu gaze naturale a proiectului european Nabucco, gazoduct care ar urma să devină operaţional în 2014.
Conducta South Stream, dezvoltată de Gazprom, monopolul rus al exporturilor de gaze naturale, în colaborare cu grupul italian Eni, are acelaşi obiectiv ca Nabucco, respectiv transportul gazelor naturale din regiunea Mării Caspice către Europa. Rusia a depăşit pentru prima dată în această vară Arabia Saudită la producţia de petrol, pe fondul reducerilor operate de Organizaţia Ţărilor Exportatoare de Petrol, OPEC.
Luând în calcul şi producţia de gaze naturale, Rusia este cel mai mare producător şi exportator de materii prime energetice. Pentru perioada următoare este prognozată o reducere a cotaţiilor petrolului, mai ales că Agenţia Internaţională pentru Energie a prognozat o reducere a consumului de electricitate în acest an, pentru prima dată după 1945.
12 miliarde de dolari sunt investiţiile prognozate pentru exploatările ruseşti din Marea Caspică.
RIA Novosti: Gazprom buys controlling stake in SeverEnergia for $1.6 bln
MOSCOW, September 23 (RIA Novosti) – Russian energy giant Gazprom completed on Wednesday a deal to buy a 51% stake in SeverEnergia from Italian co-owners Eni and Enel for $1.6 billion.
SeverEnergia holds the licenses to prospect and develop hydrocarbons in West Siberia.
"Upon completion of the sale and purchase deal, SeverEnergia shareholding structure will be as follows: Gazprom – 51%, the Italian partners – 49% (via a joint venture between ENI and Enel holding 60% and 40% respectively)," the Russian energy giant said in a statement.
SeverEnergia's assets previously belonged to Yukos, once Russia's largest oil company, which was declared bankrupt August 1, 2006, after three years of litigation with tax authorities over the company's tax arrears. The company's assets were sold through a series of auctions in 2007.
Gazprom earlier signed a call option agreement with Eni and Enel to acquire the second lot of Yukos assets.
Gazprom, Eni and Enel also agreed within the framework of the SeverEnergia joint venture to start the development of the Samburgskoye deposit on Yamal Peninsula in West Siberia in June 2011 to reach an output of at least 150,000 barrels of oil equivalent per day within two years after the launch of production, the statement said.
RIA Novosti: Ukraine to buy up to 1.8 bln cu m of gas from Russia in Sept.
KIEV, September 23 (RIA Novosti) – Ukraine's national energy company Naftogaz plans to purchase up to 1.8 billion cubic meters of natural gas from Gazprom in September, Fuel and Energy Minister Yuriy Prodan said on Wednesday.
"We will buy around 1.5 billion cubic meters… the month is not yet over. We may buy up to 1.8 billion cubic meters," Prodan said, adding that some of the gas would be for domestic industrial use and some for underground storage.
Prodan said Ukraine has so far pumped 26.1 billion cubic meters of gas into its storage facilities.
Gazprom Deputy CEO Valery Golubev said in early September that Ukraine needed to store at least 28 billion cubic meters of Russian gas to meet its requirements and ensure uninterrupted gas transit to Europe.
In early September, Naftogaz officially approached Gazprom with a request to cut Ukraine's contracted gas imports in 2010 from 52 billion cu m to 33 billion cu m.
Naftogaz has requested 14 billion cu m of natural gas from Russia for October-November this year to bring total imports for 2009 to 32 billion cu m., below the contracted volume of 40 billion cu m.
Ukraine is liable to penalties for under-importing under a bilateral agreement with Gazprom only if the shortfall exceeds 20%.
Russia, which supplies around one quarter of Europe's gas, briefly shut down supplies via Ukraine's pipeline system at the start of the year amid a dispute unpaid bills and new prices.
The conflict was resolved in January, when Russian Prime Minister Vladimir Putin and Ukrainian premier Yulia Tymoshenko reached a deal on imports and transit for 2009.
The ex-Soviet state transits around 80% of Russia's Europe-bound gas.
Novinite: Bulgaria Government Appoints Energy Watchdog Chair
The previous head of the commission, Konstantin Shushulov, stepped down as the Chair of the State Regulator on September 11. File photo
The Bulgarian Government has appointed Wednesday Angel Semerdzhiev as the new Chair of the the State Commission for Energy and Water Regulation (DKEVR).
The previous head of the commission, Konstantin Shushulov, stepped down as the Chair of the State Regulator on September 11.
Angel Semerdzhiev was born in 1956. He graduated the physics faculty of the Sofia University "St. Kliment Ohridski".
Semerdzhiev has a rich professional experience. In 1996 he headed the "Restructuring and Concessions" department of the Ministry of Economy and Energy Resources, and later became director of the "Authorization and Licenses" directorate in the State Commission on Energy (DKER)
In 2000, he was appointed as member of the DKER responsible for the administration of licenses and the "Natural Gas" sector.
Since January 2007, he has been the CEO of the state owned "Bulgartransgas" EAD.
energia.gr: Investment In Russia's Shtokman Gas Field Hits $500M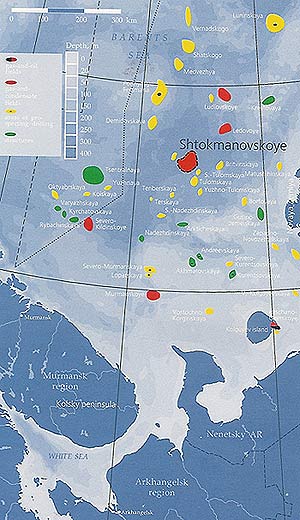 Companies developing the Shtokman gas condensate field in the the Barents Sea have invested $500 million, Russian news agency RIA Novosti reports on its Web site Tuesday, citing the project operator.

"To date, about $500 million has been spent, in proportion with the stakes of participants," Shtokman Development AG's Managing Director Yury Komarov is quoted as saying, adding that OAO Gazprom (GAZP.RS) accounted for half the amount.

Gazprom has a 51% stake in the project, while France's Total SA (TOT) and Norway's StatoilHydro ASA (STA) have 25% and 24%, respectively.

Komarov had said $1 billion would need to be invested at the initial stage.

Shtokman has estimated reserves of 3.8 trillion cubic meters and will feed Nord Stream, a gas pipeline set to link Russia and the European Union via the Baltic Sea, the report says.