Hotnews: Vladimir Putin l-a asigurat pe Silvio Berlusconi ca gazoductul South Stream va fi gata mai repede decat Nord Stream
Premierul rus Vladimir Putin a declarat joi ca gazoductul South Stream va fi realizat in mod sigur mai repede decat proiectul Nord Stream. Afirmatia a fost facuta la Sankt Petersburg, in timpul unei intalniri cu seful guvernului italian, Silvio Berlusconi. "Proiectul are toate sansele sa fie realizat inaintea proiectului analog baltic, Nord Stream", a precizat Vladimir Putin, citat de AFP.
Prim-ministrul rus si omologul sau italian, care cu o zi in urma au avut o intalnire "privata", au vorbit joi despre "dinamica pozitiva" a South Stream, in timpul unei videoconferinte cu premierul turc Recep Tayyip Erdogan. Nord Stream, un proiect condus de gigantul rus Gazprom, va lega direct Rusia si Germania, pe sub Marea Baltica. Potrivit calendarului, el ar trebui sa fie gata in 2012.
De cealalta parte, South Stream – promovat de Gazprom si italienii de la ENI, va trece pe sub Marea Neagra, intre Rusia si Bulgaria. Se va ramifica o data catre nord-vest spre Austria, apoi catre sud, spre Grecia si Italia. Oficial, gazoductul ar trebui sa functioneze in 2013.
South Stream este considerat un concurent direct al proiectului Nabucco, sustinut de Uniunea Europeana. Constructia acestuia din urma este programata sa inceapa la sfarsitul lui 2010. Nabucco urmeaza sa aprovizioneze tarile europene cu gaze naturale din regiunea Marii Caspice, ca alternativa la gazul rusesc.
Ziare.com: Putin asigura ca South Stream va fi terminat inaintea Nord Stream
Premierul rus Vladimir Putin a declarat la intalnirea cu liderul italian Silvio Berlusconi ca gazoductul South Stream va fi terminat inaintea proiectului Nord Stream, pe care il construieste cu Germania.

"Proiectul are toaste sansele sa fie realizat inainte de planul Nord Stream", a spus Putin, informeaza Ria Novosti.
Proiectul de 25 de miliarde de euro South Stream ar trebui sa trimita anual 31 de milioane de metri cubi de gaze din Asia Centrala si Rusia catre tarile europene, prin Balcani. Scopul rutei este sa ocoleasca Ucraina, unde incep de cele mai multe ori disputele care afecteaza furnizarea resurselor in Europa.
Capacitatea conductei va creste in cele din urma la 63 de milioane de metri cubi de gaze naturale.
Initial, proiectul South Stream trebuia sa fie dat in folosinta in 2013, iar Nord Stream, in 2012.
Nord Stream va asigura furnizarea de gaze naturale din Siberia catre Europa, pe sub Marea Baltica.
Gazoductul este construit de companiile Gazprom din Rusia, E.ON Ruhrgas si BASF-Wintershall din Germania si firma olandeza Gasunie, iar costul este estimat la 12 miliarde de euro.
Standard.ro: Romgaz şi-a redus costurile cu 10%
Producătorul naţional de gaze Romgaz şi-a redus în acest an costurile cu 10%, pe fondul crizei economice, după ce la începutul anului a anunţat investiţii de 850 mili
oa

ne de

lei

, car

e

iniţial fuseseră planificate la un miliard de lei, a declarat directorul general adjunct, Lucian Stancu.

Acesta precizează că Romgaz şi-a redus cu 10% costurile administrative, dar nu şi pe cele legate de producţie. Romgaz a realizat anul trecut o producţie de 5,850 miliarde metri cubi de gaze, în scădere cu 0,75% faţă de 2007.
Adevarul: Traian Băsescu va efectua o vizită în Kazahstan săptămâna viitoare
Preşedintele României, Traian Băsescu, va sosi în Kazahstan la data de 26 octombrie pentru o vizită oficială de două zile, a declarat purtătorul de cuvânt al Biroului kazah de Externe, Yerzhan Ashikbayev, citat de agenţia de presă Kazinform.
Liderul de la Bucureşti va avea discuţii cu conducerea ţării caspice pe o varietate largă de teme privind cooperarea bilaterală şi interacţiunea în cadrul structurilor internaţionale. Mai multe documente bilaterale urmează să fie semnate, a mai spus purtătorul de cuvânt.
Kazahstanul face parte din ţările caspice bogate în hidrocarburi, care doreşte să se apropie de Europa pentru diversificarea pieţelor de desfacere.
În urmă cu o lună, Kazahstanul şi Azerbaidjanul au pus bazele unui sistem propriu de transport al hidrocarburilor, care ocoleşte Rusia şi care ar putea fi conectat cu ţările europene.
Totodată, Kazahstanul, Azerbaidjanul şi Turkmenistanul şi-au arătat interesul pentru a furniza gaze prin viitoarea conductă Nabucco.
În relaţia cu România, Kazahstanul este interesat să participe la proiectul oleoductului pan-european Constanţa-Trieste. Compania petrolieră de stat KazMunaiGaz deţine în România, prin intermediul grupului Rompetrol, două rafinării şi o reţea de peste 450 de benzinării. Totodată, reprezentanţi ai Ministerului Economiei declarau, în urmă cu o lună, că negociază cu statul caspic posibilitatea de a cumpăra sau a exploata uraniu în Kazahstan.
Vocea Rusiei: Premierul rus: Pot începe lucrările de construire a gazoductului South Stream în Europa
Prim-miniştrii Rusiei, Italiei şi Turciei au discutat joi la Sankt-Petersburg perspectivele a trei proiecte energetice importante. Vladimir Putin şi Silvio Berlusconi au discutat cu omologul lor turc, Recep Erdogan, în timpul unei video conferinţe, despre gazoductele South Stream şi Blue Stream, precum şi  despre conducta de petrol Samsun-Cezhan.
South Stream va fi amplasat pe sub Marea Neagră din Rusia în Bulgaria şi apoi spre Italia şi Austria. Capacitatea lui va fi de 63 de miliarde metri cubi de gaz pe an.
Preşedinte Turciei, Abdullah Gul a anunţat, luni, în timpul convorbirii telefonice cu omologul său rus, Dmitri Medvedev, că ţara sa permite companiilor ruseşti să desfăşoare lucrări de prospectare în Marea Neagră pentru amenajarea conductei South Stream. Aceasta va permite realizarea proiectului şi va crea posibilităţi pentru darea în exploatare mai rapidă a acestui gazoduct, a declarat în timpul videoconferinţei premierul Putin.
"Premierul Berlusconi spune că South Stream trebuie să fie construit mai repede decât Nord Stream pe sub Marea Baltică. Noi cu adevărat  putem face acest lucru, deoarece avem deja experienţa în cayul conductei Blue Stream de pe teritoriul Turciei. Şi acolo de asemenea am lucrat în trei. Adică companiile noastre posedă experienţa de lucru necesară şi acesta este un mare avantaj", a declarat Vladimir Putin.
Potrivit unor calcule prealabile, proiectul South Stream urma să fie dat în exploatare până în anul 2015. În ceea ce priveşte gazoductul Nord Stream, care urma să fie amenajat pe sub Marea Baltică de pe malul rusesc spre Germania, cea de-a doua lui ramificaţie va fi pusă în funcţiune în anul 2012.
În timpul discuţiilor, Vladimir Putin a spus că nimic nu încurcă Rusia şi Turcia să pună în aplicare proiectul "Blue Stream-2" în cadrul acordurilor realizate. Conducta va permite să se furnizeze gaze naturale ruseşti în Israel şi în alte ţările din Orientul Mijlociu.
În afară de aceasta, în timpul video-conferinţei, prim-miniştrii Rusiei, Italiei şi Turciei au confirmat intenţia de a continua activitatea la nivelul interguvernamental în vederea realizării proiectul de conductă din portul Sam-sun din Marea Neagră până în portul Ceyhan din Marea Mediterană. Acordul pe marginea acestui proiect a fost semnat cu câteva zile în urmă de companiile ruse «Rosneft», «Trans-Petrol» şi «Sovkomflot» împreună cu grupul turc Calik şi compania italiană «ENI». Conducta va furniza petrol ocolind strâmtorile Bosfor şi Dardanele.
Participanţii la video-conferinţă şi-a exprimat convingerea că toate proiecte sus-menţionate au menirea să joace un rol crucial în domeniul asigurării securităţii energetice europeană şi globală.
Vocea Rusiei: Consumul de gaz în Europa a atins nivelul de dinaintea crizei
Consumul zilnic de gaz în Europa a atins la ora actuală nivelul de dinaintea crizei, a declarat directorul Gazprom, Alexei Miller, la întâlnirea cu Paolo Scaroni, directorul general al concernului ENI.
În timpul întâlnirii, părţile au examinat perspectivele dezvoltării colaborării în domeniul pertrolului şi gazului. Între altele, au fost abordate problemele colaborării companiilor în cadrul acordului de parteneriat strategic.
Participanţii la întâlnire au exprimat opinia comună că South Stream va contribui la diversificarea traseelor de livrare a gazului rusesc în Europa şi are o importanţă strategică din punctul de vedere al asigurării securităţii energetice a întregului continent.
RIA Novosti: Kazakhstan willing to pump oil into pipeline via Turkey
ANKARA, October 22 (RIA Novosti) – Kazakhstan's president confirmed on Thursday that his country is willing to pump crude into a planned $1.5-billion pipeline to bring Caspian oil to the Mediterranean via Turkey.
Addressing Turkey's parliament, Nursultan Nazarbayev said: "We along with Russia are ready to join the Samsun-Ceyhan oil pipeline project."
His statement came after a video conference between St. Petersburg and Ankara earlier on Thursday, when Russian Prime Minister Vladimir Putin told his Turkish counterpart, Tayyip Erdogan, of Kazakhstan's possible role.
"Our Kazakh colleagues have expressed readiness for joint work to fill this oil pipeline system," Putin said at the conference, also involving Italian Prime Minister Silvio Berlusconi, who met with his Russian counterpart in St. Petersburg for talks focusing on cooperation in car manufacture and agriculture.
Three Russian oil companies – state-run Rosneft, oil pipeline monopoly Transneft and shipping firm Sovcomflot – signed a deal in Milan on Monday with Turkey's Calik Enerji and Italy's Eni S.p.A. on the pipeline with projected capacity of 60-70 million metric tons a year (1.2-1.4 million bbl/d).
Russian Deputy Prime Minister and Rosneft chairman Igor Sechin said other producers, including LUKoil, have also shown an interest in supplying oil via the pipeline.
The pipeline is designed to reduce the oil transportation load on the Bosporus Strait liking the Black and Mediterranean and the Dardanelles on the Marmara Sea, which handles some 150 million tons (1.1 billion bbl) annually.
The Kazakh leader said his country is willing to contribute to Turkey's drive to strengthen its role as a transit hub for oil and gas.
Turkey, which sits at the energy crossroads of Russia, Europe, Central Asia and the Middle East, signed two more energy deals with Russia and the EU earlier this year, fueling concerns in Moscow and Brussels of growing dependence on Ankara.
In August, Turkey allowed Russia's Gazprom to use its sector of the Black Sea for the South Stream gas pipeline to Europe, bypassing Ukraine. In July, the country signed a deal on the EU-backed rival pipeline Nabucco.
Speaking to Putin and Berlusconi on Thursday, Erdogan thanked them for contribution to energy security in Turkey and Europe.
Novinite: Russia Tells Bulgaria about Proposed Expansion of South Stream
Russia's Energy Minister Shmatko (left) has handed his Bulgarian counterpart Traikov details over the proposed expansion of South Stream. Photo by BGNES
The Russian side has supplied Bulgaria with detailed information on its plans for the expansion of the South Stream gas transit pipeline project.
This has been announced by the Russian Ministry of Energy after Thursday's meeting in Moscow between Bulgaria's Minister of Energy, Economy, and Tourism, Traicho Traikov, and the Russian Energy Minister, Sergei Shmatko.
"The increasing of the volume of the South Stream pipe is going to solve many of the issues regarding the Russian gas supplies for Bulgaria," the Russian Minister Shamtko said as quoted by RIA Novosti.
The Russians have suggested that all options for the construction of the South Stream gas pipeline should be considered including the controversial option, which is opposed by many in Bulgaria, of using the existing Bulgarian gas transit network.
Bulgaria and Russia have also set up a working group on the South Stream pipeline which is to draft an agreement between the shareholders, a status of the joint company, and the execution of technical and economic analyses of the project.
The corporate and technical issues of this kind will be discussed by the experts of the two sides on October 28, 2009.
The construction of the Belene Nuclear Power Plant and the Burgas-Alexandroupolis oil pipeline, the other two large-scale joint energy projects, has also been discussed by Traikov and Shmatko.
Both sides have expressed their interest in the deepening of the bilateral cooperation in the energy sphere.
energia.gr: Russia's Putin To Talk With Italian, Turkish PMs On Gas Pipe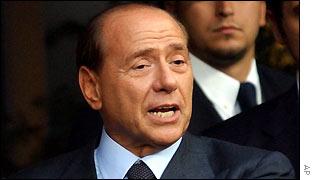 Russian Prime Minister Vladimir Putin was Thursday to discuss a gas pipeline seen as a rival to a European Union-backed project with his counterparts and close allies from Italy and Turkey.

Putin the day earlier received Italian Prime Minister Silvio Berlusconi, who he counts as a close personal friend, in his home city of St. Petersburg and the pair were due to talk with Turkey's Recep Tayyip Erdogan by phone.

The South Stream pipeline, being developed by Russian gas giant OAO Gazprom (GAZP.RS) and Italy's Eni SpA (E), aims to ship Russian gas to Europe by a new route under the Black Sea and into Bulgaria.

On Thursday "we will both have the opportunity to talk [about South Stream] with the Turkish prime minister in a conference call," Putin said in a statement posted on the government Web site.

"Here, there is a clear movement forwards," he said.

Italy is Russia's main partner on the project and Turkey in August agreed to allow Russia to start surveys in its territorial waters in the Black Sea. Building the pipeline in Turkish waters would allow Russia to avoid the waters of its ex-Soviet neighbor Ukraine with whom it currently has prickly ties.

After reaching Bulgaria, the South Stream pipeline is due to split into two, with one branch heading southwards to Greece and southern Italy and the other northwards through the Balkans towards Austria.

By contrast, the E.U.-backed Nabucco project aims to pump gas from the Caspian region directly to Europe by land through Turkey, completely bypassing Russia in a bid to reduce European dependence on Russian gas. Nabucco's backers expect construction to start in 2011, with the pipeline starting operations in 2014.

Turkey, which boasts of its importance as a key strategic player in the region, has now emerged as a major player in both projects.

Italy and Russia are close allies but Berlusconi's visit has raised eyebrows at home with opponents wondering why the trip has been labeled as a "private" visit.
Eurasia Daily Monitor: Azerbaijan can Resort to Multiple Options for its Gas Exports
Countries and companies along the Nabucco route in Europe (Bulgaria, Romania, Hungary, Austria, Germany) as well as Greece, Italy, and Switzerland are all expressing interest in purchasing Azerbaijani gas. If Turkey continues to block the transit agreement and if the E.U. and the U.S. fail to pull their weight with the AKP government, Azerbaijan can resort to alternative solutions for its gas exports.
Baku is now actively considering other markets and pipeline options. On October 14 Azerbaijan's State Oil Company signed an agreement with Gazprom for an initial volume of 500 million cubic meters in annual deliveries to Russia, starting on January 1, 2010. The small volume is susceptible to further increases at any time, without upper limits other than those of Azerbaijan's own gas surplus. The Russian purchase price is apparently equivalent to European netback prices. Moreover, this agreement apparently precludes the re-export of Azerbaijani gas by Gazprom to third countries at Azerbaijan's expense (EDM, October 15).
Baku is also considering the possibility of starting gas exports to Iran, initially in small volumes, by early 2010. Iran is already importing Turkmen gas for consumption in Iran's northern provinces. Those volumes, however, do not fully meet requirements there. Iran intends to import additional volumes of gas for off-season storage and peak-season consumption. This creates a market for Azerbaijani gas in northern Iran (Trend, October 17).
No third country transit solutions are necessary for Azerbaijani gas to reach Russia or Iran. Nor is the construction of new pipelines necessary. Pipeline connections to Russia and to Iran existing since the Soviet era, now require modernization of lines and compressors. Pipelines in both of these directions add up to approximately 10 billion cubic meters (bcm) in annual capacities. These can accommodate Azerbaijan's annual export surpluses for the next few years, in the event that the Nabucco project falters, or if Turkey's AKP government remains uncooperative on pricing and transit terms for Azerbaijani gas.
Azerbaijan plans to upgrade the Baku-Novo Filya and Gazimahomed-Mozdok pipelines for gas exports to Russia's North Caucasus territories. These Soviet-era pipelines can easily be adapted for use in the reverse-mode. Their combined capacity (after upgrading) would enable Azerbaijan's State Oil Company to deliver up to 7 bcm of gas to Russia annually, according to the company's president Rovnag Abdullayev (APA, October 19).
Similarly, Azerbaijan plans to upgrade the Gazakh-Astara and Gazimahomed-Astara gas pipeline links to Iran. Pending this, Iran's gas storage authority is expressing interest in using gas storage sites on Azerbaijan's side of the common border, with a view to using those gas volumes during winter in northern Iran (Trend, October 17, 19).
During the October 16 session of Azerbaijan's government (EDM, October 21), President Ilham Aliyev clearly alluded to the proposed White Stream pipeline as a possible option for Azerbaijan's gas exports (www.day.az, October 17). White Stream is being proposed by a London-based project company to carry Azerbaijani and Turkmen gas via Georgia and the seabed of the Black Sea to Romania and onward into E.U. territory (an earlier, now-discarded version would have run on the seabed to Ukraine). White Stream is one element in the E.U.'s Southern Corridor concept, designed to increase capacity and security of transportation for Caspian gas to Europe.
Aliyev discussed the White Stream proposal for the first time with the Romanian President Traian Basescu in late September in Bucharest, where the two presidents signed a strategic partnership agreement. In parallel, Azerbaijan's State Oil Company intends to examine the option of gas liquefaction for export via the Black Sea to E.U. territory. According to company president Abdullayev, "we are ready to review these forward-looking proposals in detail" (APA, October 20). Consideration of the Black Sea options suggests that Turkey does not necessarily enjoy a monopoly on gas transportation from the Caspian basin to Europe; and that Turkey can ultimately be circumvented, if the AKP government overplays its hand.
The AKP government's gas conflict with Azerbaijan is two years older than the Turkish-Armenian political normalization, which is now taking its first, uncertain steps. The two processes have no relationship to each other and Baku insists on keeping them separate. Meanwhile, Ankara's price extortion and its delaying tactics on the transit agreement have hurt Azerbaijan financially in two ways: by cutting into Azerbaijan's annual export revenues and by slowing down the development of Azerbaijan's Shah Deniz field, the main designated source for the Nabucco pipeline.
Baku's October 16 response and its follow-up measures seek to concentrate attention in Brussels and Washington to a festering situation that puts Nabucco and the Southern Corridor at risk. According to Aliyev, at the government session, Ankara's "unacceptable terms proposed to us may lead to a failure of this entire project" (www.day.az, October 16). While Azerbaijan is irreplaceable as a producer as well as a transit country, Turkey is not irreplaceable.