Hotnews: Gaz natural in schimbul avioanelor: Rusia negociaza preluarea companiei ucrainene Antonov
Ucraina nu-si pierde speranta de a obtine de la Gazprom o reducere a pretului la gaze naturale. In schimb, Rusia poate obtine controlul in concernul aviatic Antonov, scrie
Vedomosti
. Presedintele Dmitri Medvedev se intalneste miercuri la Harkov cu omologul sau ucrainean, Viktor Ianukovici.
Cei doi vor discuta, pe linga problemele energetice, si despre soarta flotei din Marea Neagra si despre conlucrarea in cadrul CSI. Negocierile au debutat inca de luni, dar nimeni nu stie daca au ajuns la un rezultat.
Presa rusa a aflat doar ca una dintre monezile de schimb pentru gaze mai ieftine o constituie preluarea de catre parrtea rusa a constrolului asupra concernului ucrainean Antonov, producatorul An-148 (carnetul de comenzi pana in 2025 este de 130 de aparate), precum si a avioanelor de transport An-70 si An-124 (Ruslan). Partea rusa ar putea primi pachetul de control al companiei (50% plus o actiune).
money.ro: Alro va cumpăra energie de la Hidroelectrica la un cost care variază după cotaţia aluminiului
Contractul cu Alro este o decizie economică şi nu politică spune Mihai David directorul general al Hidroelectrica. Compania producătoare de aluminiu de la Slatina este considerată de autorităţi una strategică, de interes naţional şi ca urmare şi preţul energiei care va fi furnizat către companie este unul la fel de strategic şi va fi calculat în funcţie de cotaţia aluminiului pe bursa de la Londra.
Pentru acoperirea riscului directorul Mihai David spune că va face operaţiuni de hedging. Alro a finalizat negocierile pentru preţul energiei electrice la începutul lunii aprilie şi a anunţat că va cumpăra MegaWattul mai scump cu 25% dar semnificativ mai mic decat cel de pe OPCOM.
"Guvernul României a decis că producţia de aluminiu primar în România este prioritate naţională şi atunci mă uit şi eu pe priorităţile naţionale",  a declarat Mihai David, director Hidroelectrica.
"Am avut de a lua o decizie în primul rând de a corecta o situaţie contractuală existentă, de a creşte veniturile companiei Hidroelectrica şi în acelaşi timp de a da în continuare şansa unei industrii prioritare pentru economia naţională să poată să susţină un sector orizontal într-o situaţie dificilă pentru economia naţională. Îmbinându-le pe toate acestea am ajuns la soluţia ca să ne uităm, cantitatea de energie care merge către Alro s-o considerăm materie primă şi atunci să participăm la produsul final după o formulă la London Metal Exchangeţ, a explicat David.
Directorul Hidroelectrica spune că în cazul Alro energia hidro este considerată materie primă şi a ales să calculeze preţul MWh în funcţie de cotaţia Aluminiului practicată de London Metal Exchange. Ce se întâmplă însă dacă preţul aluminiului scade ?
"Răspunsul la risc se cheamă hedging. Suntem în negocieri cu mai multe bănci importante şi suntem în faza finală.  Facem hedging pe toată perioada contractului atat pe LME, pe preţul aluminiului cât şi pe curs", a precizat directorul Hidroelecterica.
Conform anunţului publicat de Alro, compania va cumpăra energie începând cu 2010 la un preţ cu circa 25% mai mare faţă de anul trecut dar la un preţ mult mai mic decât cel practicat pe piaţa OPCOM. Contractul expiră în 2018.
Directorul Hidroelectrica spune că în primul trimestru din 2010 compania a înregistrat o cifră de afaceri de 700 de milioane lei şi un profit brut de 200 de milioane lei în condiţiile în care a pus în piaţă 4,2 TWh.
money.ro: Austria a confirmat că va lua parte la proiectul South Stream
Autorităţile austriace şi ruse vor semna un acord sâmbătă, în timpul vizitei premierului rus Vladimir Puin în Austria.
Austria a confirmat oficial că se va alătura proiectului ruso-italian de gazoduct South Stream, relatează Sofia News Agency.
Semnarea unui "acord interguvernamental" va avea loc sâmbătă, în timpul vizitei în Austria a premierului rus Vladimir Putin şi a altor oficiali, a declarat o purtătoare de cuvânt a Ministerului austriac al Economiei, Waltraud
Novinite: Austria Says to Join South Stream Pipeline Project
The planned route of the two projects – Nabucco and South Stream – passes through Bulgaria. Photo by BGNES
Austria has confirmed it will join the Russian-backed South Stream natural gas pipeline project.
The signing of an "intergovernmental agreement" will take place Saturday during a visit to Austria by Russian Prime Minister Vladimir Putin and other officials, Economics Ministry spokeswoman Waltraud Kaserer announced.
South Stream is a joint venture of Russia's Gazprom and Italy's Eni. It will exit Russia under the Black Sea and enter the European Union via Bulgaria to carry 63 billion cubic meters of gas a year.
The gas line is scheduled to be completed by 2015. With it Russia aims at eliminating dependence from transit countries.
Serbia, Hungary, Slovenia, Bulgaria, Greece, Italy and Croatia are also signed onto the deal.
Austria is also a supporter of the Nabucco pipeline that would provide a supply of gas not subject to Russian control.
Representatives of Italy's Eni have recently suggested that the rivaling gas pipeline projects in southern Europe, South Stream and Nabucco, should combine to cut costs.
"What we have here is what bankers call a strategic fit," Eni SpA Chief Executive Officer Paolo Scaroni said in march.
"Should all partners decide to merge the two pipelines for part of the route, we would reduce investments, operational costs and increase overall returns."
Eni is an equal partner in South Stream with OAO Gazprom, the world's largest producer of gas. Nabucco shareholders include Austria's OMV AG and Germany's RWE AG.
The planned route of the two projects passes through Bulgaria.
energia.gr: EU, Poland Move to Settle Carbon Quota Row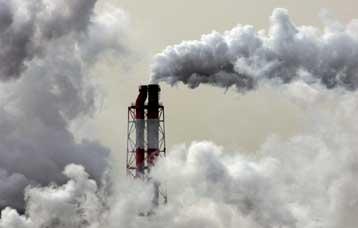 Poland has stood its ground on carbon quotas as the European Commission yesterday (19 April) accepted its revised plan for allocating emission allowances. The agreement maintained the amount of allowances originally proposed by Poland despite the Commission's objections.
The EU executive said the new plan, submitted by Poland for the second phase of the EU's emissions trading scheme (EU ETS) from 2008 to 2012, fulfilled the directive's requirements.
The decision marks a milestone in the battle by several Central and Eastern European member states to raise the cap imposed by the EU ETS and ease the burden on their industries.
In 2007, the EU executive rejected Poland's national allocation plan (NAP), which sets its total emission allocations and outlines how it intends to distribute them to individual factories covered by the scheme.
Its main objection was that the countries intended to allocate too many allowances to their operators. It therefore asked Poland to cut its allocation by 26.7% to 208.5 million.
However, the Commission's decision was overturned by the European Court of First Instance – now known as the General Court – in September 2009. The court found that member states alone can take the final decision on the total number of allowances to allocate, and ruled that the EU executive had misused its powers.
The Commission went on to reject the country's CO2 allocation plan again in December, arguing that it violates criteria set out in the EU ETS directive. However, mindful not to contravene the court ruling, it did not specify what changes would be necessary to make any new plan acceptable.
The Commission said it had decided not to raise objections to the new plan submitted by Poland since it respected "the terms of the directive". In fact, it only changes "some technical rules governing the reserve of allowances not allocated to companies," it added.
The total number of allowances thus remains 208.5 Mt per year, as originally proposed by Poland.
In the meantime, an appeal by the Commission against the Court of First Instance's ruling is pending before the European Court of Justice.
"The appeal remains in place and the Commission will decide at a later stage whether to withdraw the appeal," a Commission spokesperson said.
EU Commissioner for Climate Action Connie Hedegaard described the latest decision as a "mutually satisfactory outcome".
"I warmly welcome the decision by Poland to submit an allocation plan consistent with the methodology used for all other member states. The Commission's decision has removed uncertainty for Polish companies and most importantly maintains the environmental integrity of the EU emissions trading system," she said.
Analysts have raised concerns that the price of EU allowances (EUAs) could fall if the emissions cap under the EU ETS was eased.
The most recent EU data shows that industrial emissions fell by 11% in 2009, taking them below the ETS cap (EurActiv 02/04/10). This has attracted criticism from the green lobby that the cap is in fact not stringent enough.
trend.az: SOCAR: Terms of gas export from Shah Deniz-2 depends on investment decisions on European pipelines
Azerbaijan, Baku, April 20 / TrendV.Sharifov /
Commissioning the second stage of development of Azerbaijani gas condensate field Shah Deniz is scheduled for 2016-2017, which depends on the investment decision on one of the planned pipeline projects – Nabucco, Trans Adriatic Pipeline (TAP) and ITGI, Deputy Vice President of the State Oil Company of Azerbaijan Republic (SOCAR)Vitaly Beylarbeyov told Trend. SOCAR is a shareholder of the Shah Deniz project.
The shareholders of Nabucco, TAP and ITGI have decided on the gas import areas, capacities of pipelines and markets. However, financing the construction of these pipelines aimed at diversifying sources of gas supply to EU is still to be defined. Some members of the European projects hope that investment decision will be made by late 2010.
"As soon as the investment decision on Nabucco, TAP or ITGI is taken, SOCAR will begin negotiations with the shareholders of these projects," Beylarbeyov said.
The European partners plan to begin constructing the Nabucco pipeline from the Georgian-Turkish border, and the shareholders of TAP and ITGI – from the Turkish-Greek, which, in turn, requires agreements on transit of gas between Azerbaijan and Turkey.
"At this stage, absence of the transport agreement with Turkey will not allow to get gas from the Shah Deniz field to such pipelines as the TAP and ITGI, as they start at the Turkish-Greek border. It will be necessary to transport gas through Turkey, which is complicated due to absence of a transport agreement with that country. But we hope to achieve a transport agreement with Turkey in the near future," he said.
Azerbaijan, which has always advocated a multi-vector export routes, is considering alternative transportation options for its gas because of absence of a transport agreement with Turkey and the unavailability of European pipeline projects.
"We are working over alternative routes of gas export, including construction of terminals for export of LNG to Romania and CNG -Bulgaria. The White Stream pipeline project also did not excluded.  Increasing gas exports to Iran and Russia is under the consideration," Beylarbeyov said.
The Shah Deniz field is one of the largest in the world, but to increase its gas exports Azerbaijan also relies on the offshore fields such as Absheron, Nakhchivan, Bahar, Umid, Babek and deep-seated gas of the Azeri-Chirag-Guneshli oilfield.
"None of sides is interested in more rapid resolution of transport issues for gas export as Azerbaijan. Every quarter we spend money with eight zeros [billions – Trend] to maintain Phase-2 project in a stand-by mode," he added.
In addition to spending substantial funds to maintain Phase-2 in a stand-by mode, the project partners lose profits.
"We have previously planned to launch Phase 2 in 2014. Today, we are speaking about 2016-2017. That is, we could sell gas and get more money two years more," Beylarbeyov said.
Commencement of Phase 2 will open up thousands of jobs in Azerbaijan, as well as in other countries.
"We cannot postpone commissioning Phase 2.  We calculate the time that we need for this project ranging from solution of transport problems to the direct export of gas from the field," Beylarbeyov added.
The contract to develop the offshore Shah Deniz field was signed June 4, 1996. Participants to the agreement are: BP (operator) – 25.5 percent, Statoil Hydro – 25.5 percent, NICO – 10 percent, Total – 10 percent, LukAgip – 10 percent, TPAO – 9 percent, SOCAR-10 percent. Now gas is transported to Georgia and Turkey via the South Caucasus gas pipeline. Azerbaijan also purchases gas volumes.