Bloombiz: PwC: benzina, mai scumpa cu 20% iar energia, cu 31%, de la 1 ianuarie
Benzina se va scumpi de la 1 ianuarie 2010 cu 20%, pretul pachetului de tigari va fi mai mare cu 34%, iar energia electrica va fi mai scumpa cu circa 31%, in urma cresterii accizelor si a deprecierii leului in raport cu euro, a declarat luni, pentru NewsIn, Bianca Vlad, manager PwC.
"Cele mai mari scumpiri se vor inregistra la tigari, de circa 34%, din cauza cresterii accizelor de la 64 la 74 de euro pe mia de tigarete si a diferentei de circa 14% intre cursul la care s-a calculat acciza anul acesta si cursul luat in calcul pentru anul viitor", a precizat managerul departamentului taxe si impozite indirecte din cadrul PricewaterhouseCoopers, la un seminar pe teme economice.
Pretul energiei electrice ar urma sa se majoreze semnificativ, cu circa 30%, din cauza cresterii cursului de referinta pentru accize cu circa 14% si a majorarii accizei cu 19%, de la 0,42 euro/MWh la 0,50 euro/MWh.
De asemenea, benzina si motorina vor fi mai scumpe cu aproape 20% de la 1 ianuarie.
Accizele pe 2010 se vor calcula la cursul de schimb anuntat in 1 octombrie de Banca Centrala Europeana (BCE), respectiv 4,2688 lei/euro, mai mare cu 14,2% fata de cursul din urma cu un an, de 3,7364 lei/euro, folosit la calculul accizelor aferente acestui an.
Bianca Vlad a explicat ca principalul impact al cresterii accizelor la carburanti va fi resimtit de firmele care presteaza servicii de transport, ce va fi urmat de o crestere a preturilor la bunurile de larg consum.
"O veste buna este ca, tot de la 1 ianuarie, vor fi reduse la jumatate accizele la cafea, iar cei cu dare de mana vor putea cumpara mai ieftin bijuterii, parfumuri si iahturi, odata cu eliminarea accizelor pe produsele de lux", a afirmat managerul PwC.
Potrivit calendarului de crestere a accizelor convenit cu Comisia Europeana, acciza la benzina fara plumb va creste anul viitor cu 16 euro pe tona, pana la 452 euro/tona.
Totodata, acciza la motorina va creste din 2010 de la 336 la 347 euro/tona, respectiv de la 283,920 la 293,215 euro/1.000 litri.
Acciza pentru pacura folosita in scop comercial urca de la 14,40 euro/1.000 kg la 15,00 euro/1.000 kg.
La pacura folosita in scop necomercial, acciza ramane de 15,00 euro/1.000 kg.
Si la gazul natural folosit in scop necomercial va creste acciza, de la 0,27 euro/GJ la 0,32 euro/GJ.
Acciza la electricitatea utilizata in scop comercial creste de la 0,42 euro/MWh la 0,50 euro/MWh, iar pentru electricitatea folosita in scop necomercial acciza ajunge la 1 euro/MWh, de la 0,84 euro/MWh.
La tutun, acciza va creste in 2010 cu 10 euro pe mia de tigarete, pana la 74 euro/1.000 euro, de la la 64 euro/1.000 tigarete in prezent.
La aceste majorari ale valorii accizei se adauga cresterea cursului de referinta leu/euro la care se calculeaza accizele.
ziare.com: Hidroelectrica vrea sa construiasca mai multe hidrocentrale
Cel mai mare producator de energie electrica din tara, Hidroelectrica, are in plan construirea a 20 de amenajari hidroenergetice, pana in 2025, cu o putere instalata totala de 843MW si pentru care isi planifica investitii de aproape 1,9 miliarde euro.

Compania isi propune astfel cresterea potentialului hidroenergetic al tarii, de la 53,83%, in prezent, pana la 64,78%, in anul 2025, respectiv cu 20,86TWh/an, a declarat luni directorul de dezvoltare al Hidroelectrica, Razvan Cojoc.
"Valoarea totala a potentialului economic amenajabil al tarii se aprciaza la circa 32,20TWh/an, din care in prezent Hidroelectrica valorifica in exploatare circa 17,33TWh/an, adica 53,83%. La orizontul anului 2025, se poate valorifica un potential de 20,86TWh/an, in conditiile realizarii obiectivelor propuse prin Strategia de dezvoltare a Hidroelectrica, ceea ce reprezinta 64,78% din potentialul economic amenajabil al tarii", a spus Razvan Cojoc.
Toate aceste amenajari hidroenergetice ar urma sa produca o cantitate de 2467GWh/an. Punerea loc in functiune este prevazuta dupa 2016.
Actionarul majoritar al Hidroelectrica este Ministerul Economiei. Compania este cel mai mare producator de energie electrica din Romania. Compania are peste 5.000 angajati.
Hidroelectrica a acoperit anul trecut 26% din productia de energie electrica a tarii si foloseste sursele regenerabile. Compania administreaza 326 centrale hidroelectrice si statii de pompare, ce insumeaza o putere instalata de peste 6.300 MW.
ziare.com: Azerbaidjanul, gata sa exporte gaze naturale catre Romania
Ilham Aliyev, presedintele Azerbaidjanului a declarat, luni, ca tara sa este gata sa exporte gaze naturale catre Romania, Bulgaria, si alte state membre ale Uniunii Europene, la pretul de pe piata.

Azerbaidjanul este gata sa exporte gazele sale naturale catre Uniunea Europeana iar Grecia, Bulgaria, Italia, Romania, Austria, Germania, Elvetia sunt potentialii parteneri ai acestei afaceri, a declarat seful statului azer.
Acesta a blamat Turcia pentru problemele de tranzit din cauza carora nu a fost posibila livrarea de gaze in UE pana acum.
Secretarul de stat din Ministerul Economiei, Tudor Serban, declara, pe 1 octombrie, ca Romania este singura tara din proiectul Nabucco care a primit o oferta pentru tranportul a 7,3 miliarde de metri cubi de gaze prin viitoarea conducta de la un stat caspic, insa a refuzat sa precizeze despre ce tara este vorba.
Flux (md): Turkmenistanul vrea să interzică concernului "Gazprom" reexportarea gazelor naturale
Autorităţile de la Aşhabad intenţionează să prevadă în noile contracte cu "Gazprom" includerea unei clauze care ar interzice mamutului ruse să reexporte gazele naturale livrate de Turkmenistan.
Potrivit publicaţiei ruse "Vedomosti", anunţul a fost făcut vineri, de către vicepremierul turkmen Baimurat Hodjamuhammedov. Turkmenistanul dispune de un atu, deoarece însuşi "Gazprom" a interzis, până în 2001, reexportarea gazelor naturale, pentru a preveni revânzările şi, astfel, de a crea premise pentru apariţia concurenţilor.
Turkmenistanul preconizează că Rusia va relua, până la finele lunii curente, procurările de gaze naturale de pe teritoriul său, a declarat pentru Bloomberg adjunctul preşedintelui "Turkmengaz", Redjep Şiriev. Moscova şi Aşhabad nu au convenit, deocamdată, asupra preţului şi volumelor, însă "Turkmengaz" aşteaptă deja, după 20 octombrie, delegaţia de la "Gazprom", menţionează Bloomberg.
Amintim că, începând cu 2001, după un demers al Comisiei Europene, "Gazprom" a anulat, pentru contractele europene, interdicţia de a reexporta gazele naturale pe care le livrează. Totuşi, interdicţia a rămas valabilă pentru contractele din CSI.
Prin includerea noilor clauze contractuale, Turkmenistanul vrea să obţină preţuri europene pentru gazele naturale pe care le exportă. Astfel, autorităţile de la Aşhabad intenţionează să obţină de la Rusia, în cel mai bun caz, dreptul de a tranzita gazele naturale pe teritoriul ei până în Europa, iar în cel mai rău caz – de a vinde "Gazprom" gazele naturale la preţuri europene.
Experţii consideră că Rusia ar putea accepta a doua variantă, deoarece pentru gazul importat din Asia concernul nu plăteşte taxa de export, în mărime de 30 la sută.
Vocea Rusiei: Rusia şi UE stabilesc parametrii viitorului parteneriat
La Bruxelles a avut loc şedinţa Consiliului Permanent de Parteneriat Rusia-UE la nivelul miniştrilor de Externe. După cum a menţionat la conferinţa de presă finală şeful delegaţiei ruse, Serghei Lavrov, părţile trec la punerea de acord a formulărilor concrete privind pregătirea noului acord de parteneriat strategic.
Termenul de valabilitate al acordului analog anterior dintre Rusia şi UE a expirat la sfârşitul anului 2007, iar prevederile sale au fost automat prelungite. Astăzi s-au desfăşurat deja şase runde de tratative privind noul document care cuprinde sferele economiei, securităţii, legislaţiei, ştiinţei şi învăţământului.
Fireşte că în cadrul pregătirii unor acorduri de asemenea anvergură lista temelor de examinat se dovedeşte a fi destul de vastă. De exemplu, astăzi, la Bruxelles, părţile au făcut schimb de păreri în privinţa problemelor cooperării economice dintre Rusia şi UE, au examinat iniţiativa Rusiei de a încheia un nou acord de securitate euroatlantică.
Între altele, Serghei Lavrov a chemat ţările Uniunii Europene să participe alături de Rusia şi SUA la estimarea posibilelor pericole cu rachete. Însă, după cum a subliniat şeful MAE rus, poziţia Rusiei constă în aceea ca niciun stat nu trebuie să-şi asigure securitatea sa pe seama altuia.
De asemenea, părţile au examinat pregătirea pentru semnarea noului document, care în cercurile UE este apreciat ca fiind foarte important. Este vorba despre acordul referitor la mecanismul de avertizare timpurie şi înştiinţare cu privire la defecţiunile apărute la alimentarea cu energie. În ce priveşte livrările de gaz rusesc în Europa, s-a vorbit despre necesitatea cooperării trilaterale, cu participarea Moscovei, Bruxelles-ului şi Kievului.
Scopul principal al unei asemenea colaborări este sprijinirea Ucrainei pentru rezolvarea problemelor financiare, pentru ca să nu mai existe dificultăţi în privinţa tranzitului gazului prin teritoriul său în Europa. Poziţia Rusiei în această problemă rămâne constructivă şi consecventă, a subliniat Serghei Lavrov.
"În ce priveşte Rusia, noi garantăm că toate angajamentele privind livrările de gaz în Europa pe toate direcţiile noi le vom îndeplini la fel ca şi în anii precedenţi. Problemele care au intervenit în privinţa tranzitului trebuie să fie rezolvate cu ţările tranzitare. Noi suntem gata să ajutăm la găsirea soluţiilor. Va fi furnizat volumul întreg de gaz care a fost contractat de consumatorii europeni şi de toţi ceilalţi consumatori. Principalul este ca el să treacă şi prin ţările tranzitare".
Mai rămâne încă o problemă de rezolvarea căreia sunt interesate ambele părţi-introducerea regimului fără vize între Rusia şi UE. În această privinţă şeful diplomaţiei ruse Serghei Lavrov şi-a exprimat convingerea că suspendarea regimului de vize este împiedicată de dificultăţi exclusiv de ordin tehnic şi juridic, care pot fi soluţionate.
Cu câtva timp în urmă Rusia a propus introducerea unor amendamente în acordul actual dintre Rusia şi UE pentru a extinde categoria de persoane care pot călători fără vize, de asemenea, pot obţine multiviză pe 5 ani. În prezent aceste iniţiative sunt examinate în UE. În orice caz majoritatea problemelor vor fi examinate în cadrul summit-ului Rusia-UE, care va avea loc pe 18 noiembrie la Stockholm, inclusiv cea legată de posibilitatea modificării viitorului acord după intrarea în vigoare a Tratatului de la Lisabona.
Vocea Rusiei: Serbia îl întâmpină pe preşedintele Rusiei
Dmitri Medvedev soseşte în vizită la Belgrad, cu ocazia împlinirii a 65 de ani de la eliberarea oraşului de ocupanţii hitlerişti.
Preşedintele Rusiei va purta tratative cu omologul său sârb, Serbiei Boris Tadic, consacrate colaborării economice şi comerciale, în primul rând în domeniulb petrolului şi gazului.
Se va discuta despre ramificaţia sârbă a conductei de gaz South Stream, prin care gazul rusesc va fi livrat pe sub Marea Neagră în ţările Europei.
Vocea Rusiei: Tranzitul gazului rusesc via Ucraina a scăzut cu o treime
Anul acesta, tranzitul gazului rusesc via Ucraina spre Europa a scăzut cu aproape un sfert în comparaţie cu anul trecut: până la 65 miliarde de metri cubi, a declarat Ministerul ucrainean pentru Combustibil şi Energie.
Anterior, Gazoprom a declarat că principala cauză a scăderii pompării de combustibil spre UE este reducerea consumului de gaz datorită crizei economice.
Conform prognozelor, anul acesta exportul de gaz rusesc va scădea cu mai puţin de 10%.
RIA Novosti: Turkey approves Black Sea exploration for South Stream
MOSCOW, October 19 (RIA Novosti) – Turkey's government has approved geological exploration work for the South Stream gas pipeline in its Black Sea economic zone, the Kremlin quoted the countries' presidents as saying on Monday.
During a phone conversation, "Turkey's president said that in line with earlier agreements… the Turkish government has made all necessary decisions to approve the conducting of geological exploration work in Turkey's exclusive economic zone in the Black Sea for the implementation of the South Stream gas pipeline project," the Kremlin said.
Dmitry Medvedev thanked Abdullah Gul and said he hopes the decision will strengthen strategic bilateral ties.
Turkey's energy minister said earlier in the day that his country will officially hand Russia documents approving the laying of the South Stream gas pipeline along its seabed on October 20.
Taner Yildiz spoke to journalists in Milan after a three-party meeting involving Russian Deputy Prime Minister Igor Sechin and Italian economics minister Claudio Scajola.
On August 6, Russia and Turkey signed agreements on cooperation in the gas sphere, envisioning in particular Turkish consent for the construction of the South Stream pipeline, in its territorial waters – an alternative to the Nabucco pipeline important for Ankara.
The 25 billion-euro ($36.5 billion) South Stream project is designed to annually pump 31 billion cubic meters of Central Asian and Russian gas to the Balkans and on to other European countries, bypassing Ukraine, which has frequent disputes with Russia over gas supplies and transits. The pipeline's capacity is expected to be eventually increased to 63 billion cubic meters.
RIA Novosti: Turkish oil pipeline project to involve three Russian companies
MILAN, October 19 (RIA Novosti) – Three Russian oil companies signed an agreement on Monday with Turkey's Calik Enerji and Italy's Eni on a pipeline project to pump Caspian oil to the Mediterranean via Turkey.
Turkey launched the $1.5-billion Samsun-Ceyhan project with the Italian energy giant in 2007, and has repeatedly invited Russia to join it.
The three Russian companies to participate are state-run Rosneft, oil pipeline monopoly Transneft, and shipping company Sovcomflot, one of the world's leading energy transporters.
According to Eni, the memorandum of understanding signed at the talks in Milan "envisages the commitment to discuss the definition of the economic and contractual conditions for Russian companies to participate" in the project.
Russian Deputy Prime Minister Igor Sechin, who chairs Rosneft, Italian Economic Development Minister Claudio Scajola, and Turkish Energy Minister Taner Yildiz also signed a memo of understanding to set up a working group for the Samsun-Ceyhan project.
RIA Novosti: Russia pledges uninterrupted gas supplies to Europe
BRUSSELS, October 19 (RIA Novosti) – Russia guarantees uninterrupted natural gas supplies to Europe, and will solve gas transit problems taking into account the interests of all parties, Foreign Minister Sergei Lavrov said on Monday.
"As far as Russia is concerned, we can guarantee that we will comply with all our contractual obligations for gas supplies to Europe in all directions, as we have done in previous years," Lavrov said at a press conference after a meeting of the Standing Council of Russia-EU Partnership in Brussels.
On the brief supply interruption at the start of the year due to a debt dispute with Ukraine, Lavrov said: "I hope all of us will learn a lesson from the difficulties that emerged last year and at the start of this year, and take all measures to ensure that this situation never happens again."
Russia, which supplies around one fifth of Europe's gas, briefly shut down supplies via Ukraine's pipeline system at the start of the year during a dispute with Kiev over unpaid debt and new gas prices.
The conflict was resolved in January, when Russian Prime Minister Vladimir Putin and his Ukrainian counterpart, Yulia Tymoshenko, agreed deals on deliveries to and gas transit through Ukraine for 2009.
Ukraine transits around 80% of Russia's Europe-bound gas.
Sechin said Russia's largest independent oil producer LUKoil has also shown an interest in supplying oil via the pipeline.
"Other Russian companies, in particular LUKoil, are showing an interest in supplies. We are also holding talks with third countries," he said.
The Turkish energy minister said the project would improve mutual confidence among participants.
"The project will become part of an energy security system for many European countries, and not only for the countries involved in it," Yildiz said.
The pipeline's projected capacity will be 60-70 million tons of oil a year (1.2-1.4 million bbl/d).
The project is designed to reduce the oil transportation load on the Black Sea Strait of Bosporus and the Dardanelles on the Marmara Sea, which handles some 150 million tons (1.1 billion bbl) annually.
Novinite: Bulgaria Burgas Mayor: We Don't Want Russian Oil Pipeline
Burgas Mayor Dimitar Nikolov (right) has made it clear the locals are against the Russian oil pipeline project. Photo by BGNES
The Bulgarian Black Sea city of Burgas is against the construction of the Russian-sponsored Burgas-Alexandroupolis oil pipeline.
This has been stated by Burgas Mayor Dimitar Nikolov in an interview for a Greek TV channel, which was cited by the press center of the Burgas Municipality.
"Our priorities are projects related to the development of tourism and light industry, not those which threaten the environment such as the Burgas-Alexandroupolis oil pipeline," Nikolov said.
In his words, the people of Burgas and the nearby resort towns Sozopol and Pomorie have demonstrated with the three local referendums that they were against the construction of the oil pipeline.
The Burgas Mayor believes that the issues connected with the lack of information on the scope of the Russian project, the unloading technology, the lack of environmental safety guarantees and of specific financial benefits are all very acute.
Bulgaria's Economy Minister Traicho Traikov said last week that there were no reasons not to go ahead with the realization of the Burgas-Alexandroupolis project for the time being. He made this statement after he saw a presentation of the Trans Balkan Pipeline firm, which is supposed to build the pipe.
The agreement for the construction of the Burgas-Alexandroupolis oil pipeline was singed by Bulgaria and Russia in January 2008 during former Russian President Vladimir Putin's visit to Sofia.
The pipe is supposed to transport Russian and Caspian oil from Bulgaria's Burgas to Greece's Alexandroupolis thus going around the Turkish straits. Local and environmental Bulgarian and Greek NGOs, however, claim that the project is extremely dangerous for the environment, and its potential costs outweigh tremendously any benefits it might bring.
Under the existing agreement Bulgaria is supposed to be getting about USD 35 M per year from the transfer of oil through its territories – a sum which the critics of the project consider ridiculous.
The Mayor of Burgas Dimitar Nikolov is from the ruling GERB party of Prime Minister Boyko Borisov.
Novinite: Azerbaijan Ready to Export Gas to Bulgaria
Azerbaijan President Ilham Aliyev concluded that EU countries including Bulgaria are ready to buy Azerbaijan's gas at the market price. Photo by wikimedia.org
Azerbaijan President Ilham Aliyev has stated that his country is ready to export natural gas to Bulgaria and other EU countries.
Aliyev, speaking at a domestic socio-economic cabinet meeting, said that "Azerbaijan is ready to export its gas to the European Union," and that Greece, Bulgaria, Italy, Romania, Hungary, Austria, Germany, Switzerland are among the potential partners, apa.az reported.
He blamed Turkey transit problems for not being ready to supply the EU with gas until now. Aliyev added; "It is no secret that for many years Azerbaijan has been selling gas to Turkey for one third, 30% of the market price. Which country sells its natural resources, especially under the present circumstances, for 30% of the market price and is satisfied with it?"
Aliyev concluded that EU countries including Bulgaria are ready to buy Azerbaijan's gas at the market price.
energia.gr: Eni, Calik, Rosneft Sign Turkey Oil Pipeline MoU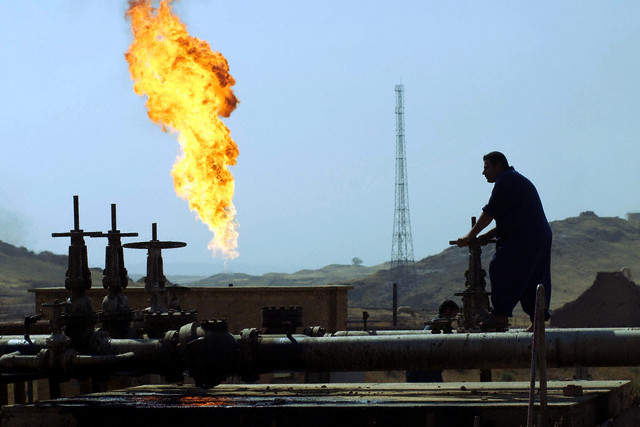 Eni SpA (E), Calik Holding, JSC Transneft and OAO Rosneft (ROSN.RS) Monday signed a memorandum of understanding to discuss conditions to allow Russian companies to participate in a pipeline project bringing oil from the Caspian to the Mediterranean via Turkey.

The companies signed the memorandum of understanding "which envisages the commitment to discuss the definition of the economic and contractual conditions for Russian companies to participate" in the Samsun-Ceyhan project, said the Italian energy company in a statement.

These conditions are necessary to ensure the volume of crude needed to guarantee the profitability of the project, Eni added.

The pipeline aims to transport oil from the Black Sea port of Samsun to the Mediterranean one of Ceyhan across Turkey, avoiding the use of ships to cross the busy Istanbul Strait.

Monday, the governments of Italy, Russia and Turkey signed in Milan a joint agreement on the Samsun-Ceyhan pipeline, said Eni is the same statement.

The governments will guarantee the stable and regulatory framework needed for the construction of the pipeline, according to the statement, as part of their effort to enhance energy security via the diversification of transport routes.

The three governments agree that the participation of Russian oil companies to the pipeline project will "contribute to the strengthening security of supply," said Eni.

Earlier this year, Eni said it would finance the cost of an engineering study for the possible construction of the oil pipeline, while an investment decision would be made only at its completion.

The Italian company has been involved in the pipeline project since 2005 and is set to play a leading role in its realization, after it bought half of Trans Anadolu Pipeline Co., or Tapco, which was established for the construction and management of the Samsun-Ceyhan line
energia.gr: Medvedev In Serbia To Reinforce Political, Economic Ties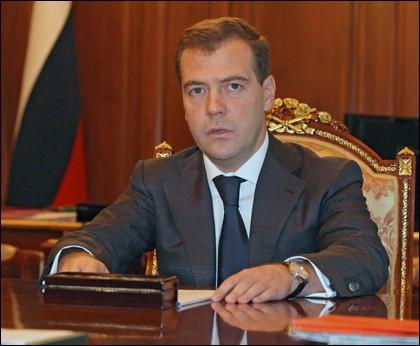 Dmitry Medvedev is to pay the first official visit of a Russian president to Serbia Tuesday to strengthen political and economic ties with Moscow's key ally in the Balkans.

The visit takes place on the day marking 65 years since the Soviet Red Army and Yugoslav partisans of communist leader Josip Broz Tito jointly liberated Belgrade in World War II.

The visit, considered "very important" by the Russian president and "historic" by Serbian Foreign Minister Vuk Jeremic, will include talks on political and economic issues.

Serbia primarily sees the visit as reaffirmed Russian support for its refusal to accept the independence of its breakaway province of Kosovo, unilaterally proclaimed by the ethnic Albanian majority in February 2008 and backed by the U.S. and most European Union members.

"Despite the efforts of protectors of Kosovo's independence, they will not succeed in presenting it as an irreversible process and in closing that issue," Medvedev said in an interview with the Belgrade-based Vecernje Novosti daily published Monday.

Belgrade has challenged the legality of Kosovo's declaration of independence before the International Court of Justice and counts on Russian support in particular at a hearing set for early December.

Russia is seeking a solution for Kosovo "in accordance with a formula agreed with Serbian colleagues a long time ago," Medvedev said.

During the one-day visit the Russian leader will meet his Serbian counterpart Boris Tadic and address the parliament.

Tanjug news agency quoted Jeremic as saying the visit would be devoted to the "strategic partnership" between the two countries, in which economic issues were equally important.

Russia is an important investor in Serbia and wants to keep its influence in the Balkans country, which is pursuing membership of the E.U. while stressing it wants to maintain existing privileged links with Moscow.

"We want to study in detail plans for the realization of big joint projects," Mevedev said.

He will be bringing with him a loan of some EUR1 billion for Serbia to tackle its budget deficit and invest in various infrastructure projects, including a subway and a bypass for Belgrade, according to Russian Finance Minister Alexei Kudrin.

The exact amount and conditions for the loan should be unveiled during the visit.

Talks on energy cooperation will also be an important part of the visit.

The two countries signed last December an overall energy deal including an agreement for Russian gas giant OAO Gazprom (GAZP.RS) to buy 51% of Serbia's oil monopoly NIS. As part of the accord, Serbia will allow the transit through its territory of the South Stream pipeline to transport Russian gas to southern Europe, while Moscow will build an underground gas storage facility in Serbia.
RFE / RFL: Azerbaijan Could Scuttle Nabucco Over Turkey-Armenia Deal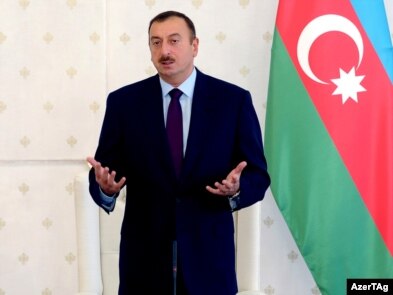 October 19, 2009
Azerbaijan has apparently decided to play its energy card.
As much of the world applauded Turkey's historic rapprochement with Armenia last week, Azerbaijan felt left out in the cold and abandoned by its closest ally.
Baku had argued strenuously that a deal to reestablish relations between Ankara and Yerevan should not be signed while Armenia continued to occupy Nagorno-Karabakh, and it threatened to take unspecified countermeasures if one was.
Speaking at a nationally televised cabinet meeting on October 16, Azerbaijani President Ilham Aliyev revealed one of those steps: "It is not a secret to anyone that for many years Azerbaijan has been selling its gas to Turkey for one-third of market prices."
Aliyev added: "What state would agree to sell its natural resources for 30 percent of world market prices, especially under current conditions? This is illogical."
Aliyev presented the move as a purely commercial decision and did not explicitly link it to the Turkish-Armenian deal. Azerbaijan currently sells Turkey natural gas at the bargain rate of $120 per thousand cubic meters. But the timing of Aliyev's announcement, less than a week after the accord between Yerevan and Ankara was signed, left little doubt.
If Baku follows through on the move, analysts say it could severely undermine — if not completely kill — the Western-backed Nabucco pipeline project to bring gas from the Caspian Sea to Europe via Turkey.
"Potentially this is very important because it could potentially deliver a knockout blow to Nabucco. Without Azerbaijan it would be even more difficult than it is," says Federico Bordonaro, an energy-security analyst with the Italian-based group equilibre.net.
Nabucco vs. South Stream
The Nabucco project, which is designed to bypass Russia by bringing gas from the Caspian region via Georgia and Turkey into the rest of Europe, is a key element of a Western strategy to break Moscow's stranglehold on Europe's energy supplies and establish alternative routes and suppliers for the continent.
Russia, for its part, is pushing its own competing pipeline project, called South Stream, that would transport Russian gas to Europe via the Black Sea and Bulgaria.
Aliyev said one option for Azerbaijan would be to export its gas to Europe via Russia, which analysts say would dovetail with Moscow's pipeline plans.
"We should not rule out the possibility that the Russians are trying to use these tensions in order to turn Azerbaijan against Nabucco and directly or indirectly [support] South Stream," Bordonaro says.
Indeed, as the Turkey-Armenia rapprochement gained steam — and it became clear that it would proceed without progress on Nagorno-Karabakh — Aliyev began moving closer to Moscow.
He met with Russian President Dmitry Medvedev at a summit of the Commonwealth of Independent States (CIS) in Chisinau on October 9, just before Turkey and Armenia signed their accord.
And on October 14, when Armenian President Serzh Sarkisian was in Turkey watching a World Cup soccer match with his Turkish counterpart Abdullah Gul, Azerbaijan signed a deal to sell 500 million cubic meters of natural gas annually to Russia's Gazprom starting in 2010.
Speaking about the deal, Aliyev said the 500 million cubic meters was just a starting point and that there was "no upper limit" to the amount of gas Baku could sell to Russia.
Is He Bluffing?
While Aliyev's move has heightened fears that Azerbaijan may be moving quickly into Moscow's orbit, some observers say he could be bluffing in an attempt to influence Turkey's parliament, which is due to debate the agreement normalizing relations with Armenia on October 21.
"The Azerbaijanis could be saying [to the West and Turkey] that if you are not supportive of us on Nagorno-Karabakh, we will choose South Stream over Nabucco," Bordonaro says.
"It is difficult to say if they are bluffing or not. But we shouldn't rule out that they are not bluffing."
Ilham Shaban, a Baku-based energy analyst, is more sanguine. He tells RFE/RL's Azerbaijani Service that pipelines delivering Azerbaijani gas to Europe via Turkey have a much larger capacity than those passing through Russia.
"Turkey is the door that Azerbaijan needs to use to get it's energy resources to the world market. We need to make this door wider. And this was our policy so far," Shaban says.
"I don't think we are going to close this door because of these protocols" between Turkey and Armenia.
Turkey broke off diplomatic relations with Armenia in 1993 in support of Azerbaijan, which was fighting a losing battle against ethnic Armenian separatists in Nagorno-Karabakh.
In response to Azerbaijan's anger over the normalization with Armenia, Turkish Foreign Minister Ahmet Davutoglu assured Baku that its support remains unchanged, saying, "Azeri soil is as sacred for us as our own."
Turkish Energy Minister Taner Yildiz indicated on October 19 that Ankara is ready to pay more for Azerbaijan's gas, suggesting more negotiations were on the horizon.


russiatoday.com: South Stream enters final straight as players eye 2010 construction start
Ahead of President Medvedev's signing of key agreements with Serbia this week, Turkey has OK'd the start of South Stream feasibility studies, with key players looking at a construction start late next year.
At a meeting with his Italian and Russian counterparts, in Milan, Turkish Energy Minister Taner Yildir brought south stream another step towards fruition – Turkish approval for the feasibility study to commence in its waters. The announcement came in the wake of a Prime Ministerial meeting in the Turkish capital in August.
"We are here today to realize the decision made on the sixth of August in Ankara at the meeting of the three prime ministers. South Stream is one of the priority projects."
Turkey's go ahead gives the massive project real impetus, ahead of President Medvedev's signing of construction agreements with Serbia on Tuesday. Eni CEO, Paolo Scaroni, says construction could be underway before 2011
"The feasibility study on South Stream will be ready at the beginning of next year and will cover several areas, with the technical to start with. To cross the Black Sea is a complex thing to do. Than we have to decide about the economics of the project and governance. Several issues remain before we take the final investment decision which is expected some time next year. The construction can begin at the end of next year."
Russian deputy Prime Minister Igor Sechin, added that interest will mount from here on in.
"The closer we get to the physical construction of the project, the more partners we will see. And it's good. We are inviting, and will work with, everyone. And what Turkish energy minister Yldir said today about the official start of the feasibility study being the concrete start of work – Thats right! And the faster we work – the more partners we will have."
Also signed at Mondays meeting was a memorandum of understanding on the Samsun-Ceyhan oil pipeline, which will see Rosneft, Transneft and Sovkomflot join with Calik of Turkey and Italy's Eni to boost supply capacity.
With the weather suggesting another harsh winter for Europe, progress on both the South Stream gas pipeline and the Samsun Jeihan oil pipeline brings closer the realisation of new routes for supplying Russian energy resources to Europe – without disruption.