money.ro: Ţările Exportatoare de Gaze Naturale ar putea decide creşterea preţului gazelor
Forumul Ţărilor Exportatoare de Gaze Naturale ar putea decide, la cea de-a zecea reuniune ministerială organizată în Algeria, scumpirea gazelor livrate în Europa şi în alte regiuni.
Ministrul rus al energiei, Sergei Şmatko, a spus că Rusia, care deţine majoritatea rezervelor cunoscute de gaze naturale, Qatarul şi Iranul au redus semnificativ livrările către Europa şi au reuşit astfel să evite fluctuaţii majore ale preţului. La sfârşitul lui martie, Algeria le-a propus ţărilor participante la forum să reducă exporturile de gaze, pentru a echilibra piaţa mondială.
În opinia autorităţilor de la Alger, actualul preţ al gazelor este prea mic: ideal ar fi a şasea parte din preţul unui baril de petrol. Pe lângă ţara gazdă, din Forumul Ţărilor Exportatoare de Gaze Naturale mai fac parte Bolivia, Venezuela, Egipt, Iran, Qatar, Libia, Nigeria, Rusia, Trinidad-Tobago şi Guineea Ecuatorială. Kazahstanul şi Norvegia sunt observatori.
EVZ: Ruşii vor să ne scumpească gazul
Rusia, Algeria şi Qatar, unii dintre cei mai mari exportatori de gaze la nivel mondial, doresc să majoreze tarifele.
Ca urmare a crizei financiare, profiturile companiilor producătoare de gaze s-au diminuat, comparativ cu estimările iniţiale. Miniştrii Energiei din aceste state s-au reunit în Algeria, pentru a găsi o modalitate prin care să poată creşte profiturile acestor companii, controlate de stat.
"Urmează să fie stabilit un nou model de cooperare, în beneficiul tuturor părţilor. Trebuie să ajungem la un comerţ internaţional cu gaze stabil, prin utilizarea eficientă a resurselor energetice mondiale", a declarat ministrul algerian al Energiei, Chakib Khelil, notează Mediafax.
Rusia şi Algeria livrează fiecare aproximativ o cincime din gazele consummate de europeni.
Adevarul: Gaze mai ieftine pentru Ucraina
Viktor Ianukovici (stânga) şi preşedintele rus, Dmitri Medvedev
Ucraina ar putea economisi peste patru miliarde de dolari anual în urma semnării unui nou acord cu Rusia privind importul de gaze, relatează Reuters, citând oficiali ucraineni.
Potrivit publicaţiei ruse Vedomosti, Moscova a acceptat, în sfârşit, un preţ mai mic pentru livările de gaze către vecinii ex-sovietici, în urma propunerii venite din partea proaspătului lider de la Kiev, Viktor Ianukovici.
Una dintre teme principale ale campaniei sale a fost îmbunătăţirea relaţiilor cu Rusia, iar, imediat după instalarea în funcţia de şef al statului ucrainean, Viktor Ianukovici a dat asigurări că nu vor mai exista conflicte cu Moscova în domeniul gazelor în timpul mandatului său.
Astfel, ca să evite o criză a gazelor în iarnă, Ianukovici a acceptat preţuri mai mari, ceea ce a adâncit problemele financiare ale Ucrainei, mai scrie cotidianul rus.
În prezent, Ucraina cumpără gaze la un preţ de 330 de dolari pe mia de metri cubi, după ce, în primul trimestru, a plătit 305 dolari, însă a cerut Moscovei coborârea tarifului mediu pentru acest an până la 250-260 de dolari pe mia de metri cubi.
Hotnews: Iberdrola intentioneaza sa construiasca 50 parcuri eoliene in Dobrogea, cu o putere totala de 1.500 MW
Grupul energetic spaniol Iberdrola intentioneaza sa construiasca 50 de parcuri eoliene in Romania in urmatorii sapte ani, cu o capacitate totala de 1.500 MW, se arata intr-un comunicat al companiei. Iberdrola Renovables a primit de la transportatorul national de electricitate Transelectrica drepturile de a dezvolta acest proiect in Dobrogea, cele 50 de parcuri eoliene urmand a fi construite in perioada 2011-2017.
Conform datelor companiei, cele 50 de parcuri eoliene vor genera suficienta energie pentru aprovizionarea a aproximativ un milion de gospodarii.
Iberdrola a mai anuntat ca intentioneaza sa inceapa in acest an constructia primei sale ferme eoliene din Romania, proiectul de 80 MW de la Mihai Viteazu, Dobrogea, ce va fi pus in functiune in ianuarie 2011. Acest proiect nu se incadreaza in noua concesiune acordata de catre guvernul roman.
Toate aceste proiecte vor fi implementate cu firma Eolica Dobrogea, care are sarcina de a dezvolta proiectele, de a planifica si de a obtine permisele de constructie, in vreme ce Iberdrola Renovables va fi responsabila de construirea si exploatarea fermelor eoliene. Eolica Dobrogea este detinuta de grupul elvetian NEK si companiile romanesti C-Tech si Rokura.
Iberdrola Renovables, care opereaza in 23 de tari, si-a deschis biroul din Romania in 2009, ca parte a planului sau de a-si intari prezenta in Europa de Est. Compania opereaza parcuri eoliene in Polonia (161 MW) si Ungaria (50 MW) si lucreaza la proiectele din Estonia, unde construieste un parc de 150 MW, si Bulgaria.
Vocea Rusiei: Un rabat de câteva miliarde
FOTO:RIA Novosti
Rusia poate acorda Kievului o reducere de preţ pentru gazul furnizat în  schimbul participării la proiectele ucrainene energetice. Cabinetele de miniştri ale celor două ţări au aprobat înţelegerile dintre Gazprom (Rusia) şi Naftogaz (Ucraina), inclusiv în privinţa parametrilor financiari.
"Rossiiskaia gazeta" relatează că Ucraina ar fi dorit să obţină o reducere de 4 miliarde dolari. Însă Rusia nu a făcut publice nici un fel de cifre. În mare, reducerea preţului din partea Rusiei poate deveni principala măsură anticriză pentru bugetul ucrainean. Ucraina a calculat că în cazul obţinerii reducerii la preţ, PIB-ul ţării poate să crească de circa două ori, până la 7%.
Spre deosebire de anii precedenţi, de data aceasta partea ucraineană intenţionează să propună bunurile care ar putea acoperi pierderile părţii ruse. În schimbul a patru miliarde, departamentele energetice ale Ucrainei pot propune Rusiei concesionarea  pe termen lung a depozitelor subterane de gaz din vestul ţării. Controlând aceste obiective, Gazprom poate înceta preluarea nesancţionată de gaz şi poate asigura livrările de combustibil consumatorilor europeni.
Analistul "Băncii Moscova", Denis Borisov, estimează pierderile reale şi posibile ale Gazpromului.
"Datele care permit revizuirea contractelor dintre Gazprom şi Ucraina se formează din mai mulţi factori. În primul rând, este vorba de conjunctura actuală pe piaţa gazului în Europa. În prezent, Ucraina este cel mai mare consumator al Gazpromului. Având în vedere că preţurile anterioare depăşeau nivelul preţurilor angro actuale, este de înţeles dorinţa Ucrainei de a reduce preţul, la fel ca şi dorinţa Gazpromului de a nu pierde un client atât de important şi de a evita problemele în privinţa colaborării în sfera gazului. Trei miliarde de dolari reprezintă o cifră convenţională. Se au în vedere diferite preferinţe, de exemplu, reducerea sau fixarea preţului pentru tranzit".
Vocea Rusiei: Mai puţin gaz, dar mai scump
Photo: RIA Novosti
Participanţii la Forumul ţărilor exportatoare de gaz care se desfăşoară în oraşul algerian Oran, au adoptat o declaraţie comună, în care au menţionat necesitatea sprijinirii preţurilor la gaz în curs de reducere pe calea  legării lor de echivalentul la petrol.  De asemenea s-a adoptat hotărârea  referitoare la pregătirea summit-ului în domeniul gazului, a declarat  ministrul energiei al Rusiei, Serghei Şmatko.
În anii apropiaţi prognozele consumului mondial de gaz sunt puţin atractive. Acest lucru este legat de ritmurile  lente de  refacere a economiei mondiale după criză.  Respectiv – şi aceasta a devenit tema principală a  forumului –  problema  preţului echitabil la gaz a devenit prioritară.  Potrivit opiniei participanţilor la discuţiile de la Oran, preţul acestui combustibil este evident micşorat.
Cei mai mari exportatori de combustibil îndeamnă de câteva luni să se echilibreze preţul de piaţă al gazului.  "Punctul de plecare" pentru acest preţ se propune să fie preţul la petrol. În ceea ce priveşte mecanismul de piaţă al formării preţurilor la gaz, el poate deveni reducerea volumelor extracţiei. Serghei Şmatko recunoaşte  că reducerea extracţiei de gaze va influenţa  creşterea preţurilor.
Probabil va trebui într-adevăr să se procedeze în acest mod, deoarece astăzi au loc schimbări cardinale în sistemul de formare a preţurilor. Altceva este  cum şi în ce volume.
În acelaşi timp dacă petrolul  este furnizat pe diferite căi, în schimb gazul poate fi livrat doar prin gazoducte, subliniază directorul Institutului pentru problemele petrolului şi gazului Anatoli Dmitrievski.
"Livrările de petrol nu numai prin conductele de petrol, ci şi prin intermediul petrolierelor, care pot intra într-un port sau altul, determină posibilitatea reducerii extracţiei  de petrol şi a livrărilor lui pe piaţă.  În ceea ce priveşte gazul, Rusia nu poate să reducă substanţial extracţia deoarece îl livrează prin sistemul de gazoducte magistrale pe baza unor contracte de lungă durată".
Se înţelege că Rusia este obligată să-şi  onoreze contractele încheiate până în anul 2030. Totodată  reducerea extracţiei şi transportului de gaze cu nu mai mult de 20% se află în limitele  flexibilităţii acestor acorduri de lungă durată. Probabil, Rusia  va porni tocmai de la aceste cifre în timpul viitoarelor tratative referitoare la reducerea extracţiei de gaze.
RIA Novosti
: 'Gas OPEC' supports pegging gas prices to oil prices
The Gas Exporting Countries Forum (GECF) declared on Monday gas prices should be pegged to oil prices, Russian Energy Minister Sergei Shmatko said.
The GECF, an 11-nation group of some of the world's biggest gas producers, including global leader Russia, adopted a joint statement at its 10th ministerial meeting.
"The joint statement was adopted unanimously. It aims to maintain gas prices and ensure parity of gas and oil prices," Shmatko said.
Shortly before the meeting, Algeria's energy minister, Chakib Khelil, said new natural gas production was leading to an excess of capacity in liquefied natural gas, which had resulted in a drop in prices, to which the group was trying to find solutions.
Gas prices have almost halved in the past two years, primarily due to falling demand and surging U.S. production.
"Forecasts for the next five years are rather worrying as they display only very weak growth," Khelil said.
He said the 11 gas exporting countries should commit to reduce output and end the glut.
Guy Caruso, senior energy adviser at the Washington-based Center for Strategic and International Studies, told Bloomberg that GECF members take the view that gas "isn't getting its fair share" when compared with oil on an energy-equivalent basis
RIA Novosti
: Russia, Qatar plan joint gas projects in Russian Arctic
Russia and Qatar are planning joint projects to develop gas deposits on the Yamal Peninsula in the Russian Arctic, the energy ministers of both countries said in a joint statement on Monday.
The statement was signed by Russian Energy Minister Sergei Shmatko and his Qatari counterpart Abdullah bin Hamad al-Attiyah.
"The parties have come to agreement on further cooperation through the joint implementation of oil and gas projects in Qatar and Russia, including the development of Yamal gas reserves," the statement said.
Last week, a Russian government delegation led by Deputy Prime Minister Igor Sechin, who oversees Russia's fuel and energy complex, visited Qatar, one of the world's largest gas producers, and presented projects for cooperation.
In particular, Russia's largest independent gas producer, Novatek, expressed interest in involving Qatari partners in the Yamal LNG project, which will draw resources from the South Tambeiskoye gas condensate field with estimated gas reserves of 1.3 trillion cubic mete
russiatoday.com: Gas producers meeting looks to even out pricing
The Gas Exporting Countries Forum, also called Gas OPEC, has been held informally since 2001, and will convene for the tenth time on the 19th of April, as gas exporting countries ramp up their profiles.
Gas OPEC wants to find a way to stabilize prices in a world saddled with a glut of gas and weak demand according to Qatar's Energy Minister, Abdullah Bin Hamad Al-Attiyah.
"I don't think that global gas prices are fair. We always demand that gas prices are at least linked to the oil price. Gas just cannot be treated this way. Earlier we had hoped that gas prices would be above those for oil."
Aleksandr Nazarov, senior oil and gas analyst at Metropol IFC says that any attempts to rid this link could have an adverse effect on an already fluctuating and seasonal gas price.
"We all know what happened as a result of speculating the oil, not like raw material, but like an asset, which happened back in 2008 and 2009. So oil price in 12 months went from $140 to just $30 per barrel, so basically the same thing could happen to gas prices."
Russia is Europe's largest gas exporter. Yet, it struggles to find an agreement on what gas prices should be, with the price averaging anywhere between $170 and $297 per 1000 cubic meters. In addition, it faces constant demand from customers to renegotiate its contracts.
Meanwhile, gas producers have said prices should be closer to $11 per British thermal unit, which Aleksandr Nazarov, thinks could curtail demand drastically.
"Which assumes a gas price close to $400 per 1000 cubic meters, which actually, I think is too high for European customers."
So those pushing for more regulation are faced with a dilemma – how much to charge without actually outpricing their customers.
trend.az: U.S. State Department supports natural gas new corridor
The United States supports opening the new Southern Corridor to bring natural gas from the Caspian region to Europe, Senior Adviser at the Office of the Special Envoy for Eurasian Energy of the U.S. State Department Daniel Stein said in Ashgabat.
"The corridor could include Nabucco and the Italy-Turkey-Greece Interconnector. Both are important from a strategic standpoint to diversify gas sources and open new supply routes to Europe," Stein added.
He believes the Southern Corridor would provide commercial benefits for countries in the Caucasus and Central Asia and also create a long-term partnership based on mutual interests with Europe.
The Southern Corridor is a priority EU energy project. The project aims to diversify routes and supply sources, thus increasing EU energy security. The Nabucco gas pipeline, which is the main element of the Southern Corridor Project, aims to transport gas from the Caspian region and the Middle East to the EU. Azerbaijan is considered as a potential gas supplier for the project.
gazeta.kz: Kazakhstan to deliver limitless volume of petroleum products to Kyrgyzstan
Astana. April 20. Kazakhstan Today – Kazakhstan will deliver limitless volume of petroleum products to Kyrgyzstan. First deputy chairman of the provisional government of Kyrgyzstan, Almazbek Atambaev, informed during the press conference in Astana, following the results of the negotiations with the Prime Minister of Kazakhstan, Karim Masimov, the agency reports.
"I am very grateful to the President of Kazakhstan, Nursultan Nazarbayev, that there will be no limit for Kyrgyzstan," A. Atambaev said.
As informed earlier, the President of Kazakhstan, Nursultan Nazarbayev, informed that Kazakhstan will assist Kyrgyzstan in a sowing campaign on April, 16 during a briefing in Akorda.
"The sowing-time has begun. There are no petroleum products in Kyrgyzstan to sow. If they do not sow now, there will be a catastrophe in autumn," N. Nazarbayev noted.
kazinform.kz: 25.5 bln cubic meters of Turkmen and Uzbek gas to be transported through Kazakhstan to Russia in 2010 – Intergas Central Asia
ASTANA. April 16. KAZINFORM /Kanat Kulshmanov/ 25.5 bln cubic meters of Turkmen and Uzbek gas are to be transported through the territory of Kazakhstan to Russia this year.
Director General Intergas Central Asia JSC Serik Estai has informed of it at a press conference in Astana.
According to him, in 2010 Turkmenistan will transport 10.5 bln cubic meters of gas to Russia through the territory of Kazakhstan, Uzbekistan – 15 bln cubic meters of gas.
"In total amount 25.5 bln cubic meters of Turkmen and Uzbek gas will be transported through Kazakhstan to Russia", S.Estai said.
46 bln cubic meters of gas from Russia will be transported through West Kazakhstan as well. Export of the Karachaganak gas will make up 7.5 bln cubic meters.
georgiandaily.com: AGRI: First Ever LNG Project in the Black Sea
Vladimir Socor
Azerbaijan, Georgia, and Romanian are jointly launching a liquefied natural gas (LNG) project, designated as the Azerbaijan-Georgia-Romania Interconnector (AGRI). The three governments regard their project as an element in the EU-planned Southern Corridor for Caspian gas to Europe.
AGRI envisages transporting Azerbaijani gas by pipeline to Georgia's Black Sea coast, liquefying it there, shipping the liquefied product by tankers to Romania's coast, and delivering the re-gasified product into Romania's pipeline system and onward to EU territory.
On April 13, Azerbaijan's Industry and Energy Minister, Natig Aliyev, his Georgian and Romanian counterparts Alexander Khetaguri and Adriean Videanu respectively, signed in Bucharest an inter-governmental memorandum on production and transportation of LNG. AGRI is the first-ever LNG project in the Black Sea. Underscoring the significance of LNG to the EU's energy security, Romania is asking the EU to elevate AGRI to the status of a European priority project (Rompres, Agerpres, April 13–15).
The project involves the construction of a liquefaction plant and LNG export terminal for Azeri gas in Georgia, as well as an import terminal with re-gasification plant in Romania. The suggested coastal locations are Kulevi, site of the Azerbaijani-owned oil export terminal in Georgia; and Constanta, the largest Black Sea port, in Romania. With the Romania-Hungary pipeline interconnection, Arad-Szeged, soon due to become operational, AGRI can open the way for Azerbaijani gas exports into Central Europe.
The three participant countries are appointing a joint commission to draft the financial, commercial, and technical feasibility studies for the project. The group shall be headquartered in Bucharest. Preliminary estimates of the investment costs vary from $2 billion to $5 billion. The duration of construction work is estimated at four years. According to some preliminary assessments, AGRI can bring at least 7 billion cubic meters (bcm) of gas into Europe, resulting from re-gasification of Azerbaijani LNG (Trend Capital, www.day.az, April 13-15).
Romania had previously signed bilateral memoranda of understanding (MOU's) at ministerial levels regarding LNG transportation, with Georgia in October 2009 and with Azerbaijan in February 2010. These paved the way for the tripartite inter-governmental agreement on the project. Romanian President Traian Basescu, by profession a merchant marine captain, is a long-time proponent of LNG transportation in the Black Sea with a terminal in his native city, Constanta. Basescu hailed the AGRI signing as a significant contribution to the European Union's energy security goals.
Some Romanian government officials claim that AGRI can be completed ahead of the Nabucco project (Ziarul Financiar, Nine O'Clock). Such assertions are apt to create an impression that AGRI and Nabucco compete against each other. Nabucco, however, remains undoubtedly the central element in the EU-planned Southern Corridor.
From Baku's perspective, the AGRI LNG provides one additional option for transportation of Azeri gas to Europe. Apart from LNG, Baku is also considering the option of Compressed Natural Gas (CNG). Azerbaijan's MOU's, signed in latter part of 2009 with Georgia and Bulgaria, envisage the possible shipping of Azeri compressed gas via Georgia and the Black Sea to Europe. This trilateral configuration resembles that of AGRI, apart from Bulgaria being the shipping destination for CNG in the western Black Sea.
Baku's export options begin, however, with Nabucco in order of preference, though involving transit via Turkey to Europe; the Interconnector Turkey-Greece-Italy; export to (or via) Russia: and export to Iran. According to the Azeri state oil company's President Rovnag Abdullayev, "The variety of these options will allow us to choose the right path" (www.day.az, April 13).
Georgia equally supports the LNG and CNG options for Azeri gas exports. Criss-crossed by currently operating transit routes and potential ones, Georgia welcomes the AGRI project for confirming the country's reliability and buttressing (along with the other potential routes) EU and Euro-Atlantic interest in Georgia's stability.
The LNG and CNG initiatives could threaten the proposed White Stream pipeline from Georgia to Romania, on the seabed of the Black Sea. The White Stream concept could become redundant, if Azerbaijan chooses to export its gas through liquefaction or compression in surface ships, rather than a seabed pipeline.
Visiting Azerbaijan on April 11, EU Energy Commissioner Guenther Oettinger described the Nabucco project as the EU's top priority, followed by the Turkey-Greece-Italy Interconnector, both in the Southern Corridor's planning framework. The recently appointed commissioner ascribed the "key role" to Azerbaijan, alongside Turkmenistan, in supplying the planned Nabucco pipeline (www.day.az, Trend Capital, April 14, 15). Baku, however, may ultimately select one of its panoply of options, such as AGRI or even Russia, if financial backing for Nabucco is not soon forthcoming from Brussels.
energia.gr: Russia Minister Doesn't Mention Gas Cuts Discussed At Forum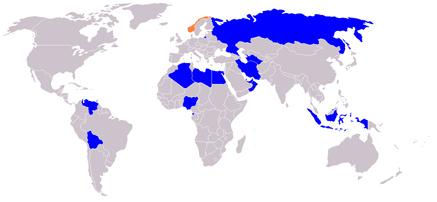 Russian Energy Minister Sergei Shmatko didn't mention gas-output cuts among the topics that were discussed at a Gas Exporting Countries Forum Monday.
Speaking as he left a meeting of the forum in Oran, Algeria, the minister said the group was seeking parity with oil instead.
Shmatko said: "All ministers agreed and supported that we continue to strive to achieve indexing gas to oil parity."
He also expressed concern about how measures to tackle carbon emissions could hurt gas demand.
"We are very much concerned about this idea to impose carbon barriers on gas consumption."
Novinite: Bulgaria 'Energy Mafia' Drained Billions from State Budget
Bulgaria's Minister of Economy, Energy and Tourism, Traicho Traikov, says white collar crimes in his sector are the most difficult for prosecutors and judges. Photo by BGNES