Vocea Rusiei: Gazprom dublează livrările de gaz în Danemarca
Gazprom a convenit cu Danemarca să mărească livrările de gaz în Danemarca de două ori, adică până la 2 miliarde de metri cubi, se spune în comunicatul holdingului rusesc.
În anul 2006 compania petrolieră daneză DONG Energy a încheiat un acord cu privire la livrarea prin gazoductul Nord Stream 1 a un miliard de metri cubi de gaz.
Începând cu anul 2012 ea va primi anual timp de 18 ani încă un miliard de metri cubi de gaz prin a doua ramificaţie a gazoductului.
Nord Stream va trece pe fundul Mării Baltice din oraşul rus Vâborg până în Germania.
RIA Novosti: Ukraine's Naftogaz defaults on $500 mln Eurobonds
KIEV, October 1 (RIA Novosti) – Ukraine's state-owned energy company Naftogaz defaulted on a $500 million Eurobond issue as the repayment deadline expired on Wednesday night, the Ukrainian edition of a Russian daily said on Thursday.
However, the company's default can only be officially announced in five days, a period formally required to settle problems with bondholders. The failure to pay will drive up the cost of borrowings not only for Naftogaz but also for Ukraine as a whole in the future, business paper Kommersant Ukraine wrote.
The Luxembourg stock exchange on Wednesday delisted Naftogaz's $500 million Eurobond issue with the maturity on September 30.
"From the moment trading was halted and Naftogaz failed to repay its obligations, the company's default automatically occurred," an analyst with leading Russian investment bank Renaissance Capital said.
Ukrainian media reported on Wednesday that Naftogaz had paid only interest on the $500 million Eurobond issue but was seeking to restructure the principal debt.
Naftogaz offered the bondholders on September 24 to swap the Eurobonds that matured Wednesday night for new papers backed by a government guarantee and maturity in 2014, and also to increase the coupon rate from the current 8.125% to 9.5% per annum, the paper said.
The Naftogaz press office declined to comment, saying a bondholders' meeting would be held on October 9.
Naftogaz CEO Oleh Dubyna said on Wednesday that investors had preliminarily given their consent to the debt restructuring.
Previous debt payments by Naftogaz, which transits Russian natural gas to Europe, led to a gas dispute with Russia, which briefly shut down supplies via Ukraine's pipeline system at the start of the year.
The conflict was resolved in January, when Russian Prime Minister Vladimir Putin and Ukrainian premier Yulia Tymoshenko reached a deal on imports and transit for 2009.
Novinite: Russian Part in Belene NPP May Raise Bulgaria Extraterritoriality Issues
The ownership of the land under the Belene Nuclear Power Plant might turn out to be a thorny issue, according to Yassen Atanassov. Photo by BGNES
One commonly overlooked fact about Bulgaria's planned Belene Nuclear Plant is the ownership of the land, which might create extraterritoriality issues.
This view was expressed in an interview for Novinite.com (Sofia News Agency) by Yassen Atanassov, a founder and activist of the Bulgarian "Greens" Party.
"We may talk about Bulgaria being energy-independent, but I don't see anything independent in a piece of Bulgarian land being turned de facto into Russian territory," Atanassov said claiming he had the information on the land ownership question from several different sources.
The environmentalist illustrated his point by asking what could Bulgaria do if the Russian side refused to export the nuclear waste of the future power plant from the country.
The Russian company Atomstroyexport was selected in 2008 by the Bulgarian authorities to build the Belene Plant, which is going to have two Russian VVER reactors.
Full Text of Novinite.com's Interview with environmentalist Yassen Atanassov READ HERE
WSJ: EPA Proposes Tough Greenhouse-Gas Rules for Big Industries
WASHINGTON — The Environmental Protection Agency proposed requiring new power plants, factories and oil refiners to obtain permits to emit so-called greenhouse gases, ratcheting up pressure on Congress to pass comprehensive climate legislation.
The EPA's proposal would effectively require new, large industrial facilities and existing ones undergoing modification to use the most up-to-date technology to curb carbon-dioxide emissions. The announcement came as environmentally minded Senate Democrats vowed to bring a newly unveiled climate bill to a vote before a major international summit on climate change in December.
Other Democratic lawmakers from states dependent on coal and manufacturing jobs said they couldn't support the draft proposal, which calls for cutting U.S. emissions somewhat faster than a similar proposal narrowly approved by the House in June.
"The EPA's ready to work with Congress," EPA Administrator Lisa Jackson said in announcing the proposal. "But we're not going to continue with business as usual while we wait for Congress to act."
Because the federal Clean Air Act limits the EPA's ability to weigh the costs of new regulations, many businesses worry that new EPA rules might be unduly burdensome. To address such concerns, the EPA's proposal would effectively exempt small businesses such as restaurants and farms, applying the rules only to facilities that emit 25,000 tons of greenhouse gases or more a year. A threshold of 25,000 tons of carbon dioxide is comparable to the emissions from the annual energy use of about 2,200 homes, according to the Environmental Defense Fund.
"The question is — is this legal?" said Luke Popovich, a spokesman for the National Mining Association. He said his group is skeptical the EPA would be allowed under current law to distinguish between small and large emitters when setting new controls on greenhouse gases.
Under the EPA proposal, which officials said could take effect as early as next year, new power plants and other large emitters could be denied regulatory permits if they didn't use the most up-to-date technology to curb carbon-dioxide emissions. Similar technology would have to be incorporated into any major upgrades. The EPA is expected to spell out what kinds of controls would qualify in later guidance.
Meanwhile, several key senators said a draft bill designed to fight climate change, announced by Sens. Barbara Boxer (D., Calif.) and John Kerry (D., Mass.), lacked sufficient support to pass the chamber. Sen. John D. Rockefeller IV (D., W.Va.), said the bill's proposal to cut U.S. emissions 20% beneath 2005 levels by 2020 would be "unrealistic and harmful" for his coal-abundant state. Other lawmakers said the chamber's focus on health-care legislation was straining their ability to examine the measure.
The climate-change issue also is dividing industry. Nike Inc. said Wednesday it was resigning a seat on the board of the U.S. Chamber of Commerce, citing disagreement with the group's stance against proposed climate-change legislation. But the company said it planned to remain a member of the chamber. A chamber spokesman said its position "reflects the diversity of its membership and the broad business community."
energia.gr: Nabucco Gas Pipe To Tap Iraq, Azerbaijan As 1st Sources
The Nabucco pipeline aimed at pumping gas to Europe bypassing Russia will use Iraq and Azerbaijan as its first main sources, the head of the company running the project said Thursday.

Reinhard Mitschek told reporters here that the first deliveries of gas through the pipeline, due 2014, would come from these two countries, which would "allow it not to be dependent on a single source."

Nabucco is a key pipeline project aimed at reducing Europe's dependence on Russian gas supplies, notably following a pricing dispute between Russia and neighboring Ukraine that saw supplies to the west cut off in darkest winter.

The European Union said last month that it was in talks with Azerbaijan on providing gas to supply Nabucco, a 3,300-kilometer project between Turkey and Austria.

A partnership is also planned with Iraq's Petroleum Co. Ltd., based in the oil-rich Kurdish region in the north of the war-scarred country, he said.

Austrian company OMV (OMV.VI) and MOL Nyrt. (MOL.BU) of Hungary have stakes in the Iraqi firm, and others in Germany, Turkey, Bulgaria and Romania are involved in the project, whose overall cost is estimated at EUR7.9 million.

The project will avoid piping gas through Russia, but Mitschek didn't rule out involving Russia gas suppliers in the contracts.
energia.gr: Romania Receives Offer Of 7.3 BCM Of Gas Via Nabucco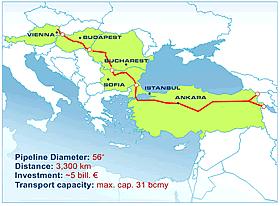 Romania has been offered the option to receive 7.3 billion cubic meters of natural gas via the Nabucco project, amounting to nearly one quarter of the pipeline's planned annual capacity, news agency Mediafax reports officials of the Economy Ministry as saying Thursday.

However, the offer is premised by Nabucco pipeline being up and running before the rival South Stream project, the ministry's state secretary Tudor Serban told the Black Sea Energy and Economic Forum in Bucharest.

Romania is the first party to the Nabucco consortium to have received such an offer, he said.

Serban declined to name the country that had made the offer, and would only say that it is a state in the Caspian Sea region.

Over recent months, Romania has held talks with Kazakhstan, Azerbaijan and Turkmenistan and signed several protocols on gas delivery via the Nabucco pipeline.

The Nabucco pipeline, the construction of which will need investments of EUR8 billion, will deliver approximately 31 billion cubic meters of gas annually from the Caspian Sea to Central Europe via Turkey and Romania, bypassing Russia.

In fact, the pipeline is expected to help European countries break free from Russia's influence in the natural gas sector. Nabucco is due for completion in 2014 or 2015.

Meanwhile, the authorities in Kremlin are pressing to accelerate the development of the rival South Stream pipeline, which is seen delivering 31 billion cubic meters of Russian gas per year starting 2015.
Eurasia Daily Monitor: Gazprom Takes its South Stream Bluff to Bucharest
This week in Bucharest, high-level representatives of the Russian energy business and their Italian allies are making their strongest pitch yet for Romania to join their South Stream gas transport project. Romania is the latest target in Moscow's recent effort to enlist additional countries in South Stream -or to persuade participant countries to commit more actively despite doubts.
Romania is also being exposed to those shifting signals. At the moment, Moscow (with Rome in tow) seeks to convince Bucharest to join South Stream. Only three weeks ago, however, Russian Prime Minister Vladimir Putin announced at the Valdai meeting: "We plan to shift the transit route for future gas supplies from Ukraine to Turkey." According to him, Turkey would become the main transit route for Russian gas to Europe (Moscow Times, September 14). Indeed, Putin made that promise to Turkish Prime Minister Recep Tayyip Erdogan amid great publicity in Ankara in August (EDM, August 10, 11).
Routing South Stream via Romania's Black Sea exclusive economic zone would be incompatible with Putin's promise to route it via Turkey's zone. There are two mutually exclusive route options for the pipeline from Russia to Bulgaria on the seabed of the Black Sea: either running through most of Ukraine's exclusive economic zone and a small portion of Romania's zone or, alternatively, crossing from Russia's zone into the Turkish zone en route to Bulgaria.
Any proposal to use the Romanian zone would make no sense if Russia intends to keep Putin's promise to Turkey. However, Moscow is trying to play the two against each other. On September 28 in Dzhugba (Russian starting point of the Blue Stream pipeline to Turkey, and putative starting point of South Stream), Gazprom's Aleksei Miller declared that both Turkey and Romania were keen on being included in South Stream (RIA Novosti, September 28). This proposition is accurate in Turkey's case, doubtful in Romania's, and clearly manipulative in any case. Moscow is attempting to unnerve the Turks and pressure the Bulgarians by hinting at a Romania option.
Meanwhile, Russia's special presidential envoy for economic relations Viktor Chernomyrdin -formerly Gazprom's CEO and recently ambassador to Ukraine- is casting strong doubts on South Stream's officially declared rationale: that of bypassing Ukraine's transit pipeline system. According to Chernomyrdin at the Yalta European Strategy forum, the Ukrainian system "will remain the main transporter of Russian gas to Europe for the foreseeable future," Russia may even increase the gas transit volume through Ukraine (Bohorodchany-Uzhhorod), if Gazprom obtains shared control over the Ukrainian pipelines; and any volumes carried by South Stream would be additional to those via Ukraine, not replacing them, Chernomyrdin said (Interfax-Ukraine, September 25).
Chernomyrdin's is only the latest suggestion that Moscow could well renounce the idea of bypassing Ukraine through South Stream, if Gazprom achieves some form of shared control over the Ukrainian transit system. To that end, Moscow is currently trying to enlist several European companies in a Gazprom-led consortium, hoping that Ukraine's January 2010 presidential election might bring a more Russia-friendly government in power. South Stream would become superfluous if Russia achieves shared control of the Ukrainian transit system. Gazprom would hardly shift any significant gas volumes from the Ukrainian system into South Stream in that case.
Italy's state-controlled ENI conglomerate (working closely with Prime Minister Silvio Berlusconi) is Gazprom's ally in the South Stream project. As Francesco Sisci has summed up the situation, ENI views this project as an opportunity to corner a large chunk of the European market together with the Gazprom monopoly, contradicting the E.U.'s energy security policies and discouraging investment in Nabuccco by keeping the South Stream option however dubiously afloat (La Stampa, September 24).
Russia's main motivations in promoting South Stream are mainly political. First, to discourage investment in the E.U.-backed Nabucco project by making it looks as if struggling against a powerful Russian rival. Second, it threatens Ukraine with a massive shift in the gas transit volume, away from Ukraine's overland pipelines into the proposed South Stream. And third, in a medium-term perspective, to create a transportation option for non-Russian gas from Central Asia and the Middle East, if Moscow succeeds in assembling a gas producers' cartel under Russian leadership. That will become unlikely, however, if the E.U. successfully advances its Southern Corridor strategy, of which Nabucco is the first major component.
Eurasia Daily Monitor: Moscow Juggling Capacity and Cost Figures on South Stream
Against the European Union's Southern Corridor project, Russia is redoubling efforts to advertise its own project, South Stream, with Italian backing. The scene for that advertising is in Bucharest this week. Due to stagnant gas production and aging fields in operation, however, Russia has been unable to identify any internal gas reserves to supply the proposed South Stream system. Unlike the Nord Stream pipeline project on the Baltic seabed, which has at least some Russian gas resources allocated to it at least in the planning, South Stream has no known resource backup in Russia or elsewhere. Moscow only suggests that it would shift some gas volumes from the Ukrainian transit pipelines into South Stream, though far from meeting South Stream's declared future capacity.
The Russian government and Gazprom have embarked on a high-risk juggling act with quantative figures on South Stream's future capacity and investment costs. In 2007-2008 Moscow was offering 31 billion cubic meters (bcm) annually in future aggregate deliveries to all putative customers of South Stream. In February 2009 Gazprom increased the offer without explanation to 45 bcm per year (EDM, February 7); and in May, Russian Prime Minister Vladimir Putin (meeting with the Turkish government leaders in Sochi) raised the ante to 63 bcm annually, even as Russia faced the prospect of gas shortfalls after 2010 (EDM, May 28, 29).
Moscow's initial cost estimates for South Stream in 2007-2008 hovered around $10 billion. In its February 2009 briefing for Russian and other potential investor companies, Gazprom raised the cost estimate to the range of $19 billion to $24 billion in one stroke (EDM, February 7). And during Putin's recent visit in Ankara, sources close to the Russian delegation cited cost estimates in the range of $25 billion to $28 billion (EDM, August 10, 11).
The capacity and investment figures can only be viewed as arbitrary in the absence of even preliminary feasibility studies. The spectacular rise in the estimates, however, makes some sense. Striving to enlist more participant countries and companies in this project for political effect, Moscow must constantly raise the aggregate declared capacity of the South Stream system. Similarly, with more branch-offs promised or offered in various directions, the system's total costs increase. Finally, routing the seabed section through the Turkish economic zone means a longer pipeline on a deeper and more complex seabed, thus adding to the ultimate costs.
Meanwhile, the project seems academic in the absence of dedicated Russian gas volumes, and given Russia's stagnant production. South Stream also looks clearly unbankable at such costs. The costs would have to be passed on to European consumers, if Russia could ultimately deliver the financing and the gas.
Nevertheless, Moscow seeks to maximize the number of participant countries and interested parties in South Stream. It also offers various pipeline routes or branch-offs, sometimes incompatible with each other, to various countries along the potential routes. The goal is to keep South Stream alive as a virtual proposition, in virtual competition against the E.U.-backed Nabucco project. Through shifting signals, Moscow seeks to induce countries in Central and Southeastern Europe to compete against each other for future supplies and transit of finite volumes of Russian gas.
In an illustration of these tactics, Gazprom CEO Aleksei Miller warned at the latest meeting of the Valdai discussion club: "There is little time left. The countries of Central and Southeastern Europe have to make quick decisions whether or not they want to support the South Stream project….Neighboring countries would be more than happy to take the place of any country that declines to participate" (Interfax, September 13).
The Bulgarian and Hungarian governments signed up to South Stream last year, but have fallen from power since then. Both governments were Socialist and Moscow-friendly. Hungary's current caretaker government seems to have shelved the issue, pending elections and an expected landslide success of Western-oriented conservatives. Bulgaria's new government has suspended the implementation of energy projects with Russia, pending a detailed review of their terms, which the new government deems onerous (EDM, August 6). Russia and Bulgaria have set up expert-level working groups to conduct that review (BTA, Interfax, September 18, 19).
In recent weeks the Russian government and Gazprom have offered to include some new countries and companies in the South Stream project. Thus on September 1 Putin made this offer to Croatia through that country's new Prime Minister Jadranka Kosor. The Russian side proposes creating a joint working group with Croatia's gas transmission system operator, Plinacro, to examine a possible branch-off from the projected South Stream system into Croatia from Serbia. This idea seems designed to unnerve the Hungarians farther downstream as well as to discourage investment in the E.U.-favored liquefied natural gas terminal project on Croatia's Krk island (Vjesnik [Zagreb], September 21).
On September 14 and 24 (respectively), Miller and Putin offered to include Electricite de France as an investor in South Stream with a 10 percent stake in the project. Apparently this would imply a title to 10 percent of the gas volume for EDF. Moscow's move seems largely political, hoping to enlist French government backing within the E.U. for South Stream (Kommersant September 15; Le Monde, September 17; Interfax, September 24). Such backing -which Moscow also seeks from the German and Italian governments- consists of lobbying within the E.U. to give South Stream some kind of status as project of European interest and even make it eligible for financial support.