Hotnews: Ucraina vrea sa dubleze pretul tranzitului de gaze rusesti spre Europa
Pretul tranzitului de gaze rusesti spre Europa prin Ucraina se va dubla in 2010, declara premierul ucrainean Iulia Timosenko, inaintea intalnirii cu Vladimir Putin, relateaza NewsIn.
Tariful actual este de 1,7 dolari pentru transportarea a 1.000 de metri cubi de gaz pe 100 de kilometri.
Timosenko se va intalni cu Putin joi la Ialta, cu ocazia unei reuniuni a premierilor din CSI. Problema gazelor va figura in centrul agendei discutiilor.
La inceputul anului, europenii au fost afectati de intreruperea gazelor rusesti din cauza unui conflict intre Kiev si Moscova. Un sfert din gazul consumat in UE provine din Rusia, dintre care 80% trece prin Ucraina.
Ziare.com: Criza pune in pericol investitii energetice cruciale la nivel mondial
Criza economica pune in pericol investitiile energetice in lume, considerate cruciale de catre participantii la conferinta privind securitatea energetica organizata miercuri la Geneva de catre comisia economica pentru Europa a ONU (CEE-ONU).

Restrangerea posibilitatilor de finantare, scaderea economica si caderea preturilor la petrol si gaz sunt principalele motive care au impins companiile energetice sa-si revizuiasca in scadere investitiile, au apreciat directorii unora dintre aceste societati, transmite AFP.
Totusi, nevoile energetice mondiale ar urma sa avanseze cu peste 40% pana in 2030, potrivit unui raport publicat de Agentia Internationala pentru Energie (AIE).
Aceasta tendinta impune necesitatea modernizarii infrastructurilor de productie si transport a companiilor energetice, avertizeaza CEE-ONU.
"Pericolul este ca investitiile insuficiente in principalele tari producatoare de energie sa reduca oferta, conducand la presiuni puternice pe preturi", a afirmat directorul general al comisiei ONU, Jan Kubica.
Potrivit acestuia, criza financiara a sporit incertitudinea in legatura cu posibilitatea de a finanta investitiile energetice necesare pe termen lung pentru a raspunde nevoii in crestere de energie.
Au scazut intentiile de investitii
Situatia este ingrijoratoare, in conditiile in care un sondaj realizat de Consiliul Mondial al Energiei in randul a 60 de sefi de companii din sector a indicat o scadere puternica a intentiilor de investitii in 2009. Jumatate dintre directorii chestionati au aratat ca sunt gata sa reduca cu peste 20% investitiile in unele sectoare sau sa le amane cu doi ani.
In schimb, intre 20% si 40% dintre cei chestionati au afirmat ca actuala criza financiara nu va avea vreun impact asupra investitiilor firmelor pe care le conduc.
Concluziile studiului arata ca tendinta actuala si viitoare a investitiilor reprezinta o "amenintare pentru securitatea energetica", a avertizat un reprezentant al grupului energetic german E.ON, Stefan Ulreich. El a subliniat ca nivelul ridicat al datoriei publice din SUA si Marea Britanie pun in pericol investitiile energetice prevazute de aceste tari.
Standard.ro: Un deputat spune că Sterling îşi vinde concesiunile din Marea Neagră, compania îl contrazice
Sterling Resources vrea să-şi vândă concesiunile din Marea Neagră, a declarat, marţi seară, Cristian Petrescu, membru în comisia de industrii din Camera Deputaţilor, citat de The Money Channel, informaţia fiind confirmată şi de şeful Agenţiei Naţionale pentru Resurse Minerale (ANRM), Alexandru Pătruţi, dar contrazisă de oficialii firmei în cauză.
Ulterior, şi preşedintele ANRM, Alexandru Pătruţi, a explicat pentru Business Standard că, de fapt, "Sterling a cerut agenţiei să fie de acord cu cedarea unor părţi din concesiunea prevăzută în acordul petrolier".
"Există această posibilitate în legislaţia din România ca titularul de licenţă să poată ceda din drepturile şi obligaţiile asumate prin acordarea acestora către terţi", a punctat Pătruţi care a lăsat să se înţeleagă că ANRM este de acord cu această solicitare. Ieri, oficialii companiei în cauză au anunţat că "Sterling Resources nu intenţionează să vândă participarea sa de 32,5% din cele două blocuri pe care le deţine în Marea Neagră (perimetrele Midia şi Pelican – n.red.)".
"Din contră, ne păstrăm angajamentul în vederea continuării procesului de explorare început, prin asocierea, împreună cu cei trei parteneri: Melrose Resources, care deţine 32,5%, Petroventures, care deţine 20% şi Gas Plus, cu o cotă de participare de 15%", au punctat oficialii Sterling. Ei au mai spus că asocierile sunt publice şi că "în prezent, suntem în plin proces de aprobare, astfel încât cei trei parteneri ai Sterling să primească acceptul autorităţilor române competente". Şeful ANRM a mai spus că investiţiile necesare pentru ajungerea în faza de exploatare a resurselor din Marea Nagră descoperite de Sterling sunt de ordinul sutelor de milioane de dolari.
Blocurile deţinute de Sterling în Marea Neagră conţin rezerve combinate de gaze estimate la 8,15 mld. metri cubi. Sterling Resources a înregistrat în primele nouă luni un profit net de 66,9 mil. dolari, după ce în T3 a avut un câştig în creştere de 70 de ori.
standard.ro: Şeful ANRM: Resursele de petrol şi gaze ne mai ajung 15 ani
România mai are resurse de petrol şi gaze naturale pentru aproximativ 15 ani, în timp ce rezervele interne de cărbune pot asigura consumul intern pentru o perioadă de cel puţin 30 de ani, a declarat ieri preşedintele Agenţiei Naţionale pentru Resurse Minerale (ANRM), Alexandru Pătruţi.
"Datele prezentate au un grad mare de relativitate. Acum, producţia de petrol şi de gaze a scăzut, pentru că a scăzut şi consumul, în contextul crizei", a spus Pătruţi. "Nu pot spune că această criză ne ajută, chiar dacă acum extragem mai puţin petrol şi gaze", a punctat oficialul ANRM.
"Rezervele de gaze sunt de 185 miliarde de metri cubi, iar cele de ţiţei – de 74 milioane de tone", a mai afirmat acesta. Producţia anuală de gaze, asigurată în principal de compania de stat Romgaz Mediaş şi de Petrom, parte a grupului austriac OMV, este de aproximativ 12 miliarde de metri cubi. De asemenea, Petrom extrage anual aproximativ cinci milioane tone de petrol. Oficialul ANRM a mai spus că, pe fondul depletării (secătuirii, n.red.) zăcămintelor, producţia de ţiţei poate înregistra scăderi anuale între 2% şi 4%. Gradul de înlocuire a rezervelor de petrol exploatate nu va depăşi 15-20%, a mai anticipat şeful ANRM. Potrivit acestuia, în cazul depletării zăcămintelor, producţia de gaze poate înregistra scăderi anuale între 2% şi 5%, iar în acest caz, gradul de înlocuire a rezervelor exploatate se va situa, cel mai probabil, între 15% şi 30%.
Conform datelor ANRM, rezervele de huilă ale României se ridică la aproximativ 755 milioane de tone, cantitate din care însă doar circa 100 milioane de tone sunt exploatabile industrial, ceea ce, la o producţie anuală de peste trei milioane de tone, asigură cel puţin consumul pentru următorii 30 de ani.
Anunţul licitaţiei pentru Marea Neagră, la jumătatea lunii decembrie
Tot ieri, oficialul ANRM a spus că anunţul pentru licitaţia de concesionare a 30 de perimetre petroliere pe uscat şi în Marea Neagră va apărea în Jurnalul oficial al Uniunii Europene, la jumătatea lunii decembrie. Atribuirea ar urma să se facă undeva la jumătatea lui 2010, potrivit calendarului actual al agenţiei.
Alexandru Pătruţi l-a înlocuit în funcţie, luna trecută, pe Gelu Mărăcineanu, numit cu susţinerea PSD, care şi-a dat demisia din funcţia de preşedinte al ANRM. Pătruţi era, la momentul numirii ca şef al ANRM, secretar de stat în Ministerul Economiei, post din care a demisionat recent, la rândul său, fiind incompatibil.
Giganţii americani Chevron şi ExxonMobil SUA, dar şi companiile Aspect Holdings SUA, Total Franţa, Hunt Oil SUA, Melrose Resources Marea Britanie sunt interesate de concesionarea perimetrelor din Marea Neagră.
De altfel, Tribunalul Bucureşti a admis recent o cerere formulată de Societatea Academică din România (SAR) şi a obligat ANRM să facă publice date legate de contractele de exploatare şi explorare în platforma continentală a Mării Negre încheiate cu Petrom. Şeful ANRM a mai anunţat ieri că va face recurs la această decizie.
---
Previziuni
>Rezervele de cărbune sunt suficiente pentru cel puţin 30 de ani de-acum încolo.
Vocea Rusiei: Rusia şi UE au ajuns la o înţelegere privind securitatea energetică
Rusia şi Uniunea Europeană au ajuns la o înţelegere în problemele legate de cooperarea energeticăm între altele, în ce priveşte garantarea securităţii energetice a Europei, a declarat preşedintele rus, Dmitri Medvedev, la conferinţa de presă de la Stockholm.
Potrivit acestuia, "fără acorduri în aceste probleme nu este posibilă o activitate vitală normală în Europa". Preşedintele a atras încă o dată atenţia partenerilor europeni asupra Cartei Energetice propuse de Rusia în completare la documentele existente în sfera securităţii energetice.
Vocea Rusiei: Ucraina pregăteşte un mesaj către Rusia în sfera gazului
Ucraina pregăteşte un mesaj către Rusia în ce priveşte problemele din sfera gazului, a declarat Bogdan Sokolovski, consilier al preşedintelui ucrainean pe probleme de securitate energetică.
El a adăugat că "banii pe care Naftogaz îi va primi de la consumatorii ucraineni vor fi puţini pentru a achita gazul pentru noiembrie. Probabil va trebui să împrumutăm de la FMI". De asemenea, Sokolovski a menţionat că pentru cele 10 luni ale acestui an Kievul a plătit pentru gaz peste patru miliarde şi jumătate de dolari, iar pentru cumpărarea unui volum mai mic de gaz Ucraina este ameninţată de sancţiuni în valoare de aproximativ 8 miliarde de dolari.
RIA Novosti: Ukraine's Tymoshenko says gas not on agenda for Putin meeting
Ukrainian Prime Minister Yulia Tymoshenko said natural gas supplies would not be on the agenda of her meeting with Russian Prime Minister Vladimir Putin later this week.
"Gas issues will not be discussed," Tymoshenko told reporters, contradicting her earlier statement that gas cooperation would dominate talks with Putin in Yalta, in Ukraine's Crimea, on Thursday.
Tymoshenko also said Ukraine would almost double its gas transit fee for Russia next year.
"For the first time in Ukraine's history, we will considerably raise revenues from Russian gas transits via Ukraine starting on January 1," Tymoshenko said adding this would improve the financial standing of the embattled national energy company Naftogaz.
The move is in line with a January deal that ended a gas crisis that led to a cutoff in Russian supplies to Ukraine and affected millions of European consumers. Russia also plans to raise gas prices for Ukraine to something approaching European levels from January 2010, dropping the current 20% discount.
Under the current gas agreements, Ukraine charged Russia $1.7 per 1,000 cubic meters per 100 kilometers in 2009. President Viktor Yushchenko said Naftogaz has received at least $2.5 billion a year less than it should. Ukraine transits about 80% of Russia's Europe-bound gas.
Ukraine has paid for gas supplies on time this year. In October, however, a minor dispute arose on the amount of gas Ukraine is to import from Russia. Kiev has been buying less gas due to its economic slowdown this year and plans to import less in 2010.
KIEV, November 18 (RIA Novosti)
The head of Nord Stream, says construction will start as planned, on April 1 2010, despite reports of further delays, with project partners warning of difficulties raising $12 billion dollar they need to finance it.
European power giant, Gaz de France, has told RT it will take a stake in Nord Stream as early as this month. That would give GDF a share of the Baltic Sea project's 27 billion cubic meter gas capacity. But it will also have to shoulder some of the massive construction costs, a hard task in the current investment climate, according to Jean-Francois Cirelli, President of Gaz de France Suez.
"Yes, the financing questions are by definition tougher this year. But Nord Stream is a very good project, we have good partners, good bankers with us. We're not still in the consortium, we're still negotiating our entry, that we hope will be effective by the end of this year, it would be nice in the coming weeks."
Environmental reviews and route adjustments have already pushed first gas delivery back a year, to 2011. But the head of the mega-pipeline, Matthias Warnig, Managing Director of Nord Stream AG, promises no more delays.
"Next year we will start on the first of April construction, so this is the goal."
Nord Stream bypasses troubled transit state Ukraine, which the EU and Russia fear will block supplies again this winter.
Novinite: EU-Russia Joint Agreement to Safeguard Europe Gas Supply
To prevent a repeat of last winter's crisis, the EU and Russia have agreed an early-warning system to inform Europe of any future disruptions in gas supplies. Photo by BGNES
The European Union and Russia have agreed to adopt an early warning system to prevent a repeat of past disruptions of gas supplies to Europe.
The system is intended to shield Europe from potential cuts in supply, and to protect consumers in the event of any severe disruption.
"An energy crisis like the one the EU suffered in January (2009) is harmful for supply, transit and consuming countries alike," EU Energy Commissioner Andris Piebalgs said after signing the agreement with Russian Energy Minister Sergei Shmatko.
This was a reference to the Russia-Ukraine dispute, where supplies to Europe were severely disrupted for almost three weeks when Ukraine failed to pay for its supplies. Bulgaria was particularly badly affected, as it is almost entirely dependent on Russian gas sources.
The agreement comes as fears are growing that the dispute could be repeated this January, when Ukraine holds presidential elections. Ukrainian Prime Minister Yulia Tymoshenko said the country had struggled to pay its latest monthly gas bill to Russia.
In a longer-term related development, Moscow last week ordered oil companies to use "up to 95%" of the gases associated with petroleum extraction.
President Dmitry Medvedev highlighted the flaring of gas extracted alongside oil as an outstanding example of ineffective use of energy resources.
Apart from the negative environmental impact, he said, the inefficient practice "sends tens of billions of roubles up in smoke".
The amount currently 'flared' in western Siberia alone – some 20 B cubic meters – is the equivalent of one-third of the projected annual capacity of the South Stream pipeline project.
energia.gr: Russia Agrees To Tougher Emissions Target

European Commission President Jose Manuel Barroso Wednesday said Russia had committed itself to steeper cuts in greenhouse gas emissions than previously agreed, a move that comes only three weeks before international climate change talks in Copenhagen.

"I very much welcome the signal from President [Dmitry] Medvedev today on the proposed emission reduction target of 25%. This is very encouraging," Barroso said, speaking to reporters after an E.U.-Russia summit in Stockholm.

In a statement issued after the talks, Barroso put the commitment to lower emissions 20%-25% by 2020 from the level in 1990.

Russian Ambassador to the EU, Vladimir Chizhov, said in a conference call that Russia's cuts to its CO2 emissions could be between 22% and 25% by 2020.

"What was stressed in particular at the summit was the need to engage the private sector," the ambassador said.

Swedish Prime Minister Fredrik Reinfeldt said the parties were in agreement on a maximum 2 degree Celsius increase in temperature and the need for further reductions of harmful emissions to achieve it.

"Russia is one of the world's greatest emitting countries, so it has an important role to play if the world is to reach a climate agreement in Copenhagen," Reinfeldt said. "We also agreed that we should stick to the CO2 target of reducing CO2 emissions by 20%," he added.
energia.gr: Hungary's Strategic Gas Supply Enough For 45-50 Days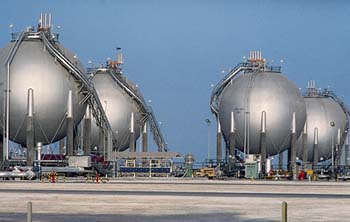 Hungary's strategic natural gas reserves are being filled up and would provide 45-50 days supply, if needed, at a daily consumption of 20 million cubic meters, the energy minister said Wednesday.

"Hungary's strategic natural gas reserves currently total 900 million cubic meters and will reach the full 1.2 billion cubic meter capacity by Dec. 31," Peter Honig, minister of transport, telecommunication and energy, said at a press conference Wednesday.

Gas is the source of 40% of Hungary's total energy supply, and 80% of that gas is imported from Russia via a pipeline through Ukraine. Hungary has experienced several serious disruptions in its Russian gas supply because of disputes between Russia and Ukraine.
Eurasia Daily Monitor: Ukraine Relying on IMF Payments for Russian Gas Purchase
By: Pavel Korduban
Ukraine finds it increasingly difficult to survive without money from the International Monetary Fund (IMF). The country paid Russia for October's gas deliveries with IMF funds and the same means will be used for November's gas deliveries. However, the IMF did not disburse the fourth $3.8-billion tranche of its $16.4-billion loan to Ukraine in mid-November because of the government's populist policies (EDM, November 4). This means that Ukraine may not receive more IMF money until after the presidential elections in January and February, and consequently it is unclear where it will find the money to pay for Russian gas in early 2010. The debt-ridden Naftohaz Ukrainy state-run oil and gas behemoth ran out of money long ago. There are fears that the situation in early 2009, when gas deliveries to Europe via Ukraine were stopped for two weeks over a pricing dispute between Russia and Ukraine, may be repeated.
It was feared that Ukraine would be unable to pay even for October and the head of the European Commission (E.C.) –the European Union's executive arm– Jose Barroso telephoned President Viktor Yushchenko and urged him to pay for the gas. Fearing that Ukraine's failure to pay for the gas could affect gas transit to the E.U., Barroso said in clear terms that European consumers should not suffer because of Ukraine. Yushchenko assured Barroso that Ukraine would pay from the $2 billion that it received in accordance with its share in the IMF in August and September as a result of a one-off distribution of the IMF's funds (UNIAN, November 5). Ukraine transferred to Gazprom $480 million from the IMF money on November 6, several hours before the deadline for payment (Channel 5, November 6).
Ukrainian Deputy Prime Minister Hryhory Nemyrya admitted in his November 9 interview to Channel 5 that Ukraine may find it difficult to pay for December's Russian gas deliveries in early January 2010 if the IMF does not release the fourth tranche in 2009. Nemyrya said he feared a repetition of the January 2009 crisis. He stated that Kyiv will most likely use the IMF's funds received in September in early December to pay for November deliveries, but he admitted that it is uncertain how Ukraine would pay in January. President Yushchenko's aide Oleksandr Shlapak shared Nemyrya's view point. Also speaking to Channel 5, he said that Ukraine cannot pay for gas in December and January without the IMF's assistance.
While admitting that the payment to Gazprom due in early January may be delayed, Yushchenko's administration pretends that it does not see any link between this and transit to Europe. This means that Ukraine will blame Russia for any transit disruptions again, like in January 2009 when gas bound for transit was used by Ukrainian consumers after Russian deliveries were halted. Yushchenko's energy aide Bohdan Sokolovsky dismissed Moscow's warnings that transit to the E.U. may be disrupted because Ukraine has no funds to pay for gas. He said Ukraine had accumulated enough gas in underground storage facilities to last over winter and its gas transit network is fully operational. He also warned that Naftohaz faces fines of up to $8 billion for buying less gas in 2009 than stipulated by contracts with Gazprom (Interfax-Ukraine, November 9).
The fines, added to a $4-billion hole in Naftohaz's 2009 budget according to Yushchenko's estimates (Ukrainska Pravda, November 12), would bankrupt Naftohaz. However, Yushchenko may be exaggerating Naftohaz's problems as Kommersant-Ukraine reported on November 11, citing documents of the Ukraine-Russia commission for fuel and energy, that the fines should not exceed $1.8 billion. Prime Minister Yulia Tymoshenko flatly dismissed Yushchenko's warnings about such fines. She reiterated that Russia would not fine Naftohaz and she recalled that Russian Prime Minister Vladimir Putin had "firmly promised" this. Putin has "not once let us down whenever we agreed on something," she noted (Interfax-Ukraine, November 14). Gazprom Deputy CEO Aleksandr Medvedev confirmed that Gazprom would not fine Naftohaz because of the difficult financial situation in Ukraine. Nonetheless, he noted that Gazprom formally retains the right to fine Naftohaz (UNIAN, November 15).
Naftohaz may face fines not only from Gazprom, but also from RosUkrEnergo, a joint venture between Gazprom and businessman Dmytro Fitash which was banished from the Ukrainian market in January 2009. RosUkrEnergo's 11 billion cubic meters of gas, which had been kept in Ukraine's underground storage, became Ukrainian property in early 2009 according to agreements between Gazprom and Naftohaz. RosUkrEnergo sued Naftohaz for $8.26 billion in damages (Vedomosti, November 16).
Tymoshenko will discuss gas issues with Putin at the CIS summit in Crimea on November 19. Irrespective of the outcome of their talks, it is clear that only the continuation of cooperation with the IMF will enable Ukraine to pay for gas. "But without fruitful cooperation between Ukraine and the IMF, it would have been impossible to live through this year," Tymoshenko admitted in her recent meeting with foreign ambassadors (Ukrainska Pravda, November 11). In order to receive the fourth tranche, the cabinet will have to revise its unrealistic 2010 budget bill, and increase domestic gas prices to ease pressure on Naftohaz's budget while parliament and Yushchenko avoid increasing wages and pensions beyond the limits agreed with the IMF.