Bursa: ANRE: Producătorii de gaze sunt liberi să îşi stabilească preţul de vânzare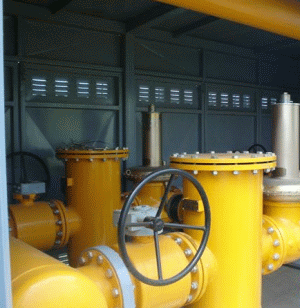 Acesta rezultă în urma negocierilor cu furnizorii şi distribuitorii şi este valabil inclusiv pentru piaţa reglementată
Preţul gazelor naturale din producţia internă nu este reglementat de ANRE, ne-au declarat oficialii Autorităţii, adăugând că activitatea de producţie nu este cuprinsă în segmentul reglementat al pieţei. "Preţul de producţie al gazelor naturale din producţia internă este stabilit de către producători. Conform legislaţiei în vigoare, preţul gazelor din producţia internă, recunoscut de ANRE în calculul preţului final la consumatori, este preţul stipulat în contractele comerciale încheiate pe piaţa gazelor naturale, în mod liber şi pe bază concurenţială", ne-a explicat conducerea ANRE.
Acest lucru înseamnă că, dacă producătorii interni de gaze (Romgaz şi Petrom) se hotărăsc să ridice preţurile de vânzare, ANRE nu face decât să constate că facturile prezentate de operatori sunt mai mari şi va modifica tarifele reglementate în consecinţă. ANRE are, însă, un cuvânt de spus în tarifele reglementate pentru distribuţie, furnizare, transport şi înmagazinare.
Deşi nu declară oficial, reprezentanţii ANRE sugerează, în răspunsul oferit ziarului BURSA, că preţul gazelor nu depăşeşte echivalentul a 160 de dolari/1.000 mc pentru că producătorilor nu li se oferă mai mult la masa negocierilor cu furnizorii, în contextul crizei şi al scăderii consumului.
Surse din piaţa de energie susţin că, până în 2008, ANRE făcea o recomandare anuală de preţ pentru producătorii interni de gaze. De la începutul lui 2008, nu a mai făcut acest lucru, iar preţurile de vânzare a gazelor au rezultat în urma negocierii libere dintre furnizori şi producători. Din 2008 şi până în prezent, nu au avut loc modificări ale tarifelor solicitate de producătorii interni de gaze.
Preţul reglementat al gazelor diferă, dar nu cu mult, între distribuitorul care operează în nordul ţării (E.ON Gaz) şi cel care este în sud (GDF Suez Energy), tocmai ca rezultat al negocierilor, dar şi a costurilor diferite cu distribuţia şi investiţiile.
În 2006, Petrom a majorat preţul gazelor din producţia internă. Acest lucru a creat un imens scandal naţional, riposta conducerii ANRE de atunci, care a considerat majorarea nejustificată, şi oprobiul public împotriva producătorului. Acest scandal s-a stins aşa cum s-a aprins, iar ANRE a majorat preţul reglementat al gazelor, recunoscând în tarif scumpirea operată de Petrom.
Iată că, de vreo doi ani, preţul gazului ca marfă este stabilit, liber, în urma negocierilor operatorilor de pe piaţă, în funcţie de cerere şi ofertă. Şi nu s-a modificat. Mărul discordiei dintre operatorii de pe piaţa gazelor şi ANRE a fost reprezentat, în ultimii ani, de preţul gazelor importate, care a cunoscut fluctuaţii semnificate în sus şi în jos, în perioada 2008 – 2009 inclusiv. Operatorii au considerat că ANRE nu a acoperit, prin tarif costurile cu achiziţia gazelor importate.
Criza a ieftinit semnificativ, anul trecut, gazul importat, care acum este pe un trend uşor de creştere. Aşa că din nou discutăm despre majorări de preţ, alinieri de tarife, liberalizarea completă a pieţei. Un "vânt" de scumpire bate şi dinspre "Petrom", al cărui director general executiv, Mariana Gheorghe, a declarat, recent: "ANRE reglementează un nivel de preţ la gaze care, prin lege, este liberalizat, încălcând, astfel, principiile economiei de piaţă. Avem de-a face cu o discriminare între producătorul local şi cel de la care România importă gaz".
Domnia sa a criticat ANRE pentru că nu permite liberalizarea preţului la gazele produse intern, susţinând că producătorii autohtoni sunt discriminaţi în raport cu cei de la care România importă gaze. Majorarea preţului ar aduce Petrom o parte din lichidităţile necesare pentru investiţiile programate în dezvoltarea companiei, în condiţiile în care preţul gazelor produse intern reprezintă abia jumătate din preţul la care cumpără România din afară. Petrom a programat investiţii anuale de peste şapte miliarde de euro în următorii cinci ani.
Vocea Rusiei: Nord Stream a primit finanţare
Foto: RIA Novosti
Pentru construirea gazoductului Nord Stream s-a alocat un credit în valoare de 3,9 miliarde de euro, s-a comunicat, astăzi, la Londra. La sfârşitul anului 2010 se plănuieşte obţinerea a încă unui credit de 2,5 miliarde de euro pentru finanţarea construirii celei de-a doua conducte paralele.
În interviul acordat "Vocii Rusiei", preşedintele Asociaţiei Băncilor Ruseşti, Gareghin Tosunian, a explicat că această decizie va asigura proiectului stabilitate financiară."Este un fenomen normal ca proiectele de mare anvergură să fie cofinanţate într-o anumită proporţie de proprietarii proiectului şi de un cerc larg de creditori. Creditarea comună asigură o finanţare stabilă, totodată diversificarea riscurilor între creditori Şi lucrul cel mai important – controlul colectiv asupra realizării proiectului".
Lungimea conductei va fi de 1223 km, ea va trece pe sub Marea Baltică şi va uni Rusia ( Vâborg) şi Germania (Greifswald).
Acordul încheiat la Londra asigură construcţia primei conducte care trebuie să înceapă în aprilie anul curent şi se va încheia în 2011.
Compania Nord Stream a cheltuit peste 100 milioane euro pentru cercetările ecologice ate traseului conductei.
Ţinând cont de rezultatele lor, conducta nu va trece prin locurile unde au fost îngropate muniţiile din timpul celui de-al Doilea Război Mondial. Conducta va ocoli 12 nave vechi care se află pe fundul Mării Baltice. Ele vor rămâne acolo ca monumente istorice.
Nord Stream garantează asigurarea cerinţelor de gaz ale Europei şi nu va deveni o ameninţare, inclusiv din punctul de vedere al ecologiei.
RIA Novosti: Ukraine looks to make gas transport system more competitive
Ukraine is seeking to modernize its gas transportation system to make it more competitive, Prime Minister Mykola Azarov said on Tuesday.
"The building of gas piping routes skirting Ukraine is a fact, so we realize that only extensive modernization… will make our truly reliable route competitive," he said during a meeting with Jose Manuel Pinto Teixeira, the European Commission's ambassador to Ukraine.
Azarov said Ukraine would negotiate with the European Bank for Reconstruction and Development and the World Bank on cooperation in the implementation of infrastructure and investment projects.
He added that Ukraine would have to raise at least $15-20 billion for such projects.
In March 2009, Ukraine's previous government led by Yulia Tymoshenko signed a declaration with the EU on the modernization of its gas transportation system, a project which would not have involved Russia. However, Kiev and Brussels subsequently said they would be happy to see Moscow take part.
The new Ukrainian government is seeking closer cooperation with Russia, in particular in creating a gas transport consortium to operate the national gas transportation system.
RIA Novosti: Nord Stream secures funding for Russia-backed Baltic pipeline
Nord Stream has secured 3.9 billion euros ($5.3 billion) in financing allowing it to start building a pipeline to pump Russian natural gas to Europe under the Baltic Sea, The Financial Times reported on Tuesday.
The funds will come from 26 banks with loan guarantees secured for 80% of the financing from the Italian and German credit agencies Sace and Hermes, the paper said.
Paul Corcoran, Nord Stream's chief financial officer, told the paper the pipeline now had everything in place to begin construction next month.
"Three years ago we had banks very prepared to loan 1bn or 1.5bn euros and to take the underwriting risk," he said, adding that today banks had to be much more careful with the little liquidity left to them.
The 1,220 km-long (758-mile) Nord Stream pipeline will eventually pump 55 billion cubic meters of gas per year to Western Europe, bypassing traditional transit nations.
Nord Stream will have two pipelines, each with a capacity of 27.5 billion cubic meters a year, on the Baltic Sea floor stretching from Russia's Vyborg near the Finnish border to Greifswald on Germany's coast.
The amount of 3.9 billion euros represents 70% of the cost of the project's first phase, which should see the first gas being transported along the line by the end of next year, helping Russia avoid Ukraine, the transit country with which it has had fierce pricing disputes over the past several winters, the paper said.
The remaining 30% of the costs, some 800 million euros ($1.1 billion), will be financed by the partners in Nord Stream's shareholders, which are Russian energy giant Gazprom with a 51% stake, German chemical group BASF/Winterhshall and utility E.ON Ruhrgas each controlling 20% and the Dutch energy group Gasunie with 9%, the paper said.
The project's total cost is estimated at 7.4 billion euros ($10.1 billion). Nord Stream intends later this year to seek financing for the second phase, which will double the pipeline's capacity to 55 bln cu m, the paper said.
RIA Novosti
: Iran to invest $200 bln in oil and gas sector in next 5 years
Iran plans to invest $200 billion in its oil and gas sector over the next five years to prevent a production decline and boost refining capacity, the trade journal Upstream reported Wednesday on its web site.
"For the next five years, we are now… planning seriously for investment of upstream and downstream [of] $200 billion investment," the U.S.-based newspaper quoted oil minister Masoud Mirkazemi as saying.
Mirkazemi said Iran's plans would not be affected by Western countries' sanctions against the Islamic Republic over its controversial nuclear program.
"Today, Iran has all the necessary technology," he was quoted by the paper as saying.
"If other countries are not interested in entering into negotiations and contracts, we do have Iranian companies that have this potential."
Given the depletion of existing oil and gas fields, the minister said the investments will "introduce a degree, a percentage of efficiency."
RIA Novosti: Gazprom starts drilling its first exploration well in Africa
Gazprom has started drilling its first exploration well in Africa in the El Assel onshore region in Algeria, the Russian energy giant said in a statement on Monday.
Under a contract signed with the Algerian National Hydrocarbon Agency (ALNAFT), Gazprom began drilling the Rhourde Sayah-2 well in the Berkine Basin in Algeria, the statement said.
The drilling is part of Gazprom's obligations in regard to the terms of a tender for hydrocarbon exploration and drilling of four wells on the El Assel onshore area, which was won by the Russian energy giant.
According to provisional estimates, the recoverable oil reserves of El Assel should average 30 million metric tons (220 million barrels). El Assel includes three blocks covering a total of 3,083 square kilometers (1,190 square miles).
Algeria's proven natural gas reserves account for 4.58 trillion cubic meters and are the second largest in Africa after Nigeria (5.15 trillion cubic meters). The bulk of the country's natural gas reserves are concentrated in the central and eastern parts of the country.
The country's proven oil reserves amount to 1.58 billion tons (11.6 billion barrels) and are the third largest in Africa after Libya and Nigeria.
Gazprom intends to complete the drilling of the first exploration well in June 2010 and the other three over the next two years, the statement said.
Novinite: Russia Lacks Oil for Burgas-Alexandroupolis Pipe – Report
Transneft CEO Nikolay Tokarev has complained of lack of oil for Russia's trans-Balkan pipeline. Photo by lenta.ru
Russian companies appear to be in lack of enough oil in order to fill the Burgas-Alexandroupolis oil pipeline, according to Moscow newspaper Vedomosti.
The CEO of Transneft, Nikolai Tokarev, complained to the Russian Deputy PM Igor Sechin in a letter from September 2009 that there was not enough oil for the planned pipeline in Bulgaria and Greece, the Vedomosti has reported claiming to have a copy of the letter.
Tokarev is said to have pointed out that the actual economic benefits from the project will become clear only after its completion, and that it is geopolitical rather than an economic endeavor.
The Russian participants in the project, Rosneft and Gazprom Neft, want to clarify the economic issues such as the transit fee, and state they do not have sufficient amounts of oil for the pipe, Tokarev says in his letter to Sechin.
The 280-km pipe from Bulgaria's Burgas to Greece's Alexandroupolis is supposed to start operating in 2014, and to transport 35 million tons of oil annually.
The project has been stalled for years after the initial agreement between Bulgaria, Russia, and Greece in 1995.
The Vedomosti paper cites a representative of Russia's Energy Ministry as saying that there are still no guarantees for the realization of the project, and that Russia is expecting the decision of the Bulgarian government which made its participation conditional on the environmental assessment expected in a few months.
According to an unnamed source close to the Russian oil companies, Gazprom Neft can provide no more than 3 million tons of oil for transit through the pipe.
The Vedomosti stresses the expected new political difficulties – the potential construction of the Samsun-Ceyhan pipeline in Turkey.
An analyst of the Bank of Moscow, Denis Borisov, is quoted as saying that Transneft is building two other oil pipelines, and there was no way it could provide enough oil for all pipes. In order to fill all of its planned pipelines, the company will have to increase the oil extraction by 30% compared to 2009, which will be very hard to achieve.
Another analyst, Alexander Ershov, has commented that oil from Kazakhstan will be sufficient to fill either Burgas-Alexandroupolis, or Samsum-Ceyhan, depending on which one is more competitive in terms of prices.
The paper explains that experts cannot provide a forecast of the future transit fees for Burgas-Alexandroupolis, and that it is still unclear how it will be funded, and when it is expected to start making profit.
The Vice-President of Transneft, Mikhail Barkov, has stated the tonnage of the tankers going through the Bosphorus Straits will have to be decreased from 140 000 down to 60 000 in order to guarantee that Burgas-Alexandroupolis and Samsun-Ceyhan will generate profit.
A representative of Transneft, Igor Demin, has described the letter obtaioned by the Vedomosti paper, signed by the company head Nikolai Tokarev, as resulting from "the imagination" of the paper's correspondent.
energia.gr: Trans Adriatic Pipeline Submits Application for Inclusion in the Rete Nazionale Gas (RNG) Grid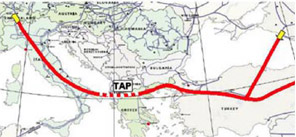 The Trans Adriatic Pipeline AG (TAP) has made another significant step in its progress of the TAP project and submitted its official application to the Italian Ministry of Economic Development in Italy for inclusion in the Rete Nazionale Gas (RNG) Grid. Once the request is granted, TAP will be officially registered as an interconnector to the Italian gas network with 15km of onshore pipeline in Puglia from Brindisi to Mesagne. This will accelerate TAP's progress in Italy .
The request for inclusion in the Rete Nazionale Gas will be followed by a detailed study of the Environmen-tal, Social Impact Assessment which will make use of the extensive stakeholder engagement program con-ducted in theBrindisi area in 2009. Once the inclusion is granted, TAP will benefit from the processing of all applications and permits in Italy by the central and local governments.
Paul Pasteris, Applications Manager, Italy said: " This is a significant step forward for TAP in Italy and one of many steps that the organization is preparing for. The TAP team would like to thank the Ministry of Eco-nomic Development in Italy for its co-operation, support and participation in this application process and we look forward to the continued close co-operation with all the relevant authorities in Italy in making TAP a successful project"
Eurasia Daily Monitor: Gazprom's Partner ENI Loses Confidence in South Stream
Italy's ENI chief executive, Paolo Scaroni, has proposed unifying the Gazprom-led South Stream with the European Union-backed Nabucco pipeline project. The Italian state-controlled energy conglomerate ENI is the key technological and commercial partner to Gazprom in South Stream, the project aimed at transporting gas from Russia across the Black Sea to Europe.
In his remarks to a Cambridge Energy Research Associates forum in Houston (Bloomberg, March 9; Platts Commodity News, March 10), Scaroni called for a partial merger of the South Stream and Nabucco pipeline routes. He identified the segment where the two planned routes overlap, which runs overland from Bulgaria to Austria. However, the Nabucco consortium has clearly defined its pipeline route (Bulgaria-Romania-Hungary-Austria) and has already commissioned the engineering work on it, whereas Gazprom has avoided both.
Circumstantial indications suggest that a further option of "unifying" Nabucco and South Stream is also under consideration. This would shift Nabucco's Turkish section from land to the seabed of the Black Sea, where ENI holds the technological lead.
ENI's CEO would like to see South Stream combined with Nabucco in "one large project." Scaroni portrays the two projects as complementary, rather than competing against each other. He argues that a partial merger of the two projects would reduce investments in construction and the subsequent operating costs, as well as increase the prospective financial returns overall.
Scaroni's call reflects a loss of confidence in South Stream's chances to materialize in the new global and regional market environments, which are now taking shape. It also confirms diminishing confidence in Gazprom's capacity to supply all of its giant pipeline projects, including South Stream, with gas during the post-crisis years. Finally, the merger proposal is a response to the Nabucco project's recent advances, contrasting with South Stream's stagnation at all levels, other than Kremlin promotional activities and playing various potential transit countries against each other.
In effect, ENI seems to be attempting to downscale its commitment to South Stream and to devise a creative way for joining Nabucco, the likely winner. The argument that the two projects are complementary, rather than rivals, is a familiar disclaimer in situations that denote genuine competition.
ENI is a sine qua non participant in the Gazprom-led South Stream. It provides the technology (which Gazprom lacks) for laying the pipeline on the seabed of the Black Sea, and is the main potential customer for Gazprom's gas through the southern branch of South Stream, which is planned to reach Italy. In the event of a South Stream-Nabucco unification as just proposed, however, northern Italy can receive gas via the unified pipeline from Central Europe, even in the increasingly likely event that South Stream's own branch to southern Italy fails to materialize as intended.
Whether ENI has aired the South Stream-Nabucco unification proposal on its own, or in coordination with Moscow officials is unclear. Moscow's public position remains one of confidence that South Stream can prevail against Nabucco. This posture ignores the ongoing, market-transforming processes. It also seeks to delay the moment when Russia's gas shortfall will no longer be hidden by the recession-induced demand slump. Moscow's declarative confidence in South Stream may well be about to change behind the scenes.
The reasons behind ENI's declining confidence in South Stream seem easily discernible. They are both circumstantial and structural, both internal and external to the South Stream project itself.
The Russian-declared cost of the South Stream overall project has ballooned to 25 billion Euros, as confirmed most recently in Moscow to Croatia's visiting Prime Minister Jadranka Kosor (Vjesnik [Zagreb], March 9). No financing is in sight, or imaginable, on anything approaching this scale. Russian attempts through certain German, and indeed Italian circles, to obtain some seed funding from the EU for South Stream have failed. The EU's new Energy Commissioner, Guenther Oettinger, has ruled out EU financing for South Stream while announcing their release of initial funding for Nabucco.
Russian officials have never identified a source of gas for South Stream in their multiple negotiations with potential customer and transit countries. The often-quoted capacity figure of 63 billion cubic meters annually is only remotely imaginable with Turkmen gas. When ENI joined South Stream in 2007, it could still rely on a continued Russian monopoly on Turkmen gas to feed this pipeline project. That assumption was shattered in Turkmenistan in 2009, however; and ENI, as Gazprom's key partner, seems to be drawing its own conclusions and seeking an alternative to the South Stream project. That alternative seems to be piggybacking on Nabucco.
Eurasia Daily Monitor: South Stream: a Casualty of Moscow's Excess Pipeline Capacity Building
Like all parties involved with South Stream, ENI must rely on the new Ukrainian President Viktor Yanukovych agreeing to share control of Ukraine's gas transit system with Moscow. In that case, Gazprom would no longer need South Stream as a Ukraine-bypass option, which Moscow had brandished all along to pressure Kyiv into ceding control of the transit system. Moreover, Gazprom would have to commit to full use of the Ukrainian system as part of the bargain with Kyiv, instead of shifting volumes from the Ukrainian system into South Stream, as the scenario had envisaged.
Furthermore, an investment decision in Russia's supergiant Shtokman gas field has recently been "postponed" (or possibly abandoned), further constricting Russian gas export potential in the years ahead. This also affects South Stream directly, placing it in competition with Nord Stream and other Russian pipeline projects, all now reliant on Siberian gas in limited availability. Shtokman's postponement has left Nord Stream –the Baltic seabed pipeline to Germany– without any source of gas for the project's second stage. While Nord Stream One has Siberian gas earmarked for it, putatively at 27.5 billion cubic meters (bcm) per year, Nord Stream Two was planned to be fed to the same annual capacity from Shtokman in the Barents Sea. Instead, Nord Stream Two, as well as South Stream ,would have to draw on Siberian gas, where the shortfall looms.
Thus, apart from the undeclared rivalry with Nabucco, the South Stream project has entered an undeclared competition with Nord Stream Two, the Ukrainian transit system, and even the Blue Stream pipeline (which ENI built for Gazprom earlier on the seabed of the Black Sea to Turkey, and is only being used at one half of its 16 bcm annual capacity). All of these projects, existing or virtual, must vie for access to gas supplies from western Siberia, even as those fields move past their peak, while Russian domestic demand recovers.
It would be logical to anticipate that the Italians would lobby in Moscow for South Stream and against Nord Stream Two. It also seems logical that Moscow might prioritize its German, French, and Dutch customers in Nord Stream, ahead of the South Stream project. South Stream cannot count on the strong political lobbying at state levels that helps drive Nord Stream forward.
South Stream seems to have resulted in a no-win situation at this point. Ultimately, these insoluble dilemmas stem from the Kremlin's pre-crisis policy to build export pipeline capacities in vast surplus, compared with Russia's own export potential. South Stream and other projects are the fruits of that policy. It was wrongly premised on continuing Russian monopolization of Central Asian gas; European consent to high-priced, take-or-pay long-term commitments to Russian-delivered gas; predatory acquisitions of infrastructure assets in consumer countries; and, as an intent, a Russian-led cartel of gas exporters to Europe. Both Dmitry Medvedev (Gazprom chairman, then head of state) and Vladimir Putin (head of state, then prime minister) are closely associated with that policy.
Failure to invest in Russian field development (apart from Siberia's east and far east) and loss of Gazprom's dominance in Turkmenistan have left South Stream without dedicated resources. Market-transforming processes in Europe, through the surge of LNG and spot markets, have left South Stream behind both in a non-competitive position and as an unappealing investment prospect. Like Nord Stream in some ways, the South Stream project is rooted in the invalidated assumptions of past years.
ENI's proposal to unify South Stream with Nabucco could provide a lifeline for the South Stream project, serving ENI's corporate interest as well as Russia's strategic advantage in Europe. Meanwhile, however, Moscow affects a lack of interest in such unification. Following Paolo Scaroni's proposal, Russian Foreign Minister, Sergei Lavrov, and Energy Minister, Sergei Shmatko, have reasserted Moscow's full confidence in South Stream and its resolve to press ahead with it. These responses did not even allude to ENI as such. As Russian officialdom has done all along, Lavrov and Shmatko each made self-contradictory arguments: that South Stream and Nabucco are not in competition against each other, but that South Stream is in a far stronger position to succeed, compared with Nabucco. For its part, Gazprom acknowledged –but downplayed– ENI's proposal. Gazprom spokesman, Sergei Kupryanov, parried that Scaroni was merely trying to demonstrate that South Stream and Nabucco are not rivals (Interfax, March 14, 15, 16).
In a far more nuanced position, Russian Gas Society President Valery Yazev (who also lobbies for Gazprom as a senior Duma deputy), has suggested that the proposed South Stream-Nabucco unification "is worth considering" and "could make sense" from Moscow's standpoint. In that event, Yazev said, Turkmen gas would be supplied through the planned Caspian Littoral pipeline and existing pipelines to Russia's Black Sea coast and then pumped into South Stream on the seabed of the Black Sea. Thus, South Stream-Nabucco unification would "add a branch [Nabucco] to our South Stream" in Europe and "solve the problem of filling the pipeline with Russian and Turkmen gas," Yazev pointed out. His statement entreated West European companies in the Nabucco project to cooperate in unifying it with South Stream (ITAR-TASS, March 14).
While Moscow's political officials affect lack of interest for reasons of prestige (as some Western policymakers assume) or play hard to get (as seems more likely), Yazev has spelled out Russian interest in a possible unification of the two projects, depending on terms to be negotiated. Unification could perhaps rescue some downscaled version of South Stream, but only at the expense of the Nabucco project and of European energy security. Considering its recent and continuing advances, Nabucco does not need South Stream in order to succeed.
Eurasia Daily Monitor: Russia and Kazakhstan Consider Reviving Bilateral Trade
Moscow and Astana have reiterated their earlier pledges to boost bilateral economic and energy partnership. However, the two former Soviet states have proved slow to complete existing energy projects, while bilateral trade has also declined. During a meeting in Moscow, between Russian Prime Minister, Vladimir Putin, and his Kazakh counterpart, Karim Masimov, Putin argued that bilateral trade was down at around $13 billion in 2009 due to the global economic crisis.
In 2008, trade between Russia and Kazakhstan amounted to $20 billion. Nonetheless, Putin urged the further development of bilateral trade and noted that Kazakhstan remained Russia's third largest post Soviet trade partner. In 2009, Russian exports to Kazakhstan amounted to $9.15 billion, according to Russian customs statistics. Therefore, Russia continued to enjoy a healthy trade surplus as Kazakhstan's exports to Russia only reached $3.68 billion.
In response, Kasimov pledged to develop bilateral energy cooperation, notably Kazakh electricity sales to Russia. He also suggested boosting ties in the nuclear industry and space sectors (Interfax, ITAR-TASS, RIA Novosti, March 3). However, no agreement was announced on earlier plans to create a joint nuclear power company.
Meanwhile, in the immediate aftermath of the talks between Putin and Masimov, Russian and Kazakh utility entities moved to intensify cooperation. On March 5, the Russian energy ministry said that Russian and Kazakh energy companies including Inter RAO UES, FSK UES and KEGOC, had agreed to finalize and sign by March 15, an agreement on electricity sales until 2013 (Interfax, ITAR-TASS, March 5).
In September 2009, Russian President, Dmitry Medvedev, and his Kazakh counterpart, Nursultan Nazarbayev, pledged to develop the bilateral energy partnership, and agreed to create a joint company to implement civilian nuclear power projects. Medvedev suggested integrating the power supply systems of both countries, while Nazarbayev promised to increase electricity supplies from Kazakhstan to Russia's Siberian regions to help tackle power shortages in the aftermath of the Sayano-Shushenskaya hydropower plant disaster in August 2009.
Moscow sent an economic delegation to Astana ahead of the meeting between Putin and Masimov. On March 2, Masimov met Russian Deputy Prime Minister, Igor Shuvalov, in Astana. During his Central Asian tour, Shuvalov pledged to contribute to energy projects in the region (Interfax, ITAR-TASS, March 2). However, in their official statements, Putin and Masimov made no mention of two major bilateral projects: the Orenburg gas plant and the Caspian Pipeline Consortium (CPC).
In March 2005, Russian gas giant Gazprom first announced its plan to set up a joint venture with Kazakhstan's state-owned company KazMunaiGas to process at Orenburg gas plant the natural gas from the Karachaganak field, near the Russian border in northwestern Kazakhstan. In December 2007, KazMunaiGaz stated that it expected the creation of the Orenburg joint venture by mid-2008. In September 2009, Russian officials insisted that the Orenburg gas processing plant would process 17.6 billion cubic meters (bcm) of Kazakh gas annually by 2012.
However, also last September, Kazakh officials argued that Gazprom's joint venture with KazMunaiGas to process natural gas at Orenburg might be further delayed due to the development of the Karachaganak gas field taking longer than expected. The venture's future was expected to be clarified by the end of 2009, but subsequent bilateral meetings failed to issue any clarification, and five years after the original announcement, the final joint venture deal remains elusive.
During the meeting in Moscow on March 3, both sides also failed to address bilateral cooperation in the CPC which owns the Baku-Novorossiysk pipeline. The CPC has been operating at relatively low rates, partly due to Kazakhstan's reluctance to commit more crude oil to the pipeline.
In April 2006, Moscow and Astana agreed to more than double crude oil deliveries via the CPC from 28 million tons per year in 2005. In May 2008, they agreed to increase the capacity of the CPC from 32 million tons per year to 67 million tons per year by 2012. Moscow has long urged Nazarbayev to agree to a long-term deal, under which Kazakhstan would commit to exporting more crude oil via Russian pipelines. However, a binding oil transit deal between both countries has also failed to materialize.
Furthermore, Astana has repeated its interest in alternative pipeline routes. On March 2, following talks in the Kazakh capital with the Romanian President, Traian Basescu, Nazarbayev suggested creating a new route through Azerbaijan and Georgia to the Black Sea in order to funnel Kazakh oil from the giant Kashagan field to Romania by tanker, delivered from the Black Sea port of Constanta to Trieste in Italy (Interfax, RIA Novosti, March 2).
The new route would serve as part of the EU-supported international transport program: Transport Corridor Europe-Caucasus-Asia (TRACECA). Therefore, Kazakhstan has apparently sought to limit its dependence on Russian oil pipelines. Subsequently, energy and oil transit deals between Russia and Kazakhstan continue to prove elusive.