EVZ: Statul nu poate ieftini căldura
Încălzirea ne costă mai mult decât media UE din cauza lipsei banilor pentru investiţii.
Căldura îi costă pe români cu aproape o cincime mai mult decât pe ceilalţi europeni. Potrivit unui studiu publicat, ieri, de compania de consultanţă A.T. Kearney, consumatorii din România plătesc în medie cu 18% mai mult pentru energia termică în sistem centralizat, din cauza operaţiunilor ineficiente ale companiilor care asigură acest serviciu.
Mai mult, nici autorităţile centrale nu au făcut nimic concret pentru a rezolva această problemă. Programul guvernamental pentru termoficare 2006-2009 a fost extins, anul trecut, din lipsă de bani şi de proiecte depuse, până în 2015. Acest program include atât reabilitarea termică a clădirilor, cât şi reabilitarea sistemului centralizat de încălzire termică.

Promisiuni neonorate

La finele lunii mai, premierul Emil Boc aducea în discuţie o nouă variantă pentru modernizarea centralelor termice, care ar duce automat la scăderea preţului pentru consumatori. "Soluţia este un împrumut extern de câteva miliarde de euro, care să se focalizeze pentru modernizarea acestor centrale. Cred că aici trebuie să fie o decizie curajoasă a guvernului", declara şeful guvernului, la acel moment. El a declarat că o asemenea investiţie masivă va fi recuperată în circa zece ani, prin economiile rezultate din asigurarea sursei energetice.
În România, gigacaloria costă 60 de euro, deşi avem un produs
intern brut (PIB) pe cap de locuitor de 6.334 de euro. Nemţii plătesc acelaşi preţ pentru căldură, deşi au un PIB/cap de locuitor de aproape cinci ori mai mare, arată studiul A.T. Kearney. În Finlanda, gigacaloria costă 59 de euro, în condiţiile în care PIB/cap de locuitor este de 35.094 de euro.
Danezii, care au un PIB/cap de locuitor de 6,5 ori mai mare decât al nostru, plătesc 52 de euro pe gigacalorie. Şi mai puţin îi costă încălzirea pe lituanieni: 39 de euro gigacaloria, la un PIB/cap de locuitor de 9.582 de euro.
Potrivit A.T. Kearney, subvenţiile în preţul final al gigacaloriei acoperă aproximativ 48% din costurile totale de producţie, distribuţie şi furnizare. Energia
termică este produsă, la noi, în proporţie de 41% din cărbune, nivel similar cu cel european, şi 48% din gaze naturale
, faţă de 28% în statele UE. Cele mai multe companii care activează în acest sector înregistrează pierderi, doar cinci fiind profitabile, conform A.T. Kearney.
Ziare.com: Petrom, singura compania din Romania prezenta in topul Platts
Compania Petrom, parte din grupul OMV, este singura prezenta romaneasca din topul Platts al celor mai importante 250 de companii din domeniul energetic, regasindu-se pe pozitia 169.

Potrivit Platts, una dintre cele mai mari firme de consultanta si furnizare de informatii din domeniul energetic si al materiilor prime, Petrom are venituri de 5,158 miliarde de dolari si profituri de 745 de milioane de dolari, se arata pe site-ul Platts.
De asemenea, compania are active de 9,082 de miliarde de dolari si o profitabilitate a capitalului investit de 13,49 de procente.
Primele cinci pozitii se regasesc doua corporatii americane si trei europene. Astfel, primul loc este ocupat, pentru al cincilea an la rand, de ExxonMobil, cu venituri de 425,071 de miliarde de dolari si profituri de 45,220 de miliarde de dolari.
Chevron, de pe locul doi, a inregistrat o cifra de afaceri de 264,958 de miliarde de dolari si profit de 23,931 de miliarde de dolari, fiind urmata de Royal Dutch Shell, cu venituri de 458,361 de miliarde de dolari, respectiv profituri de 26,277 de miliarde de dolari. Top 5 a fost completat de British Petroleum si Total.
Clasamentul Platts este alcatuit in baza mai multor criterii, printre care cifra de afaceri, activele, profitul si rentabilitatea capitalului investit.
Romania Libera: Rezervele Romaniei de gaze si petrol vor fi epuizate in 15 ani, iar cele de carbune in 30 ani
Rezervele Romaniei de titei vor fi epuizate in 14 ani, cele de gaze naturale in 15 ani, in timp de rezervele de carbune pe baza exploatarilor existente se vor termina in circa 32 de ani, a declarat Alexandru Patruti, presedintele Agentiei Nationale pentru Resurse Minerale, citat de Agerpres.
"Pe baza accizelor actuale, rezervele de titei ne vor ajunge inca 14 ani, cele de gaze naturale
circa 15 ani in timp ce rezervele de lignit si huila vor ajunge inca circa 32 de ani", a spus presedintele ANRM.
Romania are la ora actuala rezerve de 755 milioane tone huila, 1,49 miliarde tone lignit si 74 milioane tone titei. Potrivit ANRM, in ceea ce priveste titeiul, productia va scadea in urmatorii ani cu circa 2,4 la suta pe an, iar la gaze naturale productia va scadea cu 2-5 la suta pe an.
"In ceea ce priveste reactoarele 1 si 2 ale Centralei de la Cernavoda, aceasta va asigura necesarul de energie pana in 2017", a spus Patruti.
Totodata, acesta a anuntat ca ANRM va scoate la licitatie, incepand din decembrie, circa 30 de perimetre de explorare cu o lungime de 30.000 de km patrati de petrol si gaze. Romania are o istorie de 150 de ani in exploatarea titeiului si de 100 de ani de exploatarea gazelor naturale, iar mixul energetic al tarii este format 40 la suta din carbune, 19 la suta din gaze naturale, 29 la suta energie hidro, 9 la suta nuclear si 3 la suta petrol.
standard.ro: Companiile de stat pun gaj drepturile de poluare, pentru bani de la bănci
Electrocentrale Bucureşti, cel mai mare producător de energie termică deţinut de stat, vrea un credit de 30 milioane de euro, pentru care pune gaj pe patru milioane de certificate de emisie de dioxid de carbon. Dacă titlurile ar fi tranzacţionate pe bursele externe, producătorul ar putea obţine imediat cel puţin 50 milioane de euro.
Din cauza datoriilor şi a creditelor angajate în anii trecuţi, Elcen nu are acces la alte finanţări. "În mod clar, certificatele de emisii sunt o cale eficientă de finanţare. Condiţia este să respecte parametrii consideraţi normali în pieţele financiare de profil", spune Matei Păun, managing partner BAC Investment. Radu Zaciu, country manager Deutsche Bank, spune că o astfel de variantă ar putea aduce companiei un credit mai ieftin decât în alte condiţii.
Dacă nu obţine creditul, Elcen va avea de ales între a vinde aceste drepturi sau a reduce producţia de electricitate şi energie termică. Producătorul bucureştean nu este însă singurul pentru care drepturile de poluare reprezintă singura mină de aur de care dispun companiile de stat din sectorul utilităţilor. "Am lansat anunţul şi aşteptăm până pe 26 noiembrie. Nu aveam altă variantă. Noi punem gaj aceste certificate, iar dacă în 28 februarie 2012 nu returnăm împrumutul, banca poate vinde aceste drepturi", a explicat pentru Business Standard Irina Duică, directorul financiar al companiei. Potrivit acesteia, compania a primit, prin Planul Naţional de Alocare al României, 26 milioane de certificate de emisii de noxe pentru perioada 2008-2012, din care se poate lipsi, până la 1 martie 2012, de patru milioane de certificate.
"Eu am un excedent de certificate, însă nu vreau să-l vând, pentru că nu ştiu cum va evolua cererea de energie în următorii ani, şi nu vreau să vând acum pentru a cumpăra mai scump în anii următori", explică reprezentantul Elcen. Producătorul spune că dacă, totuşi, nicio bancă nu va accepta această garanţie, o soluţie ar fi comercializarea certificatelor în plus. Certificatele de emisii de dioxid de carbon se tranzacţionează pe bursele externe. După un maxim de 30 de euro pe certificat în primăvara acestui an, acum acesta se tranzacţionează cu 13,5-14 euro.
Dacă ar vinde pachetul de patru milioane de certificate, Elcen ar obţine, imediat, cel puţin 50 milioane de euro. Surse din piaţa de intermedieri susţin însă că, la modul în care este conceput acum caietul de sarcini pentru licitaţie, Elcen are şanse zero să obţină împrumutul. "Din caietul de sarcini reiese că Elcen vrea să se împrumute la aceeaşi dobândă la care iau credit băncile mari ale lumii. Dacă refac caietul de sarcini şi se încadrează în parametrii normali pentru această piaţă, atunci s-ar putea să aibă şanse", susţin aceleaşi surse.
Nu toţi bancherii sunt însă de această părere. "Certificatele de emisii de dioxid de carbon reprezintă, în mod cert, cel mai important potenţial financiar de care dispune România. Eu, ca bancă, nu aş lua aceste certificate, pentru că nu au o valoare predictibilă. Dacă le-ar vinde, atunci am fi interesaţi, pentru că aceste certificate înseamnă bani curaţi", explică Marinel Burduja, prim-vicepreşedinte al Raiffeisen Bank.
Termoelectrica, un alt producător de energie controlat de stat, ar putea lua astăzi o decizie similară pentru a-şi acoperi o parte din necesarul de investiţii. "Aştept aprobarea din partea Consiliului de Administraţie. Avem nevoie de bani pentru investiţii, însă nu ştiu exact cum vom proceda. Noi nu avem excedent de certificate de dioxid de carbon, aşa cum au cei de la Elcen. De fapt, nu avem atât de multe certificate ca ei", a explicat ieri pentru Business Standard Constantin Ioaniţescu, directorul general al Termoelectrica. Deşi au nevoie de bani, complexurile energetice spun că nu se gândesc să se finanţeze nici apelând la garantare, nici prin vânzare. "Noi avem deficit de certificate, nu ne permitem, precum cei de la Elcen", spune, la rândul său, Gheorghe Daviţoiu, directorul Complexului Energetic Rovinari. "Garantarea este o soluţie disperată, care arată, în fapt, o lipsă cruntă de bani. Beneficiarul RADET nu îşi achită datoriile, termocentrala trebuie să producă, are nevoie de combustibil, aşa încât îşi amanetează viitorul", comentează analistul Jean Constantinescu. În opinia acestuia, banii din drepturi de emisii ar trebui direcţionaţi către investiţii, nu către consum.
Printre primele centrale care au decis să vândă drepturi de poluare pentru a face rost de lichidităţi s-a numărat CET Oradea. "În primăvară, am vândut vreo 500.000 de certificate, pentru 224 milioane de lei. Acum căutăm un broker de certificate, pentru un credit pe termen scurt, după modelul Elcen. Noi vrem lichidităţi pentru a putea trece iarna, în condiţiile în care consuma­torii încep să plătească abia spre primăvară", explică Dragoş Florian, directorul CET Oradea.
"Banca riscă dacă acceptă să garanteze un credit cu certificate, care au o valoare nepredictibilă. Îmi poate spune cineva mie, bancă, ce se va întâmpla cu aceste certificate peste trei ani, când mi-ar permite Elcen să le vând?", se întreabă retoric prim-vicepreşedintele Raiffeisen Bank, Marinel Burduja.
standard.ro: Nuclearelectrica sparge gheaţa pe bursa de energie şi semnează primele contracte pentru 2010
Producătorul de electricitate Nuclearelectrica "a dezmorţit" ieri bursa de energie administrată de OPCOM, la fiecare dintre cele două licitaţii organizate participând 12 traderi, iar preţurile de atribuire au urcat cu peste 7% faţă de nivelul de pornire.
Compania de stat a scos la licitaţie, cu livrare pentru anul viitor, două pachete de câte 20 MW "în bandă" (24 de ore), cerând minimum 160 de lei pentru un megawatt oră plus obligaţia cumpărătorului de a livra 100 MW, tot "în bandă", la preţul de 180 de lei pentru un megawatt oră pe o durată de maximum 400 de ore, în cazul opririlor neplanificate ale reactoarelor 1 şi 2 de la Cernavodă.
Primul pachet de energie a fost adjudecat de Electromagnetica, în schimbul a 174,99 lei pentru un megawatt oră, în plus cu 9,3% faţă de preţul de pornire. Cel de-al doilea pachet a fost câştigat de Elcomex EN pentru 171,42 lei pe megawatt oră, la un preţ mai mare cu 7,13% faţă de cel de pornire. La cele două licitaţii au participat, printre alţii, şi traderii Buzmann Industries, EGL Gas&Power România, Electrabel România, Enel Trade România, EFT România, RE Energie, Renovatio Trading, Rudnap. Următoarele licitaţii ale Nuclearelectrica sunt programate pentru 20 noiembrie.
EVZ: Ruşii au acceptat să zică din timp "Vă tăiem gazele!"
Pentru a nu fi prinsă nepregătită în cazul în care Gazprom va sista alimentarea cu gaze, Uniunea Europeană (UE) a semnat un memorandum cu Rusia.
Documentul
prevede un mecanism "de avertisment timpuriu". Astfel, atât Rusia, cât şi UE trebuie ofere informaţii despre orice întrerupere sau perturbare a livrărilor de petrol, gaze naturale
sau electricitate, şi să coopereze pentru
a rezolva problema.
Aproape 80% din gazele folosite de europeni tranzitează Ucraina. În ultimii ani, conflictele dintre Kiev şi Moscova au condus la crize. Ucraina a întârziat cu plata gazelor furnizate de Gazprom, astfel că gigantul rus a sistat livrările. Ulterior, cantitatea de gaze livrată în UE a scăzut, iar liderii ruşi au acuzat Ucraina că fură din gazele livrate europenilor.
La începutul acestui an, Gazprom a sistat exporturilor către UE timp ce trei săptămâni, după escaladarea conflictului dintre Ucraina şi Rusia.
În ultimele săptămâni, primul ministru al Rusiei, Vladimir Putin, a ieşit de mai multe ori la rampă, spunând că, dacă Ucraina nu îşi plăteşte datoriile către Gazprom, Rusia va întrerupe alimentarea cu gaze.
Adevarul: Economia Ucrainei s-a prăbuşit cu 16%
Reluarea exporturilor nu poate înlocui măsurile de austeritate financiară. Scăderea trimestrială a fost mai accentuată decât se anticipa, în ciuda creşterii cererii internaţionale.
Economia Ucrainei s-a contractat cu 15,9% în trimestrul al treilea, agravând declinul din acest an şi sporind îngrijorările privind capacitatea statului fost-sovietic de a-şi finanţa în continuare deficitele externe. În trimestrul al doilea, contracţia anuală a fost de 17,8%, a anunţat institutul de statistică de la Kiev.
Ucraina se bazează pe împrumutul de 16,4 miliarde de dolari de la FMI pentru a evita falimentul şi să achite gazele ruseşti pentru perioada iernii. FMI a amânat plata tranşei de 3,4 miliarde de dolari după ce parlamentul de la Kiev a votat o lege pentru majorarea salariului minim şi creşterea cheltuielilor sociale, în ciuda solicitării de micşorare a deficitului bugetar.
În timp ce cererea pentru oţel a crescut, ceea ce ar veni în sprijinul exportatorilor ucraineni, redresarea este incertă din cauza crizei creditelor. FMI estimează că la sfârşitului lunii iunie, 30% din credite deveniseră neperformante. Conform agenţiei Fitch, 50% din împrumuturi sunt în valută, ceea ce îngreunează returnarea lor după devalorizarea din 2008 cu 37% a monedei naţionale (hrivna) în raport cu dolarul.
Ucraina riscă agravarea declinului economic, iar inflamarea inflaţiei ar putea determina autorităţile să emită mai multă monedă pentru a acoperi necesarul bugetar, atenţionează agenţia Fitch. "Aceasta ar putea să submineze încrederea fragilă în moneda naţională şi în sistemul bancar, ceea ce ar conduce la pierderea rapidă a rezervelor valutare", adaugă agenţia de rating. În timp ce intensificarea comerţului internaţional este în beneficiul exporturilor ucrainene, constând în principal din produse siderurgice, perspectivele redresării economiei sunt incerte.
Cresc presiunile inflaţioniste
În primele 10 luni ale anului, producţia industrială s-a redus cu 26,4% faţă de aceeaşi perioadă a anului trecut, în uşoară atenuare faţă de 28,4% în primele nouă luni. Inflaţia anuală se menţine la un nivel ridicat, de 14,1% în octombrie, după ce urcase la 15% în septembrie. "Problema principală a politicii macroeconomice din Ucraina constă în decizia autorităţilor de a menţine constant cursul de schimb al hrivnei, evitând  luarea măsurilor de austeritate financiară", a adăugat analistul Fitch, David Heslam.
Vocea Rusiei: Consorţiul care se ocupă cu construirea Nabucco nu are bani
Continuă să se înregistreze probleme serioase în atragerea de credite pentru construirea gazoductului Nabucco din Asia Centrală în Uniunea Europeană, a dat de înţeles directorul consorţiului "Nabucco Gas Pipeline International", Reinhard Mitschek, în interviul acordat jurnaliştilor la Budapesta.
Suma totală necesară pentru construirea gazoductului pe o distanţă de peste 3 mii de kilometri este de 11,8 miliarde de dolari. Potrivit lui Mitschek, în viitorul apropiat consorţiul plănuieşte să adreseze organizaţiilor financiare mondiale în vederea obţinerii de credite.
RIA Novosti: Gazprom's natural gas exports down 21% in Jan-Sept 2009
Gazprom's natural gas exports declined by 21% year-on-year to 143.3 billion cubic meters in the first nine months of 2009, the Russian energy giant said on Monday.
Gazprom exported 97.47 bcm of natural gas to Europe in the reporting period, 20.7% against January-September 2008.
Natural gas exports to the CIS and the Baltic states stood at some 46 bcm, down 22% against the first nine months of 2008.
Alexander Medvedev, a deputy Gazprom chairman and head of the company's export arm, Gazprom Export, said earlier the energy giant expected gas exports revenue to exceed $40 billion in 2009.
Gazprom posted $65 billion in gas export revenues in 2008, 60% up against the 2007 volume.
The Gazprom official also said earlier that gas exports, excluding the amount meant for the CIS, would decrease by 22% to 142.5 bcm in 2009. He said the company could repeat its 2008 record, when it sold 1,000 cubic meters of gas for $407, within the next two years, or in 2012 at the latest.
Medvedev forecast that Gazprom, whose share of the European market fell from its traditional 25% early this year, would reach 33% by the end of the next decade.
According to the Federal Customs Service, Russia exported 174.3 bcm of natural gas worth $66.4 billion last year.
MOSCOW, November 16 (RIA Novosti)
russiatoday.com: PM meeting cements Russia Slovakia energy ties
Russia and Slovakia are working on an energy pact embracing oil and gas, nuclear power and infrastructure projects.
As the New Year approaches, it's no surprise that energy was the top issue at the meeting of Russian and Slovak Prime Ministers. Slovakia receives virtually all its gas from Russia and it was the worst hit among European countries when gas taps were shut off last winter.
The Slovak PM, Roberto Fico, gained confidence from his meeting with Vladimir Putin
"I listened with the great interest to the information about what Slovakia may expect in the future because of Ukraine's likely inability to pay for Russian gas. We have agreed with the Russian Prime Minister that if such situation occurs, we will receive timely notification."
Slovakia is also a major gas transit country. In 2008 it delivered over 50 billion cubic meters of gas to Western Europe. But existing transit and storage capacity need renovation and Slovakia hopes Russia will help.
Slovakia even changed legislation to allow Gazprom to take a stake in the Slovak gas-distribution network. Vladimir Putin in turn promised to upgrade one of the existing Soviet era pipelines.
"The extension of the Druzhba oil pipeline may be rather promising. There is a proposal to extend it from Bratislava to the Schwechat refinery near Vienna. But we need further study."
Prime Minister Putin insisted that Russia will meet all obligations for gas supplies and transit towards Slovak companies. Later this week, Putin is heading to Ukraine to hold yet another round of pricing talks with Prime Minister Yulia Timoshenko.
The Slovak Prime Minister called Russia a reliable supplier. But as fears of another gas crisis remain, Slovakia is pushing the set up of a joint venture with Gazprom which would oversee gas deliveries and build underground storage facilities.
russiatoday.com: EU and Russia take steps to shield consumers from gas cutoffs
The European Union says gas consumers won't suffer if Ukraine starts another transit war this winter.
Kiev blocked transit pipelines from Russia last January in a payment row, leading to power cuts across the EU. But Energy Commissioner Andris Piebalgs says they've agreed ways to avoid Ukraine altogether.
AP: "Our gas storages are 100% full, we've increased all types of switching opportunities for countries which can't cover gas for a very long period. We also have emergency plans if they are needed. On the Russian side I believe there are also plans for increasing supply from other pipelines if there is a problem with one of them. During January there will be more gas flowing through the Yamal Europe pipeline. So it is important that both sides reunite and that the final consumer does not feel threatened at all."
RT: Are Russian claims that the EU promised to lend Ukraine $1 billion correct?
AP: "It has never been a situation that we will pay for gas consumed in Ukraine. It is not an option for us."
RT: A Progress Report you signed today calls for moving EU-Russia energy relations to "normal market conditions". What exactly does that mean?
AP: "These are the measures we are looking for. That the market is more investment friendly, there have also been very much appreciated steps of inviting European companies to the Yamal Peninsula, because we believe from the EU side that the involvement of EU companies in upstream and midstream could be very helpful not only for us, but also for Russia."
russiatoday.com: Russia, EU sign early warning memorandum on gas supplies
Russian Energy Minister Sergei Shmatko and EU Energy Commissioner Andris Piebalgs signed a document outlining procedures for ensuring energy security in future gas crisis.
The signing comes on the eve of the Russia-EU summit in Stockholm where both sides are expected to express their concerns over possible gas supply interruptions if transit countries, most notably Ukraine, fail to make payments.
Minister Shmatko is confident that a crisis will be avoided.
"Claims that Ukraine will be unable to pay for gas are made from time to time. Yet, I must say that the Ukrainian gas company has always met its commitments. We hope the commitments will also be met in the future."
According to the Energy Ministry, Ukraine has stored almost 26 billion cubic meters of gas.
EU Energy commissioner Andris Piebalgs believes both sides are prepared and will take measures to ensure security.
"The document envisages certain regulations governing the work of experts so that we can know about such situations and prevent conflicts. This is due to the fact that Russian experts report to the Energy Ministry and European experts report to the European Commission."
Piebalgs added that Europe is better prepared for a potential gas crisis this year.
"Our gas storages our 100 percent full, we have increased all the types of switching opportunities where you can't cover gas for very long period. We have also prepared emergency plans if they will be needed. So we've done on this side. On the Russian side I believe there is also plans for increasing supplies for other pipelines if there is a problem with one of them. During January, there have been more gas flowing through the Yamal pipeline, It is important to both sides to recognize that the final consumer basically do not feel it."
Novinite: Slovenia Gives Green Light to Bulgaria-Italy South Stream
The Russian-Slovenian agreement makes it possible to start laying the pipeline section from Bulgaria to Italy, Russia's gas giant Gazprom told Interfax. Photo by BGNES
Russia and Slovenia signed an agreement late Saturday for cooperation on the South Stream natural gas pipeline project allowing the section from Bulgaria to Italy to be started.
The accord was signed by Russian Energy Minister Sergei Shmatko and his Slovenian counterpart Matej Lahovnik, in Moscow.
This final agreement allows the South Stream project to go ahead as Russia has signed other similar deals with Bulgaria, Serbia, Hungary and Greece.
There will be no such agreement with Italy as the latter is the final point of the pipeline's route and an Italian company is to take part in building the pipeline.
The Russian-Slovenian agreement makes it possible to start laying the pipeline section from Bulgaria to Italy, Russia's gas giant Gazprom told Interfax.
energia.gr: Russia, EU Sign Energy Early Warning Pact
Russia and the EU Monday signed an energy early warning agreement they said would help avert sudden disruption of supply during growing unease in Europe over possible cuts in gas supplies this winter.

Prime Minister Vladimir Putin separately said Russia and Slovakia were in talks on possible establishment of a gas storage and distribution facility in Slovakia.

Under the agreement signed in Moscow, Russia and the EU will notify each other of any likely disruption to supplies of oil, gas or electricity and jointly work to find a solution, the European Commission said in a statement.

Third parties will be allowed to participate in the arrangement, the Commission said.

"An energy crisis like the one the EU suffered in January is harmful for supply, transit and consuming countries alike," said EU Energy Commissioner Andris Piebalgs.

"We need to do everything necessary to make sure that such a situation never happens again," said Piebalgs, who signed the deal with Russian Energy Minister Sergei Shmatko.

"The document does not contain any sanctions against third parties but foresees coordinated joint actions to prevent a stoppage of supplies," Shmatko said in a statement.

The agreement itself will be unveiled at the EU-Russia summit in Stockholm Wednesday, said the Russian energy ministry spokesman Pavel Rodionov.

Putin has warned repeatedly in recent weeks that Ukraine, which has been badly hit by the global economic crisis, could have trouble paying its gas bills to Moscow.

He said Russia would again turn off the taps if it believed Ukraine was siphoning Russian gas from pipelines meant for export to other European customers.

Putin, speaking to journalists after meeting his Slovak counterpart, Robert Fico, said Russian gas giant OAO Gazprom (GAZP.RS) might create a joint venture to distribute natural gas in Slovakia.

"We discussed the possibility," Putin said.

Fico concurred, adding: "There are no barriers to creating this joint venture."

The Slovak prime minister said Putin had assured him that Russia would provide sufficient warning ahead of time in the event of any expected disruption to Russian energy supply.

In January a bitter price dispute between the two ex-Soviet neighbors led to a cut-off of Russian gas to more than a dozen countries in Europe, including Slovakia, for around two weeks.

Separately, Shmatko told reporters that Moscow and Kiev were working on an agreement that would allow Russia to help Ukraine upgrade its aging gas pipeline network.

"The new intergovernmental agreement is intended for long-term prospects," Shmatko said in comments confirmed by his spokeswoman Irina Yesipova.

In March, Ukraine signed an agreement with the European Commission to pave the way for much-needed foreign investment in its gas pipeline network, drawing immediate fire from Russia, which said that as a gas supplier it could not be excluded from such deals.
energia.gr: Transneft Scales Back Politically Sensitive Baltic Pipeline
Russian oil pipeline operator OAO Transneft (TRNFP.RS) is scaling back by 24% the capacity of a politically sensitive pipeline project as the country's oil production plateaus and amid high oil-transport fees.

Transneft has cut the planned throughput of the Baltic Pipeline System-2 to 38 million tons a year, it said Friday in its third-quarter financial results. Previously the 998-kilometer project was meant to carry 50 million tons a year, according to Transneft's Web site.

Then-President Vladimir Putin conceived of the project as another alternative export route to the Druzhba, or "friendship," pipeline, which brings oil to central and eastern Europe. Russia shut off oil to Belarus in 2007 over a fee dispute. The Baltic Pipeline System-2 will take oil from near Russia's border with Belarus and Ukraine and deliver it northward to Ust-Luga on the Baltic Sea.

"It is an open secret here that this pipeline will be impossible to fill without diverting crude from Druzhba," said Chirvani Abdoullaev, oil and and gas analyst at Alfa Bank in Moscow.

Meanwhile, Transneft's oil-transport fees are rising even as Russian production levels off at around 10 million barrels a day, the most since the breakup of the Soviet Union.

"It may well be an attempt by Transneft to scale back their expansion and tame tariff increases," Abdoullaev said. "They are rising every year and are a major irritant for oil companies that argue that tariffs should be contained."

OAO Surgutneftegaz, Russia's fourth-biggest oil producer, may have to pay for a 172-kilometer branch of the BPS-2 line to be built to its Kirishky refinery, Vedomosti reported today.

Transneft spokesman Igor Demin was not immediately available to comment on the pipeline capacity cut. Demin declined to comment to Vedomosti.
energia.gr: Energy Min: Russia May Modernize Ukraine Gas Pipelines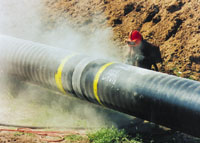 A new natural gas agreement being negotiated by Russia and Ukraine envisions Moscow's participation in the reconstruction of Ukraine's pipeline network, Energy Minister Sergei Shmatko said Monday, the RIA Novosti news service reports.

"An inter-government agreement targets a long-term strategy. Russia's participation in the modernization of gas pipelines is among the issues included in the document," the Russian minister said.

Shmatko said Russia and Ukraine have been negotiating the agreement since April and have made good progress at talks. He declined to comment further.
Eurasia Daily Monitor: Azerbaijan Considers Georgia-Black Sea-Bulgaria Route for Compressed Natural Gas to Europe
By: Vladimir Socor
On November 13 in Sofia, Azerbaijan's President Ilham Aliyev and his Bulgarian counterpart Giorgi Purvanov witnessed the signing of agreements of intent on the transportation of Azerbaijani gas to Bulgaria and onward to Europe. The agreements' centerpiece concerns transportation of compressed natural gas (CNG) from Azerbaijan, via Georgia and the Black Sea, to Bulgaria and farther into European Union territory. This solution, if implemented, would avoid the existing impediments to transit via Turkey.
Azerbaijan's and Bulgaria's Energy Ministers, Natig Aliyev and Traicho Traikov, signed a memorandum of inter-ministerial cooperation on gas export and transportation; while Elshad Nassirov, vice-president of Azerbaijan's State Oil Company (SOCAR), signed with the Bulgartransgaz (state-owned transmission pipelines' operator) general manager Ivan Drenovchiki a memorandum of understanding toward those goals (BTA, November 13; Trend Capital, www.day.az, November 13-15).
At the signing event, Purvanov placed the CNG project within the broader context of the E.U.-planned Southern Corridor for gas transport to Europe. This envisages an integrated Caspian-Central Asian solution, with Azerbaijan as a transit country (as well as producer) for Turkmen gas to E.U. territory. For his part, President Aliyev noted that this project would "make us [Azerbaijan] a direct supplier to the European Union … advancing the E.U.-Azerbaijan strategic partnership on energy" (BTA, November 13).
CNG is an unprecedented and untested solution for transportation by tanker ships or any large-scale transportation in Eurasia. Compressed gas has only been used in small volumes for road transport thus far. According to officials from both sides at the signing, CNG transportation across the Black Sea necessitates specialized tankers that are more expensive to build, compared to liquefied-natural-gas (LNG) tankers. However, the CNG delivery mode does not require liquefaction of the natural gas and its re-gasification, obviating the need for those expensive installations and processes. The decompressed gas can be delivered directly into the recipient country's pipeline network, for national use or transmission to third countries. This cost advantage may well offset the investment costs of CNG tankers, according to the same officials.
Azerbaijan intends to conduct detailed research on CNG transportation on the proposed Georgia-Black Sea-Bulgaria route (Trend Capital, November 14). Azerbaijan and Bulgaria will jointly commission a feasibility study, to be drawn up in short order.
Subject to the feasibility study's conclusions, Azerbaijan envisages the possibility of delivering 7 to 8 billion cubic meters (bcm) of gas annually, some of it to Bulgaria, but most of it farther into E.U. territory. According to Azerbaijan's State Oil company president Rovnag Abdullayev, the company considers building a gas-pressurizing installation in the Georgian Black Sea port of Kulevi as a starting point for CNG transportation by tankers to Bulgaria and potentially also to Romania (Trend Capital, November 14).
Apart from CNG, Azerbaijan and Bulgaria confirmed on November 13 their intention to sign a contract for 1 bcm of Azerbaijani natural gas to be exported to Bulgaria from 2011 onward. This depends on continuing advance of the Turkey-Greece-Italy Interconnector (ITGI) and the completion of a 90 kilometer pipeline link from Greece to Bulgaria (www.day.az, November 16). The Interconnector has advanced as far as the Turkey-Greece link and should continue through Greek territory westward, for an undersea link to southern Italy and a projected capacity of some 12 bcm annually. The 1 bcm of Azerbaijani gas to Bulgaria is being envisaged separately from Bulgaria's quota of Nabucco gas; one would not prejudice the other.
Bulgaria's government under Boyko Borisov, in office since July, has suspended three major joint energy projects with Russia –including the South Stream gas pipeline project– pending a review of their terms. The new government is looking into possible corruption deals behind those projects and also questions their wisdom in terms of energy security for Bulgaria (EDM, August 10).
Azerbaijan's agreements of intent with Bulgaria form one aspect of Baku's recently initiated search for multiple gas export options (EDM, July 2, 17, October 15, 22). Baku's search is being prompted by slow movement on the Nabucco project and Ankara's refusal thus far to sign a transit agreement for Azerbaijani gas. Russia and Iran are two active options. The route via Georgia and the Black Sea to Bulgaria adds a further possible option.
Eurasia Daily Monitor: Russian Gas Flaring: a Political or Technical Problem?
By: Roman Kupchinsky
On December 2, the Russian Federal Anti-Monopoly Service reportedly will consider the conflict between two Russian state-owned companies –Gazprom and Rosneft. The decision came after Rosneft filed a complaint alleging that Gazprom limited Rosneft's access to the Russian main gas pipeline network from April through August. Because it was unable to sell the gas, Rosneft said it had to flare off associated gas in quantities exceeding the maximum amount permitted by environmental legislation, thus incurring a fine (The Moscow Times, October 29).
Gazprom controls the country's gas transmission network –the main system of pipelines used to transport gas throughout the country. Rosneft has to use the system to transport the gas that it obtains as part of the oil drilling process from its oil fields in eastern Siberia (The Moscow Times, October 29).
A recent study by the World Bank using satellite images, estimated that in 2008 Russia flared some 40 billion cubic meters of associated petroleum gas. This resulted in a loss of nearly $13 billion to the state and exceeded the combined volume of gas flared by Nigeria, Iran, Saudi Arabia, Algeria and Indonesia in that year (www.web.worldbank.org).
In August 2007, the then President Vladimir Putin set 2011 as a deadline for Russia to reduce flaring to 5 percent of the country's associated gas production from the current 45 percent. However, in December 2008 Russian Natural Resources Minister Yuri Trutnev said that the deadline had been pushed back to 2014 (Interfax, December 4, 2008), but declined to specify any reason for the delay.
Why is Russia, which is highly sensitive about timely payments from customers for its gas, so tardy in allowing such state-owned oil companies as Rosneft, the biggest flarer, to burn money? Is this merely a technical question or does it involve opaque political decisions?
After the collapse of the Soviet Union, the then Chairman of Gazprom, Viktor Chernomyrdin, convinced President Boris Yeltsin that Gazprom should be allowed to control the gas pipeline system in Russia and become the sole exporter of gas to the former Soviet Union and Europe.
With Putin's ascent to the presidency, Russian oil companies were hoping to gain access to Gazprom's pipeline system along with the right to export their own gas. This however, has not materialized. The Russian domestic gas market, which is fully controlled by Gazprom's ownership of all trunk pipelines and most of the low-pressure local distribution pipelines, allows the gas monopoly to control gas sales by oil companies, a situation which continues to be a major point of conflict between Putin and the few remaining independent Russian oil companies.
According to an internal Russian memorandum prepared in 2003 ("The Division of the Gas Market: First Lessons and Perspectives") which is in the possession of the Jamestown Foundation, "This [Gazprom's control over the pipelines] gives Putin a major edge over domestic and foreign policy. The president, thanks to Gazprom, is able to exert pressure on oil companies and on regional leaders," according to the authors of the memorandum.
It goes on to note that: "In fact, the owners of oil companies were not interested for many years in gas production…It was not profitable to sell gas on the domestic market due to the regulated low prices and the oil industry insisted on gaining access to export facilities. Gazprom, however, is not about to give in without a fight… Relying on the support of the president and the 'power faction' within the nomenclature; which in fact controls the gas monopoly, and therefore is not interested in weakening Gazprom"
Given their lack of support and Gazprom's ironclad control of the export pipelines, Russia's oil companies had no choice but to flare billions of cubic meters of gas for years on end, sending millions of tons of pollutants into the atmosphere –all with the short sighted blessings of Putin and his team.
Are there alternatives to flaring Russian gas aside from exporting the gas to Europe?
A study by the Washington-based PFC Energy analyzed and compared five options for increasing associated gas utilization in Russia. They were:
1. Generation of electricity to provide power to the oil field.
2. Generation of electricity for the regional market.
3. Process into LPG (propane, butane), petrochemicals and dry gas.
4. Process into diesel or methanol Gas to Liquids
5. Re-injection for Enhanced Oil Recovery (http://www.highbeam.com/doc/1P3-1515408521.html).
Despite the obstacles placed before them, some Russian oil companies have made significant strides in utilizing Associated Petroleum Gas (APG) among them: Surgutneftegaz, Sibur, TNK-BP, and TatNeft. In 2007, Surgutneftegaz achieved the highest level of APG utilization in Russia equal to 95 percent. TNK-BP and Sibur set up Yugragazpererabotka JV in order to ensure maximum efficient receiving and processing of all available APG. This JV also plans to process APG produced by other market participants (http://www.oilandgaseurasia.com/articles/p/97/article/883/)
On October 20, the Russian newspaper Vedomosti reported that the energy ministry was developing a new scheme for exporting gas to Europe –one which would allow Russian oil companies to export their gas to Europe in 2011 for a price of $128.5 per thousand cubic meters (tcm) in the existing Gazprom pipelines in return for raising domestic Russian prices for gas from the current $58 per tcm to a price yet to be determined. The estimated price under existing contracts for gas to E.U. customers in 2011 has been $236 per tcm.
Gazprom, according to Vedomosti, has not yet agreed, but apparently pressure is building on Gazprom CEO Alexei Miller to agree to this formula – or else. An additional 50 bcm of gas available for export might go a long way to meet Russia's export commitments to its customers given the ambitious pipeline projects it has pledged to construct.
However, the question remains is Putin and his team willing to provide support to the oilmen and abandon their long affair with Gazprom? Who would stand to gain from this? Will the Russian government remain committed to its deadline of 2014 to reduce flaring or are there doubts on the part of the elite as to the wisdom of forming a new relationship with oilmen and leaving a tried and true mistress, Gazprom, traumatized?