Bloombiz..ro: De la asasinii economici la investitorii fara bani
Planurile de acaparare a sistemului energetic romanesc, indeosebi a energiei ieftine, au fost gandite inca din anii 1992-1994 cu aportul nemijlocit al unor oameni din serviciile de informatii ale Romaniei.
Spuneam intr-o
analiza precedenta
din Bloombiz ca situatia disperata la care a ajuns sistemul energetic national are explicatii cat se poate de logice, iar autoritatile din Romania si-au adus contributia directa, fie din nestiinta, fie din ratiuni materiale.
Intr-o lume globalizata, aflata intr-o goana disperata dupa surse ieftine de energie, Romania nu putea fi trecuta cu vederea, cu atat mai mult cu cat expertii (numiti in articolul precedent asasini economici) in asemenea practici cunosteau prea bine « sensibilitatea » la coruptie a clasei politice instalate la Bucuresti, dupa caderea regimului comunist.
Asadar, intr-o tara in care se putea cumpara orice in schimbul unui pumn de dolari, misiunea asasinilor economici nu a fost deloc complicata.
Parafrazand una din legile lui Murphy, conform careia « un politician onest este acela care, dupa ce a fost cumparat, ramane cumparat », am putea spune ca nu mai putin de cinci guverne au fost partase la ingerintele strainilor in sistemul energetic romanesc, sub imperativul retehnologizarii lui.
Cum nici unul din guvernele postdecembriste nu dispunea de banii necesari pentru retehnologizare, lucru valabil si dupa 20 de ani, s-a inventat nevoia atragerii capitalului strain. Macar de ar fi venit in Romania specialisti, dar, din nefericire, au venit tunarii.
S-a inceput, evident, cu cea mai ieftina sursa de energie, cea obtinuta pe baza hidro, caci aici Romania avea si potential, dar si specialisti trasi pe dreapta de sistem. Schema este cat se poate de simpla, in principiu.
Investitorul strain se angaja sa treaca la retehnologizarea obiectivelor hidroenergetice importante, pe banii lui, urmand ca dupa aceea sa-si recupereze investitia din energia atribuita direct, pe care putea s-o vanda atat pe piata interna cat si pe piata externa.
Paradoxul acestei interventii la noi este ca, spre deosebire de alte cazuri similare, investitorii care s-au oferit sa-si pune banii la bataie nici macar nu dispuneau de ei. Intr-un final, tot statul a fost cel care a garantat valoarea lucrarilor, cu toate ca energia ieftina a fost luata ulterior de investitorii straini. Si inca o mai iau, cel putin pana in anul 2014.
Contractele beton semnate de acestia cu statul roman sunt si in momentul de fata secrete si vor mai fi multa vreme de aici incolo.
Dupa ce au fost infiintate sau reactivate firme din strainatate care, in cele mai multe cazuri, detineau doar blazonul nu si forta financiara, acestea si-au facut un lobby insistent in sistemul energetic romanesc si, atunci cand a fost momentul, au trecut la asa zisa retehnologizare. S-a inceput, prin 1996-1997, cand sistemul energetic nu era spart si functiona sub monopolul RENEL, cu retehnologizarea rotoarelor Pelton ale hidrocentralei de pe raul Lotru.
Pentru ca firma ce urma sa faca aceasta lucrare venea tocmai din Elvetia (sediul social), guvernul acestei tari s-a si grabit sa acorde Romaniei un ajutor nerambursabil de vreo sapte milioane de franci elvetieni, din care aproape trei milioane mergeau catre hidrocentrala de pe Lotru.
Chiar daca doua din rotoarele livrate nu au indeplinit conditiile de calitate cerute si, ulterior, au fost refabricate, guvernantii de la Bucuresti nu au avut nici o retinere pentru a incredinta aceleasi firme sau grup de firme retehnologizarea celei mai mari hidrocentrale din Romania, cea de la Portile de Fier I si II, care produce aproximativ 60% din energia hidro realizata anual in Romania.
Nu intram in amanuntele contractului, pentru ca spatiul nu ne permite, dar precizam ca acesta s-a incheiat prin incredintare directa, desi alte patru firme internationale ar fi dorit sa participe la o posibila licitatie pentru Portile de Fier.
Sa mai spunem ca inainte de a se realiza aceasta incredintare directa, specialstii romani de la Hidroelectrica s-au aflat in discutii cu rusii de la Electrosila, pentru retehnologizare, pentru simplu motiv ca acestia cunoasteau hidroagregatele de la Portile de Fier, caci acestea au fost produse in Rusia. Din pacate pentru ei, rusii nu aveau inca asasinii lor economici.
Ar mai fi de facut o precizare, evident ca suma initiala a contractului de retehnologizare, de circa 100 de milioane de euro, nu a mai corespuns cu suma finala, care a fost mult umflata, dupa aceeasi metoda ce s-a aplicat si in cazul altor lucrari de infrastructura incredintate de catre statul roman unor companii private.
La scurt timp dupa retehnologizarea unuia dintre grupuri au aparut insa si probleme de functionare, care ne-au costat alti bani, alta distractie. Asa e cand statul da banii.
Desigur, trecute odata aceste probleme s-a ajuns la faza urmatoare, astfel incat « baietii destepti » sa poata beneficia de energia ieftina hidro, pentru a o putea vinde ulterior cu un pret dublu sau chiar mai mult.
Intre timp, romanii plateau ce li se servea, adica energie electrica scumpa.
A doua faza a operatiunii a fost liberalizarea pietei de energie, la presiunea Bancii Mondiale si a Fondului Monetar International, in conditiile in care Romania juca rolul de pionierat in noua structura.
A fost spart sistemul energetic, pe baza mixului de materie prima utilizata, si Hidroelectrica a scapat de presiunea celorlalti producatori de energie electrica cu costuri mult mai ridicate, fiind libera sa-si duca la indeplinire contractele cu « baietii destepti ».
Liberalizarea pietei de energie a facut posibila aparitia furnizorilor privati, care in urma unor simple operatiuni de natura financiara goleau de profit producatorii din Romania si implicit veniturile statului roman.
Din nefericire, acest lucru a blocat si retehnologizarea pe care ne-am fi dorit-o si care in momentul de fata a ramas tot in sarcina statului, respectiv a banilor stransi de la noi.
Una e sa investesti acuma si altceva era daca o faceai la momentul potrivit. Cine a trebuit insa, s-a imbogatit din asta.
Piata de energie electrica din Romania este, la modul declarativ, libera suta la suta in momentul de fata. In realitate, gradul de liberalizare nu depaseste 50% si nici ca acesta va creste pana cand concurenta nu va aparea in randul producatorilor.
Deocamdata, producatorii sunt de stat, iar o parte din distribuitori si furnizori sunt privati. Pe acest fond pe care l-as numi un fel de struto-camila, jaful mai poate inca continua. In articolul viitor vom trece la cea de-a treia etapa a afacerilor cu energie, de data asta faza in care intra in scena si afaceristii autohtoni.
Analiza de Alexandru Moldovan
ziare.com: Acord intre Rusia si China in domeniul gazului
Rusia si China au ajuns la un acord in privinta livrarilor de gaz rusesc catre statul asiatic, mare consumator energetic, a anuntat marti, la Beijing, presedintele Gazprom, Aleksei Miller.

Documentul referitor la livrarea a circa 70 de miliarde de metri cubi anual va fi semnat marti, in prezenta primului ministru rus, Vladimir Putin, sosit luni intr-o vizita de trei zile la Beijing, si a celui chinez, Wen Jiabao, a indicat Miller.
Livrarile au putea fi realizate pe doua trasee, fie din estul Siberiei, Extremul Orient si insula Sahalin, fie din vestul Siberiei, a declarat Miller.
Gazprom va construi independent facilitatile de transport al gazului pe teritoriul rus, a mai precizat presedintele gigantului rus.
EVZ: Proiecte de centrale energetice în exces
INTERES RIDICAT. Proiectele de producţie a electricităţii din România totalizează peste 28.500 MW, peste capacitatea instalată în prezent
, de 20.400 MW, se arată într-un studiu elaborat de compania Transelectrica.
Potrivit documentului, se estimează că până în 2017 în România vor fi construite turbine eoliene care vor totaliza o putere instalată de 3.000 MW, nivel dublu comparativ cu prognoza pentru
anul 2012.
Companiile
care dezvoltă cele mai mari
parcuri eoliene în România sunt CEZ (Cehia) şi Iberdrola (Spania). Acum, România produce energie eoliană doar cu 11 MW instalaţi. În plus, au fost anunţate proiecte de producţie a electricităţii în reactoare nucleare, termocentrale şi hidrocentrale, cu participarea investitorilor privaţi.
Capital: Eolienele din România vor produce cât 2 reactoare de la Cernavodă până în 2012 România mizează pe capacităţi de 1.500 de MW în centrale eoliene până în 2012, urmând în 2017, puterea să crească la 3.000 de MW, potrivit Planului de Perspectivă în domeniul energiei electrice pe 2008-2017, aprobat de ANRE şi publicat de Transelectrica.
O putere instalată de 1.500 de MW, cât este estimarea pentru viitoarele centrale eoliene din Dobrogea,  reprezintă dublul capacităţii de la reactorul 2 de la Cernavodă, de 700 MW.
Planul de Perspectivă al Transelectrica a fost realizat pentru a adapta reţeaua de transport a energiei electrice, luând în considerare progroza consumului şi posibile modificări ale unităţilor care produc energie.
Principalele proiecte de investiţii în domeniul producţiei de energie, citate în planurile Transelectrica sunt:
Punerea în funcţiune a unor centrale clasice în zona Galaţi – Brăila de 800 MW până în 2.013 (Termoelectrica alături de alţi investitori E.ON, ENEL)
Instalarea unităţilor nucleare 3 si 4 de la Cernavodă, preconizată conform strategiei energetice a guvernului în 2015
Termocentrala pe gaze a Petrom, de Brazi, de 1.000 MW
Hidrocentrala de la Turnu Măgurele (Ministerul Economiei) – 1.320 MW
Termocentrala de 700 MW de la Sărdăneşti, un proiect al Energy Holding
Hidrocentrala de la Tarniţa – Lăpuştesti (Ministerul Economiei), cu o capacitate de 1.000 de MW
Centrale eoliene în Dobrogea a căror capacitate va ajunge la 1.500 MW în 2012 şi 3.000 MW în 2017.
Raportul Transelectrica menţionează şi apariţia unor mari consumatori de energie. De exemplu, combinatul metalurgic Feral din Tulcea a solicitat "un aviz tehnic de racordare pentru amplificarea consumului". Se asemenea, compania menţionează şi solicitări ferme din partea unor consumatori mari din Braşov şi Constanţa, fără a le însă divulga numele.

Probleme în Bucureşti
În raportul privind sistemul de transport al energiei, Transelectrica recunoaşte că reţeaua care deserveşte Bucureştiul nu este adaptată la consumul actual.
"Consumul mare din Bucureşti (atît iarna, cât şi vara) conduce, în condiţii de producţie la nivelul prioritar, la congestii în special în zona de vest a Bucureştiului, dar şi în cea de sud", se arată în documentul companiei. Transelectrica dă vina pe ENEL pentru faptul că nu a solicitat modificări la reţeaua de transport a energiei. "În Bucureşti, creşterea consumului estimată de operatorul de distribuţie are o rată mult peste media pe ţara. ENEL Distribuţie Muntenia Sud nu a înaintat însă la Transelectrica nici o solicitare de creştere a capacităţii de transport pentru alimentarea zonei", se arată în Planul de Perspectivă.
Click aici pentru a descarca raportul complet.
Gandul: Consumul de energie al României va creşte cu 33% până în 2017
PROGNOZĂ. Zonele Oltenia, Muntenia Nord, Dobrogea şi Muntenia Sud vor avea cele mai mari creşteri ale consumului de energie, în perioada 2008-2017, potrivit Transelectrica.
Până în 2017, românii vor consuma cu 33% mai multă energie faţă de 2008, cu un maxim în Capitală, unde cererea clienţilor se va majora de peste două ori, potrivit unui studiu realizat de transportatorul naţional de electricitate Transelectrica. Anterior anului 2008, consumul de energie estimat de autorităţi avea o rată anuală de creştere de 2-3%. Mai multă energie se va consuma şi în zona Constanţa şi pe litoralul Mării Negre, respectiv o creştere de 52% în 2012 faţă de 2006 şi de 85% în 2017. Chiar dacă prognozele sunt formulate ţinând cont de criza economică, Transelectrica estimează o reducere a efectelor acestei perioadei dificile. "Este însă posibil ca efectele crizei să se estompeze pe orizontul de timp 2012- 2017, astfel ca evaluările viitoare să conducă la concluzii apropiate de cele prezentate în plan", potrivit sursei citate. Până atunci vor creşte însă şi tarifele pentru transportul energiei, serviciile de sistem şi de administrare a pieţei de energie, potrivit studiului.
RIA Novosti: Russia, EU have difficult relations dominated by energy — Waldner
BRUSSELS, October 14 (RIA Novosti) – Russia and the European Union have complex relations that are dominated by energy issues, a high-ranking EU official said.
"We certainly have a complex and at times difficult relationship… On the economic front our relationship is dominated by energy," EU Commissioner for External Relations and European Neighborhood Benita Ferrero Waldner said at American Chamber of Commerce's Plenary meeting in Brussels.
"Just under 40% of the EU's gas imports rely on one monopoly alone: Gazprom. But Russia is equally dependent on us: over 60% of Russian oil and gas exports flow to the EU and Russia's pipelines are largely directed towards us," she said.
The commissioner said there are still opportunities for the mutual benefit for both Russia and the EU.
"The Russian oil and gas sector badly needs more investment all the way along the production chain, and international investors are keen to invest," Waldner said.
However, he said Moscow's intention to join the World Trade Organization with Kazakhstan and Belarus at the same time and on equal terms as members of a customs union might cause a delay in Russia's future membership in the WTO.
"WTO membership would facilitate our relations, but the recent decision to seek membership as part of a customs union with Kazakhstan and Belarus could cause delay," she said.
Russia, Belarus and Kazakhstan agreed in early June to form a customs union and seek joint accession to the WTO. Unified Customs regulations are due to come into effect at the start of 2010.
Russia is the world's only major economy outside the WTO. President Dmitry Medvedev recently blamed Washington for blocking its accession to the global trade body.
RIA Novosti: Ukraine cannot guarantee Russian gas transit to Europe next year
KIEV, October 13 (RIA Novosti) – Under the existing contracts with Gazprom, Ukraine will be unable to guarantee gas supplies from Russia to Europe during the 2010-11 winter season, the Ukrainian president's point man on energy security said Tuesday.
Bohdan Sokolovskiy said, however, that Ukraine was fully prepared to ensure Russian gas transits during the upcoming winter period.
Ukrainian President Viktor Yushchenko has repeatedly said that the gas deal agreed by the Russian and Ukrainian prime ministers in January should be renegotiated.
In particular, he is unhappy with the current transit fee, which he says means Ukraine's state-controlled energy company Naftogaz receives at least $2.5 billion a year less than it should.
Sokolovskiy warned that unless the deal was reviewed, "2010 and 2011 will be unpredictable in terms of gas transit."
Ukraine is currently negotiating with Gazprom on a reduction in supplies to 33 billion cubic meters a year.
Gazprom CEO Alexei Miller has said that under the contract, Ukraine must buy at least 52 billion cubic meters of gas per year, but Ukrainian Prime Minister Yulia Tymoshenko said on Thursday that "Ukraine has the right to order the volume that it needs."
She said the contract provides for 20% fluctuations in the level of consumption, and that "aggressive statements" on mandatory purchase levels should be ignored.
energia.gr: OMV, RWE Say They Would Welcome French Nabucco Partnership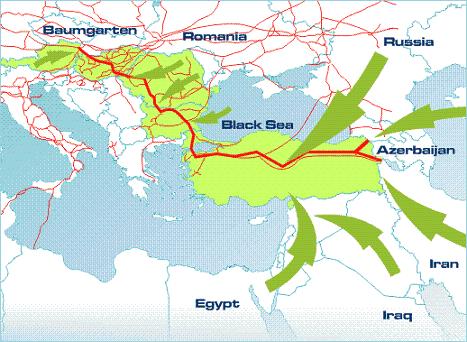 Two of the partners behind the planned Nabucco gas pipeline said Tuesday they would welcome a French company's bid to become a seventh partner in the project.

Austria's OMV AG (OMV.VI) and Germany's RWE AG (RWE.XE) said in a joint statement they are open to accepting a new partner into the consortium that is to build the 3,300 kilometer-long pipeline designed to transport gas from the Caspian region to Europe by 2014.

The statement comes after French President Nicolas Sarkozy told the Turkish President Abdullah Guel Monday that he hopes French companies, in particular GDF Suez SA (GSZ.FR), will be given a chance to participate in the project.

"We are viewing the wish of France for a stake in the project with great interest. We have always said that Nabucco is open for any partner that is prepared to utilize its experience and strength to see the project successfully through, RWE Chief Executive Stefan Judisch is cited as saying in the statement.

OMV's head of its gas division, Werner Auli, said: "A possible partnership by a French company is definitely to be welcomed."

Other current members of the Nabucco consortium are Turkey's Botas, Bulgaria's Bulgarian Energy Holding, Romania's Transgaz and Hungary's MOL Nyrt. (MOL.BU).
New York Times: Russia Gas Pipeline Heightens East Europe's Fears
James Hill for The New York Times
A tent covered welders who were joining sections of a natural gas pipeline in the Yamal-Nenets district of northwestern Russia.
MOSCOW — With an ambitious new pipeline planned to run along the bed of the Baltic Sea, the Russian natural gas giant Gazprom is driving a political wedge between Eastern and Western Europe.
While the Russian-German pipeline offers clear energy benefits to Western Europe, Central and Eastern European leaders fear it could lead to a new era of gas-leveraged Russian domination of the former Soviet bloc. With its gas wealth and eyebrow-raising network of personal ties, Russia has divided members of the European Union that have vowed to act collectively to protect their security.
Currently, Russian gas has to be piped through Eastern Europe to reach Western Europe. If Russia shuts off the gas to pressure a neighbor in the east, it is felt in the more powerful, wealthier countries to the west, where it touches off loud protests.
The new Nord Stream pipeline will change that equation. By traveling more than 750 miles underwater, from Vyborg, Russia, to Greifswald, Germany, bypassing the former Soviet and satellite states, it will give Russia a separate supply line to the west.
As a result, many security experts and Eastern European officials say, Russia will be more likely to play pipeline politics with its neighbors.
"Yesterday tanks, today oil," said Zbigniew Siemiatkowski, a former head of Poland's security service.
That is not the way the Russians present it. Gazprom, which supplies Europe with 28 percent of its natural gas, says the $10.7 billion project is commercial, not strategic.
Matthias Warnig, Nord Stream's chief executive and a former East German, said Eastern Europe's fears were unfounded. "The wall broke down 20 years ago," he said. Europe needs additional natural gas to compensate for declining output from the North Sea, he said, and Russia is the best place to get it.
European officials have portrayed the project as one that helps unite Europe and enhance its collective energy security. The European Commission and European Parliament endorsed the pipeline as early as 2000 and both reconfirmed their commitments as recently as 2006.
"As far as common energy policy exists, we are part of it on the highest priority level," said Sebastian Sass, Nord Stream's main representative to the European Union.
But officials in Central and Eastern Europe fear that while profits from the pipeline, a joint venture between Gazprom and a trio of German and Dutch companies, will flow to Russian suppliers and German utilities, the long trod-upon countries once under the Soviet umbrella will become more vulnerable to energy blackmail.
Such tactics are hardly without precedent. A Swedish Defense Ministry-affiliated research organization has identified 55 politically linked disruptions in the energy supply of Eastern Europe since the breakup of the Soviet Union.
Until now, Russia's use of natural gas as a foreign policy tool has been limited to short embargoes, at least in part, analysts say, because it is so blunt a club.
Last January, for example, Russia shut down a pipeline that crossed Ukraine, ostensibly over a dispute with Ukraine on pricing and tariff fees.
The shutoff left hundreds of thousands of homes in southeastern Europe without heat and shuttered hundreds of factories for three weeks.
What had been a bilateral dispute spilled across the Continent, angering influential Western governments and costing Russia money.
The new pipeline and a similar project in southern Europe called South Stream, to run under the Black Sea, will insulate Western Europe from such actions and limit the political and financial costs to Russia.
The ability to shut off one pipeline or the other "depending on whim" makes shutoffs to Eastern Europe more likely, said Zbigniew Brzezinski, the national security adviser in the Carter administration. He called the pipelines a grand Russian initiative to "separate Central Europe from Western Europe insofar as dependence on Russian energy is concerned."
"The Central Europeans, the former coerced members of the Soviet bloc, are the more worried," he said.
For Eastern Europeans, the pipeline issue evokes deep memories of a darker era of occupation and collaboration, and has become a proxy debate over Russia's intentions toward the lands it ruled from the end of World War II to the fall of the Berlin Wall.
In an open letter to President Obama last spring, 23 former Central European heads of state and intellectuals, including a former Czech president, Vaclav Havel, and a former Polish president, Lech Walesa, pointed out that after the war in Georgia last year Russia declared a "sphere of privileged interests" that could include their countries.
With the control of gas pipelines, they wrote, "Russia is back as a revisionist power pursuing a 19th-century agenda with 21st-century tactics."
Radek Sikorski, the Polish foreign minister, has compared the pipeline deal between Russia and Germany to the 1939 Molotov-Ribbentrop Pact that divided Central Europe into spheres of German and Soviet influence. "Taking the decision first and consulting us later is not our idea of solidarity," he said.
The din of alarm rising in the East has hardly been heard in the West, however, where Russia has pursued an effective policy of divide and conquer.
"Russia is one of the issues that divides the E.U. the most," said Angela E. Stent, director of the Center for Eurasian, Russian and East European Studies at Georgetown University in Washington. "Russia and Gazprom go and deal very well with individual countries."
A web of oil and gas interests in the West, as well as corporations and influential figures with ties to Russia, have greased the process of engagement with Russia.
Perhaps most visibly, a former German chancellor, Gerhard Schröder, has embraced commerce as a means to integrate Russia with Europe. Mr. Schröder was the deal's "power broker," says Zeyno Baran, an authority on Eurasian energy at the conservative Hudson Institute in New York. "Without him, it never would have gotten off the ground."
Mr. Schröder's government sealed the pipeline deal, including a $1.46 billion German loan guarantee for the project, scant weeks before he lost the 2005 election.
A few weeks later, he took a job as the chairman of Nord Stream. He has said he decided to take the job after leaving office and that he had not known of the loan guarantee.
Mr. Warnig, the project's chief executive, served as a captain in the foreign intelligence directorate of the East German secret police, the Stasi, in the 1980s. At the time, Vladimir V. Putin, the future Russian president and prime minister, was a K.G.B. agent in Dresden, East Germany.
While his background has fueled speculation of murky cold-war-era ties underlying the project, Mr. Warnig said his spying career was irrelevant to the pipeline debate today.
Other links are more clear-cut. The former prime minister of Finland, Paavo Lipponen, was paid by Nord Stream to help secure permits. Mr. Sass, the Nord Stream liaison in Brussels, was an aide to Mr. Lipponen.
In 2008, Gazprom offered Romano Prodi, then the prime minister of Italy, the chairman's job at South Stream; Mr. Prodi declined.
Now, with the pipeline looking inevitable, the French have decided to jump on the bandwagon as well, seeking to join the consortium through Gaz de France. Otherwise, they might have to buy gas from a German broker.
The French-German competition, analysts say, illustrates how securing coveted business with Russia has accentuated their rivalry for economic and political preeminence in Europe.
Ultimately, considerations of European unity, like the fears of Eastern Europe, are secondary in the raw struggle over resources by national and corporate interests.
It is a free-market capitalism that post-Communist Russia has cannily exploited, says Pierre Noël, a professor at Cambridge University and a fellow at the European Council on Foreign Relations.
"It is an open, competitive, capitalist economy," he said. "People build the pipes they want to build."