Bursa: ANRE: Nu suntem obligaţi să aliniem preţul gazelor
Alinierea preţului gazelor naturale din producţia internă la preţul celor importate nu este o obligaţie impusă ţării noastre prin reglementările Comisiei Europene în domeniu sau prin prevederile Tratatului de Aderare a României la Uniunea Europeană. Conducerea ANRE ne-a declarat: "În acest sens sunt şi declaraţiile comisarului european pe probleme de energie Andris Piebalgs, din data de 7 martie 2008, respectiv 17 septembrie 2009, conform cărora obligaţia de convergenţă între preţul gazelor din producţia internă şi preţurile de import nu este prevăzută în Tratatul de Aderare a României la UE. Potrivit reglementărilor europene în domeniu, preţul de vânzare a gazelor naturale din producţia internă trebuie să acopere costurile de producţie, condiţie respectată prin legislaţia naţională în vigoare şi prin tarifele pe care le aprobăm".
* Avem un singur document cu referinţă la aliniere, dar fără un calendar asumat
Singurul document intern care face referire la procesul de aliniere a preţului gazelor naturale din producţia internă la preţul gazelor naturale din import este Strategia energetică a României pentru perioada 2007-2020, fără a se asuma, însă, un calendar exact de aliniere a preţurilor, ne-au mai spus oficialii ANRE. La construcţia oricărui model de piaţă, care să permită o convergenţă reală a preţurilor gazelor naturale din producţia internă cu cele din import, trebuie să se ia în considerare şi alţi factori, precum nivelul consumului, dreptul titularilor de acorduri petroliere de a dispune liber de producţia obţinută şi armonizarea tuturor reglementărilor necesare, gradul de suportabilitate a populaţiei, nivelul redevenţelor etc, mai spun reprezentanţii ANRE.
*  Analiză asupra impactului eliminării preţurilor reglementate
Comisia Europeană a transmis României, anul trecut, o scrisoare de punere în întârziere, legată de continuarea aplicării de preţuri reglementate la furnizarea de gaze naturale şi energie electrică pentru consumatorii non-casnici.
În vederea stabilirii unui calendar realist pentru eliminarea preţurilor reglementate la gaze şi electricitate pentru consumatorii non-casnici ANRE şi Ministerul Economiei vor iniţia o procedură de evaluare a impactului şi de identificare a celor mai potrivite metode de minimizare, reducere sau compensare a posibilelor efecte negative. Această analiză are în vedere şi evaluarea cadrului legislativ existent, în sensul completării cu reglementările legislative necesare pentru eliminarea treptată a reglementării preţurilor la consumatorii noncasnici de gaze naturale.
Situaţia menţinerii preţurilor reglementate la consumatorii noncas-nici nu este specifică numai Româ-niei. La un an de la liberalizarea totală a pieţelor de gaze naturale, 12 state membre menţineau reglementarea preţului pentru consumatorii casnici, 9 state membre menţineau preţul reglementat pentru micii consumatori, 8 state membre pentru consumatorii medii şi mari şi 6 state membre pentru consumatorii energointensivi. 
Începând din decembrie, cota lunară de importuri de gaze din Federaţia Rusă a variat între 20 şi 30% din consum, pe fondul vremii nefavorabile. Este evident că o asemenea cotă va impune o majorare a tarifelor reglementate faţă de nivelul aprobat pentru anul trecut, când cota importurilor rareori a depăşit 15%. Preţul actual al gazelor naturale importate este de circa 300 de dolari/1.000 mc, dublu faţă de preţul gazelor din producţia internă.
Reprezentanţii ANRE ne-au spus că nu au decis, deocamdată, preţul gazelor pentru piaţa reglementată, valabil de la 1 aprilie.
Premierul Emil Boc a declarat, ieri, la Ministerul Economiei, că nu ştie dacă preţul gazelor naturale va fi majorat de la 1 aprilie şi că, în toamna anului trecut, ANRE a prezentat Guvernului o strategie în care îşi propune să nu majoreze preţul gazelor în acest an.
money.ro: Ministerul Economiei susţine majorarea de capital la Petrom
Statul susţine majorarea de capital la Petrom, însă o decizie finală va fi luată la Adunarea Generală a Acţionarilor din 29 aprilie, a declarat astăzi Adriean Videanu, Ministrul Economiei. Operaţiunea este estimată la un miliard de euro.
"O majorare de capital… nu suntem împotrivă, Petrom trebuie sa facă investiţiile de care are nevoie dar trebuie să gasim soluţiile adecvate la această participare la majorare. Din câte ştiu la AGA din aprilie se va discuta acest subiect", a spus Videanu.
Directorul general executiv a Petrom, Mariana Gheorghe, a declarat, recent, că o să poarte discuţii cu reprezentanţii Guvernului pentru a-i convinge să participe la o posibilă majorare a capitalului companiei, în vederea derulării investiţiilor. Petrom este deţinută în proporţie de 51% de OMV, iar câte 20% aparţin Ministerului Economiei şi FonduluiProprietatea.
Pentru a nu-şi dilua deţinerile, statul va trebui să participe cu 400 de milioane de euro, în condiţiile unei majorări de capital de 1 miliard de euro. Petrom a încheiat anul trecut cu un profit net de 1,3 miliarde de lei, mai mare cu 34% faţă de anul anterior şi va propune acţionarilor nedistribuirea de dividende, pentru al doilea an consecutiv.
ziare.com: Directorul Eni nu vrea ca francezii de la EDF sa participe la South Stream
Directorul general al Eni, Paolo Scaroni, se opune ideii asocierii grupului francez EDF la proiectul gazoductului South Stream pe care compania italiana il dezvolta impreuna cu monopolul rus Gazprom, a declarat o sursa apropiata actionariatului consortiului South Stream.

Chestiunea participarii EDF la gazoductul South Stream nu va fi reglementata probabil inainte de plecarea directorului general Paolo Scaroni de la compania Eni, pentru ca el se impotriveste ideii de a asociat grupul francez la proiectul ruso-italian, potrivit RIA Novosti.
Eni este deocamdata unicul partener al Gazprom in acest proiect. Potrivit sursei citate de RIA Novosti, partea rusa si-a dat deja consimtamantul pentru participarea EDF la proiect, dar partea italiana "se mentine pe o pozitie neconstructiva".
Sursa a reamintit insa ca la sfarsitul anului contractul lui Scaroni expira si nu va mai fi reinnoit.
Sursa apropiata actionariatului South Stream a mai spus ca partea EDF la capitalul South Stream va depinde de volumele de gaz care vor fi contractate de grupul francez.
Cu o lungime de circa 900 de kilometri, gazoductul South Stream va trece pe sub Marea Neagra, prin apele teritoriale ale Turciei, si va lega litoralul rus de litoralul bulgar. Avand o capacitate de 63 de miliarde de metri cubi de gaz pe an, conducta, considerata un concurent al proiectului Nabucco la care ia parte si Romania, va furniza aproape 35% din totalul livrarilor de gaz rusesc destinat Europei. Gazoductul ruso-italian va fi operational din 2015.
ziare.com: Cehia produce prea multa energie regenerabila
Turbinele eoliene si panourile solare instalate in Cehia pot produce de patru ori mai multa energie regenerabila decat poate suporta reteaua electrica a tarii.

Asociatia companiilor care activeaza in Cehia in domeniul electric si energetic sustine ca instalatiile aprobate deja au o capacitate de 8.063 MW, in timp ce limita de energie eoliana si solara pe care reteaua electrica o suporta este de 2.200 MW, potrivit Reuters.
Operatorii retelelor se planga ca sunt obligati sa conecteze la la sistemul de distributie pe oricine nu prezinta un pericol, asa ca autoritatile trebuie sa adopte legi care sa elimine orice nu este viabil.
Piata energiei solare a explodat in Cehia datorita legilor care garanteaza un tarif mai ridicat si a pretului scazut al panourilor fotovoltaice, combinatie care promite un profit foarte bun pentru cei care investesc in energia solara.
Parlamentul ceh discuta deja o lege pentru reducerea pretului la energia solara cu mai mult de 5% decat le este permis sa o faca pe an. Martin Roman, director executiv al CEZ, sustine ca preturile curente sunt de 10 ori mai mari decat cele stabilite in schimbul de energie si este de parere ca aceasta situatie ii va costa pe cehi peste 63 de milioane de euro in urmatorii 20 de ani.
Operatorii retelelor de distributie a energiei electrice au atras atentia autoritatilor ca variatiile provocate de schimbarile de vreme pun presiune mare pe actualul sistem, iar lipsa legislatiei pune in pericol stabilitatea livrarilor.
RIA Novosti
: Gazprom's Italian partner proposes South Stream-Nabucco merger
Italy's Eni SpA, which is Gazprom's partner in the Kremlin-backed South Stream gas pipeline project, proposed uniting it with its Nabucco rival to boost overall revenues, a Russian business paper reported on Thursday.
Vedomosti quoted Eni CEO Paolo Scaroni as saying at a Cambridge Energy Research Associates conference in Houston on Wednesday that if all the partners decided to merge the two pipelines for part of the route, "we would reduce investments, operational costs and increase overall returns."
Both South Stream and Nabucco aim to supply natural gas to Southern and Central Europe. The South Stream project is designed to deliver up to 63 billion cubic meters of Central Asian and Russian natural gas under the Black Sea while Nabucco is intended to pump 31 billion cu m of natural gas from the Caspian region via Turkey, the paper said.
Russian experts, however, are skeptical about the prospects of merging the two pipelines as Nabucco was originally designed to cut Europe's dependence on Russian natural gas deliveries, the paper said.
"Russia will hardly agree to such a merger as Nabucco is lobbied not only by the EU but also by the U.S.," the paper quoted Dosym Satpayev, director of the consulting firm Risk Assessment Group, as saying.
A Gazprom representative declined to comment on the information while an Eni spokesman was unable to explain the merits of the proposal, adding that explanations could appear on March 12 when the Italian company is to present a strategy of its development in 2010-2013, the paper said.
russiatoday.com: Eni chief calls for South Stream and Nabucco to link up
South Stream and Nabucco, the two major southern European pipeline projects, linking the Caspian region with Europe, should join forces according to Paolo Scaroni, head of Italian energy company, Eni.
South Stream aims to supply Russian gas to Europe, while Nabucco would secure energy for Europe bypassing Russia, but the Eni chief, a major partner for Gazprom in South Stream, says the merger of some parts of the two routes would cut the cost of both projects.
"If all the parties decide to merge the two pipelines in part of their routes, we'll be able to cut investment, operational costs and increase income. The two will join the biggest European gas consumers and suppliers."
Scaroni also added that at a time when demand for gas is growing, Europe should increase investments in infrastructures to ensure gas supplies from "new sources" – like Turkmenistan, Kazakhstan and Africa. By 2020, he said, Europe may need to import about 180 billion cubic meters every year, and guaranteed that all necessary steps to provide for regular supply would be taken.
"Establishing cooperation, developing the existing sources of supply and strengtheninig both the existing and new corridors, we'll do everything necessary to provide for sufficient, available and safe gas supplies to Europe."
Though South Stream and Nabucco pipelines are often viewed as rival gas projects, Gunther Oettinger, EU Energy Commissioner, said last week that the European Commission didn't think so and thought of both of them as "superb".
Analysts welcomed the idea, but Vitaly Yermakov, head of research at CERA, said Gazprom had no alternative, but to focus on improving transit through Ukraine.
"It might be actually a good idea while shifting ground pretty much on every front, Gazprom will have to think very hard about how to treat the proposal by Ukraine to create a gas consortium which will consist of European side, Russian side and Ukrainian side and theoretically this actually might be first choice option for everyone and cheapest and most attractive economic option. Then the idea of actually making Nabuco and South Stream a single big gas bridge concept piece is actually a new approach and it should be evaluated against competitive project."
Novinite: Abadzhiev Nominated as Bulgaria Nabucco Representative
Abadzhiev, who resigned from the conservative Order, Law and Justice party (RZS) in February, stated Friday that he was proposed to represent Bulgaria after holding talks with Bulgaria PM Boyko Borisov 2-3 weeks ago. Photo by BGNES
Former member of the RZS party leadership, Dimitar Abadzhiev, has reportedly been nominated to represent Bulgaria in the Nabucco Gas Pipeline International company.
Abadzhiev, who resigned from the conservative Order, Law and Justice party (RZS) in February, stated Friday that he was proposed to represent Bulgaria after holding talks with Bulgaria PM Boyko Borisov 2-3 weeks ago. He added that Borisov had stated the huge importance of the project during his recent visit to the UK.
Abadzhiev continued; "Currently, international diplomacy is energy diplomacy. This proposal is not political, it's an expertise and diplomatic proposal."
According to Abadzhiev the reason for his nomination is that he has always made it clear that Bulgaria must shake off its energy dependence on Russia and for this purpose his international experience will be used.
"If there has been some confusion as to whether GERB is a right-wing party, after the recent argument with President Parvanov it has now become clear that they are…. Parvanov is an apologist for the Russian energy influence, why doesn't he publish the transcripts of his meetings with Russian PM Putin or Gazprom CEO Miller?" Abadzhiev concluded.
Regarding his exit from RZS, Abadzhiev said that he had "joined the party as the Chair of the European Democratic Institute, a conservative project, to be recognized by the European Conservatives. He added that after the European Conservative Party registered without RZS in November it became clear that he would no longer be useful to the party.
energia.gr: Gazprom, Gasunie CEOs Discuss Nord Stream Gas Pipeline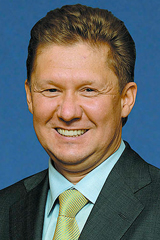 Gazprom CEO Alexei Miller has had a working meeting with Marcel Kremer, President of the Gasunie Company, the Netherlands.
"The parties discussed prospects of the optimization and expansion of the Gasunie gas transportation network for the purpose of improving the efficiency of Russian gas deliveries to European consumers," a representative of the Gazprom information department told Itar-Tass. "Alexei Miller and Marcel Kramer devoted special attention to preparations for the beginning of building of the Nord Stream gas pipeline,"
The building of the Nord Stream gas pipeline is to begin in April, this year. Nord Stream is an entirely new route for the export of Russian gas to Europe. It will go across the Baltic Sea from the Portovaya Harbour, near the city of Vyborg, to the German coast (near the city of Greifswald). The total length of the pipeline will be 1,200 kilometres.
Gazprom and Gasunie signed a comprehensive agreement on November 6, 2007, on their participation in the Nord Stream and BBL gas pipeline projects. On June 10, 2008, Gasunie was entered on the register of Nord Stream stockholders. Its share in the Nord Stream project is 9 per cent.
The Gasunie gas transportation network includes some 15,000 kilometres of pipelines in the Netherlands and in the northern part of Germany, and some 1,300 gas reception stations. This is one of the biggest high-pressure gas transportation networks in Europe. Its capacity is 125 billion cubic metres a year. Aside from it, Gasunie offers a number of services in the sphere of gas infrastructure, including gas storage.
energia.gr: EU Says On Track To Meet Its 20% Renewable Energy Target

The European Union is on track to reach its target of 20% of energy consumption coming from renewable sources by 2020 and might even overshoot it, the Commission said Thursday, citing preliminary national forecasts on the countries' efforts to increase their green energy use.
"The Commission finds that the E.U. will reach an overall share of 20.3% renewables," the commission said in a statement. "Our task will be to help all member states not only to reach the 20% target but to go beyond," said Guenther Oettinger, Commissioner for Energy, in the statement.
The E.U. decided in December 2008 that 20% of energy consumption in 2020 should come from renewable energy, such as wind or solar.
The new rules set specific targets for each E.U. country that they can meet by domestic efforts, or by buying green energy from other nations.
According to the forecasts, five countries– Belgium , Denmark , Italy ,Luxembourg and Malta –will have to buy green energy abroad, while 10 nations are likely to exceed their targets, a spokeswoman for Oettinger said during a press conference Thursday.