EVZ: OMV tranzacţionează gaze
naturale

la Bursa din

Viena

OMV, acţionarul majoritar al Petrom, a început ieri tranzacţionarea gazelor naturale la Bursa din

Viena, prin intermediul platformei Central European Gas Hub (CEGH), deţinută de grupul austriac. Obiectivul este încurajarea competiţiei pe piaţa europeană de profil. Gazprom va avea 30% din CEGH.
ziare.com: Ucraina cere doua miliarde de dolari de la FMI
Ucraina cere un imprumut urgent de doua miliarde de euro de la FMI, dupa ce autoritatile au constatat ca nu isi pot achita obligatiile externe.

Vicepremierul Hrihori Nemiria a declarat ca imprumutul este esential pentru evitarea unei situatii in care alte tari ar putea fi afectate pentru ca Ucraina nu isi poate plati datoriile catre Naftogaz, declansand o noua criza a gazelor, informeaza BBC.
"Urmatoarele trei luni sunt cruciale", a declarat Nemyria. Ucraina a primit deja 11 miliarde de dolari, in cadrul unui acord pentru un imprumut de 16,4 miliarde de dolari. Restul imprumutului a fost insa suspendat dupa ce FMI a constatat ca Ucraina nu a implementat destul reforme economice.
Vocea Rusiei: Bulgaria propune ca South Stream să fie declarat proiect de importanţă europeană
Bulgaria sprijină ideea sporirii capacităţii gazoductului South Stream şi va sprijini ideea declarării acestui proiect ca proiect de importanţă pan-europeană în timpul consultărilor cu colegii europeni, a declarat ministrul economiei al Bulgariei, Traicho Traikov, după şedinţa Comisiei interguvernamentale bulgaro-ruse.
Potrivit lui, în timpul apropiat vor începe tratatative la nivel corporativ în problema proiectului South Stream, în timpul cărora vor fi specificate toate aspectele legate de livrările şi tranzitul gazului.
Vocea Rusiei: Rusia va spori livrările de gaze naturale către Polonia
Moscova şi Varşovia au convenit să mărească livrările de gaze naturale ruseşti către Polonia până în anul 2037, a anunţat serviciul de presă al Ministerului Energiei al Rusiei.
Volumul livrărilor nu a fost numit, însă partea poloneză a declarat anterior că intenţionează să cumperere în 2010 cu 2-3 miliarde de metri cubi de gaz mai mult. În prezent Rusia livrează Poloniei 8 miliarde de metri cubi de gaze naturale pe an.
RIA Novosti: Russia could cut oil export duty to $266-268 per ton in January
Russia could slightly reduce oil export duty on its Urals blend from the current $271 to $266-268 per metric ton starting in January, a Finance Ministry official said.
Alexander Sakovich, head of the ministry's integrated analysis department, said the average oil price was $75.66 per barrel from November 15 through December 10.
"If the price keeps within a $68-72 band, the monitoring price for the period will be $74.93-75.31 per barrel," Sakovich said.
Based on the export duty calculation formula, the maximum rate could be set at $266-268 per metric ton from January 1.
In that case, duty on light petroleum products will fall to $192-193 per ton from the current $194.9 per ton, and duty on heavy petroleum products to $103-104 per metric ton from the current $105 per metric ton, he said.
On March 1, as world oil prices stabilized at $43 per barrel, Russian oil export duty was raised to $115.3 per ton. In April it fell to $110. In the subsequent months, oil export duty rose after a rally on oil markets, was lowered by $10 in November, and raised by $40 in December.
Last year, the government moved from a bimonthly to a monthly duty adjustment procedure to respond more swiftly to changes in world oil prices.
RussiaToday.com: Shmatko predicts strong role of GECF
Russia's Energy Minister, Sergey Shmatko, has hailed the emergence of the Gas Exporting Countries Forum as a new Opec for gas.
Speaking exclusively to RT, Sergey Shmatko said the countries would work together to stabilize prices.
He also said Russia would take on the political responsibility implied by the election of a Russian as the first secretary general of the group.
"Today we can speak about Gas opec as a fully fledged international organization. By a unanimous decision a Russian national was elected its secretary general. This is to show that member countries expect Russia to use its political weight to promote it."
"It's not an easy time for gas market these days. So gas exporting countries need coordinated effort to ensure stability of the market. The new organization can become a platform to trade ideas. We will work in sync to avoid overproduction of gas."
Novinite: Russian Delegation 'Optimistic' over Bulgaria Energy Projects
A source from the Russian delegation told ITAR-TASS news agency that "during talks we have managed to change sentiments from sceptic to optimistic." Photo by BGNES
The Russian delegation is reported to have changed its sentiments from skeptical to optimistic regarding Bulgaria-Russia major energy projects after talks in Sofia
A source from the Russian delegation told ITAR-TASS news agency that "during talks we have managed to change sentiments from sceptic to optimistic," while summing up the preliminary results of the Bulgaria-Russia Intergovernmental Commission on Economic, Scientific and Technical Cooperation in Sofia Thursday.
"We are most optimistic about prospects for the implementation of the South Stream gas pipeline project, the situation with the Belene NPP and Burgas-Alexandroupolis oil pipeline projects is a little bit more complex. But the main thing is that the Bulgarian side has confirmed its obligations on each of them," the Russian source added.
It was also reported Thursday that the governments of Bulgaria and Russia are considering setting up a joint company in order to operate the ferry line connecting the Black Sea ports of Varna and Kavkaz.
Novinite: Bulgaria, Russia Commit to Energy Co-operation Protocols
Russia's Energy Minister, Sergey Shmatko (l.), and Bulgaria's Deputy Foreign Minister, Marin Raikov (r.), pictured at the successful bilateral talks hosted in Sofia. Photo by BGNES
Bulgaria Minister of Economy, Energy and Tourism, Traicho Traikov, and the Minister of Energy of the Russian Federation, Sergey Shmatko, have jointly signed the Protocol of the 13th Intergovernmental Bulgarian-Russian Commission for Economic, Scientific and Technical Cooperation.
A coordinated plan for consultations between the foreign ministries of both countries has been agreed on Friday. Details were presented by Bulgarian Deputy Minister of Foreign Affairs, Marin Raikov, and by the Russian Ambassador to Bulgaria, Yuriy Isakov.
A package deal on the design and construction of a hydro-power and dam system "Indje Voivoda" was also signed by Nicholay Kratunov, Chairman of the Board of Directors of Hydrostroy – Burgas, for Bulgaria, and by Evgeni Gudzenchuk, CEO of OAO "Zarubezhvodstroy", for Russia.
A memorandum of mutual understanding and cooperation in the metrology sector between the Bulgarian Institute of Metrology and the Federal Agency for Technical Regulation and Metrology of the Russian Federation was also signed by Bulgarian and Russian representatives.
The Russian delegation had reported earlier on Friday that it was pleased with the positive way the Sofia talks had been conducted.
Novinite: Bulgaria Eco Assessment Confirmed as Key for Fate of Russia Oil Pipeline
Russian Energy Minister Shmatko (left) and his Bulgarian counterpart Traikov (right) during the bilateral energy talks in Sofia Friday. Photo by BGNES
The assessment of the environmental impact of the planned Burgas-Alexandroupolis oil pipeline will be the key factor for deciding whether to go ahead with the project.
This was made clear Friday night by Bulgaria's Minister of Economy, Energy, and Tourism, Traicho Traikov, who gave a special press conference in Sofia together with the Russian Energy Minister, Sergei Shmatko, after the 13th meeting of the Intergovernmental Bulgarian-Russian Commission for Economic, Scientific and Technical Cooperation.
Traikov said the environmental assessment to be prepared by the Bulgarian Environment Ministry must become the framework for the future decision on whether the project would be executed at all.
"There is no way that we can have a negative environmental assessment, and can also realize the respective project," Traikov declared.
Russian Energy Minister Shmatko said in turn that the Russian side had understanding for the need for a sufficiently in-depth environment assessment of the project, including in order to answer the questions and concerns of the citizens of the Bulgaria's Burgas region.
"The project will not be frozen, and we are going to cooperate on it in the future. We have agreed on the execution of a number of corporate procedures including the environmental assessment," Shmatko said.
Novinite: Bulgaria Backs Double Capacity of Russian South Stream Pipeline
Bulgarian Economy Minister Traikov (right) with Russian Energy Minister Shmatko (left) in Sofia on Friday. Photo by BGNES
Bulgaria supports increasing twofold the capacity of the planned Russian-sponsored gas transit pipeline "South Stream".
This has been stated Friday night at a news conference in Sofia by Bulgaria's Minister of Economy, Energy, and Tourism, Traicho Traikov, who participated in the 13th meeting of the Intergovernmental Bulgarian-Russian Commission for Economic, Scientific and Technical Cooperation together with Russian Energy Minister Sergei Shmatko.
Traikov said Bulgaria has received the detailed explanation it required with respect to the proposal of the Russian side from increasing the capacity of the South Stream gas pipeline from 31 billion cubic meters to 63 billion cubic meters per year.
In his words, in its consultation with other EU countries Bulgaria was going to support the idea for declaring South Stream an object of European-wide significance.
He explained that Bulgaria and Russia were starting negotiations at the corporate level for hammering out all aspects of the bilateral relations with respect to the supplies and transit of natural gas.
Russian Energy Minister, Sergei Shmatko, declared that the long-term contracts and projects such as South Stream were a durable guarantee for the energy security and stability of Europe.
He said that even though liquefied natural gas was sometimes sold cheaper than the guys supplied by Russia because there was an abundant supply of natural gas. Yet, in his words, the situation might end up being the other way around in the future, and that is when the benefits of the long-term projects would be appreciated by the European consumers.
"The European consumers and buyers must appreciate the attractiveness of the cooperation within which they will be able to get the necessary quantity of gas for decades to come," Shamko pointed out.
energia.gr: Iraq's Second Round Of Oil Bidding Starts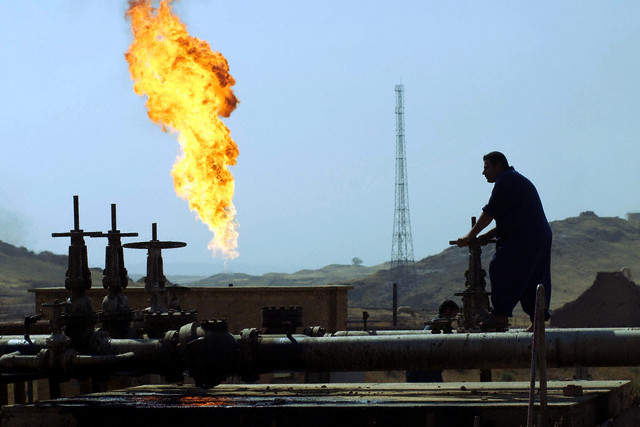 More than 40 international oil companies, including the world's largest, are competing for the fields, which hold more than 35 billion barrels of oil equivalent in proven reserves. Maliki pledged to improve security in the volatile country. "We are working to improve security to the extend that companies would start their work to develop these oil fields."
This is the second post-war bid round Iraq has held this year. At the first one held in June Iraq auctioned eight oil and gas fields. Companies then rejected Iraq's tough terms and only two companies BP (BP.LN) and China National Petroleum Corporation accepted the ministry's terms and walked away with one contract to develop Rumaila, Iraq's largest producing oil field.
However, some consortiums changed their minds and accepted the oil ministry's tough terms for contracts in the first bidding round and signed contracts. They are Exxon Mobil Corp (XOM) and Royal Dutch Shell PLC (RDSA) which signed for West Quran Phase 1 and Italy's ENI SpA (E) and U.S.' Occidental Petroleum Corp (OXY) which clinched a deal to develop Zubair, both in southern Iraq.
Iraqi oil minister Hussein al-Shahristani said that if these three oil fields developed they would boast Iraq's crude oil exports to 7 million barrels a day which would bring much-needed to Iraq of between $150 million and $200 billion a year. Iraq is currently exporting around 2 million barrels a day