Hotnews: Seful Gazprom: Romania nu va ocupa locul Bulgariei in proiectul South Stream
Romania nu va putea ocupa locul Bulgariei in proiectul 
South Stream
, dar ea poate avea o ramificatie a gazoductului ori prin mare, ori din Bulgaria, a declarat vineri seful concernului rus 
Gazprom
, Aleksei Miller, potrivit RIA Novosti citata de Agerpres.
"Romania si-a aratat interesul, poate fi vorba de construirea unei ramificatii maritime sau din Bulgaria. Aceasta ar fi deocamdata ideea", a afirmat Miller.
El a subliniat in continuare ca Gazprom a avut negocieri reusite cu partea bulgara si ca proiectul se realizeaza conform graficului.
RIA Novosti aminteste ca pentru realizarea gazoductului South Stream – initiat de grupul italian ENI si de Gazprom si care urmeaza sa transporte gaz din Rusia catre Europa prin Marea Neagra, ocolind Ucraina -, partea rusa a semnat acorduri cu Bulgaria, Serbia, Ungaria, Grecia, Slovenia si Croatia.
La mijlocul lunii februarie, Gazprom anunta intr-un comunicat, in urma unei intalniri desfasurate la Bucuresti intre vicepresedintele Gazprom, Aleksandr Medvedev, si ministrul roman al economiei, Adriean Videanu, ca Romania a confirmat interesul pentru participarea la proiectul South Stream si a transmis partii ruse datele solicitate anterior, necesare pentru pregatirea studiului de fezabilitate pentru varianta de traseu a gazoductului pe teritoriul Romaniei.
Ulterior, presa rusa a scris ca Romania ar putea inlocui Bulgaria in proiectul South Stream.
Adevarul: Gazprom se leagă direct de Germania
Vladimir Putin şi Angela Merkel au bătut palma pentru un gazoduct ce va transporta anual 55 de miliarde de metri cubi de gaze
Grupul rus a început lucrările de construcţie a gazoductului proiectat pentru a transporta gaze naturale din Rusia spre Europa de Vest. În ciuda creşterii concurenţei terminalelor de gaze, Nord Stream a fost lansat oficial "la apă". Mai mult, întreaga cantitate de gaze a fost deja contractată.
Cu ocazia ceremoniei de inaugurare a lucrărilor de construire a gazoductului Nord Stream, ce leagă direct Rusia de Germania, traversând Marea Baltică, vicepreşedintele Gazprom, Alexander Medvedev a declarat că întreaga cantitate de gaze a fost deja contractată.
Proiectul germano-rus, cu costuri evaluate la 7,4 miliarde de euro, va avea în final o capactitate de transport de 55 de miliarde de metri cubi de gaze pe an. Încă din faza de proiect, traseul a fost vehement criticat de către politicienii polonezi, care acuză Germania că subminează interesele vecinilor săi est-europeni prin crearea unei alianţe puternice cu Rusia şi crescând dependenţa Europei de gazele ruseşti.
Dependenţa de Rusia
Uniunea Europeană importă aproximativ 45% din necesarul de consum din Rusia, ceea ce reprezintă 70% din exporturile ruseşti de gaze. Cele mai afectate state sunt Polonia şi ţările baltice, care nu vor mai beneficia de taxele de tranzit. Principalul acţionar al companiei care construieşte şi va exploata conducta submarină este Gazprom, cu 51% din acţiuni, restul titlurilor fiind deţinute de BASF şi E.ON din Germania, împreună cu Gasunie din Olanda. În viitorul apropiat este preconizată alăturarea consorţiului şi compania franceză GDF Suez.
Realizarea unui nou traseu de transport al gazelor spre Europa a fost impulsionată de disputele pe care Gazprom le-a avut cu Ucraina, care au condus la întreruperea temporară a livrărilor în plină iarnă. Prima conductă, a cărei dare în exploatare este planificată pentru sfârşitul anului 2011, va transporta 27,5 miliarde de metri cubi de gaze. Dublarea capacitatăţii va fi probabil amânată după 2012, din cauza scăderii cererii de consum şi a reducerii preţurilor, care a afectat puternic sectoarele energetice atât din Rusia, cât şi din Europa.
Capacitate de transport în exces
Conform Agenţiei Internaţionale pentru Energie, capacitatea excedentară pentru transportul gazelor prin conducte sau a terminalelor de gaze naturale lichefiate (GNL) va ajunge la nivel global la 250 de miliarde de metri cubi până în 2015 din cauza cererii scăzute. Aceasta înseamnă o majorare de patru ori a capacităţii excedentare existente în 2007. Din cauza competiţiei acerbe de pe piaţă, unii dintre clienţii importanţi ai Gazprom, printre care E.ON şi Eni din Italia s-au văzut în imposibilitatea de a vinde peste preţul negociat anterior cu partea rusă.
Odată cu înfiinţarea mai multor burse de gaze şi cantităţi mari oferite pe piaţa spot, concurenţa a crescut foarte mult în acest sector. Analiştii atrag atenţia că pentru a fi profitabil, Nord Stream trebuie să dea dovadă de flexibilitate cu principalii săi clienţi
Bursa: China finanţează parcuri eoliene în România
Banca Chineză de Dezvoltare va susţine financiar firmele din Republica Populară Chineză pentru a investi în domeniul energiei eoliene în Româ-nia. "De luna aceasta, o delegaţie de specialişti în exploatarea energiei eoliene vor veni în România pentru primele demersuri necesare realizării investiţiilor în domeniu. Firmele sunt sprijinite de Banca Chineză de Dezvoltare care va finanţa proiectele", a declarat, vineri, la Tulcea, consulul general al Republicii Populare Chineze la Constanţa, Wang Tieshan, citat de Agerpres. Domnia sa a adăugat că proiectele privind realizarea parcurilor eoliene sunt în faza de studiu de fezabilitate.
Tulcea este considerat unul dintre judeţele cu cel mai mare potenţial în ceea ce priveşte energia eoliană, firme din ţară şi străinătate depunând deja documentaţiile necesare pentru a realiza 70 de parcuri cu 1.703 turbine. Până în acest moment, în judeţ există doar 13 turbine, organizaţiile neguvernamentale criticând însă investiţiile în domeniu anunţate de firmele private în condiţiile în care habitatele naturale sunt afectate, iar circa 80% din suprafaţa judeţului este inclusă în programul Natura 2000 prin care sunt protejate speciile de floră şi faună
RIA Niovosti
: Vladimir Putin, Ukrainian PM to hold talks in Moscow
The Russian and Ukrainian prime ministers, Vladimir Putin and Mykola Azarov, will hold a meeting in Moscow on Saturday at which they are likely to discuss natural gas and steel pipe issues facing the two countries.
Ukrainian President Viktor Yanukovych, who was inaugurated in February, is seeking to revise the long-term gas deal signed by then prime minister Yulia Tymoshenko and Putin in early 2009, which increased the price Ukraine paid for Russian gas, further straining the country's troubled finances.
In return for cheaper gas, Ukraine could offer Russia a stake in its gas transportation system, which currently carries about 80% of Russian natural gas exports to Europe, and a discount for Russian gas transit to European consumers.
Azarov earlier told the Ukrainian cabinet that he was confident of reaching a deal with Russia on lower prices soon.
Earlier this year, Russia introduced a market gas price for Ukraine, which Kiev says is "unreasonably high." The price is set at $305 per 1,000 cu m (tcm) of Russian gas in the first quarter and $320 in the second. Media earlier reported that Ukraine would like to see the price go down to $260 per tcm.
The Ukrainian government has complained that Belarus, Russia's other main western neighbor only pays $168. Russia says the reason for this difference in price is that Belarus is part of a Customs Union with Russia and Kazakhstan while Ukraine is not.
The Ukrainian premier could also discuss with Putin the issue of resuming duty-free supplies of Ukrainian pipes to Russia.
Russia halted from April 1 the imports of Ukrainian steel pipes duty free over the failure of the two ex-Soviet republics to agree on a quota for the second quarter of 2010.
"I hope we will soon agree on duty-free supplies of pipes to Russia," Azarov told Ukrainian TV channel Inter on Friday.
RIA Novosti
: Shale gas no threat to Gazprom in Europe – CEO
Extraction of shale gas in Europe would not have a significant impact on the European market, Gazprom CEO Alexei Miller said on Friday.
"We do not see the conditions for shale gas to have a serious impact on the European market," the head of the Russian gas monopoly told journalists.
Europe is the biggest market for Gazprom and any fall in demand there has implications for the company and the Russian economy.
Big shale gas fields have been discovered in Poland. Izvestia daily has quoted Russian experts as saying Europe's own gas reserves could rise by 47%, if the shale gas reserves Poland proved exploitable, making Warsaw a major regional gas supplier.
However, Greenpeace Russia's energy program chief Vladimir Chuprov said it was too early to gamble on shale gas.
"In contrast to traditional high-pressured gas in Russia, shale gas … requires different technologies and large investment," he told RIA Novosti. "Today the question is will the technologies of shale gas recovery reach a commercially acceptable level soon."
today.az: Turkish Ambassador to Azerbaijan commented on the gas negotiations between Baku and Ankara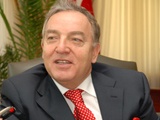 Another round of talks between Turkey and Azerbaijan on gas prices will likely be sometime next month.
Turkish Ambassador to Azerbaijan Hulusi Kilich, told ANS TV that he does not exclude a possible agreement.
According to the Ambassador, bilateral negotiations on the issue of gas continues: "In the matter of gas there is a number of topics, the first of which is connected with the price of gas from the first phase of Shah Deniz and the second – with the volume of gas purchased by us from the second phase of Shah Deniz . The third issue relates to transit gas prices through Turkey and the volume of gas sold to Azerbaijan to the Turkish market."
H. Kilic, alleges that many issues have already been agreed on: "I believe that these negotiations will be held in upcoming month, and the agreement will finally be reached".
energia.gr: EU Commissioner Sees Decision On Nabucco By Year-End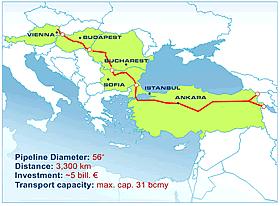 A final decision on whether to go ahead with the Nabucco gas pipeline project will be made by the end of this year, European Union Energy Commissioner Guenther Oettinger said Friday.
"This question has to be decided over the next nine months," Oettinger said. He added there is interest in the project from countries such as Italy , Bulgaria and Greece , as well from energy companies in Austria and Germany .
"The companies have to decide by the end of the year and will do it based on an analysis of the long-term development of the gas market in the European Union," Oettinger said.
"I think there is a chance of more infrastructure in the southern corridor," he added, speaking on the sidelines of the official launch of the construction of the rival Nord Stream pipeline, which will ship natural gas from Russia toGermany under the Baltic Sea . Nord Stream is led by Russian gas monopoly Gazprom OAO (GAZP.RS).
The Nabucco gas pipeline is considered crucial to secure Europe 's growing demand for natural gas as domestic supply is steadily falling. The pipeline, with a planned capacity of up to 31 billion cubic meters of gas a year, would further diversify Europe 's supply sources, bypassing traditional pipeline routes for Russian gas.
The 3,300-kilometer Nabucco pipeline is slated to transport natural gas from the Caspian region to Central Europe via Turkey and Austria .
The Nabucco consortium comprises Germany 's RWE AG (RWE.XE), Austria 's OMV AG (OMV.VI), Hungary 's MOL Nyrt (MOL.BU), Transgaz of Romania, Bulgargaz of Bulgaria and Botas of Turkey. Each of the shareholders owns a 16.67% stake in the consortium.
The consortium has said it expects a final investment decision to be made over the course of 2010, with construction of the pipeline expected to begin in 2011. Under the consortium's plans, gas will start flowing through the pipeline in 2014.