RIA Novosti: Ukrainian deputy PM warns of possible gas payment problem in Jan.
KIEV, November 10 (RIA Novosti) – Ukraine may face difficulties in paying for Russian natural gas in January if a "pause" in contacts with the IMF persists, the country's deputy prime minister said on Tuesday.
Ukraine, caught in a deep economic crisis, has been surviving on a $16.4 billion loan from the International Monetary Fund, also using the money to pay for gas to Russia. The fund was due to release the fourth, $3.8 billion, tranche by the end of the year, but has so far delayed the release.
Media reports said the IMF would resume cooperation with the ex-Soviet state after presidential elections due in January.
Hryhoriy Nemyrya said, as quoted by Ukrainian media, that there would be no payment problems in November and December, "but if the [IMF] program is delayed until January, it will be very difficult to pay."
"We do not want the recurrence of problems with gas supplies to Ukraine and transit to Europe on Christmas," Nemyrya said.
A bitter gas pricing and debt dispute between Moscow and Kiev at the start of the year led to a brief cutoff in supplies to Ukraine and transits to Europe, leaving millions of Europeans without gas in January. Ukraine transits around 80% of Russian gas bound for Europe. The EU exports about 20% of its gas needs from Russia.
Ukraine has paid Russia for gas supplies on time this year, but the country's Prime Minister Yulia Tymoshenko said the process had been "extremely difficult."
Ukraine has reported 25 billion cubic meters of gas in its storage facilities, which it says would be enough for the uninterrupted gas transit to Europe this winter.
RIA Novosti: Gazprom may fine EU buyers for not taking contracted volumes
MOSCOW, November 9 (RIA Novosti) – Gazprom could fine European consumers for falling short of contracted purchase volumes by 8-9 billion cubic meters of gas, an executive at the Russian gas monopoly said on Monday.
Sergei Chelpanov, deputy general director of Gazprom Export, the holding's export arm, said the claims would be based on the "take or pay" clause in the contracts that obligate the buyer to pay for the entire contracted volume.
He stressed there was "no question of scrapping" penalties for failure to buy the full amounts stipulated in contracts.
Chelpanov's comments follow media reports that European consumers were in talks with Gazprom seeking exemptions from penalties this year on the grounds that no such claims had been made against Ukraine.
The executive also said Gazprom would export 45 bcm to Europe in the fourth quarter of the year and for a 2009 total of 142.5 bcm.
russiatoday.com: Gazprom posts 1H 2009 Net Profit of 305.8 billion Roubles
Gazprom, the world largest gas company, has posted a 1H 2009 Net Profit of 305.8 billion Roubles under IFRS.
The bottom line is down from the Net Profit of 609.3 billion Roubles a year ago, with 1H operating falling from 716 billion Roubles in 2008 to 431 billion Roubles this year, as 1H Sales fell from 1.755 trillion Roubles in 1H 2008 to 1.639 trillion Roubles this year.
The company largely attributed the decline in net result to a 67% increase in the cost of purchases, largely from Central Asian nations, with a rise in net debts reflecting both increased longer term borrowings and currency volatility.
The 2Q component of the posting showed a Net Profit of 195.5 billion roubles, down from 2Q 2008 Net Profit of 323.3 billion Roubles, as 2Q Operating profit fell from 250 billion to 149 Billion Roubles, while 2Q Sales fell from 843.3 billion in 2008 to 708.2 billion Roubles this year.
Gazprom noted a 6% increase in sales to Europe being matched by a 1% fall in sales to the former Soviet Union and 6% fall domestically, as operating expenses increased 16%.
Novinite: Gazprom Confirms New Russia-Ukraine Gas Crisis Averted
Gazprom has confirmed that Ukraine has managed to pay for the Russian October gas supplies. Photo by EPA/BGNES
Russian energy giant Gazprom confirmed Monday that Ukraine had paid in full for the natural gas it received from Russia in October.
On Friday, November 6, Ukraine's Prime Minister, Yulia Tymoshenko, announced that the country had found the money to pay for the Russian gas supplies.
Her statement came after Russian PM Vladimir Putin warned of a potential termination of the supplies over Ukraine's failure to pay; days later the Ukrainian company Naftogaz admitted it had trouble securing the funds. This has fueled fears in the EU about a repetition of the January 2009 gas crisis, which left many EU countries without Russian gas in the middle of the winter.
The Russian newspaper Komersant reported Monday that Moscow had submitted to the EU a draft of an early-warning energy memorandum, which it hopes will be signed during the EU-Russia meeting in Stockholm on November 18, 2009.
The document envisages a joint action plan in case Russian gas supplies for Europe are compromised by transit countries who divert them – something of which Russia has been accusing Ukraine.
Novinite: Moldova Gas Blast Won't Affect Supplies to Bulgaria
This is the second blast this year on the Russian gas pipeline, supplying gas to the Balkans via Moldova. File photo
The blast that ripped one of the trunk gas pipelines, supplying Russian gas to the Balkans, in southern Moldova on Sunday morning will not hurt the supplies to Bulgaria, the energy ministry announced.
Supplies of Russian gas to Balkan consumers is continuing through other routes, said government spokesman Igor Volnitsky.
"Gas is flowing to the Balkans at the same levels as before," he said, adding that the pipeline would be repaired within 72 hours.
The explosion took place at 04.30 local time five kilometres away from the village of Saitsy, bordering Ukraine's Odessa Region, damaging one of the three runs piping gas.
This is the second blast this year on the Russian gas pipeline, supplying gas to the Balkans via Moldova. An explosion in a gas pipeline in the separatist Moldovan region of Transdniestria in April caused a sharp drop in supplies to Turkey and Bulgaria.
energia.gr: BTC Pipeline Scheduled To Pump 27.35M Barrels In Dec
The Baku-Tbilisi-Ceyhan oil pipeline is expected to pump 27.35 million barrels of crude oil in December, rising from 24.6 million barrels when compared with volumes planned for delivery in November, according to a crude oil trader who received the loading program.

December loadings will amount to 822,258 barrels of oil a day, compared with 820,000 b/d last month.

The program includes seven 1,000,000 barrel cargoes and 18 800,000 barrel cargoes, according to the trader.

BP PLC (BP) is a 30% stakeholder in the BTC pipeline, which carries Azeri crude from Baku in Azerbaijan to the Mediterranean port of Ceyhan in Turkey.
energia.gr: Serbian State Co, Gazprom To Form Joint Company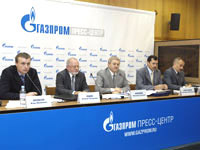 Serbia's state-run gas company and Russia's OAO Gazprom (GAZP.RS) will form a joint company on November 17 to build the Serbian section of the South Stream gas pipeline, Beta news agency reported Monday.

Gazprom will have a 51% stake in the new company while Srbijagas of Serbia will control 49%, said Srbijagas manager Dusan Bajatovic.

The EUR20 billion South Stream pipeline should be completed by 2015 and will run under the Black Sea to Bulgaria, Serbia and Hungary before branching out to western Europe.

The part passing through Serbia should be 450 kilometers long, with capacity of at least 20 billion cubic meters of gas a year. It is expected that EUR700 million would be invested in the construction of Serbia's branch of the pipeline.

As part of a wide-ranging accord, Serbia allowed the South Stream gas pipeline to pass through its territory while Moscow pledged to build an underground gas storage facility in Serbia.
WSJ: A NATO Without Turkey?
The European Union has long debated the merits of Turkish EU membership. But now, nearly a decade after Islamists took the reins of power in Ankara, the central question is no longer whether Turkey should be integrated into Europe's economic and political structure, but rather whether Turkey should remain a part of the Western defense structure.
Recent developments suggest that while Turkey's military leadership remains committed to the state's secular, Western orientation and the defining principles of the North Atlantic Treaty Organization, the civilian Islamist government led by the Justice and Development Party (AKP) seems to have different ideas. Ankara is increasingly pursuing illiberal policies at home, for instance by attacking independent media, while aligning itself with militant, anti-western Middle East regimes abroad.
The latest demonstration of Ankara's political shift was its cancellation last month of Israel's long-standing participation in NATO military exercises in Turkey. Even worse, on the same day Israel was disinvited, Turkey announced imminent military exercises with Syria, a member of the U.S. list of "State Sponsors of Terrorism." These developments came just weeks after Ankara and Damascus established a "senior strategic cooperation council." These developments could signal the beginning of the end of Turkey's close military and economic cooperation with the Jewish state.
Ankara is simultaneously moving closer to the mullocracy in Tehran, even though the Islamic Republic is undermining stability in Afghanistan and Iraq by providing insurgents in both countries with explosives that are killing NATO and U.S. soldiers. The Iranian regime is also threatening to annihilate Israel, the very state Turkey is now distancing itself from. And yet Turkey and Iran have signed several security cooperation agreements over the past few years, and just two months ago, Turkish Prime Minister Recep Tayyip Erdoğan hinted he would oppose sanctions against Iran, saying he "firmly believe[d] that the international community's concern over Iran's nuclear program should be eased." This past June, Turkish President Abdullah Gul was among the first to call Iranian President Mahmoud Ahmadinejad to congratulate him on his fraudulent re-election.
Meanwhile at home, individual liberty and rule of law have gone by the wayside. The Islamist government—in an effort to silence critics—attempts to bankrupt the independent and secularist Turkish media through extra-legal tax fines. The AKP government has also targeted political opponents by arresting them on dubious charges of attempting to overthrow the government.
Ankara's dramatic policy transformation seems inconsistent with the fundamental values that underpin the alliance. NATO partners are bound by the principles articulated in the 1949 charter, which affirm member states' "desire to live in peace with all peoples and all governments…[a] determin[ation] to safeguard the freedom, common heritage and civilization of their peoples, founded on the principles of democracy, individual liberty and the rule of law." Member states are also committed to "seek to promote stability and well-being in the North Atlantic area."
As Ankara's politics shift, Turkey's willingness to take on politically difficult NATO missions could also diminish, bringing into question the commitment to "collective defense." While Turkey has deployed troops to the NATO mission in Afghanistan, it's unclear that Ankara would support NATO efforts to stem Russian pressure westward in Latvia or Lithuania. Judging from Turkey's equivocal position on Russia's 2008 invasion of Georgia, it seems unlikely that Turkey today would even consent to training missions in the Baltic States. Justifying his tilt toward Moscow, Mr. Erdogan said "we have an important trade volume [with Russia]. We would act in line with what Turkey's national interests require."
While Ankara's politics have changed, the military's pro-Western disposition reportedly has not. But over the past decade, the dynamics between the politicians and the general staff have been transformed. For better or worse, Western pressures have compelled the Turkish military to remain in the barracks, and refrain from interfering in political developments. Today, the Turkish military can do little but watch as the secular, democratic, pro-Western republic established by Mustafa Kemal Ataturk in the early 1900s is undermined.
While it's still too early to write Turkey out of NATO, in the not so distant future, the alliance will reach a decision point. In 2014, NATO's next generation fighter plane, the Joint Strike Fighter, will be delivered. Given the direction of Turkish politics, serious questions must be asked about whether the Islamist government in Ankara can be trusted with the highly advanced technology.
It's time that NATO start thinking about a worst case scenario in Turkey. For even if the increasingly Islamist state remains a NATO partner, at best, it seems Turkey will be an unreliable partner. Since the 1930s, the country has been a model of modernization and moderation in the Middle East. But absent a remarkable turnaround, it would appear that the West is losing Turkey. Should this occur, it would constitute the most dramatic development in the region since the 1979 Islamic Revolution in Iran.
Mr. Schenker is director of the Program in Arab Politics at the Washington Institute for Near East Policy.