Hotnews: Emil Boc: Gazele si energia electrica nu se scumpesc in 2010
Pretul gazelor si al energiei electrice destinate consumului populatiei nu se va majora in 2010, spune premierul in exercitiu, Emil Boc.
"Am venit cu o informare oficiala de la ANRM, iar acest punct de vedere ne spune: Guvernul are prin ANRE strategia de mentinere neschimbat a pretului la energie electrica si gaze destinata consumului populatiei pentru anul urmator. Daca m-au pacalit cei de la energie atunci va pacalesc si eu pe dumneavostra. Nu se are in vedere pentru 2010 majorarea pretului la gaze si energie electrica destinate consumului populatiei", a declarat Emil Boc, la Realitatea TV, potrivit NewsIn.
RIA Novosti: Kiev denies gas payment problems, expects EU loan
KIEV, October 30 (RIA Novosti) – Ukraine has denied a remark by Russian Prime Minister Vladimir Putin on Friday that Ukraine is again having difficulty paying for Russian natural gas supplies and the EU is not going to lend Kiev money to solve the problems.
Putin added that Ukrainian Prime Minister Yulia Tymoshenko told him by telephone on Friday that President Viktor Yushchenko was blocking payments for Russian gas supplies.
The Russian prime minister said that IMF data showed Ukraine had gold reserves of $27-$28 billion, with a maximum of $12 billion required to cover the payment. He also noted that the European Union had refused to extend any loans to Ukraine to cover its gas purchases.
Ukrainian president's representative for international energy security issues Bohdan Sokolovsky said Putin's statement was "unfriendly."
"On July 30, the European Commission and three honorable international financial institutions published a joint statement on a $1.7 billion loan to buy Russian gas. However, the head of the Ukrainian government is still slow at fulfilling the conditions in order for these funds to be transferred," Ukraine's presidential press service quoted Sokolovskiy as saying.
Kiev asked the EU for a $4.2 billion loan to pump Russian gas into its underground storages in order to avoid gas transfers into Europe.
"The EU has not given Ukraine any money," Putin said. "Ukraine has not received a single cent, not one hryvnia."
Russia supplies around one fifth of Europe's gas via Ukraine. Brussels had announced intentions to take part in the modernization of Ukraine's gas transit system.
Ukraine's state-controlled energy company Naftogaz rejected on Monday reports of gas payment problems, saying it would pay for Russia natural gas supplied in October on time and in full.
A source in Naftogaz on Monday quoted its CEO Oleh Dubyna as saying at a meeting with Gazprom head Alexei Miller last week that it was increasingly difficult for the Ukrainian energy company to make gas payments and it could be problematic for it to pay for natural gas supplied in October.
Yushchenko has repeatedly called for the revision of long-term gas contracts signed by Gazprom and Naftogaz to resolve the January gas dispute. The Ukrainian president said Naftogaz had lost at least $2.5 billion from Russian natural gas transit.
RIA Novosti: E.ON expects to produce 6 bcm of gas at Yuzhno-Russkoye field
MOSCOW, October 30 (RIA Novosti) – E.ON Ruhrgas expects to produce 6 billion cubic meters of gas annually at one of Russia's largest gas fields, Yuzhno-Russkoye, the German energy company's CEO said on Friday.
Earlier in the day, E.ON and Russian energy giant Gazprom signed documents closing a deal under which the German company swapped its 3% stake in Gazprom for a 25% share in Yuzhno-Russkoye.
"Apart from long-term gas supply contracts, we are pushing our own production. Natural gas output will fall substantially in the next few decades, while we could produce annually over 6 bcm at the field," Bernhard Reutersberg said after the signing ceremony.
He expressed the hope that E.ON Ruhrgas would manage to push its own natural gas output to 10 bcm by 2012.
The two companies signed an agreement on jointly developing the west Siberian oil and gas field last October, and an asset swap deal in the sphere of natural gas output and trade in June 2009. Å.ON is also Gazprom's partner in the Nord Stream project to build a gas pipeline under the Baltic Sea to Germany.
The Yuzhno-Russkoye field will supply some of its gas to the pipeline expected to go on stream in late 2011.
The deposit has recoverable reserves of 600 billion cubic meters of gas.
E.ON Ruhrgas holds 3.5% in Gazprom through Gerosgaz, and is Gazprom's largest foreign shareholder.
russiatoday.com: Gazprom and E.ON complete asset swap
Gazprom and E.ON have finalized an asset swap which will see the German energy giant with a stake in the Yuzhno-Russkoye gas field after four years of talks.
Gazprom has obtained 49% of the Russian energy trading company E.ON Gerosgas, which holds a 2.93% stake in Gazprom. In exchange E.ON has received a 25% stake minus three shares in the gas field, where it will join with BASF, its partner on the Nord Stream pipeline in developing the promising gas field.
The gas field is expected to provide half of the gas to fill Nord Stream when it is built.
Gazprom CEO Aleksey Miller hailed the agreement, saying it takes relations between the companies to a new level.
"We have reached a new level in our relations. We will now work jointly in the extraction of gas, its transportation, as well as distribution and sale. We have also discussed a possible co-operation with our German partners in the exploitation of the Yamal gas field. We have reached a level of friendship rather than just partnership."
Meanwhile, Gazprom says demand for gas in Europe has returned to the pre-crises levels. Consumption plunged in the first half of the year due to the downturn, but is now higher than during the same periods in 2008 and 2007.
Russiatoday,com: Ukraine gas payment issues political not financial: Putin
Russian Prime Minister, Vladimir Putin, says Ukraine is likely, once again, to have problems paying for its gas supply, but that these stem from domestic Ukrainian politics rather than lack of finances.
In the wake of a series of disputes between Russian, Gazprom, Naftogaz and Ukraine, which have seen gas supplies to Ukraine, and supplies across Ukraine for Europe, halted, the Russian Prime Minister stated that the payment issues faced by Ukraine were not the result of a lack of financial capacity to pay, but rather Ukraine's fractious domestic politics.
"According to the International Monetary Fund, Ukraine does have the money. Furthermore, the IMF thinks paying for Russian gas out of Ukraine's foreign reserves is possible – and the right thing to do. A large part of IMF funding is provided by Russia. But, as the Ukrainian Prime Minister Yulia Timoshenko told me, the country's president is blocking money transfers within the country."
Russian political figures backed the Prime Minister, with Vyatcheslav Volodin, secretary of the general council's presidium, rejecting any proposal to increase domestic gas charges in order to compensate for the possibility that Ukraine may not pay for its gas consumption.
"We by no means can shift the problems created by Ukraine to our citizens and won't raise taxes for our Russian companies."

Meanwhile, the European Union has also weighed in on the disagreement, with European Commission President, Jose Manuel Barroso saying it was not fair that the EU should bear the brunt of the two countries' dispute.
In January this year, a row between Moscow and Kyev over Ukraine's illegal syphoning of gas resulted severe disruption of supplies to Europe.
This resulted in many parts of Eastern and Central Europe receiving no supplies for nearly two weeks during a particularly cold spell of weather.
A spokesman for Ukraine's President Yushenko has issued a prompt response, saying the office was not hampering payments for gas.
Novinite: Putin Comments Raise Concern over New Bulgaria Gas Crisis
Bulgaria was one of the countries most affected in the January 2009 crisis, when a payment dispute led to Russia cutting off supplies to the Ukraine including those destined for the rest of Europe. File Photo
Russia PM Vladimir Putin has stated that the Ukraine might be having problems paying for its gas supplies, leading to concerns of a new gas crisis in Bulgaria.
Bulgaria was one of the countries most affected in the January 2009 crisis, when a payment dispute led to Russia cutting off supplies to the Ukraine including those destined for the rest of Europe.
Putin said late Friday that the European Union had not yet given the Ukraine the money it had promised to help provide stable supplies of Russian gas to Europe.
He also blamed Ukrainian President Viktor Yushchenko for blocking payment, the BBC reported.
"It appears we are again having problems with payments for our energy supplies, which is extremely regrettable. The EU has still not provided Ukraine with the money it has promised for that purpose," Putin said.
He added; "European leaders are referring us to the European Commission, while the European Commission leadership are evading discussing the issue with us."
In August, the EU and international lending institutions agreed a USD 1.7 B loan deal to help secure European gas supplies.
energia.gr: Gazprom To Up Gas Exports To Poland To 11Bcm/Yr-Source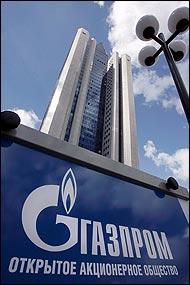 Russian gas major OAO Gazprom (GAZP.RS) will increase gas supplies to Poland to 11 billion cubic meters of gas, from 7 bcm last year, a person familiar with the matter said Friday.

Earlier Friday, Polish gas monopoly PGNiG (PGN.WA) said it reached an agreement with Gazprom to increase natural gas supplies to Poland.

The agreement includes the extension of an existing gas supply contract until 2037, and involves the operations of EuRoPol Gaz, the operator of the Polish section of the Yamal-Europe gas pipeline, and the tariff policy for EuRoPol Gaz.

Since early this year, Poland has been trying to reach an agreement with Russia on additional gas supplies as of 2010.

As a result of the Russian-Ukrainian gas conflict in the beginning of the year, Gazprom-linked gas trader RosUkrEnergo, which over the past years supplied Poland with over 2 billion cubic meters of natural gas a year, lost access to its gas sources and stopped delivering to Poland via Ukraine.

Poland currently consumes some 14 bcm of gas annually and projects that its demand will increase to some 18 bcm by 2015 driven chiefly by increased use of gas for electricity generation.

In September, Russia conditioned a deal on increased supplies on simplifying the ownership structure of EuRoPol Gaz to eliminate a gas trader with a minority stake in the company.

At present, PGNiG and Gazprom each hold 48% of shares in the pipeline operator. The remaining 4% is in the hands of Gas-Trading, an unlisted company held by PGNiG, Gazprom and Bartimpex.

The final sticky issue in negotiations was Russia's push for a lowering of the transit fees Gazprom has to pay for sending its gas via Poland to Western Europe.

For Poland, the issue was also vital, given that the transit fees are the main source of income for EuRoPol Gaz, which in turn pays dividends from profits to PGNiG.

"We've reached a compromise, the Russian side has pledged that EuRoPol Gaz will remain profitable," the source said.

The agreement between PGNiG and Gazprom will become binding once relevant documents are signed by the governments of Poland and Russia.
Eurasia Daily Monitor: Southern Corridor, White Stream: the Strategic Rationale
By: Vladimir Socor
White Stream, the proposed gas pipeline from Georgia to Romania on the seabed of the Black Sea, is intended to maximize European gas imports from Central Asia through the E.U.-initiated Southern Corridor. The Corridor grand design spans Azerbaijan, Georgia, Turkey, and –with White Stream– also a maritime route to European Union territory via the Black Sea. At its other end, the Southern Corridor is premised on a trans-Caspian link to Turkmenistan for massive European imports of Central Asian gas. In an accompanying initiative, the E.U. has created a Caspian Development Corporation, tasked with aggregating European gas purchase offers and presenting them to Central Asian producers.
One year ago E.U. officials integrated White Stream, alongside the Nabucco project and the Turkey-Greece-Italy Interconnector, in the planning work for the Southern Corridor. With a potential capacity in the range of 60 billion cubic meters (bcm) to 120 bcm per year, the Corridor is designed to transport far larger volumes of Central Asian gas than Nabucco's capacity of 31 bcm per year could alone accommodate.
By integrating White Stream into the Corridor strategy, the E.U. has put an end to speculation about White Stream competing against Nabucco over Azerbaijani gas. At the same time, White Stream can become the answer to Turkey's abuse of its role in the gas transit to Europe. With Ankara blocking gas transit from Azerbaijan and delaying the Nabucco project, de-monopolization of transit becomes urgent, in line with the E.U.'s diversification goals for sources and routes (EDM, October 29).
Turkey's AKP government assumes that it holds a monopoly on the transit of Caspian gas to Europe. Ankara seems confident that it can exploit that situation, to the detriment of producer countries and consumer countries alike. Ankara refuses to conclude a European-standard agreement for gas transit from Azerbaijan to Europe. It also insists on buying up Azerbaijani gas at deeply discounted prices. Ankara's tactics are holding up development at the multinational consortium's Shah Deniz gas field, the designated source for the first phase of the Nabucco pipeline project. This situation in turn complicates and delays the implementation of Nabucco (EDM, October 21, 22).
The Turkish government persists with this conduct even after having signed the Nabucco inter-governmental agreement on July 13. Ankara's behavior can only raise uncomfortable questions among potential investors and gas suppliers to the Nabucco and Southern Corridor projects. It also raises these projects' risk profile from the standpoint of Central Asian and some Middle Eastern gas producing countries, which are weighing the chances of exporting gas to Europe through the Southern Corridor. From these countries' perspective, and in light of Ankara's behavior toward its close kin Azerbaijan, the Turkish gas transportation route must appear risky or unpredictable, as long as Ankara remains a transit monopolist.
White Stream's maritime route provides an option for supplementing, if not replacing, the Turkish overland route for Azerbaijani and Central Asian gas to Europe. Complementarity, even short of replacement, can become an effective de-monopolization tool.
Azerbaijan is the irreplaceable country as a gas producer for Nabucco's and the Corridor's first stage. Azerbaijan will again be irreplaceable as a transit country for Central Asian gas, in those projects' follow-up stages. The Turkish transit route, however, is not irreplaceable and White Stream can demonstrate that point.
Key to success in this strategy are the twin concepts of Big Gas and Effective Corridor, both presupposing a synergy of Nabucco and White Stream, along with other Southern Corridor components. This synergy, if achieved, would maximize pipeline capacity for Central Asian gas to Europe while ensuring a reliable, long-term transportation solution, reducing or minimizing political risks. These conditions are indispensable to gas producing countries and companies and the financial investors in the pipelines (White Stream Briefing Note, October 2009).
As E.U. planners realize, Nabucco alone cannot achieve those risk reduction goals. On the Central Asian side, the prospect of Big Gas is necessary –and almost certainly awaited there– for gas producing countries to conclude long-term supply contracts with Europe. The Central Asians would hardly risk confrontation with Russia for just a few bcm of gas to Europe that Nabucco's second stage could annually accommodate. By contrast, in a Big Gas relationship with Europe, Central Asian producers could count on massive revenues, security of demand for their gas, and far-reaching emancipation from Russian Gazprom's monopsony. All this could well induce Central Asian countries to view Europe as a preferred market and open their onshore gas resources for exploration and development by Western companies.
The concept of an Effective Corridor means removing transportation risks westward of the South Caucasus. Watching Ankara's behavior, Central Asian countries and international companies can only doubt the reliability and predictability of the Turkish transit route to Europe. Even if the trans-Caspian link does materialize, gas producers cannot be certain of accessing Europe via Turkey on fair terms. Central Asian producers, European consumers, and the project companies will need diversification of the transportation routes from the South Caucasus to Europe. They must not depend on one single powerful transit country –Turkey in this case– any more than the Central Asians depend on Gazprom at present in order to access Europe.
Fulfillment of these prerequisites, relating to gas demand and transportation, is necessary for opening Western access to Central Asian gas. The Southern Corridor with its components, including White Stream, is premised on this strategy.