euractiv,ro
Piața mondială a gazelor naturale se pregătește de un război al prețurilor, oarecum similar cu ce se întâmplă cu cotația petrolului. Actorul principal este gigantul rus Gazprom.
Statele Unite se pregătesc să inunde piața mondială cu livrări de gaz natural lichefiat (GNL) în cursul acestui an, iar investitorii în energie se tem că producătorul rus ar putea adopta aceeași strategie pe care Arabia Saudită o are pe piața petrolului, scrie Financial Times.
La o primă vedere, ultimul lucru de care are nevoie Rusia – serios afectată deja de prețurile mici ale țițeiului – este un război în prețuri și pe piața gazelor. Dar analiștii spun că o astfel de stategie ar putea avea sens pentru Gazprom: dat fiind că prețurile sunt deja mici de pe piața europeană, rușii ar putea ușor să coboare și mai mult prețul, astfel încât transportul GNL din SUA spre Europa să devină neprofitabil. Astfel, Gazprom și-ar proteja cota de piață în regiunea din care își trage cel mai mult profit.
O astfel de mutare ar avea repercusiuni pe întreaga piață mondială a energiei, deoarece un război al prețurilor în Europa va genera mișcări în toate regiunile și pe mai multe segmente – de la prețul GNL în Australia la costul cărbunelui columbian – amenințând, în același timp, viabilitatea unei industrii americane a gazului natural lichefiat aflată încă la început, comentează FT.
Raționamentul în favoarea unui război al prețurilor este simplu – la fel cum Arabia Saudită poate direcționa piața internațională a petrolului, prin prisma capacității de a-și majora producția dacă e nevoie, Gazprom este principalul deținător de capacități neutilizate din sectorul gazelor naturale. Potrivit oficialilor Gazprom, compania are o capacitate neutilizată de 100 miliarde de metri cubi, ca urmare a investițiilor făcute pe baza unor estimări foarte optimiste privind cererea viitoare de gaze, echivalent cu aproape un sfert din producția sa, respectiv 3 la sută din producția mondială.
Și, la fel cum Arabia Saudită a fost deranjată de perspectiva ca producătorii americani de petrol de șist să-i scadă cota de piață, Gazprom este în fața aceleiași situații pe piața gazelor. Creșterea puternică a livrărilor de gaz ieftin, ca urmare a folosirii pe scară largă a fracturării hidraulice, a dus la un boom al proiectelor în domeniul GNL în ultimii ani, inclusiv al dezvoltării de capacități de export.
Pentru a citi restul analizei, consultați articolul FT.
EFECTE ÎN ROMÂNIA
România cumpără gaze naturale de la Gazprom, prin intermediari, dar importurile au scăzut progresiv în ultimii ani, pe fondul reducerii consumului. Pe măsură de marii consumatori industriali și-au închis capacitățile și au redus consumul, aportul de gaze din import a fost minimal. Cei doi mari producători locali, Romgaz și Petrom, asigură aproape integral consumul, iar România ar putea deveni exportator net în scurt timp, dacă zăcămintele de gaze din Marea Neagră se dovedesc viabile economic. Totuși, dacă prețurile vor scădea și mai mult, investitorii vor amâna probabil investițiile în dezvoltarea de noi capacități de producție, la fel cum se întâmplă deja în domeniul petrolului.
Global gas market braced for price war
Could
Gazprom
be about to start a price war in the global gas market?
With the prospect of a wave of US liquefied natural gas (LNG) supplies starting to hit the market later this year, energy investors fear the Russian state gas giant may adopt the same strategy in the gas market that Saudi Arabia has done in oil.
It may seem like a gas price war is the last thing that Russia, reeling from the impact of low oil prices, needs.
But analysts say that such a strategy may be economically rational for Gazprom: already low prices in the European gas market mean it could relatively easily push prices to a level at which it would be unprofitable to ship LNG from the US — and in doing so defend its market share in a region that accounts for the bulk of its profits.
Such a move would have significant repercussions for the global energy markets: a fully-fledged price war in the European gas market could have a ripple effect across other regions and commodities — from Australian LNG to Colombian coal — as well as threatening the viability of the nascent US LNG industry.
"Why would you concede market share to a higher cost producer?" says James Henderson, Russian oil and gas specialist at the Oxford Institute for Energy Studies (OIES). "If I was an investor in US LNG I would be worried."
The argument in favour of a price war is simple.
Just as Saudi Arabia is the main swing producer for the global oil market thanks to its ability to ramp up production if needed, Gazprom is the main holder of spare capacity in the global gas market.
According to Gazprom executives, the company has about 100bn cu m of spare production capacity — thanks largely to investments made on over-optimistic assumptions about future gas demand — equivalent to almost a quarter of its production and about 3 per cent of world output.
And just as Saudi Arabia has been unnerved by the prospect of US shale oil producers eroding its market share, Gazprom faces a similar prospect in the gas market. The flood of cheap gas unleashed by the US shale boom has prompted a wave of US LNG projects in recent years. The first cargo of LNG from the "lower 48" contiguous states of the US is due to be shipped in the next two months, and the total export capacity under construction is equivalent to two-thirds of Gazprom's exports to Europe.
Finally, like Saudi Arabia in oil, Gazprom is one of the lowest-cost gas producers. According to calculations by Mr Henderson at OIES, the cost to Gazprom of delivering its gas to Germany is $3.5 per mmbtu (million British thermal unit) — compared with an estimated $4.3 per mmbtu break-even for US LNG supplies despite US gas prices trading near 16-year lows.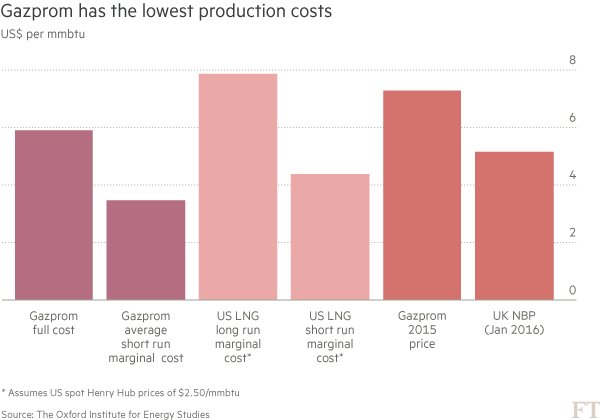 Put all those facts together, and it would seem to make sense for the Russian company to push down prices to keep US LNG out of the market.
"Now the market is getting excited about it; but also the Russians have done their maths and they know they can win if it happens," says Thierry Bros, European gas analyst at Société Générale in Paris.
Such a move would be cheaper to implement now because European gas prices have already fallen dramatically — spot UK gas prices are down 50 per cent in the past two years. Gazprom's contract prices, which are largely tied to oil prices, have kept pace with the spot gas market decline and are likely to fall further in the next six to nine months.
Mr Bros estimates it would cost Gazprom $1.3bn in lost revenues to price US LNG out of the market this year — less than 1 per cent of its historical annual sales.
Gazprom executives have studied the economics of the price war approach and are discussing the issue, according to people familiar with the company's thinking.
At a meeting with investors in New York this week, Alexander Medvedev, Gazprom's deputy chief executive, argued that low spot prices in Europe had already made US LNG supplies uneconomical. "Despite the prevailing view on the market that North American LNG can change the current pricing model in Europe, in reality this is not the case at all," he said.
Analysts say a Gazprom-led price war could have two distinct objectives: first, to price cargoes of US LNG out of the European market in the short term; and second, to disincentivise new investments in LNG projects in the longer term.
The first goal would require the European spot price to fall below the marginal cost of shipping US gas to Europe — a scenario that Mr Bros now believes is likely in the second half of this year, but which analysts say would be painful for Gazprom to maintain for a long time.
More sustainably, Gazprom could adopt a medium-term strategy of managing European prices to prevent new LNG projects being approved. While few projects are likely to be considered in the short term given low oil and gas prices on both sides of the Atlantic, it may become a consideration should prices rise in the next year or two.
As one government official in Moscow puts it: "They have no choice. They are already in a price war."