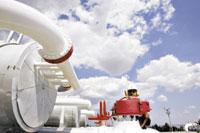 Greece and Bulgaria have agreed on the construction of a pipeline that will allow Bulgaria to import natural gas from the Caspian Sea region, the Greek Development Ministry said yesterday.

Bulgaria's state-owned Energy Holding signed an agreement with Greek gas company DEPA and Italy's Edison on setting up a company to construct and operate the pipeline, and a second company to supply and exploit the gas commercially.

The Development Ministry said the deal will provide a boost to Greece's energy security due to the higher volume of natural gas transported to and from the country.

"This deal will also allow Greek consumers to benefit from lower natural gas prices arising from the increased volumes," it said in a statement.

The link, called Interconnector Greece-Bulgaria, or IGB, will allow Bulgaria to import 1 billion cubic meters of gas from Azerbaijan each year from 2012 through the ITGI pipeline due to carry Caspian gas via Turkey and Greece to Italy.

The Interconnector Turkey-Greece-Italy, or ITGI, pipeline has been strongly supported by the United States as an alternative supply source to Russian gas. The Greek-Turkish section of the pipeline was inaugurated in late 2007.

Costs for the IGB pipeline – a 160-kilometer link between Komotini, northern Greece, and Stara Zagora in Bulgaria – are estimated at 120 million euros, of which some 45 million euros will be provided by the European Union.

Bulgaria's Energy Holding also agreed with Greece's gas network operator DESFA to use the capacity of a Greek liquefied natural gas terminal near Athens to import gas.