EVZ: Rusia caută petrol în largul coastelor Cubei
Rusia va începe prospecţiunea rezervelor de petrol în Golful Mexic, după ce a semnat un acord cu republica centramericană, transmite BBC.
Igor Sechin, adjunctul prim-ministrului rus Vladimir Putin, a semnat patru contracte cu autorităţile cubaneze pentru drepturile de explorare a zăcămintelor petroliere din platforma continentală a insulei.
Oficialii de la Havana estimează că există circa 20 de miliarde de barili în zona care îi aparţine Cubei, deşi SUA consideră că resursele de petrol ating aproximativ cinci miliarde.
Concernul rus Zarubejneft va lucra în coordonare cu monopolul cubanez Cubapetroleo pentru a fora subsolul Golfului Mexic. Cuba importă mai mult de jumătate din petrolul de care are nevoie, în special din Venezuela.
Noul acord include un împrumut de 150 de milioane de dolari
din partea Rusiei, pentru achiziţionarea de echipamente pentru agricultură şi construcţii.
Standard.ro: Cea mai profitabilă companie de stat a câştigat 77 mil. € în S1, însă are creanţe de şapte ori mai mari
Producătorul de stat de gaze naturale Romgaz Mediaş, controlat de Ministerul Economiei, a înregistrat în prima jumătate a anului un câştig net mai mare cu 13,6%, de la 285 milioane de lei (77
,6 mil.

euro

) la
323,8 milioane de lei (76,7 mil. euro), la venituri şi cheltuieli în scădere, potrivit datelor transmise ieri presei.
Cum a reuşit Romgaz această performanţă în primul semestru, când vânzările sale au scăzut cu 12,7% faţă de aceeaşi perioadă a anului trecut?
De remarcat faptul că, la sfârşitul primului semestru, creanţele restante ale Romgaz se cifrau la 391,6 milioane de lei (92,6 milioane de euro), de 7,4 ori mai mari decât nivelul de 52,9 milioane de lei (14,4 milioane de euro), consemnat în perioada similară a anului trecut.
Lucian Stancu, directorul general adjunct al companiei de stat, a explicat pentru Business Standard că reducerea de costuri s-a făcut fără concedieri, dar, pe segmentul de cheltuieli operaţionale, producătorul a reuşit o tăiere mai mare, care a compensat declinul veniturilor. Un efect bun asupra rezultatelor financiare a avut şi reducerea importurilor de gaze din Rusia, în contextul scăderii consumului. De asemenea, în acest an, Romgaz nu a contribuit la fondul social la gaze naturale.
Vânzările de gaze ale Petrom, cea mai mare companie din România şi principalul competitor al Romgaz, au scăzut, în trimestrul al doilea, cu 27%, la 0,84 miliarde metri cubi, de la 1,15 miliarde metri cubi în perioada similară a anului trecut, declinul normal din "perioada caldă" fiind accentuat de reducerea activităţii în industria petrochimică.
Veniturile totale ale companiei au scăzut în perioada analizată cu 5,5%, la 1,88 miliarde lei (446 mil. euro). Cheltuielile Romgaz s-au diminuat mai accelerat, cu 8%, de la 1,53 miliarde lei (417 mil. euro) la 1,4 miliarde lei (333 mil. euro).
Compania a consemnat o cifră de afaceri de 1,55 miliarde lei (368,7 mil. euro), mai redusă cu 11,3% faţă de valoarea de 1,75 miliarde lei (477,9 mil. euro), din intervalul ianuarie-iunie 2008.
Investiţiile Romgaz în primele şase luni ale acestui an s-au ridicat la 464,4 milioane de lei (110,5 milioane de euro), faţă de 359,3 milioane de lei (97,9 milioane de euro), în perioada similară a anului trecut.
Oficialii producătorului român de gaze naturale apreciază că, în a doua parte a anului, tendinţa de consum va fi crescătoare, astfel încât consumul pe întreg anul 2009 va fi cu aproximativ 6% mai scăzut decât cel din 2008. Romgaz şi Petrom produc anual, cumulat, aproximativ două treimi din necesarul de gaze naturale al ţării. România a consumat anul trecut 17,3 miliarde metri cubi de gaze naturale, cu un miliard mai mult decât în 2007, când consumul a fost de 16,3 miliarde metri cubi de gaze.
RIA Novosti: Oil pipeline company Transneft posts 3.4% net profit drop in 1H09
MOSCOW, July 30 (RIA Novosti) – Russian pipeline operator Transneft said on Thursday its net profit calculated to Russian Accounting Standards decreased 3.4% , year-on-year, in January-June 2009 to 2.21 billion rubles ($69 million).
The state-controlled company, which owns around 50,000 kilometers (31,000 miles) of trunk oil pipelines, said its Q2 net profit almost tripled, quarter-on-quarter, to 1.57 billion rubles ($49 million).
Transneft attributed its quarterly net profit growth largely to the reduction of the negative effect of exchange rate differences.
Transneft transports 93% of all crude oil extracted in Russia. The Russian government has a 78% stake in the company.
RIA Novosti: Russia to raise oil export duty to $222 per ton from Aug. 1
MOSCOW, July 29 (RIA Novosti) – Russia will raise its oil export duty from the current $212.6 to $222 per metric ton from August 1, in line with a government resolution published on Wednesday.
The average oil price was $65.65 per metric ton from June 15 to July 14, Alexander Sakovich, deputy head of the Finance Ministry's customs department, earlier said.
Duty on light petroleum products will rise to $161.9 per ton from the current $155.5 and to $87.2 for heavy petroleum product from the current $83.8.
Last year, the government abandoned its previously accepted bimonthly adjustments of export duties based on the price of the Urals blend on global oil markets, and from December 1 switched to setting duties for oil and oil products on a monthly basis to respond more swiftly to changes in world oil prices.
The global financial crisis has forced Russia, which receives a large part of its revenues from oil exports, to gradually devalue the ruble amid capital flight and a fall in global oil prices, which declined from their peak of $147 per barrel in July 2008 to around $40 per barrel in early 2009, before climbing back to about $70 in recent weeks.
RIA Novosti: Cuba, Russia sign $150 mln loan deal
HAVANA, July 29 (RIA Novosti) – Moscow will grant a $150 million loan for two years to Cuba to finance deliveries of Russian construction and agricultural machinery and equipment.
The Russian-Cuban loan agreement was signed in the course of a working visit to Havana by Russian Deputy Prime Minister Igor Sechin on Tuesday.
The two countries also signed a preliminary agreement on Russian oil company Zarubezhneft's operations in Cuba's exclusive economic zone in the Gulf of Mexico.
"We consider that an outcome of this cooperation will be new opportunities both for Cuba as well as Zarubezhneft," said Sechin, who met with Cuban President Raul Castro and other officials during his visit.
Trade ties between Russia and Cuba stalled after the collapse of the Soviet Union, when Russia faced financial difficulties and halted huge Soviet-era subsidies.
In recent years, however, Russia has moved to revitalize ties with Cuba, as well as other Latin American states. President Dmitry Medvedev visited Havana in November, and a Russian anti-submarine destroyer and two auxiliary vessels docked in Cuba in December.
Novinite.com: Russia Worried Building of Bulgaria Nuclear Plant May Stop in 2010
The construction of the Belene NPP might stop in 2010 depending on the available funding. Photo by BGNES
The Russian side is worried that the construction of Bulgaria's second nuclear power plant at Belene might be terminated in 2010 over the lack of funding.
This was reported Wednesday night by the Bulgarian National Television which cites unnamed sources from the Atomexportstroy – the company chosen to build the Belene plant.
The negotiations for a Russian government credit of EUR 4 B for the construction of the NPP are reported to have been stopped. The Russian Prime Minister Vladimir Putin approved the Bulgarian request for a credit made in April.
At the beginning of July 2009, the Russian Ministry of Finance has sent a letter to the Bulgarian government inquiring about the interest of the Bulgarian side in the offered Russian loan, and still has received no reply.
During a recent meeting between the Atomexportstroy Vice President Genadiy Tepkyan, and Bulgarian diplomats, the Russians said the Bulgarian government had to make a decision on the request of a Russian credit for Belene by the end of August 2009.
Otherwise, Atomexportstroy would not be able to include the projected expenses in its next year's budget, and the construction of the plant would be stalled.
The Russian side has also expressed its concern about the slow procedures for granting work permits to the 850 Russian specialists who are supposed to arrive at Belene in 2010. The standard procedure takes three months but if there are delays, this might hinder the start of the construction.
In an article dedicated to the Belene NPP project, the Russian newspaper Vedomosti points out that there were no indications that Bulgaria would pull out of the Belene project. Vedomosti claims that the Bulgarian National Electric Company NEK and the Germany company RWE, which will own 49% of the future plant, were keeping the work on securing the necessary funding.
WSJ.com: Traders Balk at Plans to Limit Natural-Gas Trades
While regulators debate how to curb excessive speculation in commodities markets, exchanges are moving to impose limits on natural-gas trading, sparking outrage among traders.
In the face of pending restrictions, natural-gas prices have swung wildly and trading volume has declined, highlighting the dilemma facing regulators: how to heighten oversight without introducing adverse consequences.
The issue is expected to come up Tuesday, when the Commodity Futures Trading Commission holds a public hearing to discuss ways of easing speculation.
In June, the New York Mercantile Exchange sent a notice to members that it would start imposing what are known as "hard expiration position limits" on seven cash-settled natural-gas contracts, limits on the positions traders can hold in the three days before the contracts expire. By capping the bets traders can make, the exchange hopes to limit the volatility that often comes with contract expirations.
"Markets are declining measurably," said Michael Cosgrove, head of commodities and energy brokerage at GFI Group Inc.'s North American operations. "A number of market users were so stunned by this and simply pulled out of the market."
At Nymex, trading volume on one of the seven affected contracts — Henry Hub Natural Gas Penultimate Swap — fell 19% in June from a year earlier.
Natural-gas prices jumped 11% in early June, followed by a 23% dive until July 13, and then rebounded 10% in recent days. Monday, natural-gas futures fell 2.5% on the Nymex, to settle at $3.604 per million British thermal units. (Please see related article on B3.)
Price volatility of the three-month contracts shot up in June to a level suggesting prices moved within a 58% range, the highest since 1990, when natural gas started trading at Nymex, according to Banc of America Securities-Merrill Lynch.
The restrictions "will be the single most detrimental factor to the natural-gas market," said Sid Perkins, managing partner at Ion Energy Group, a New York-based energy brokerage.
The notice from Nymex said its moves were pre-emptive, in advance of CFTC rules expected to take effect this fall, which will require exchanges to impose limits on these natural gas contracts. Nymex's new rules start with contracts set to expire in October.
Similar natural-gas contracts at IntercontinentalExchange, or ICE, became subject to the CFTC restrictions this past Friday, the agency said.
Traders at the ICE were expected to receive a notice from the exchange Monday.
Nymex chose to notify its members well in advance of the new rules so the market could react accordingly, said Thomas LaSala, the exchange's chief regulatory officer.
energia.gr: Iraq's Cabinet Approves Law Establishing National Oil Co
The Iraqi cabinet Tuesday approved a law providing for the establishment of a national oil company for the first time in decades, a government spokesman said.

Ali al-Dabbagh said that the cabinet submitted the new draft law to the country's parliament for final approval. He didn't provide any details about the content of the new law.

The Iraqi National Oil Co., or INOC, was set up in 1964 but ousted leader Saddam Hussein scrapped the company in late 1987.

The reinstated national oil company would act as the parent of the existing three major Iraqi oil operators – the South Oil Co., Iraq's largest petroleum company in Basra; North Oil Co. in Kirkuk; and Missan Oil Co. in Ammarh in southern Iraq.

Thamir al-Ghadhban, an energy adviser to Prime Minister Nouri al-Maliki, confirmed that the law was passed by the cabinet Tuesday and would be sent to the parliament for approval.

Ghadhban told Dow Jones Newswires that the new draft law was prepared by a committee set up by the cabinet last year, which consisted of the Minister of State for Parliamentary Affairs Safaaeddine al-Safi, himself and other senior officials.

He said the law stipulates that the new company consist of a board of directors headed by a chairman with ministerial powers. "We have prepared a modern law that gives the new company wide powers," Ghadhban said.

The new legislation won't become a law until it is approved by the parliament, which is expected to begin a six-week recess at the end of this week.

Previous legislation for a national oil company, which was included in an overall hydrocarbons law, has been long delayed by a bitter dispute among the parliament's Shiite, Sunni and Kurdish factions over the sharing of Iraq's oil wealth.

Unlike that legislation, the new draft law avoids naming the fields that the company would operate in order to avoid disputes among the country's political parties and lawmakers. Kurdish officials had rejected the earlier legislation, fearing it gave the national oil company wider powers to run most of the country's oil fields, including those inside Iraq's northern region of Kurdistan.

"In the new draft law we didn't mention the fields that the new company would run," Ghadhban said. "The fields to be operated by the company would be determined by a federal oil and gas council yet to be established," he said.

The previous law stated that the INOC would have authority to conclude service and management contracts with international oil companies to improve oil recovery from producing fields. It isn't known if that provision was retained in the new law.

Iraq sits atop the world's third-largest proven crude reserves after Saudi Arabia and Iran, but is desperate for oil revenue to rebuild its war-shattered economy, especially with global prices down.

Iraq's pre-U.S.-led-invasion production ceiling was about 3 million barrels a day, but it now produces only 2.4 million barrels a day, of which 1.8 million is for export, according to Oil Ministry figures.

Crucial to improving Iraq's broken infrastructure and returning production to pre-2003 levels are security guarantees that major international oil companies' operations won't be disrupted by sectarian power struggles.

Last month Iraq held its first licensing auction, offering six oil and two gas fields to international companies. Only one, the giant Rumaila field in southern Iraq, was awarded to an alliance of BP PLC (BP) and China National Petroleum Corp. The country is planning to hold a second licensing auction by the end of this year, covering 10 groups of oil and gas fields.
energia.gr: Russia Deputy PM In Nicaragua For Trade, Energy Talks

Russian Deputy Prime Minister Igor Sechin continues his Latin American tour Tuesday with his third visit to Nicaragua in the past 12 months, Russian news agency RIA Novosti reports on its Web site Tuesday.

Sechin is expected to discuss joint projects in electricity generation, increasing bilateral trade, and oil exploration in the Atlantic and Pacific oceans with the country's president Daniel Ortega, Russia's ambassador to Managua is quoted as saying.

"We are currently holding discussions on a whole range of areas of energy cooperation," Igor Kondrashev said, singling out the construction of a hydroelectric power station.

"In Nicaragua there are very good prospects for prospecting and extracting oil on the Atlantic and Pacific shelves."

Sechin is accompanied by Energy Minister Sergei Shmatko and top fisheries official Andrei Krainy, with increased Nicaraguan exports of seafood to Russia also on the agenda, RIA Novosti reports.
energia.gr: Iran, Malaysia's Petronas In Caspian Development Talks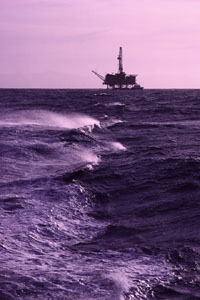 A senior Iranian oil official said Iran will start exploration activities in block 6 of the Caspian Sea in one month and is in talks with Malaysia's Petroliam Nasional Berhad, or Petronas, to contract seismic operations in the Caspian, the oil ministry's official Shana news Web site reports Monday.

"The company has entered into negotiations to sign the Malaysian company Petronas to do seismic operations in some Caspian Sea blocks in the near future," Shana cites National Iranian Oil Co., or NIOC, chief Seifollah Jashnsaz as saying.

This would be the first time Iran would participate in deep sea excavation, Jashnsaz said, adding that Iran will contract foreign companies for human resource and staff training for deep sea operations and to lead in drilling operations, reports Shana.

Jashnsaz said the NIOC will look for foreign financing for the project, according to Shana.