Romania Libera: Tinta Romaniei: 24% energie din surse regenerabile
Desi Legea de promovare a energiilor regenerabile a fost emisa inca de anul trecut, nu poate fi pusa in practica deoarece nu exista inca normele metodologice de aplicare. Din acest motiv, reprezentantii Consiliului  Investitorilor Straini (CIS) au cerut Guvernului sa asigure un cadru legislativ stabil si adecvat referitor la resursele regenerabile pentru a se putea lua decizii privind investitiile.
Investitorii straini au atentionat joi ca este nevoie de o interventie a institutiilor statului care sa urgenteze aplicarea Legii de promovare a resurselor regenerabile, mai ales ca pana la jumatatea anului viitor Romania trebuie sa aiba stabilita o strategie in domeniu in conformitate cu reglementarile europene. "Este nevoie de o hotarare de guvern pentru aplicarea legii. Facem un apel sa se acorde prioritate acestei legi, pentru ca fara un cadru legislativ stabil si adecvat nu se pot lua decizii de investitii. E nevoie de actiune in urmatoarele sase luni", a declarat Mariana Gheorghe, director general executiv al Petrom, care detine si functia de vicepresedinte al CIS. La nivelul anului 2020, o cincime din consumul de energie al statelor Uniunii Europene va trebui asigurata din surse regenerabile. Insa programul este specific fiecarei tari, in functie de data aprobarii si de potential.
"Pentru Romania procentajul nu este 20%, ci 24%. Trebuie sa ajungem  la 24%, dar aplicat la nivelul de consum din 2020. Acest consum este estimat sa creasca si noi vedem o mare provocare pentru Romania, pentru ca 24% trebuie sa fie dintr-o baza mai mare, dar si intrucat capacitatile hidro au o durata de viata limitata, iar biomasa sufera o dinamica, populatia foloseste mai putin lemnul. Probabil ca efortul investitional este foarte mare", a precizat Mariana Gheorghe. Ministrul interimar al Economiei, Adriean Videanu, a declarat, intr-o alta conferinta de presa, ca Legea 220/2008 (privind promovarea resurselor regenerabile) va fi modificata printr-un act normativ aflat in lucru. "Un guvern demis nu poate initia proiecte legislative, dar va fi o lege care va modifica Legea 220", a spus Videanu.
Jean Constantinescu, presedintele Institutului National Roman pentru Studiul Amenajarii si Folosirii Surselor de Energie (IRE), sustine ca actuala lege privind energiile regenerabile este inaplicabila. "Actuala Lege 220 va trebui modificata si corelata cu directivele europene privind resursele regenerabile. Va fi nevoie de o strategie pe termen lung. In cazul in care Romania nu-si realizeaza obiectivele in domeniu, risca sanctiuni deosebite. Romania trebuie ca in 2020 sa-si asigure 38% din consumul de energie electrica din surse regenerabile, insa prin aplicarea unei strategii corespunzatoare are un potential de 40-42%", ne-a declarat Jean Constantinescu.
Adevarul: Consumatorii de energie, informaţi de furnizori
Furnizorii de electricitate şi gaze sunt obligaţi să-şi informeze consumatorii că au dreptul de a-şi schimba oricând, gratuit, compania care le oferă aceste utilităţi, potrivit unui regulament elaborat de Autoritatea Naţională de Reglementare în domeniul Energiei (ANRE) care va intra în vigoare la 1 ianuarie 2010.
"Din analiza numeroaselor reclamaţii la adresa furnizorilor de energie electrică şi de gaze, ANRE a constatat o lipsă de informare a consumatorilor cu privire la drepturile şi obligaţiile lor, precum şi în cazul reglementărilor care stau la baza funcţionării pieţelor", argumentează reprezentanţii ANRE.
Astfel, furnizorii vor distribui materiale informative către clienţi, vor afişa aceste informaţii pe site-ul propriu şi la punctele de relaţii cu clienţii şi le vor publica în presa scrisă naţională şi locală, de două ori într-un an calendaristic.
Costurile justificate aferente acestor informări se vor regăsi în tariful final, întrucât ANRE le va recunoaşte în limita a 1% din costurile anuale de furnizare. Dar acestea reprezintă circa 5% din preţul final, astfel că modificarea facturii va fi nesemnificativă.
La 1 iulie 2007, pieţele de electricitate şi gaze au fost liberalizate în totalitate. Până în prezent, niciun client casnic nu şi-a schimbat furnizorii tradiţionali şi nu a renunţat la preţurile reglementate. Singura variantă de a obţine o ofertă mai bună este asocierea în mai multe blocuri sau locuinţe.
Vocea Rusiei: Timoşenko nu va permite modificarea contractelor în domeniul gazului
Critica la adresa acordurilor ucraineano-ruseşti în sfera gazului încheiate în ianuarie 2009 şi năzuinţa preşedintelui de a le revizui se explică prin dorinţa de a înapoia schemele corupţiei care au "hrănit" bine pe unii politicieni, însă aşa ceva nu se va întâmpla, a declarat prim ministrul Ucrainei Iulia Timoşenko.
Contractele în sfera gazului prevăd menţinerea anul acesta a preţului privilegiat de 1,7 dolari pentru transportul în tranzit a o mie de metri cubi de gaz pe o distanţă de 100 km şi o reducere de 20% a preţului pentru gazul livrat Ucrainei.
Russiatoday.com: Prime Ministers put on smiles to fend off new gas dispute
This New Year's Eve will not be clouded by gas cuts, says an optimistic Vladimir Putin after meeting with Ukrainian counterpart Yulia Timoshenko in Yalta on Thursday.
Stiff smiles and strained relations. The Prime ministers of Russia and Ukraine met in Yalta for talks on gas cooperation – something which has been hard to come by recently.
There will be no sanctions imposed on Ukraine due to the new, lower volumes for the year 2010. Also all the discounts that both sides enjoyed this year will be cancelled, according to Vladimir Putin.
"We agreed on this right away and informed everyone about this – Ukraine kept last year's level of gas transit and we made a 20% discount, from the European gas price. Next year there will be no discounts and no benefits for gas transits. The price for the gas transit will be more than the gas price itself".
Novinite: Energy Minister Confident Bulgaria Can Deal with New Gas Crisis
Bulgaria's Energy Minister, Traicho Traikov, promises heating would not be interrupted regardless of what happens during the winter or how many customers are able to pay their heating bills. Photo by
Sofia Photo Agency
Bulgaria's Energy Minister, Traicho Traikov, voiced his firm confidence the country can successfully deal with an eventual gas crisis during the winter.
Traikov spoke Saturday in an interview for Darik radio.
The Minister said a crisis, similar to the one from January 2009, would not be welcomed by anyone, but pointed out the Chiren gas storage is filled to full capacity while the heating utilities have enough black fuel, which is the main difference from last winter.
Traikov said the 650 M cubic meters of gas in Chiren would last for four months if heating utilities continue to use natural gas. In case they switch to black fuel, which is a possibility, Chiren would cover up to 90% of the country's needs while the rest would be supplied from Greece.
The Minister said his institution is also working on expending the Chiren storage and is negotiating with a Czech company.
Traikov explained the cabinet was making all possible efforts to avoid gas price increase, but such move is still the call of the State regulator.
The Energy Minister declined giving an exact date when the gas contracts concluded by previous governments would be declassified and promised heating would not be interrupted regardless of what happens during the winter or how many customers are able to pay their heating bills.
Novinite: EU-Russia Joint Agreement to Safeguard Europe Gas Supply
To prevent a repeat of last winter's crisis, the EU and Russia have agreed an early-warning system to inform Europe of any future disruptions in gas supplies. Photo by BGNES
The European Union and Russia have agreed to adopt an early warning system to prevent a repeat of past disruptions of gas supplies to Europe.
The system is intended to shield Europe from potential cuts in supply, and to protect consumers in the event of any severe disruption.
"An energy crisis like the one the EU suffered in January (2009) is harmful for supply, transit and consuming countries alike," EU Energy Commissioner Andris Piebalgs said after signing the agreement with Russian Energy Minister Sergei Shmatko.
This was a reference to the Russia-Ukraine dispute, where supplies to Europe were severely disrupted for almost three weeks when Ukraine failed to pay for its supplies. Bulgaria was particularly badly affected, as it is almost entirely dependent on Russian gas sources.
The agreement comes as fears are growing that the dispute could be repeated this January, when Ukraine holds presidential elections. Ukrainian Prime Minister Yulia Tymoshenko said the country had struggled to pay its latest monthly gas bill to Russia.
In a longer-term related development, Moscow last week ordered oil companies to use "up to 95%" of the gases associated with petroleum extraction.
President Dmitry Medvedev highlighted the flaring of gas extracted alongside oil as an outstanding example of ineffective use of energy resources.
Apart from the negative environmental impact, he said, the inefficient practice "sends tens of billions of roubles up in smoke".
The amount currently 'flared' in western Siberia alone – some 20 B cubic meters – is the equivalent of one-third of the projected annual capacity of the South Stream pipeline project.
energia.gr: Ukraine's Naftogaz:Gas Deal Reduces Risk Of New Year Conflict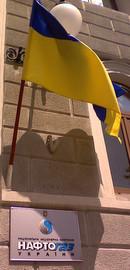 The risk of a new gas dispute evolving this winter between Russia and Ukraine has been significantly reduced, after the two countries' prime ministers late Thursday reached a compromise deal, Ukraine's state gas company said Friday.
On Thursday, Russian Prime Minister Vladimir Putin and his Ukrainian counterpart Yulia Tymoshenko said they had agreed to allow Ukraine to buy less gas next year.

In January, a row between the two countries resulted in Russian gas being cut to much of Europe for two weeks amid freezing temperatures. Fears of a new dispute have emerged as financial problems and political tensions in Ukraine could threaten payments for Russian gas this winter.

"You can't give a 100% guarantee, but this deal does significantly reduce the risk of a new gas conflict," said Naftogaz spokesman Valentin Zemlyansky.

Naftogaz plans to meet with representatives of Russia's state-controlled gas firm OAO Gazprom (GAZP.RS) next week to agree to the new terms outlined by the two prime ministers, Zemlyansky said.

Gazprom supplies over a quarter of Europe's gas needs, 80% of which is shipped through Ukraine.
energia.gr: Polish PM: Gas Deal With Russia Beneficial For Poland

The Polish-Russian natural gas agreement that will soon be ratified by governments is beneficial for Poland as it guarantees the stability of supplies, Prime Minister Donald Tusk said Friday.

"We are in the final stages of approving the agreement with Russia that is beneficial and makes Poland secure when it comes to gas deliveries," Tusk said at the start of a government conference celebrating the recent second anniversary of his cabinet.

Tusk added the government has also advanced plans to build a liquefied natural gas, or LNG, terminal on the Baltic Coast to make Poland less depend on Russian gas deliveries.

He also said that Polish gas monopoly PGNiG (PGN.WA) has launched projects that will increase gas-storage capacities and gas production in cooperation with foreign partners.